These dark chocolate cashew buckeye balls deliver on taste and even on nutrition! They are similar to the treats known as peanut butter buckeyes or peanut butter balls. Personally, I think this cashew version is tastier because they have a more complex flavor and are not overly sweet. One bite and you will be hooked!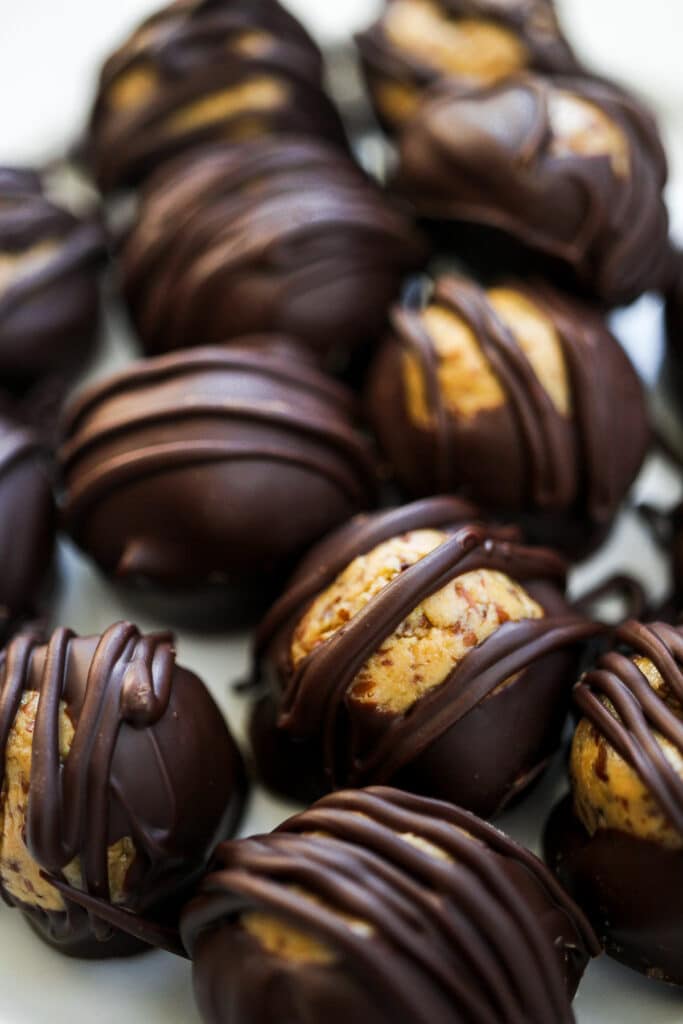 About These Dark Chocolate Cashew Buckeye Balls
I had a difficult time coming up with a name for these tasty and healthy-ish little bites! I had some help from friends on Instagram, and I ultimately decided on dark chocolate cashew buckeye balls. There were other name suggestions that I loved, but for SEO purposes and searchability on Google, I felt this name was best.  
These are also way better for you nutritionally in comparison. Rather than nut butter, butter, and anywhere from 2-4 cups of powdered sugar per batch, these balls feature cashew butter, ground flaxseed, and just ¼ cup of powdered sugar. I really have created some thing amazing here with these bites.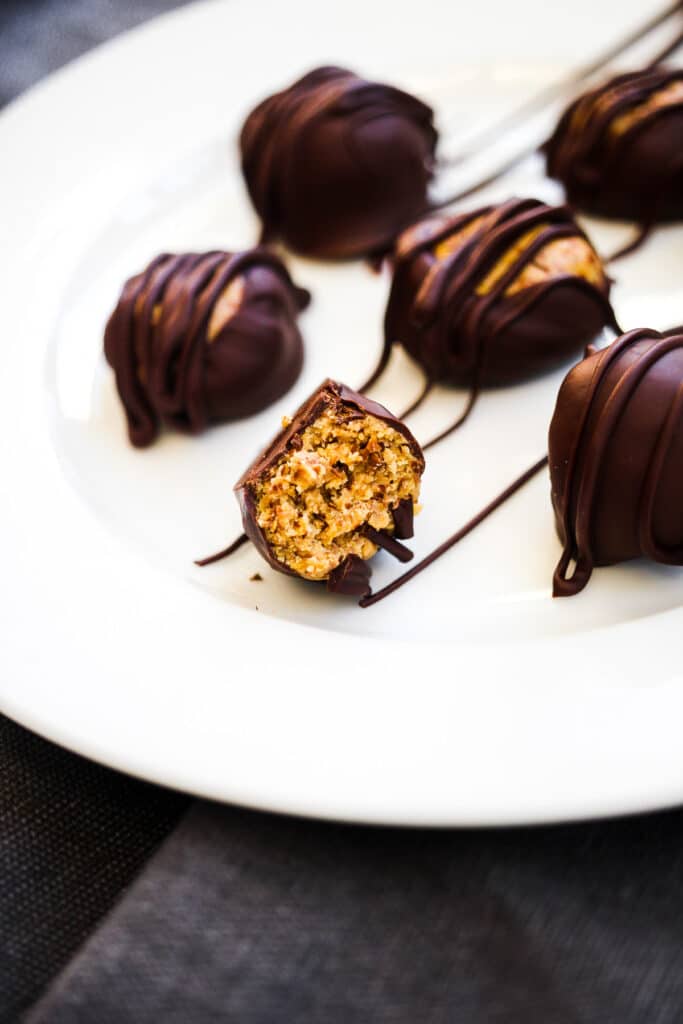 As mentioned above, these balls are similar to a buckeye ball. The middle for these is simpler though and contain unsweetened cashew butter, ground flaxseed, a little powdered sugar, and vanilla. To add some extra sweetness and make them more indulgent, the balls are dipped in dark chocolate. I like to finish mine off with an extra drizzle of dark chocolate to make them look extra fancy and cover the mark from the toothpick from dipping.
The other nice thing about these is that they are easy to make and require no baking. Let me specify that easy can still mean messy though! I was able to make these with Mitchell's help, and the only difference was a bigger mess than if I had worked solo. He loves helping me in the kitchen, so I try to include him as often as I can.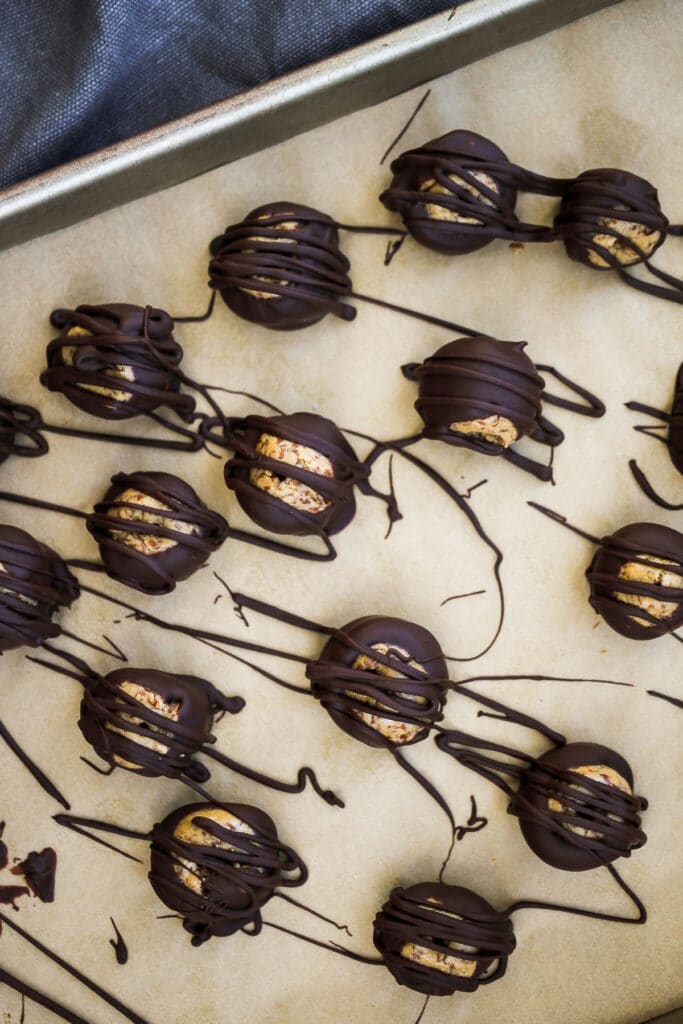 Tips for Success
Chill the balls before dipping so they stay together.
The entire ball should not be coated in chocolate while dipping.
Drizzle with extra dark chocolate to make them look fancy and hide flaws.
About ground flaxseed...Due to the fat content, it is best kept stored in the freezer to extend the shelf life and prevent it from going rancid.
I did not make these with any other types of nut butter, but you should be able to do so without any issue. The main thing is to make sure you have a fairly thick mixture that can be rolled into a smooth ball before trying to dip them. If the mixture seems to sticky, add extra powdered sugar and/or ground flaxseed.
See more pics below. I hope you enjoy and be sure to leave a comment if you make them!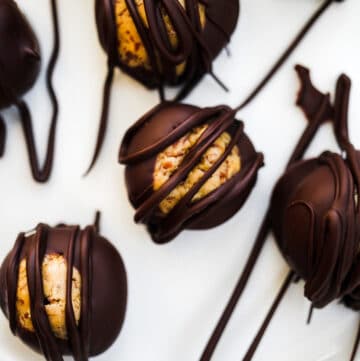 Dark Chocolate Cashew Buckeye Balls
These dark chocolate cashew buckeye balls are a tasty and mostly healthy treat! With cashew butter and ground flaxseed, they are super filling and satisfying. The dark chocolate is the perfect complement. They are great for kids to help make too!
Ingredients
½

cup

creamy cashew butter

¼

cup

ground flaxseed

¼

cup

powdered sugar

⅛

teaspoon

vanilla

1

cup

dark chocolate chips
Instructions
In a medium mixing bowl, stir together the cashew butter, flaxseed, powdered sugar, and vanilla. The mixture will be very thick.

Chill the mixture in the refrigerator for at least 30 minutes.

Once chilled, form into balls using about 1 heaped teaspoon of the cashew butter mixture per ball. Place on a sheet tray lined with parchment paper. They will seem small but this is normal.

Meanwhile, melt the dark chocolate chips in a microweable bowl using 30-second intervals, stirring between each heating cycle.

Using a toothpick or small wooden appetizer fork, dip the balls about ¾ of the way up so some of the cashew mixture still shows. Let some of the chocolate drip off and place back on the parchment paper until all balls are dipped.

Using the remaining dark chocolate, drizzle the tops of each ball. If the chocolate has started to firm up, remelt it in the microwave.

Let harden in the freezer for a few minutes and enjoy! Store leftovers in the refrigerator for up to a week or in the freezer for up to 3 months in an airtight container.
Notes
You may also use a sandwich bag if you do not have piping bags to drizzle the dark chocolate. Just add the chocolate to one corner and snip a small corner off the bag for drizzling.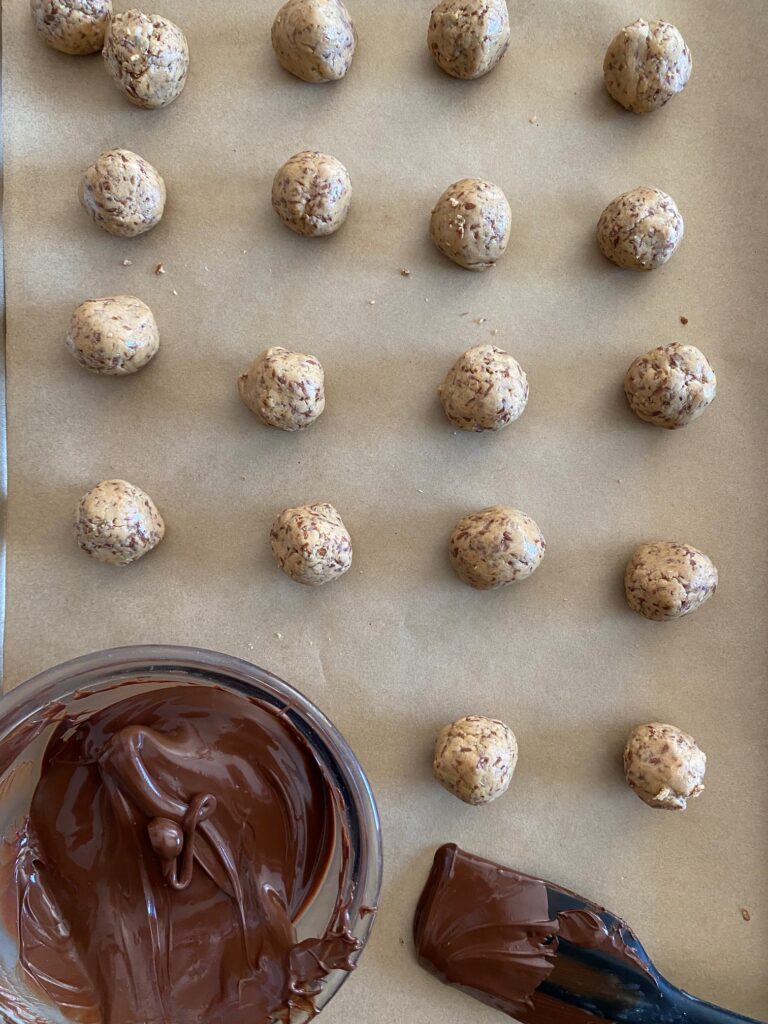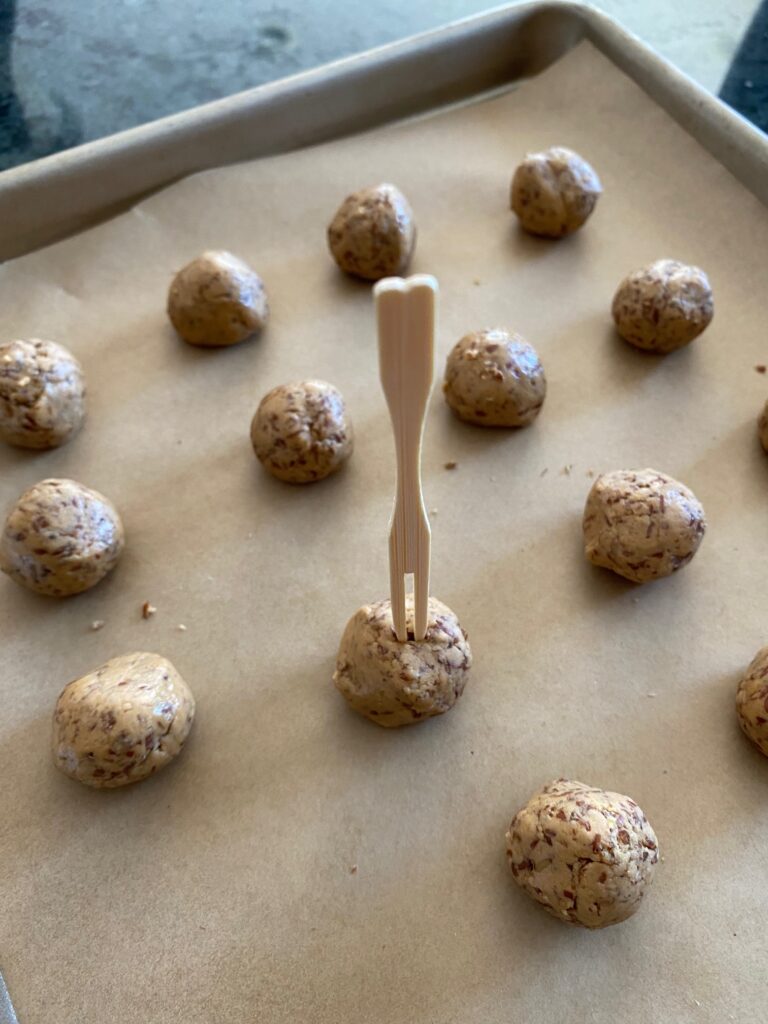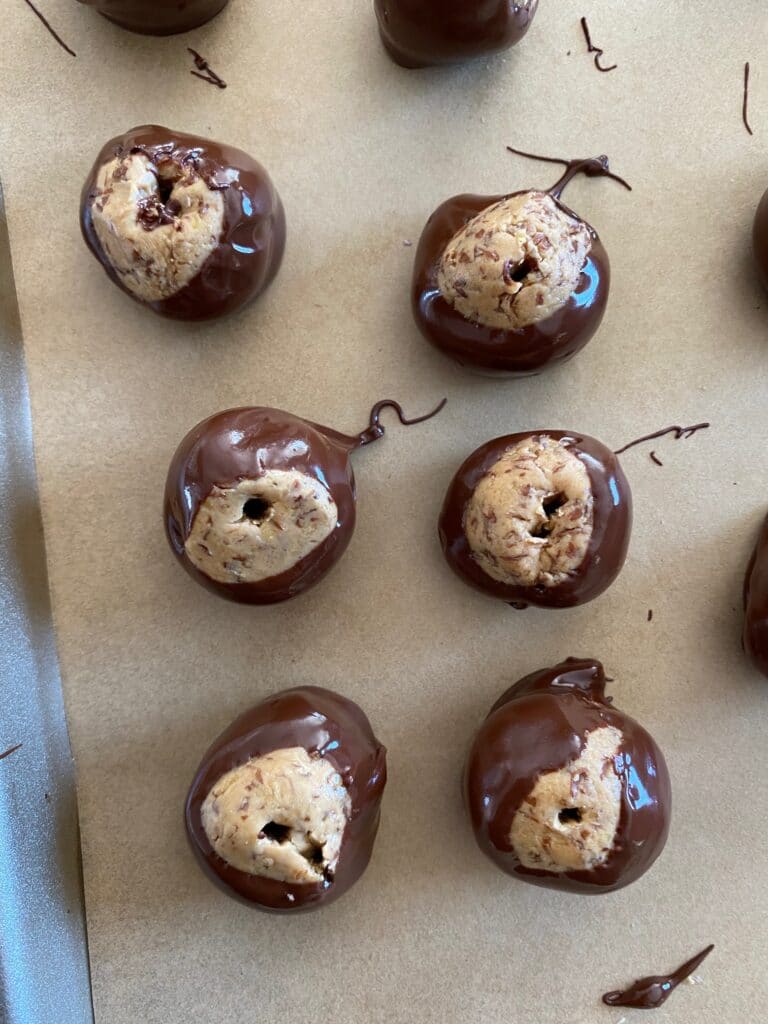 Be sure to check out these other great posts!