Pumpkin pie baked oatmeal is more of a fall thing, but it should honestly be enjoyed all winter. I love pumpkin and oats, and this is the perfect little marriage of flavors and textures. Added bonus is that it is fairly healthy but will satisfy your desire for something sweet!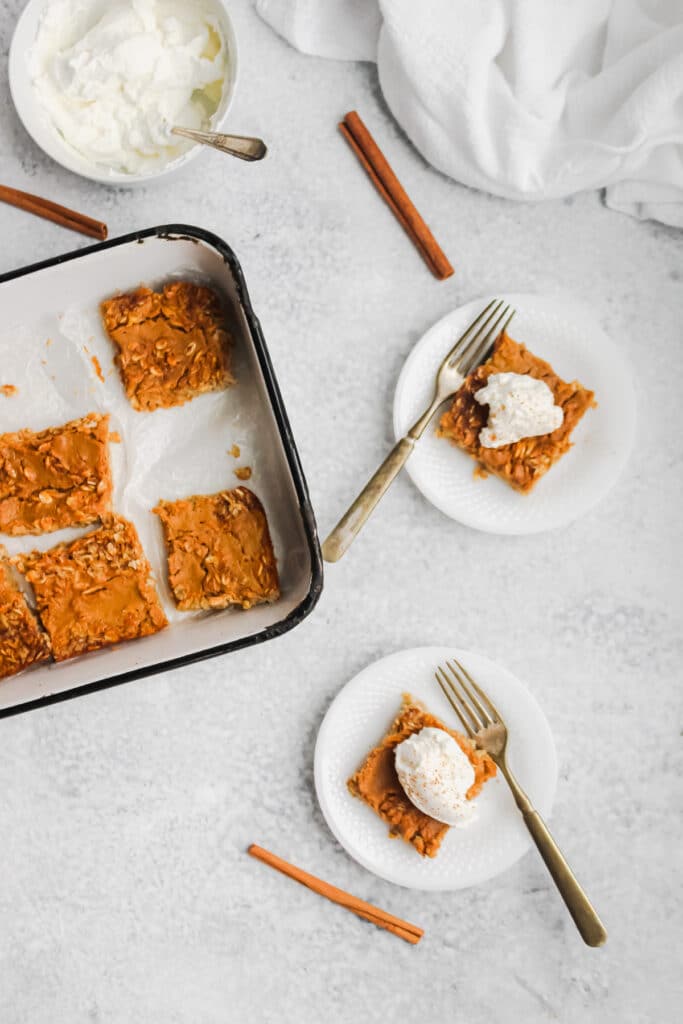 About this Recipe
This recipe for pumpkin pie baked oats was first published on my old blog Mitch8 blog on October 28, 2020. Life has changed drastically since this content was written, but these oats are still fantastic! Enjoy!
I love when I have a truly brilliant idea that actually works, which is exactly what happened with this baked oatmeal. It seems like my best "thinking hours" are during hours of the night when I should be sleeping. Is it just me or does anyone else have this problem? In any case, I thought up this little recipe because Mitchy woke up at 2:00 am one of the nights last week. Unfortunately, he didn't go back to bed the rest of the night. It was a tough night (and morning), but it was worthwhile because it allowed me to come up and bake this recipe.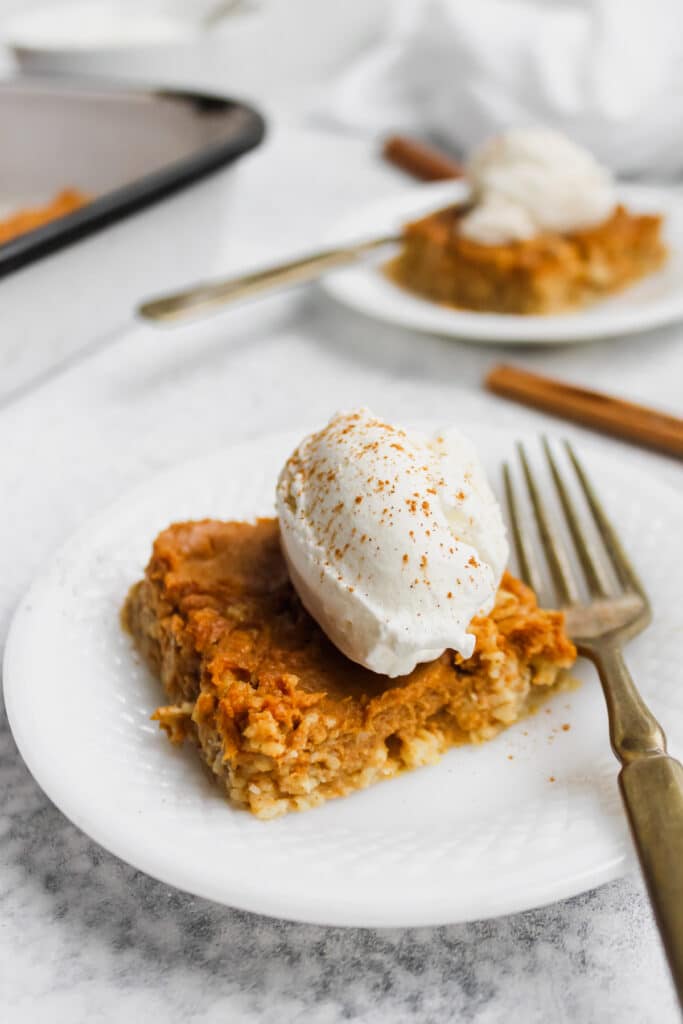 I had been wanting to make some creative pumpkin recipes. The nice thing is that this recipe is healthy-ish. I often post recipes that are purely treats, but we actually do strive to eat healthy the vast majority of the time. It is more fun to post the sweet stuff generally because I really don't eat it that often. Anyway, since I had lots of time that particular morning, I knew I wanted to make baked oatmeal. With the weather starting to cool down, it is so nice to have a warm and hearty breakfast. Then it hit me! Why not make baked oatmeal with a sweet pumpkin layer! In all honesty, I wasn't actually sure if this would even work, but it turned out AMAZING!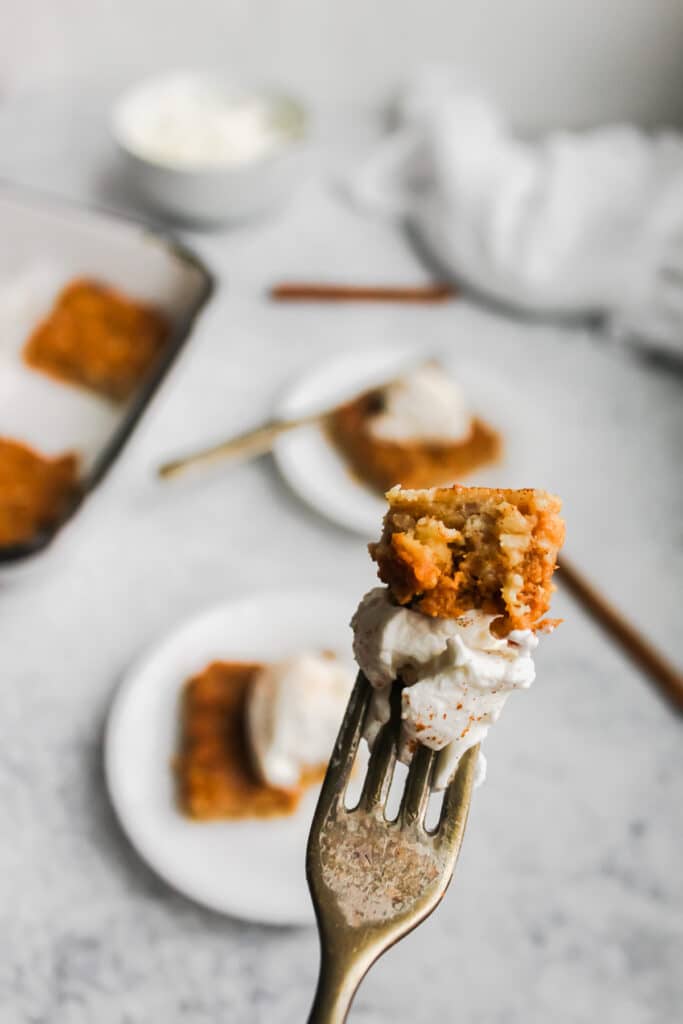 Tips for Perfect Pumpkin Pie Baked Oatmeal
Essentially, this recipe is hybrid of baked oatmeal and pumpkin pie without the hassle of a pie crust. It is the perfect balance of healthy and decadent. I could see it being a lovely addition to a brunch with family and friends. If you choose to go this route, the whipped cream on top is a must. This recipe is also great if you like to meal prep because individual servings can be rewarmed for breakfasts during the week in the microwave. If pumpkin isn't your thing, I have a baked oatmeal recipe here with bananas. Link here.
For this recipe, you will prepare the oatmeal and pumpkin layers separately. When you swirl the pumpkin into the oats, try not to overswirl. This recipe is best if the layers are somewhat separate while they bake. Like I mentioned above, this recipe is almost dessert-like with the addition of whipped cream and an extra dash of cinnamon. Enjoy!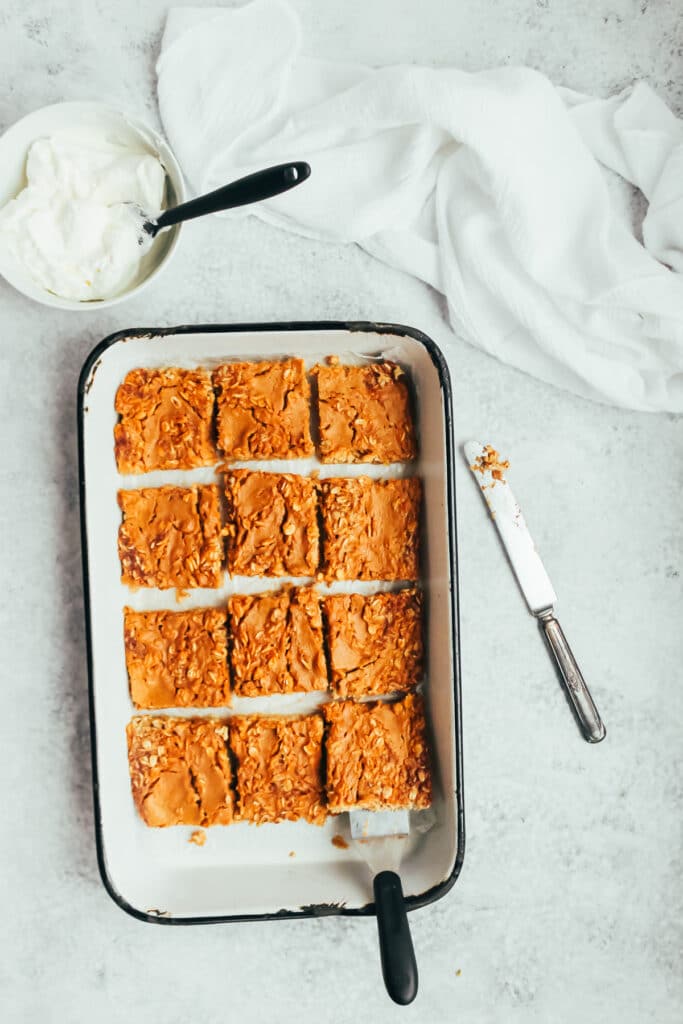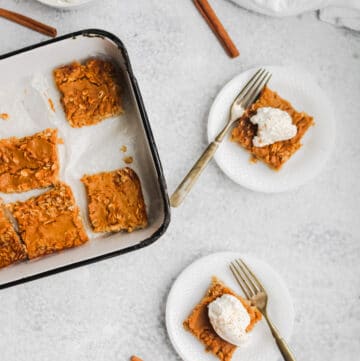 Pumpkin Pie Baked Oatmeal
This pumpkin pie baked oatmeal is the perfect breakfast dish for a fall morning. It's actually delicious any time of year, especially with the convenience of canned pumpkin! Try this out for yourself and don't forget the whipped cream!
Ingredients
Oatmeal Layer
2

cups

old-fashioned oats

2

Tablespoons

sugar

1

teaspoon

baking powder

1

teaspoon

cinnamon

Pinch

salt

1 ½

cups

milk

2

eggs

1

teaspoon

vanilla extract
Pumpkin Pie Layer
¾

cup

canned pumpkin

1

egg

¼

cup

sugar

½

teaspoon

cinnamon

½

teaspoon

pumpkin pie spice

Pinch

salt

½

cup

milk
Instructions
Oatmeal Layer Instructions
Preheat oven to 350° F. Grease or spray a 9x13 inch pan.

In a medium bowl, prepare the oatmeal layer by combining the oats, sugar, baking powder, cinnamon, and salt.

In a separate bowl, whisk together the milk, eggs, and vanilla. Pour the liquid mixture into the oat mixture and stir until combined. Pour into the greased pan and let sit 15 minutes before adding the pumpkin pie layer.
Pumpkin Pie Layer Instructions
To make the pumpkin pie layer, whisk together the pumpkin, egg, sugar, spices, and salt in a medium bowl. Once mixed, whisk in the milk until smooth and combined.

Pour the pumpkin pie filling into 8-9 blobs evenly over the surface of the oats. Gently use a knife to swirl slightly. You do not want to completely mix the two layers, so do not over-swirl.

Bake in the preheated oven for about 35 minutes, or until the edges are golden and the filling is set. Do not overbake.

Let cool slightly and enjoy plain, with fresh whipped cream and additional cinnamon, or with milk.
Notes
For sweeter oats, increase the sugar in the oatmeal base layer from 2 Tablespoons to ¼ cup. 
I used regular milk, but you may use other types of milk, such as soy milk or almond milk.
If desired, you may also double the pumpkin pie layer if you wish for the pumpkin layer to be thicker. Just note that the bake time may need to be increased. My sister recommends doing this! 🙂