Scotcheroos (aka peanut butter bars or scotcharoos) were first published on my old site called Mitch8 Blog on April 18, 2020. This was right at the beginning of covid. The recipe remains the same and these easy no bake treats are a beloved favorite of mine (and pretty much everyone who tries them)!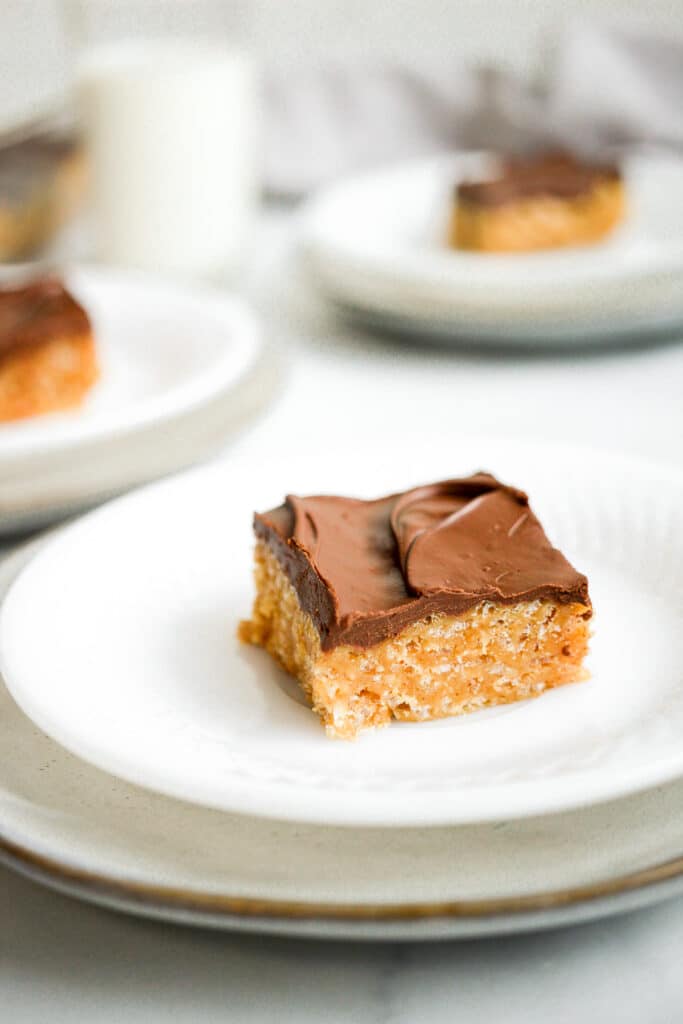 Perspective is Everything
This is not news, but we are really in some strange times. 2020 has been one of the most interesting years of my life and we are only in April! One of my goals for this blog is to spread an inspiring and positive message on social media. We are all going through our own day-to-day struggles, some more significant than others. What we need now, more than ever, is to help build each other up. My mission is to help do that using my blog!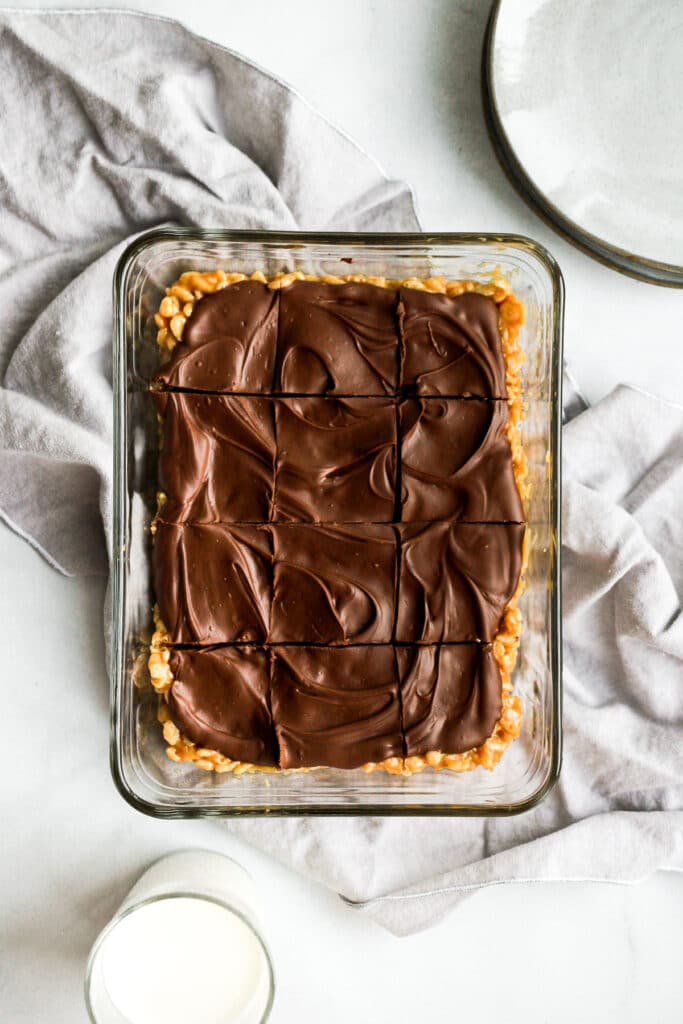 My head has been swimming with ideas for the blog, but I want to be authentic. Sure, it's fun to jump on the latest trend, which I may do from time to time. What I really want is to stay true to myself and my values. I have some really amazing ideas and am so blessed to know countless people who inspire me! As much as I love sharing recipes, I want to take it as step further and start sharing the real stories behind some of my favorite recipes. Often times, my recipes are tied to a person or special memory.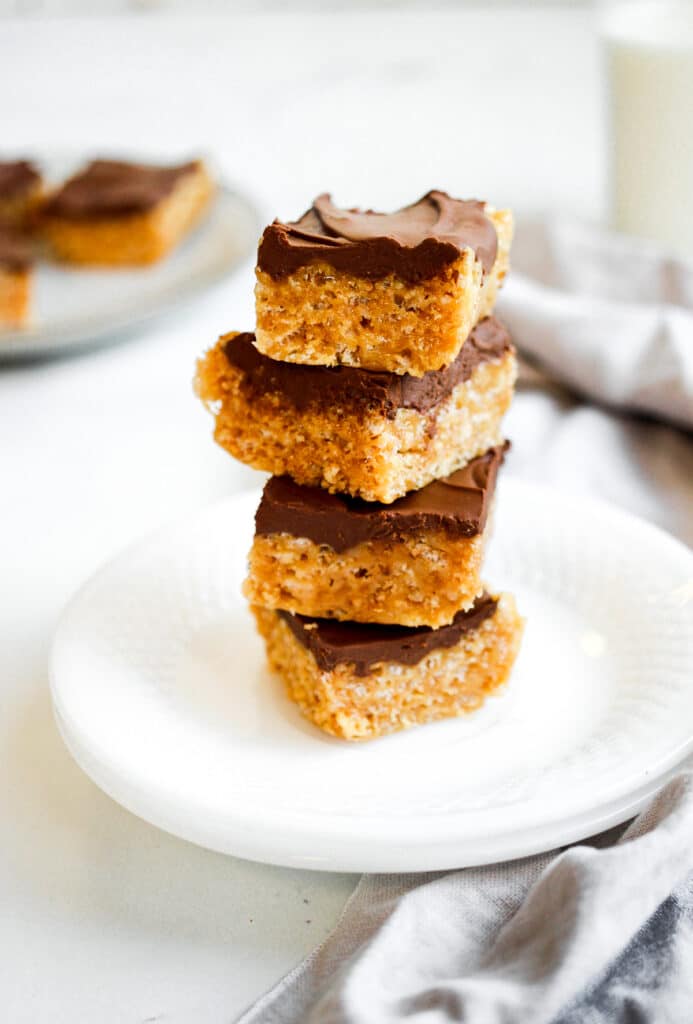 A Little Background
Up first – Cheryl Christopherson and scotcheroos. Her grandfather Sigfred and my great-grandfather Alexander from Sweden were brothers. I have no idea what our relation would be called, but here is an old photo of the four children from Sweden. Times have certainly changed!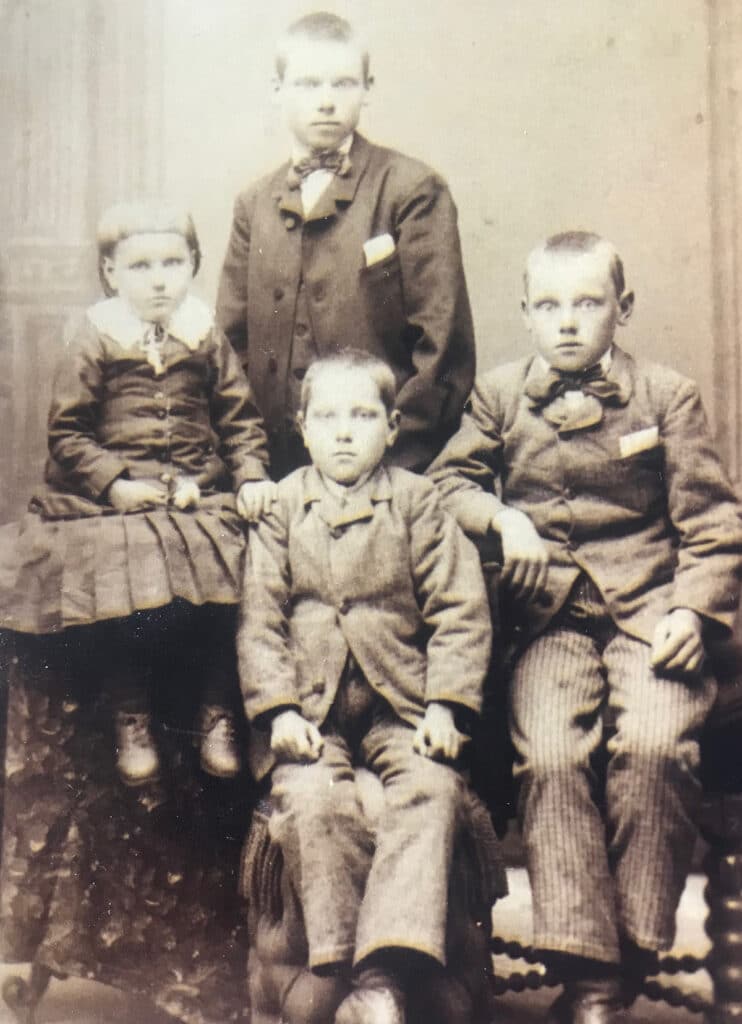 Cheryl and her husband Donald live on a farm in rural Iowa, not far from where my parents live. They are always willing to lend a helping hand on farm projects and more. Among her numerous talents which include being a piano player, tracking family genealogy, and being a loving grandmother, Cheryl has been making scotcharoos ever since I can remember. They were always to be found at family reunions and 4-H gatherings growing up. You had to get them fast because there were never any leftovers! Cheryl so graciously passed on her recipe many years ago, and we have been making them ever since too.
Cheryl was also my 4-H leader for nine years, and helped me grow in countless ways over years. I started as a timid 4th grader and eventually became a fairly confident young woman willing to communicate in front of large groups, lead projects, and more. Volunteers like Cheryl are the ones who made it all possible. Iowa is filled with some of the best people, including Cheryl and Donald shown below: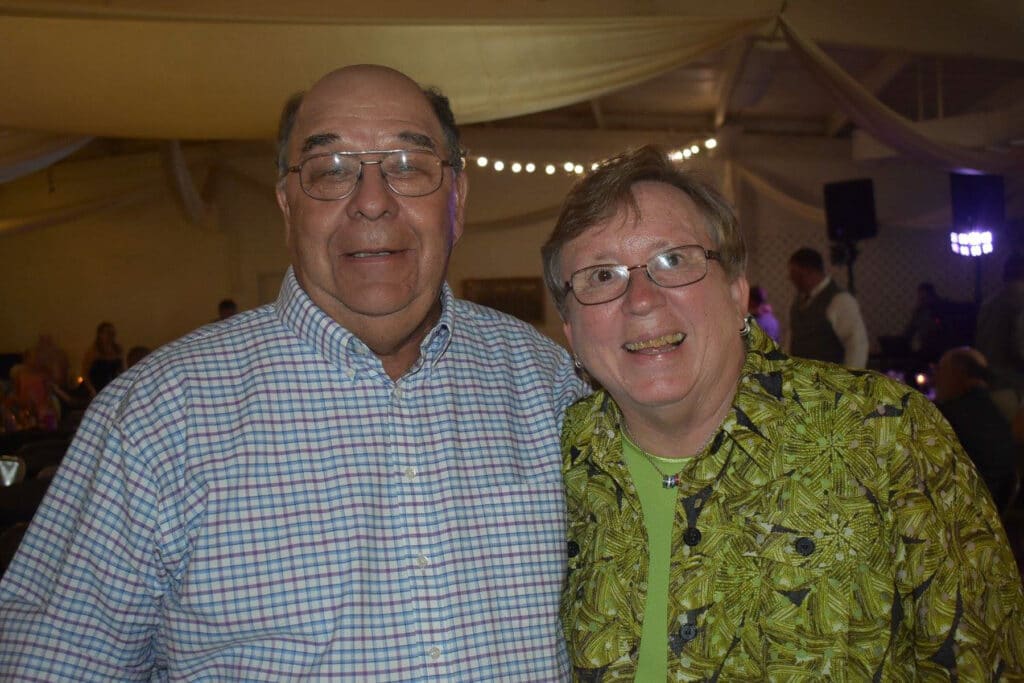 About Scotcheroos
Now, to the recipe. What exactly is a scotcheroo? If you have had the good fortune of eating a scotcheroo before, you already know just how delicious (and addictive) they are! Scotcheroos are a perfect trifecta of peanut butter, chocolate, and butterscotch. The flavors are great and the crisp rice cereal adds some texture to this overall soft and chewy bar. They really are a perfect bite!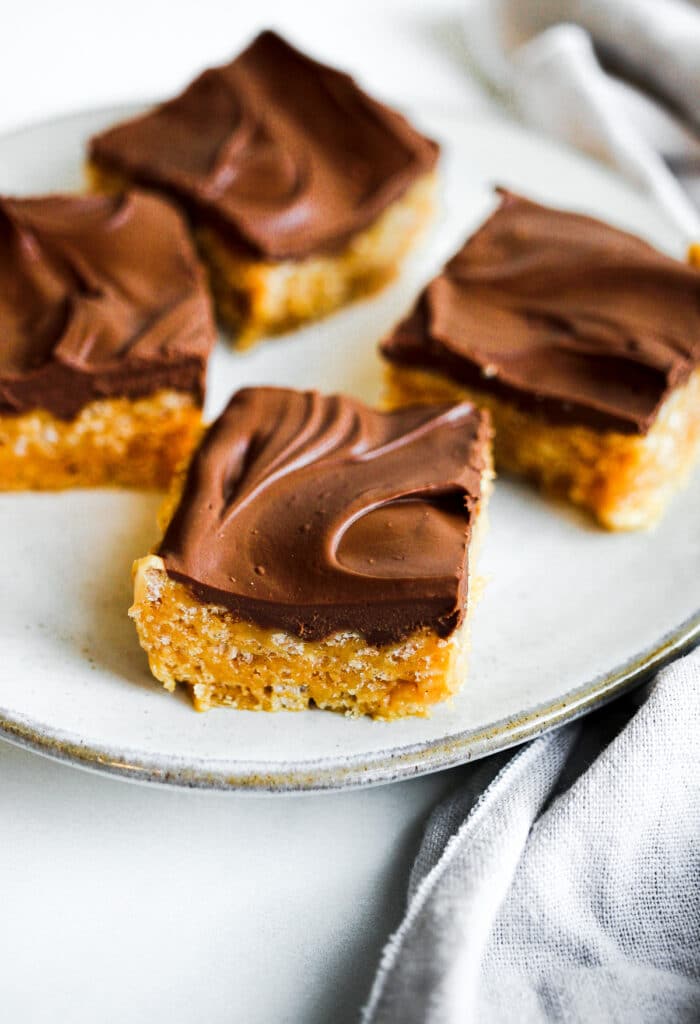 Scotcheroos are no-bake which are especially perfect for family gatherings in the summer. All you need to make scotcheroos are sugar, corn syrup, peanut butter (creamy or crunchy will work), crisp rice cereal, semi-sweet chocolate chips, and butterscotch chips. To make perfectly soft scotcheroos, you should only cook the corn syrup and sugar until the edges just start to boil. If you boil the mixture, the bars will turn out really hard. I recommend cooking over medium-low heat and stir frequently. Many recipes online call for 5-6 cups of rice cereal. Do not make this mistake of adding too much cereal. The right amount is 4 cups! Otherwise, the bars can be dry. I hope you enjoy them as much as we do. The time is always right for scotcheroos!
See below for the recipe and step-by-step photos. If you like cereal treats, be sure to also check out the recipe for haystacks or puppy chow!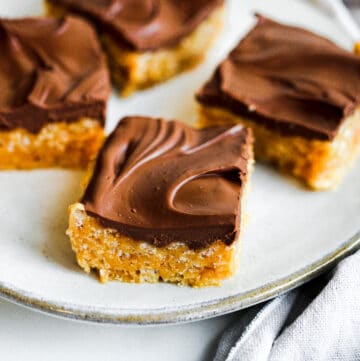 Scotcheroos
Scotcheroos are an easy no bake cereal treat! They feature the classic combination of peanut butter and chocolate, plus the addition of butterscotch chips. They are love at first bite! This recipe is adapted from Cheryl Christopherson (I decreased the sugar just a little!)
Ingredients
1

cup

corn syrup

¾

cup

sugar

1

cup

peanut butter

4

cups

crisp rice cereal

1

cup

semi-sweet chocolate chips

1

cup

butterscotch chips
Instructions
Combine corn syrup and sugar in a medium saucepan. Heat over medium-low heat, stirring frequently, just until the mixture barely begins to boil and the sugar is dissolved. Do not let boil or the bars will be hard.

Immediately remove mixture from heat and stir in the peanut butter until smooth. Add the crisp rice cereal and stir until well coated. Spread mixture into the bottom of a greased 9x13 inch pan.

Meanwhile, melt the semi-sweet chocolate chips and butterscotch chips in the microwave using 30-second intervals. Stir until smooth after each heating. Pour the melted chocolate mixture over the bars and spread with spatula.

Let cool until chocolate is set. Cut into bars and enjoy!
Step-By-Step Pics
Add corn syrup and sugar to your saucepan: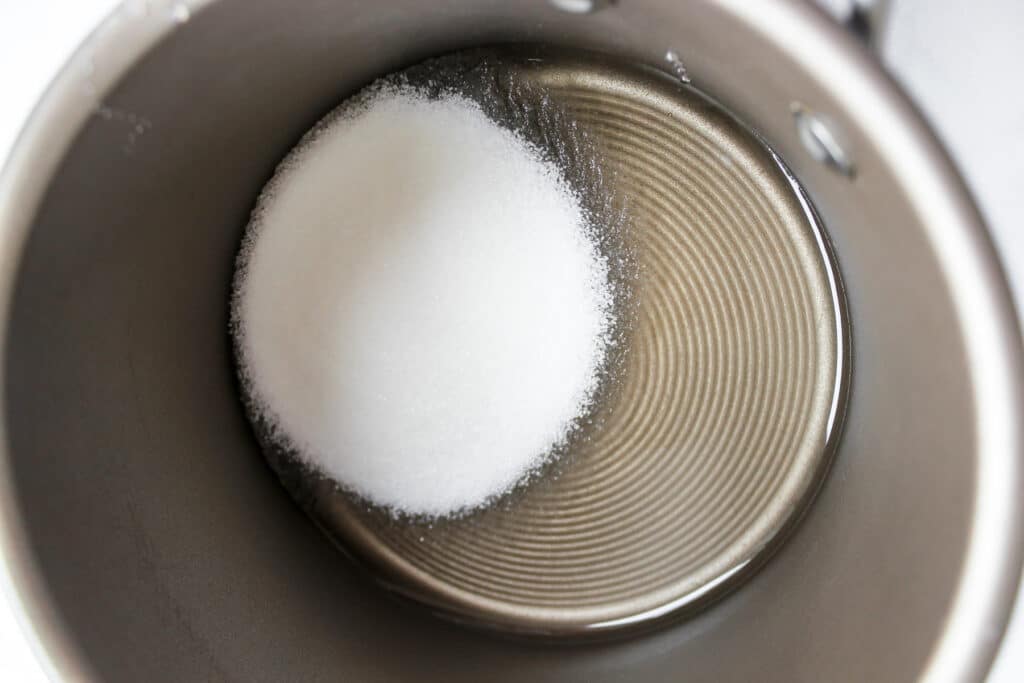 Measure peanut butter (YUM):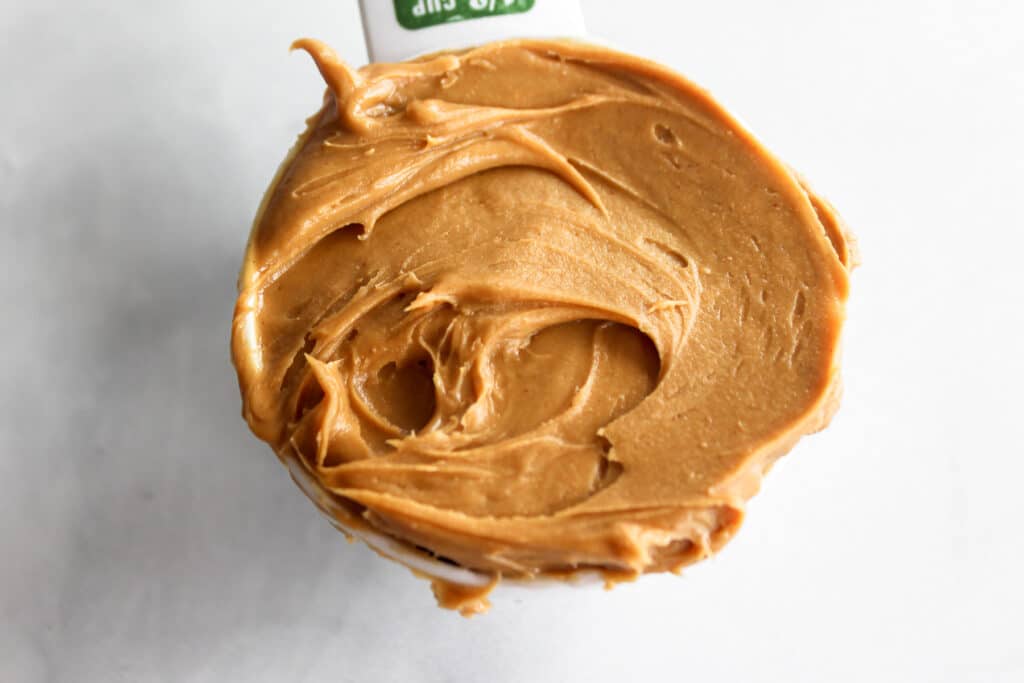 Add peanut butter once the mixture just starts to boil: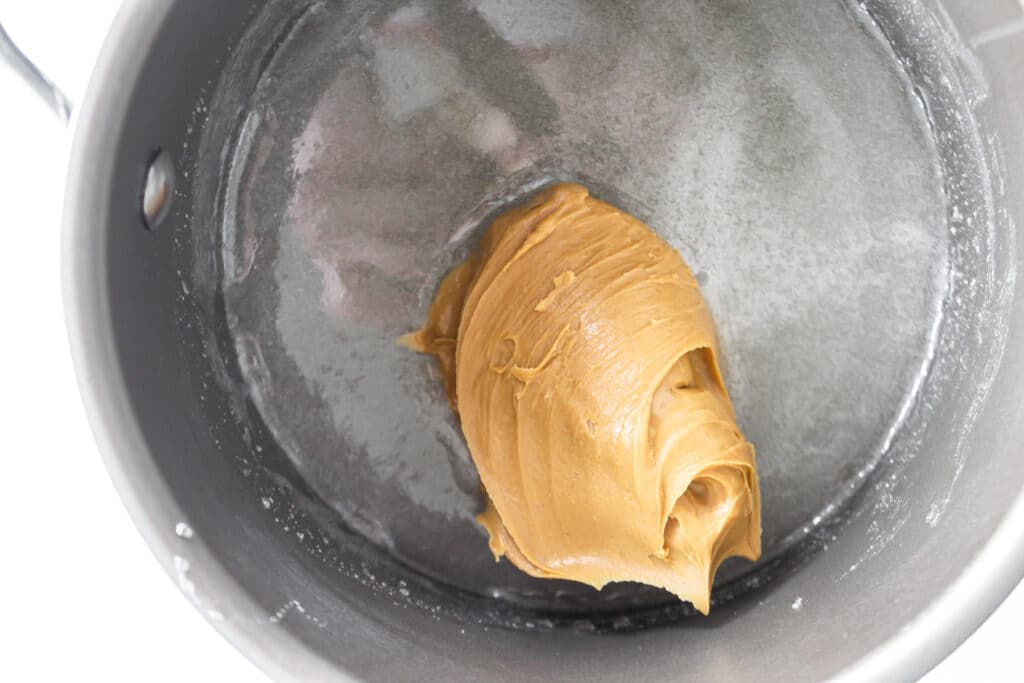 Stir until smooth: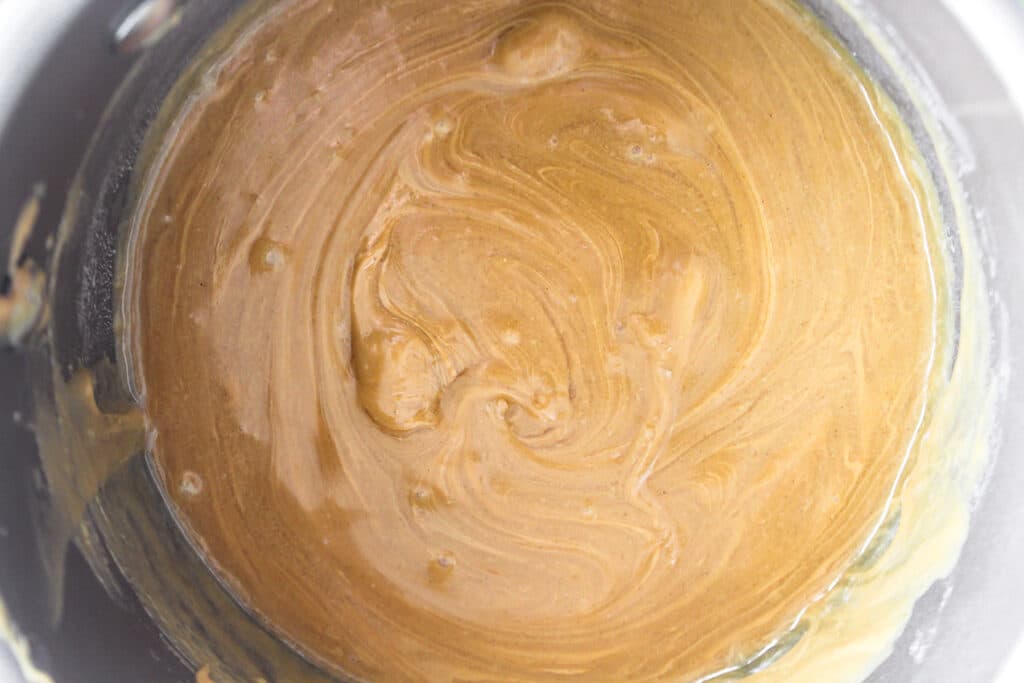 Measure crisp rice cereal: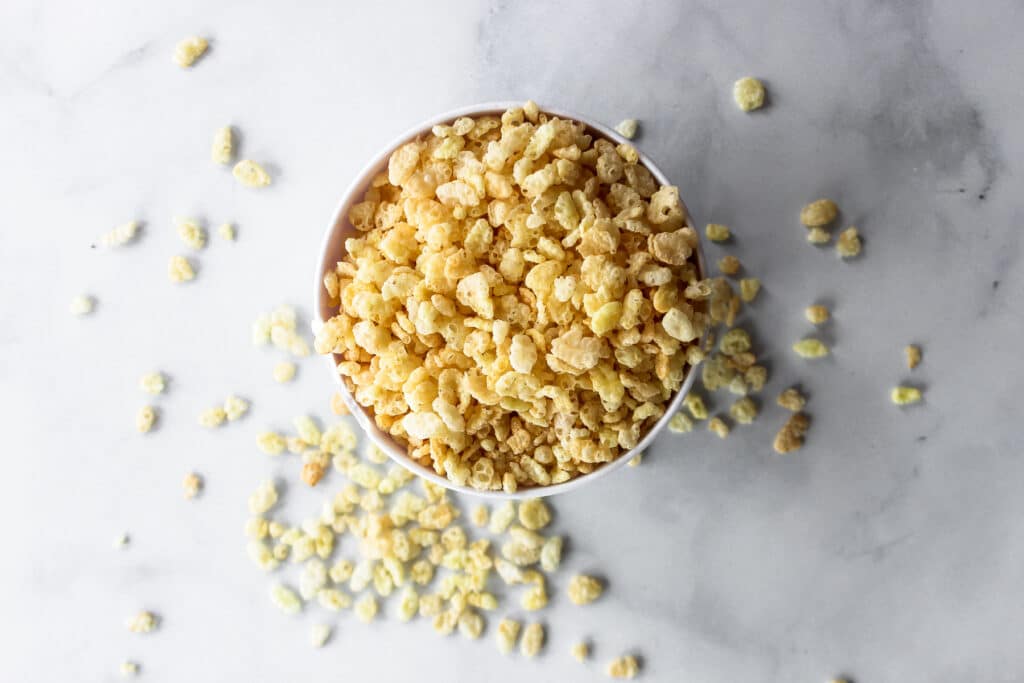 Add to peanut butter mixture: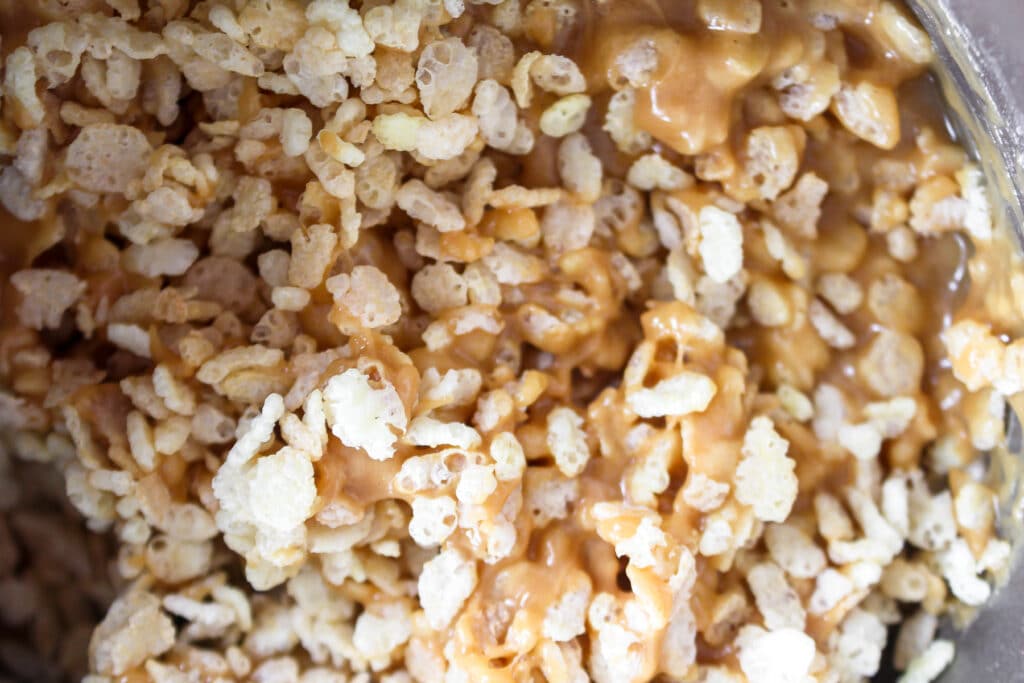 Stir to coat: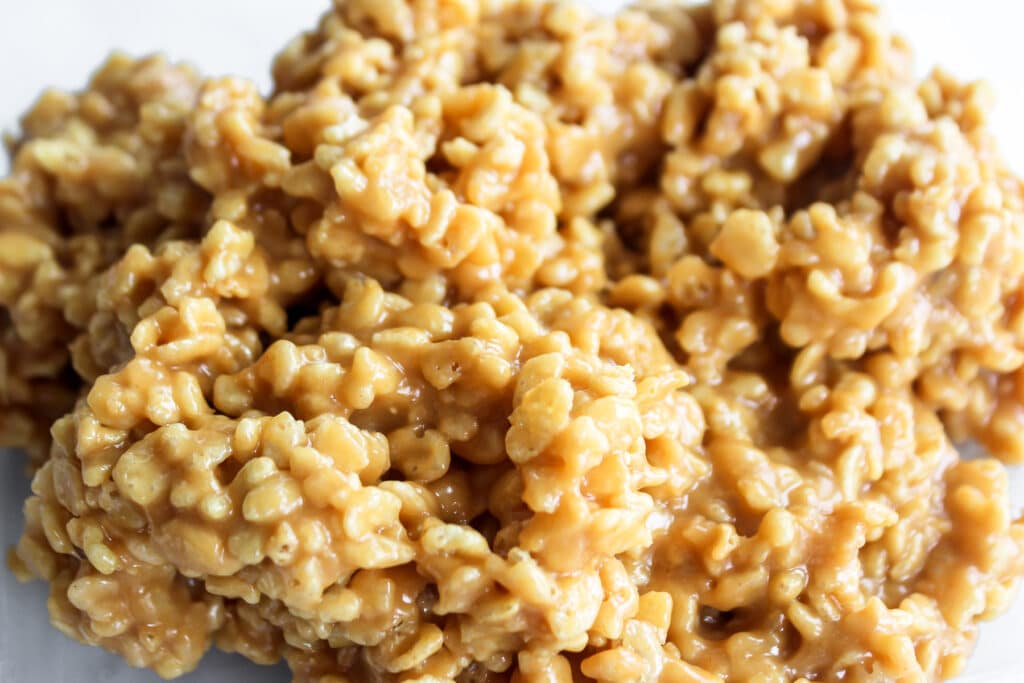 Pour and spread into greased pan: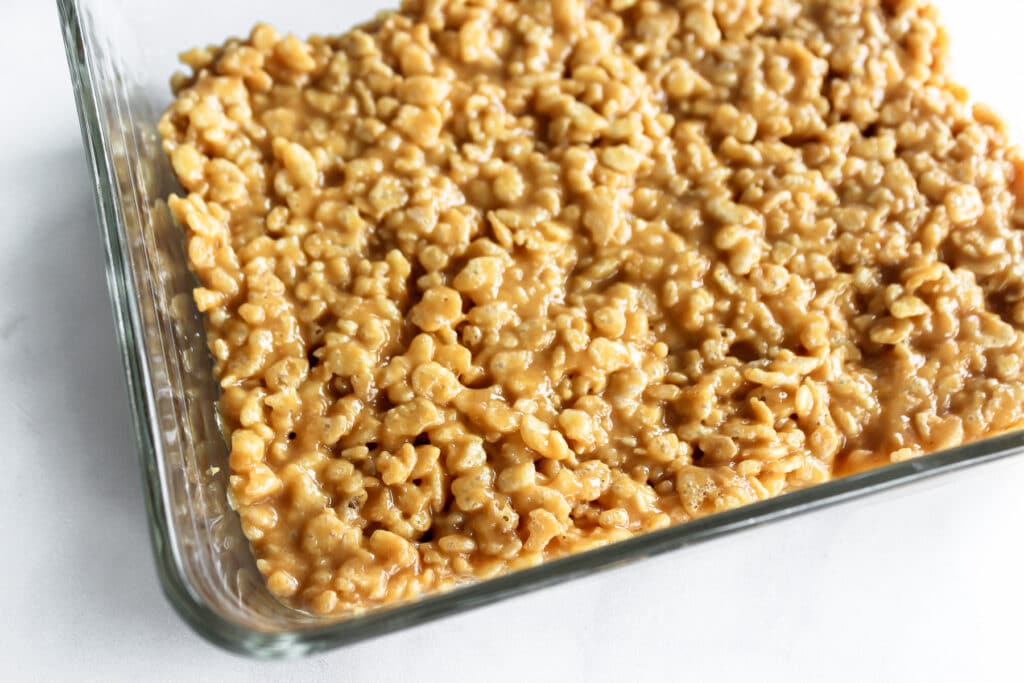 Measure chocolate chips and butterscotch chips: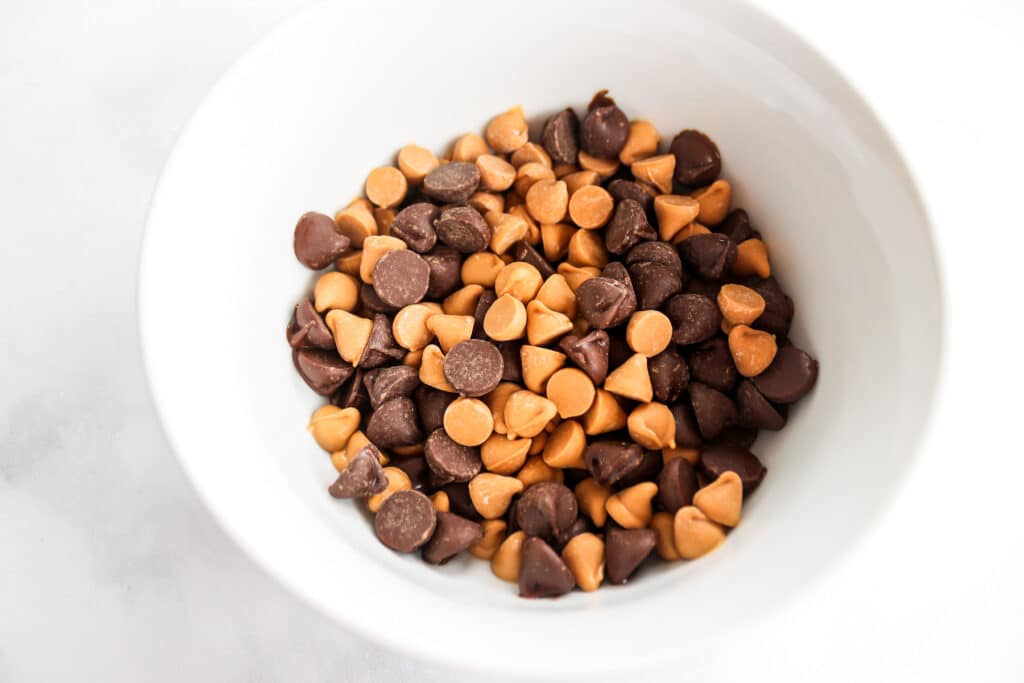 Melt the chips in the microwave: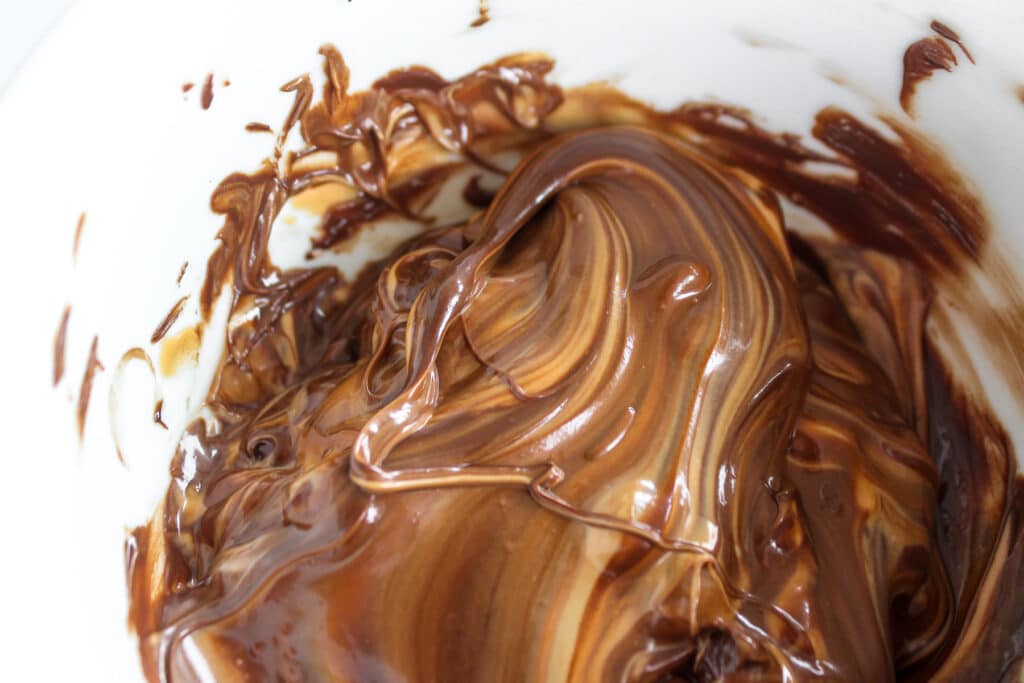 Stir until combined: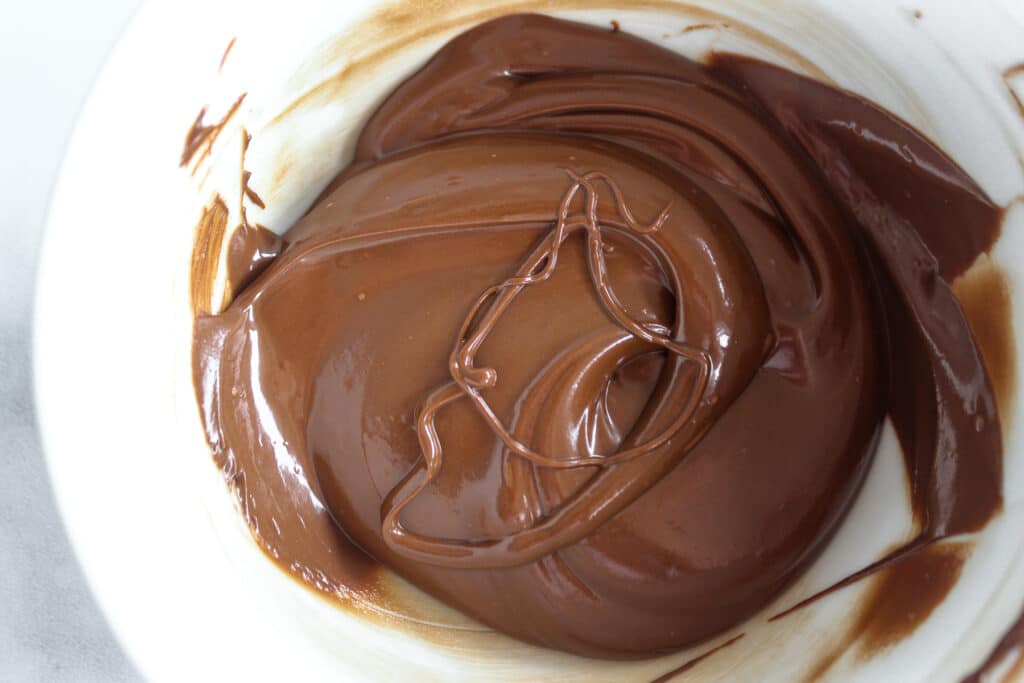 Pour onto the bars: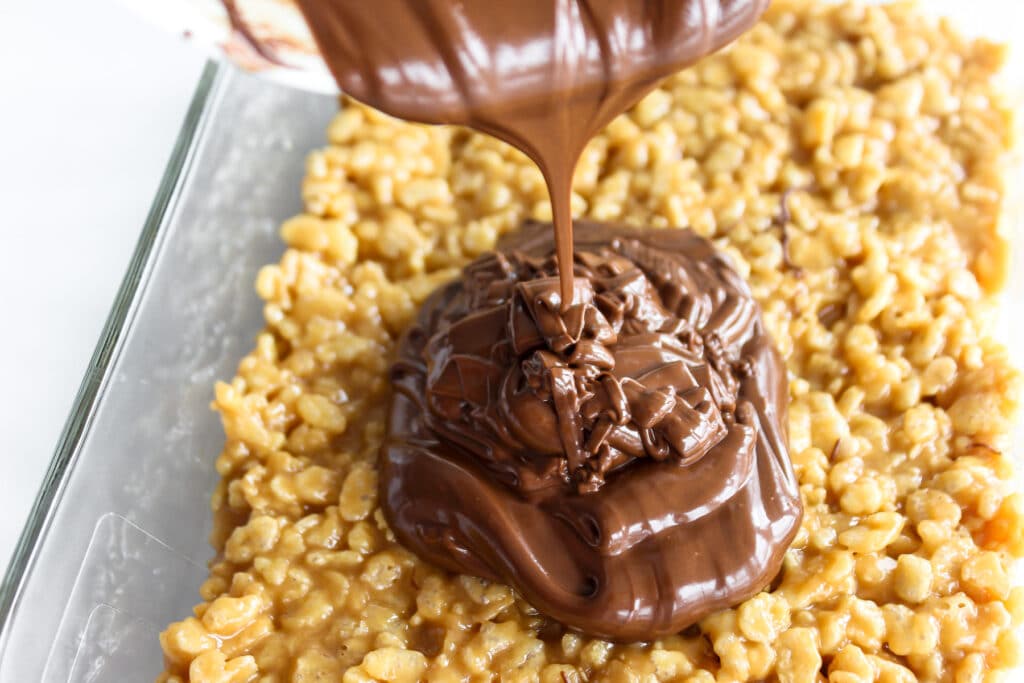 Spread to edges with an offset spatula, cool, and cut into bars: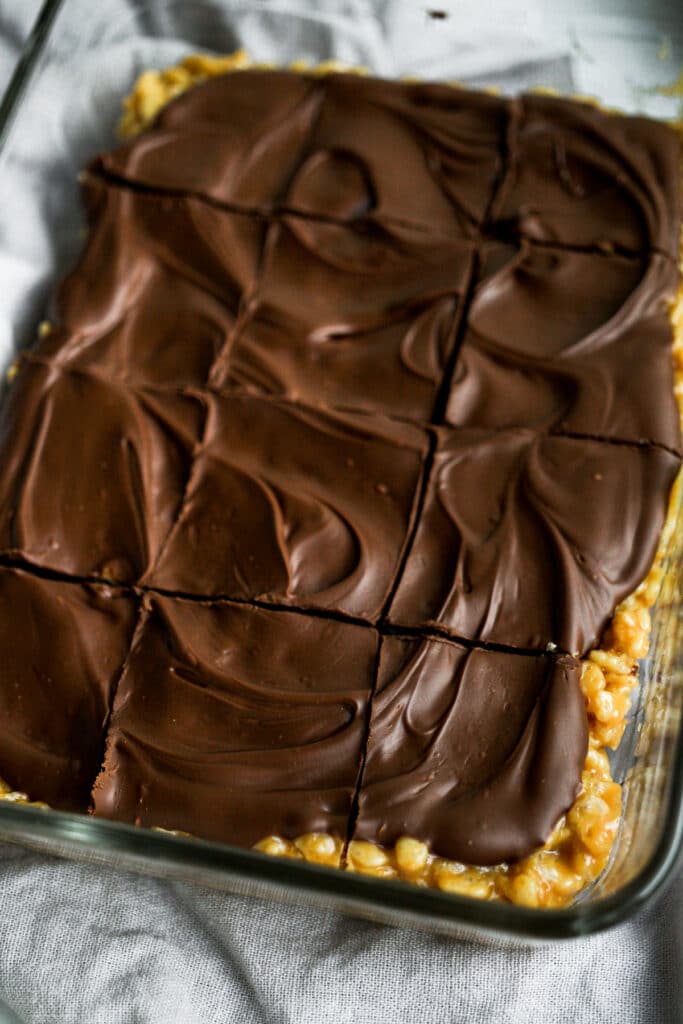 Lastly eat and share with friends (my favorite part)!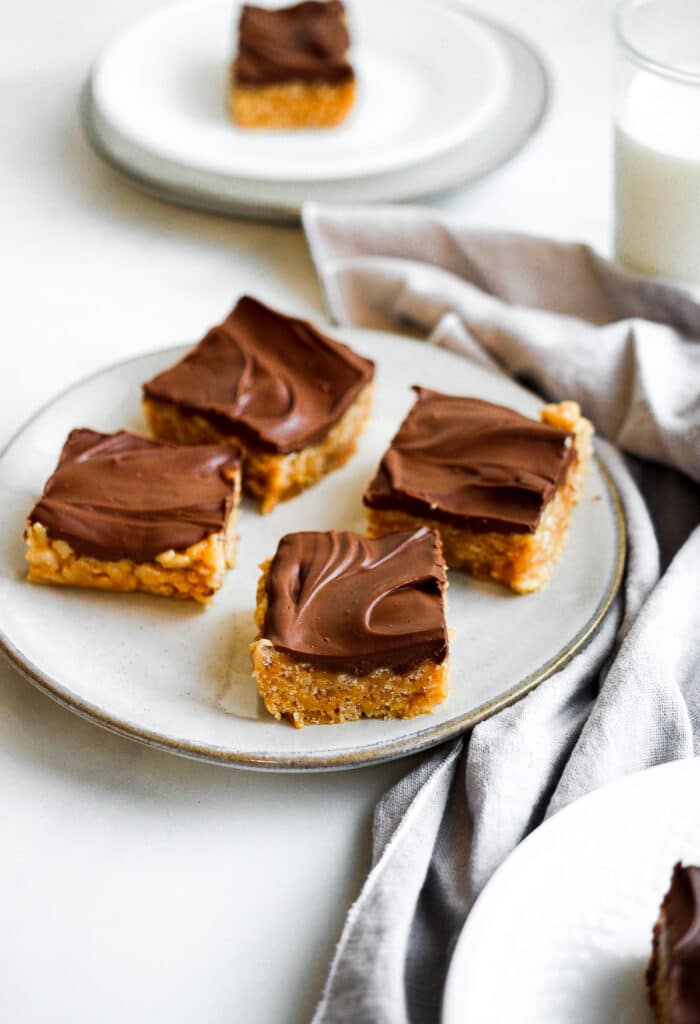 Be sure to check out these other great posts!