This easy homemade cheesecake with sweetened condensed milk is simply perfect! Try it at your next family gathering or birthday party, especially if you want something a little more exciting than traditional cake. This recipe is especially great for beginners and gives specific tips to avoid getting a dreaded crack down your cheesecake after baking.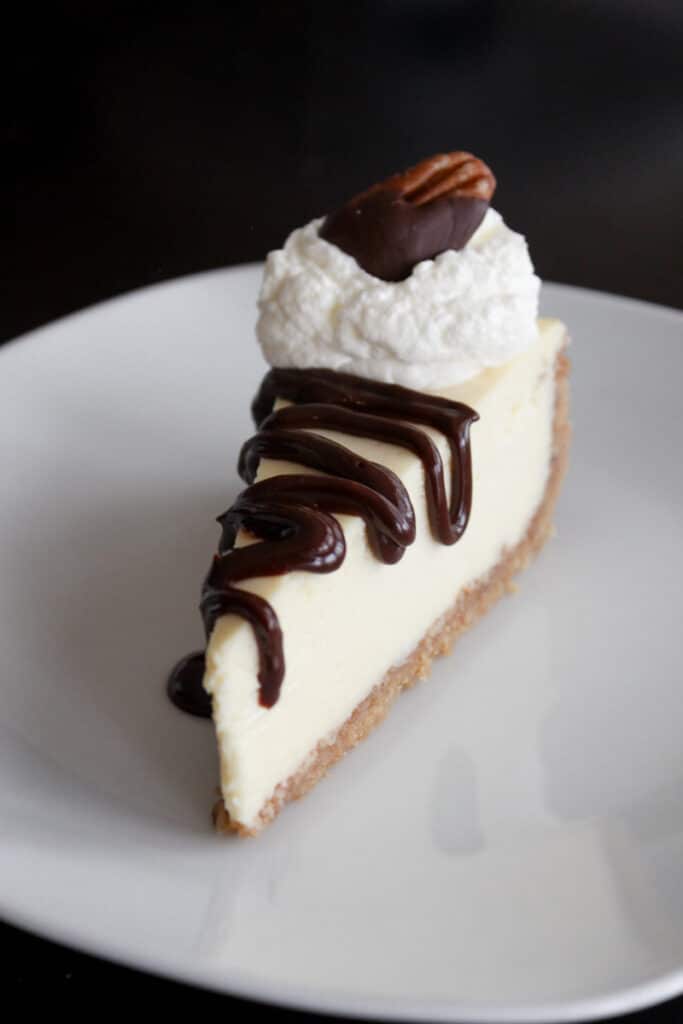 About this Homemade Cheesecake with Sweetened Condensed Milk
The texture is creamy and light, but the pecans within the crust add a rich, nutty flavor to complement the sweet, but not-too-sweet, filling. Many believe that cheesecakes are difficult to prepare, but they are quite simple if you know some helpful tricks. 
Be sure to read the entire FAQ section to ensure recipe success and a crack-free cheesecake! Though, if your cheesecake does crack, just cover it with some topping and no one will ever know.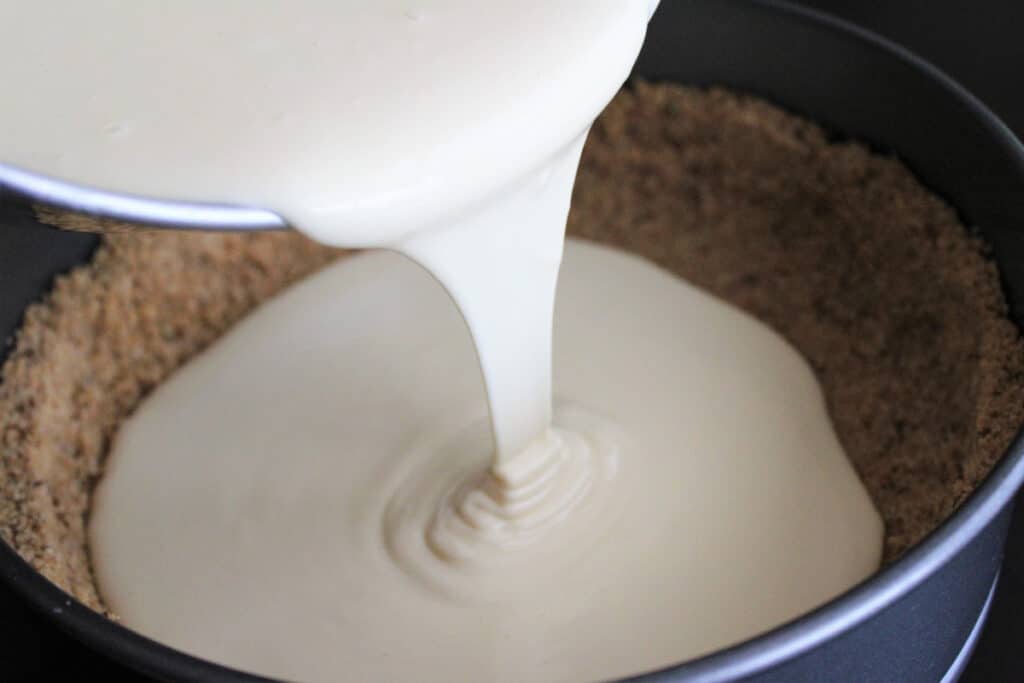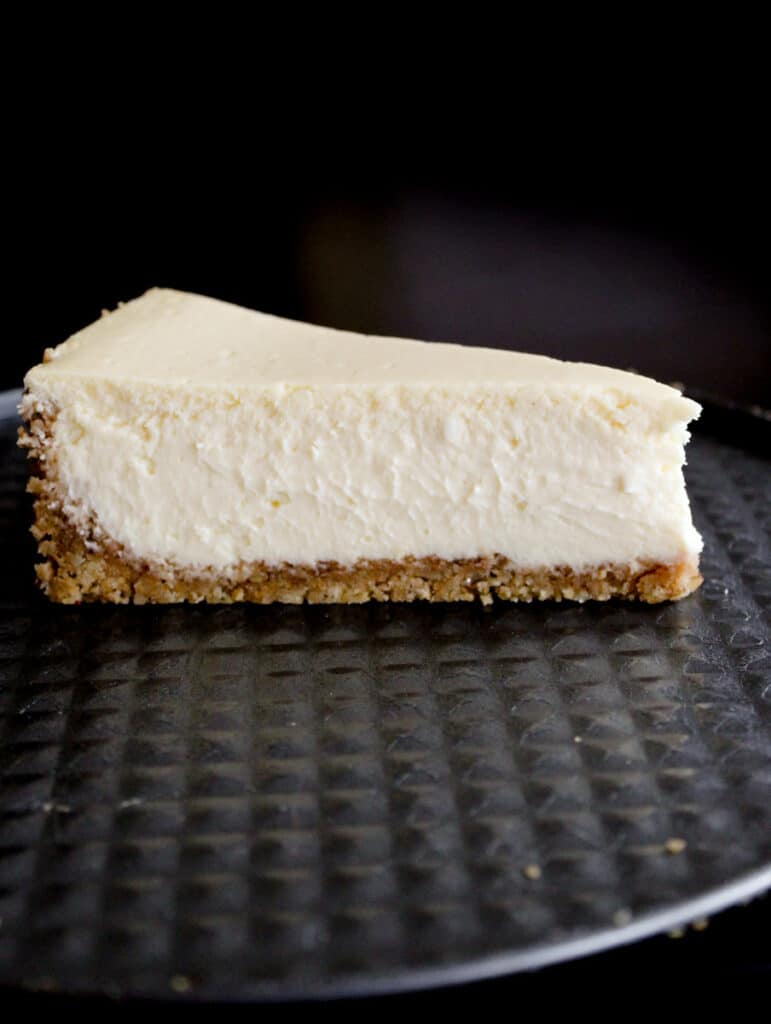 Recipe FAQs
Do I have to use a springform pan (aka cheesecake pan)?
It is best to use a springform pan when making cheesecake because the side of the pan separates from the base, which makes serving much easier. This recipe has not been tested using other types of pans, so it is only recommended to use a 9-inch springform pan for this particular recipe.
What can I do to prevent the cheesecake from cracking while it cools?
Three things. The first is to start with room temperature cream cheese and eggs. Secondly, avoid overmixing the cheesecake filling once the eggs have been added. If you overmix the batter, it incorporates too much air which can cause the cheesecake to crack while it cools. Thirdly, use a water bath while baking the cheesecake. A water bath protects the filling from the direct heat in the oven and allows the cheesecake to bake more evenly. This helps prevent the cheesecake from becoming dry and overcooked.
Why do I need to wrap the pan with aluminum foil while baking?
When using a water bath, the springform pan MUST be wrapped with one or two pieces of aluminum foil.  This crucial step will prevent water from seeping into the springform pan and into the crust. It is very important not to tear any holes in the foil when wrapping the pan or you will need a new piece of foil. This is shown below.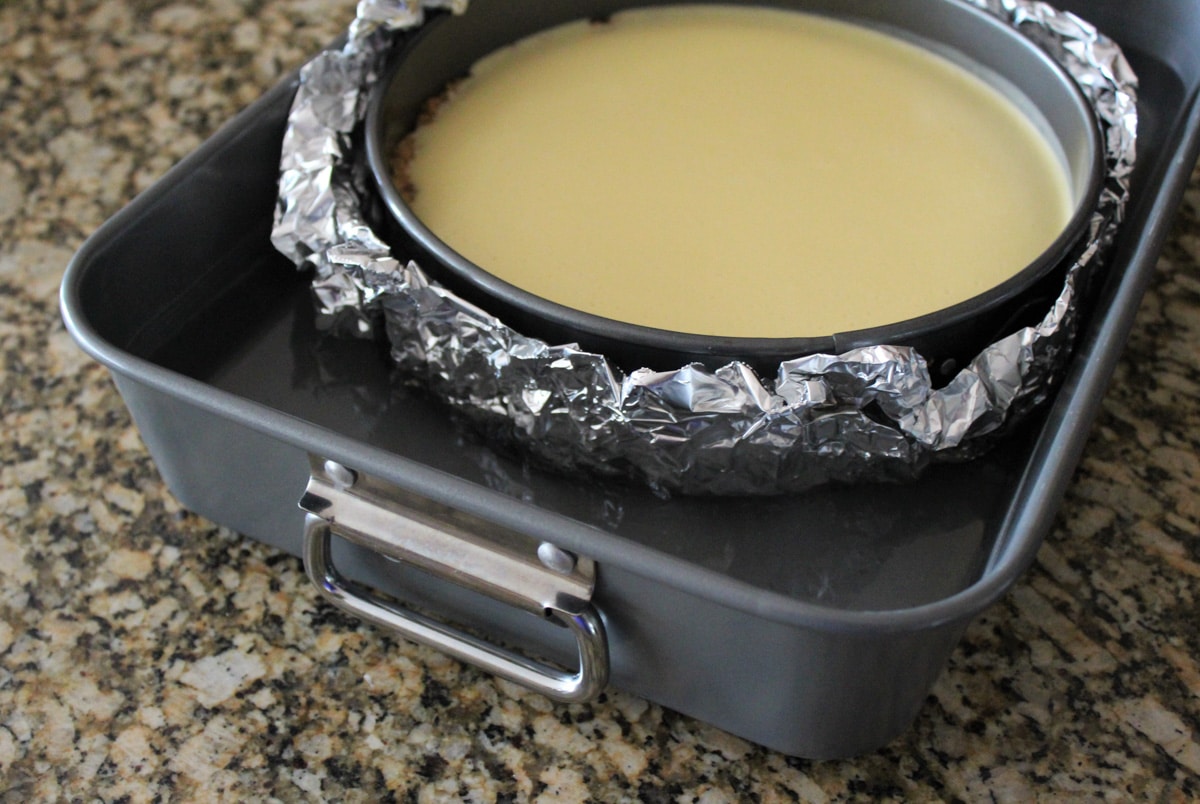 Can I make this recipe gluten free?
Yes! Just make sure you purchase graham crackers that are certified to be gluten free. Pecans are gluten free so you can still add the nuts to the crust.
How do I prevent cheesecake filling with lumps?
Make sure you soften your cream cheese and let eggs come to room temperature. This will help ensure you have a smooth, lump-free cheesecake. The cream cheese mixes best when it is softened and the eggs will also incorporate more easily. Also, scrape the mixing bowl and beater(s).
Can I freeze the cheesecake?
After baking and cooling, the cheesecake can be frozen to enjoy at a later date. Just be sure to wrap it will with plastic wrap and then foil to make sure it is airtight. Freeze for up to 3 months.
Topping Ideas
We hope you enjoy this homemade cheesecake with sweetened condensed milk as much as we do! As for toppings, some crowd favorites are fruit sauces, canned blueberry or cherry pie filling, chocolate, caramel, whipped cream, or nuts. This cheesecake is sure to fill the room with smiles, and there might not be any leftovers!
Connect with me on my socials!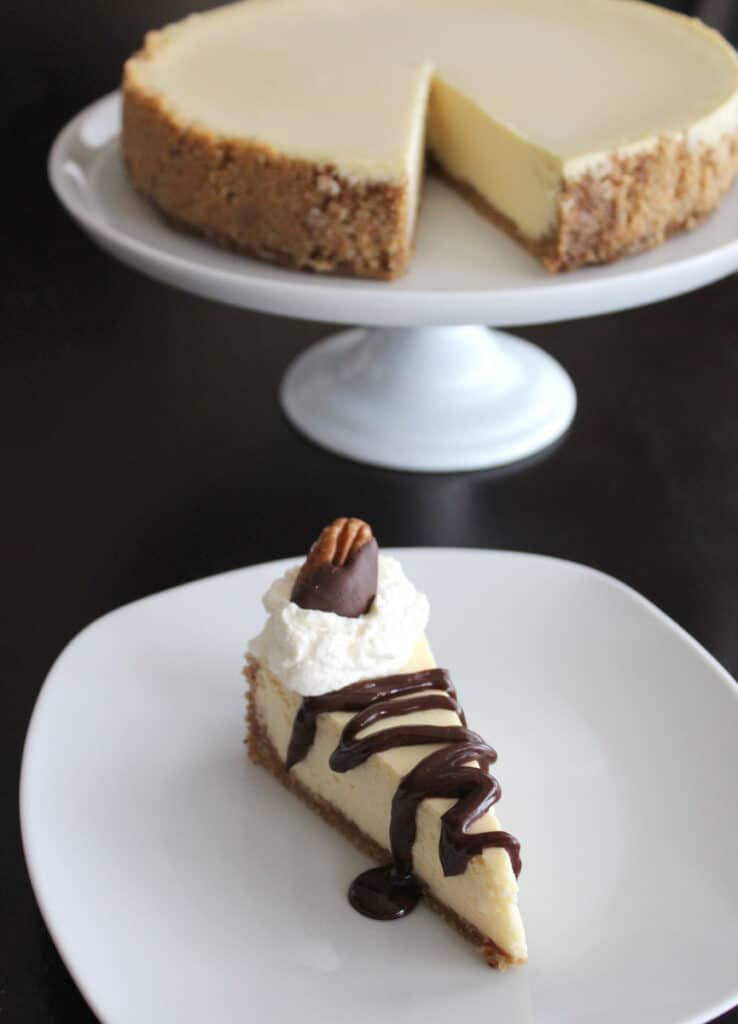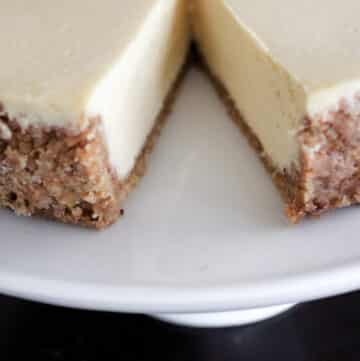 Easy Homemade Cheesecake with Sweetened Condensed Milk
This luscious, creamy homemade cheesecake is worthy enough for a celebratory dessert but simple enough if you just want some really delicious cheesecake. Add your favorite toppings while serving.
Ingredients
Crust Ingredients
1-½

cups

graham cracker crumbs

½

cup

pecans

¼

cup

sugar

½

cup

(1 stick) stick salted butter

melted
Cheesecake Filling Ingredients
3

8-ounce packages cream cheese, softened

1

14-ounce can sweetened condensed milk

see note below

3

eggs

room temperature

1

teaspoon

vanilla
Instructions
Crust Instructions
Preheat the oven to 325°F. Before you begin, make sure the cream cheese has softened before starting.

Line the bottom of a 9-inch springform pan with a parchment paper circle. This will make it easier to remove the baked cheesecake.

Prepare the crust. If using whole graham cracker sheets and whole pecans, a food processor is recommended to crush the graham crackers and pecans into crumbs.

Otherwise, you may use a gallon size Ziploc bag and rolling pin. This method works great too! Roll the graham crackers and pecans until the consistency is smooth crumbs.

Next, combine all crust ingredients in a medium mixing bowl. Press onto the bottoms and up the sides of a 9" springform pan on top of the parchment paper circle.

Bake crust in a preheated 325°F oven for 8-10 minutes. Allow crust to cool while preparing the cheesecake filling and reduce oven temperature to 300°F.
Cheesecake Filling Instructions
To prepare the cheesecake filling, beat softened cream cheese with an electric mixer on medium speed until smooth and fluffy. This will take about 2-3 minutes.

Add vanilla and gradually beat in sweetened condensed milk until smooth on medium-low speed, scraping sides of bowl.

In a small bowl, crack one egg and beat slightly. Add to the cream cheese mixture and mix on low speed after each addition. Repeat with the remaining two eggs. Mix until no egg remains visible, but do not overmix.

Prepare a water bath to bake the cheesecake by carefully wrapping aluminum foil around the bottom the springform pan. Make sure not to tear any holes in the foil or water will seep into the pan into the crust. Fill a large rimmed pan (such as a roasting pan) with ½-¾" of hot water and place in the oven.

Pour cheesecake filling into cooled crust and very carefully place the prepared springform pan wrapped in aluminum foil into the larger pan with water in the oven. This will protect the cheesecake from the direct heat of the oven so it bakes evenly.

Bake at 300°F for 1 hour to 1 hour 15 minutes or until cheesecake is well-set on the edges but barely jiggles in the center. Do not overbake. Remove cheesecake from the water bath and let cool at room temperature for at least 1 hour.

Chill in the refrigerator at least 6 hours before serving. Remove from springform pan. It is best if cooled overnight and served the next day. Store, well covered in the refrigerator.
Notes
If you do not have sweetened condensed milk, you can also substitute ¾ cup sugar instead. The cheesecake will not be quite as creamy but it will still turn out delicious!
Be sure to check out these other great posts!