Banana bread is a personal favorite of mine, but these whole wheat banana muffins are so tasty you wouldn't think them to be overall healthy! With just a few simple pantry ingredients and overripe bananas, these muffins can me mixed up and baked in under an hour. That is also about the total time that it takes a traditional loaf of banana bread to bake, so this recipe is such a keeper for those with busy schedules!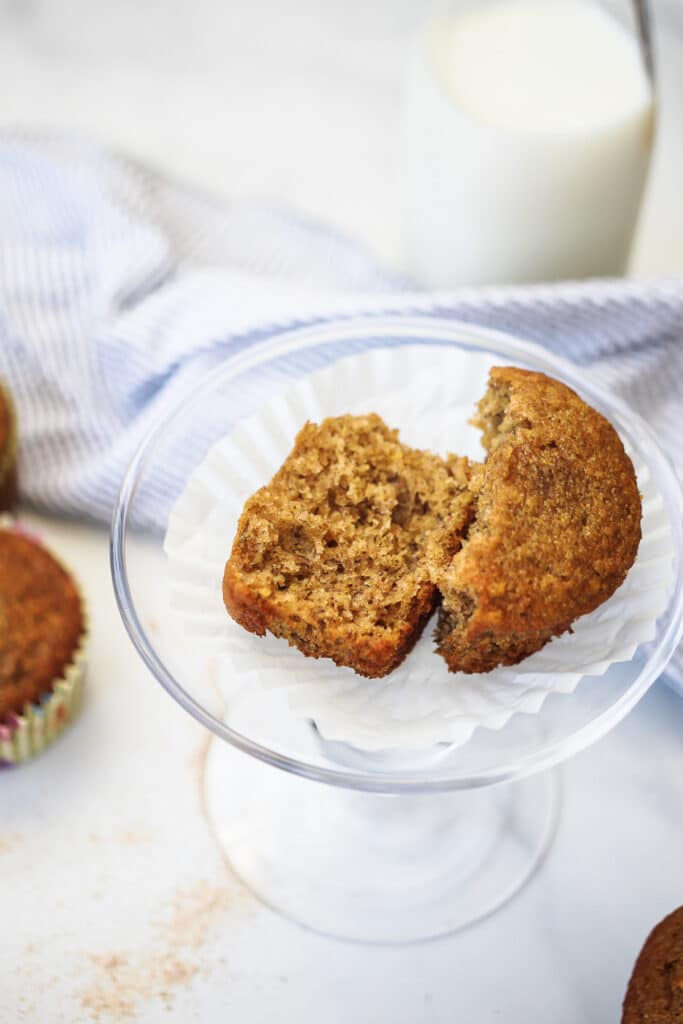 About these Whole Wheat Banana Muffins
I have been experimenting more with healthier recipes lately. It has been enjoyable and challenging trying to create recipes that 1. feature healthier ingredients and 2. still taste amazing. This recipe is really something special because the muffins are made with 100% whole wheat flour and no refined grains.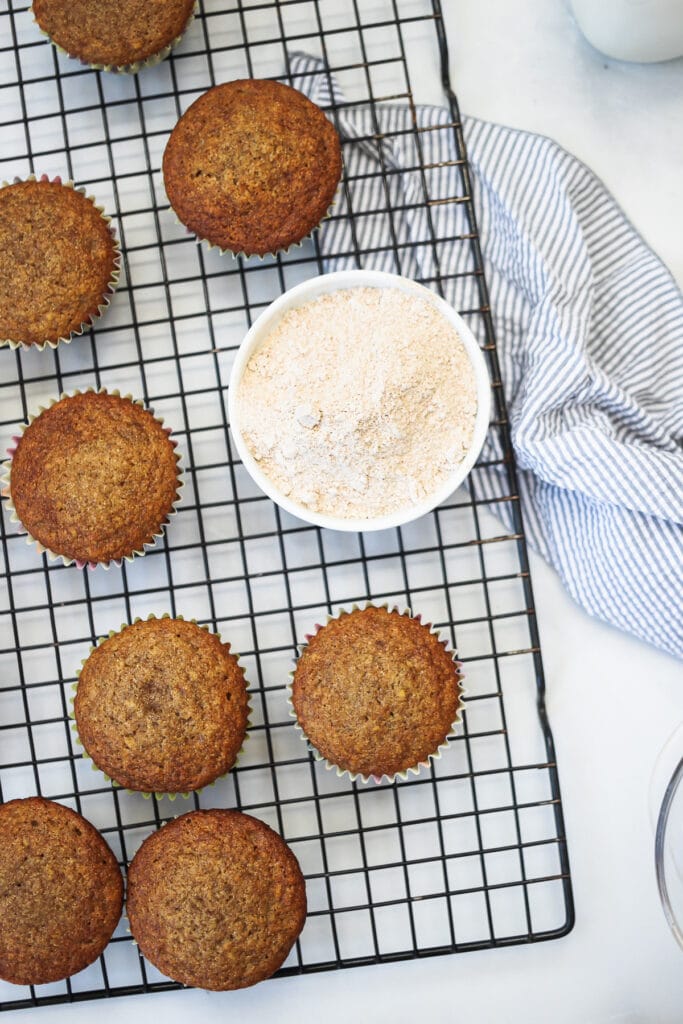 This recipe calls for granulated sugar. Many "healthy" recipes are marketed as healthy because they are made with honey, maple syrup, date syrup, coconut sugar, or other less refined sugars. At the end of the day, they are still metabolized in the body just the same as traditional sugar. My suggestion is to be mindful to quantity of sugar rather than the type of sugar being used.
These whole wheat banana muffins are super light, moist, and have a texture more similar to a cupcake than a traditional muffin. The whole wheat flour lends a nutty flavor that works really well with the flavor of the banana. Though best while still warm from the oven, these muffins are delicious anytime!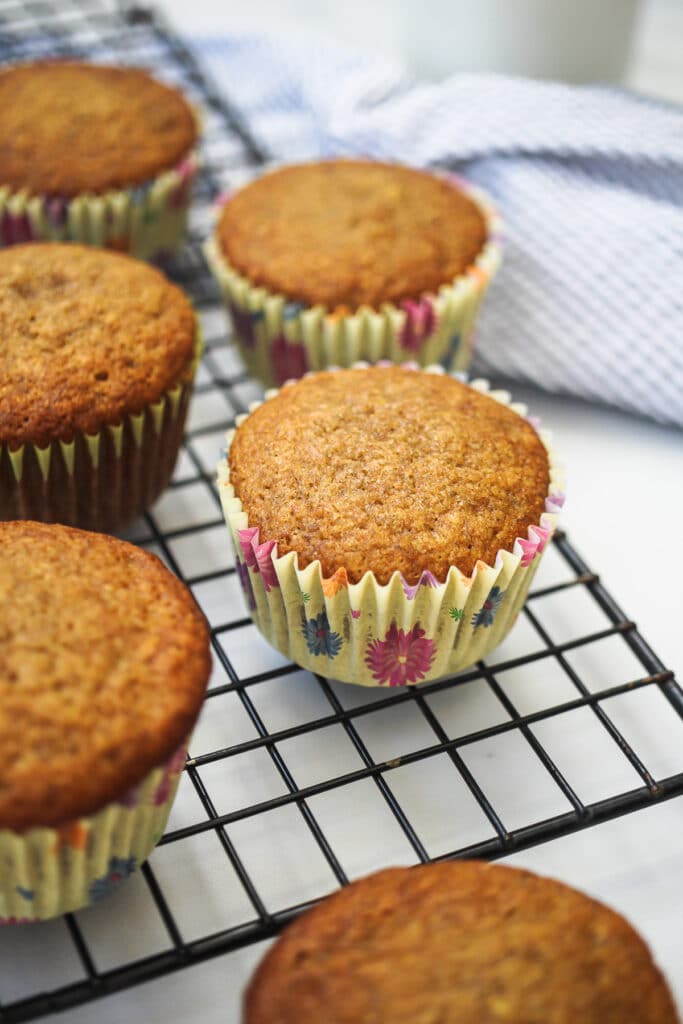 Recipe FAQs
Can I use all-purpose flour instead of whole wheat flour?
Yes, though whole wheat flour is recommended for the health benefits. If using all-purpose flour, increase the flour to 1-½ cups instead of 1-¼ cups.
How many muffins does this recipe make?
This recipe yields approximately 16-18 muffins. You will want to fill the muffin liners about ⅔rds of the way full so the batter does not spread over the edge of the liner while baking.
How should the baked muffins be stored?
The muffins will keep at room temperature in an airtight container for up to 3 days. Beyond that, the muffins should be stored in the freezer. They can be rewarmed in the microwave using the defrost setting or allowed to thaw at room temperature before enjoying.
Thank you for reading! If you try this recipe, please be sure to leave a comment and rating in the comment field below. If you like banana recipes, I highly recommend you check out the following recipes too!
Banana Oat Muffins with Chocolate Chips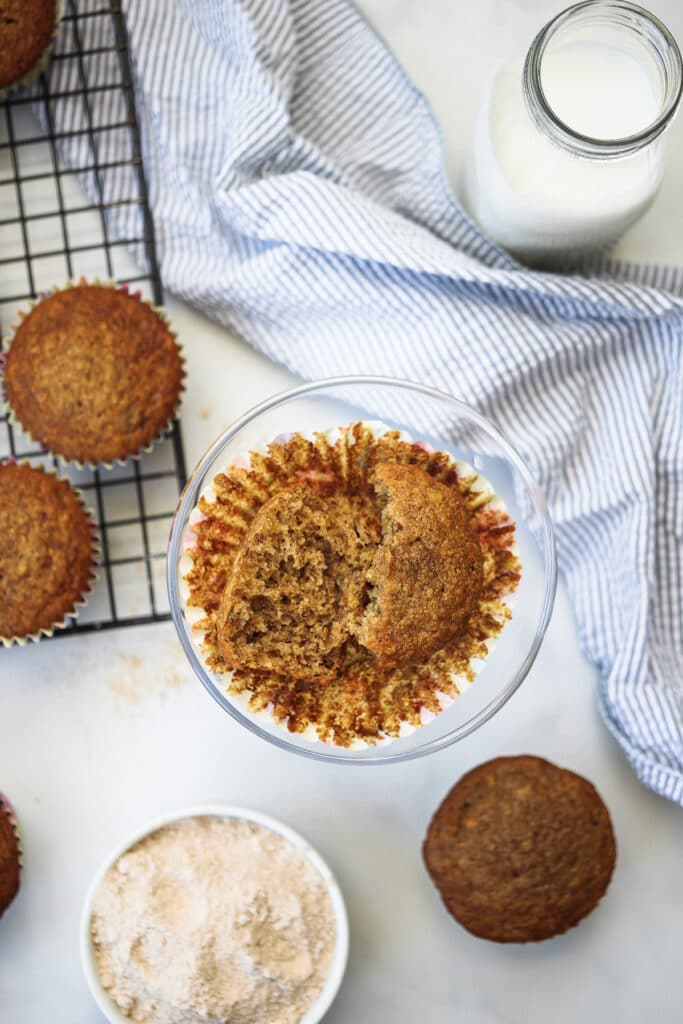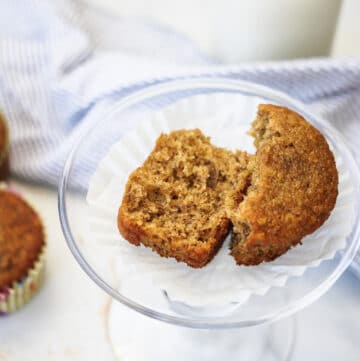 Healthy Whole Wheat Banana Muffins
These light and airy whole wheat banana muffins are simple to prepare and will disappear quickly. They are the perfect way to use overripe bananas in a recipe that that is healthy but still tastes like a treat!
Ingredients
½

cup

vegetable oil

2

eggs

⅔

cup

sugar

1

teaspoon

vanilla

¼

cup

milk

1

cup

mashed overripe bananas

(about 2-3 bananas)

1 ¼

cups

whole wheat flour

1

teaspoon

baking soda

½

teaspoon

salt

½

cup

chopped pecans or walnuts

chopped
Instructions
Preheat oven to 375 degrees F. Line muffin pans with baking cups. The recipe yields about 16 muffins.

In a medium mixing bowl, whisk together the vegetable oil, eggs, and sugar until combined. Stir in the vanilla, milk, and mashed bananas and mix until smooth.

In a separate bowl, combine the whole wheat flour, baking soda, and salt. Mix to combine. Add the dry ingredients to the wet ingredients. Stir just until combined but do not overmix. Add the chopped nuts, if using.

Add the batter to the baking cups, filling approximately ⅔rds of the way full.

Bake the muffins for approximately 15-18 minutes or until set and the tops have just started to brown. Remove them carefully from the pans and let cool on a cooling rack before storing.
Notes
You may use fresh or frozen overripe bananas for this recipe. 
Be sure to check out these other great posts!