It has been an insanely busy and productive week, and I found myself with 3 ripe bananas on my counter. I honestly forgot about them, but I never complain about overly ripe bananas. When the peels have turned spotty with brown, you have perfect bananas for baked goods. Banana bread is typically my go-to, but I wanted something a little different. These banana oat muffins really hit the spot and I have highlighted why below!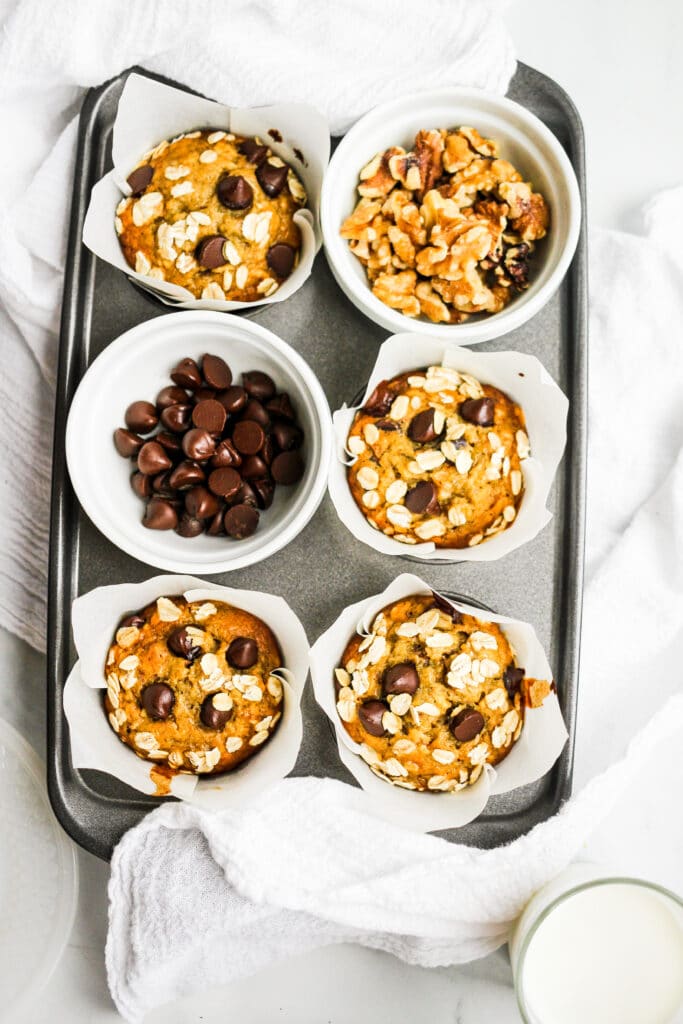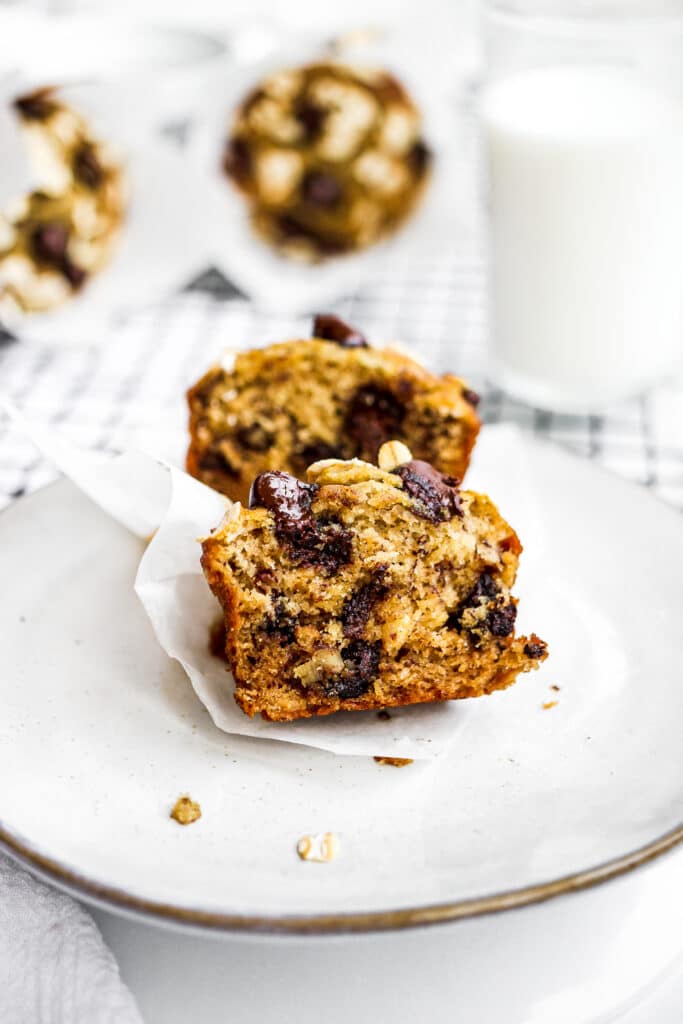 Banana Oat Muffin Texture
These banana oat muffins have a very similar texture and flavor to banana bread. What's not to love?! These pretty little muffins are made with vegetable oil helping contribute to a tender crumb that bakes up beautifully. Since they are a muffin, the old-fashioned oats and walnuts add a pleasant texture that makes them seem heartier. The oats are also a whole grain which adds little bit of extra nutrition. I like the addition of oats so much, I am going to start experimenting with oats or oat flour in other muffin recipes. I am thinking I need to start with blueberry muffins.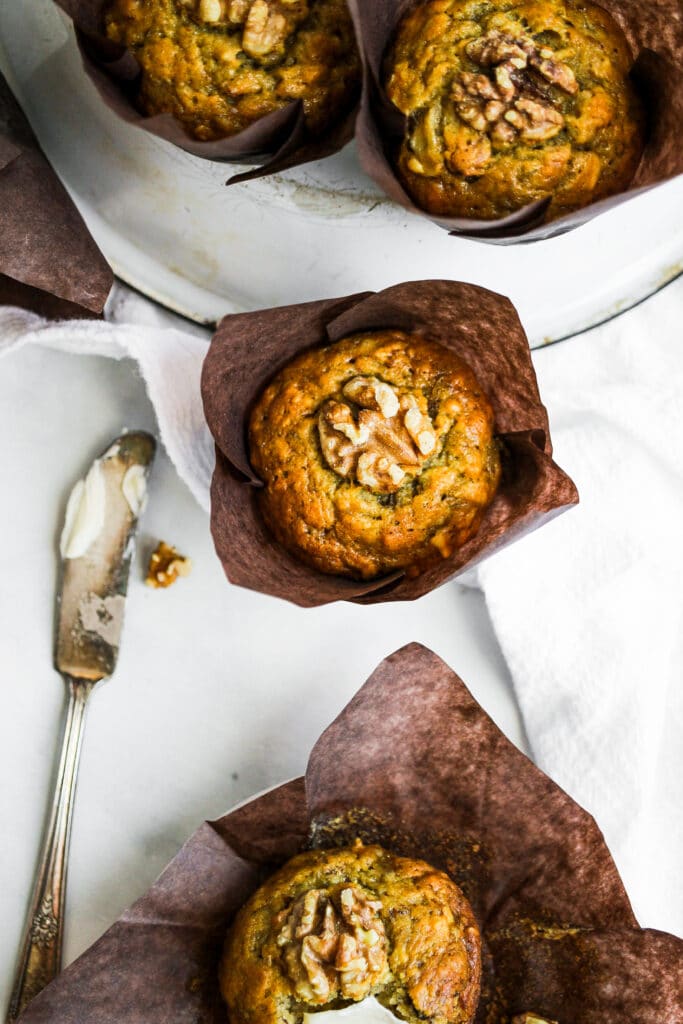 Banana Oat Muffin Flavor Highlights
Flavor-wise, the muffins are perfectly sweet and nutty. I highly recommend using walnuts but you could omit them altogether or substitute pecans based on your preferences or dietary needs. In addition to walnuts, I highly recommend adding dark chocolate chips to the batter. The little bites of chocolate throughout the muffins make them extra satisfying! For the perfect bite, serve the muffins warm out of the oven with a nice pat of butter. You can also warm them briefly in the microwave. Either way, they are truly perfection.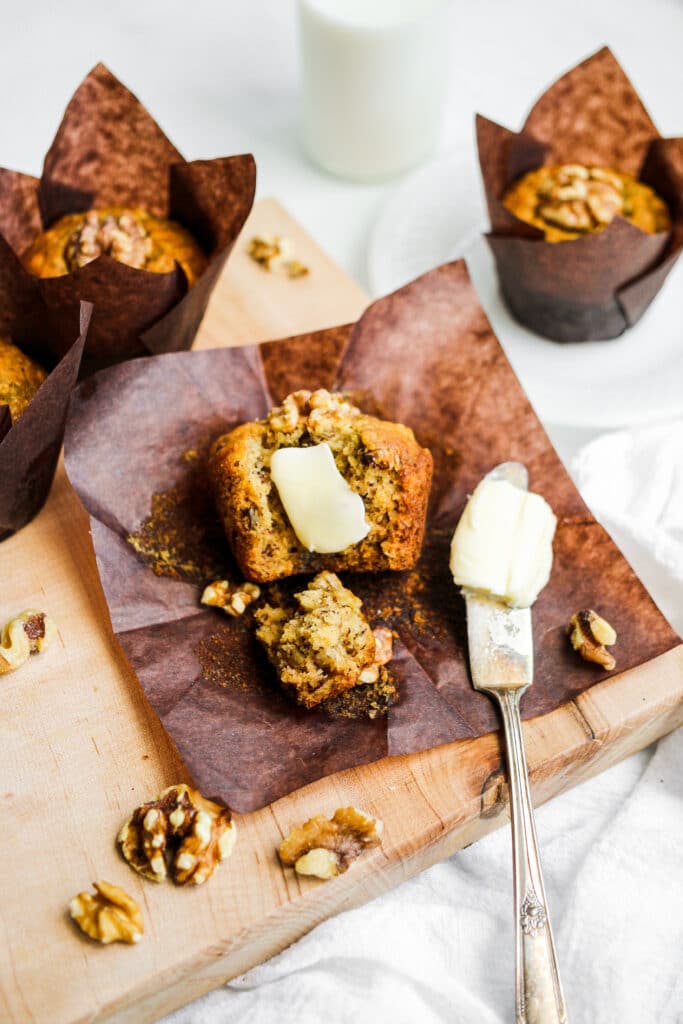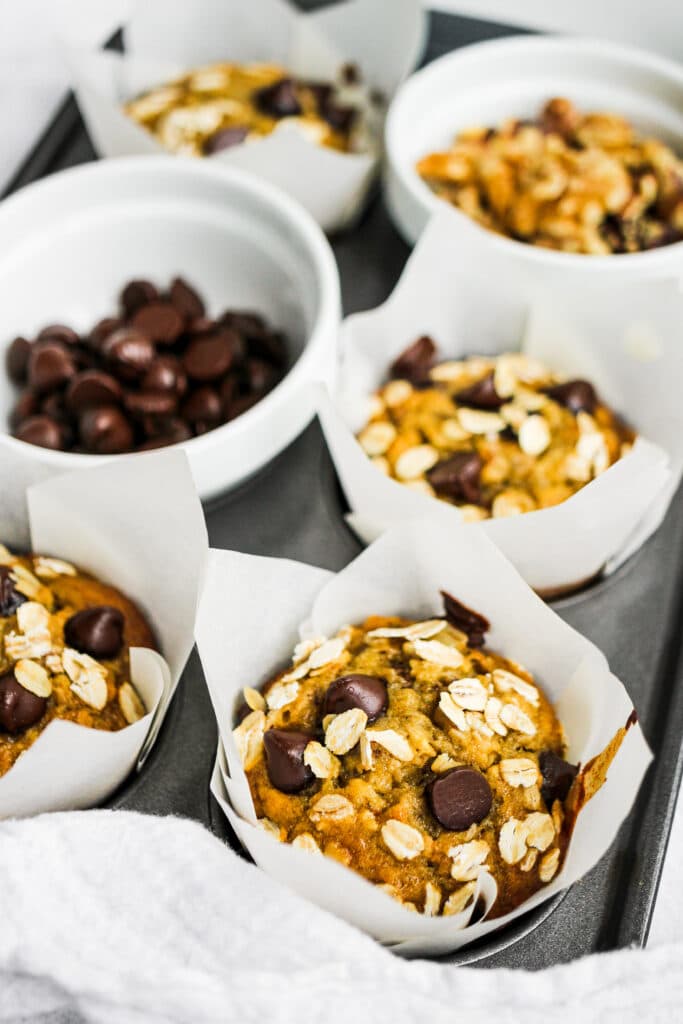 Other Baking Tips
The nice aspect of these muffins is that they are super easy to mix up. The key to successful muffins is to mix just until combined. Overmixing will make the muffins on the tough and dry side. To make them even more beautiful, I topped half of the muffins with a light sprinkling of old-fashioned oats and chocolate chips and the other half with a walnut half before baking. I cannot decide which I like better! Do you have a favorite?
I also recommend baking them in parchment paper cups, like the ones here that I used from Baker's signature. I have included a link to them on Amazon here. They come in a 150-count pack with three colors, and they are a wonderful product. Otherwise, you can use any regular cupcake or muffin liner.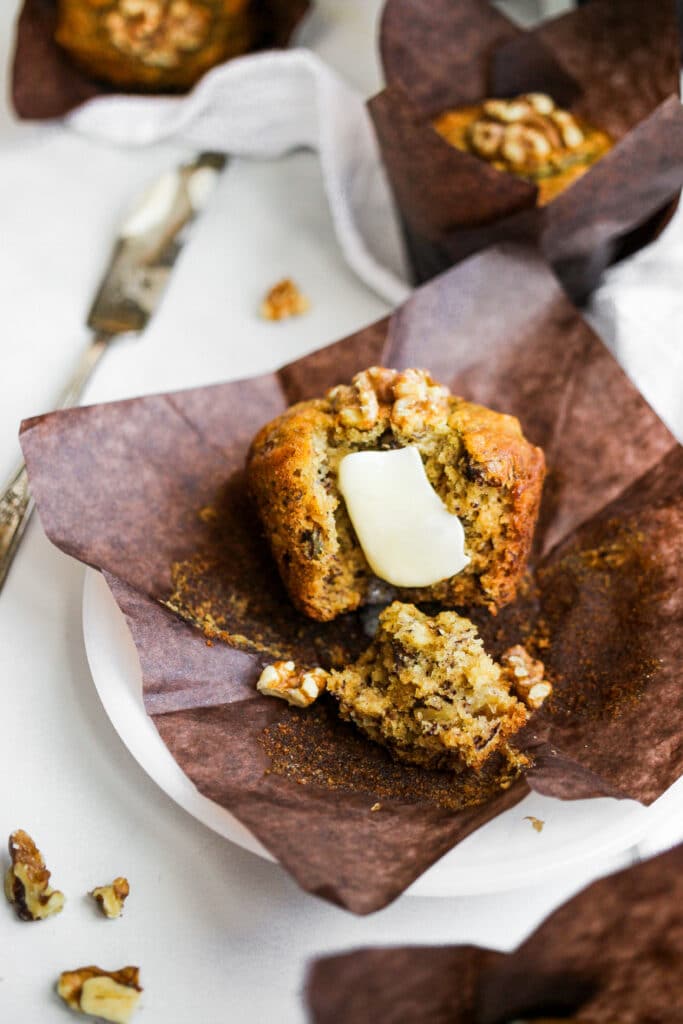 The next time you have some ripe bananas, stir up a batch! You may also use frozen bananas in this recipe too. These banana oat muffins are easy, delicious, and would be perfect for a weekend brunch with friends or as a snack! Remember what I said, don't forget the butter!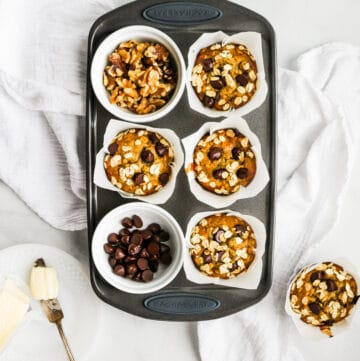 Banana Oat Muffins without Butter
These banana oat muffins are just like banana bread but bake in way less time! Actually, they might even be better than banana bread because they have muffin tops! Try them out and see what you think? The oats make them extra special. The dark chocolate chips are also highly recommended!
Ingredients
¾

cup

brown sugar

1

egg

⅓

cup

vegetable oil

2

Tbsp

milk

½

tsp

vanilla

1

cup

mashed, ripe bananas

(2-3 bananas)

½

cup

old-fashioned oats

plus extra for topping muffins

1 ¼

cups

all-purpose flour

1

tsp

baking soda

¼

tsp

salt

1

cup

walnuts, chopped

plus extra walnut halves for topping muffins

¾

cup

dark chocolate chips

plus extra for topping muffins
Instructions
Preheat oven to 350° F. Line a muffin tin with cupcake liners or parchment baking cups.  

In a large bowl, whisk together sugar, egg, vegetable oil, milk, and vanilla until the mixture is combined and smooth. Stir in the mashed bananas and oats.

In a separate bowl, combine the flour, baking soda, baking powder, and salt; mix until combined. Add the dry ingredients into the large bowl of wet ingredients and stir just until combined. Fold in the walnuts and dark chocolate chips. DO NOT OVER MIX.

Scoop batter into the lined muffin cups so they are about ⅔ of the way full. Top the batter with a walnut half, dark chocolate chips, and/or sprinkle with plain oats. Bake for about 18 – 20 minutes, or until golden brown and a toothpick inserted into the center of a muffin comes out clean. Remove muffins from the pan and place on a cooling rack to cool.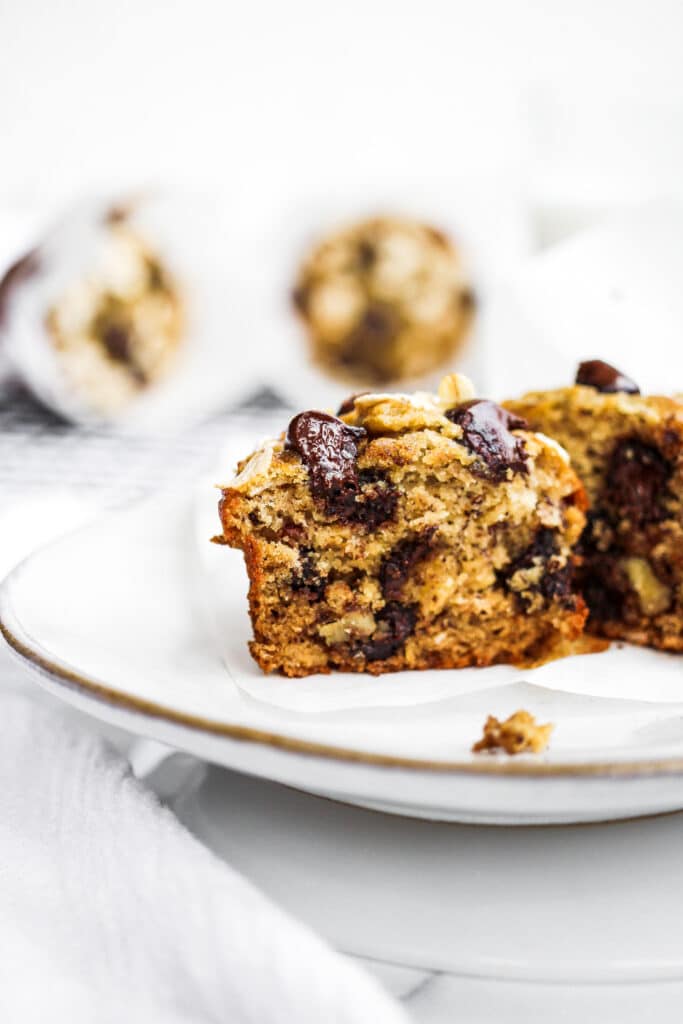 Be sure to check out these other great posts!