This easy recipe for homemade double chocolate granola features a few of my favorite things: oats, coconut, and of course chocolate! The chocolatey granola is drizzled with extra chocolate. My favorite thing of all about this recipe is that the granola stays in clusters, making it perfect for snacking.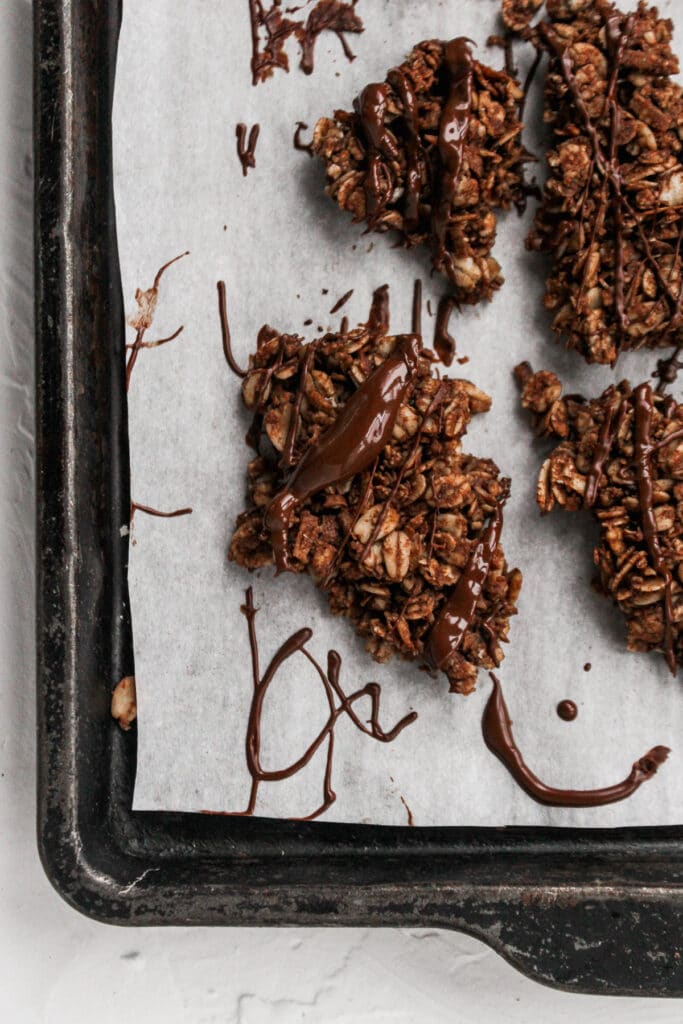 I Love Chocolate
Let's start with the chocolate. I pretty much love chocolate at all times, whether it be solid chocolate, brownies, candies, chocolate chips, etc. I really do not discriminate. My favorite kinds of chocolate are dark chocolate and semi-sweet chocolate.
Milk chocolate is good when it comes to candy, especially in the form of Reese's, Twix, or Snickers. The only kind of chocolate I really do not care for much is white chocolate, but it's not even real chocolate anyway. Sometimes, I will even nosh on chocolate chips and pretzels for a snack. No judgment, right?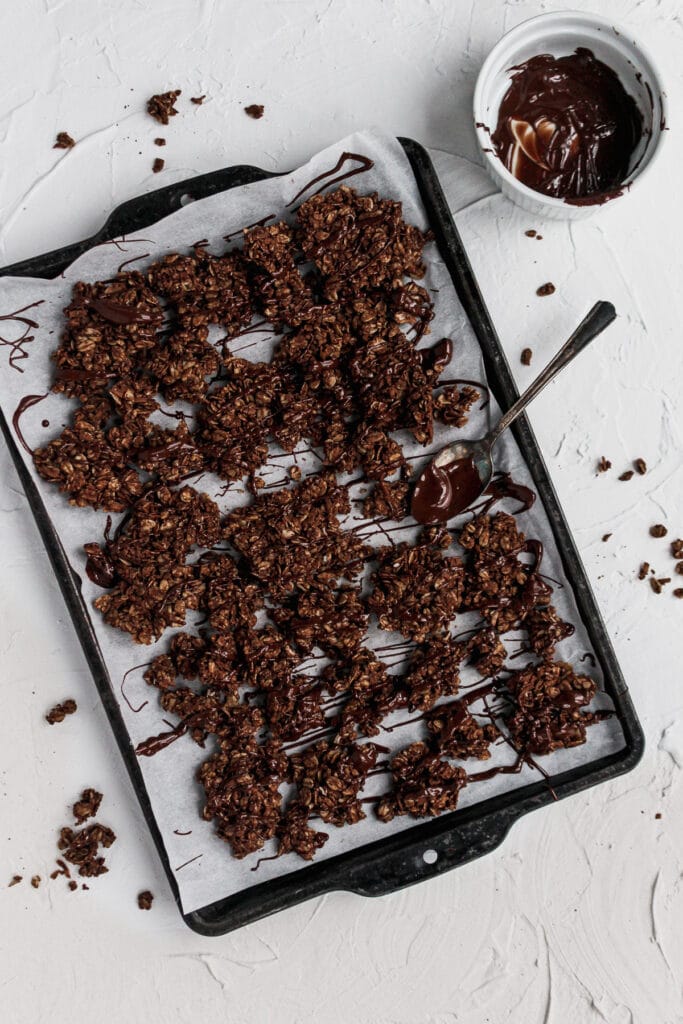 About this Homemade Double Chocolate Granola
I obviously can't eat chocolate all the time but this recipe is great because it satisfies a chocolate fix while still providing some fiber thanks to the oats. Granola is healthy-ish... For granola, I generally stick to homemade since I love the flavor, and it is so easy to make.
In this recipe, I decided to combine my love of granola and chocolate into a perfectly crisp snack. This homemade double chocolate granola is good enough to eat plain but it can also be paired with healthier breakfast options, such as oatmeal or plain Greek yogurt. Just sprinkle the granola generously over the top and add strawberries or raspberries if you want a boost of flavor and fiber!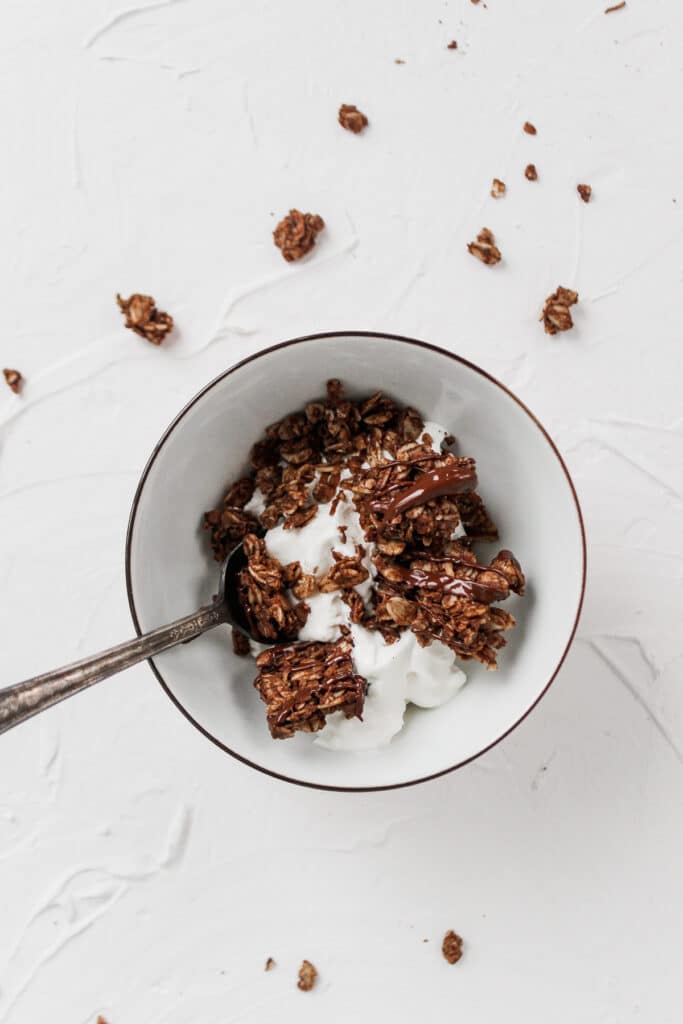 Unlike traditional granola that is in small bits, this granola stays in decent sized clumps. This is thanks to the addition of the flour to help bind it all together. To take it over the top and ramp up the chocolate flavor, I drizzled it with semi-sweet chocolate after baking.
Common FAQs
How do I know if the granola is done?
The bake time will vary depending on the type of pan used and placement in the oven. The recipe includes a range of 30-35 minutes. The oats should start to be crispy, but keep in mind the granola will harden as it cools. Just be careful not to overbake the granola.
Why use parchment paper?
The parchment paper ensures easy clean-up and no-sticking! It doesn't require any greasing either.
Can I substitute other types of chocolate for the drizzle?
Absolutely! You can use dark chocolate, milk chocolate, white chocolate, or even a combination of these.
Do you have other granola or other breakfast recipes?
Absolutely! These granola clusters are one of my most requested recipes!
Pecan Granola with Dried Fruit
If you make my recipe, please be sure to leave a rating and comment. I love hearing from you!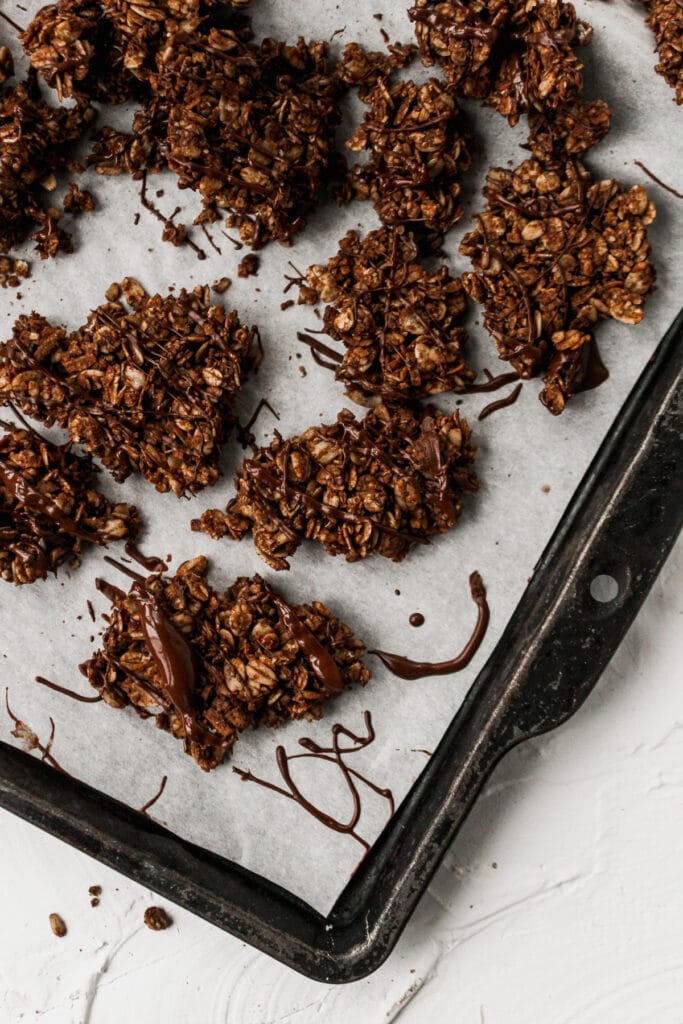 Double Chocolate Granola
Chocolate lovers, this double chocolate granola recipe is for you! This granola features cocoa powder in the granola and an extra drizzle of chocolate on top. It is the perfect texture and actually stays in clumps. Enjoy it on yogurt, plain, or with your favorite milk of choice!
Ingredients
2

cups

old fashioned oats

1

cup

quick cooking oats

¼

cup

all-purpose flour

½

cup

sweetened coconut flakes

⅓

cup

vegetable oil

¼

cup

sugar

¼

cup

maple syrup

⅓

cup

unsweetened cocoa powder

¼

teaspoon

salt

1

teaspoon

vanilla

½

cup

semi-sweet chocolate chips

for the drizzle
Instructions
Preheat oven to 300°F and line a large baking tray with parchment paper. In a large mixing bowl, stir together both types of oats, flour, and coconut flakes.

In a microwaveable bowl, combine the vegetable oil, sugar, maple syrup, cocoa powder, and salt. Stir well. Heat in the microwave for about 45 seconds or until the mixture is warm and the sugar is dissolved. Do not boil. Add the vanilla.

Pour the chocolate mixture over the oat mixture and stir until the oats are completely coated. Spread the mixture into a thin, even layer on the parchment-lined baking tray. Press gently to flatten. Bake for 30-35 minutes or until the oats are completely dried out and crisp.

Melt the chocolate chips and drizzle evenly over the baked granola. Once cool, break up the granola and store at room temperature in an airtight container.
Follow along on my socials!
Be sure to check out these other great posts: