I think just about everyone likes banana bread. It is a perfect sweet treat that can be eaten at breakfast, as a snack, or even dessert. Plus, it is a delicious way to use up those last few bananas that got too ripe sitting on the counter! Maybe that doesn't happen at your house, but it does at ours all the time. In many cases, I end up freezing them to bake with or make smoothies with at a later date. Food waste really bothers me, so this is a win-win.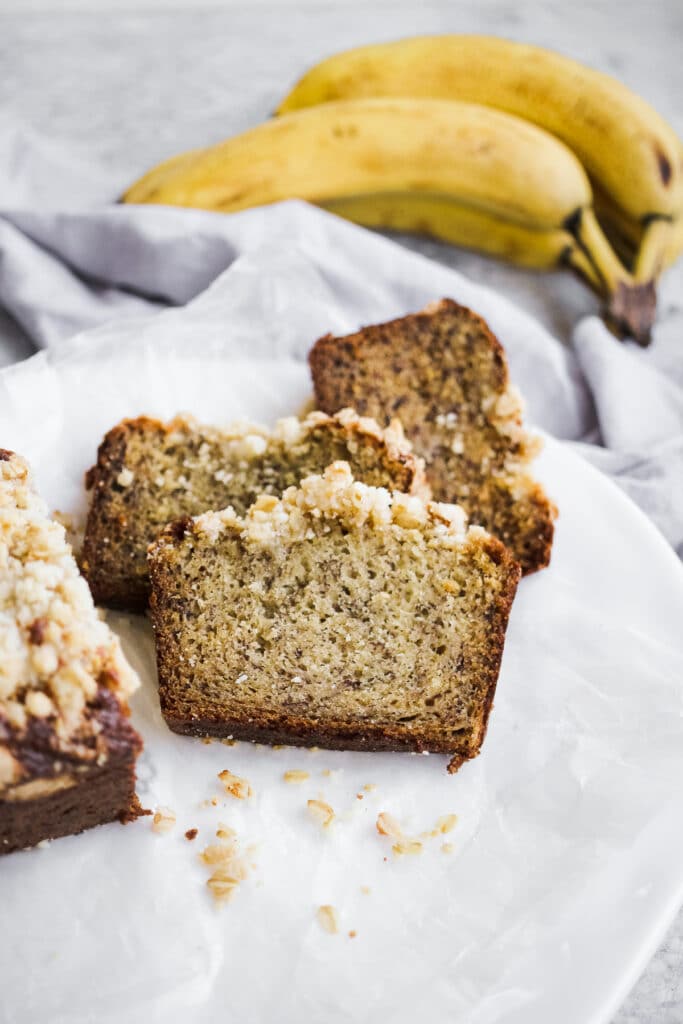 About this Recipe
Another thing I love is streusel. It is buttery, sweet, crunchy, and embellishes desserts beautifully. As I was staring at some browning bananas on my counter, I had the genius idea to make streusel topped banana bread. This is truly a match made in heaven! Normally, my go-to banana bread recipe is the one passed down from my grandmother Elizabeth (Ebby). Her classic recipe made with butter can be accessed here.
This recipe is made with vegetable oil instead of butter, but no one would ever know. I have found quick bread recipes made with vegetable oil to come out tender, moist, and time-saving. It isn't difficult to soften and cream butter for a recipe, but I am insanely busy these days chasing after Mitchy (and am also 41 weeks pregnant today!). Come on, baby! Any time saving measures are helpful. Other moms and dads out there can relate!
I also always measure my bananas with a discrete unit of measure (1 cup for this recipe). I find it annoying when banana recipes simply list a number of bananas. Bananas vary significantly in size, and the amount of banana used will effect the final product. I hope this helps you too!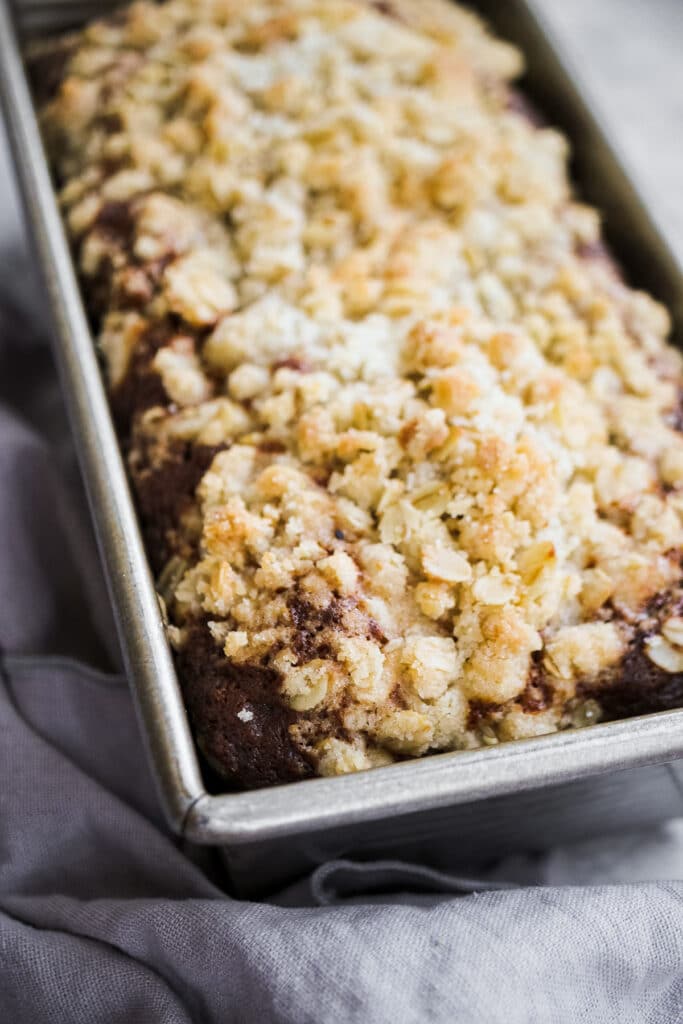 As you can see from the photos, the streusel on top is thick and crunchy! It offers a pleasant contrasting texture to the banana bread. It is perfectly sweet and buttery. You may never want plain banana bread ever again!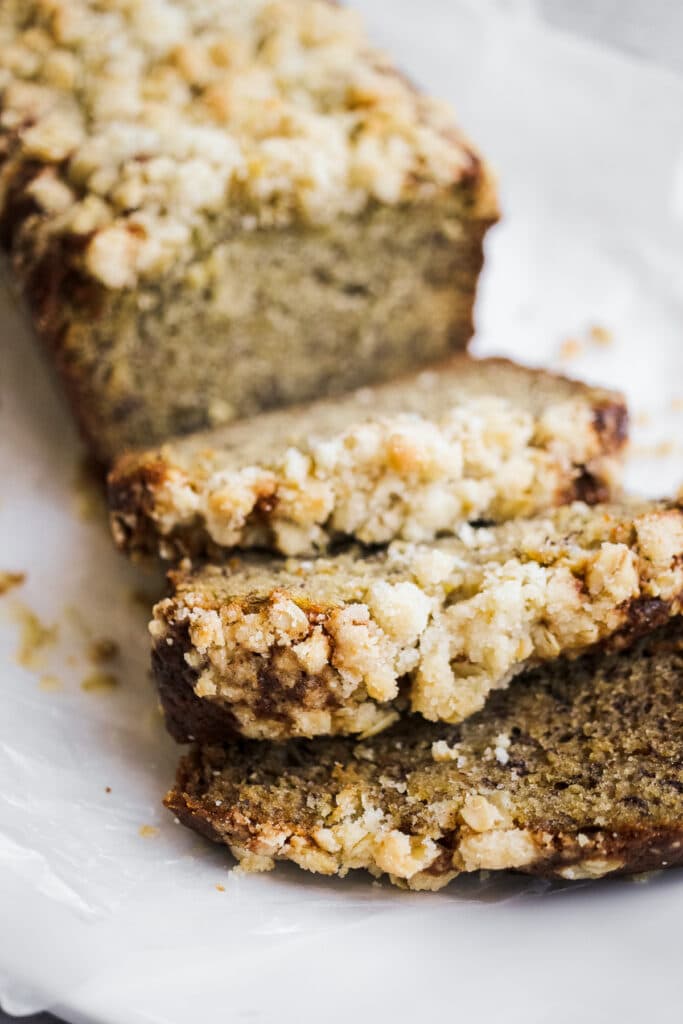 Banana Tips
Now about the bananas. The riper the bananas, the better the caramelization and flavor. The bananas shown below are a little on the yellow side for banana bread but they will certainly still work. You may also use thawed frozen bananas in this recipe too. Just make sure to remove some of the excess liquid to prevent too much liquid in the final loaf.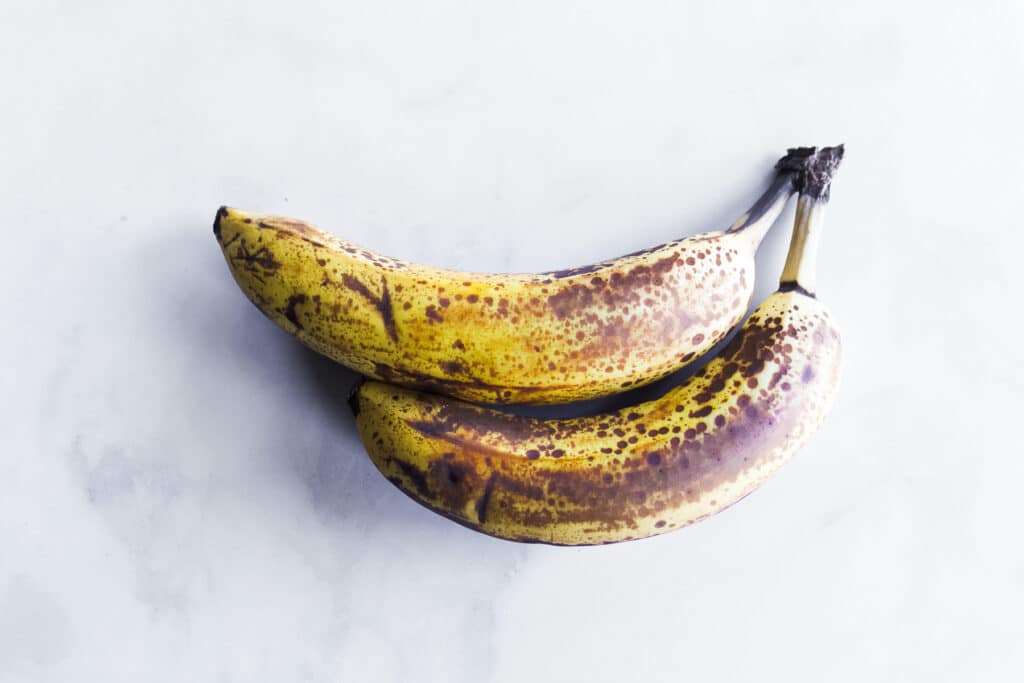 Like all banana bread, it is best warm out of the oven served with a nice smear of melted butter. However, it is quite nice warmed for a few seconds in the microwave, too. As I suspected, the streusel was my favorite part. It was so good that I would recommend adding it to the top of any banana bread recipe, to be honest. It can be tossed together very quickly since it uses melted butter. I did not add nuts to my bread, but they would be an excellent addition too.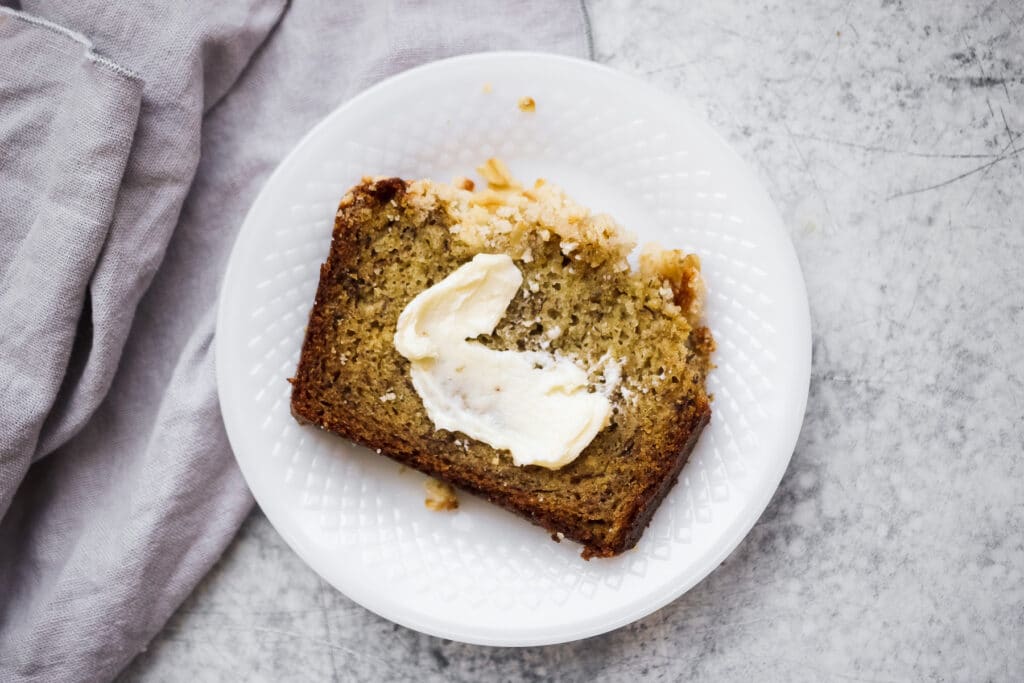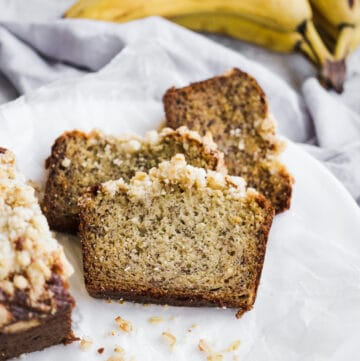 Streusel Banana Bread
This banana bread is perfectly moist, tender, and topped with a generous layer of streusel topping! This lovely loaf is perfect for sharing, though you will probably want to keep it all for yourself.
Ingredients
Banana Bread Ingredients
¾

cup

sugar

½

cup

vegetable oil

2

eggs

1

teaspoon

vanilla

1

cup

mashed overripe bananas

2-3 bananas, depending on size

1 ¼

cups

all-purpose flour

1

teaspoon

baking soda

¼

teaspoon

salt
Streusel Ingredients
¼

cup

sugar

¼

cup

all-purpose flour

¼

cup

old fashioned oats

2

tablespoons

salted butter

melted
Instructions
Preheat oven to 350° F, and grease a 9 x 5 inch loaf pan or line with parchment paper.

First prepare the streusel topping. In a small mixing bowl, stir together the sugar, flour, and oats. Pour the melted butter over the dry ingredients and mix well until clumps form. Set the topping aside.

Next, prepare the banana bread batter. In a medium mixing bowl, add the sugar, vegetable oil, and eggs. Whisk until completely smooth and light yellow in color. Add the mashed bananas and vanilla. Mix well.

In separate bowl, stir together the flour, baking soda, and salt. Pour the dry ingredients into the banana mixture, and stir with a spatula just until the flour is incorporated. Do not overmix or it will toughen the bread.

Pour the batter into your greased loaf pan. Top the bread batter evenly with the streusel topping. Immediately place in the preheated oven and bake for approximately 45-50 minutes, or until a tester comes out clean in the center of the bread. Let cool slightly before removing from the pan. Slice and enjoy!
Process Pics of the Streusel Banana Bread
Perfect streusel that is nice and crumbly: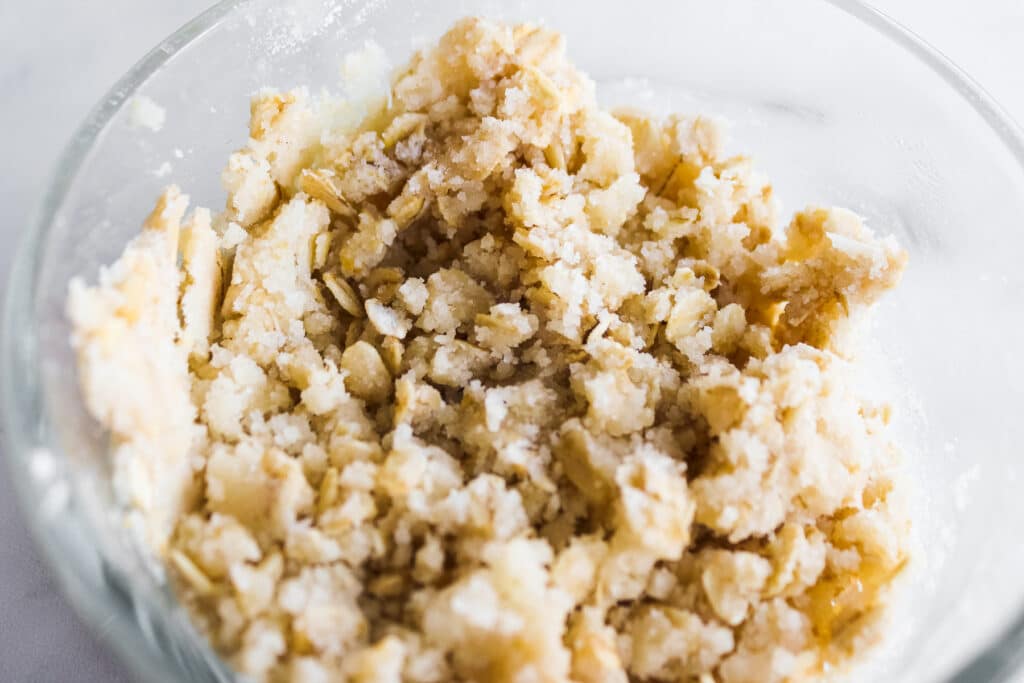 Batter & streusel: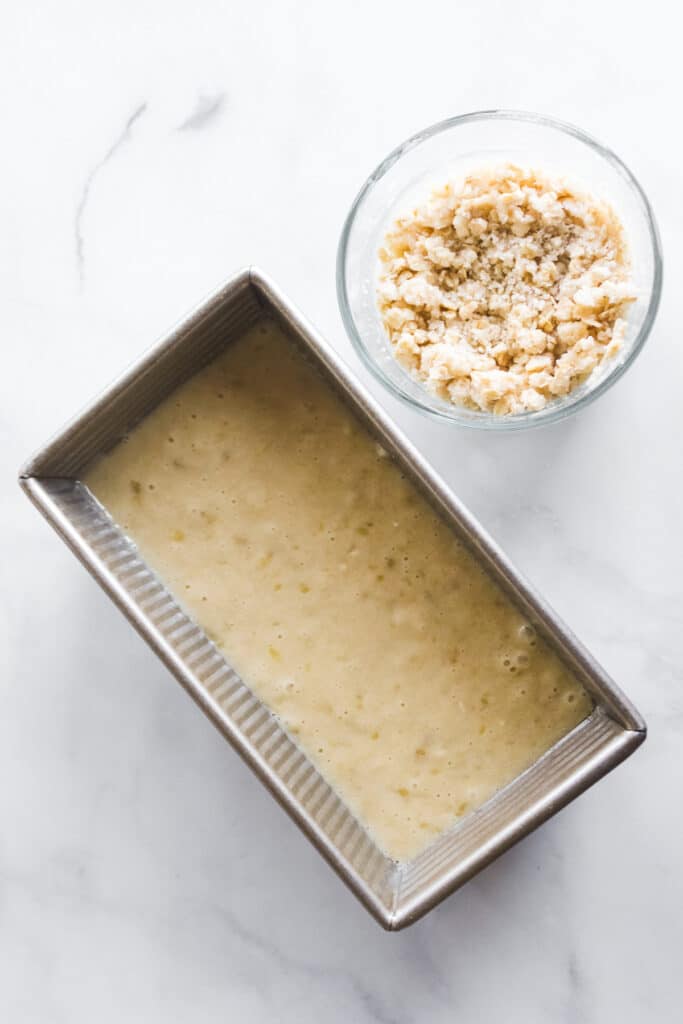 Add even layer of streusel over the batter & immediately place in oven (so it doesn't start to sink):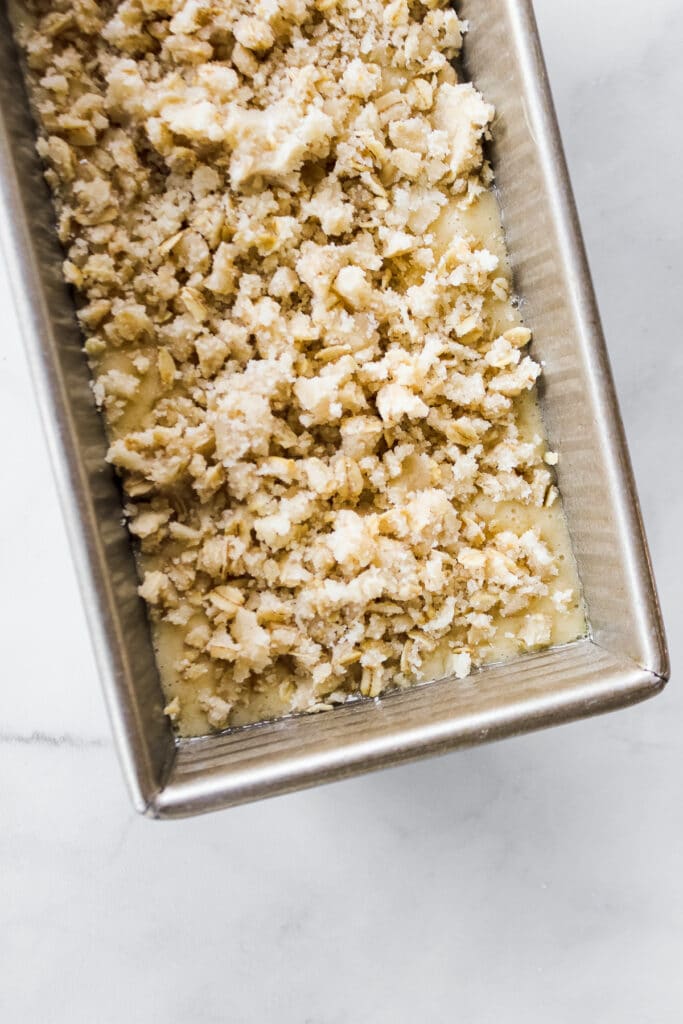 Bake to perfection!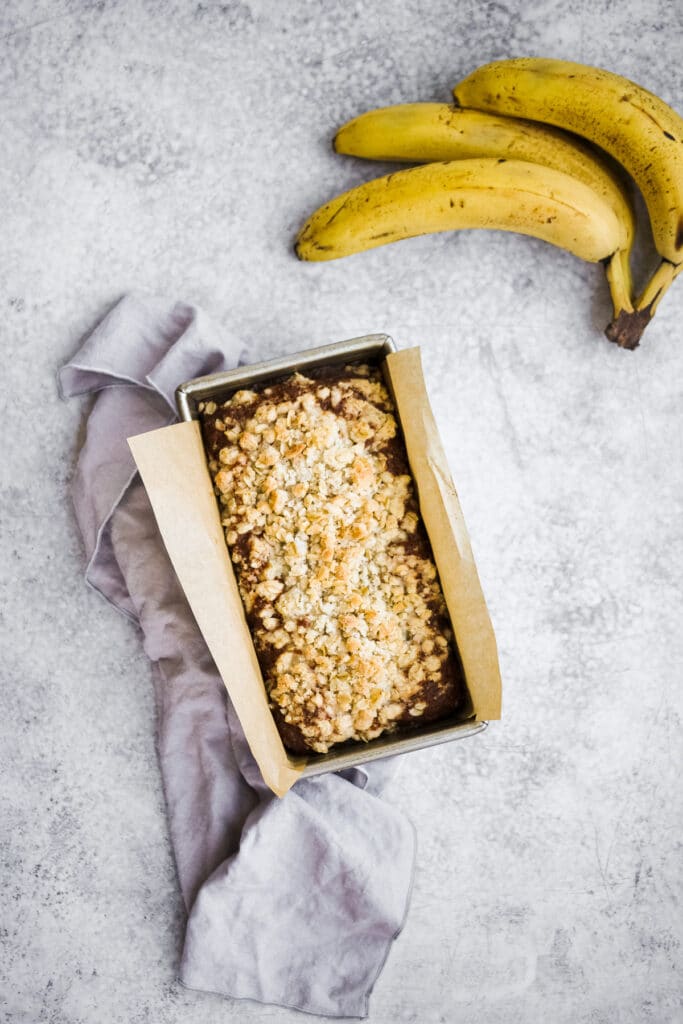 Slice it up: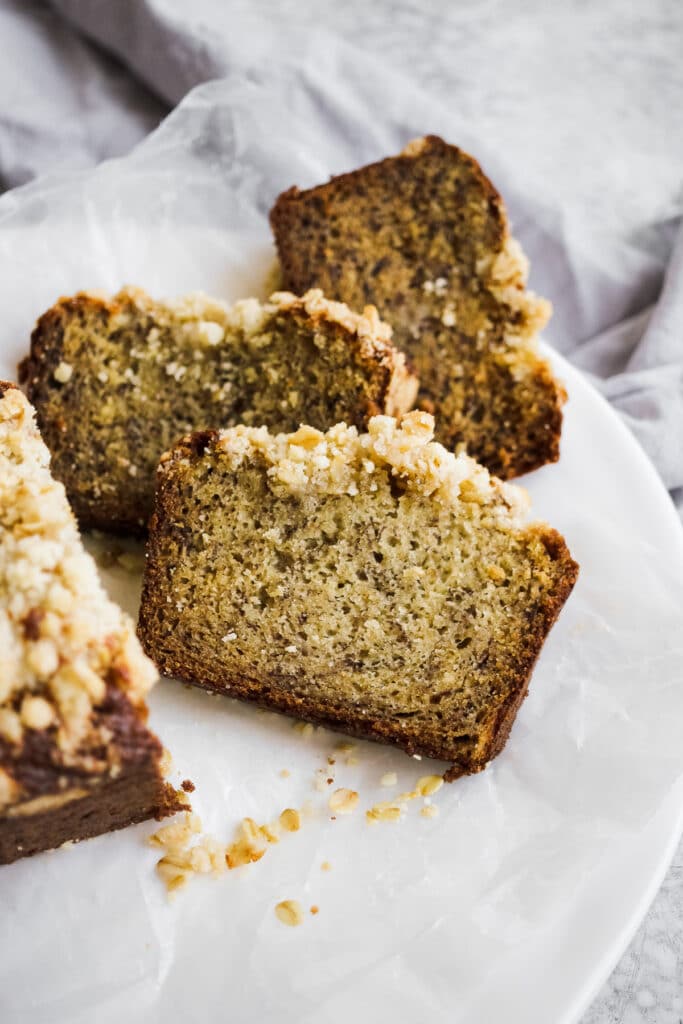 Be sure to check out these other great posts: