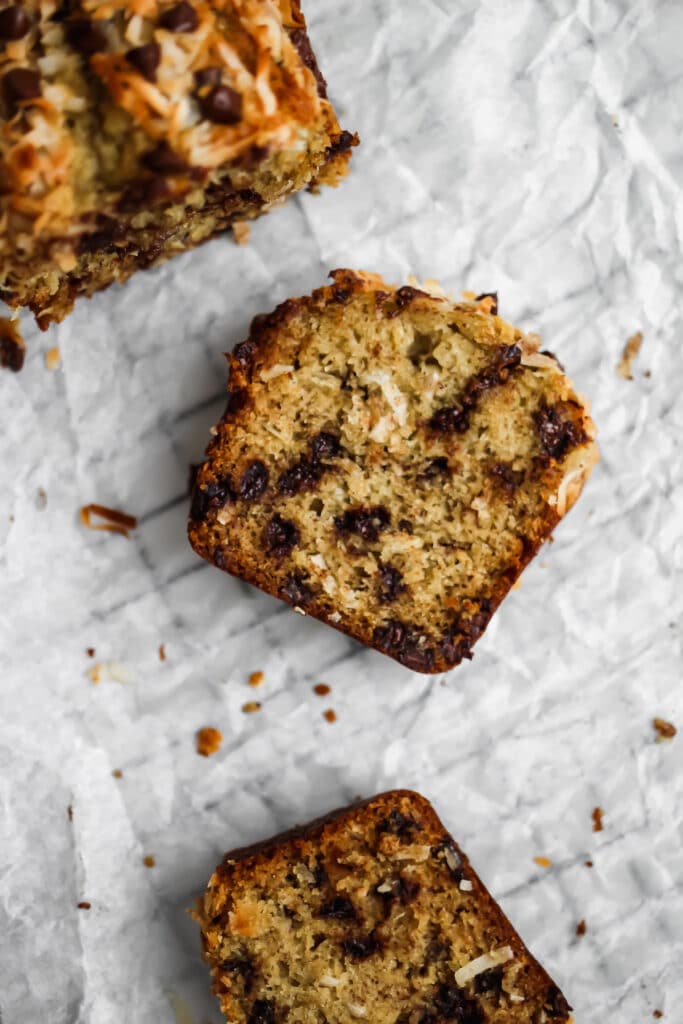 I know banana bread was so 2020, but does it really go out of style? Let's be honest, I always have leftover bananas that get too ripe sitting on my counter most weeks and you can only freeze so many bananas for smoothies. I like my banana bread with a soft, moist texture and a nice balance of sweetness and banana flavor. I also am a big fan of nuts and chocolate in my mini banana breads. Banana bread is really quite versatile and that's another reason I love it. Walnuts, pecans, shredded coconut, and mini chocolate chips are a few of my favorite additions. Despite being a fairly simple quick bread, the variances among recipes using a quick Pinterest or Google search can be overwhelming.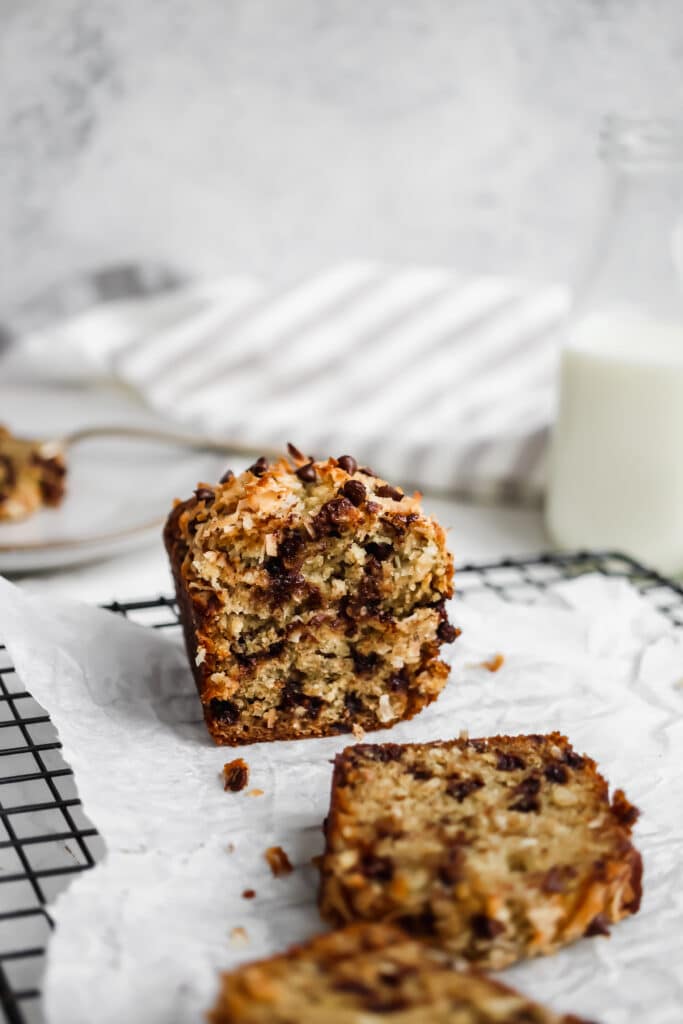 Over the years, I have tried numerous "best banana bread" recipes on Pinterest. Guess what? Many are just not good. I don't have time to roast bananas in the oven or brown my butter. I am a bit lazy at times when it comes to baking. Some recipes just do not need to be fussy and banana bread is certainly one of them. You are using overripe bananas up for goodness sakes. It's not like you are using vanilla beans or saffron.
Another danger you have to look for when making banana bread are the "healthy" ones. There are always some recipes claiming to be "healthy" even though they are not. Simply replacing sugar with coconut sugar, maple syrup, or honey does not make something healthy. Sugar is sugar, regardless of if it comes from a sugar cane, sugar beet, bee, maple tree, or coconut (to name a few). Also, making something with coconut oil also doesn't make it healthy. I avoid recipes labeled keto or paleo as well. It is so annoying as a registered dietitian to see food bloggers use these types of trendy diets to try to grow their following. Then there are the recipes that actually are healthy, but it comes at a cost. They are sometimes hardly edible because they lack sweetness, are super dense, or completely dry.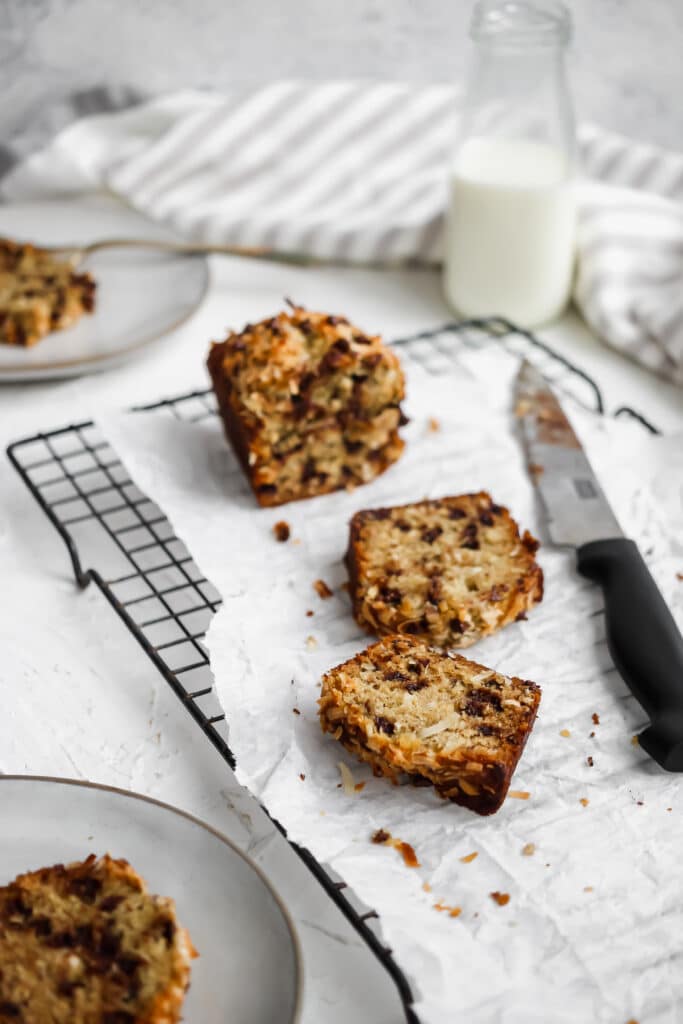 What I am trying to say here is to make banana bread, or whatever you happen to be baking, that you actually like. If you can make a minor change, like using some whole wheat flour in place of all-purpose flour or decreasing the sugar, without compromising the integrity of your banana bread, by all means go for it. If recipes can be improved with small changes, I am all for making them healthier. However, if you make a "healthy" recipe and don't enjoy it, now your really are just wasting calories or ingredients if you have to toss it.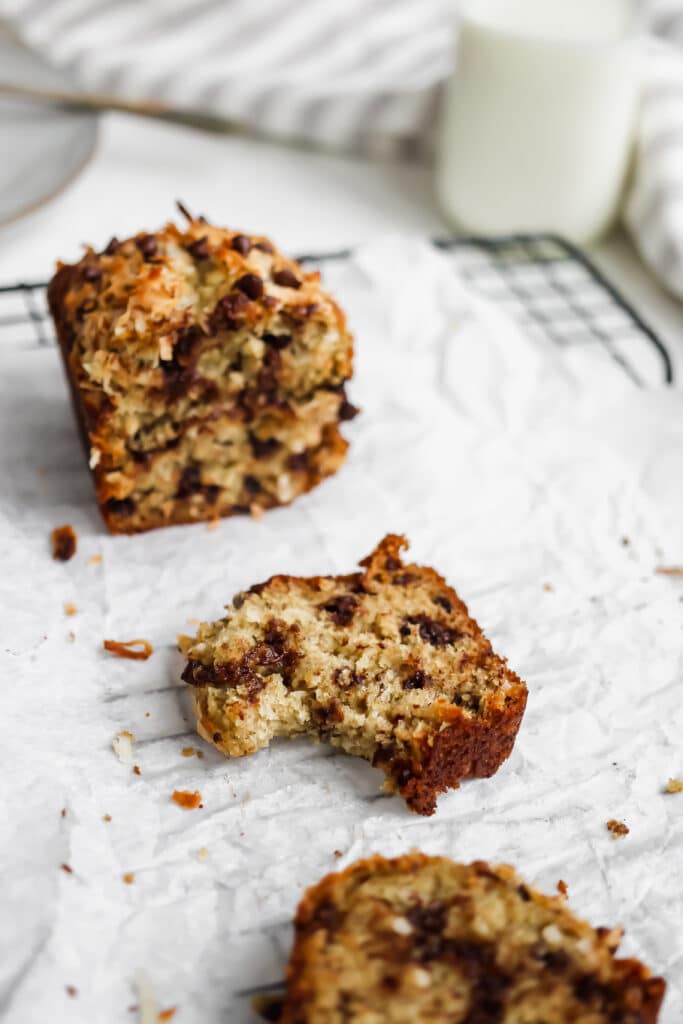 Mini Banana Bread Add-In Ideas
This particular recipe for mini banana bread is favorite from my maternal grandmother Elizabeth Lennon. For the best banana bread, I recommend baking in four small loaf pans. They bake in about half the time of a large loaf pan and always turn out perfectly moist and airy. You can also divide the batter and customize your add-ins to make everyone happy. Pictured below are the following combos from top to bottom:
Coconut
Walnut Mini Chocolate Chip
Walnut
Coconut Mini Chocolate Chip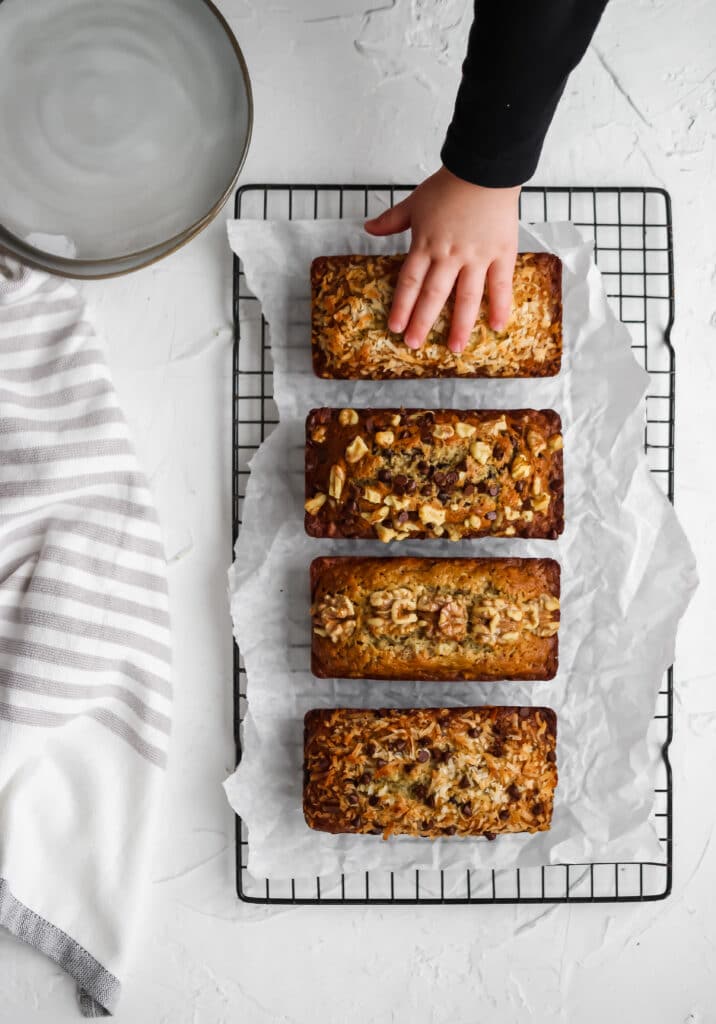 Can we also just appreciate Mitchy's cute little hands for a second? Toddlers are naturals when it comes to food photography, except for when they spill the milk, knock over backboards, or try to eat your subject!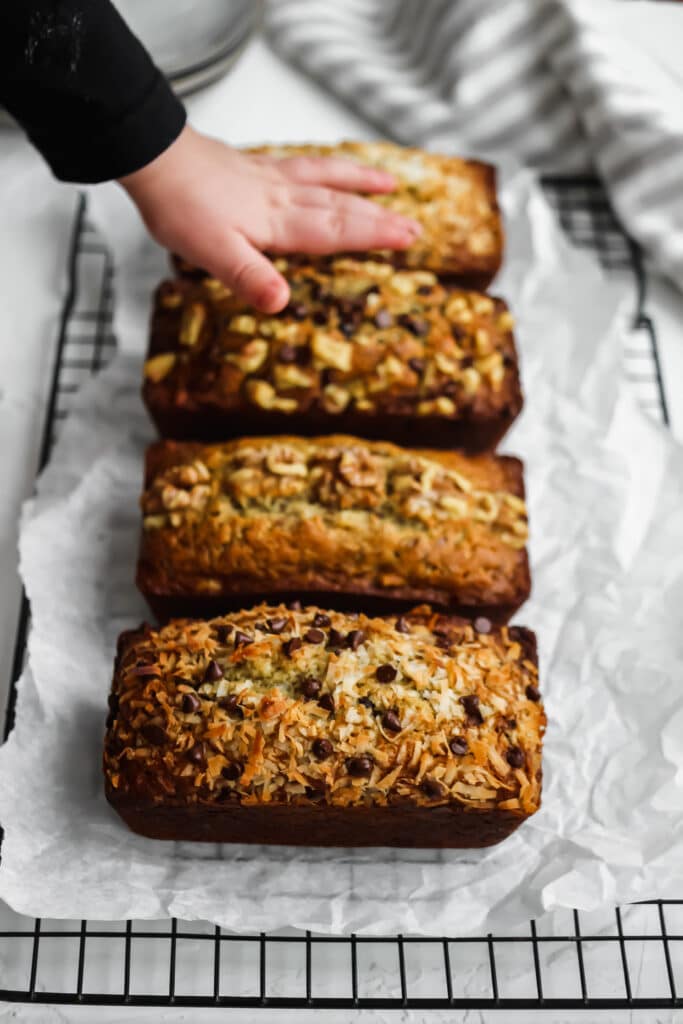 These mini banana bread loaves are also perfect for sharing! Happy baking!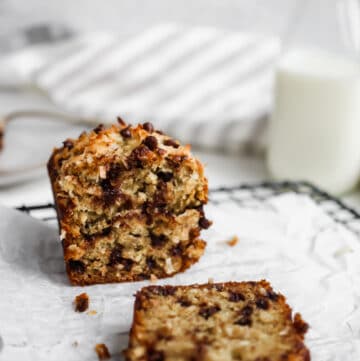 Mini Banana Breads
This special recipe belonged to my maternal grandmother Elizabeth Lennon. The banana bread may be baked as mini loaves or a large loaf. I personally prefer the minis because they bake faster and are perfect for gifting!
Ingredients
½

cup

1 stick butter, softened

1

cup

sugar

2

eggs

3

Tbsp

buttermilk

see note below

1

tsp

vanilla

1

cup

mashed ripe bananas

about 2-3 bananas

2

cups

all-purpose flour

1

tsp

baking soda

½

tsp

salt
Optional
1

cup

chopped pecans, chopped walnuts, shredded coconut, mini chocolate chips or any combination
Instructions
Preheat oven to 350° F. Grease four 5-¾ x 3 inch loaf pans. You may also use larger pans but will need to adjust the baking times.

Cream the butter and sugar with an electric mixture until light and fluffy. Add the eggs, buttermilk, and vanilla. Mix until incorporated. Add the mashed bananas.

In a separate bowl, combine the flour, baking soda, and salt. Add the dry ingredients to the banana mixture and mix over low speed just until combined. By hand, stir in the nuts or chocolate chips, if using.

Pour the batter into your greased loaf pans. Top the bread batter evenly with extra nuts or chocolate chips, if desired. Bake in the preheated oven and bake for approximately 30 minutes. If using larger pans, you may need to bake upwards of 1 hour. The tops should be golden and a tester should come out clean in the center of the bread. Let cool slightly before removing from the pan. Slice and enjoy!
Notes
If you do not have buttermilk, you can simply make your own by using 3 Tbsp milk and adding ½ tsp of white vinegar to it. It will thicken slightly and perform just like buttermilk in the recipe.
More Pics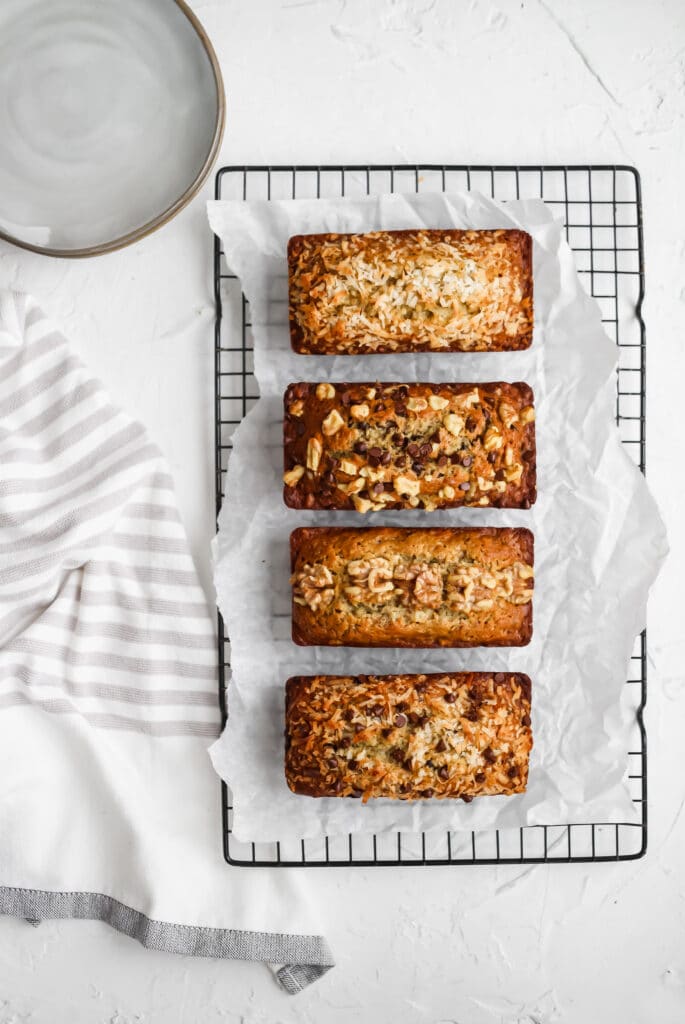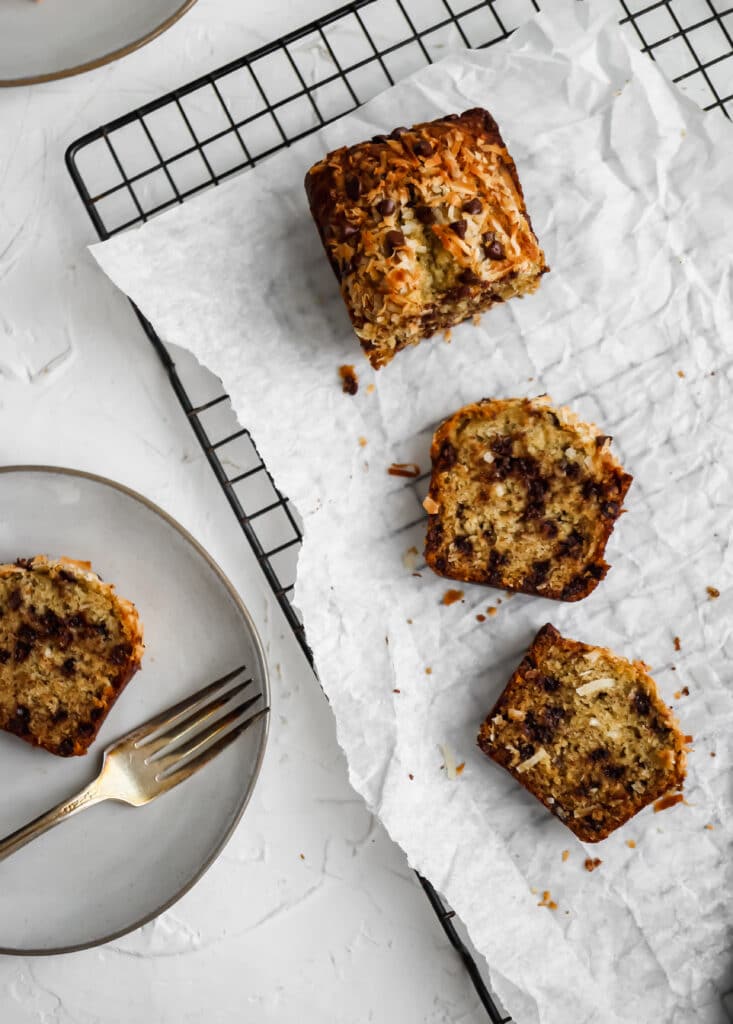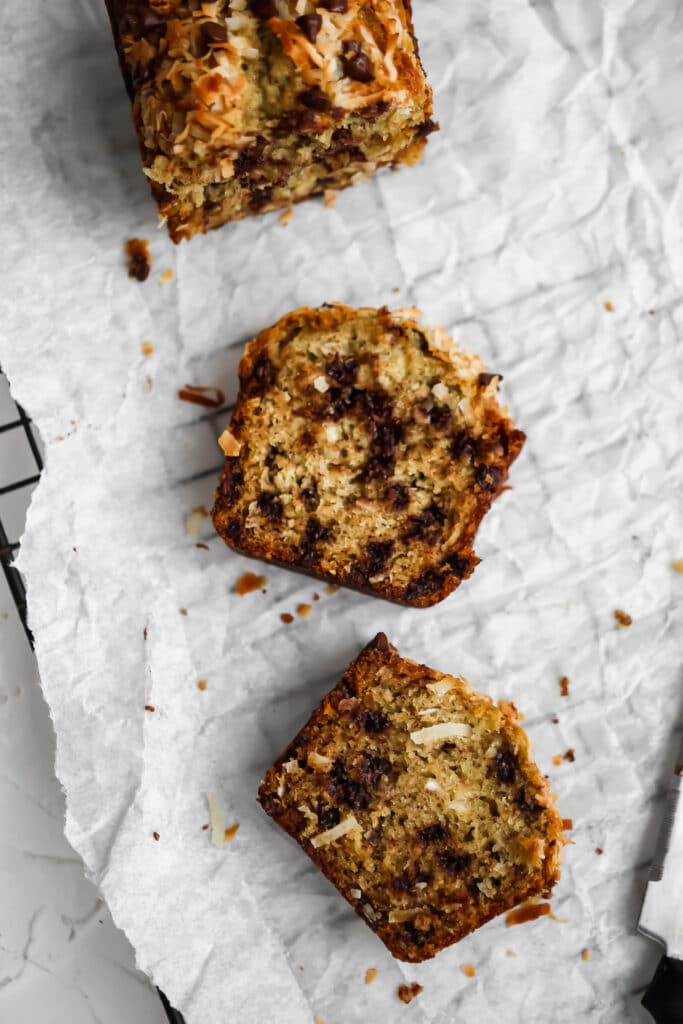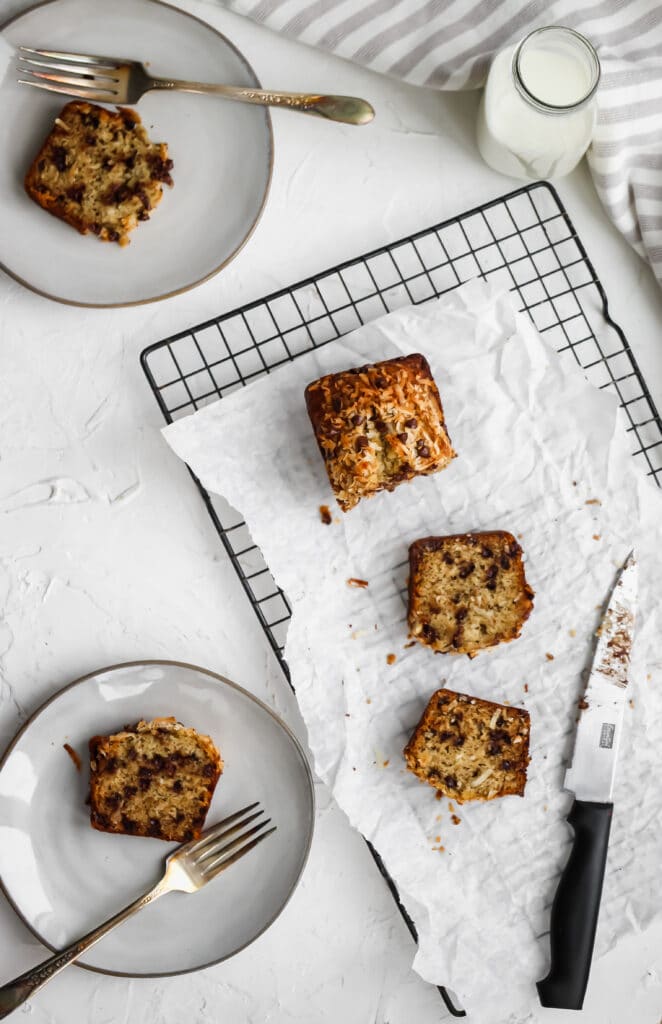 You will also want to try my cinnamon swirl zucchini bread recipe or check out these other great posts!