Note: This post was first published on my former blog called Mitch8 Blog on June 18, 2020. The photography for this puppy chow has since been updated but the recipe and other content remains unchanged. Puppy chow is a tried-and-true favorite for kids and grown-ups. If you have been following Run to the Table, you may have gathered that I love treats featuring peanut butter + chocolate. Puppy chow is one of those perfect treats because it is crunchy, sweet, and so fun to eat! It also happens to be one of my nephew Brady's favorite treats (shown below), and he makes it often!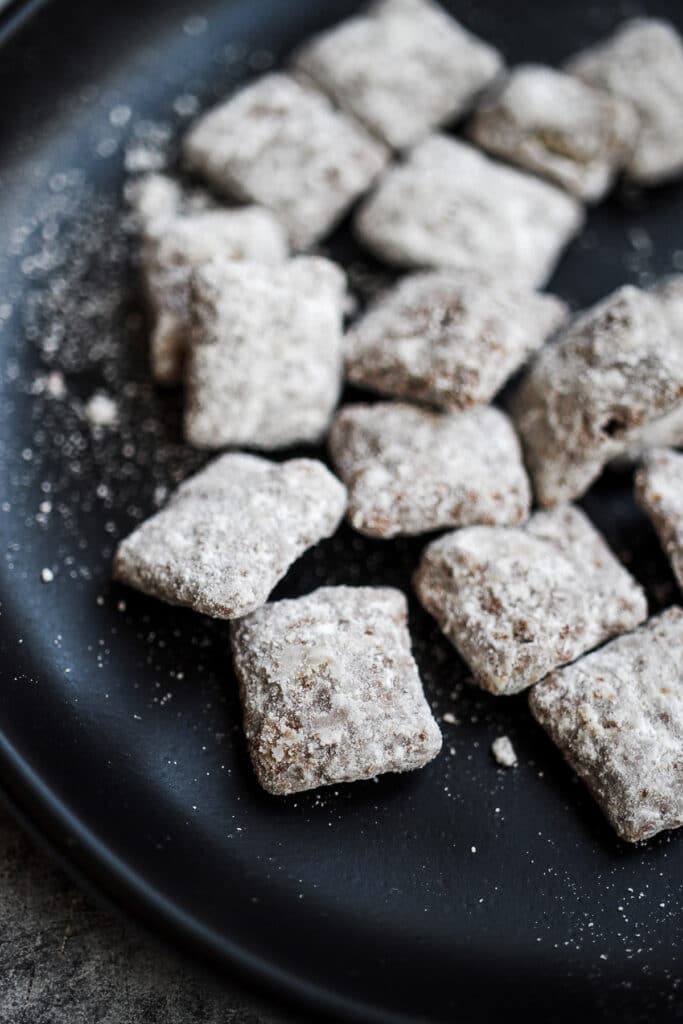 Family Time
I spent last week visiting family in Iowa, and I thoroughly enjoyed time on the farm. It was a much-needed break, and so many happy memories were made with my siblings, niece, and nephews. We spent time hiking in the woods, playing in the new sandbox [for hours!], watching the pigs, cuddling with the kittens, visiting with extended family, and building a taco truck! I was even able to sneak in some time for running! Mitchell really loved spending so much time outdoors and especially liked the pigs and sandbox! Here are some photos:
Needless to say, there was not much time for baking and blogging. Plus, several of the days were quite hot, so we stuck to no-bake meals and treats. Fortunately, I was able to make some puppy chow with Brady. Puppy chow is a perfect activity for kids, especially on a hot summer day because no baking is required.
Puppy Chow Tip
In our house, we usually make our puppy chow with Crispix cereal. We prefer the lighter and crisper texture of Crispix over Chex. The cute hexagon shape of Crispix is more appealing than the squares too. You can use Chex for this recipe, but Crispix cereal really does make the BEST puppy chow!
We are approaching the weekend, and I hope everyone is staying well. I hope you will make some puppy chow and tag me on Instagram with @mitch8blog and #mitch8blog! See below for the recipe and more photos!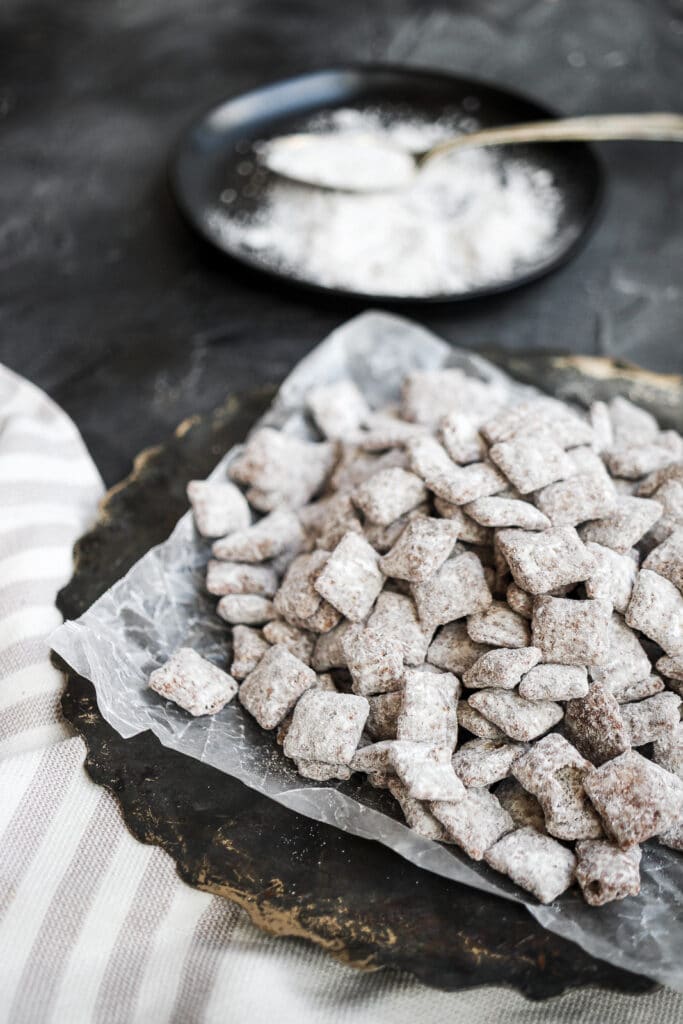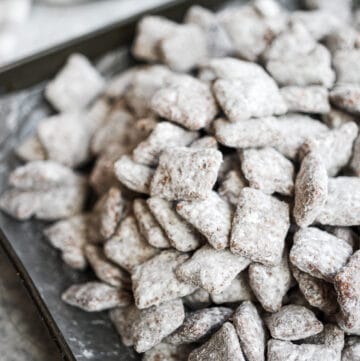 Puppy Chow
Puppy chow is a classic treat that is great to make with kids. The classic pairing of peanut butter and chocolate in this cereal treat makes these little bites simply irresistible!
Ingredients
1

cup

semi-sweet chocolate chips

1

cup

creamy peanut butter

7 - 8

cups

Crispix or Rice Chex cereal

1½ - 2

cups

powdered sugar
Instructions
In a large microwavable bowl, combine the chocolate chips and peanut butter. Heat in the microwave using 30-second intervals. Stir after each heating period until the mixture is completely melted and smooth.

Add the cereal and mix very gently until all of the cereal is well-coated with the chocolate peanut butter mixture. Start with 7 cups of cereal and add additional cereal, if needed.

Place the powdered sugar in a large container/bowl with lid. Add the cereal mixture. Place the lid on the container and shake gently until all of the cereal is well-coated with powdered sugar. Add additional powdered sugar, if necessary. Store in an airtight container.
Step-By-Step Instructions & Pics
Measure your PB & chocolate chips:
Ready to melt:
Stir after 30 seconds in the microwave:
Measure your Crispix:
Add the Crispix to the melted chocolate and PB mixture:
Gently stir until the Crispix is completely coated:
Place coated cereal with powdered sugar in a large container with a lid:
Shake it [gently]!
It should be completely coated in powdered sugar:
And eat: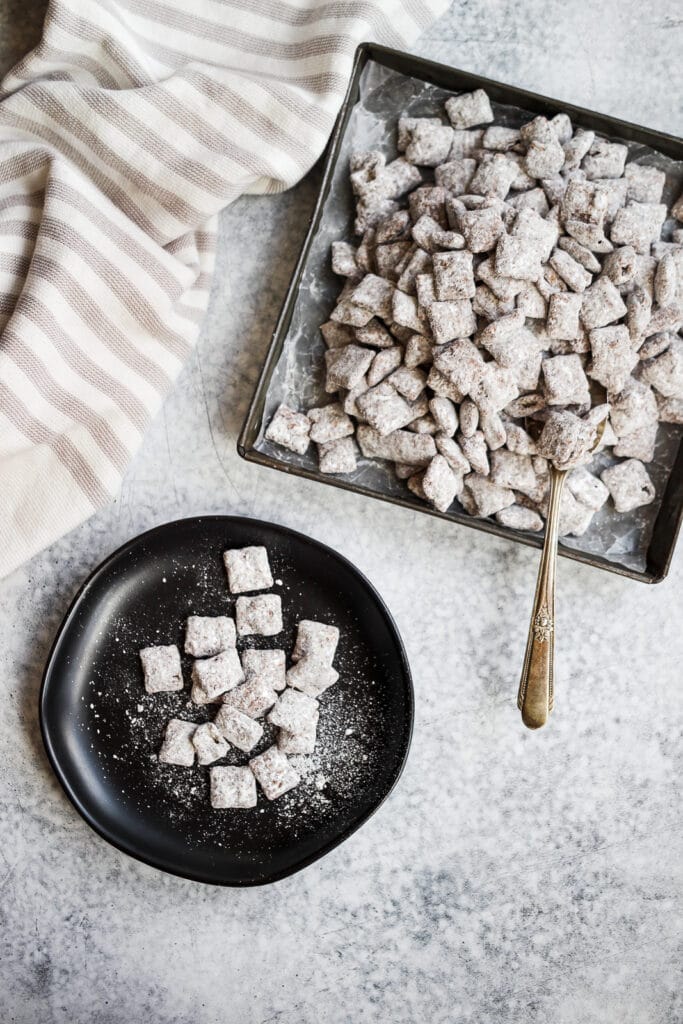 Brady was the best helper!
Be sure to check out these other great posts!