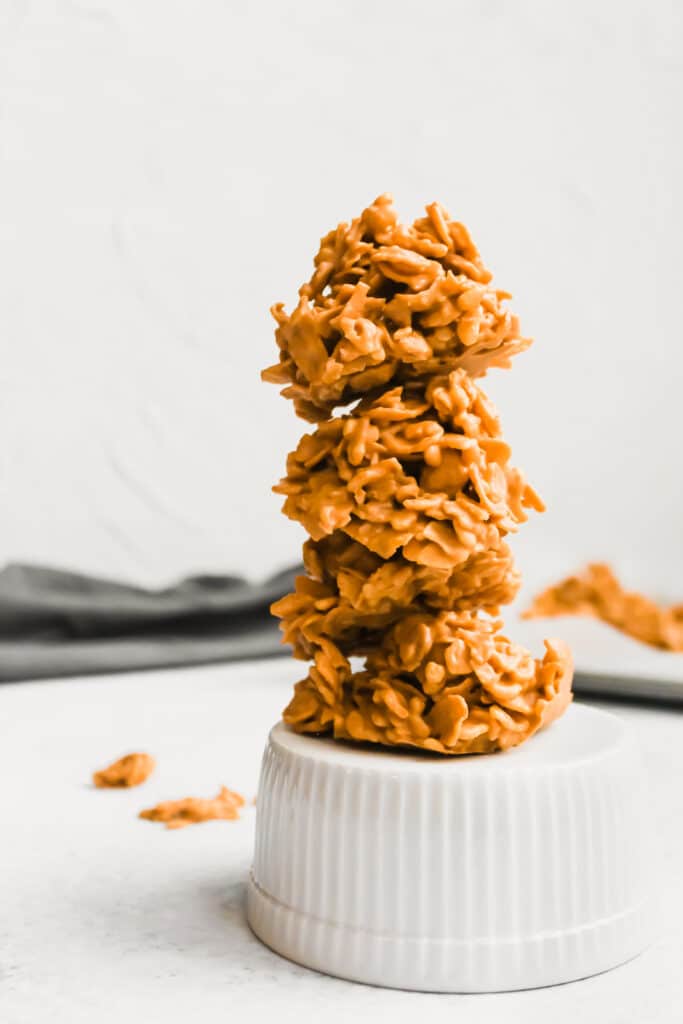 Growing up, we ate a lot of no-bake treats made with breakfast cereals. Maybe this is a rural Iowa thing or perhaps it was because my mom was always such a busy lady taking care of 6 kids. Whatever the reason, I'm not complaining because cereal treats are yummy. My top 5 are: scotcharoos, haystacks, puppy chow, Cheerio bars, and of course Rice Krispie bars. I will be sharing all of these recipes with you, but I wanted to start with haystacks. These tasty little morsels get their name solely based on the fact that they look like a mound of hay and nothing more. Do you see the resemblance?
The above photo is from the late 1990s, which feels forever ago. Pictured are Jackson, Matt, and Pat after helping bale and stack some square hay bales. I remember helping out as a teenager too. It was always blazing hot and you had to wear long pants and shirts to protect from the scratchy hay. We especially loved drink breaks for some ice water and lemonade. The meal times were also a hit too. After all of that hard work, we were hungry!
These are the perfect dessert to mix up, especially if you are short on time (and aren't we all these days…)! They are peanut buttery, sweet, and nice and crunchy! Toddlers and kids can help too with the haystacks. I'm sure they will want to help make and eat them!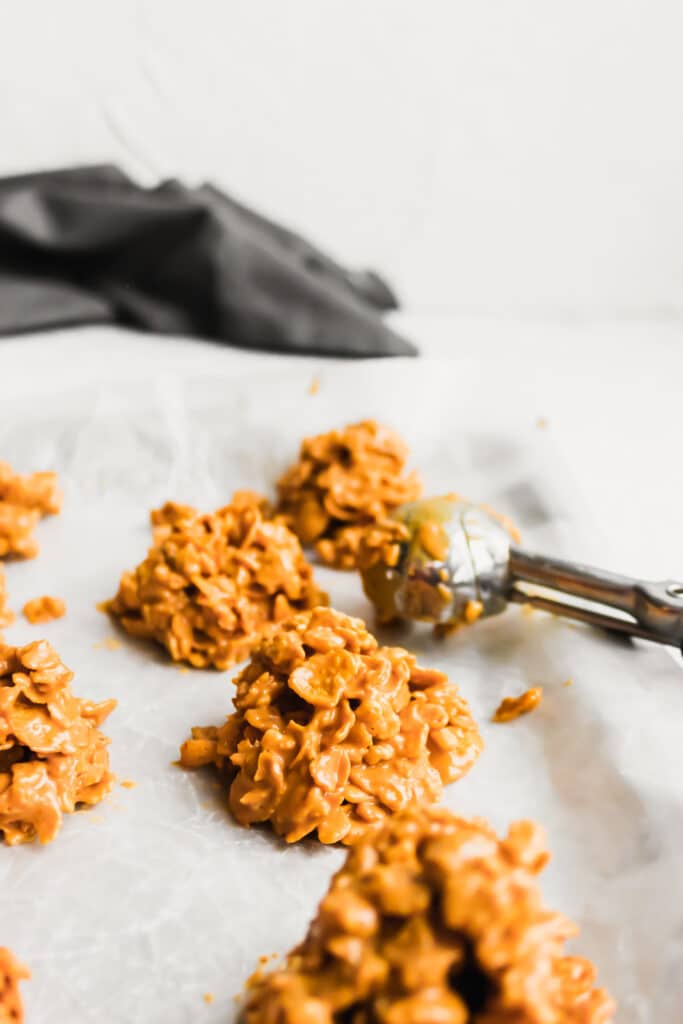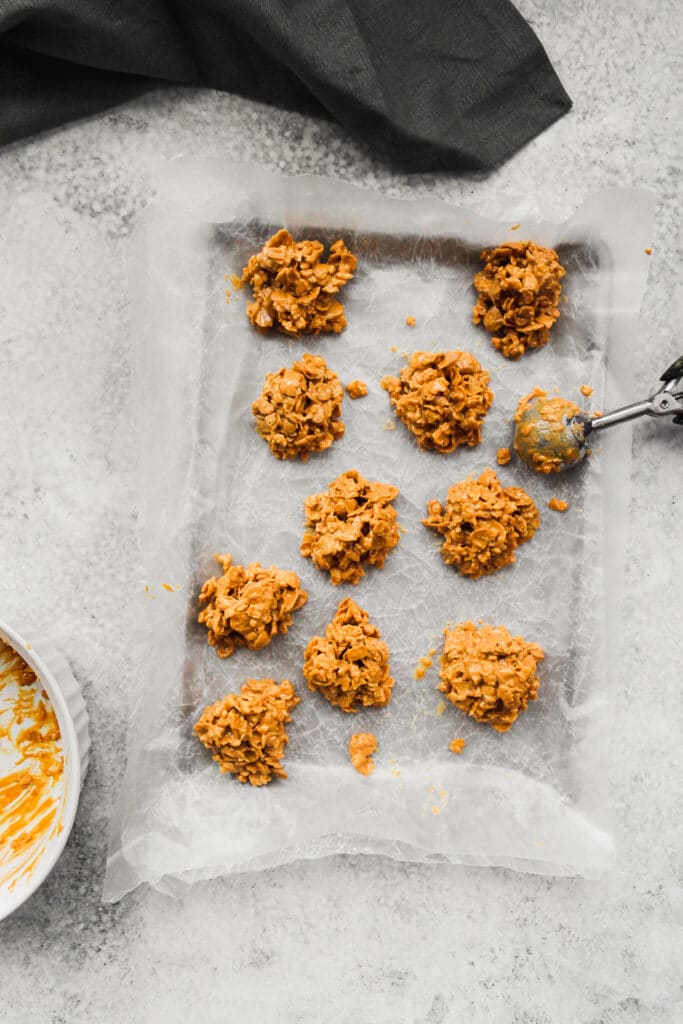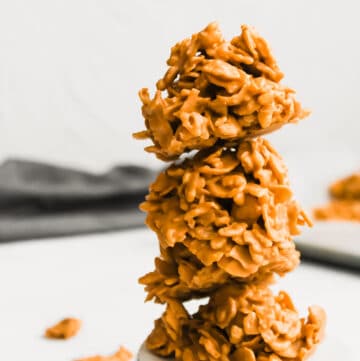 Haystacks
This recipe for haystacks comes from my mom, Sharon. Haystacks are a no-bake cereal treat made with peanut butter and butterscotch chips. They are crunchy, sweet, and super satisfying any time of year. Try them today!
Ingredients
1

11-ounce

package butterscotch chips

1

cup

peanut butter

creamy or crunchy

2

cups

crisp rice cereal

3

cups

corn flakes cereal
Instructions
Line a sheet tray with waxed paper or parchment paper. In a microwave safe bowl, add the peanut butter and butterscotch chips. Heat in the microwave for 20-second increments until melted, stirring well after every 20 seconds.

Once melted, add both types of cereal and stir until the cereal is well coated. Use a cookie scoop to create "haystack" mounds on the lined tray. Place in the refrigerator until the coating has hardened.

Store any leftovers in the refrigerator—though there might not be any!
Notes
You can also melt the peanut butter and butterscotch chips using a double-boiler on the stove, if you prefer. I personally find the microwave easiest!
More Pics of Haystacks are Below!
Measure your butterscotch chips & pb: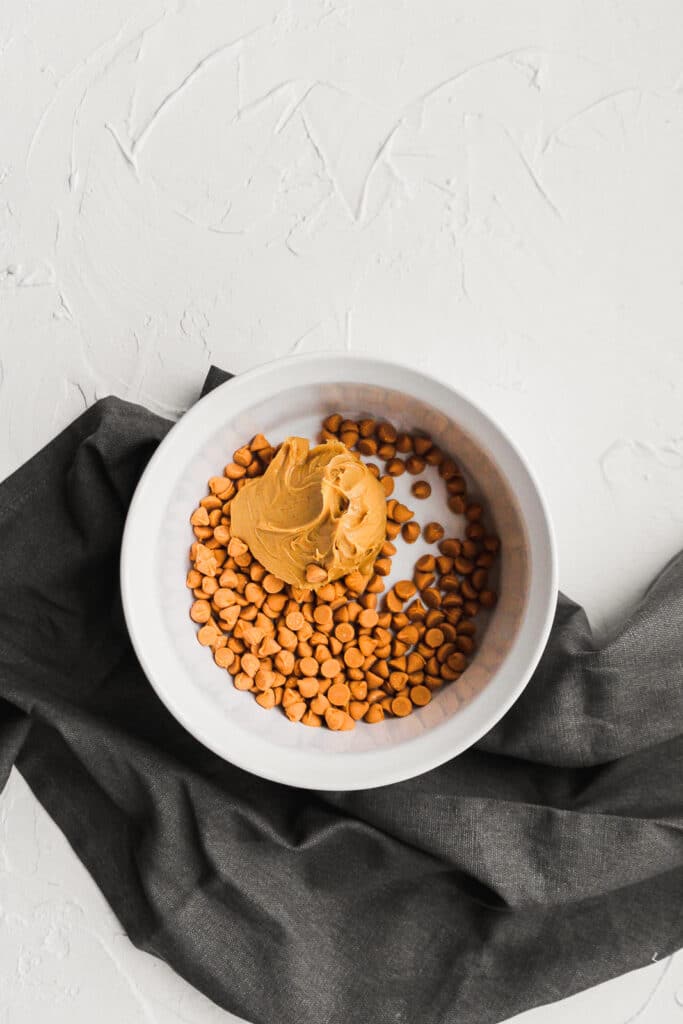 Stir the cereal mixture with the melted pb mixture until well-coated: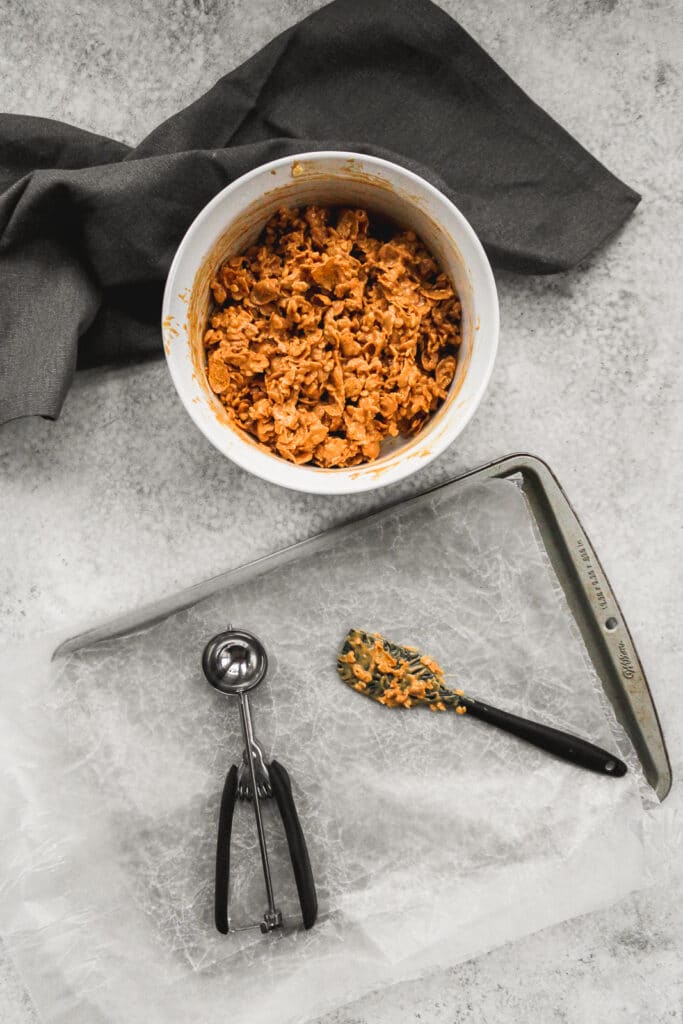 Scoop into "haystacks" with a cookie scoop onto a wax paper or parchment lined tray: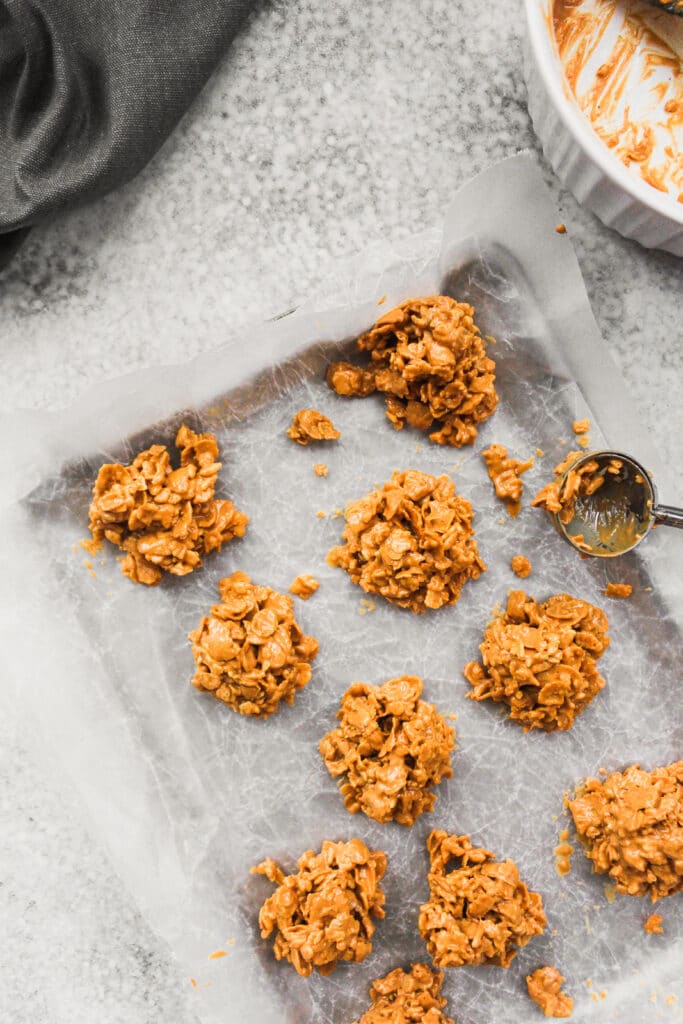 Refrigerate until firm: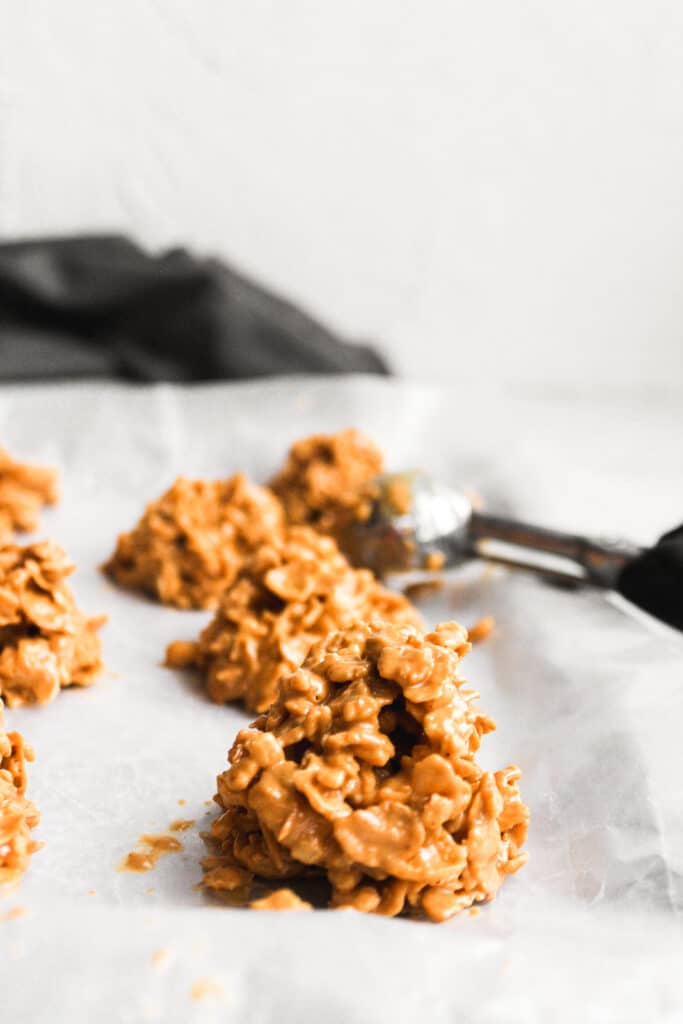 Here are a few behind the scenes photos:
Mitchy was having a blast: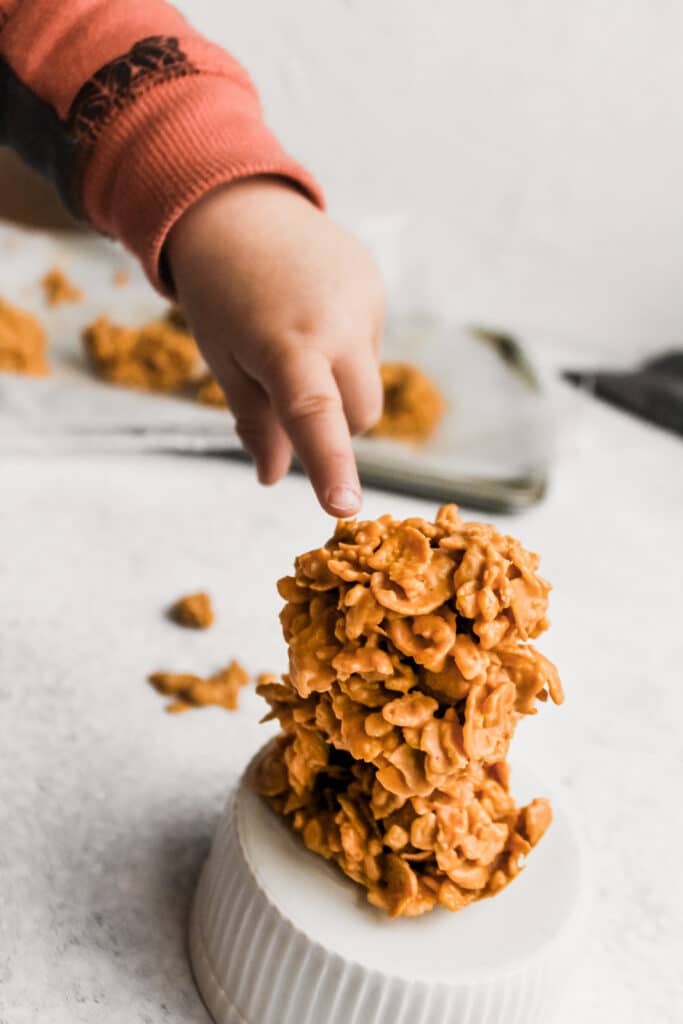 I love how he was still holding his power drill!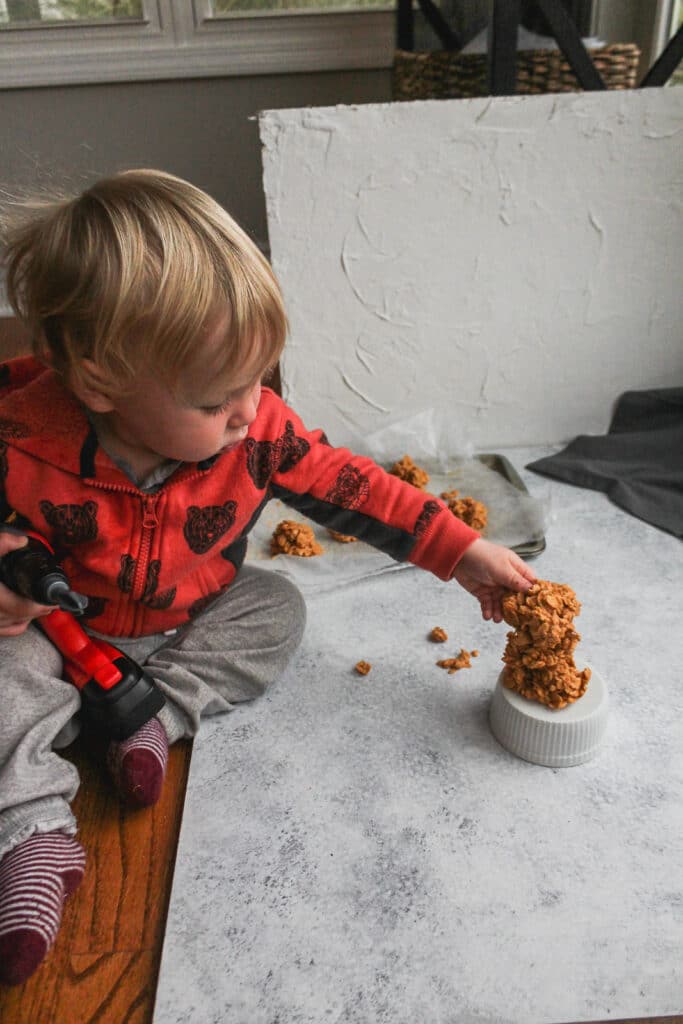 Haystacks are only "haystacks" if they are stacked, right?!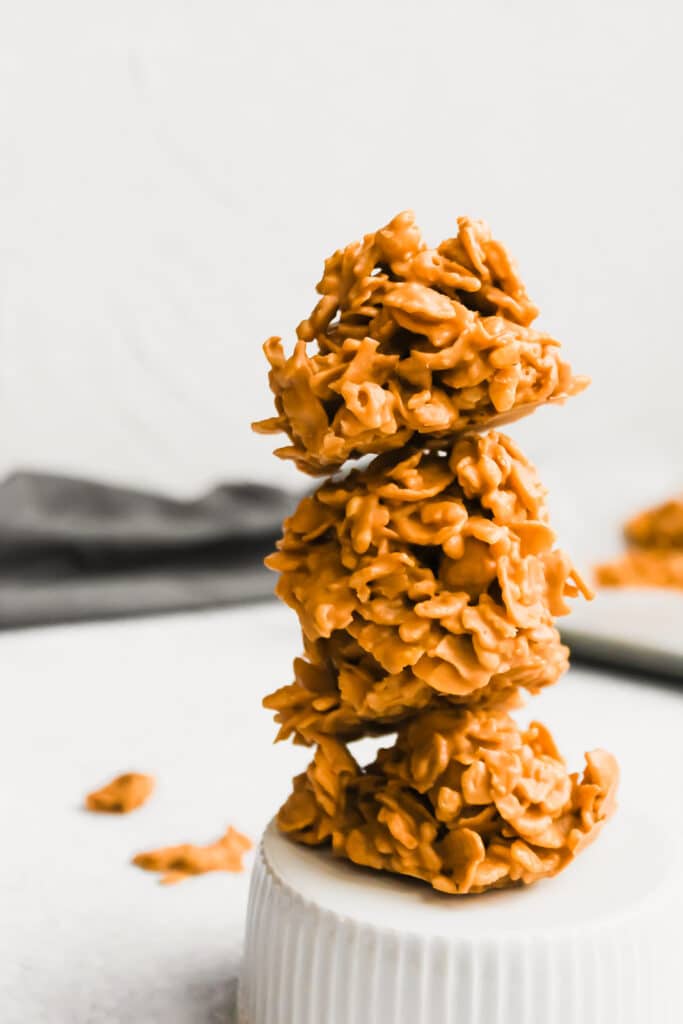 You will also want to check out these other great posts!