This Italian cream cake post was first published on 4/11/2020 but updated with some new photography on 4/28/2021.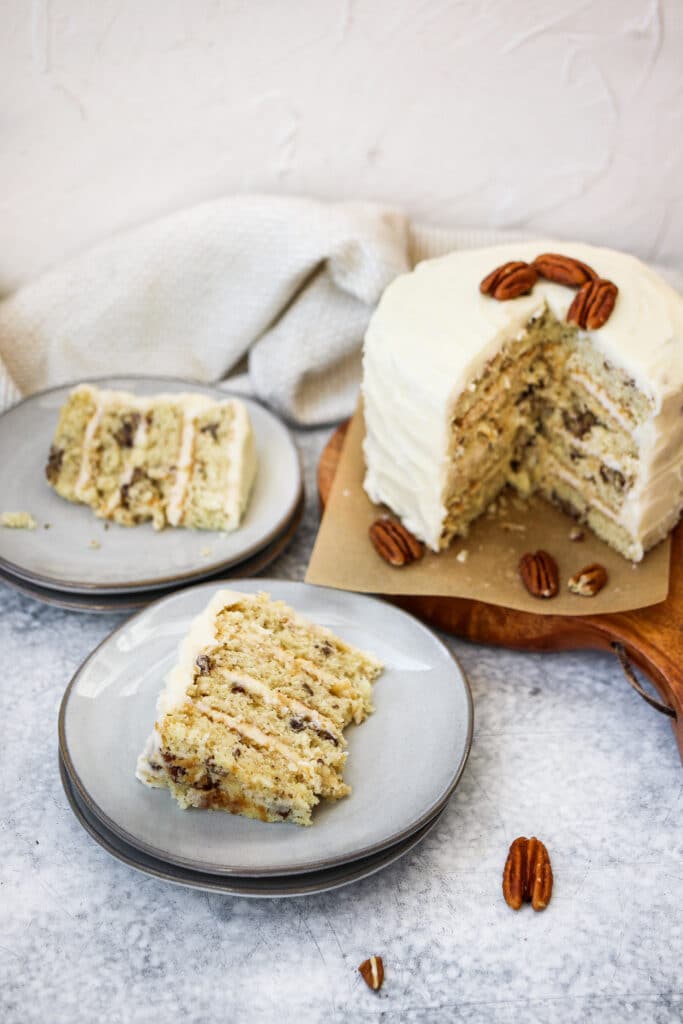 As you may have seen in my post a couple days ago, I celebrated my 30th birthday and made this delightful cake! Italian cream cake is perhaps my favorite cake because it has pecans and coconut but remains light and airy. The cream cheese frosting further elevates the cake. In addition to being a perfect birthday cake, this would be a marvelous centerpiece for Easter tomorrow. Due to COVID-19, Easter gatherings are limited or may not even be possible for many. Fortunately, if you still choose to make this Italian cream cake, the leftover cake freezes nicely.
This cake does require a few special preparation steps that is not typical for most cakes. It has a total of 5 eggs, which is quite a bit for a cake this size. The instructions are clear, but add the egg yolks only to the creamed butter mixture. Later on, beat the egg whites to the stiff peak stage. This extra air from the beaten egg whites will make the cake lighter in texture while also increasing the volume. Just so you understand why it is so important, I have explained what is really happening with the egg whites.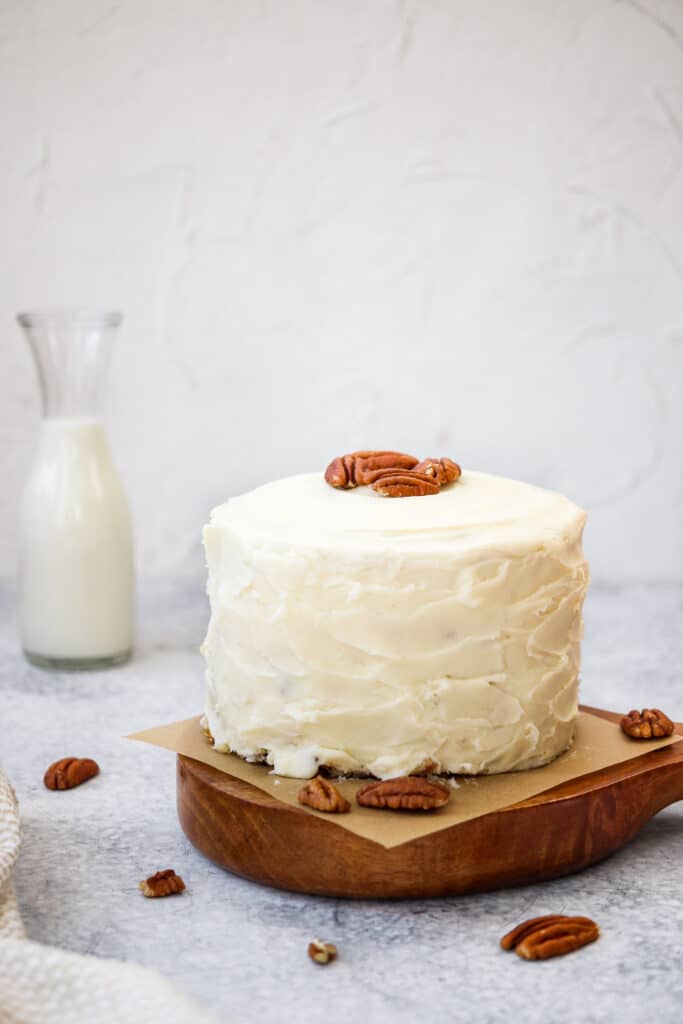 All About the Eggs
From a scientific standpoint, egg whites beaten to the stiff peak stage undergo significant structural changes. As they are beaten with a mixer, the egg whites form what is called a colloidal dispersion of proteins in water. The proteins in the egg white denature and form stable protein-protein interactions around air bubbles, thus creating a foamed appearance. As beating continues, the air cells decrease in size but increase in number. The egg whites thicken and increase in volume up to 6-8 times the original volume, which is often referred to as the stiff peak stage. Pretty cool, right! At this stage, the egg white foam will form a somewhat pointed tip as the beaters are removed. This is what you want to achieve for this cake.
Once the egg whites are at the stiff peak stage, add them to the Italian cream cake batter immediately. Egg white foams are relatively unstable and will naturally lose some liquid due to gravity. Also, if egg whites are overbeaten, the air cells break and the foam will appear dry. I love science, which is a big part of why I love baking!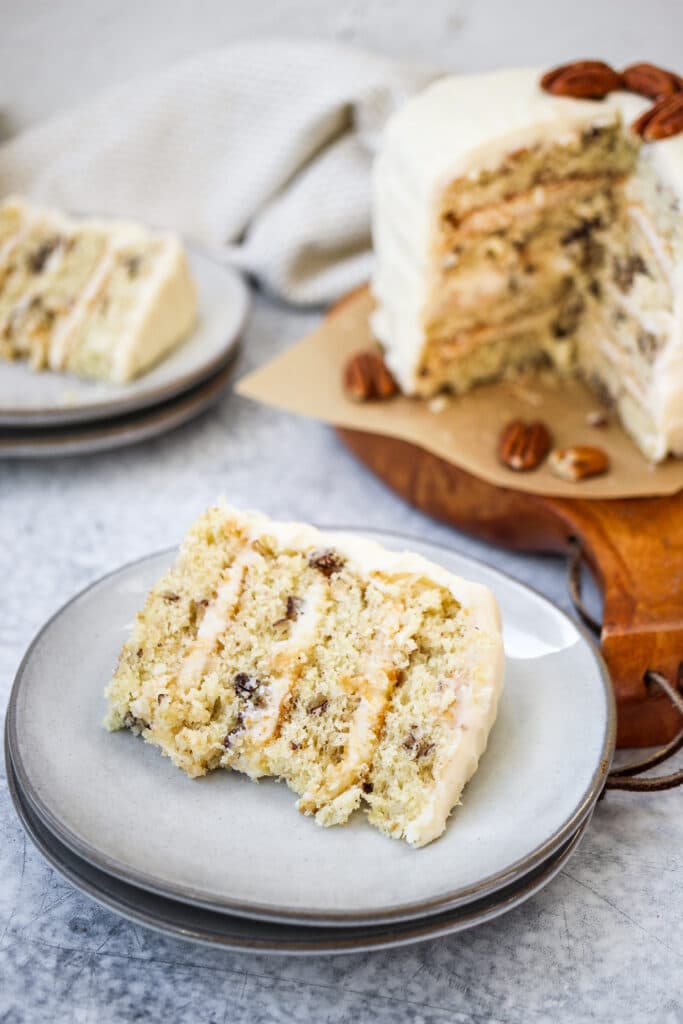 Tips for Perfect Egg Whites in this Italian Cream Cake
In order to achieve optimal beaten egg whites, there are several techniques to improve the overall quality.
First, it is best to use clean, large mixing bowls that are metal or glass. Never use plastic bowls because they may have traces of absorbed fat on the surface which will inhibit foaming.
Secondly, crack and separate eggs carefully so that there is not a trace of egg yolk in with the egg whites. It is best to separate eggs in smaller, separate bowls so if a yolk does break, it will not contaminate all of the egg whites.
I repeat: Do not use the egg whites if there is any yolk present, even if it is just a small amount.
Temperature impact the foaming. Eggs whites at room temperature will actually whip more readily and achieve greater volume than cold egg whites.
If you need to get eggs to room temperature quickly, place them in a bowl of warm water for about 5 minutes before cracking.
Lastly, fresh eggs are best!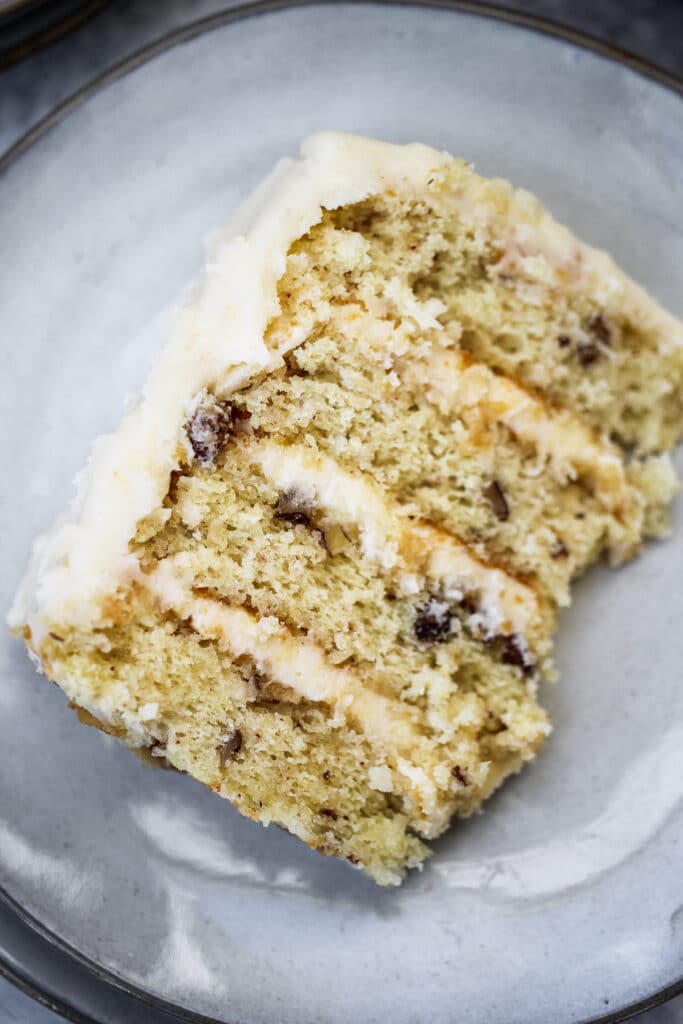 I can assure you that the extra work is worth it in the end. This Italian cream cake is light and moist, but still full of decadence. The pecans and coconut take this already extraordinary cake over the top! The frosting is a classic cream cheese frosting that perfectly covers the cake. This cake has been a crowd favorite for many years, and I am truly excited to be sharing it! I have included additional photos below.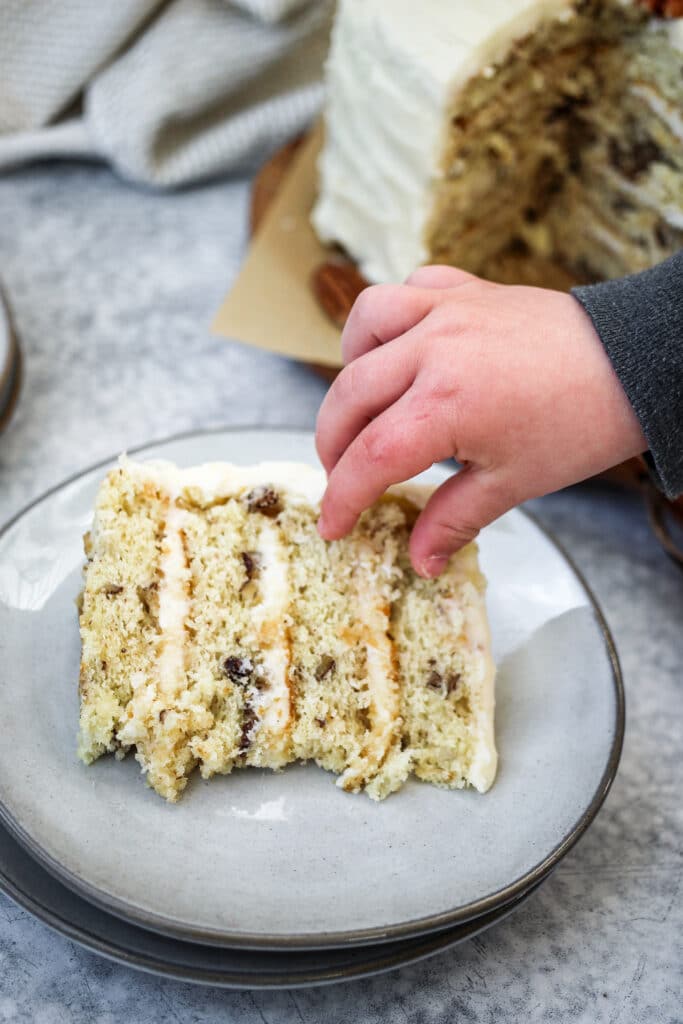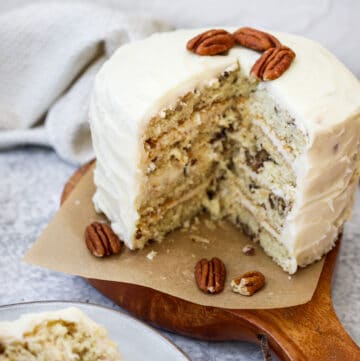 Italian Cream Cake
This Italian cream cake recipe is from my mom. It is a tried-and-true family favorite of ours. This from-scratch cake is soft, airy, and studded with coconut and pecans. It is made even better with homemade cream cheese frosting. If you really love frosting, be sure to double it!
Ingredients
Cake Ingredients
½

cup

1 stick butter

softened

½

cup

vegetable shortening

at room temperature

2

cups

sugar

5

eggs

separated

2

cups

all-purpose flour

1

tsp

baking soda

¼

tsp

salt

1

cup

buttermilk

1

tsp

vanilla

1

cup

chopped pecans

1

cup

sweetened flaked coconut
Cream Cheese Frosting Ingredients
1

8 ounce package

cream cheese

softened

1

stick

butter

softened

1

tsp

vanilla

pinch

of salt

3 ½

cups

powdered sugar (about 1 pound)

sifted
Instructions
Cake Instructions
Preheat oven to 350° and prepare pans. You make bake the cake layers in either two 9-inch cake pans or three 8-inch cake pans. Line the bottoms with a circle of parchment paper for easy removal once baked. Secure in place by greasing the outer edges with some shortening. Also grease the sides of the pans generously.

With an electric mixer, cream butter and shortening with a mixer until creamy. Add sugar and beat until mixture is light and fluffy, about 3 minutes. Add the vanilla and egg yolks, one at a time, and mix after each addition. Sift flour with baking soda and salt; then add flour mixture alternately with buttermilk to the creamed mixture, beginning and ending with the dry ingredients. Gently stir in the coconut and pecans.

In a separate bowl, beat the egg whites with clean beaters until stiff peaks form. Gently fold in the beaten egg whites into batter. Do not overmix, as you do not want to deflate the whipped egg whites.

Pour batter into the prepared pans. For three 8-inch pans, bake for approximately 25 minutes or until golden brown. For two 9-inch pans, bake for approximately 30-35 minutes or until golden brown.

Allow the cakes to cool in the pans for about 10 minutes before turning them out onto a wire rack to finish cooling. Peel off the parchment paper. Let cakes cool completely before frosting. You may speed up this process by placing the cakes in the freezer. This makes them easier to frost.
Frosting and Assembly Instructions
In a large bowl, combine the cream cheese and butter. Using a mixer, beat for about 3 minutes until smooth, light, and fluffy. Add the vanilla and gradually beat in the powdered sugar. Mix on medium speed until thoroughly combined for at least a minute. Frosting should be smooth but thick.

To assemble the cakes, the cakes must be completely cooled and preferably chilled. Level the tops of the cakes if necessary so they are completely flat and even. Add cream cheese frosting between layers and apply a thin crumb coat to the top and sides of the cake. Once set, apply the remainder of the frosting and use an offset spatula to swirl the frosting. Garnish cake with additional whole or chopped pecans for garnish.

Store leftovers in the refrigerator, tightly wrapped. Leftover cake also freezes well.
Notes
If thick frosting is desired between layers and the outside of the cake, double the frosting recipe. Any leftover frosting can be enjoyed on graham crackers or saved for another cake or cupcakes.
Here is the finished cake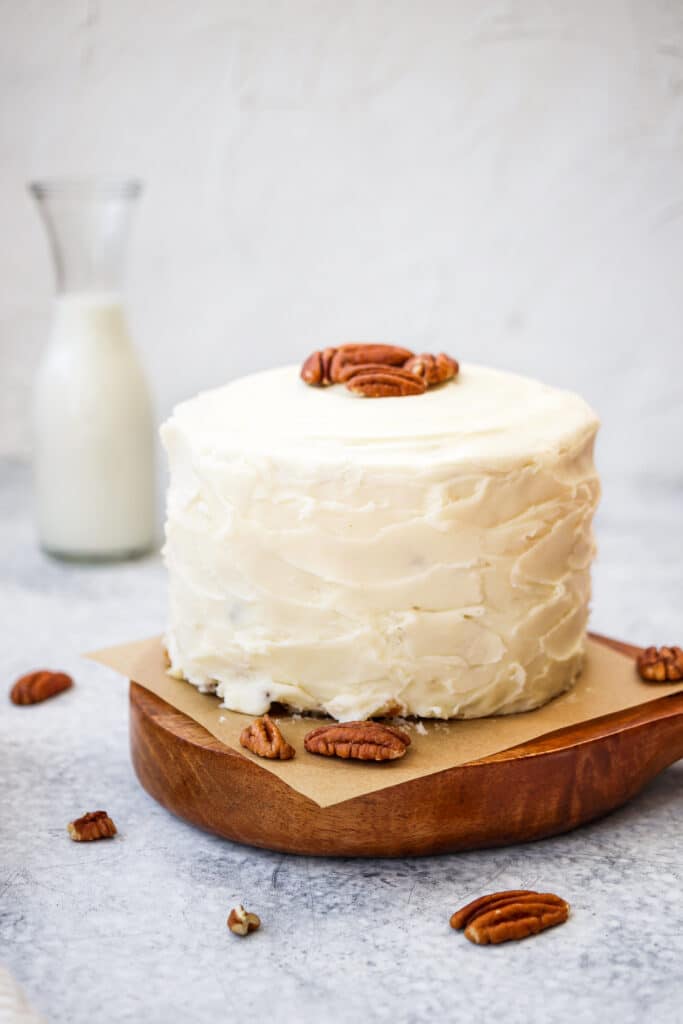 Save time by cutting parchment paper circles out of folded parchment paper or purchase precut round parchment paper circles: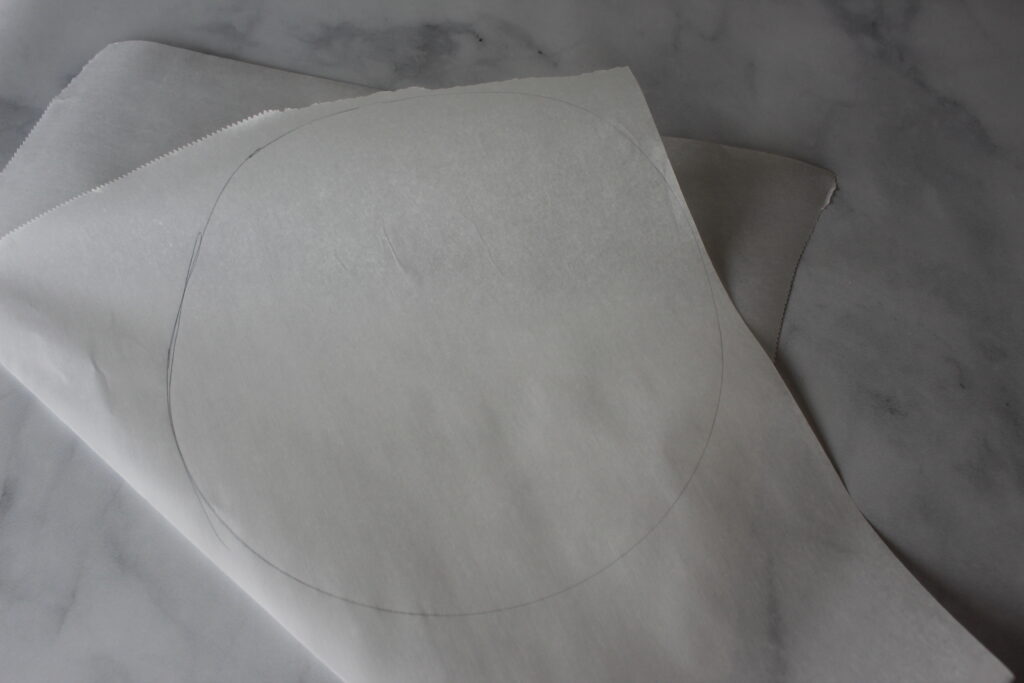 Creamed butter, shortening, & sugar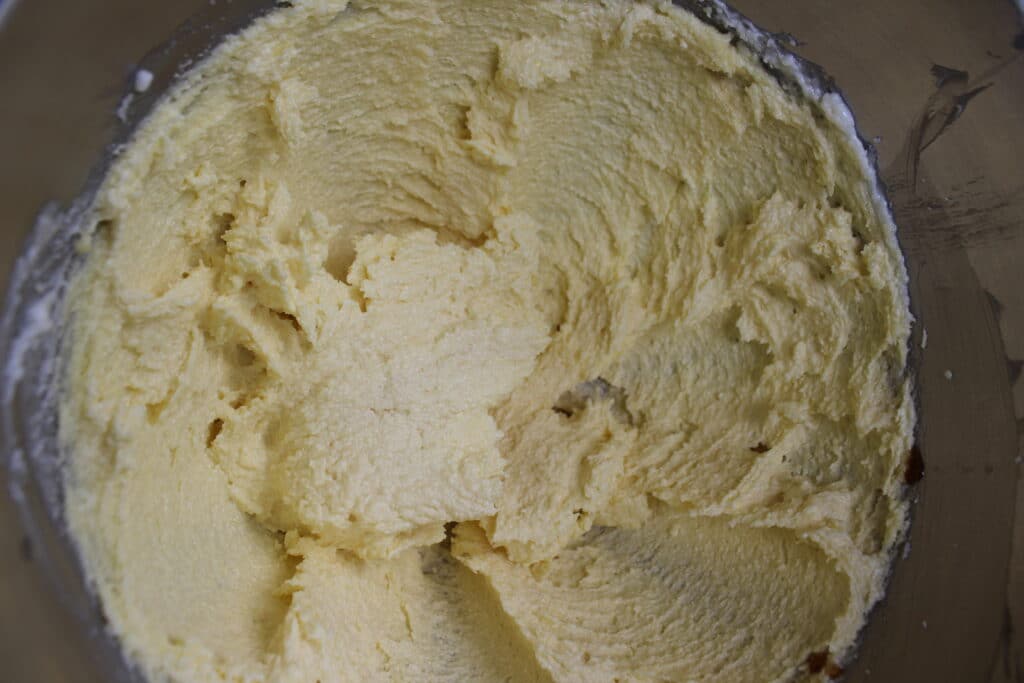 Sift flour, baking soda, & salt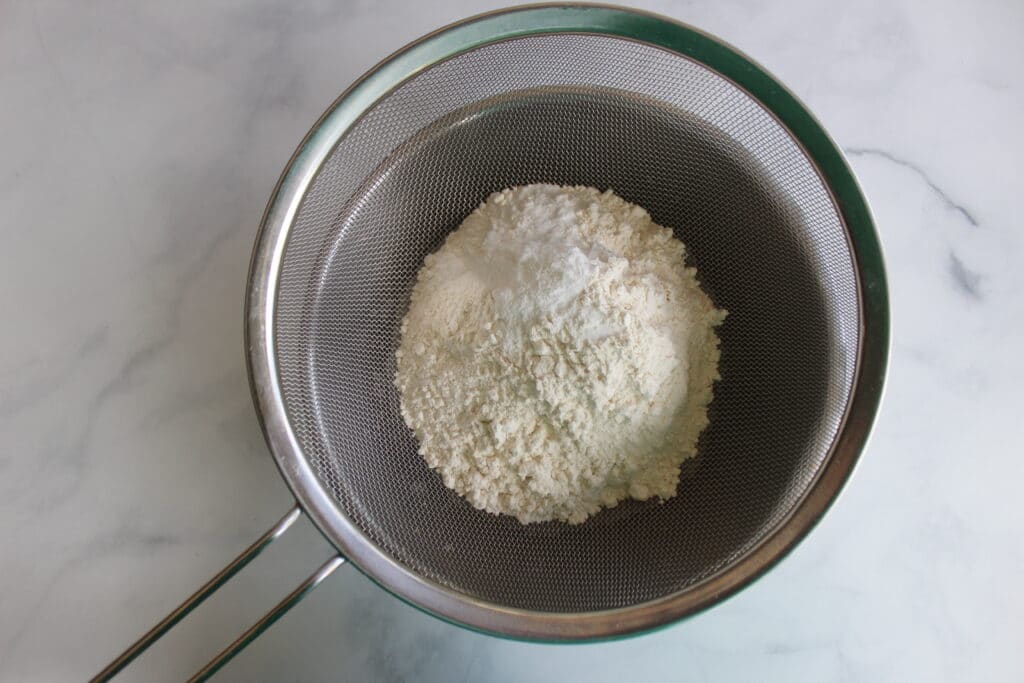 Egg whites before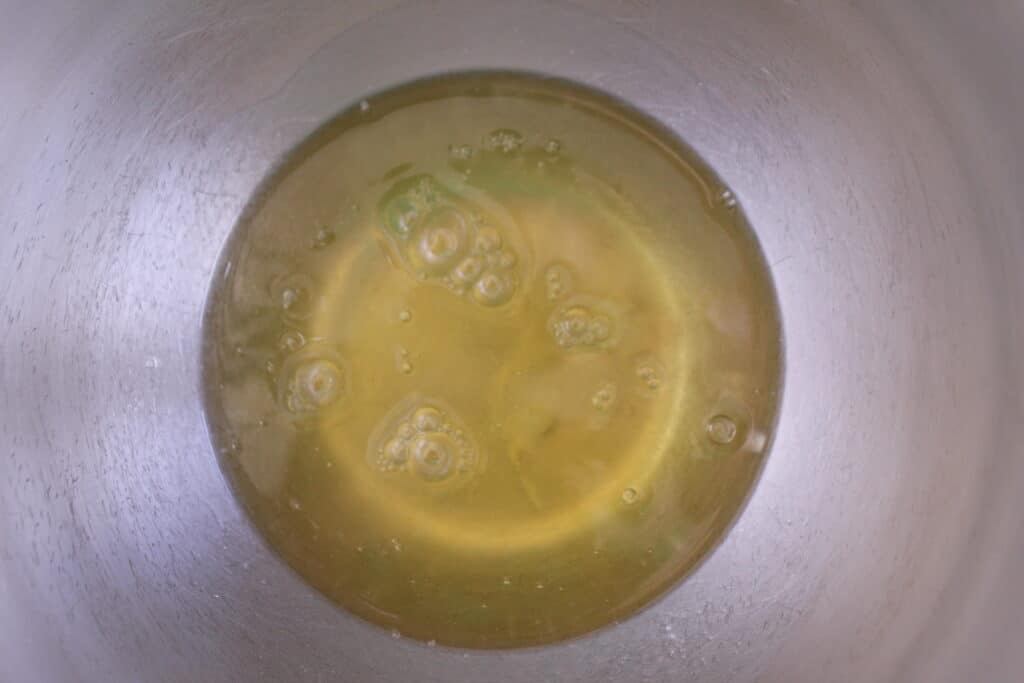 Egg whites after beating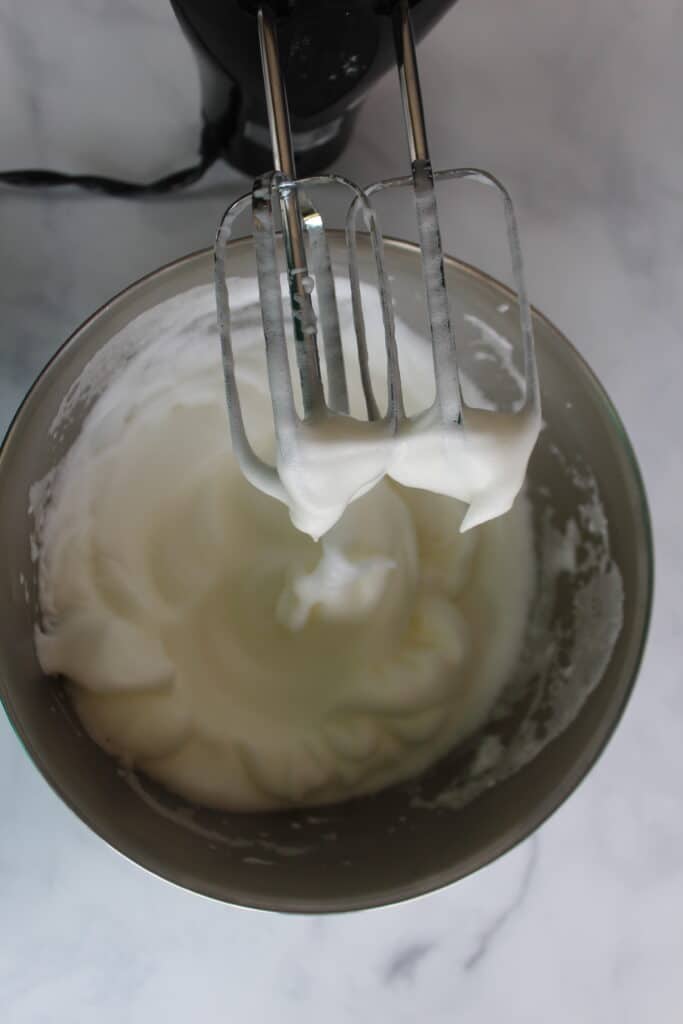 This is what you want to see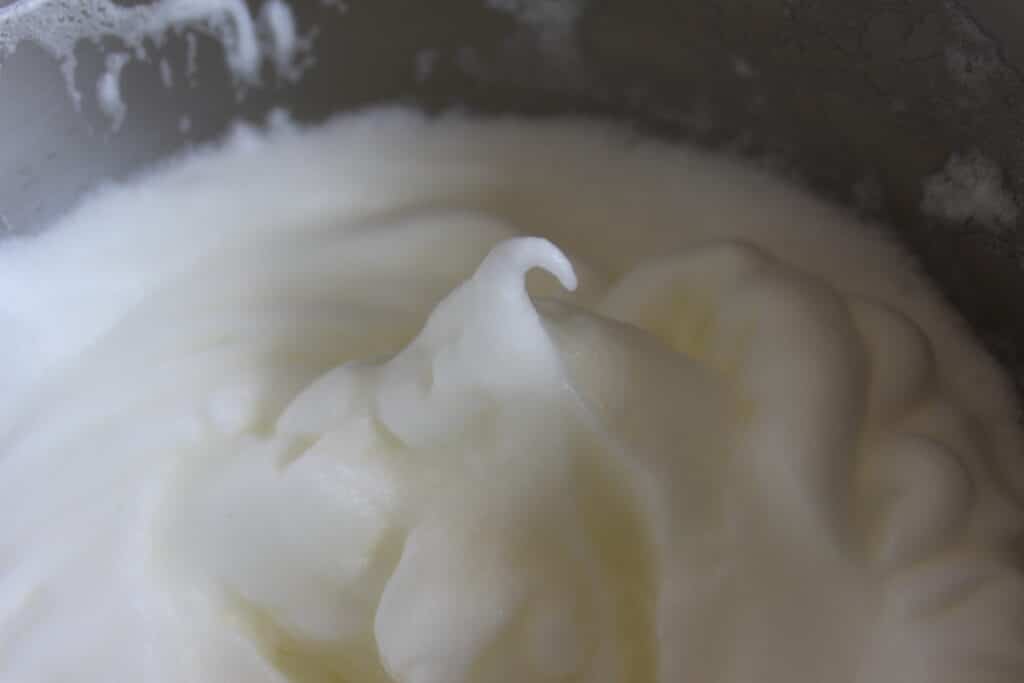 Cake batter on the left and egg whites on the right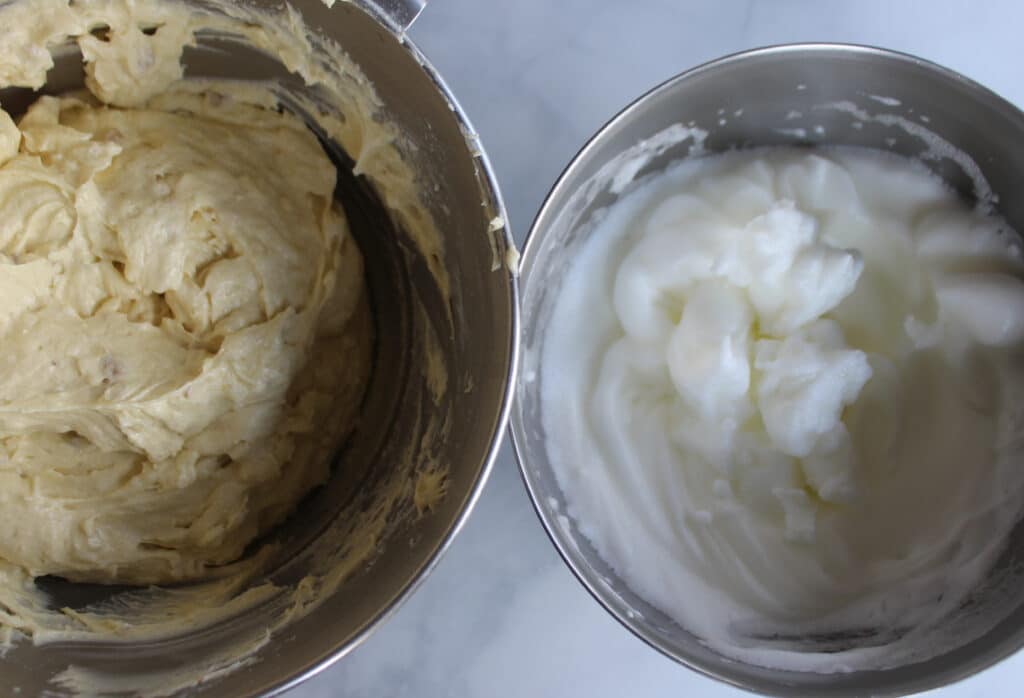 The cake batter after folding in the egg whites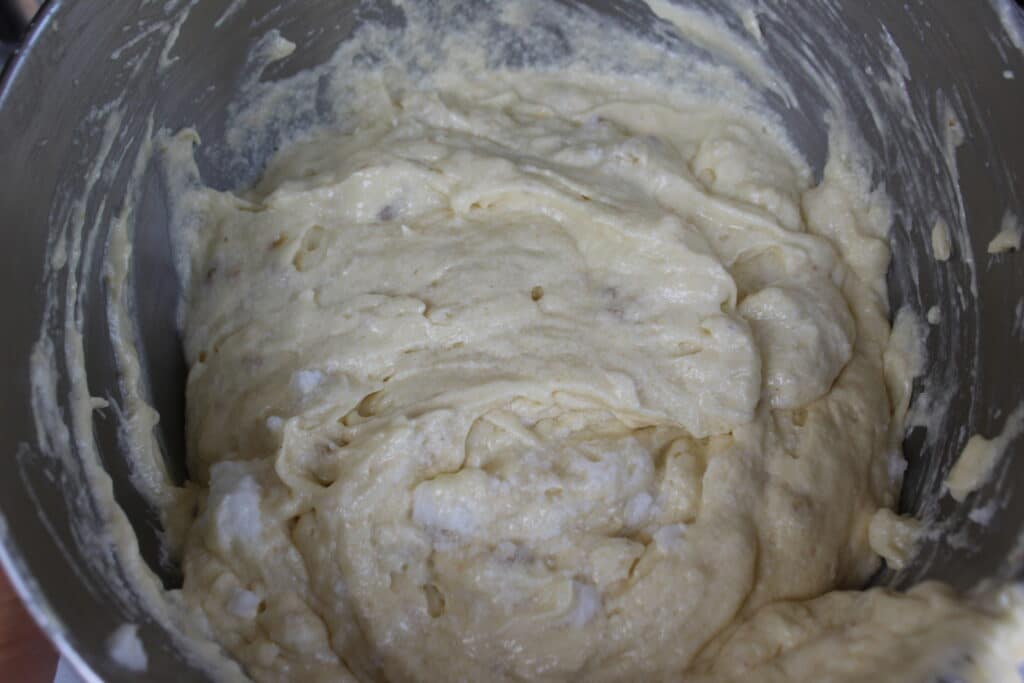 Here is the cream cheese frosting - YUM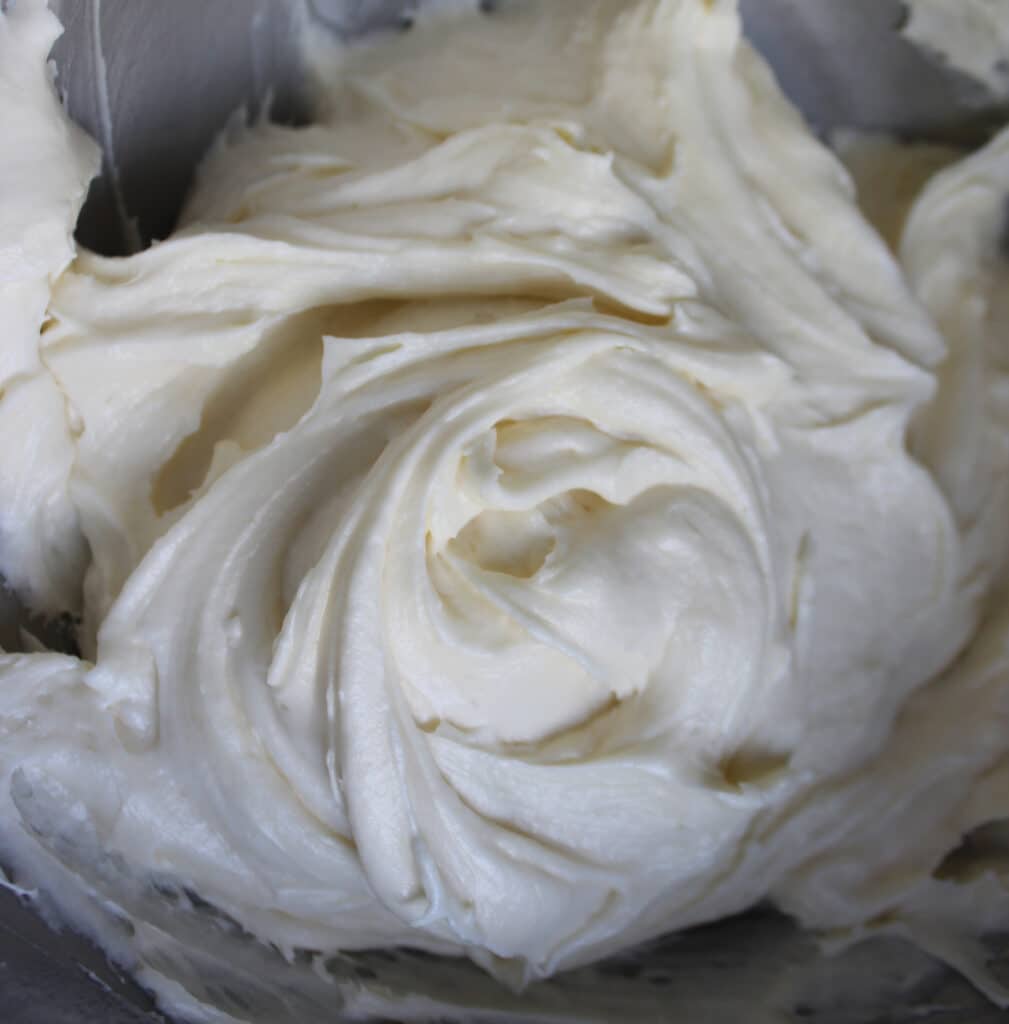 Look at that cream cheese icing!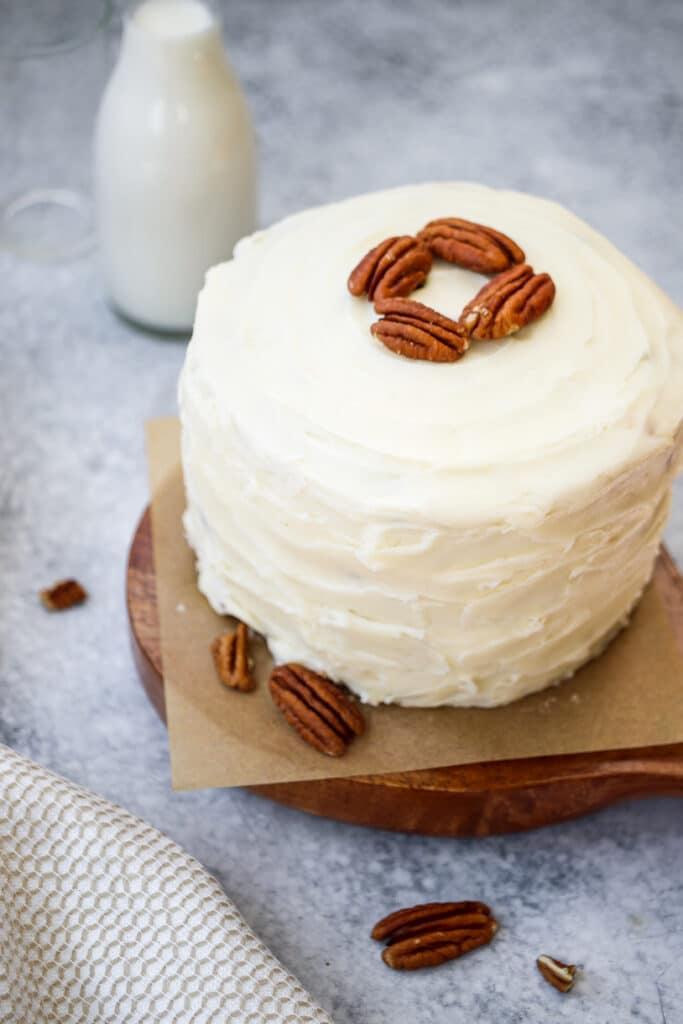 Whole pecans make a lovely and simple garnish: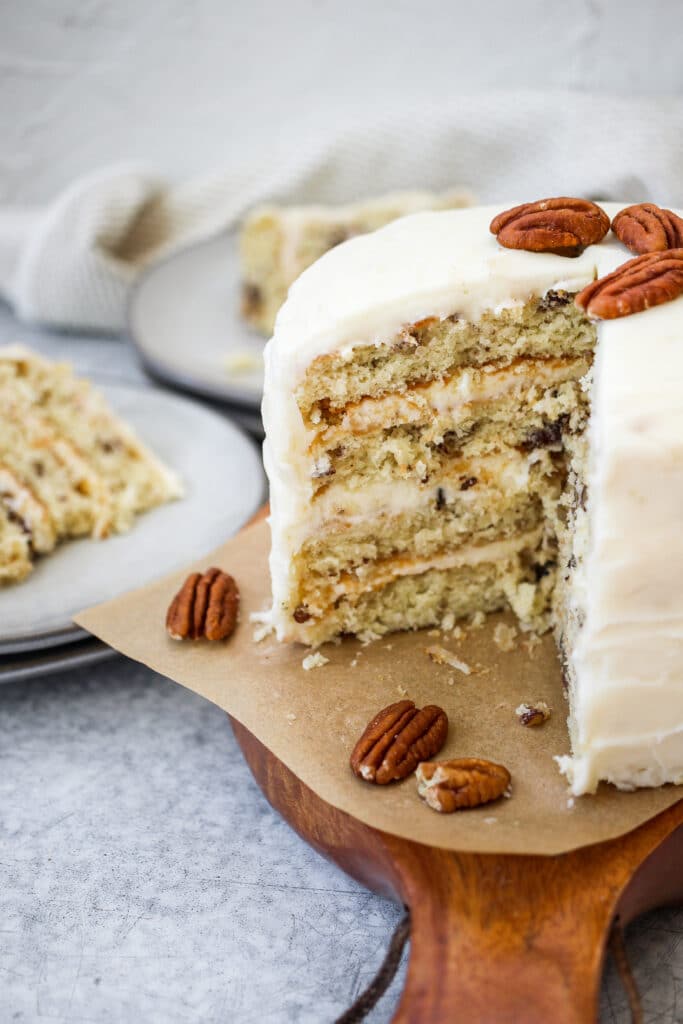 Be sure to check out these other great posts!