Apple nut cake is a recipe that immediately takes me back to my childhood. Each year during the fall, my mom's cousin Gene would visit my parents' farm from Oregon. It was always during harvest season, and Gene would help out my Grandpa Joe with harvesting corn and soybeans. They had this inside joke where they would always call each other Zeke. Aside from apples being in season, we always made this apple nut cake because this recipe originally came from his wife Dotty. Truth be told, it is one of those recipes that we will continue to cherish because it is just that good.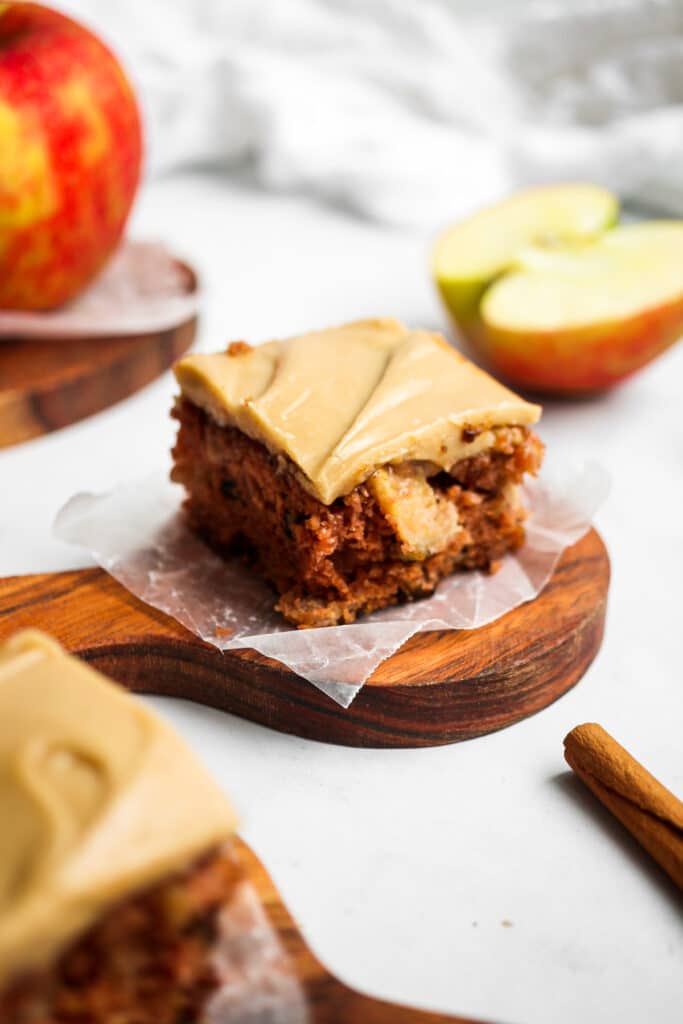 A Little Walk Down Memory Lane
My memories of Gene bring a smile to my face. He was a vibrant man full of engaging stories of his past and present. I truly miss those days of laid-back conversations, eating bags of Cheetos and dried mangoes, and endless laughter. Gene liked things quiet when "60 Minutes" was on, and lord knows a household of six kids is NEVER quiet. There are so many special stories I could reflect on, but I will stop here. I just hope I someday leave such a positive impression on people younger than me. Gene and my grandpa Poppy Joe sure did.
Here are a couple photos from 2012! Today (October 13th) is extra special because Poppy Joe would have been 96 years old.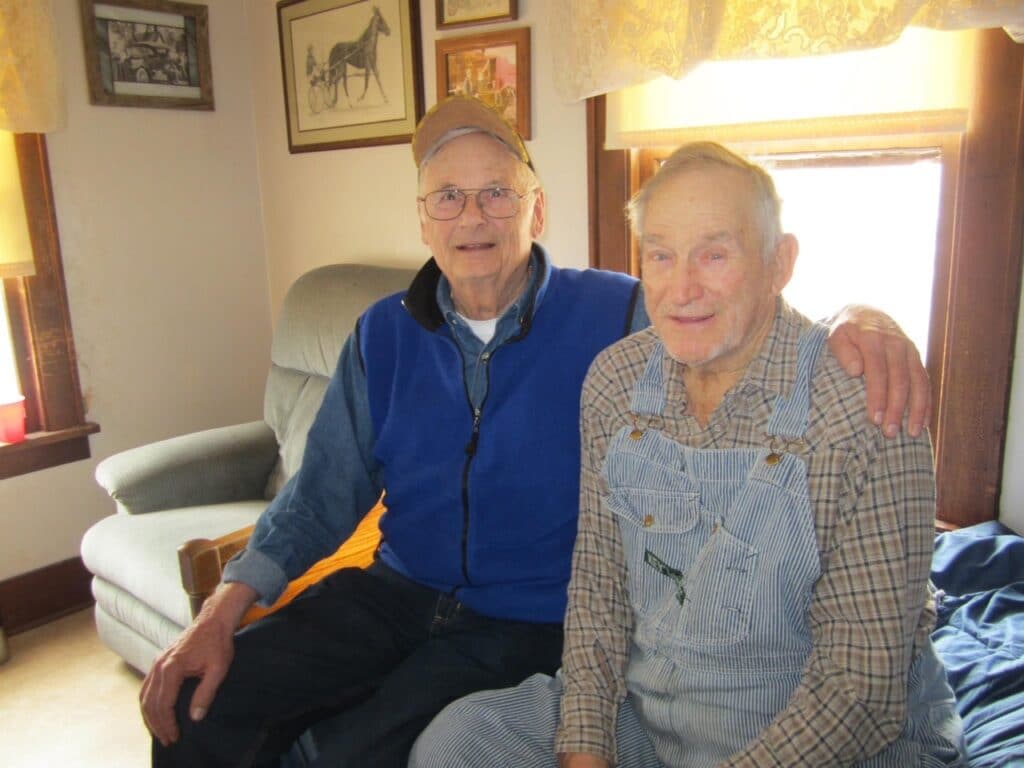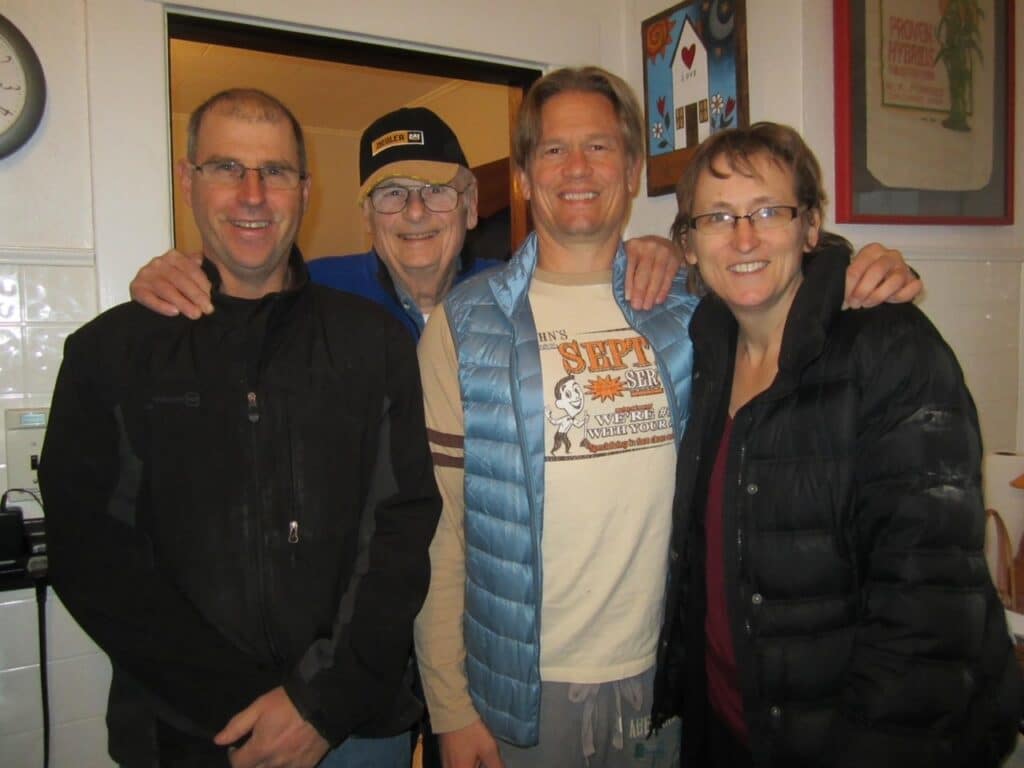 About the Apple Nut Cake
Apple nut cake is an apple lover's dream. It contains a whopping 4 cups of chopped apples and is frosted with a sweet, buttery caramel frosting. This cake is incredible warm, but is also exceptional even several days after baking. Leftovers should be stored in the refrigerator but can be rewarmed in the microwave for just 10 seconds or so to warm it back up. Plus, the frosting gets a little melty and is so so so good!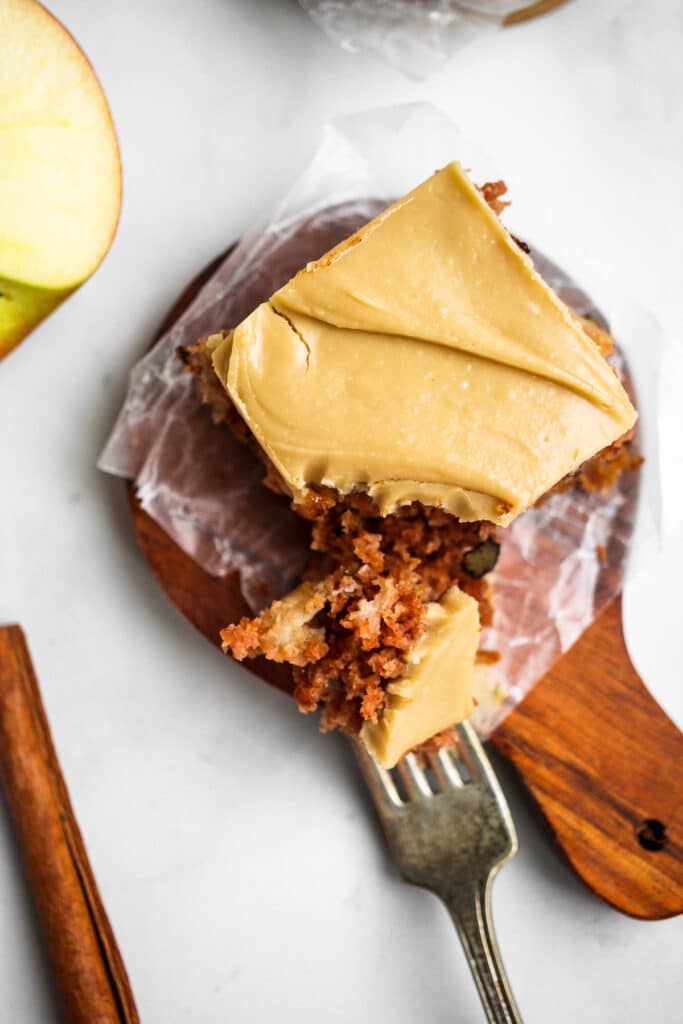 This recipe has been altered slightly from the original recipe because I felt it had too much sugar. Being a registered dietitian, I try to make recipes a little healthier when I can without compromising on taste. The original recipe called for 2 cups of sugar, which I have decreased to 1 cup without any issues. The caramel frosting is very sweet, so the reduction of the sugar in the cake is not even noticeable.
For those with lots of apples from a local orchard, this recipe is such a treat. If you don't have apples, you better go get some so you can make this cake! Please comment and let me know what you think if you make it.
Here are two other apple recipes that are favorites on the blog: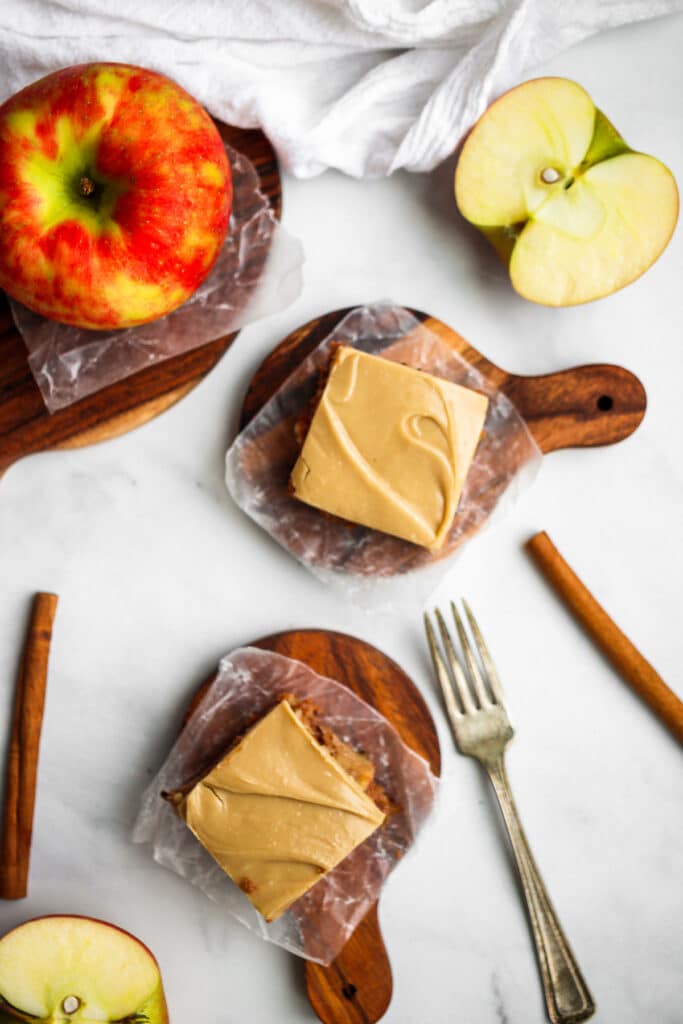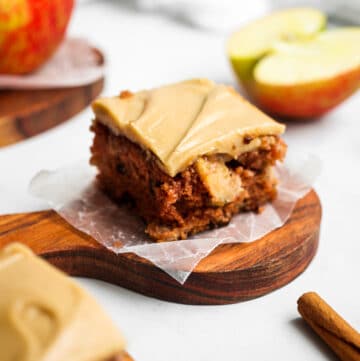 Dotty's Apple Nut Cake
This hearty apple cake is studded with walnuts and topped with a smooth caramel frosting. This cherished recipe is a tasty way to enjoy all of the flavors of fall!
Ingredients
Apple Nut Cake Ingredients
1

cup

sugar

2

eggs

½

cup

vegetable oil

1

teaspoon

vanilla

1 ¾

cups

flour

2

teaspoons

baking soda

½

teaspoon

salt

1 ½

teaspoons

cinnamon

4

cups

apples

peeled and chopped

1

cup

walnuts

coarsely chopped
Caramel Frosting Ingredients
½

cup

(1 stick) butter

¾

cup

brown sugar

¼

cup

milk

Pinch

of salt

2

cups

powdered sugar
Instructions
Apple Nut Cake Instructions
Preheat oven to 350° F and prepare a 9x13 inch pan by lining with parchment paper (recommended) or greasing generously with cooking spray. A glass pan is recommended for more even baking.

In a large bowl, whisk together sugar, vegetable oil, eggs, and vanilla until combined.

In a separate bowl, add all dry ingredients and mix until combined. Stir all dry ingredients into the large bowl of wet ingredients and mix until the flour is incorporated.

Add the chopped apples and walnuts and stir until combined. Pour into the prepared pan and bake in the preheated oven for approximately 45minutes or until the center is baked through. Let cool before frosting with the caramel frosting.
Caramel Frosting Instructions
Melt the butter in a medium saucepan. Add the brown sugar, stir until combined, and heat for about 1 minute over medium-low heat. Add the milk and salt and heat until the mixture comes to a boil, stirring constantly.

Remove from heat and let cool. Add 1¾ cups powdered sugar and mix until smooth. If too thin, add remaining ¼ cup powdered sugar so it is a spreadable consistency. Spread over cooled cake.
You will also want to check out these other great posts!