You are likely wondering what are surprise bars! Well, I am here to tell you they look and taste like a million bucks with only a few simple ingredients. That's why they are a "surprise" bar!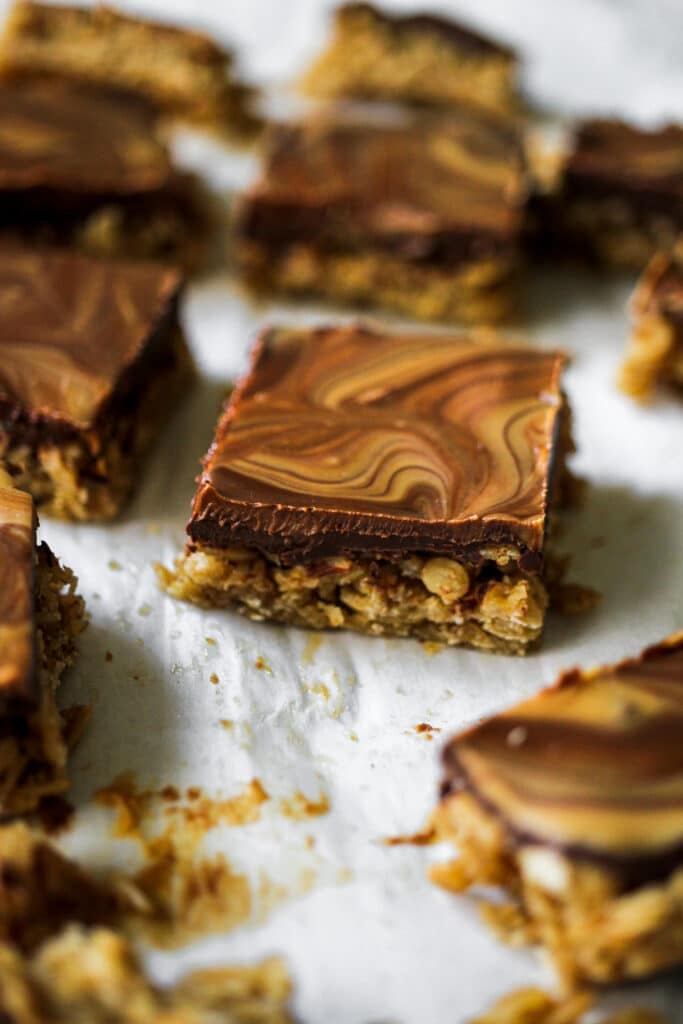 Here's what they are predominately made of:
Oats
Butter
Brown Sugar
Corn Syrup
Chocolate Chips
Peanut Butter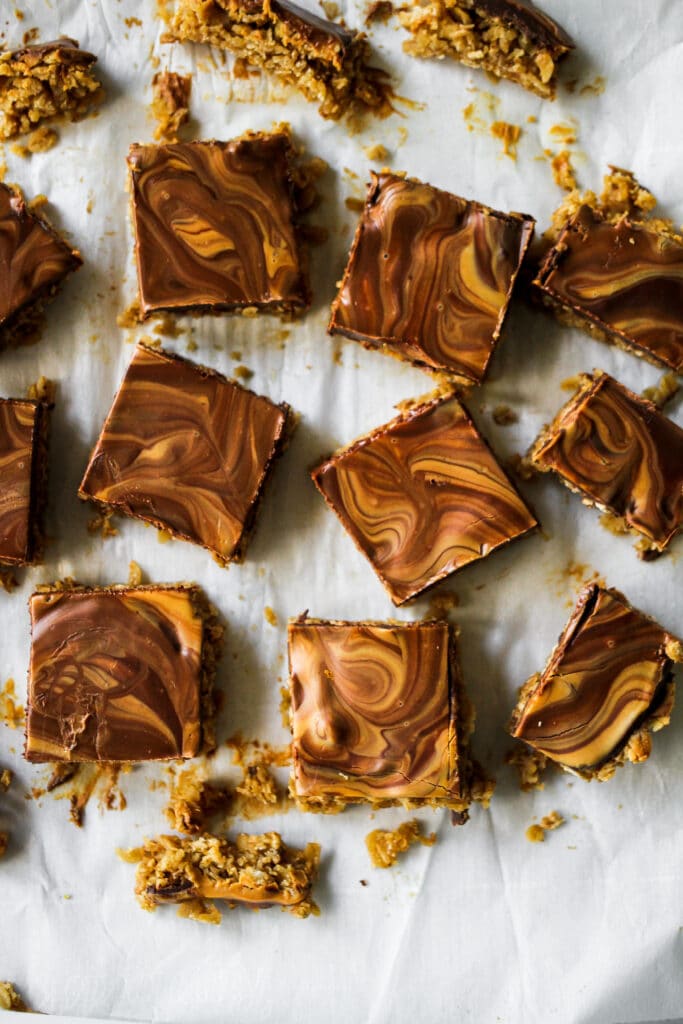 Surprise bars are chewy, oat-based bar covered in a swirl of peanut butter and chocolate. In many ways, I consider them a dessert crossed with a granola bar. As far as I'm concerned, that is a win-win! They are healthy-ish...sort of.
A Little History on These Surprise Bars
We used to make a similar version of these bars growing up, but they never actually held together as a bar. I updated the original surprise bar recipe ever so slightly with some corn syrup to work as the "glue" essentially. As kids, my friend Kaitlin and I used to eat the uncooked oat mixture consisting of oats, melted butter, and brown sugar. In fact, there were times that we ate so much that there wasn't a lot left to bake. Maybe this is why I have such a love of all things with oats! Thankfully, I love plain oats with fruits, nuts, and cinnamon for breakfast most mornings, so I don't need any added sugars unless I'm making an actual dessert. These bars are one of those special treats!
The other nice thing about this recipe is that it makes a fairly small batch and they can be made fairly quickly. The hardest part is waiting for the chocolate and peanut butter topping to set before cutting! If you are really in a rush, you can speed things up by placing them in the refrigerator for about a half hour. These treats are sweet but not-to-sweet thanks to the peanut butter.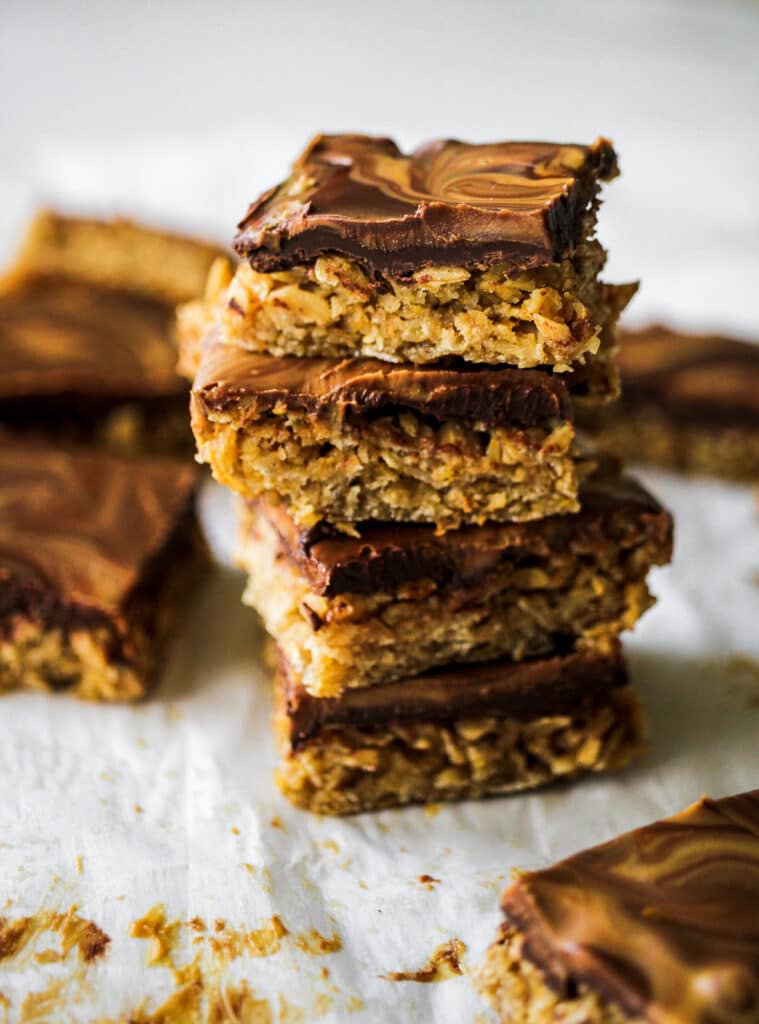 All in all, they are a perfect balance of flavors, textures, and are fun for kids to make too! Swirling the peanut butter and chocolate is by far my favorite part, even as an adult!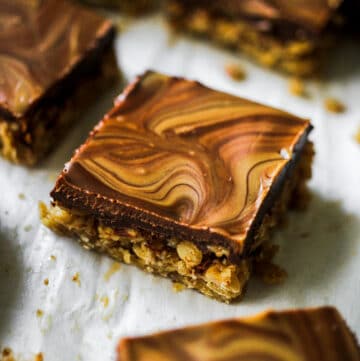 Surprise Bars
Surprise bars are a "surprise" because they taste so good for having such simple ingredients. They are a little crunchy on the edges, chewy on the middle, and covered in a silky smooth peanut butter and chocolate swirl. You will make these again and again. Dare I say these are like dessert granola bars?!
Ingredients
¼

cup

butter

melted

¼

cup

brown sugar

¼

cup

corn syrup

½

tsp

vanilla

⅛

tsp

salt

1 ½

cups

old fashioned oats

½

cup

semi sweet chocolate chips

⅓

cup

creamy peanut butter
Instructions
Preheat oven to 350° F. Line an 8x8 inch pan with parchment paper or grease well.

Combine the butter, brown sugar, corn syrup, vanilla, and salt. Stir in oats and mix until coated. Press into the pan and bake for approximately 14-18 minutes, or until lightly golden. Glass pans generally take on the higher end of the time range.

Cool for about 10 minutes. In the microwave, melt the chocolate chips and peanut butter in separate bowls. Place spoonfuls of the melted chocolate over the top of the bars and repeat with the peanut butter. Gently swirl evenly with a knife to create a marbled look. Do not overswirl or the peanut butter and chocolate will blend. See photos below.

Let cool completely before cutting into bars. To speed up the cooling, you may place in the refrigerator.
More Pics