It is safe to say that monster cookies are always a crowd favorite! These flourless monster cookies filled with peanut butter, rolled oats, and lots of chocolate in the form of M&Ms and chocolate chips! This tried-and-true monster cookie recipe is loved by kids, teenagers, and adults!
Aside from being a pretty and colorful cookie, they are easy to make and have a soft and chewy texture. Though these cookies are the absolute best while they are still warm from the oven, they are still delicious even once fully cooled.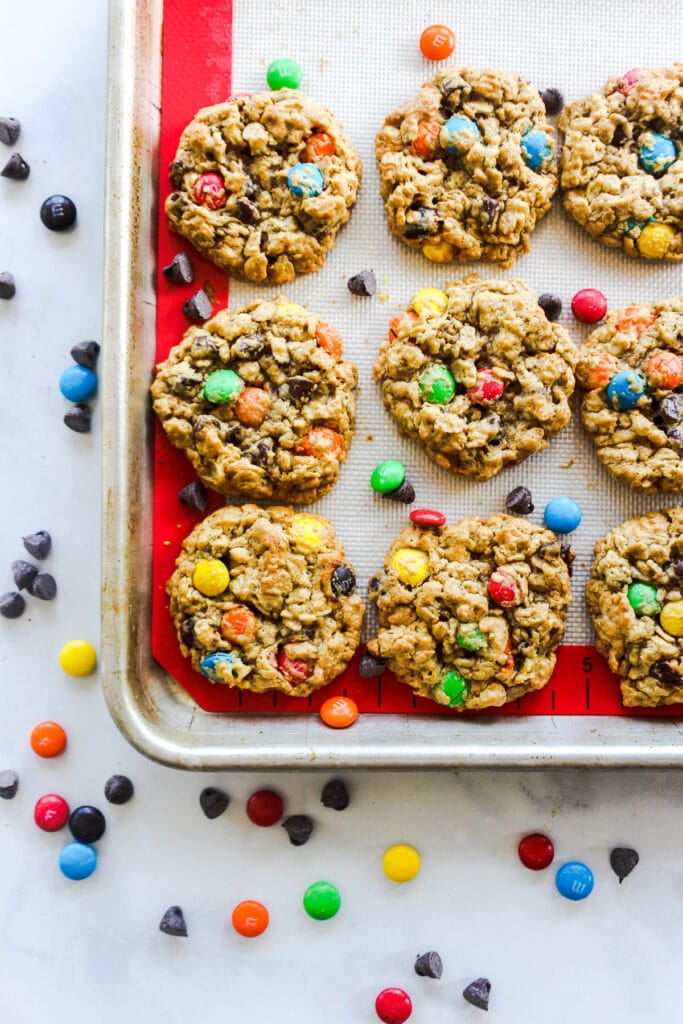 This recipe makes a large but manageable batch. This is great it you want to make extra large cookies or want to freeze some for later. The cookie dough and baked cookies freeze wonderfully, which is a huge time saver if you need a dessert in a pinch.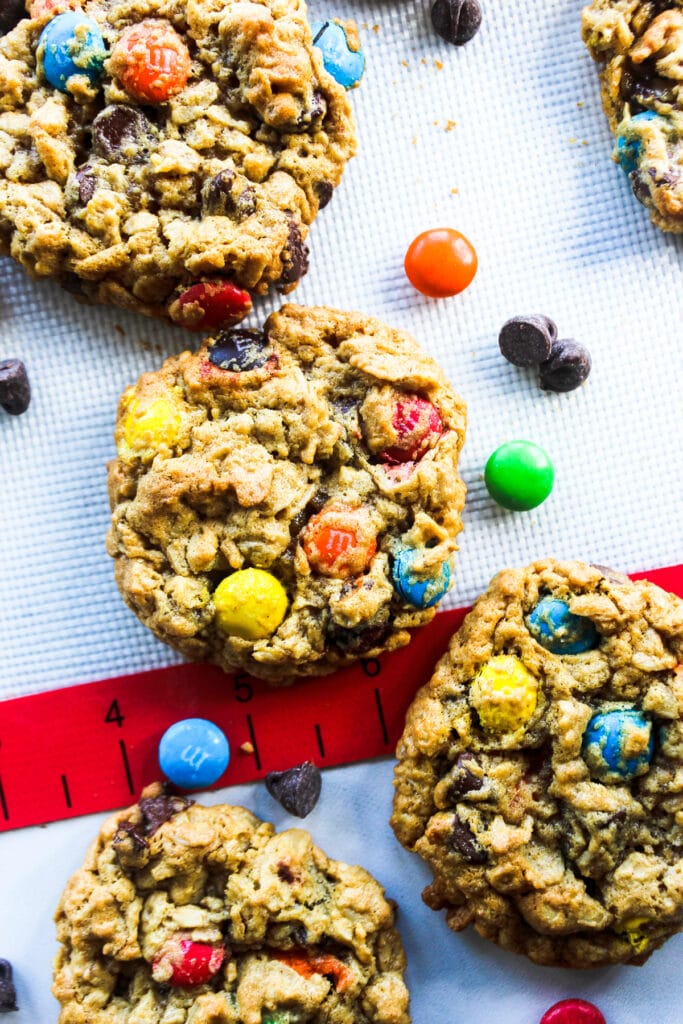 About these Flourless Monster Cookies
This recipe first appeared on my old blog called Mitch8 Blog back in 2017. Since that time, life has changed drastically, aside from covid. Noteworthy highlights for us were having our son Mitchell in July 2019 and daughter Natalie in October 2021. I also earned my master's degree entirely online while working full-time in the summer of 2019.
One thing that hasn't changed is my love of these monster cookies, and I hope you love these cookies as much as I do! I have included some important notes below to ensure your cookies turn out perfectly below.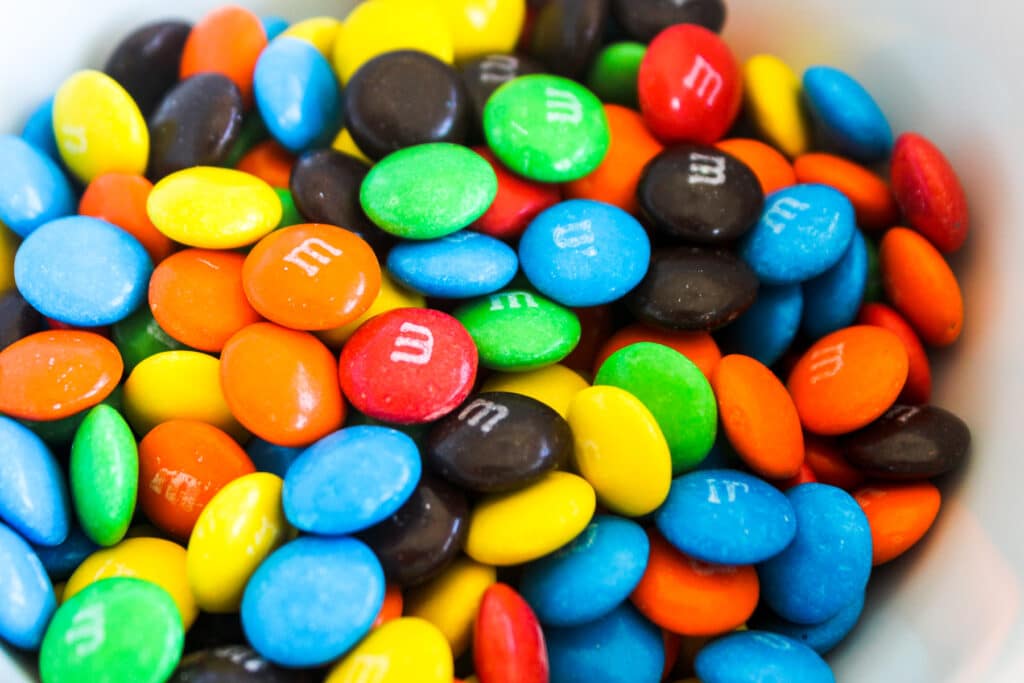 Tips for Perfect Cookies
This recipe does not contain any flour. Instead, this cookie is entirely made up of oats for the dry ingredient. Yay for whole grains!
If you want visible M&Ms on top of the baked cookies, make sure there are M&Ms visible on top before you bake them. You may need to place a few by hand.
I like to flatten my cookies just slightly before baking so they spread evenly. It really depends on your oven and types of cookie sheets you use. For your first bake, I recommend baking just a couple cookies (one slightly flattened and one not) to see what you like best.
If you make extra large cookies, the bake time will need to be increased.
Bake the cookies on light cookie sheets lined with parchment paper or a silicon mat for easy removal. This will also prevent the bottoms from becoming overly browned. This is truly the best tip!
For the perfect texture, the cookies should still soft in the centers and a light golden color when you remove them from the oven. They will firm up as they cool.
It is better to slightly underbake these cookies than overbake them. If overbaked, they become dry.
Common FAQs
Does the cookie dough need to be chilled before baking?
The cookies bake up best if the dough is refrigerated overnight or at least 2 hours. This allows the oats to soak up some of the moisture in the dough. The cookies will also spread less if they are chilled.
Are these cookies gluten free?
In theory, yes. They are flourless and contain oats which are gluten free. However, many brands of oats may come in contact with wheat or other gluten-containing grains during processing. If you need the cookies to be gluten free, just make sure to buy oats that actually labeled as gluten free.
Can I use quick oats instead of old fashioned oats?
The cookies will work with quick oats, but I highly recommend sticking to the old fashioned oats. Other types of oats, such as steel-cut or instant oats, CANNOT be used.
Can they be baked as bars?
Yes! I recommend going to this monster cookie bar recipe here!
More photos are below, too! If you make this recipe, please add a rating and comment below to let me know what you think. Social shares on Facebook, Pinterest, and Instagram are also appreciated to help more people access my recipes!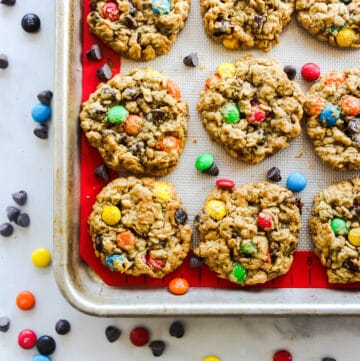 Monster Cookies
These hearty cookies are loaded with oats, peanut butter, chocolate, and M&Ms. They are naturally gluten free, which makes them perfect for those who need to avoid gluten. The cookie dough or baked cookies freeze well, so they can be enjoyed at a later time!
Ingredients
½

cup

(1 stick) salted butter

1 ¼

cups

peanut butter

1

cup

sugar

1

cup

brown sugar

3

eggs

2

teaspoons

corn syrup

2

teaspoons

vanilla

½

teaspoon

salt

2

teaspoons

baking soda

4 ½

cups

old-fashioned oats

1 ½

cups

semi-sweet chocolate chips

1

10-ounce

bag M&Ms

or closest size
Instructions
Cream the butter, peanut butter, and sugars together with a mixer for 2-3 minutes or until fluffy. Add eggs, corn syrup, vanilla—mix until well combined. Then mix in salt and baking soda.

By hand, stir in the oats, chocolate chips, and M&Ms until completely combined. It will be very thick. Cover the dough and refrigerate at least 2 hours (this is not required but your dough will be less sticky).

When ready to bake, preheat oven to 350° F. Scoop cookie dough onto a cookie sheet lined with parchment paper or a silicon baking mat. Press down slightly and arrange a few M&Ms on the top of the cookie dough, if needed.

Bake approximately 10-12 minutes or until lightly golden and still very soft. Let sit for about 1 minute on cookie sheet and then carefully remove. Let cool on cooling racks.
Notes
Bake times will vary depending on the size of the cookies and the type of cookie sheets used. Watch carefully to avoid overbaking the cookies. Please note the cookies will firm up as they cool.
Process Pics of the Monster Cookies
Ingredients (except the eggs):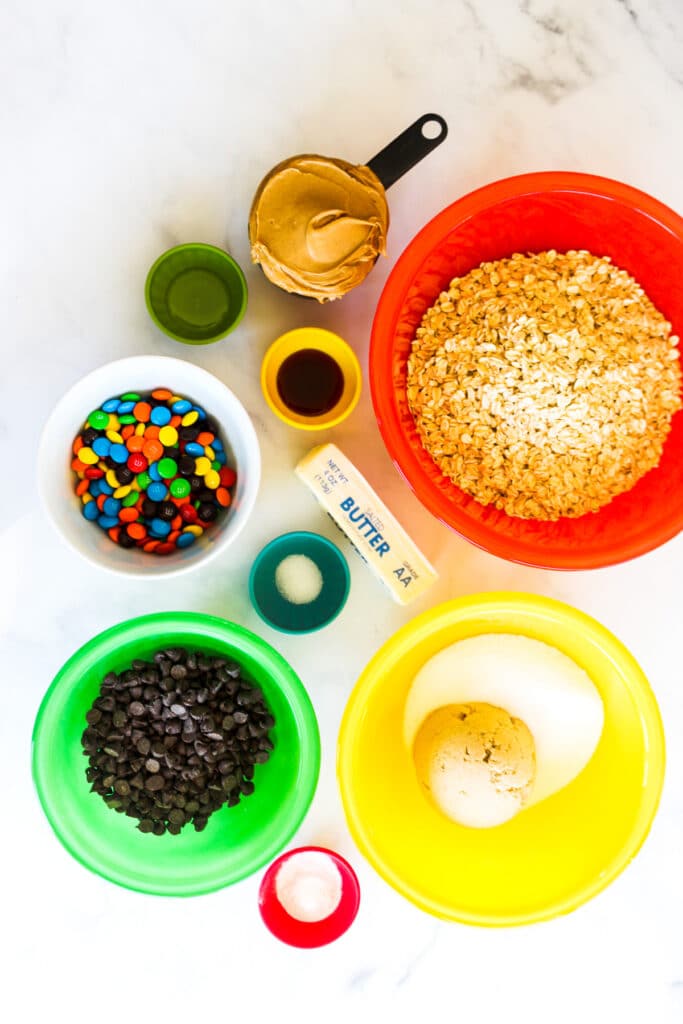 Mixing up the dough: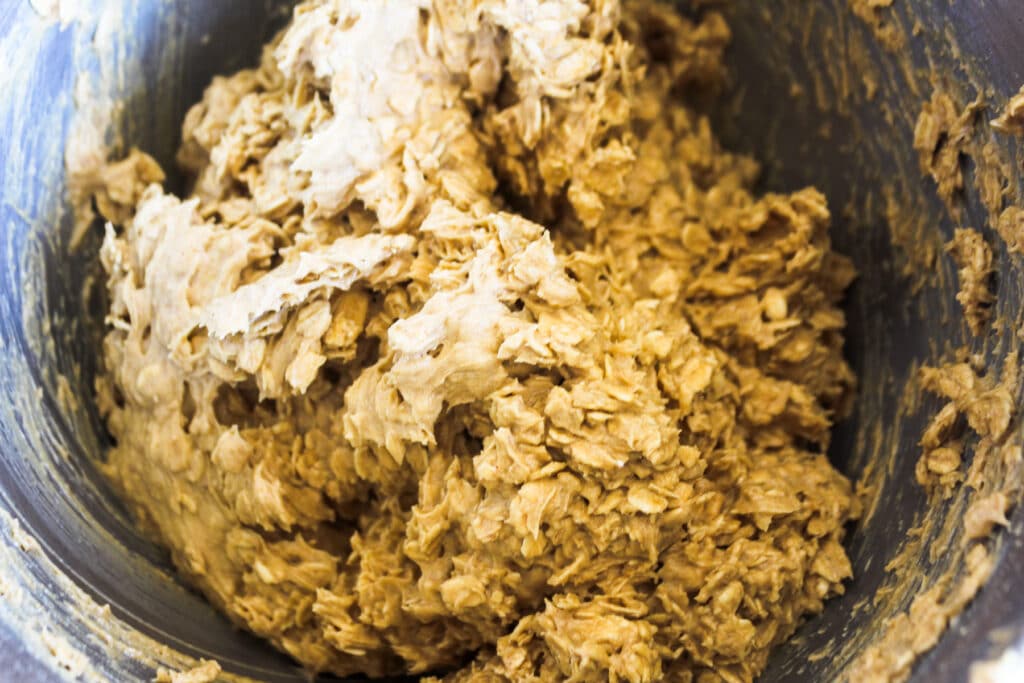 I love M&Ms!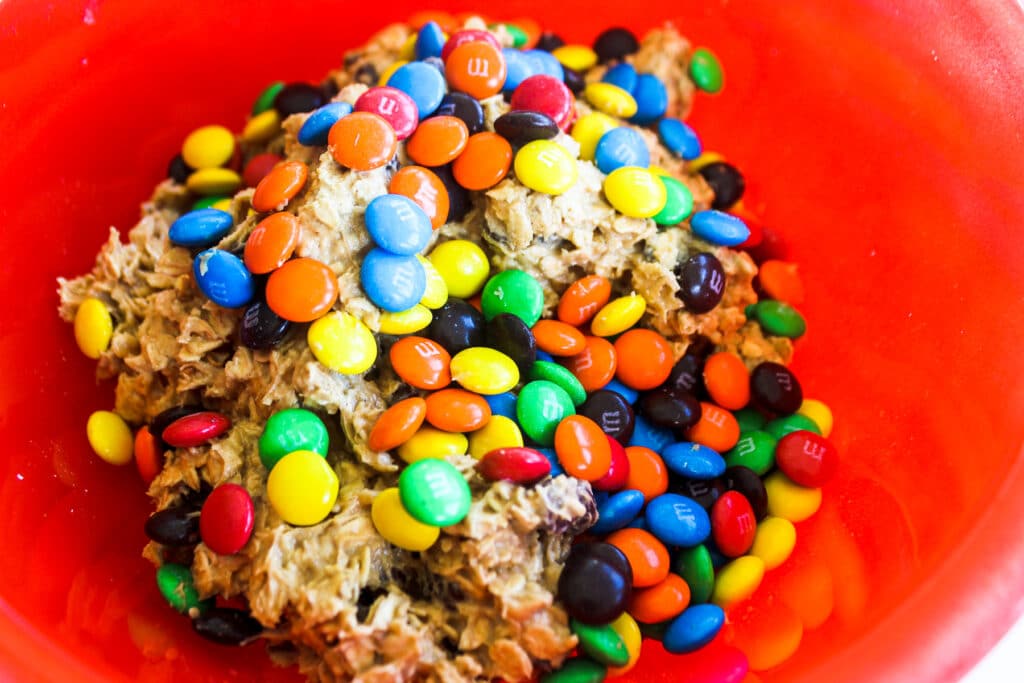 Scoop the dough: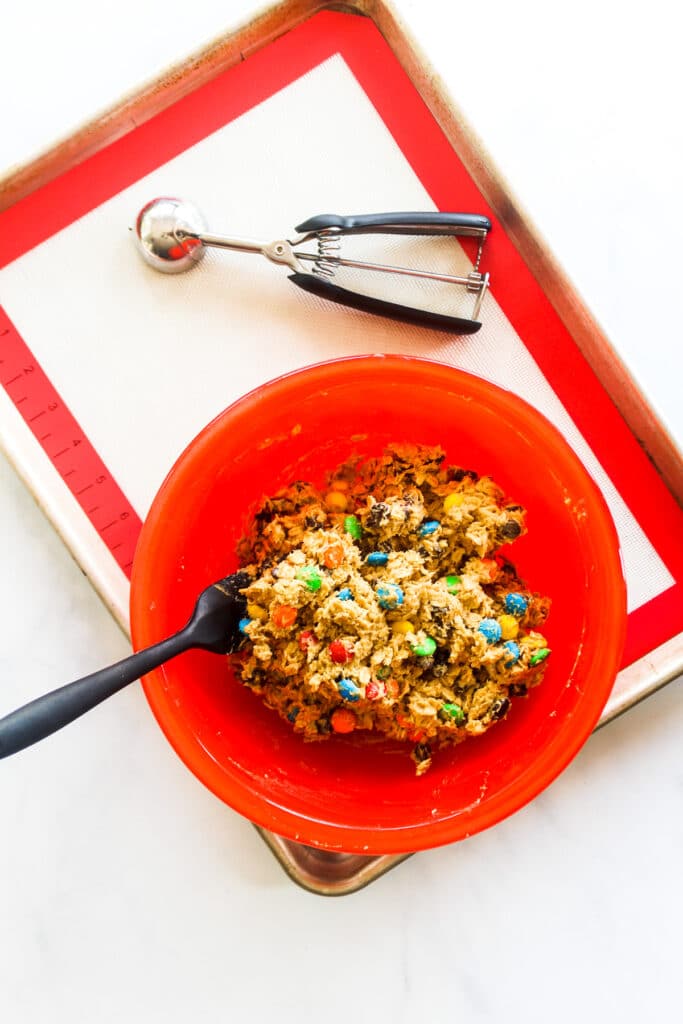 See the visible M&Ms. That's important if you want them showing in the baked cookies: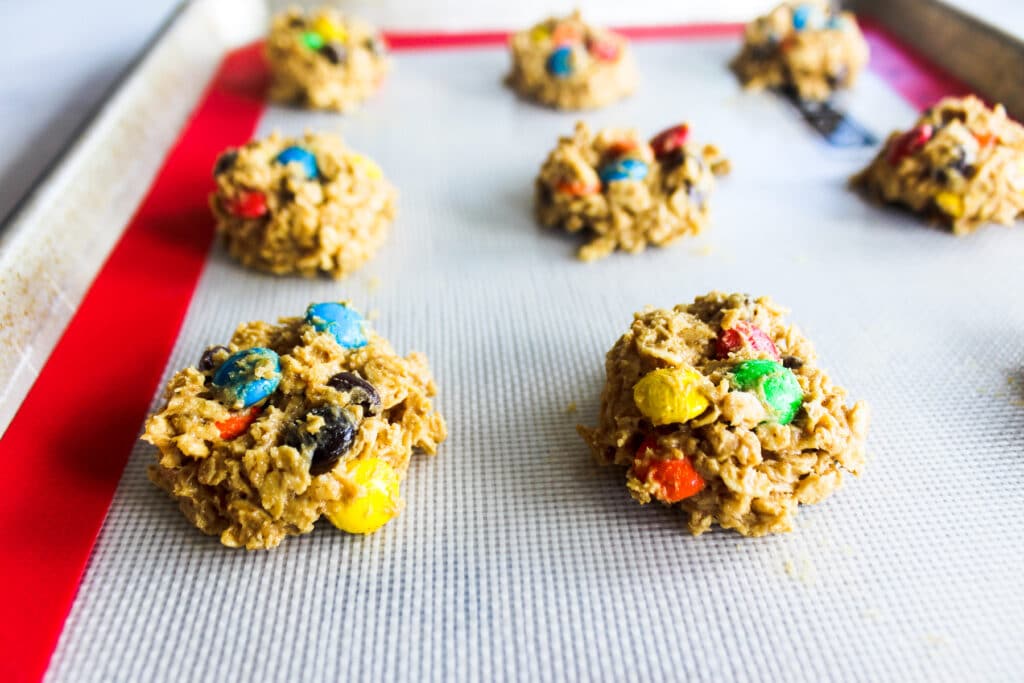 Look at all of those cookies!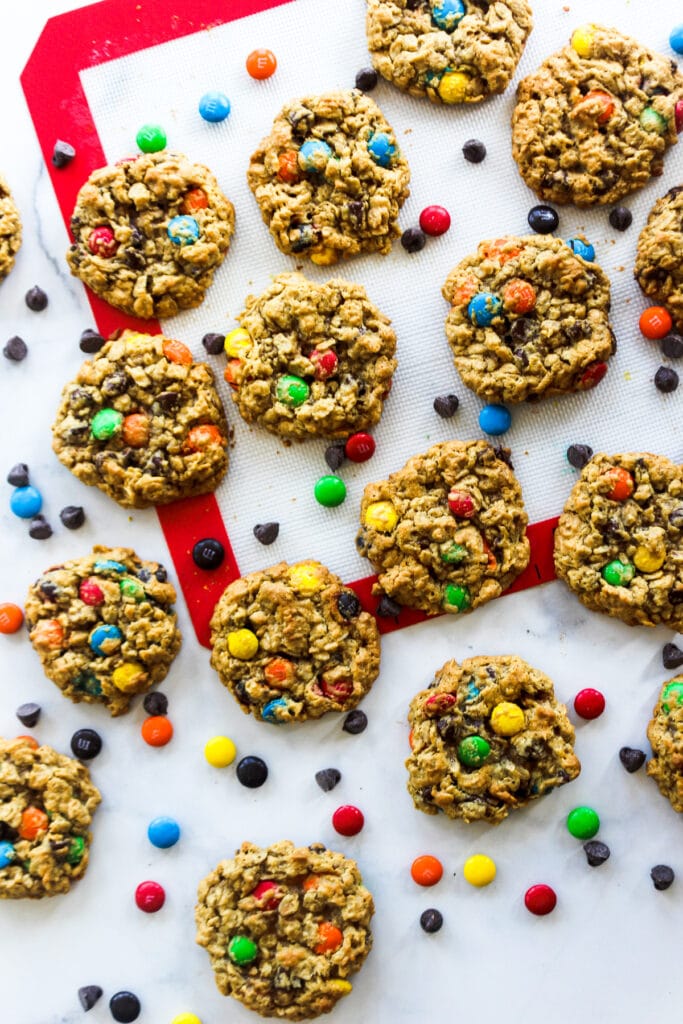 I will never tire of monster cookies: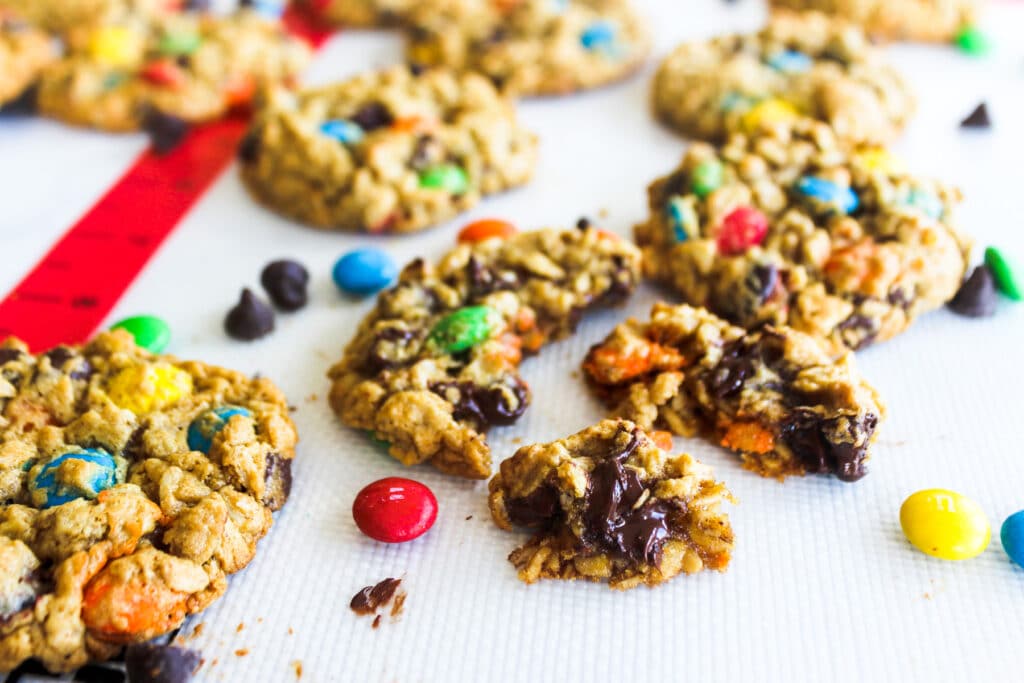 Be sure to check out these other great posts!