Happy 2-2-22! I am still in disbelief that 2022 is here and moving fast. It really shouldn't come as a surprise because that is how time seems to go, especially the older you get. One recipe that never gets old at our house is this pecan granola with dried fruit.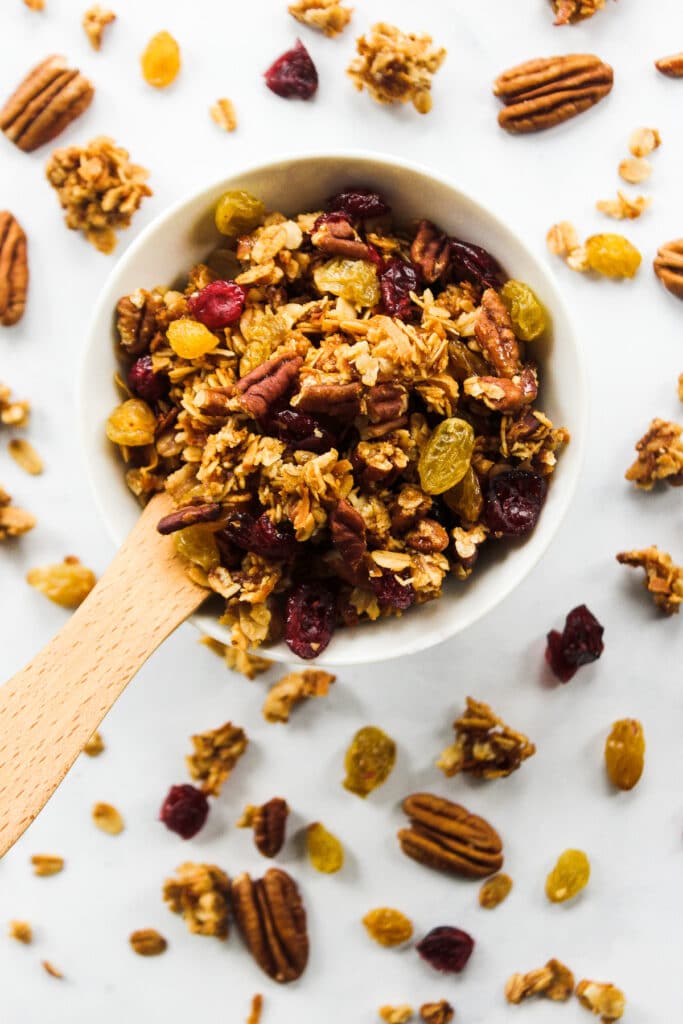 Homemade granola is one of my favorite breakfast sides or snack. Most of my homemade granola includes old-fashioned oats, coconut, nuts or seeds, sweeteners such as honey, brown sugar, or maple syrup, and oil/butter. Sometimes I even add dried fruit, peanut butter, or ground flax. Homemade granola is surprisingly easy to make and very tasty. Whether you eat it as a topping or plain, this recipe will not disappoint.
About this Recipe
Unlike many recipes that require careful and strict measurements, this recipe can easily be adapted and changed based on personal preferences or pantry ingredients. For new bakers, homemade granola is a great place to start! I have included the link to one of my most popular recipes for granola clusters here! A picture is worth a thousand words, so here you go: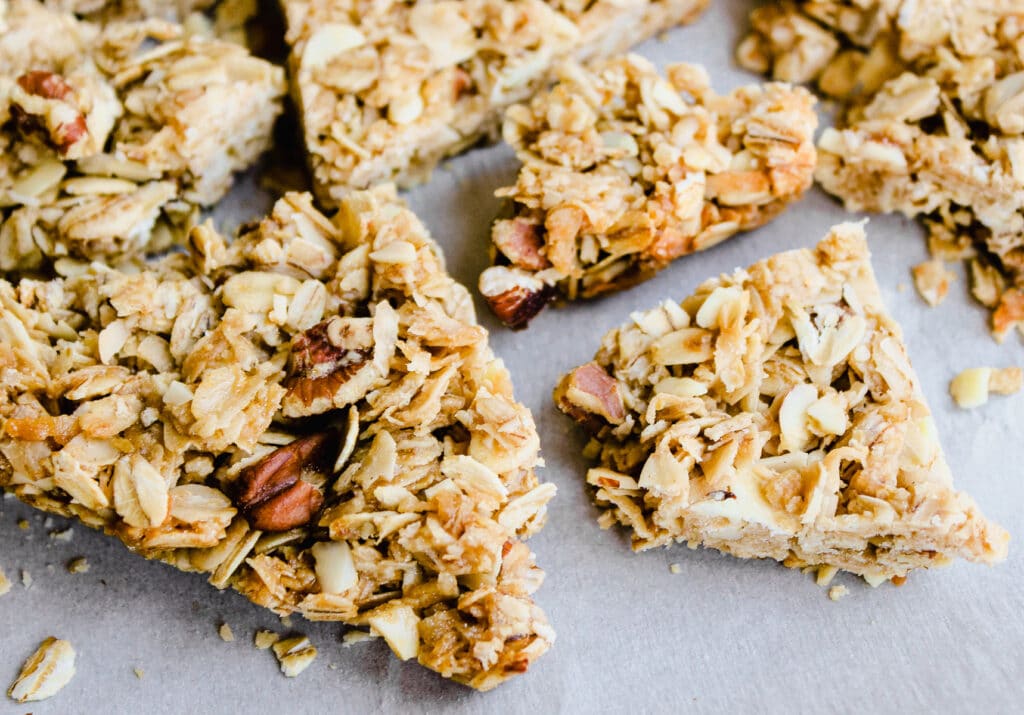 For a long time and even today, granola has been a marketed as a health food. Yes, granola has nutritious components, such as nuts, dried fruits, and oats, which are a whole-grain. However, most granola is also high in fat and sugar. Whether your granola is homemade or store bought, enjoy it but be cognizant of your portions.
Contrary to what some bloggers and marketers say, honey or maple syrup are still pure sugar so do not be fooled! If you are buying granola, look at the nutrition facts and ingredients. I like to make my own granola because I have control over the ingredients and because I prefer the taste!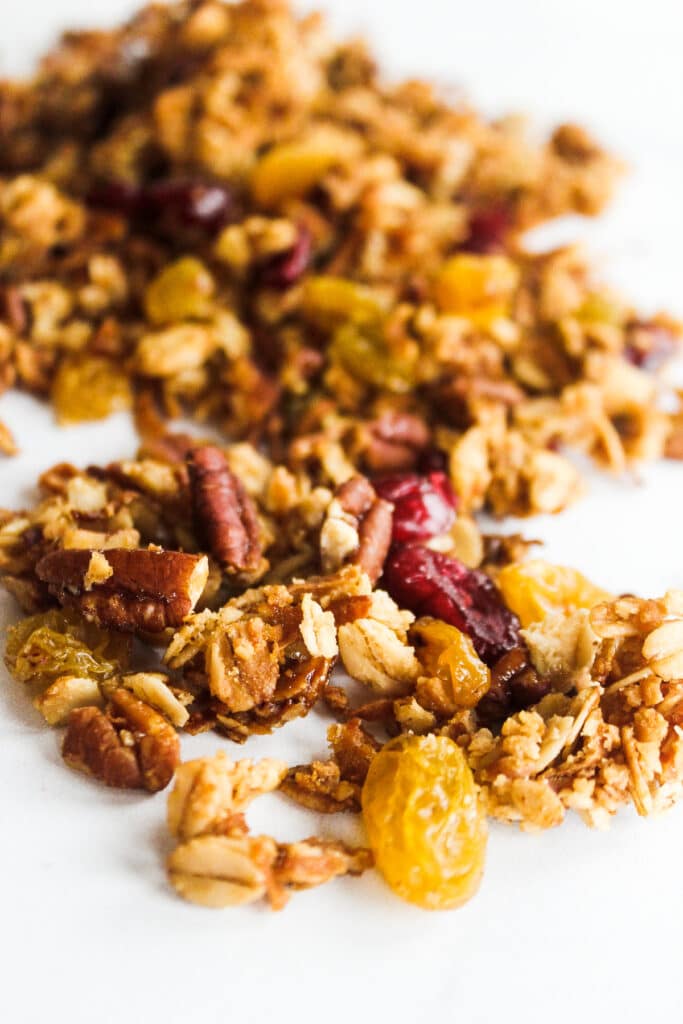 Tips for Perfect Pecan Granola with Dried Fruit
To prepare homemade granola, the ingredients and process are quite simple. All it takes to make granola is simple measuring, mixing, baking, and cooling. Plus, ingredients may be easily swapped based on personal preferences (ie almonds instead of pecans or dried cherries instead of cranberries). Having prepared granola countless times, there are a few tricks I want to share.
This particular recipe contains equal amounts of oil and honey, but these amounts could be increased slightly if the oats seem too dry. You may also add more oats if the mixture seems to moist.
The best tip is to use parchment paper when baking the granola. This ensures no sticking and easy clean-up!
Keep an eye on the granola because it can easily be overbaked in just a matter of minutes. Stir partway through baking to ensure even baking.
After the granola has baked, immediately add the dried fruit. The heat from the granola helps soften the fruit. If the dried fruit is baked with the granola, it will burn and harden.
This recipe may easily be doubled if you want a larger batch, but the baking time may need to be adjusted slightly.
Common FAQs
Can I substitute other dried fruit or omit it altogether?
Yes! The dried cranberries and golden raisins can be omitted or replaced with your dried fruits of choice. Dried pineapple, mangoes, cherries, or regular raisins would all be tasty choices. Just make sure to add it to the granola AFTER baking or the fruit will burn.
How should the granola be stored?
Once completely cooled, store the granola in an airtight container for up to two weeks at room temperature.
What are ways to enjoy the granola?
My favorite ways to eat the pecan granola with dried fruit is plain or over unsweetened Greek yogurt! It is nutty, sweet, crunchy, and extremely delicious.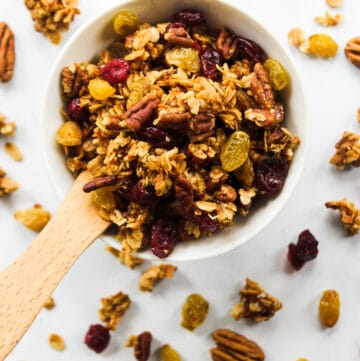 Pecan Granola with Dried Fruit
This super nutty and crunchy pecan granola with dried fruit will really hit the spot if you love granola! The dried cranberries and golden raisins add sweetness and a nice pop of color.
Ingredients
2

cups

old-fashioned rolled oats

¾

cup

pecans

coarsely chopped

¾

cup

sweetened flaked coconut

⅛

teaspoon

salt

¼

cup

vegetable oil

¼

cup

honey

½

cup

dried cranberries

½

cup

golden raisins
Instructions
Preheat oven to 350° F. Line a small, rimmed baking pan with parchment paper.

In a medium bowl, stir together oats, pecans, coconut, and salt. Whisk together oil and honey, then stir into oat mixture until well coated. Do NOT add the dried fruit or it will burn during baking. It must be added after the granola has baked.

Spread mixture evenly onto the sheet pan. Bake, stirring halfway through baking, for about 16-20 minutes* or until lightly golden. It is very important to stir partway to ensure even baking. Watch closely to prevent overbrowning because it will brown quickly at the end.

Remove from oven and immediately stir in dried cranberries and golden raisins. Cool completely on the sheet pan on a rack. Store in an airtight container.
Notes
A range is given for baking due to variances in ovens and pans. Always start with the lowest bake time and bake for additional time, if needed.
Process Photos of the Pecan Granola with Dried Fruit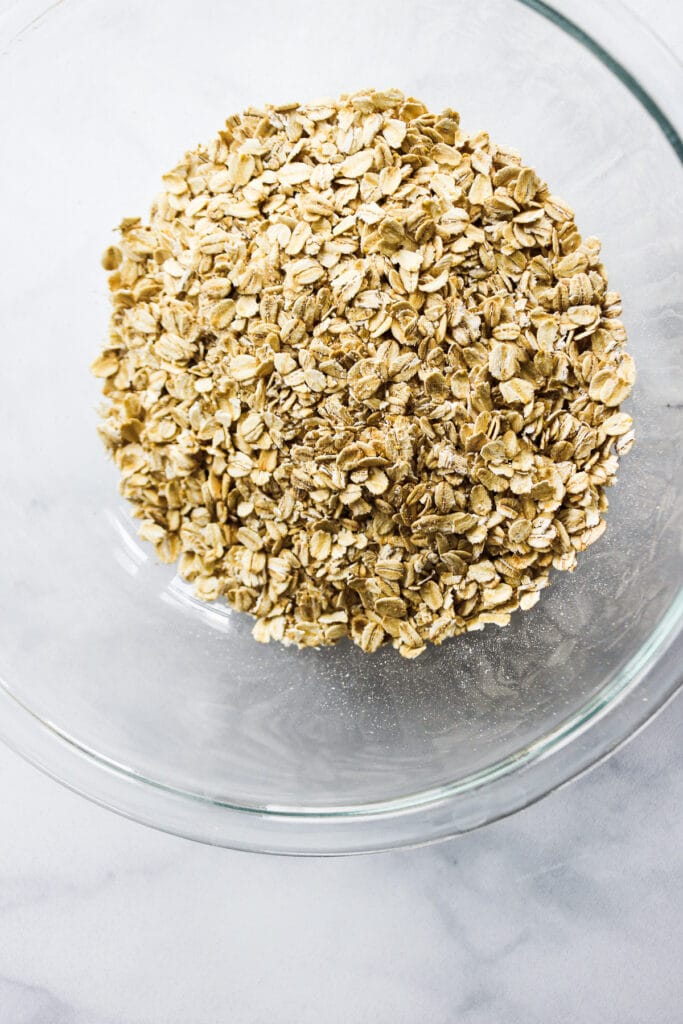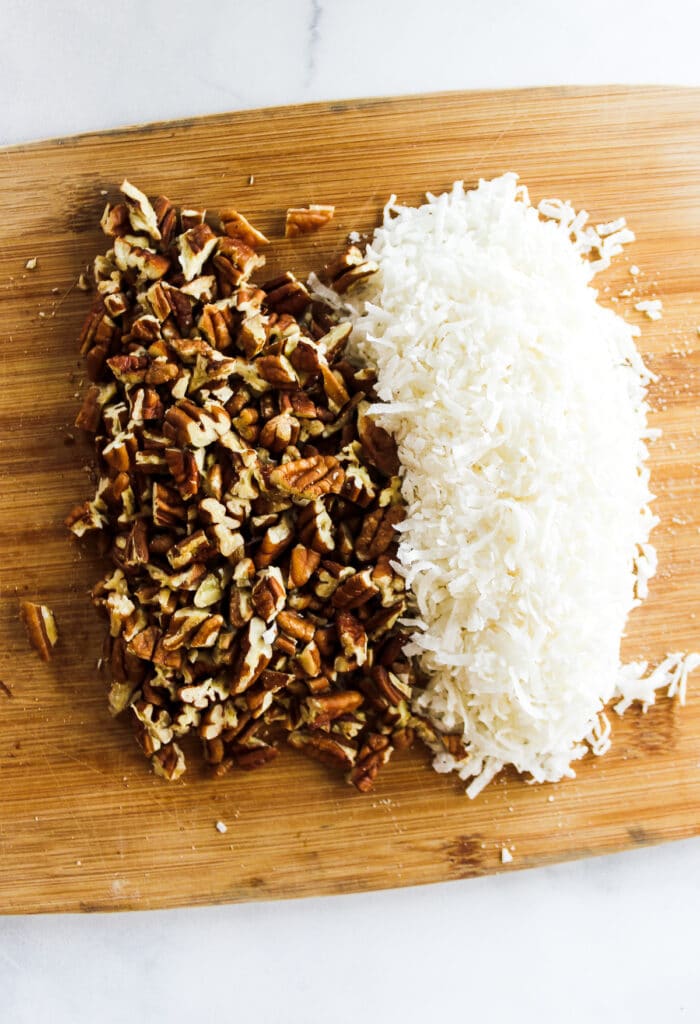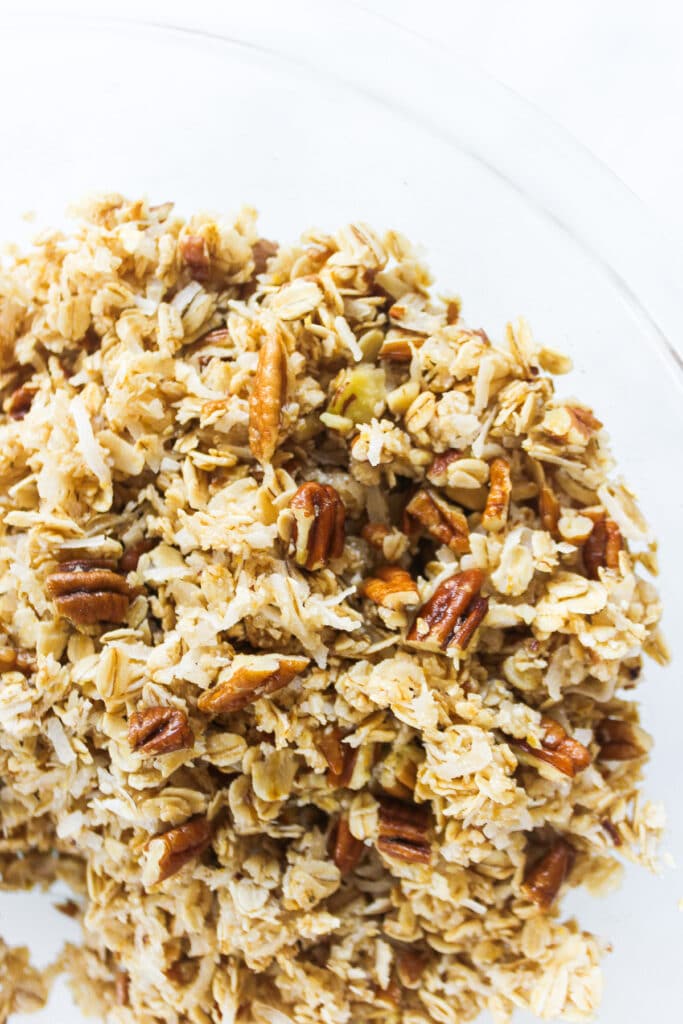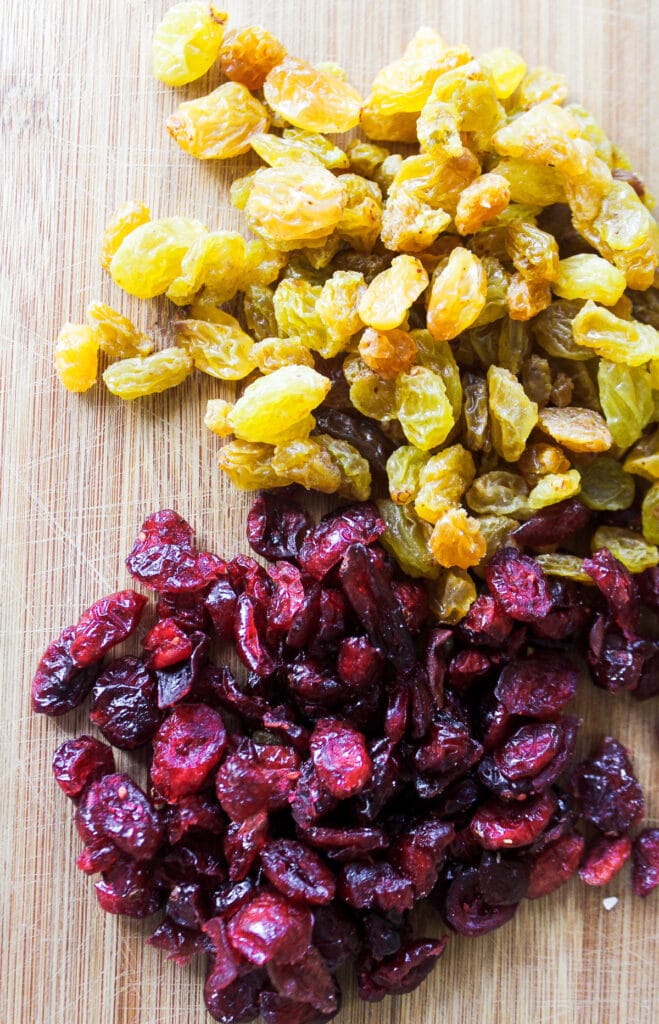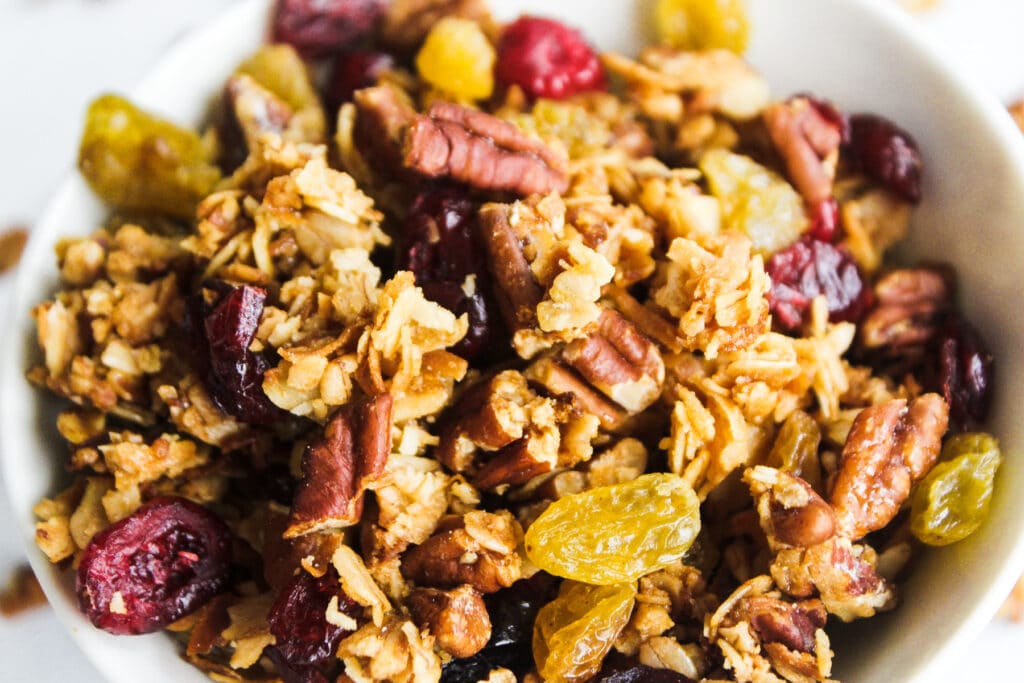 Be sure to check out these other great posts!