There is something so satisfying about homemade granola. This peanut butter honey granola almost reminds me of the flavors of a peanut butter cookie. It contains just a few simple ingredients but is so satisfying to eat! It is nutty, crunchy, and actually stays in clumps.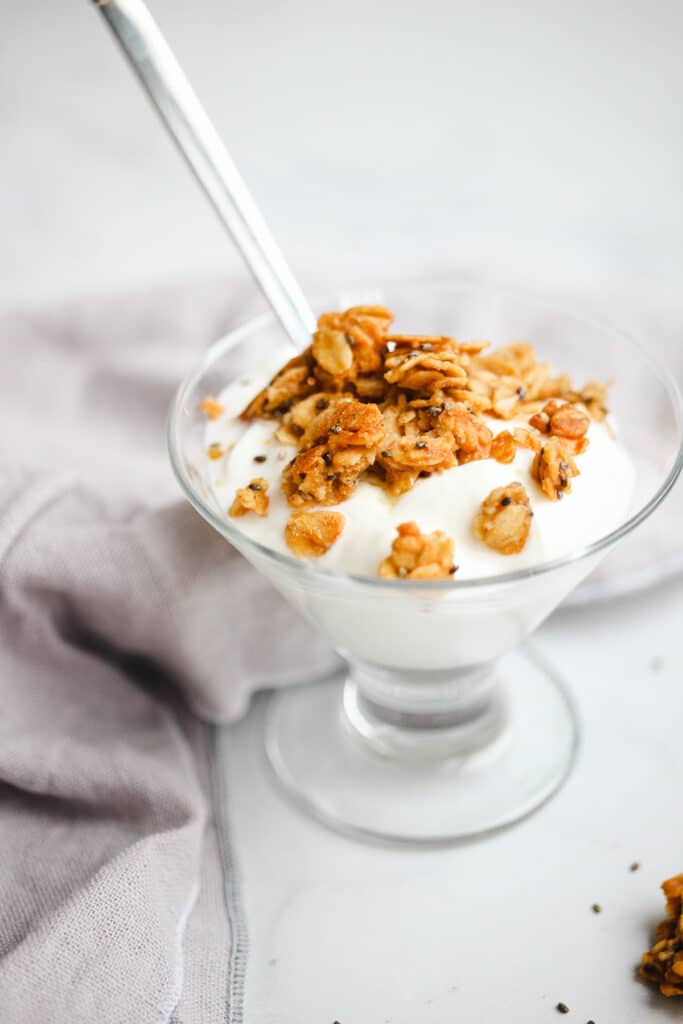 About this Peanut Butter Honey Granola
Peanut butter is a favorite of mine, and I always have it on hand. Another thing I always have in my pantry is honey. However, I never seem to use my honey fast enough, and before I know it, it is crystallized and looks like this: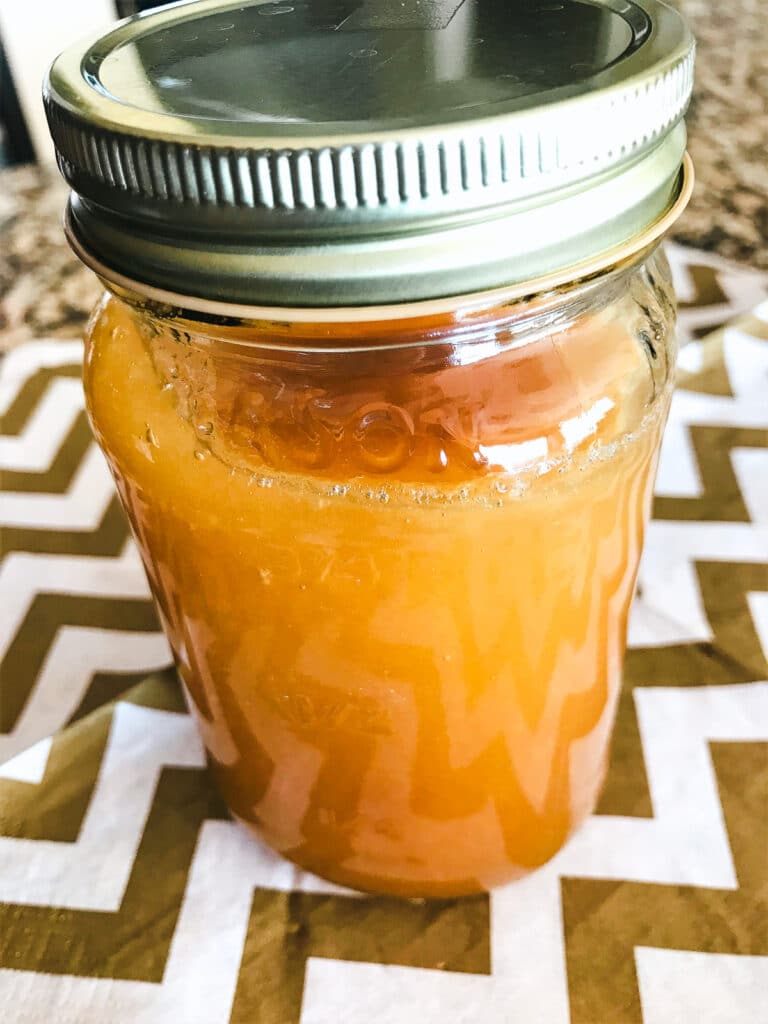 Does this ever happen to you? The good news is that crystallized honey is still perfectly safe and usable. In fact, I have found that I prefer my honey in this state because it is less messy and still works just fine in recipes or tea. To "revive" it to it's semi-liquid state, just heat for a short period of time in the microwave and stir. You could even use the defrost setting, too.
As a result of my crystallized honey and my love of peanut butter, I created this granola recipe to share with you! It is a simple recipe with only 5 ingredients – old fashioned oats, peanut butter, honey, vanilla, and salt. If you want to make the granola more interesting, you can also add chia seeds like I did. From a nutritional perspective, chia seeds contain approximately 4g of dietary fiber and 3g of protein in just 1 Tbsp! However, if you do not like chia seeds, I recommend omitting them. If you omit them, be sure to add ¼ cup extra old-fashioned oats.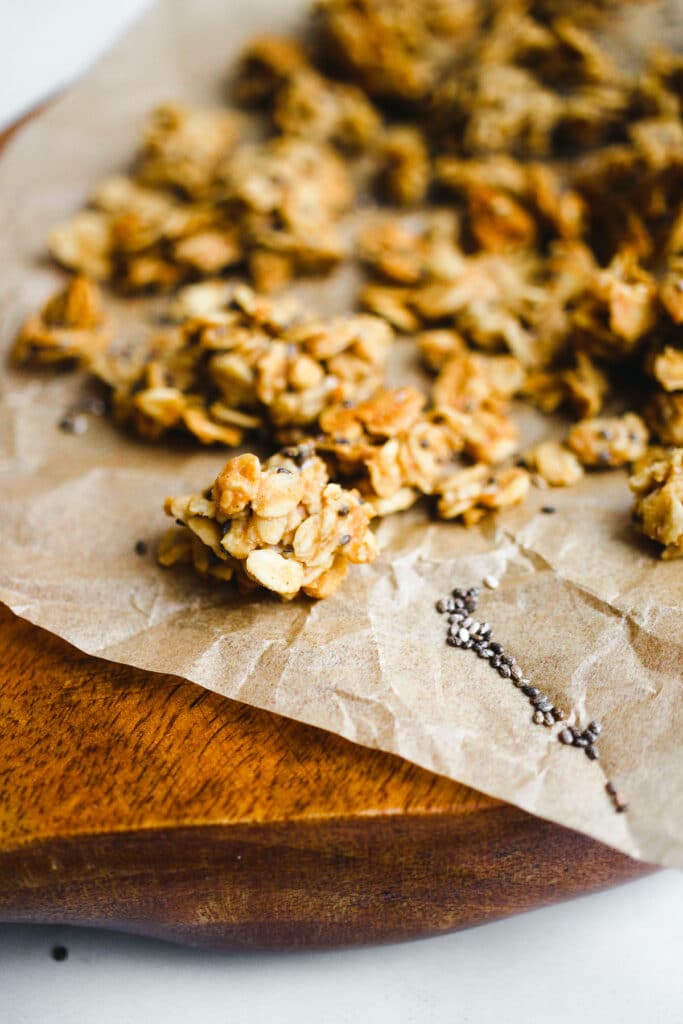 Why I Love this Recipe
This granola is perfectly sweet with strong flavor of peanut butter. I personally like this granola best as an topper for plain or vanilla Greek yogurt with some banana slices. It is also tasty enough to snack on plain! Now that I am running quite a bit again, it is a really satisfying snack after a run!
This recipe is also great limited if you're limited on time but care about nutrition. Yes, it contains honey which is pure sugar. However, the honey makes it palatable and serves as a binding agent. This granola is predominantly oat-based plus peanut butter and a little chia seeds for some texture. Food is fuel and should also be enjoyed!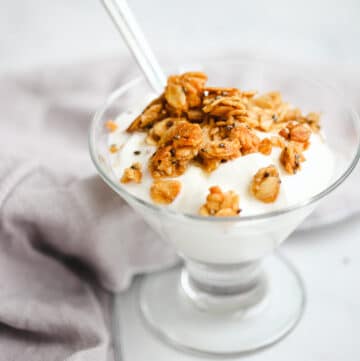 Peanut Butter Honey Granola
Move over store bought granola, this peanut butter honey granola is sure to be a family favorite. It is super easy to make and even easier to eat!
Ingredients
3

cups

old-fashioned oats

2

Tablespoons

chia seeds

optional

½

cup

creamy or crunchy peanut butter

½

cup

honey

¼

teaspoon

salt

½

teaspoon

vanilla
Instructions
Preheat oven to 300° F, and line a large rimmed baking tray with parchment paper.

Place oats and chia seeds in a mixing bowl and set aside. If omitting chia seeds, see note below.

In a microwavable bowl, heat the peanut butter and honey until melted, stirring after 20-second intervals. Stir in the vanilla and salt until the mixture is smooth. Pour the honey and peanut butter mixture over the oats, and stir until all oats are evenly coated.

Spread the oat mixture evenly in clumps on the prepared pan and bake for about 20 minutes or until golden brown. Rotate the pan halfway through baking. Be very careful not to overbake.

Granola becomes crunchy as it cools. Once completely cooled, store in an airtight container.
Notes
If omitting the chia seeds, add an extra ¼ cup old-fashioned oats.
Step By Step Pics
Combine old-fashioned oats and chia seeds in a large bowl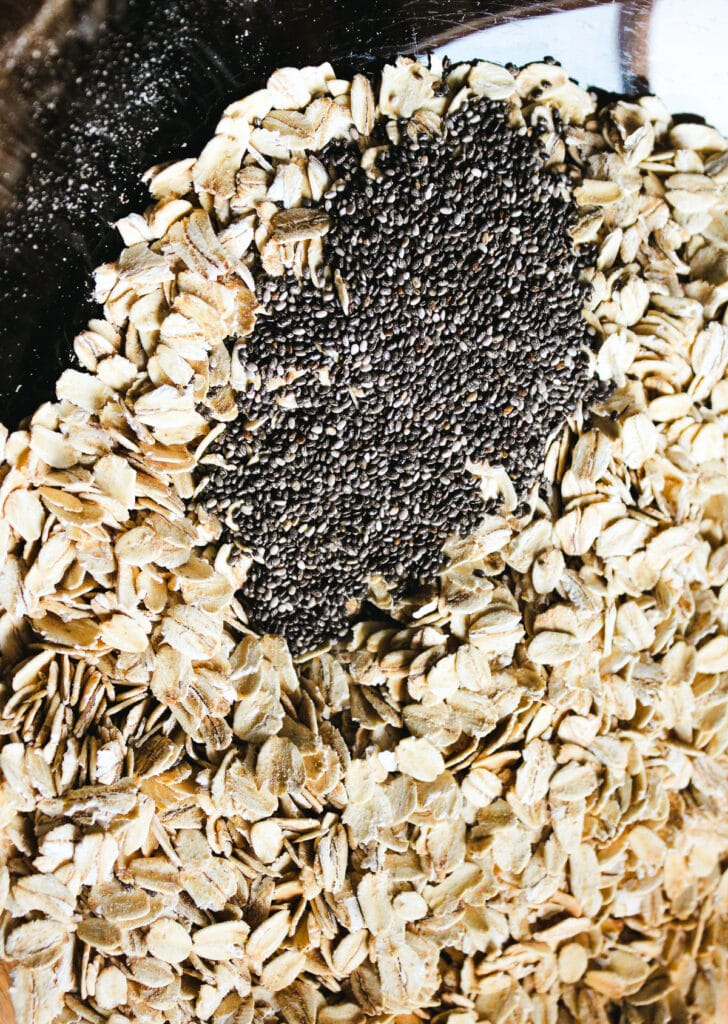 Pour melted peanut butter honey mixture over oats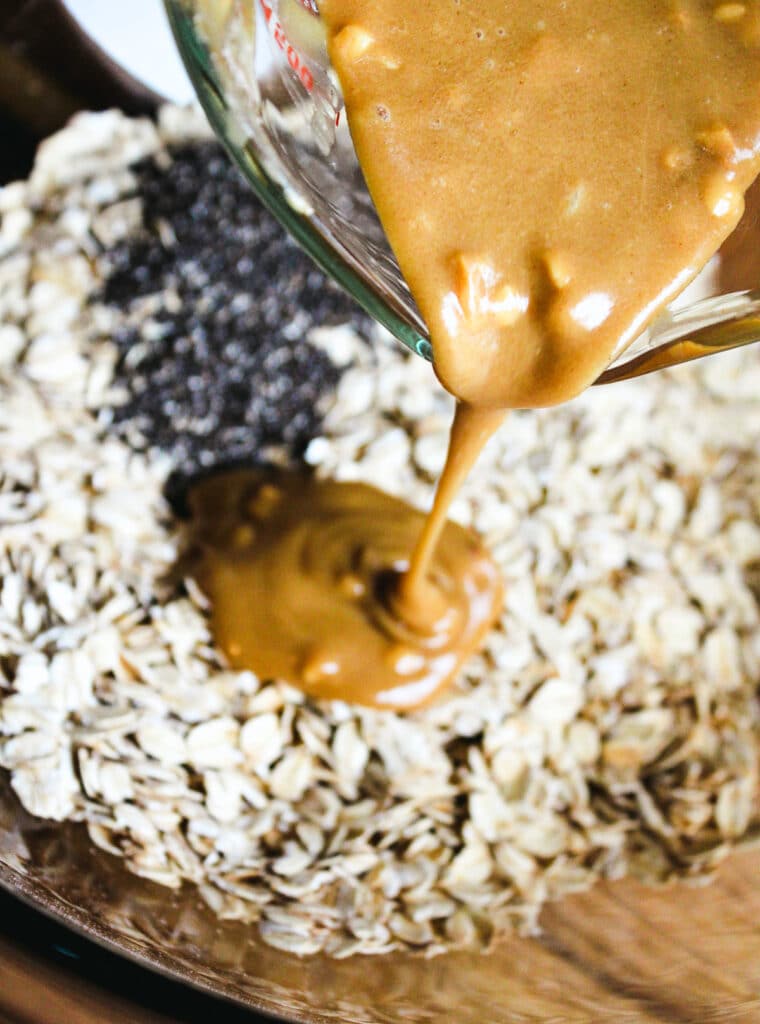 Stir to coat evenly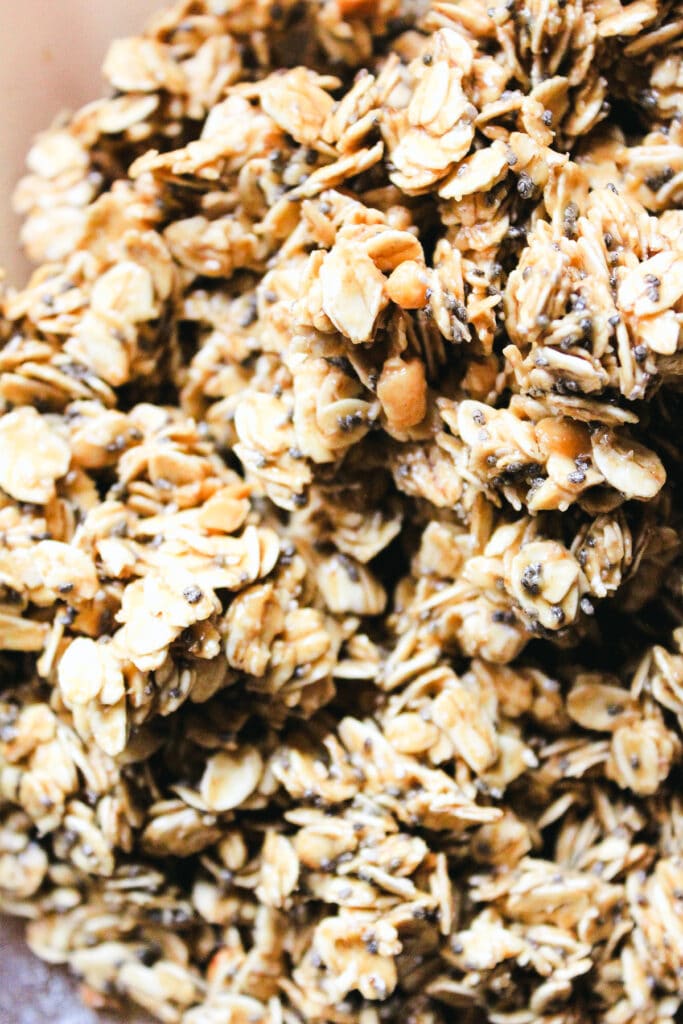 Spread on parchment lined baking tray evenly and bake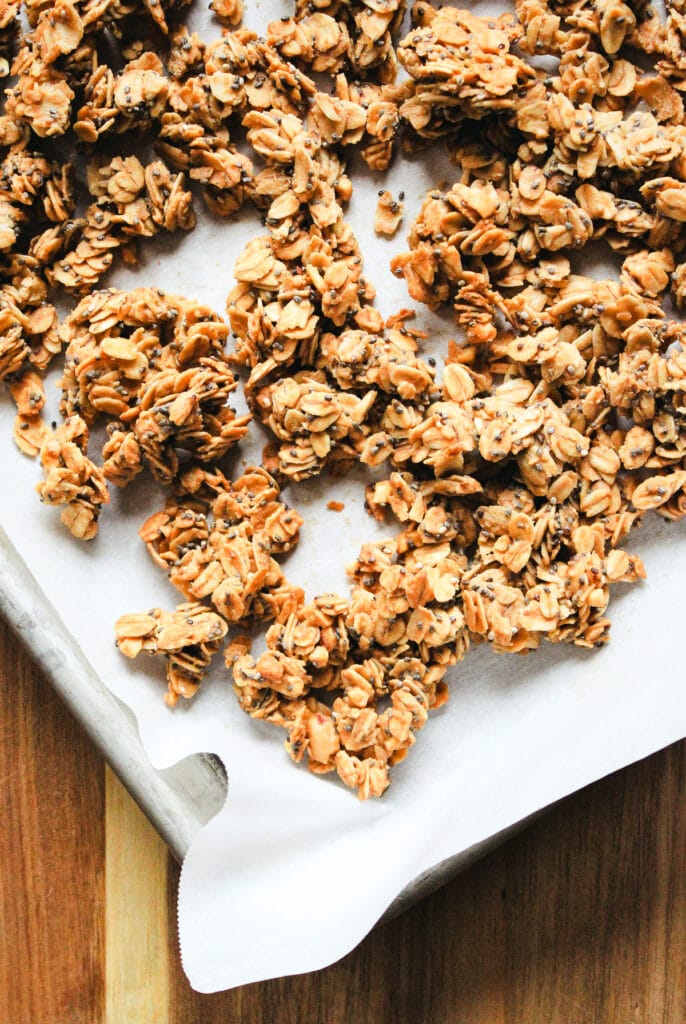 Enjoy plain or on yogurt