This post for apple butter was first published on my old blog called Mitch8 Blog on October 24, 2020. The good news is my parents have gotten not one but two dogs since that time! They also have lots of apples, so there will be lots of homemade apple desserts and apple butter!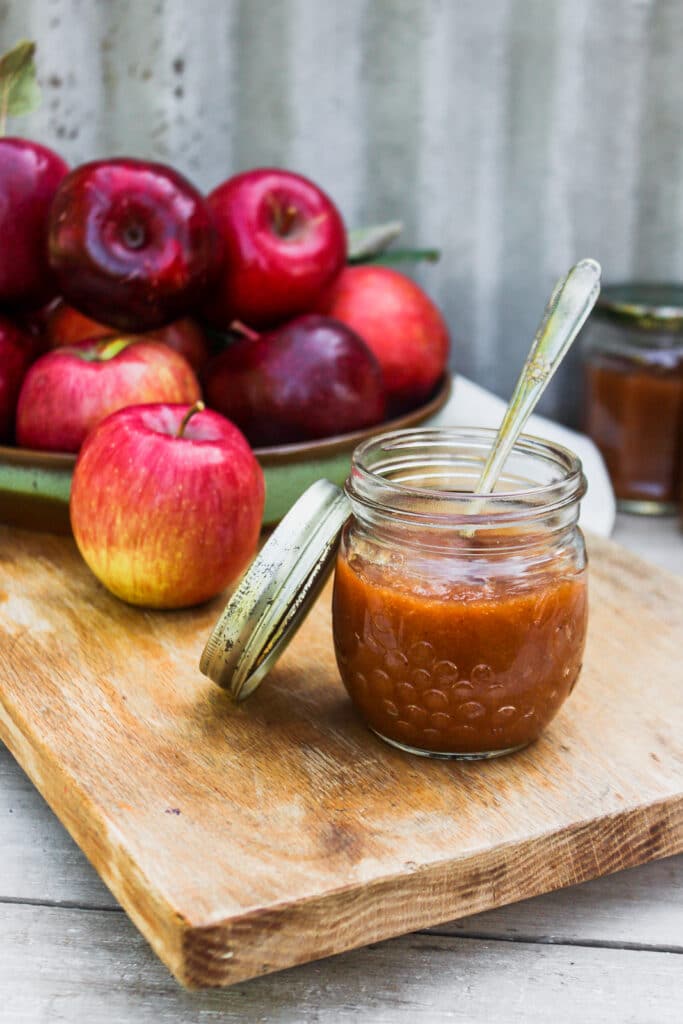 Yay for Fall
It's officially fall, and I couldn't be happier! Fall is by far my favorite season, and I just love the cooler weather, changing leaves, and yummy desserts. It's a time to reset and unwind, and the way I do this best is visiting my family in Iowa. There is always lots to do on my parents' farm, but these days are especially exciting thanks to the recent addition of piglets, chicks, and kittens. All that's missing now is a puppy! I'm being serious—my parents need a farm dog. In addition to spending lots of time cuddling baby animals (and chasing after human babies), I am having lots of fun sifting through old kitchen utensils and pans to use as food photography props. My mom is truly the best! See below for my "new" finds!
If you have been following along on Instagram, you know that I signed up for an online food photography course call Foodtography School. In just the first unit, I have already learned some incredible tricks of the trade and was introduced to Adobe Lightroom Classic. Let me tell you, it is incredible. I am excited to continue this journey, and it is my greatest wish to someday make a career out of this. It sounds a bit absurd to think about, but food photography can be a lucrative little business over time.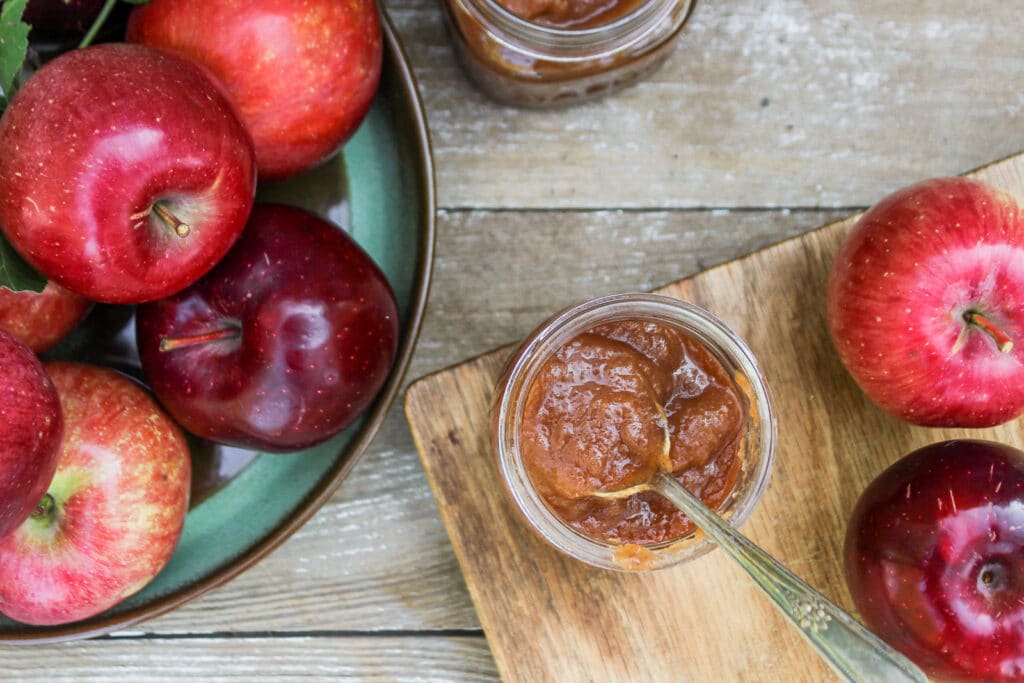 The Inspiration for this Apple Butter Recipe
For this post, I was inspired to make a recipe using apples. You see, my parents' neighbors so generously shared about 15 gallons of freshly picked apples. When you have this many apples, the first recipe that came to mind was apple butter. Many recipes out there are loaded with sugar (upwards of 3 cups plus the addition of sweetened apple cider). I didn't want to go this route for obvious health reasons and since the apples are already quite sweet. This recipe is a modified version from an old Betty Crocker recipe book, and it is perfectly balanced with sweetness, tartness, and spice!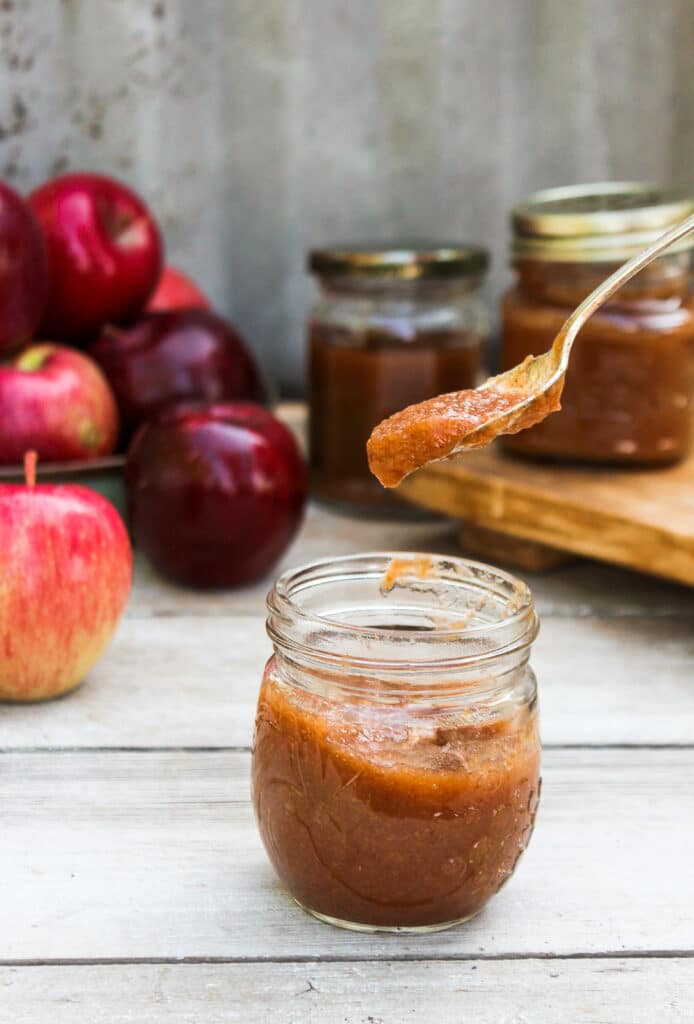 I hope you enjoy! It's great eating by the spoonful!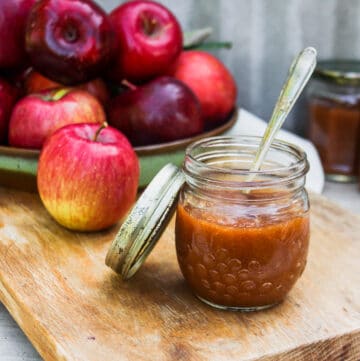 Apple Butter
This apple butter recipe is cooked in a crock pot which makes it perfect for a weekend project! It will fill your home with the most wonderful smells of fall as the apples cook down with all of the spices. You will absolutely love it, especially since it makes a big batch perfect for sharing with loved ones!
Ingredients
4

pounds

(~12 cups) sweet baking apples, peeled and chopped

1-2

cups sugar

see recipe notes

1

tablespoon

ground cinnamon

1

teaspoon

pumpkin pie spice
Instructions
Place the apples and 1 cup sugar in a 6-quart slow cooker. Cook on high setting for 5 hours.

Stir the apples and cook on low for another 2-3 hours, or until the apples are a dark caramel color and very soft. Stir in the spices (and remaining sugar, if using).

Let cool slightly and press through a sieve or food mill. Store in the refrigerator for up to 2 weeks or freeze for up to 2 months. Personally, I recommend sharing with friends!
Notes
Depending on the sweetness of you apples, you may want to add the full 2 cups sugar. For our apples, 1 cup of sugar was plenty.
Cook times may vary depending on the slow cooker.
You will also want to try this apple crisp recipe!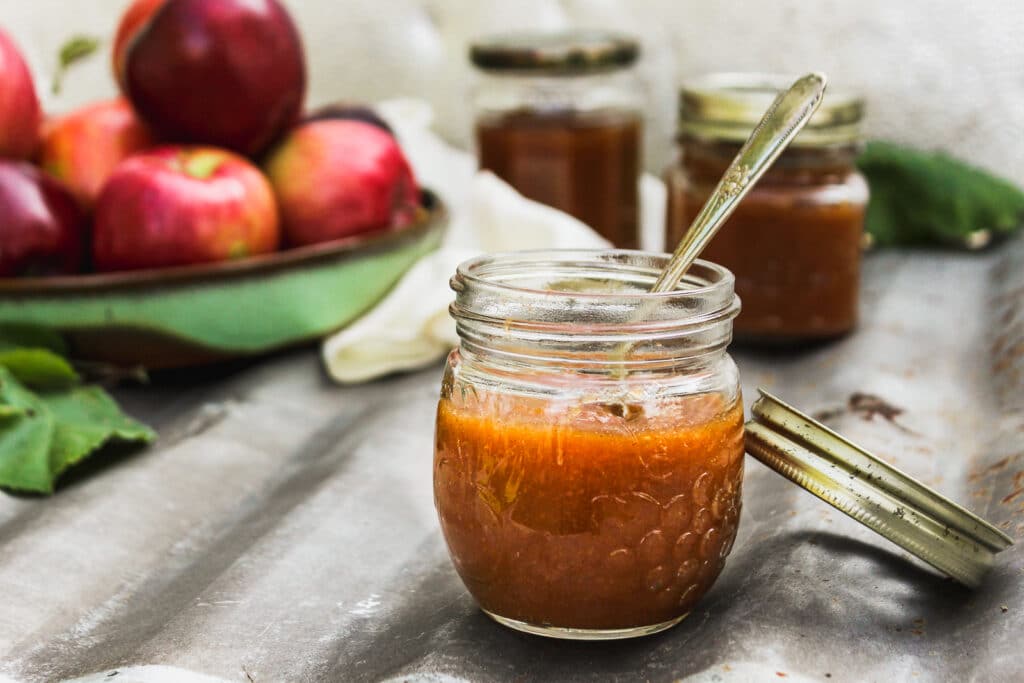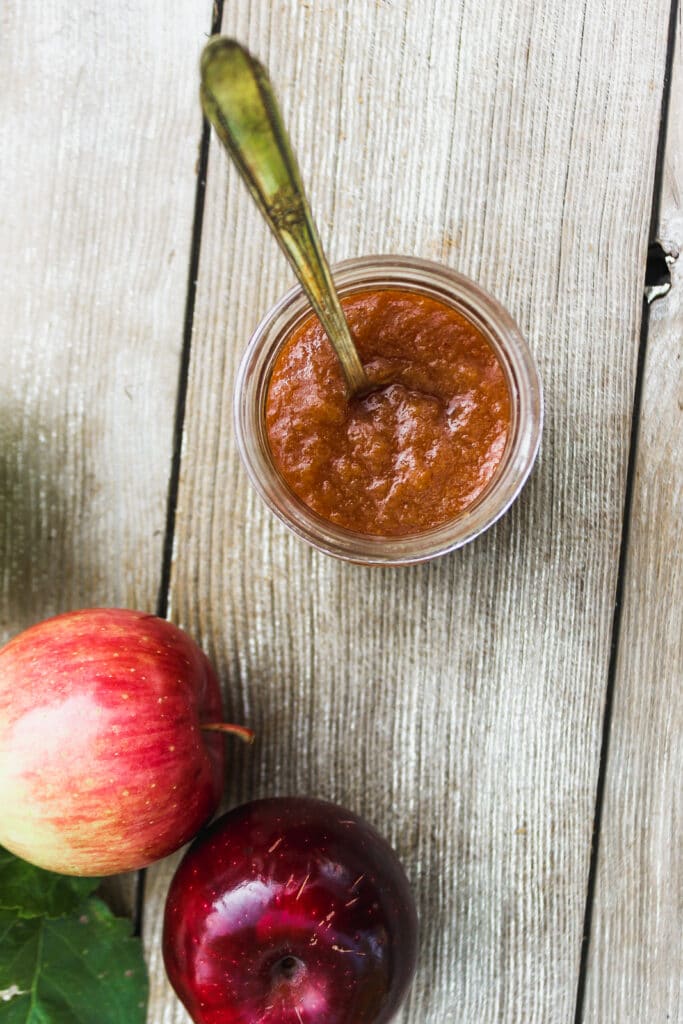 Check out these other great posts!