It is rhubarb season, and I am thrilled about it! Now if only I could get rhubarb to grow out my house. I tried planting some a couple years ago and it didn't make it. One of my personal favorite recipes to make with rhubarb is strawberry rhubarb pie with tapioca! The tapioca makes all the difference.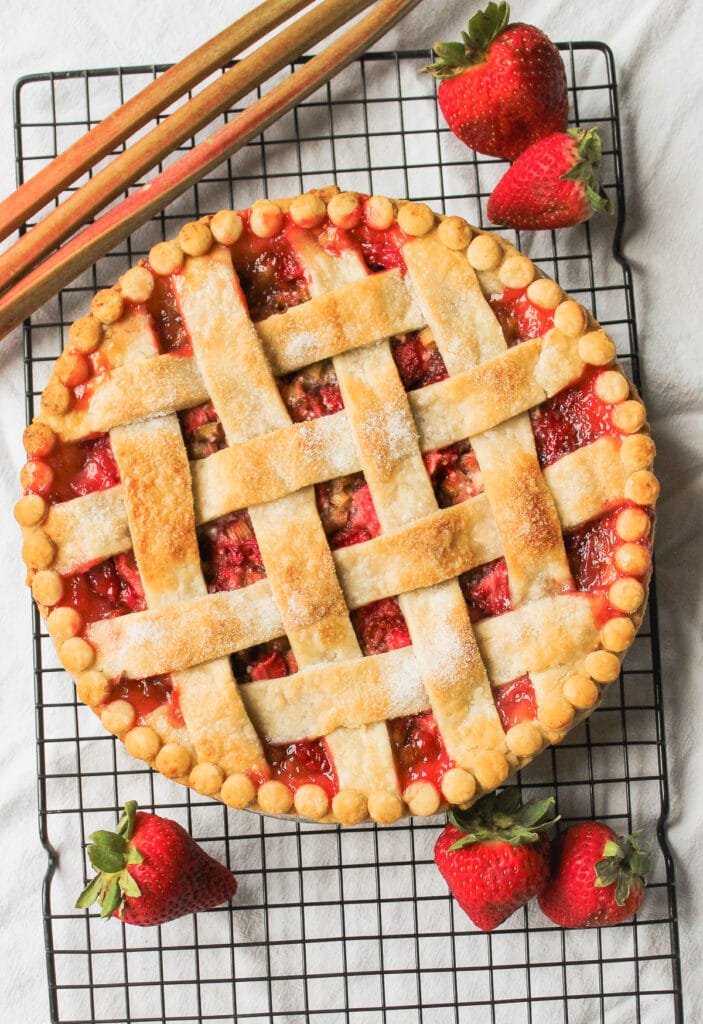 All About Rhubarb
Love it or hate it, rhubarb is pretty cool. Botanically speaking, rhubarb is actually a vegetable, though it is commonly associated as a fruit because of its frequent use in dessert applications (ie pie, crisp, jam, or cake). Rhubarb raw is fibrous and crisp like a celery stalk when eaten raw but very sour in flavor and not so good. It is also worth noting that the leaves are toxic because they contain oxalic acid.  No matter what, NEVER eat rhubarb leaves.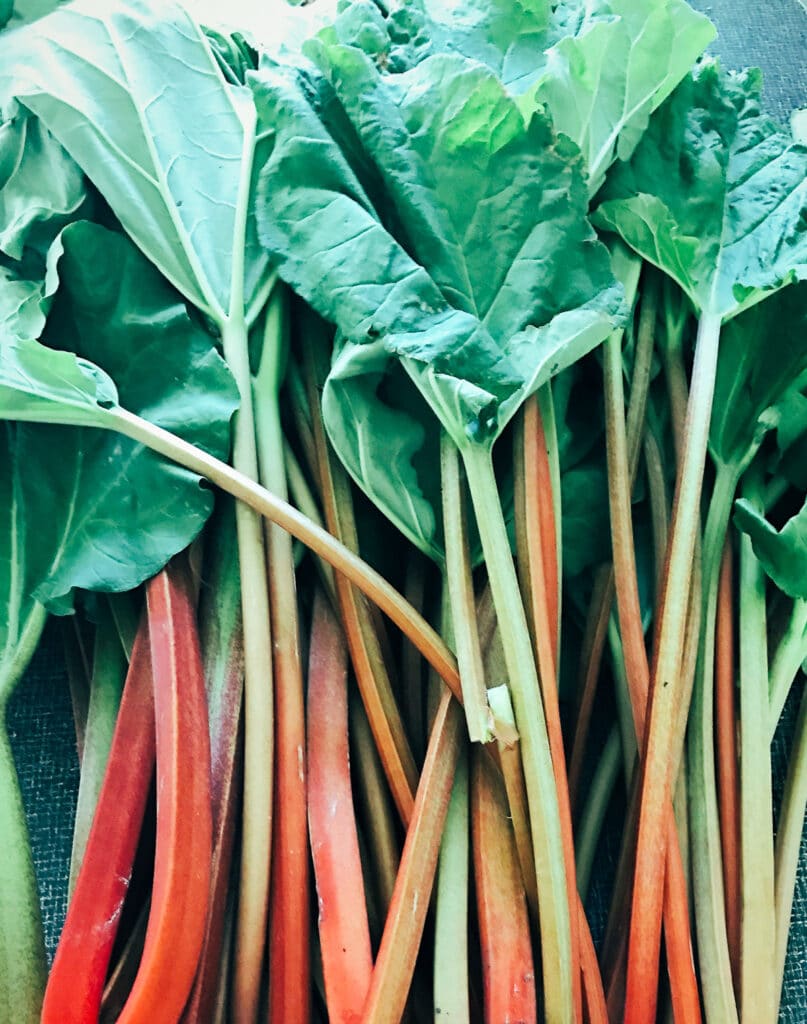 A Few Notes About this Strawberry Rhubarb Pie with Tapioca
Growing up, we always had rhubarb desserts each spring thanks to my parents' lovely little rhubarb patch. I quickly became fond of rhubarb thanks to a dessert known as rhubarb butter crunch. It is essentially apple crisp made with rhubarb instead of apples. It also has a mega-thick layer of buttery crunch topping! Served warm out of the oven with a big dollop of vanilla ice cream, this dessert is pretty much heaven on a plate. I plan to get this on the blog soon.
Aside from rhubarb butter crunch, this pie is another favorite of mine. Strawberry paired with rhubarb is a classic combination because 1. they are both in season during the spring, and 2. the sweetness from the strawberries pairs with the tartness of the rhubarb quite beautifully.
The Crust
The basis of any successful pie starts with a sturdy, yet flaky pie crust. My go-to pie crust is the double crust recipe that can be found here. This crust comes together beautifully with just 4 ingredients: vegetable shortening, flour, salt, and ice water. This recipe is fuss-free overall and consistently delivers a tender and flaky crust with a perfect amount of salty flavor. However, if you prefer a different crust recipe or would rather use a purchased pie crust dough, feel free to use what you are comfortable with.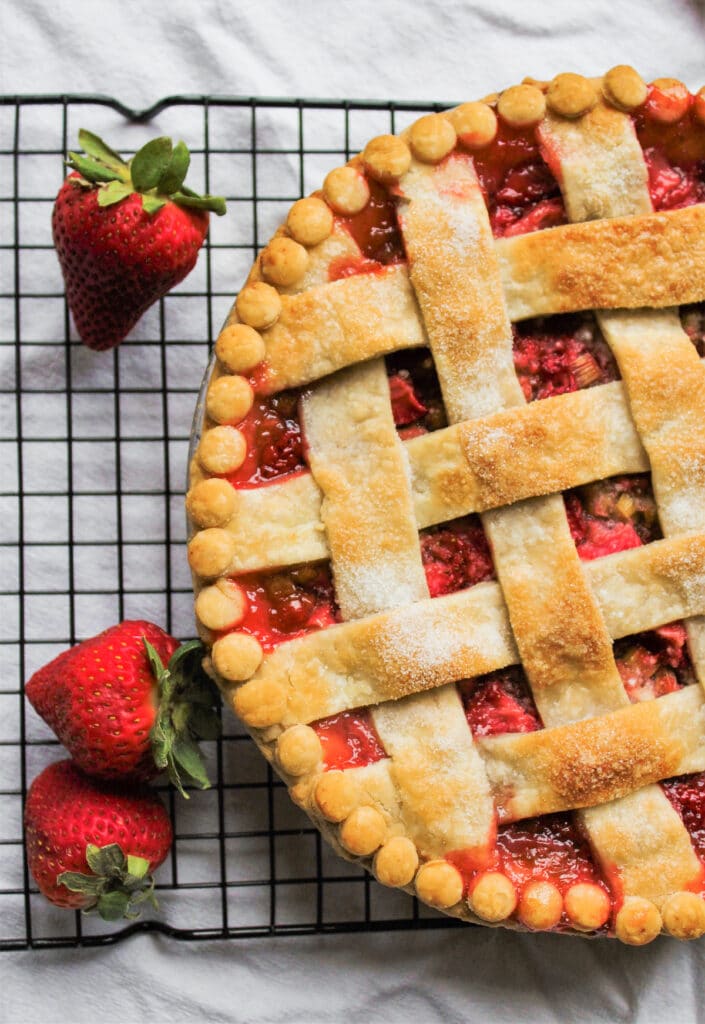 The Filling
For the filling, the thickening ingredient is especially important because strawberry rhubarb pies are notorious for being soupy. Though still delicious when messy, pie is best with it can be served as a slice! To keep strawberry and rhubarb as the star flavors, the flavors are only being enhanced with sugar (obviously!) and a little bit of butter. Once the pie is baked and cooled, it should slice nicely and hold its shape.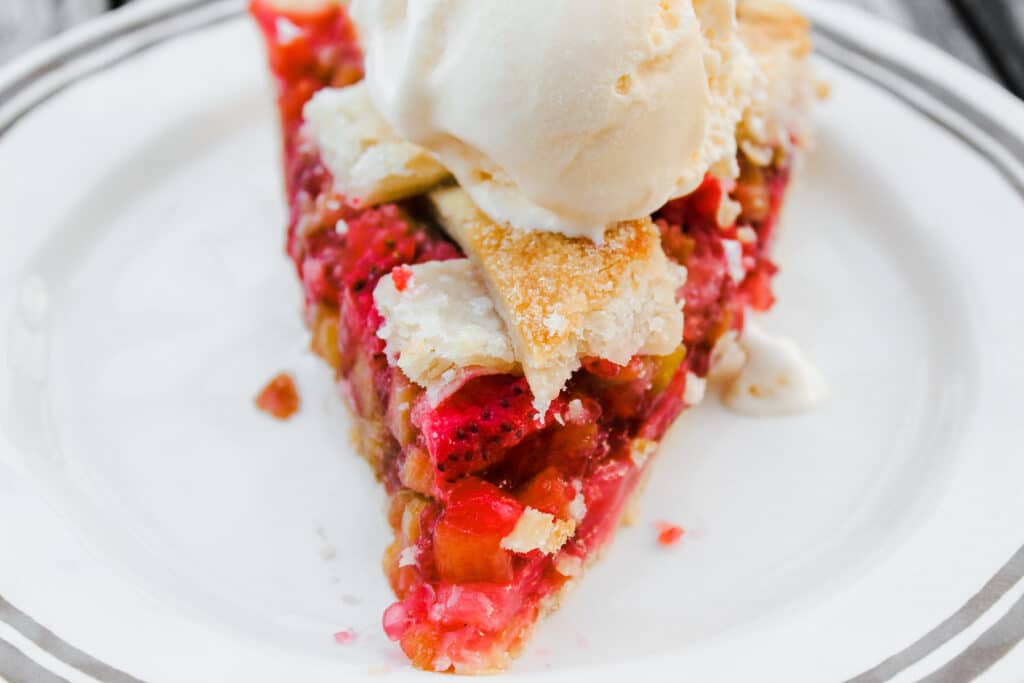 Recipe FAQs
What size pie does this make?
This recipe makes a 9-inch pie. Be sure to use a deep dish pie plate or you may have extra pie filling that can be baked in a separate dish that is oven-safe.
Why use tapioca instead of cornstarch or flour?
 For fruit pies, I prefer minute tapioca as a my thickener because it results in a nice clear, gelled filling. Corn starch (or flour), on the other hand, is also effective but results in a cloudy filling that sometimes taste starchy.
Can I use frozen strawberries or rhubarb?
Frozen strawberries or rhubarb is not recommended for this recipe.
Last but not least, be sure to serve it a la mode with your favorite vanilla ice cream! I am beyond thrilled with the end result, and hope you will give this recipe a try! Even my husband Rob likes this pie, and he generally doesn't like pie!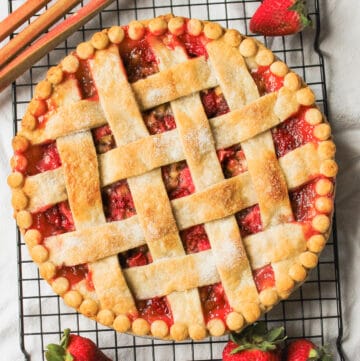 Strawberry Rhubarb Pie with Tapioca
This fruity pie is perfect for spring and is bursting with sweetness from the strawberries with just the right amount of tang from the rhubarb. As far as desserts go, this one is spectacular in its simplicity!
Ingredients
Pie Crust Ingredients
2

cups

all-purpose flour

⅔

cup

vegetable shortening (ie Crisco)

1

teaspoon

salt

4-7

Tablespoons

ice-cold water
Strawberry Rhubarb Filling Ingredients
2 ½

cups

rhubarb

sliced thinly

3

cups

strawberries

chopped

1

cup

sugar

¼

cup

quick cooking tapioca

2

Tablespoons

butter

Milk and additional sugar for the top of the pie
Instructions
Combine flour and salt in large bowl. Cut in shortening with a pastry blender until flour mixture forms coarse, pea-size chunks.

Stir in just enough water with fork or spatula until dough holds together and forms a ball.

Divide dough in two, and flatten balls into ½-inch thick round disks. Refrigerate for at least 1 hour, if time allows.

Roll out disks into ~12 inch circles, about ⅛" thick. Carefully transfer dough into 9" pie plate, and trim sides, leaving ¾" overhang. Roll out remaining dough for top crust.
Strawberry Rhubarb Filling Instructions
Combine the rhubarb, strawberries, sugar, and tapioca in a large bowl. Let sit for at least 15 minutes to allow the tapioca to begin absorbing some of the juices. Pour the filling into the prepared bottom crust and dot the top of the filling with bits of butter.

Cover the pie with the upper crust. Seal and trim all edges, decorating or fluting the edge of the crust, as desired. Brush the top of the pie lightly with milk and sprinkle generously with extra sugar. This will result in a beautiful golden color with a sugary crust.

Bake the pie in a preheated 400° F oven for 20 minutes. Lower the temperature to 350° F and bake for an additional 40 minutes, or until the crust is golden brown and the filling has started to bubble. If the top or sides are becoming too brown, carefully shield with aluminum foil strips.

Let cool for at least an hour before serving. Store leftover pie tightly covered in the refrigerator.
Please be sure to follow along on my social pages and check out these other great posts!