At the beginning of the year, I announced my ambitious running goals for 2022. If you want to read the original post with these goals, you can access it here. I am pleased to share that I have not only achieved but exceeded one of my goals already! Do you want to know how to run faster? Please read on.
In this post I am going to outline what I did to become a faster runner and set a new PR in the half marathon distance. PR stands for "personal record." Runners use PR to refer to their fastest time in a particular distance.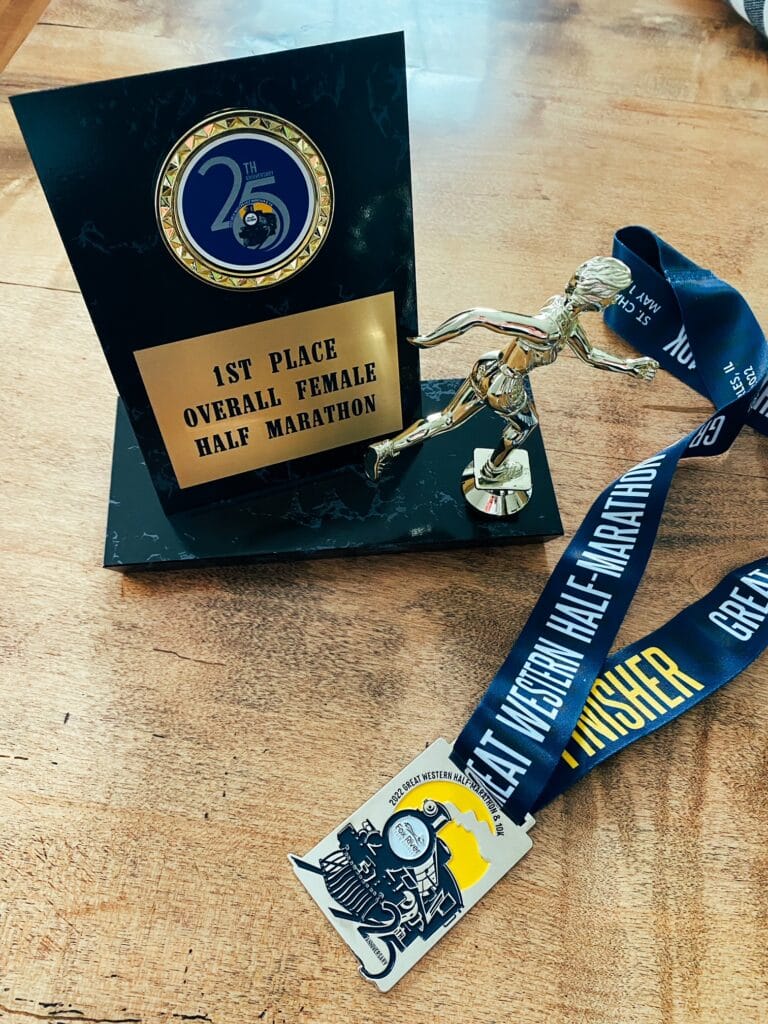 This was the Goal
Beat my half marathon personal record (PR) 1:39:37, even if is just by 1 second. To beat this, I need to run a 7:35 minute/mile average or faster. By fall, I can get there if I put in the work and have a race with favorable weather.
I Did It!
I am pleased to say that I ran a half marathon two weekends ago in a blazing fast time in 1:38:02, which averages out to a 7:29 minute/mile. Not only that, I also happened to be the first place female finisher overall. CRAZY?! What an exciting and unexpected moment that was!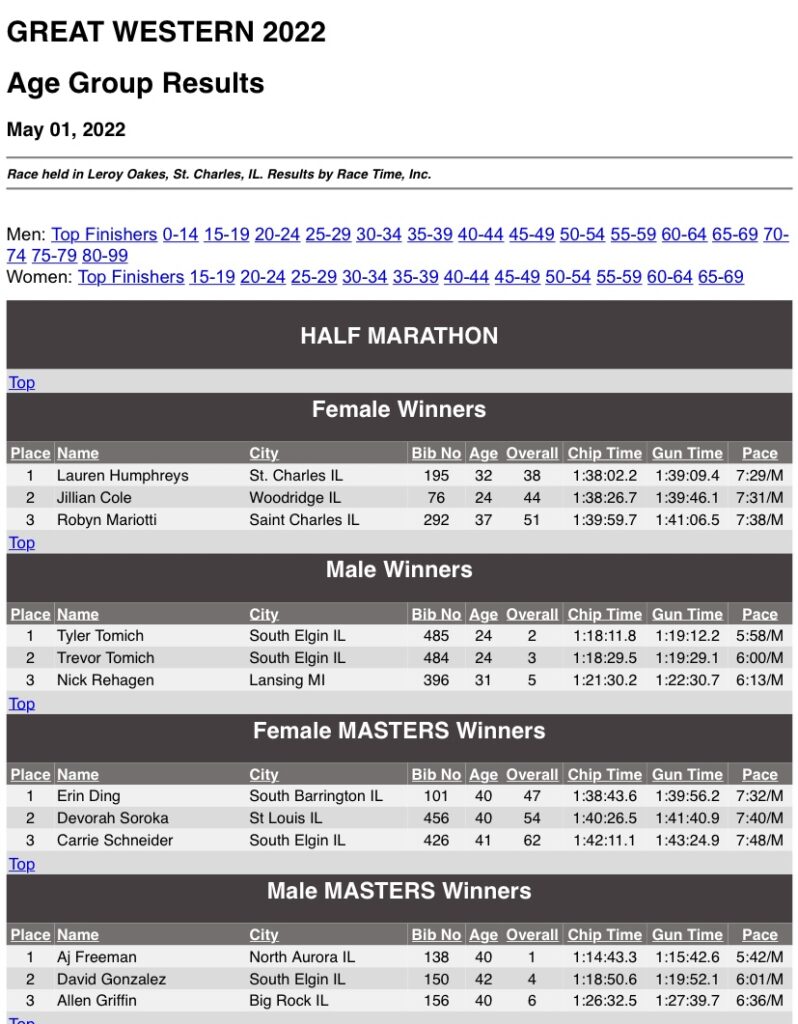 The day was made even more special because my good friend and training partner also ran a PR. We have ran countless miles together on weekends, and she is a big part of why I enjoy running so much. Special shoutout to Rob for all of his help with the kids ALWAYS!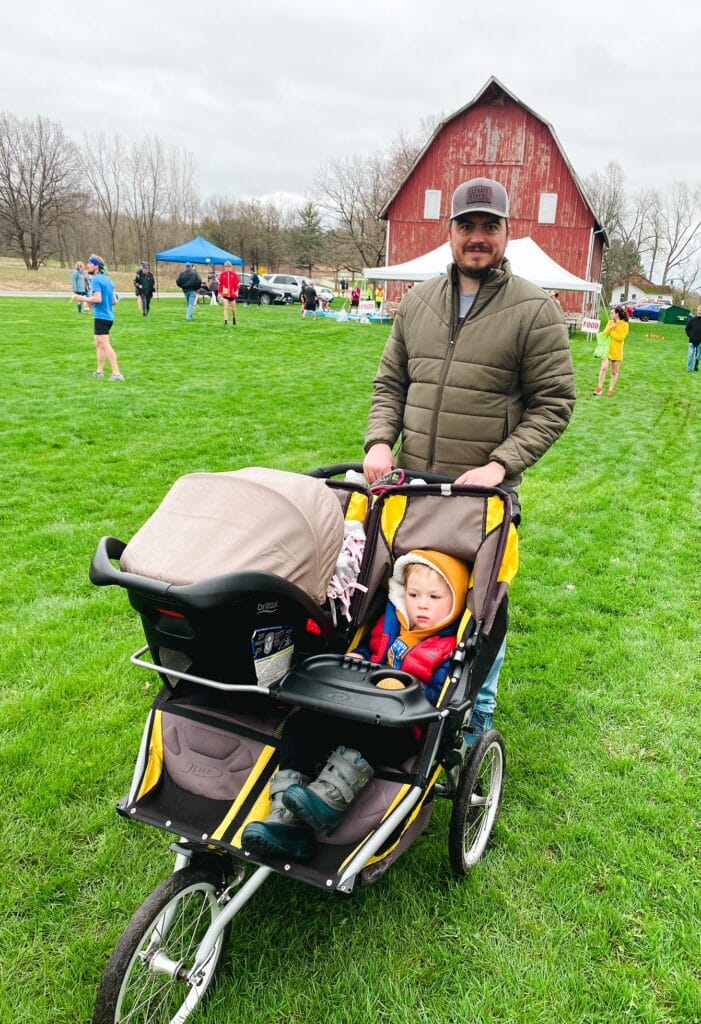 How to Run Faster
I ran this half marathon on May 1st, making me exactly 7 months postpartum with Natalie. I share this as inspiration and showcase just how resilient and strong the human body is. While I was pregnant with Mitchell, a handful of people told me that I would "never be as fast after having kids." It feels so good to be an example showing otherwise!
Here are my tips to run faster:
Fuel properly - this means eating a wide variety of nutrient dense foods and eating enough. If you feel chronically tired, you probably are lacking adequate calories. Treat your body like it is your most prized possession (because it is)! I am also breastfeeding currently, so my caloric needs are super high.
Double stroller miles - I know not everyone has access to running with kids in a jogging stroller, but if you have the option - DO IT! It is a great workout and nice way to involve the kids. Better yet, if you have a close friend or family member, offer to take their kids out because it will give mom and dad a small break too while helping you workout. 🙂
Run faster - this seems self explanatory but you have to get out of your comfort zone with some speedwork while training if you want to race fast. It requires physical and mental toughness and stamina. However, the majority of your training runs should not be at your "fast" pace.
Prioritize rest and recovery - I take rest days liberally these days because I know it aids in recovery and prevents injury. Run streaks are generally not the smartest thing to do, especially if you are not careful.
Hydration - most people do not consume adequate water but hydration is necessary for everything your body does. You should try to consume at least half of your body weight (in pounds) in fluid ounces of water each day. If you weigh 200 pounds, that would mean 100 fluid ounces per day at a minimum!
Join TikTok - for this, I specifically mean find runners to follow (and many will follow back). You will find yourself immersed in this group called "Runtok." Runtok isn't an an actual group but it is a special community of runners on TikTok who have become like a virtual cheer squad and support system. I know it sounds absurd, but I have learned so much and have an increased sense of motivation thanks to this group!
Best of luck! With these tips, I hope you will find motivation and achieve a PR.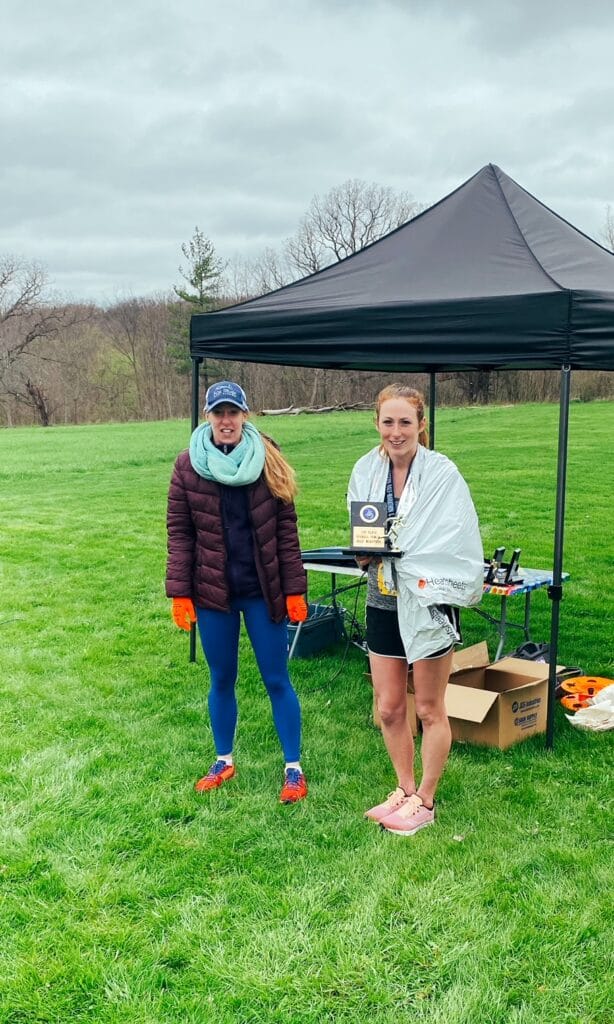 What's Next?
I still have other running goals to work on and another half coming up in just over a week. The weather is still been cold, but as the weather starts to heat up, I will shift my focus to more speed work. One of my goals is to run a sub 6 minute/mile.
I am now also planning to run a fall marathon and will spend the summer training for that. If you have any recommendations, please let me know. It's been 5 years since my last marathon, but I am ready for the challenge (again)!
I hope this serves as motivation for others to set lofty goals and work towards them, even if you don't actually believe they are 100% achievable. You just might surprise yourself the way I did.