This post for baked oatmeal was first published on my former blog called Mitch8 Blog on March 23, 2020. It was right at the start of the pandemic and times have certainly changed as a result. This baked oatmeal is still a favorite though, and I hope you and your loved ones will enjoy it as much as we do! There are five suggestions for toppings below too!
Everyone is facing major life disruptions right now. We have entered into a new way of living that is completely foreign and unknown. I do not want to dwell on COVID-19 and its consequences, but I have to acknowledge this pandemic. If you are like me, you may be avoiding the grocery store and instead looking for creative ways to use pantry staples. Well, you're in luck!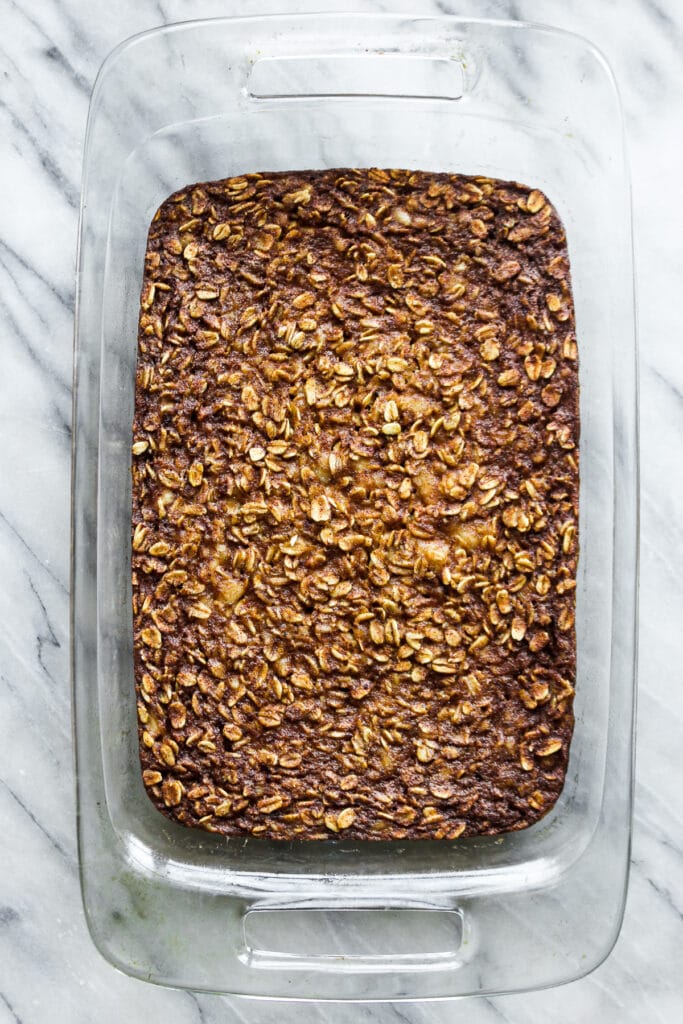 Why am I sharing the recipe (and 5 topping ideas) for baked oatmeal?
1. It is delicious
2. It is easy
3. It uses pantry staples
4. It is full of fiber and other healthy nutrients
5. It is versatile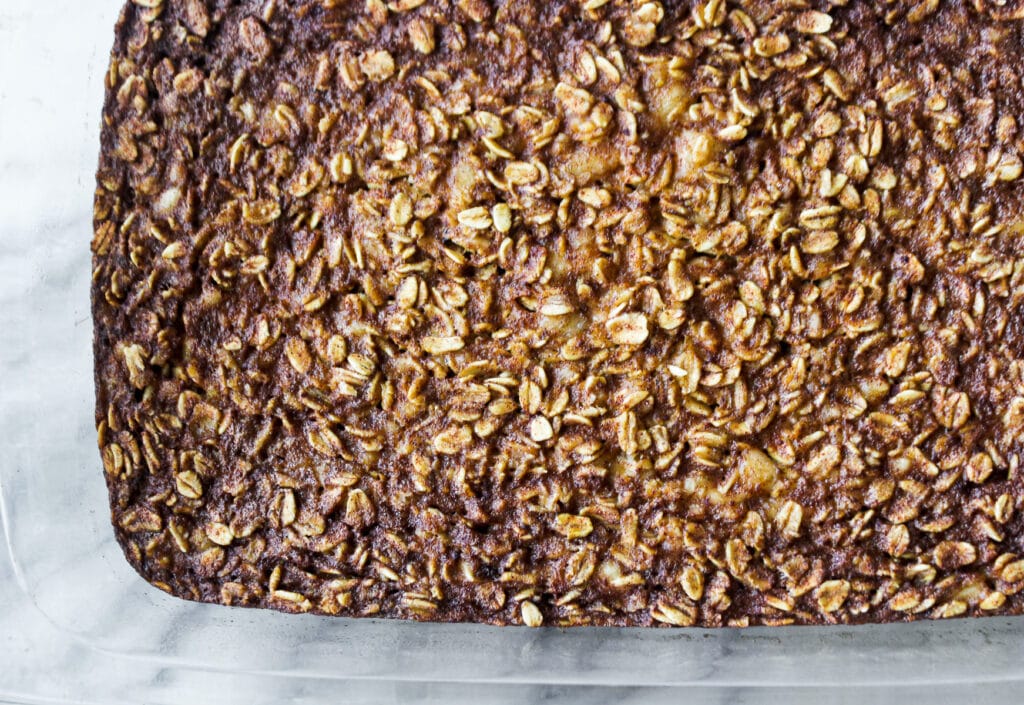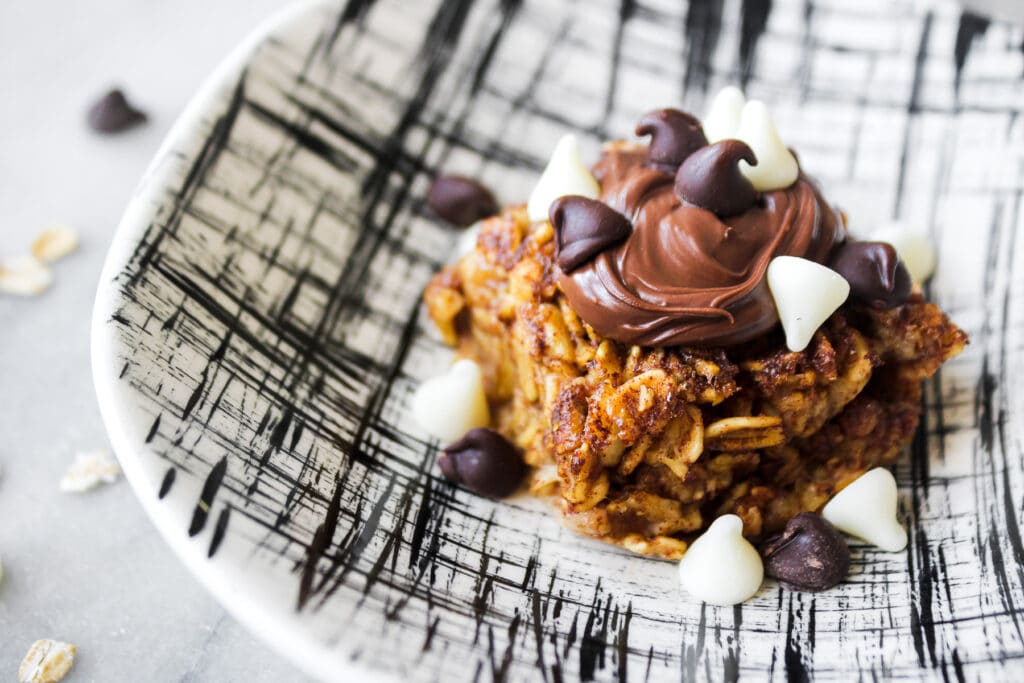 There are already states with a shelter-in-place directive, my own state of Illinois included. I anticipate more states will adopt similar policies over the coming days. Even though grocery stores will remain open, you may find yourself like me trying to minimize trips out in public. We have been extra strategic in planning meals and trying to maximize the staples we already have on hand. As you will see, this a perfect recipe to do just that.
About this Baked Oatmeal
I love oats because they are inexpensive, full of fiber (4g per ½ cup serving), and tasty. The bananas in this recipe add sweetness, so I only added 1 Tbsp of sugar to this recipe. If you prefer sweeter oatmeal, you may adjust and add more sugar for your liking. Though this oatmeal is delicious on its own, I love adding toppings for additional textures and flavors. I included some of my favorite topping suggestions below. Refrigerate or freeze any leftovers. The oatmeal may be rewarmed in the microwave and turns out perfectly.
For those individuals working in essential jobs, I want to thank you for helping keep this nation functioning. I also want to thank those who are keeping tabs and helping those who are less fortunate. Lastly, thank you to those who are have not been panic buying. With that, I hope you all make the most of your week! Happy baking!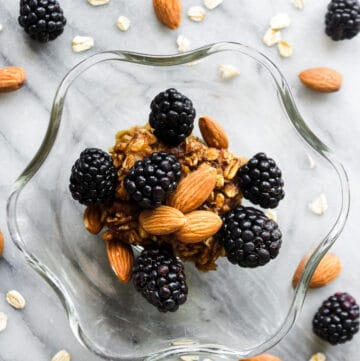 Baked Oatmeal
This hearty baked oatmeal is easy to prepare and versatile! With very little added sugar, you can feel great starting your day with this healthy option. If you want things sweeter, add some flavorful toppings like those suggested below.
Ingredients
2

cups

old-fashioned oats

1

Tbsp

sugar

see note below

1

tsp

baking powder

2

tsp

cinnamon

⅛

tsp

salt

2

ripe bananas

mashed

1 ½

cups

milk

2

eggs

beaten

1

tsp

vanilla extract

½

cups

chopped nuts or mini chocolate chips

if desired
Instructions
Preheat oven to 350° F. Grease a 9x9 inch or 7x11 inch pan.

In a medium bowl, combine the oats, sugar, baking powder, cinnamon, and salt. In a separate bowl, mash the bananas. Then add the beaten eggs, milk, and vanilla and mix well.

Pour the liquid mixture into the oat mixture and stir until combined. Also add nuts or mini chocolate chips, if using. Pour into the prepared glass pan and bake for approximately 35-40 minutes. The top should be golden brown and the middle should be set.

Let cool slightly and enjoy plain, with extra toppings (shown below), or with milk.
Notes
This baked oatmeal is not overly sweet. If you prefer sweeter oatmeal, increase sugar to 3 Tbsp.
I used regular milk for this recipe, but you may also substitute non-dairy milk, such as soy milk or almond milk.
Topping Suggestions for the Baked Oatmeal
Peanut Butter & Chocolate Chips
This classic combination is one of the easiest ways to upgrade your oatmeal. It is even better when the peanut butter and chocolate is melty and warm!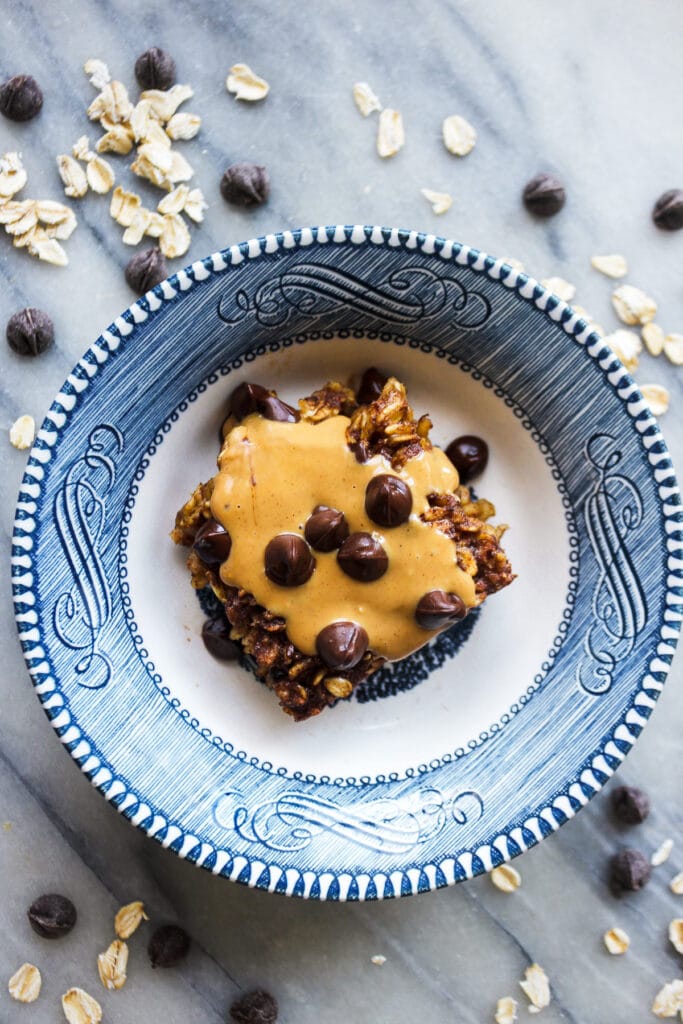 Blackberry Almond
This is an elegant and extra nutritious way to start your day! The almonds add a perfect crunch and the blackberries add some beautiful color and sweetness.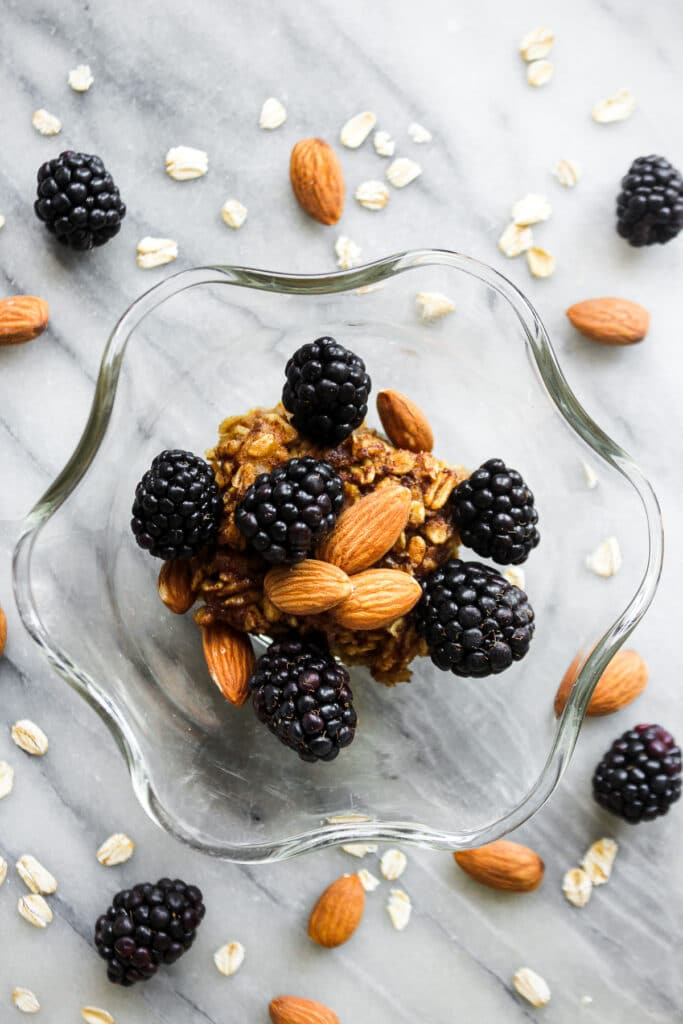 Walnuts
Don't let the simplicity fool you! The addition of walnuts makes this baked oatmeal taste reminiscent of warm banana bread.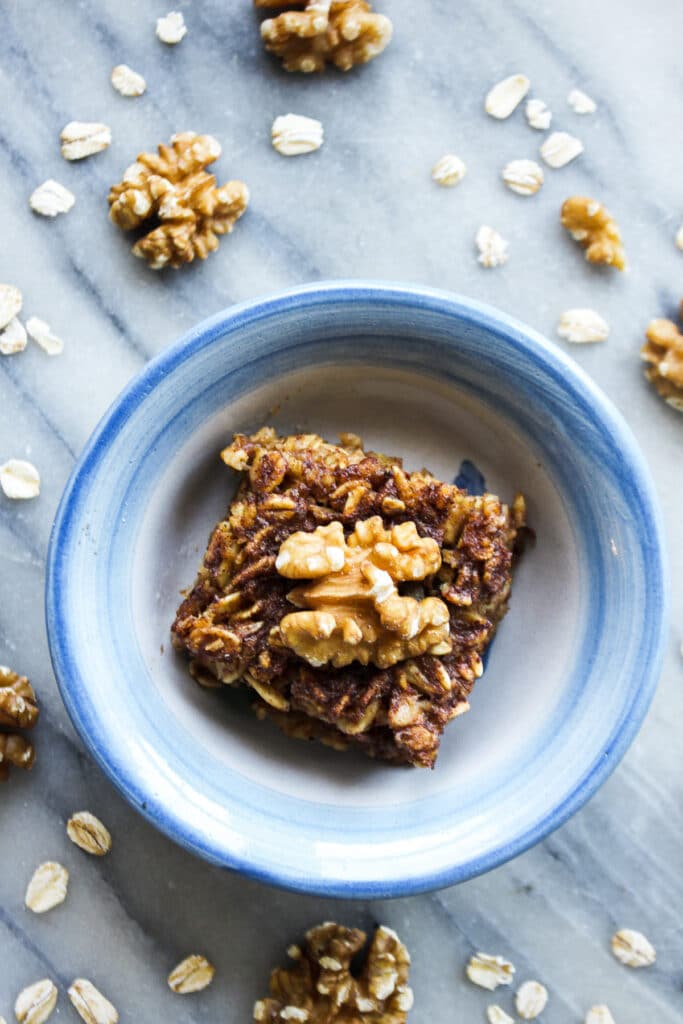 White Chocolate Cranberry
This combination will remind you of a cranberry bliss bar! It's sweet, tart, and pretty!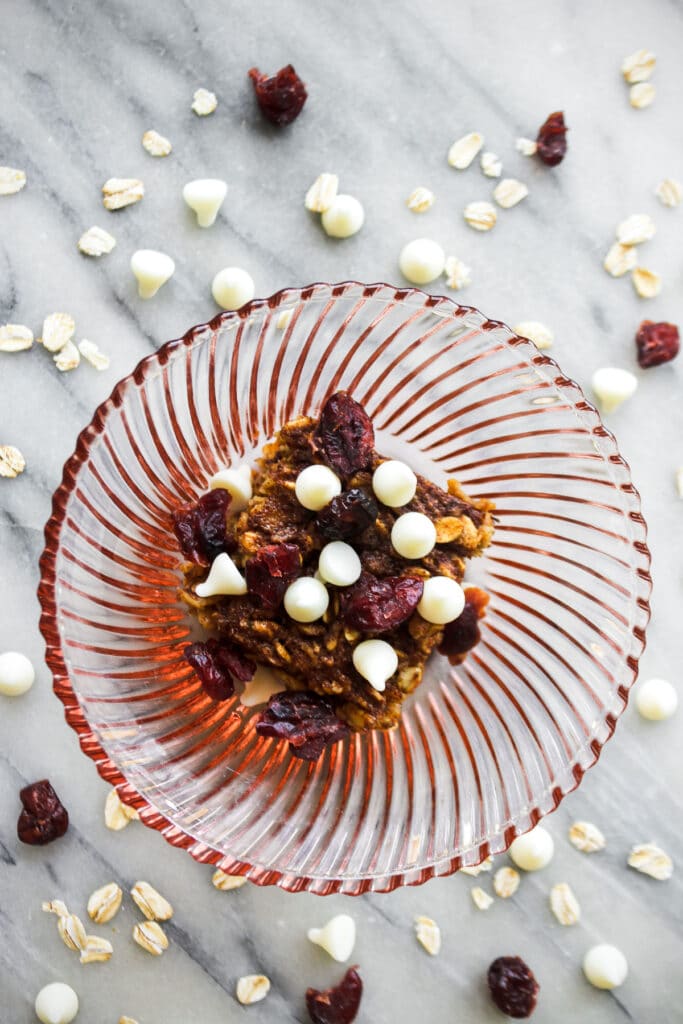 Triple Chocolate
Chocolate lovers, rejoice! This combination of Nutella, chocolate chips, and white chocolate chips will win over even your pickiest of eaters.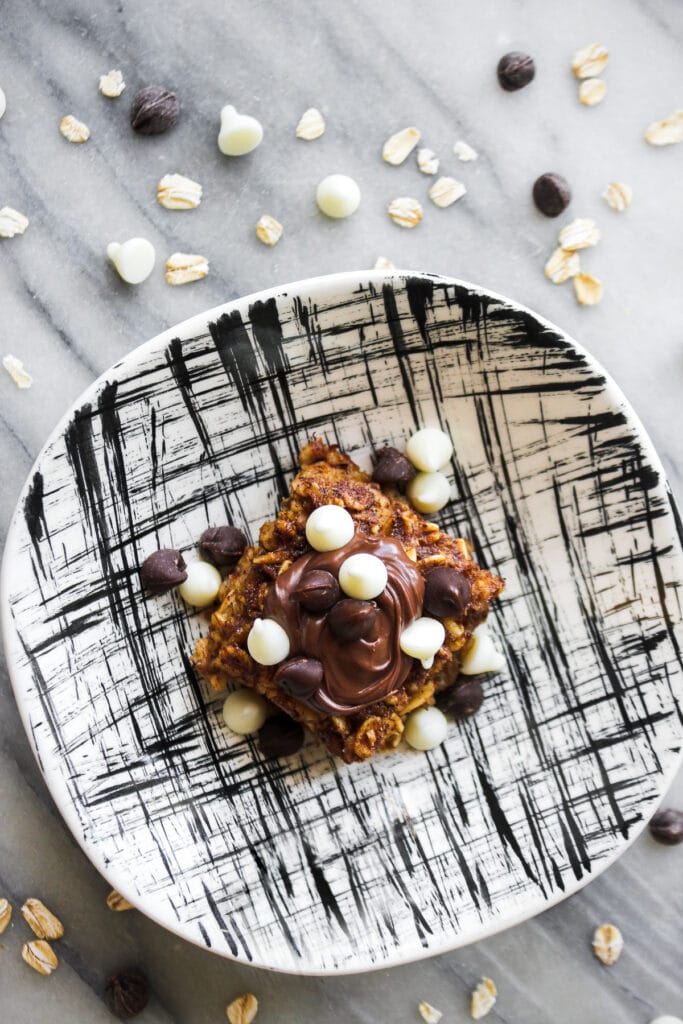 Be sure to check out these other great posts!