Raise your hand if you love rice krispie treats! Ok, I think everyone loves them. I am a big fan myself, but I am pretty particular about the texture and flavor. I like my rice krispie treats super soft, buttery, and slightly gooey. I mean, just look at that marshmallow!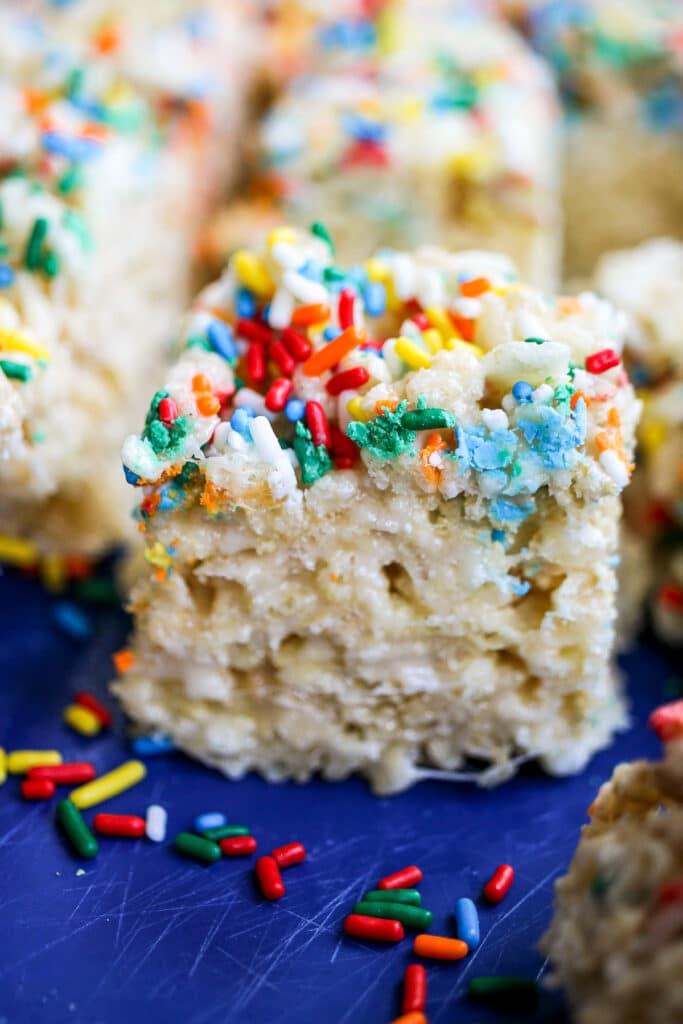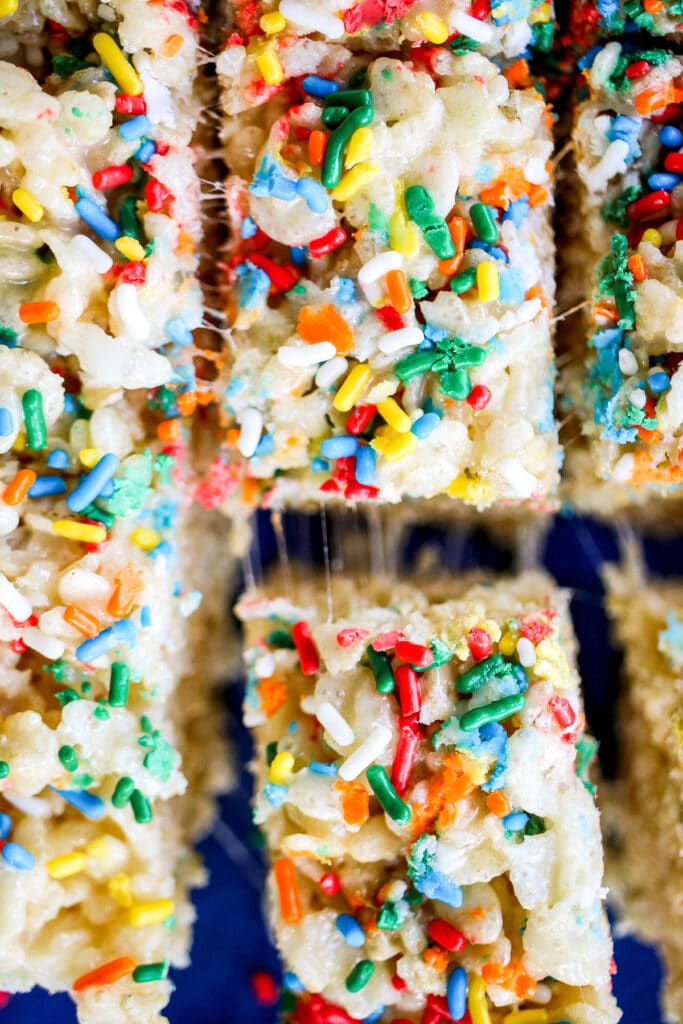 What makes these rice krispie treats extra special?
I know there are literally thousands of recipes online for these treats. Heck, the recipe is usually on the bag of marshmallows or the rice krispies package, BUT hear me out. Many rice krispies treat recipes yield bars that end up dry or hard once they cool. The problem is that they don't have enough butter in the recipe and/or have too many rice krispies. Honestly, they are not worth the calories in my opinion when it comes to choosing a dessert.
The remedy to counter the dry or hard treats is super simple! All you have to do is make a few minor changes to the standard ingredient ratio and your technique. There are fancy ingredients or steps required, such as browning butter. Simply increase the butter and decrease the rice krispies and you will have the most amazing treats ever! The other trick is to ever so gently press the mixture into the pan. No need to compact or flatten them. The rustic top looks better in my opinion anyway. See the full recipe below.
Seriously, try them out and thank me later…but if you don't thank me that's ok too! I am truly happy to help.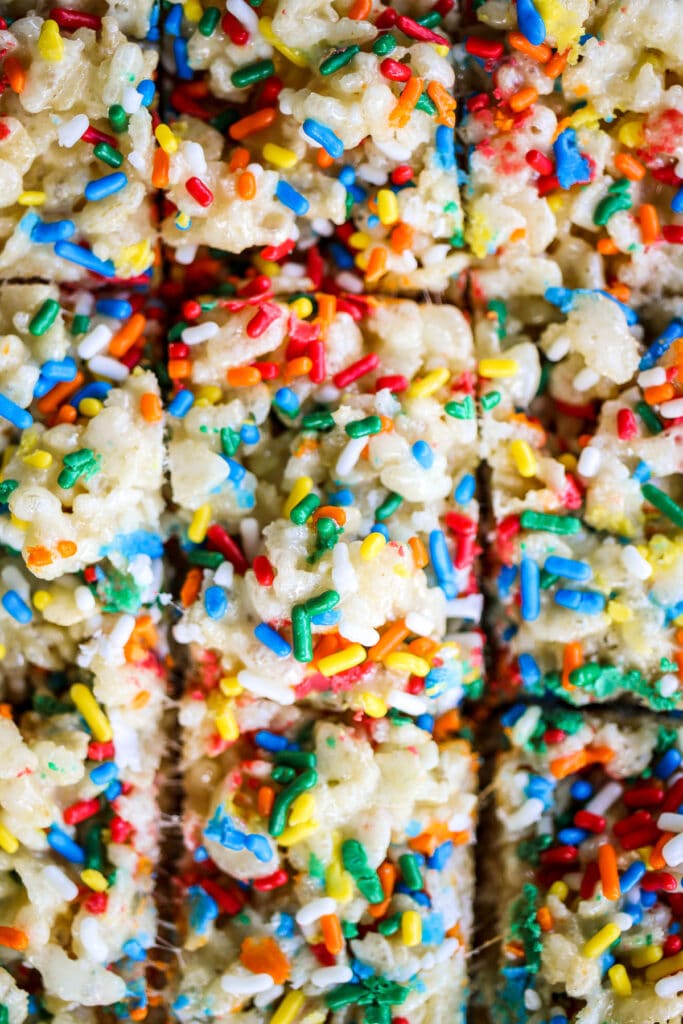 Also, the sprinkles are optional but highly recommended, especially if making them for a party! Enjoy!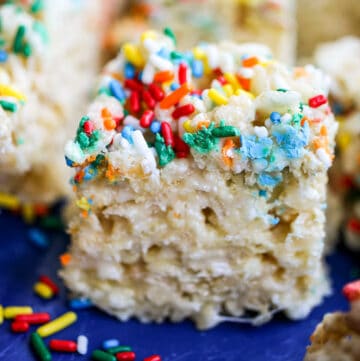 Perfect Rice Krispie Treats
These rice krispie treats are perfectly soft, marshmallowy, and buttery. You will never make the recipe on the back of marshmallow bag or cereal box ever again! Top them with sprinkles for even more fun!
Ingredients
6

Tbsp

salted butter

cubed

1

10-ounce

package mini or regular marshmallows

4 - 4-½

cups

rice krispies cereal

Rainbow sprinkles

optional
Instructions
Grease the bottom and sides of an 8x8 or 9x9 inch pan with butter.

In a medium saucepan, combine the cubed butter and marshmallows. Heat on the stove over medium-low heat, stirring constantly, until the marshmallows are completely melted. The mixture should be smooth.

Remove from heat and quickly stir in the cereal until well combined and the cereal is completely coated. The mixture should still be a little sticky. With buttered spatula, very gently press the mixture into the buttered pan. Sprinkle generously with rainbow sprinkles, if desired. Let cool and cut into bars.
Notes
A range is given for the rice krispies based on preference. Start with 4 cups. If the mixture seems too sticky still, add the remaining ½ cup but do not exceed 4-½ cups.
If you are making a 9x13 inch pan, simply double the recipe.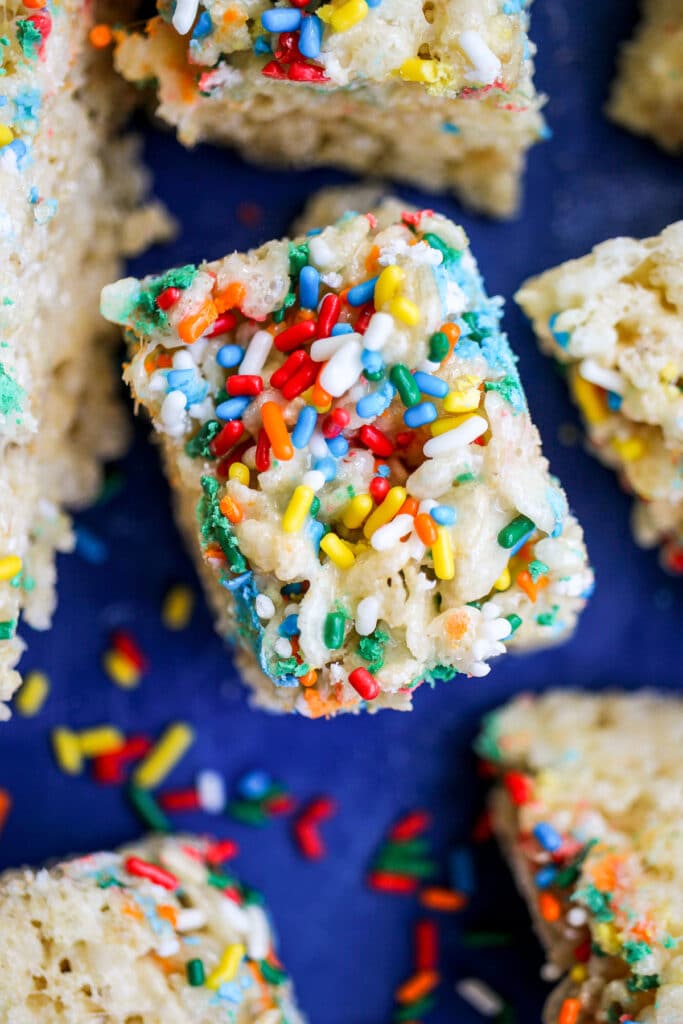 If you like these, you may also like: