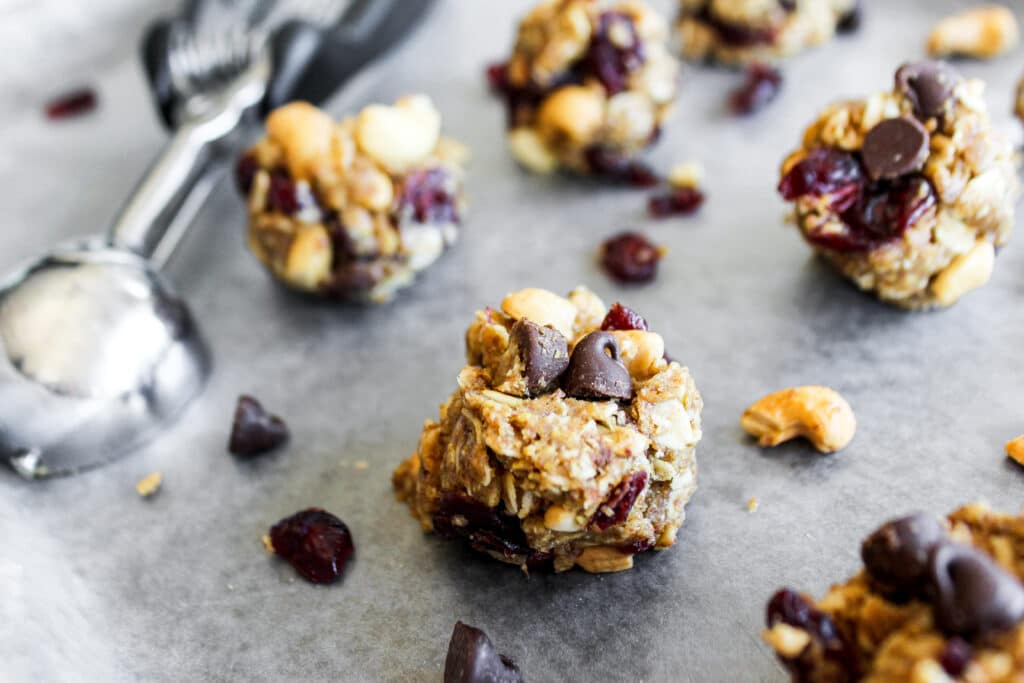 This post for trail mix energy balls was first published on my old Mitch8 Blog site on September 8, 2020 while covid lockdowns were in full force. This healthy snack is one of my personal favorites when I want something sweet but still healthy.
The majority of kiddos are now back "in" school. This may mean in the classroom with modifications and masks, e-learning at home, or perhaps even homeschooling. Whatever choice parents made for their children, I cannot imagine it was an easy choice. All options have their pros and cons, but we have to try to keep a positive attitude. I'm an eternal optimist, anyway!
Snacking Trends
Regardless of the schooling situation, back-to-school time always warrants snacks! Even if you do not have children, the great majority of adults eat snacks throughout the day. According to Mintel data, approximately 95% of US adults snack at least once per day and 70% consume 2 or more snacks per day. That is a lot of snacking! I know I am included in the 70% that snacks twice or more each day, and there is nothing wrong with that. Snacking is a great way to manage hunger and prevent large swings in blood sugar. Statistically speaking, you are probably a snacker, so this post is very relevant to you.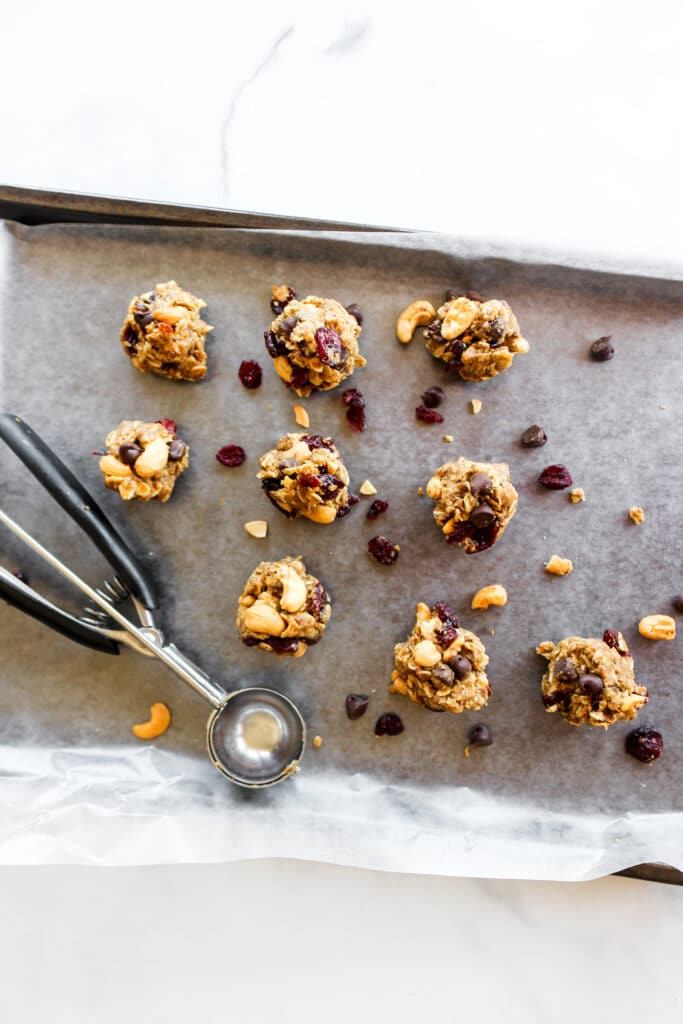 My hope here is that you are choosing smart snacks! Generally, I try to include snacks with carbs (including fiber), protein, and fat! Fruit and veggies make a great starting point to pair with other foods. Admittedly, there are times where I want something sweet but I don't want to sacrifice nutrition. This is why I love energy balls. They are a perfect compromise of sweetness while still delivering quality nutrition. They are also super easy to make which is one of the main reasons why I love these trail mix energy balls.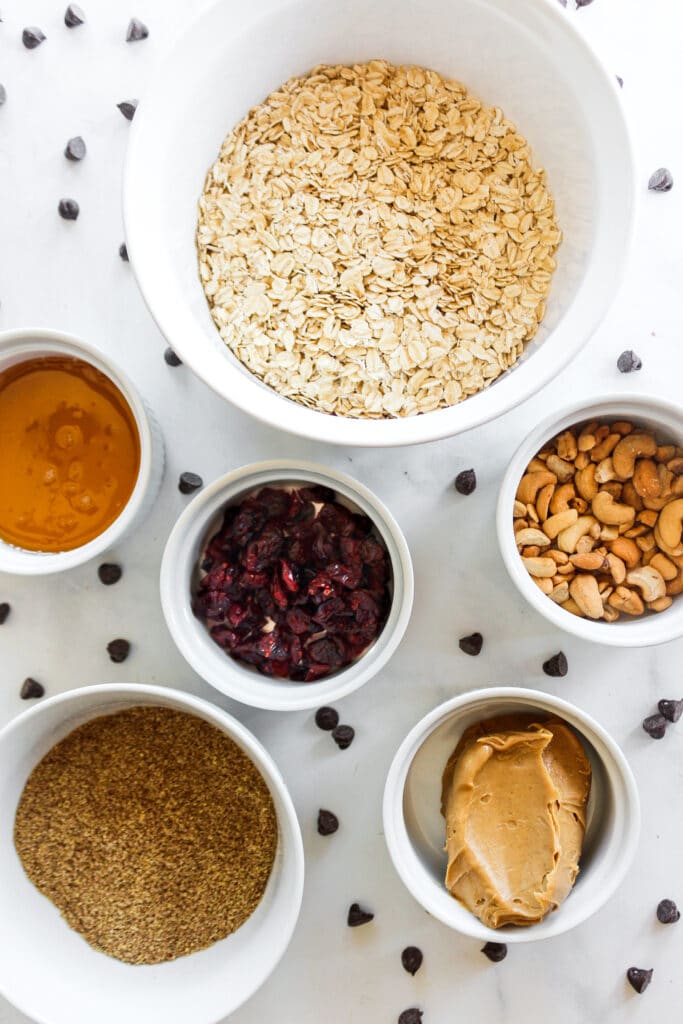 What Exactly is a Trail Mix Energy Ball?
There is no set rules for an energy ball. However, an energy ball is generally oat-based with ground flax, a sweetener (ie honey, maple syrup, or dates), nut or seed butter, plus other add-ins. Though this particular recipe contains added sugars from honey, it also delivers dietary fiber from the oats and ground flax, ALA (an essential omega-3 fatty acid) from the ground flax, and protein from the peanut butter. These are all important dietary components, especially the fiber and omega-3s. From a lifestyle standpoint, they are also really convenient because a large batch can be made in advance and be stored in the refrigerator or freezer. I like to keep mine in the freezer since they last longer.
A word of caution, just because energy balls are fairly healthy, you still need to keep your portions in check. These little balls are very calorically dense! Even though you may be tempted to eat lots, you will need to assess what fits into your dietary pattern. For me, that is usually 1-2 balls for a snack depending on my activity level. We all have differing nutrition goals and needs, so talk with me [or another registered dietitian] if you need help with nutrition!
These trail mix energy balls are also great because they are quick to make, do not require baking, and are perfect for little ones to help with! I love getting creative with my mix-in ingredients, and this trail mix version is one of my favorites! I have some other varieties I plan to share soon, too!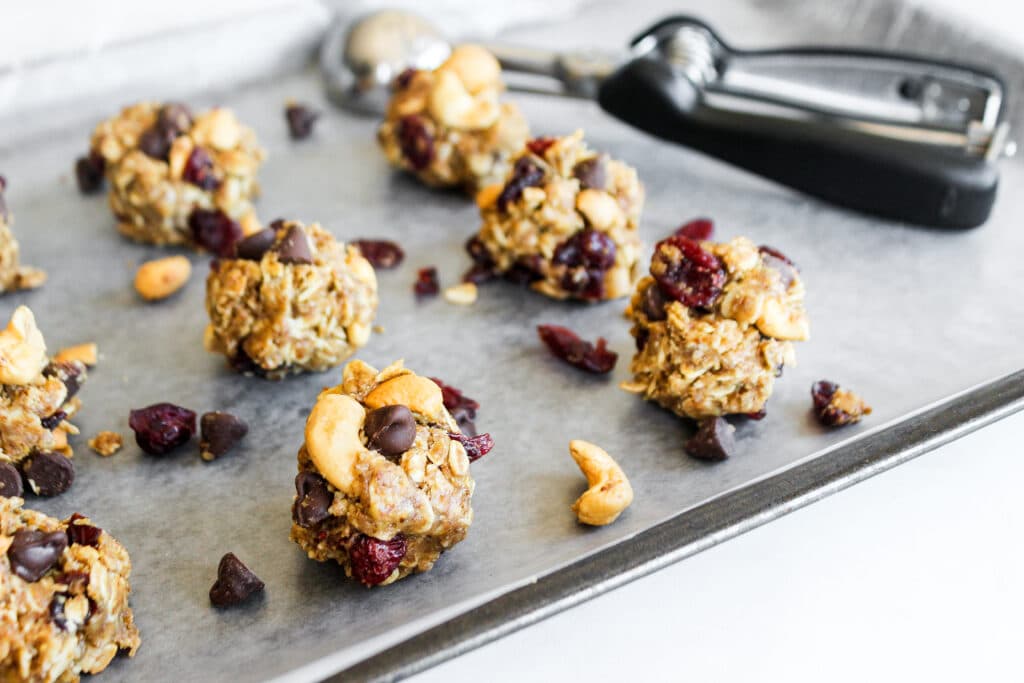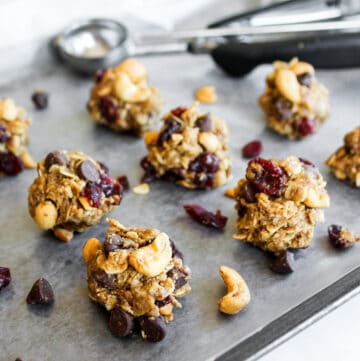 Trail Mix Energy Balls
These energy balls (aka energy bites) are full of nutritious ingredients to help fuel your morning or afternoon if you need a little pick-me-up. This variety features three classic trail mix ingredients: cranberries, chocolate chips, and cashews. Feel free to customize the add-ins to make it your own!
Ingredients
1

cup

rolled oats

½

cup

ground flaxseed

½

cup

peanut butter

⅓

cup

honey

1

tsp

vanilla

Pinch

of salt

¼

cup

dried cranberries

⅓

cup

chocolate chips

¼

cup

cashews
Instructions
Combine the oats and ground flaxseed in a mixing bowl.

In a separate bowl, stir together the peanut butter and honey, vanilla, and salt.

Pour the peanut butter mixture over the oat mixture and mix until combined. Add the dried cranberries, chocolate chips, and cashews, and combine until the add-ins are distributed evenly. The mixture will be very thick.

Using a cookie scoop or your hands, form into 1-inch balls. Refrigerate until set.
Notes
Store in the refrigerator for up to 1 week or in the freezer for up to 3 months in an airtight container.
Here are more pics!
Measure your ingredients: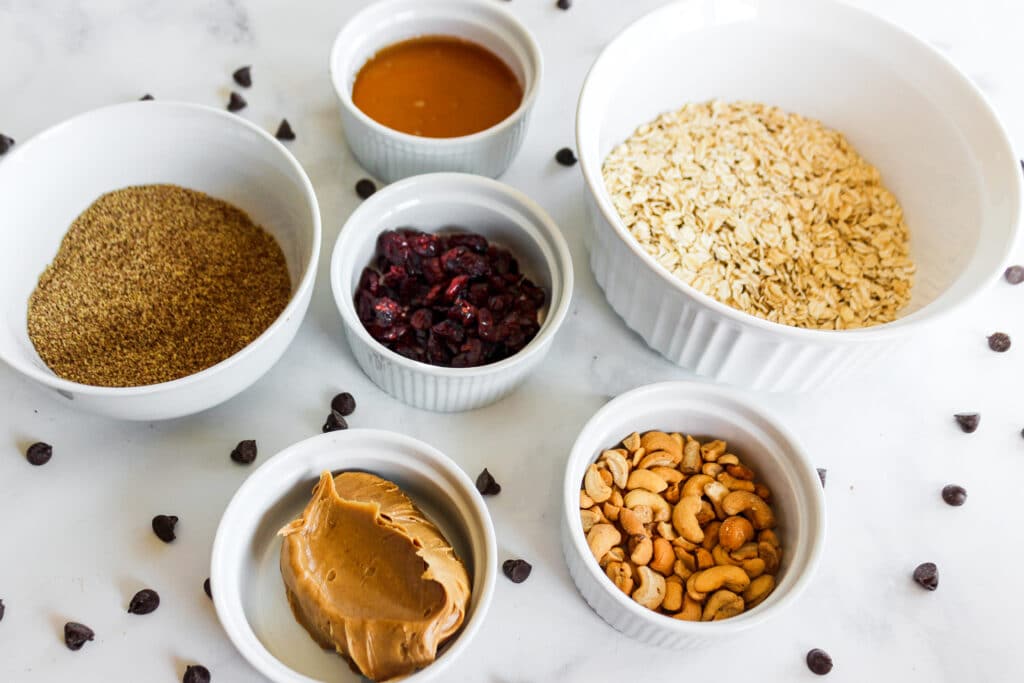 Combine the oats and ground flax: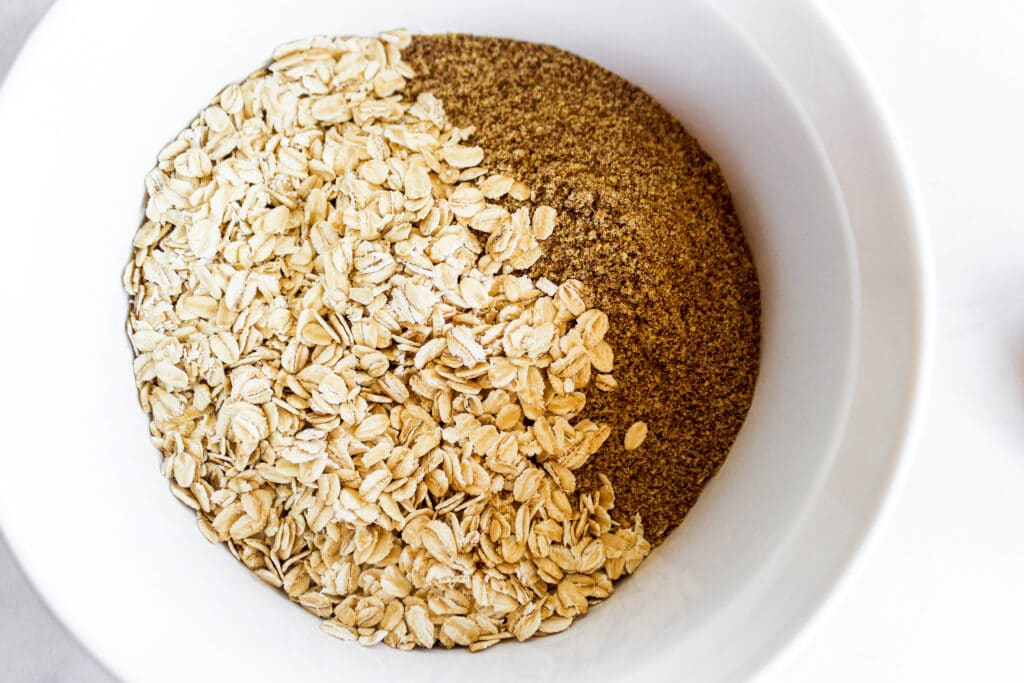 Combine the honey, pb, salt, and vanilla. Stir it up before adding to oat mixture: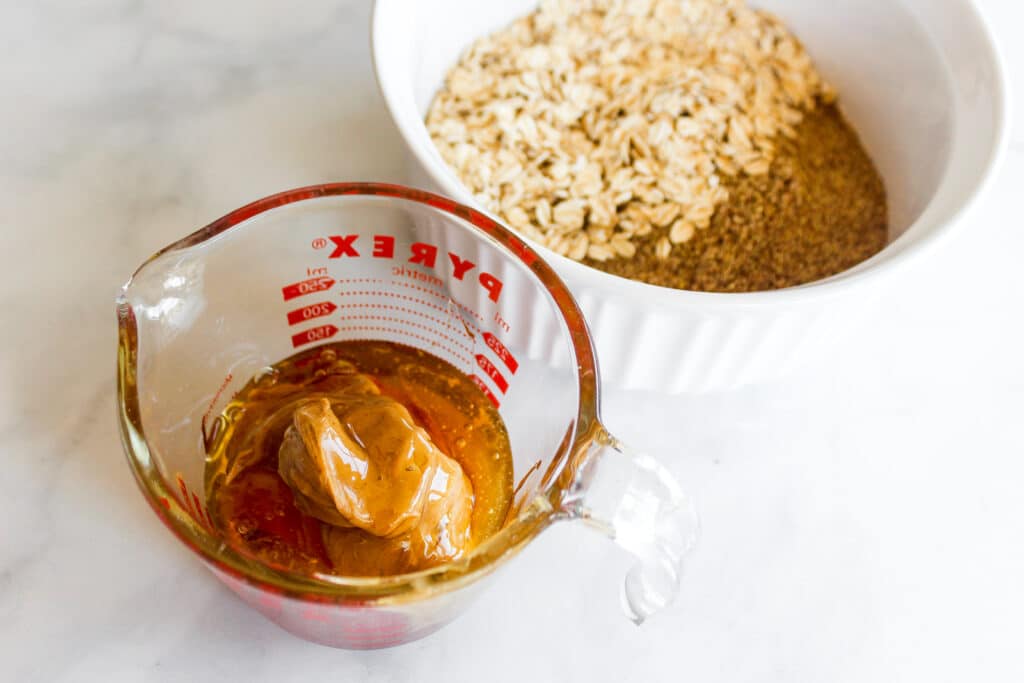 Add the honey mixture to the oats: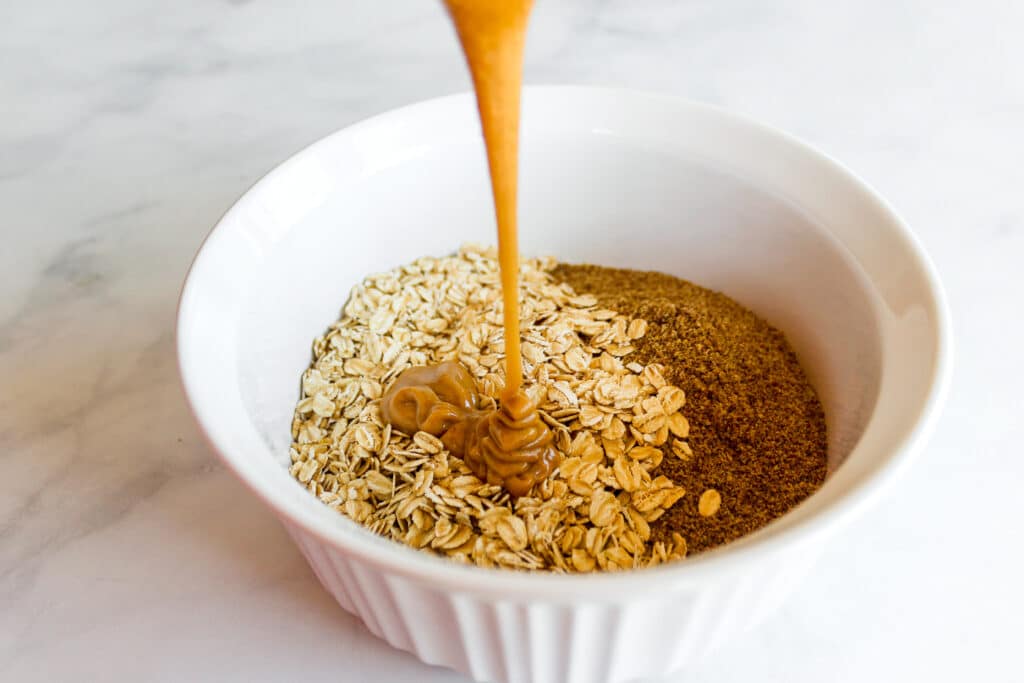 Stir, stir, stir: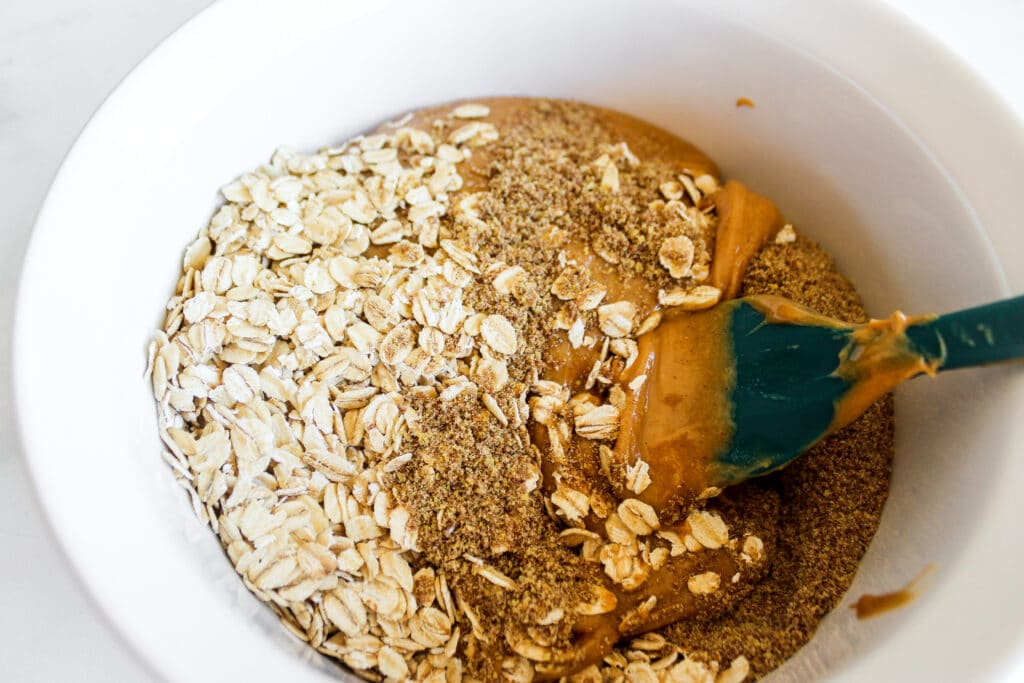 The mixture will be thick and look like this: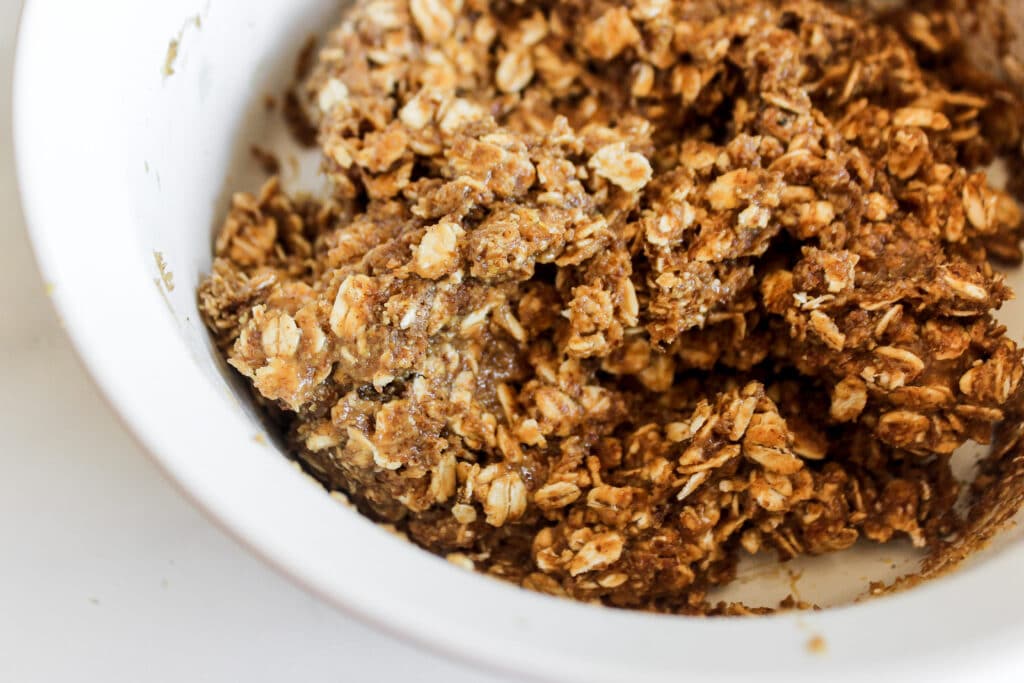 Add the remaining ingredients: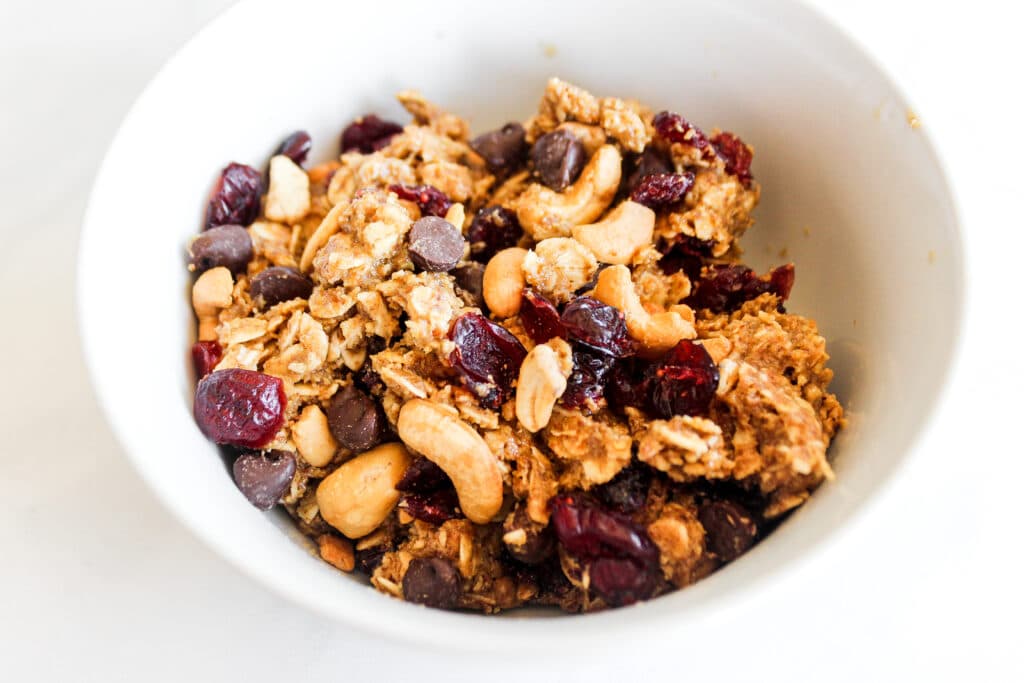 Scoop into 1 inch balls: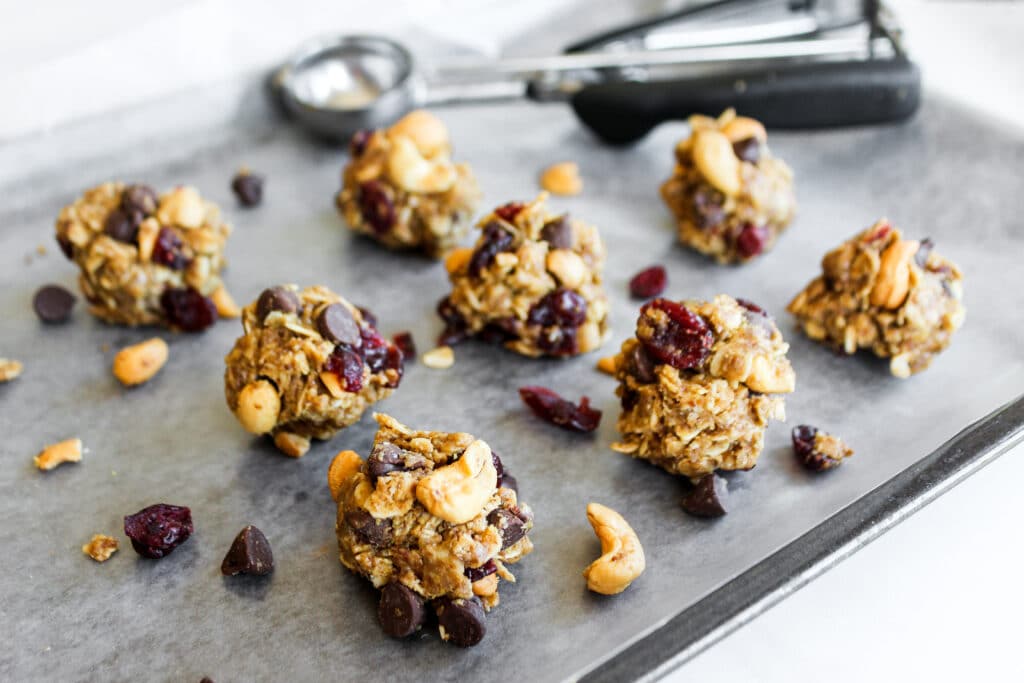 I personally prefer the rustic look: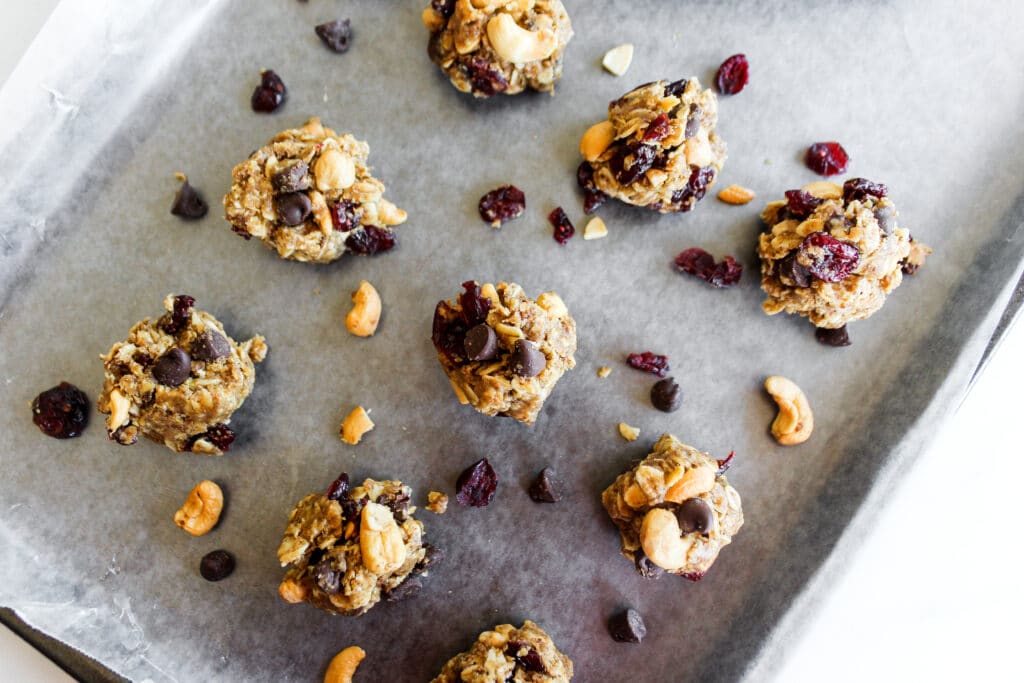 Yum!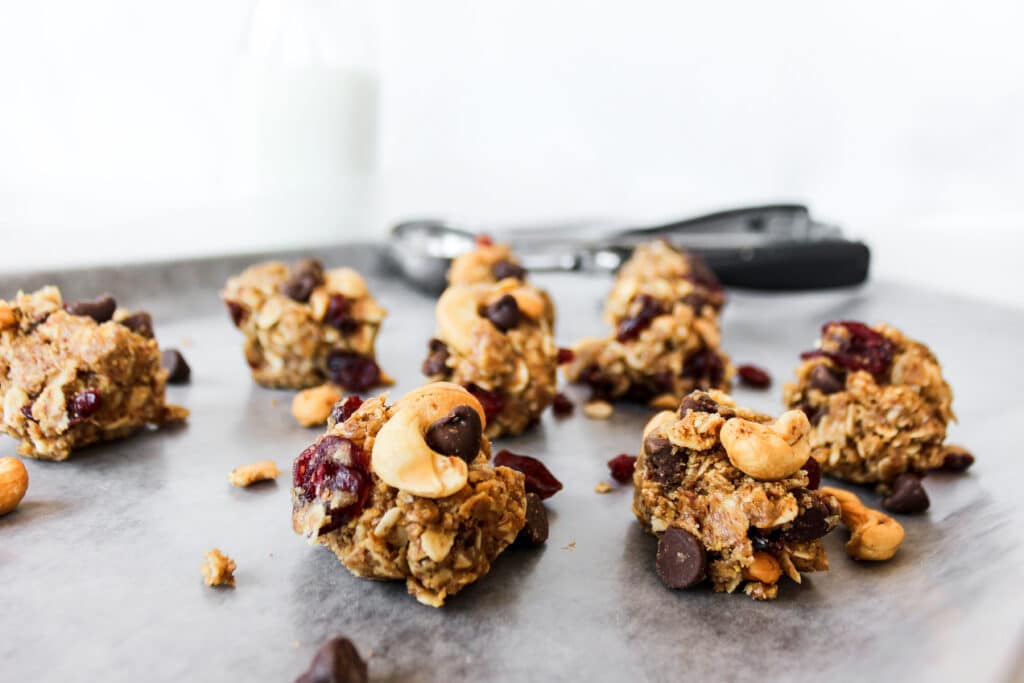 If you like these, you will also like: