As far as bread goes, I love hearty breads with lots of whole grains. This homemade honey whole wheat bread has a lovely whole wheat flavor with just the right of sweetness. You are sure to love the fact that this whole wheat bread stays light and airy. You can enjoy it sliced thinly for sandwiches or as toast.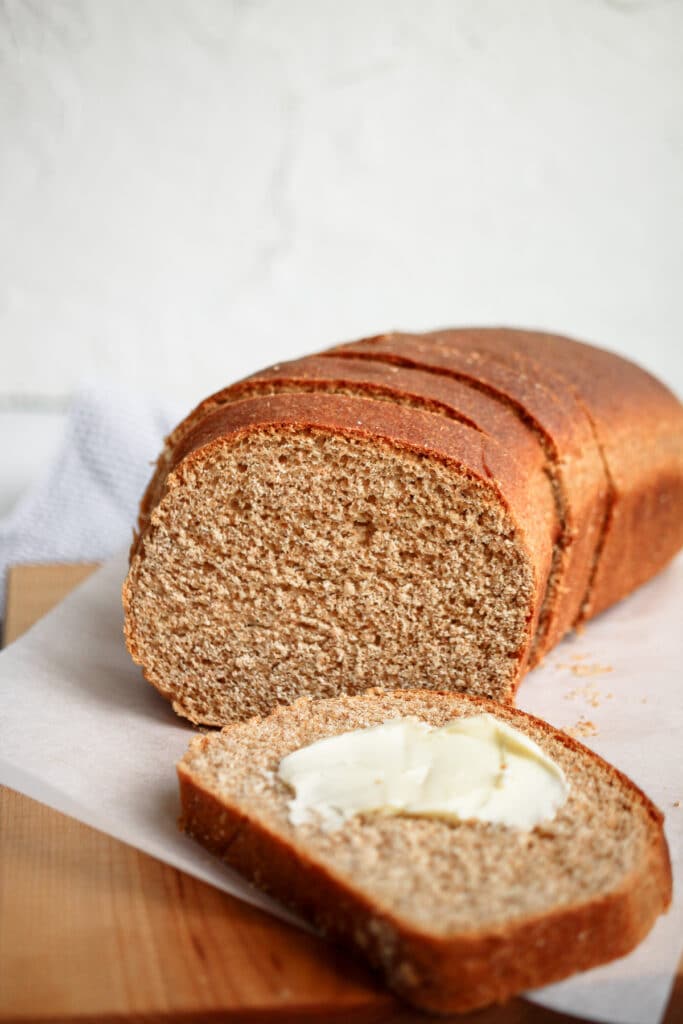 For those new to making bread, I did my best to include detailed instructions. Just make sure you use a thermometer to make sure you properly heat your milk and have the water just right to activate the yeast. The FAQs below are also informative.
Doesn't this bread just look tempting? I love carbs, especially when they are good for you too!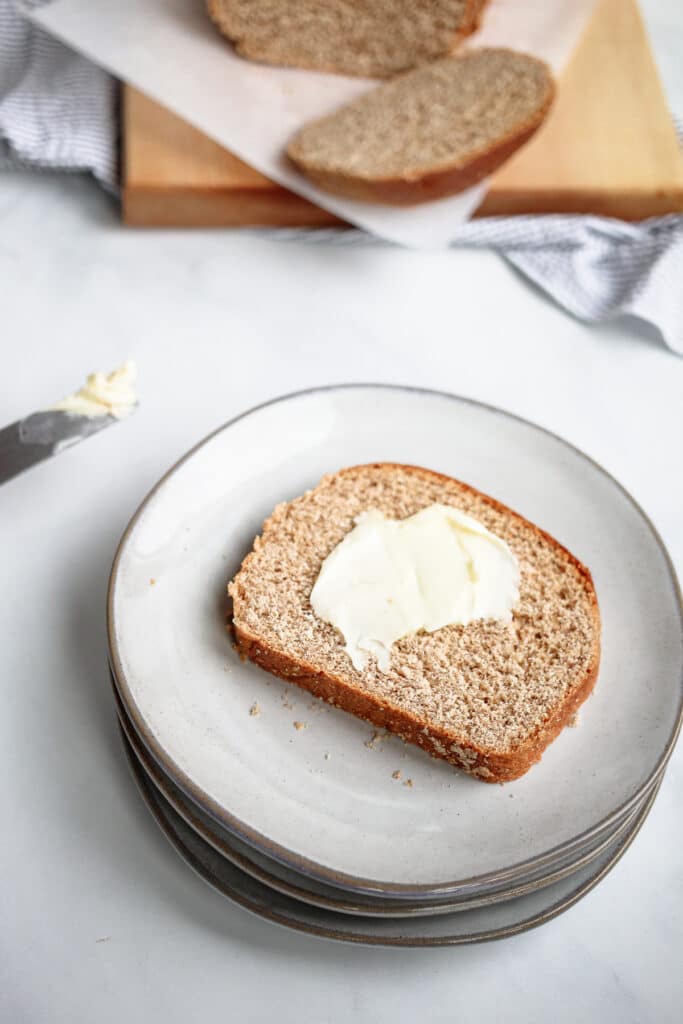 Honey Whole Wheat Bread FAQs
What type of yeast should I use?
For this recipe, you will want to use active dry traditional yeast. You may use the yeast from the packets or measured if you buy in bulk. Do not use instant or rapid rise for this bread.
How long does the bread need to proof?
This bread takes a fairly long time to proof since it is an enriched dough containing fairly large amounts of fat (vegetable oil), dairy (milk), and sugar (honey). The times given below are just an estimation, so it is best to judge when your bread dough is ready based on it doubling in volume. Factors like humidity and temperature will also impact the proving time.
Why is there a range given for the whole wheat flour?
The amount of flour needed in bread will vary depending on the humidity level and the brand of flour used. For this reason, a range is given so do not be alarmed if you need more or less flour than what is called for in a recipe. The dough should be firm but elastic when kneaded without being too sticky.
How do you know when the bread is done?
For this bread (and all bread), the center of the bread should read 190° F. It can be difficult to tell since this bread is whole wheat, so it is best to use the thermometer to test and ensure you have perfectly baked bread.
Is this bread healthy?
Overall, yes! Since it is made with 100% whole wheat flour, you can enjoy a nutritional boost compared to many homemade bread recipes using refined flour or purchased white breads. Benefits of whole grains from a nutritional standpoint include fiber, vitamins and minerals, and protein. Eating a variety of whole grains on a consistent basis is also associated with better health outcomes. This is key!
Do you have other bread recipes?
I sure do! The two listed below are two of my personal favorites!
Hoska Bread (Bohemian Nut and Raisin Bread)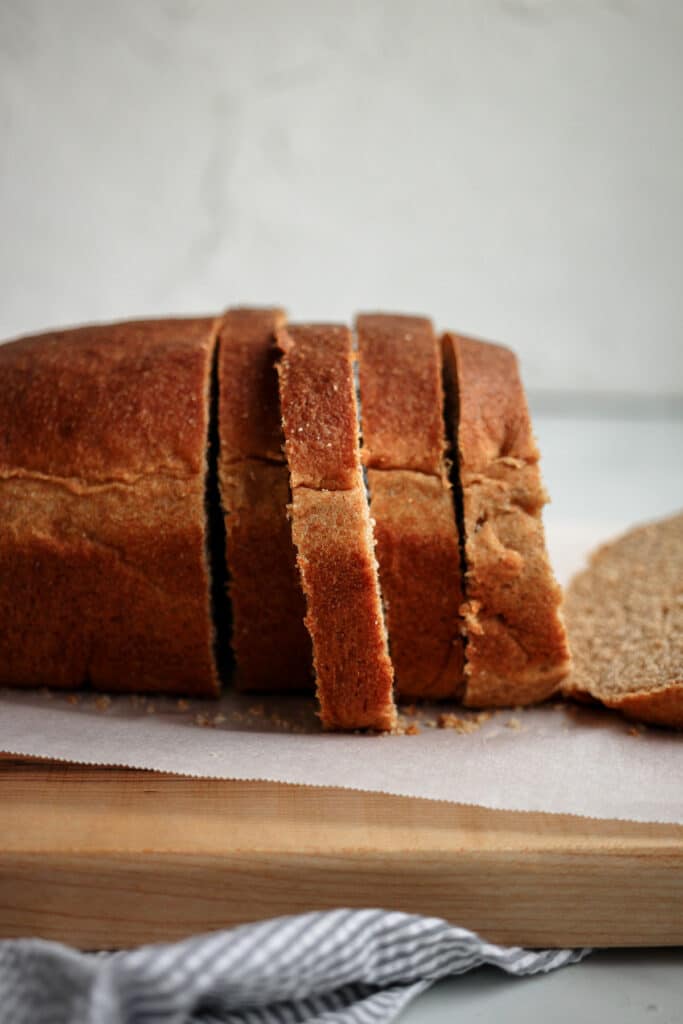 Sharing is Caring
I hope you enjoy this bread as much as we do! Mitchy really loves it toasted with some melty peanut butter on top. Please leave a comment and star rating if you make this bread. Your feedback really helps me!
Happy baking! I promise this bread is worth the effort.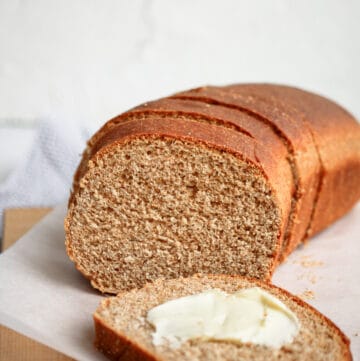 Honey Whole Wheat Bread
This honey whole wheat bread is made with 100% whole wheat flour to pack in extra fiber and improved nutrition! The loaves stay nice and soft even days later, but this bread is perfect toasted and smeared with some butter!
Equipment
cooking thermometer

9x5 inch loaf pans

parchment paper
Ingredients
1 ½

cups

milk,

(2% or whole recommended)

2

envelopes (4-½ teaspoons) active dry yeast

½

cup

water

(105-110° F)

2 ¼

teaspoons

salt

¼

cup

honey

¼

cup

vegetable oil

4 - 4 ½

cups

whole wheat flour
Instructions
Heat the milk over medium heat until a thermometer reads 130° F. Remove from heat and allow the milk to cool to 100° F, or approximately 20 minutes.

Put the yeast in ½ cup warm water (105-110° F) and stir. The temperature of the water is very important because the water must be hot enough to activate the yeast. If it is too hot, it will kill the yeast. Let sit for approximately 5 minutes or until foamy.

In a large mixing bowl, add the cooled milk, yeast mixture, salt, honey, and vegetable oil. Stir to combine.

Add 3 cups of whole wheat flour and stir until it begins to form a thick dough. Keep adding the remaining 1 - 1-½ cups of whole wheat flour until the dough forms a soft dough.

On a lightly floured surface, knead the dough until elastic and firm. This step will take about 8 minutes.

Lightly grease the large bowl with cooking spray or vegetable shortening and cover dough with a tea towel. Set in a warm place to rise for about 1 hour or until doubled in size.

Punch down the dough and divide the dough in half. Shape into uniform loaves. Place the dough into two 9x5 inch loaf pans that have been generously greased or lined with parchment paper. Set the loaves aside to proof for another hour, or until doubled in size before baking.

Once the loaves have risen, preheat the oven to 375° F. Base for 20 minutes, then reduce the oven temperature to 350° F and continue baking for another 10 minutes or until the center of the bread registers 190° F with a cooking thermometer. Let cool completely before slicing.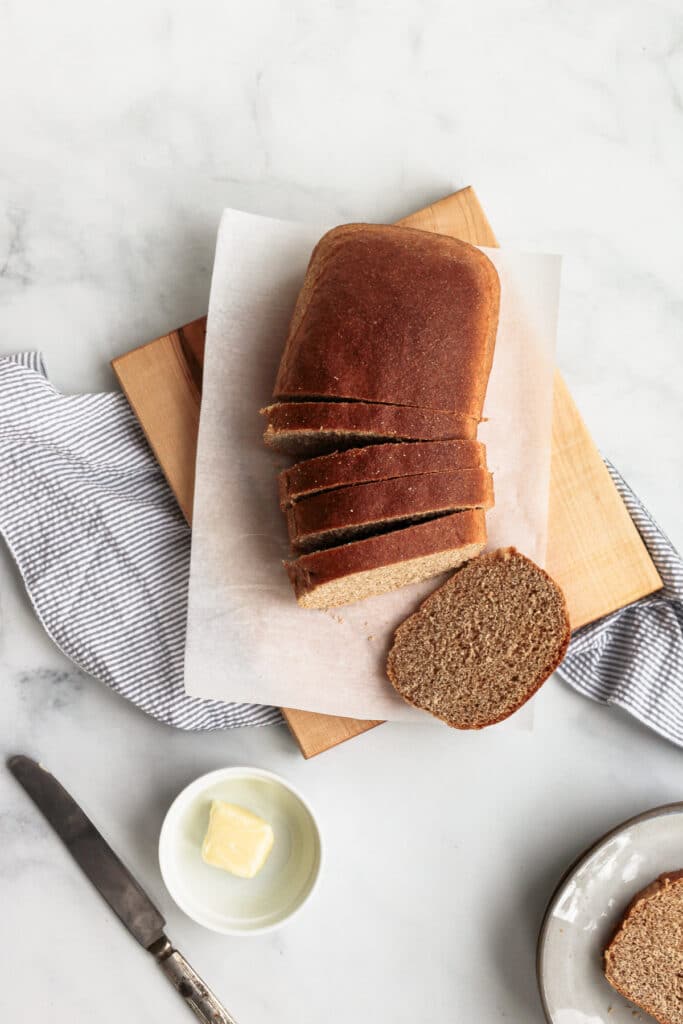 Be sure to check out these other great posts!