Meet Checker! He's perhaps the cutest little turtle bread I've ever seen. You can make one too!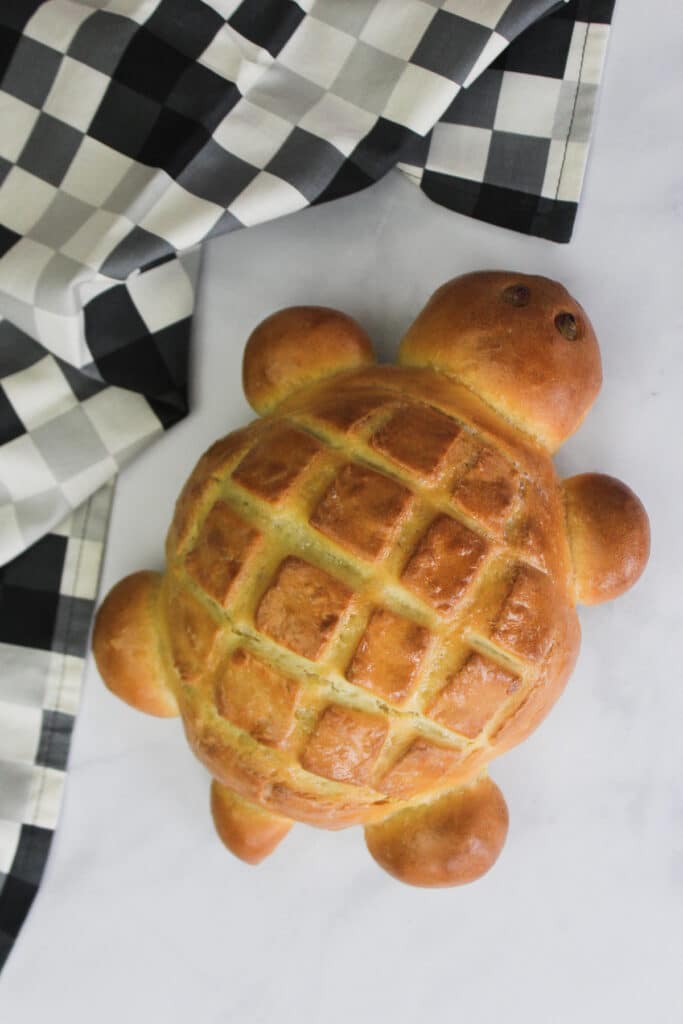 Homemade bread, especially warm out of the oven with a nice slather of butter, is a comfort food like no other. Growing up, my mom baked homemade bread and cinnamon rolls on a regular basis. It is no wonder why I have such a sweet tooth and love carbs so much! To this day, the smell of bread baking is one of my all-time favorite aromas.
My mother is a talented baker, much of which she learned from her mother Elizabeth and aunt Nina. She has kept the tradition going in teaching my sisters and I how to bake. My mom has such a nurturing and patient demeanor, and she always let us help out in the kitchen. I look back with such fond memories of our time spent together in the kitchen. I can only imagine the messes we made, but she always let us try. Though I live far from my family, I love baking with my mom and sisters any chance I get.
Bringing Back Turtle Bread
During this time of quarantine, I have been feeling nostalgic. As kids, my mom used to make bread dough and let us make turtle bread. It is literally bread shaped as a turtle, and is so fun to make. This recipe is great for beginning bread bakers and tastes absolutely delicious. It is best eaten warm and torn into pieces. This recipe was inspired from the Alpha-Bakery Children's Cookbook that was created by Gold Medal Flour. Here are a few photos I had to share. These photos make me excited to teach Mitchy in the future, too!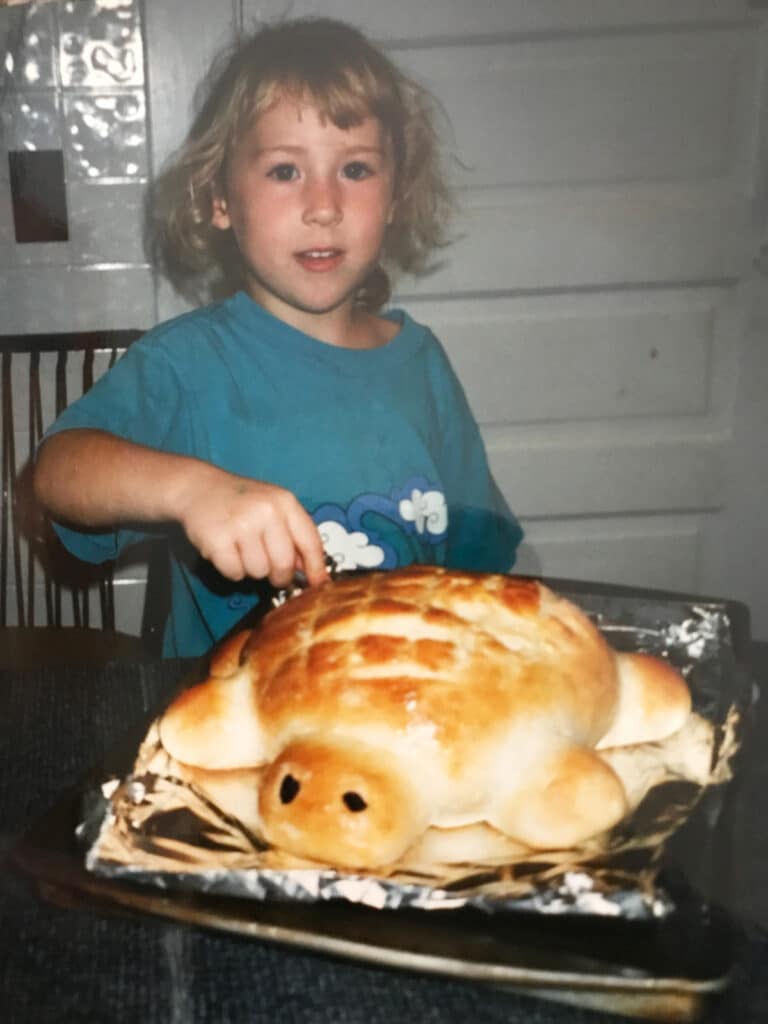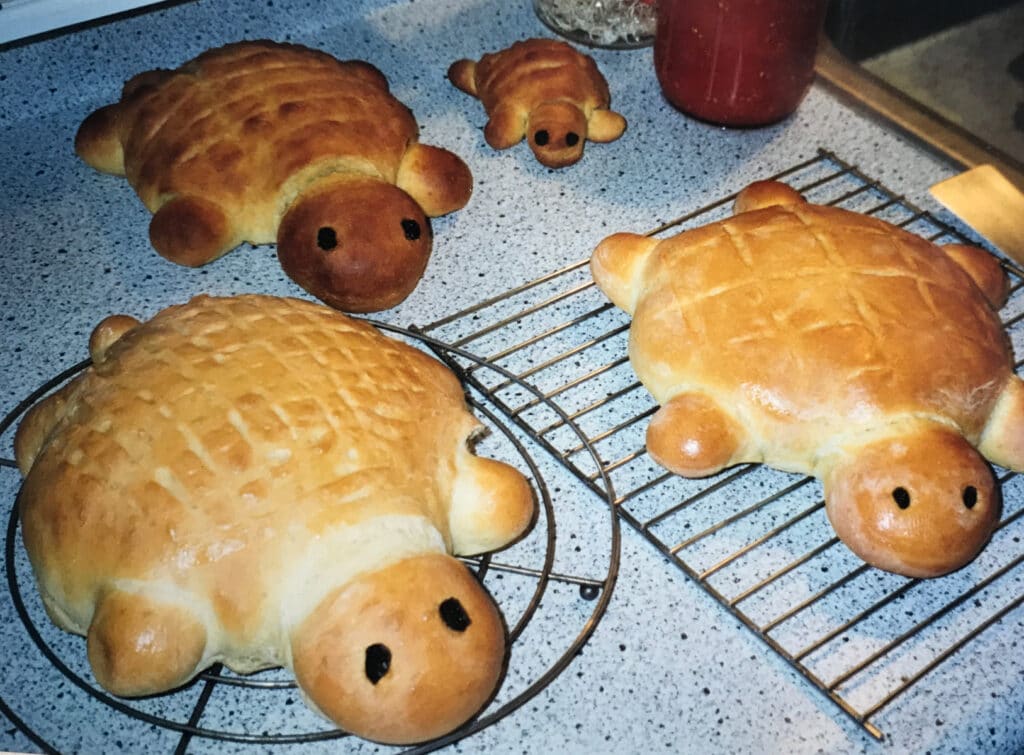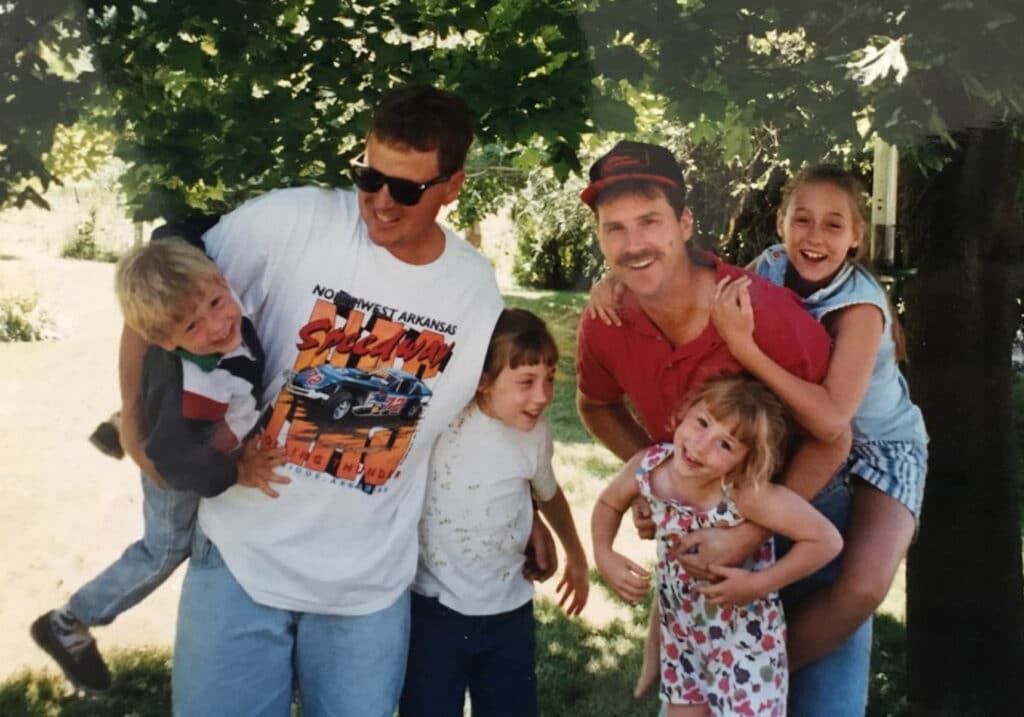 Homemade bread has become somewhat of a lost art in the average household, but I am hoping this changes as time goes on. The bread-making process is so rewarding, and I love the science involved with the ingredients. I will save the details for a later post. If you want a shortcut, you could prepare your bread dough in a bread machine or use premade bread dough. No judgment!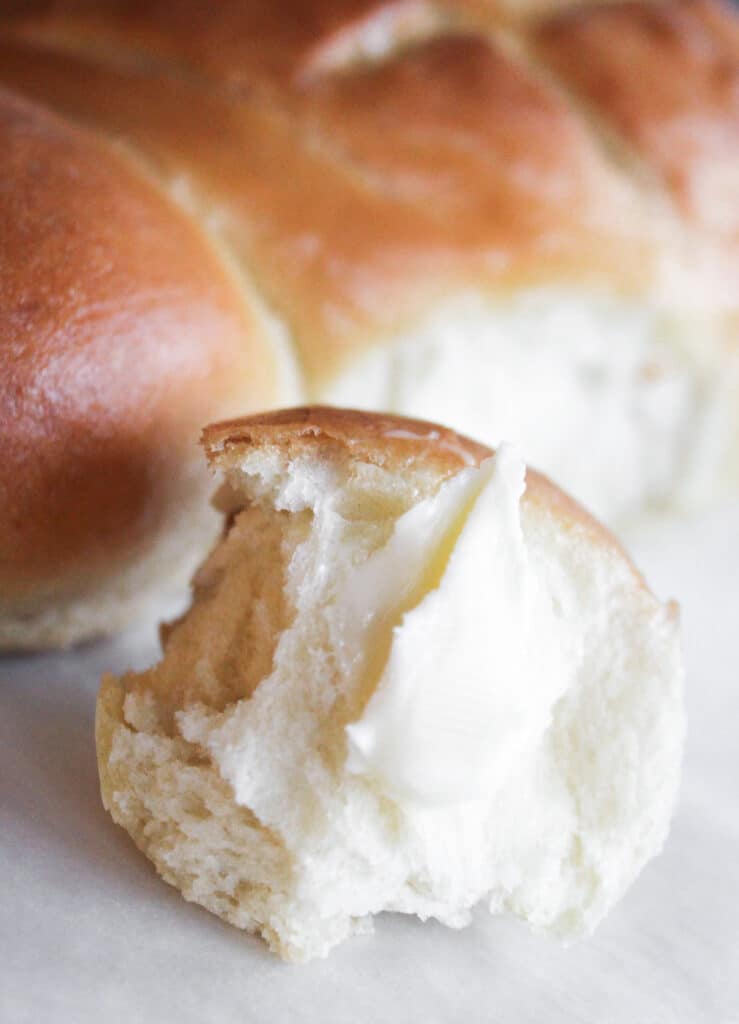 Tips for Success
If you have never made bread before, there are a few things you need to know. First of all, yeast is temperamental. It must be activated with water between 105-110° F. If it is too cool, the yeast will not be activated. Too hot, and the yeast will be killed off. I recommend using a thermometer to test the exact temperature, but I have another method you may use. You can test the water temperature using your inner wrist. If the water temperature feels hot, but you can tolerate it, the temperature is probably acceptable. If it feels cool or is unbearably hot, you need to adjust. Secondly, you have to be patient when making bread. The dough must rise until doubled in size before shaping. Once shaped, you must proof the dough before scoring and baking. A great resource if you would like more information can be accessed here.
Happy baking! I would absolutely love to see photos of your turtles if you make them! Please share my recipe on Facebook or Pinterest. This is a wonderful activity for adults and kids, especially during this time! See below for the recipe and more photos.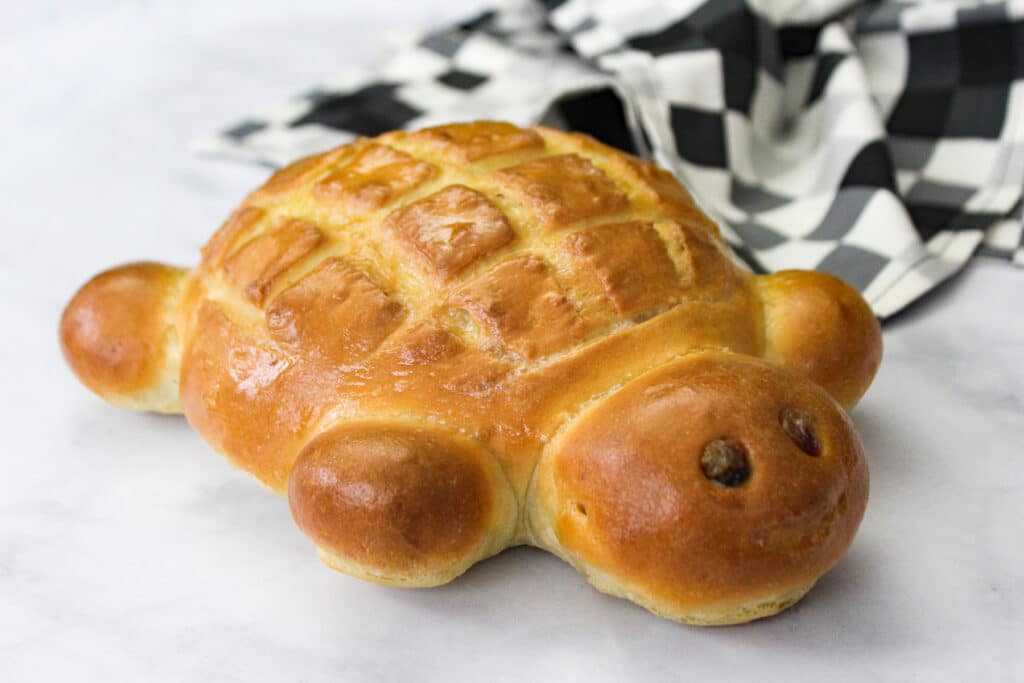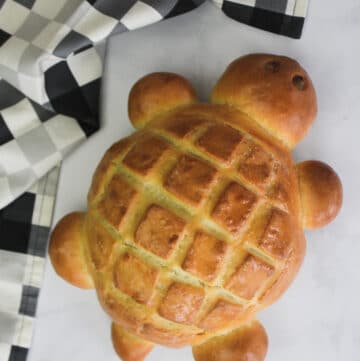 Turtle Bread
This recipe was adapted from the Alpha-Bakery Children's Cookbook. We have been making turtle bread ever since I was a young child, and this bread is something I still enjoy making as an adult. I look forward to baking it with my two children once they are a little older. I hope you and your favorite little ones love it too!
Ingredients
⅓

cup

water

105-110° F

1

package or 2 ¼ tsp of active dry yeast

1

Tablespoon

sugar

1

teaspoon

salt

½

cup

lukewarm water

2

Tablespoons

butter, melted

1

egg, beaten

2 ½ - 3

cups

of all-purpose flour

2

raisins or golden raisins

for eyes

Additional butter to brush bread after baking
Instructions
Dissolve the yeast in ⅓ cup warm water (105-110° F) and let sit for 10 minutes. It should appear foamy. In a large mixing bowl, add the sugar, salt, remaining lukewarm water, melted butter, beaten egg, and yeast mixture. Stir until combined and gradually add flour until a dough forms and is easy to handle.

Sprinkle the bowl or a clean counter surface with flour. Knead the dough until smooth and elastic, for about 5 minutes. Sprinkle with additional flour if dough becomes too sticky. Place back in a greased bowl, cover, and let rest in a warm place for about 1 hour or until doubled in size.

Line a cookie sheet with parchment paper. Once dough has risen, shape a 2-inch ball for the head, 5 1-inch balls for the legs and tail. Pinch the tail into a pointed shape, if desired. Shape the remaining dough into a oval shaped body. Place on the prepared cookie sheet and flatten slightly. Carefully attach the head, feet, and tail by placing one end of each piece under the body to secure. Press the raisins into the head as eyes.

Cover and let rise in a warm place for 20 minutes. Meanwhile, preheat the oven to 350° F.

Once dough has proofed, use a serrated knife to cut criss-cross slits into the body of the turtle to resemble a turtle shell. The slits should be about ¼ inch deep. Cut a smiling mouth, if desired.

Bake for about 25-28 minutes, or until golden brown and cooked through. Immediately after baking, brush the bread with melted butter for a shiny appearance. Enjoy warm with additional butter, though you may find the turtle too cute to eat!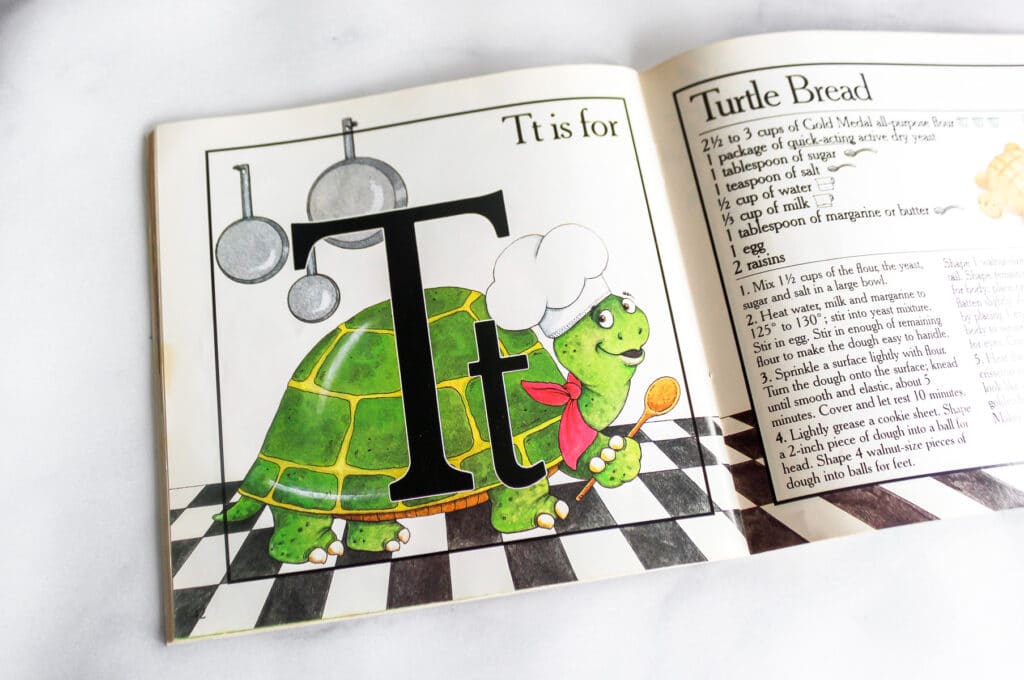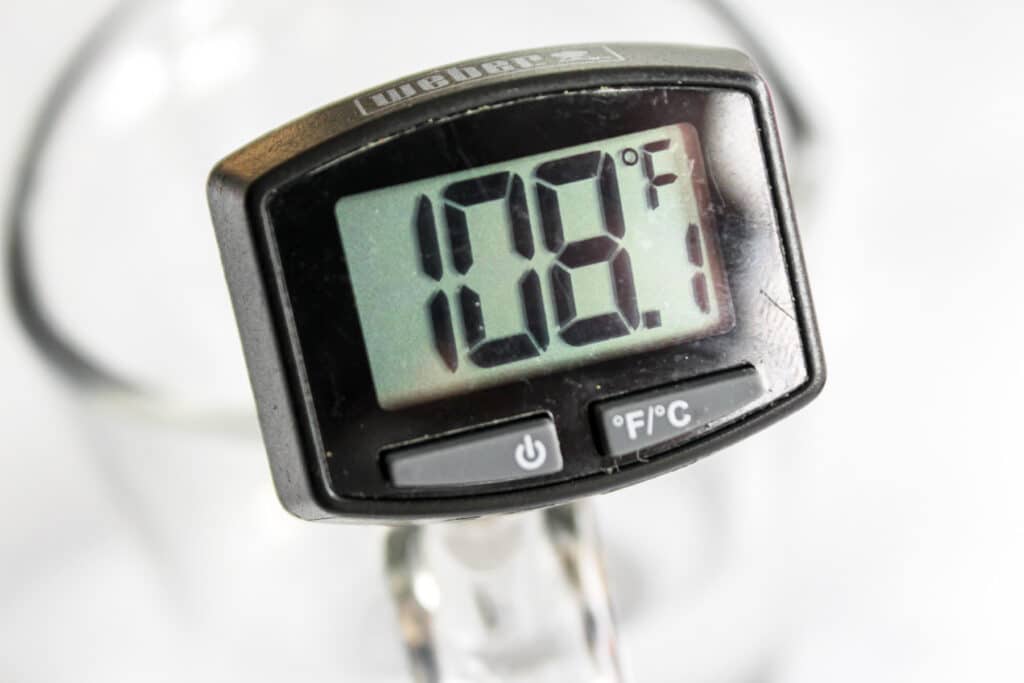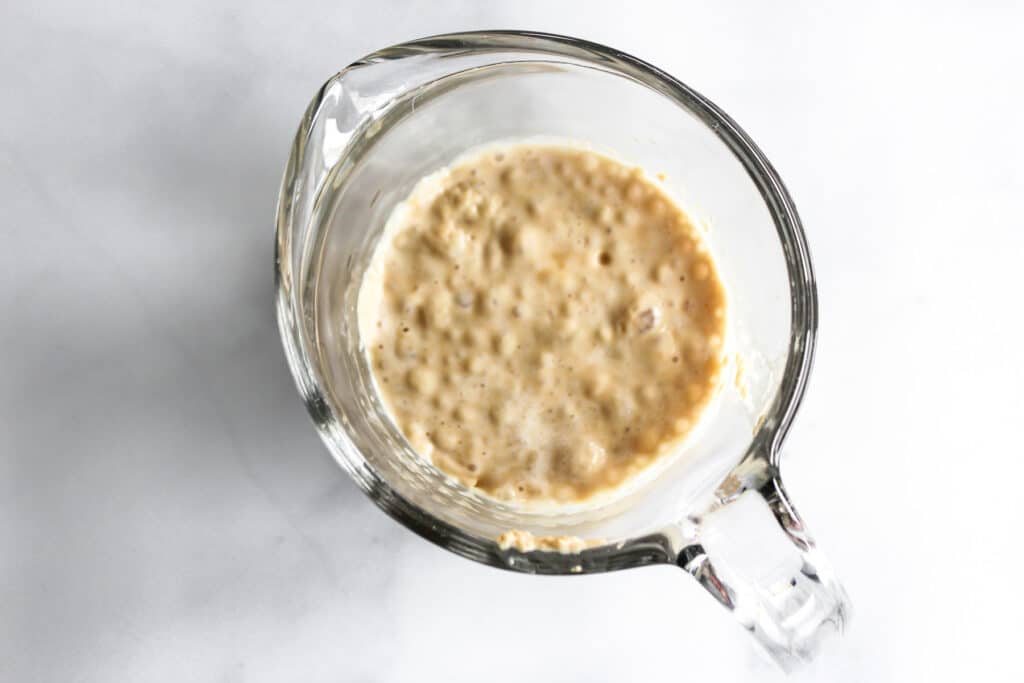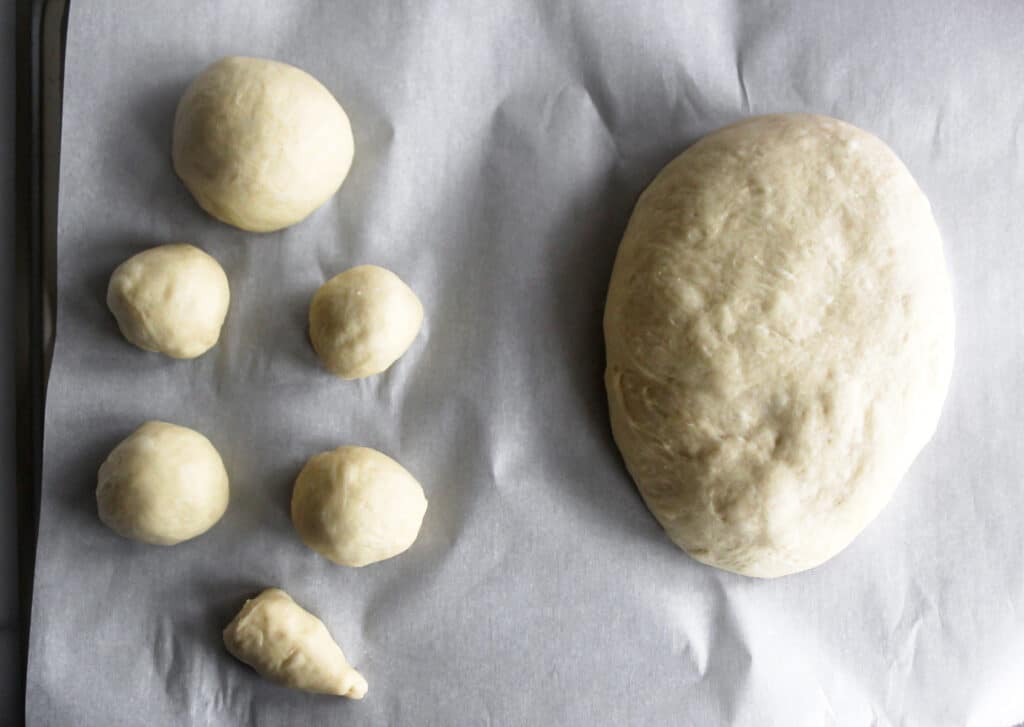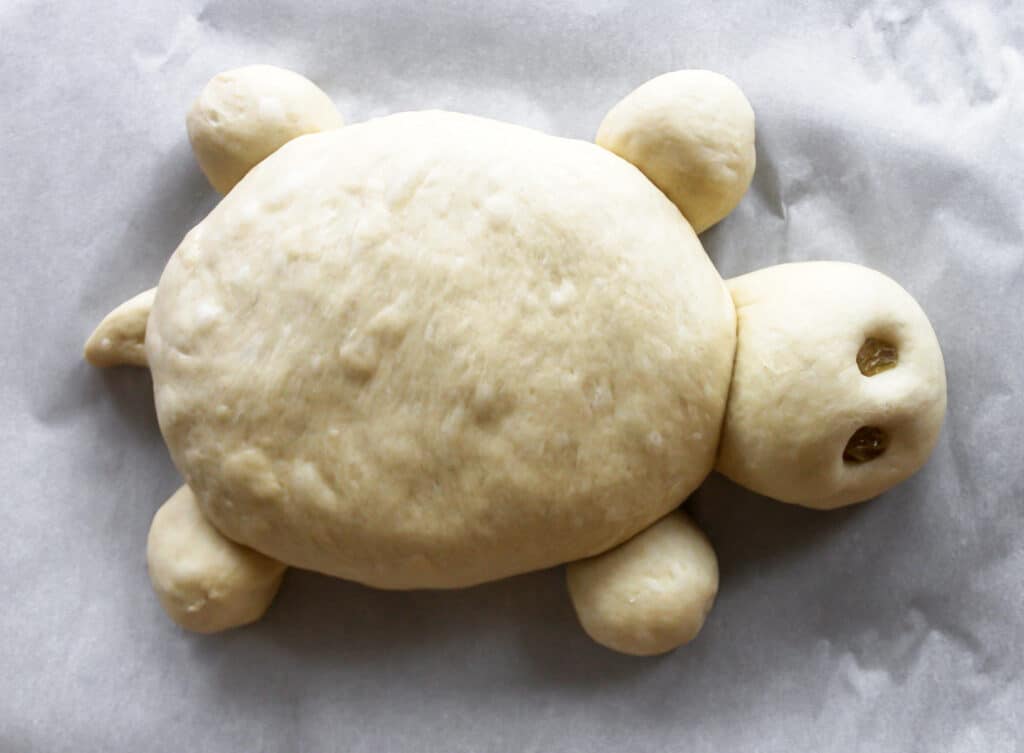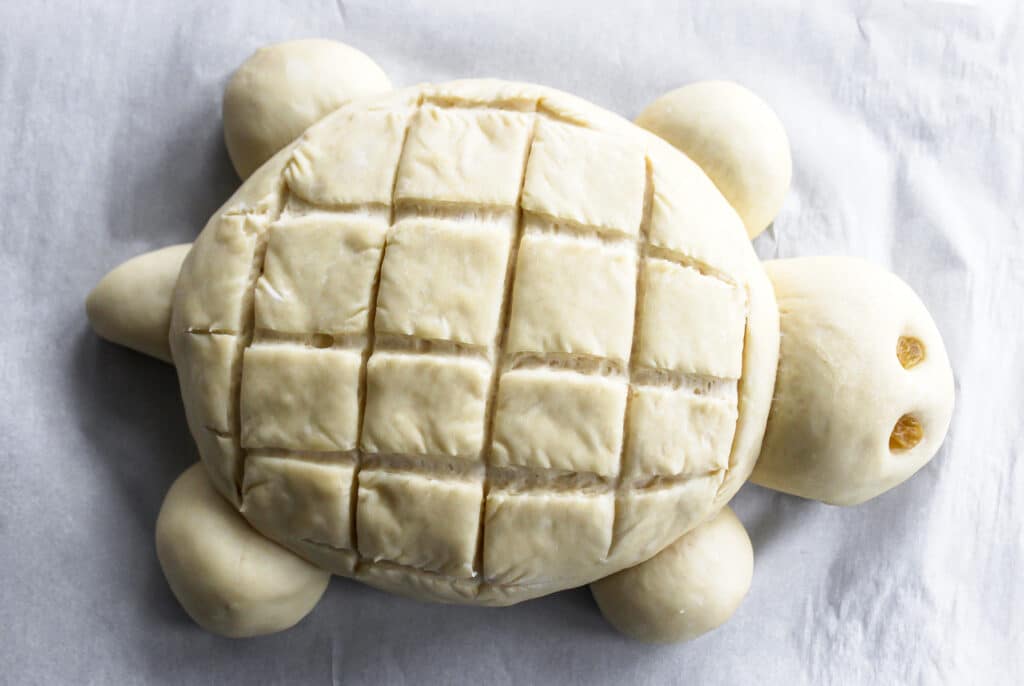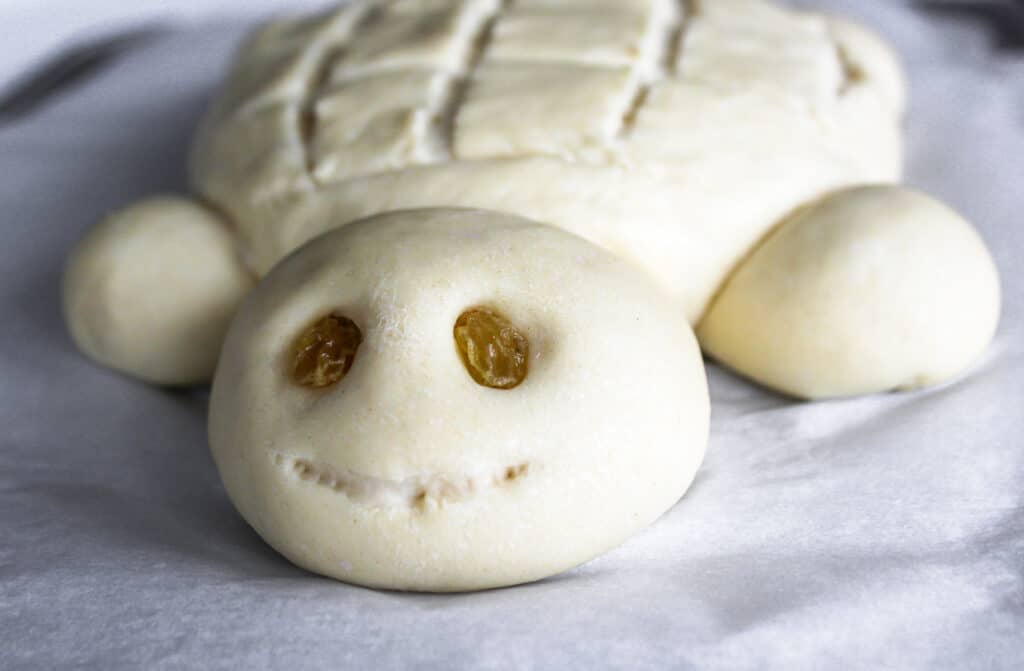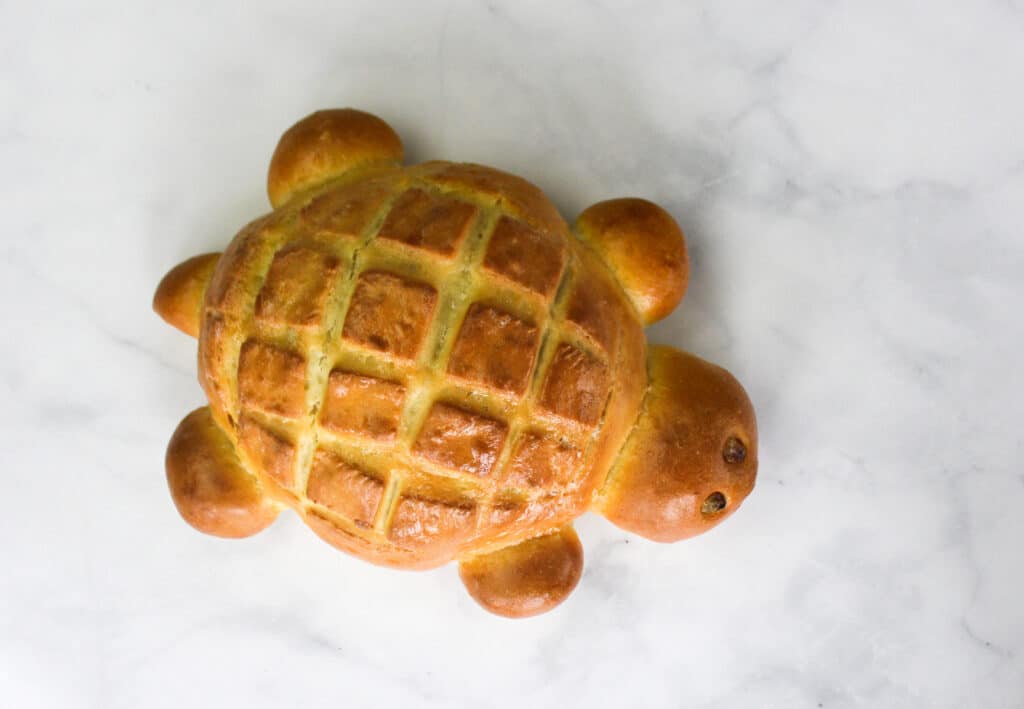 Be sure to check out these other great posts!