Have you ever heard of hoska bread? I am guessing you haven't which is why I am pleased to share it! This Bohemian raisin nut bread recipe has been passed down from my great-grandmother Barbara Lennon for at least four generations (that we know of). She was born on December 25, 1900! Talk about a special birthday! Our family and friends enjoy this bread each year, especially around Christmas and New Year's.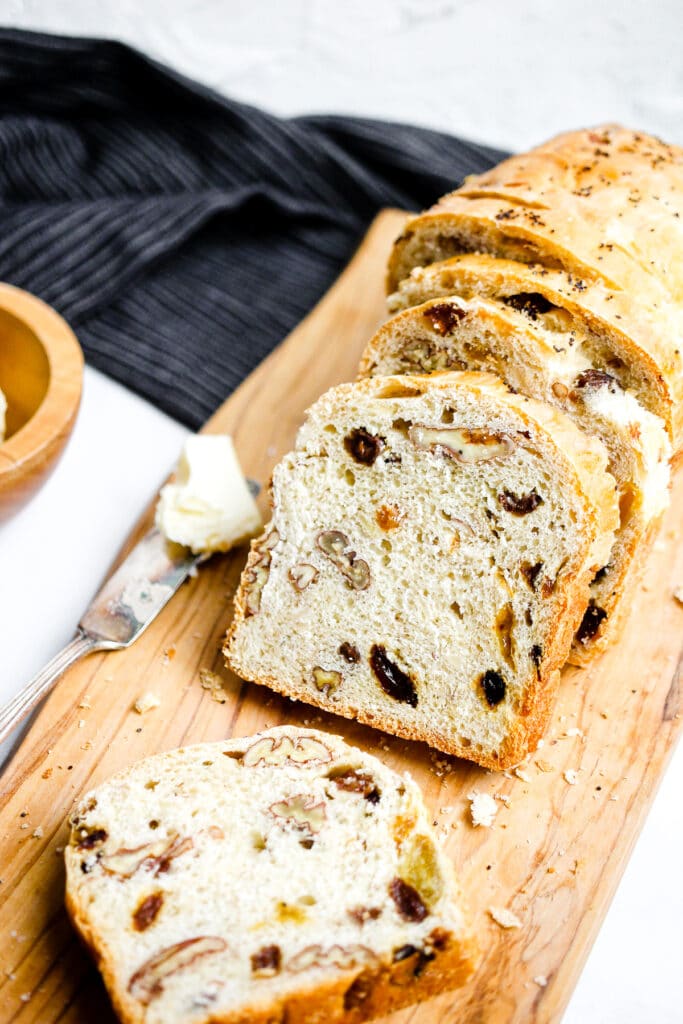 What is this Raisin Nut Bread?
Hoska is a beautiful braided raisin nut bread studded with pecans, almonds, raisins, and golden raisins. Even people who do not generally enjoy raisins love this bread! The dried fruit adds sweetness and color. The nuts add wonderful flavor and texture, too. The traditional way of baking this bread is using braided loaves. Each loaf contains a base with braid with four-strands topped with a traditional three-strand braid. Brush whisked egg white on the bread just prior to baking to add color and allow the poppy seeds to stick. The final touch is a adding a generous sprinkling of poppy seeds.
The original recipe also calls for dried currants, but they get sort of lost in the mix and are very similar to raisins. For that reason, we have adapted the recipe to increase the raisins and omit the currants altogether. I just wanted to note this in case some relatives are wondering! This recipe has also been scaled down some so it is more manageable.
Our favorite way to enjoy this bread is while it is still slightly warm from the oven or toasted before serving with a smear of butter. It is even nice on a charcuterie spread because it is such a beautiful bread to look at. All you need to do is slice the cooled bread thinly and then lightly toast it before placing on the board.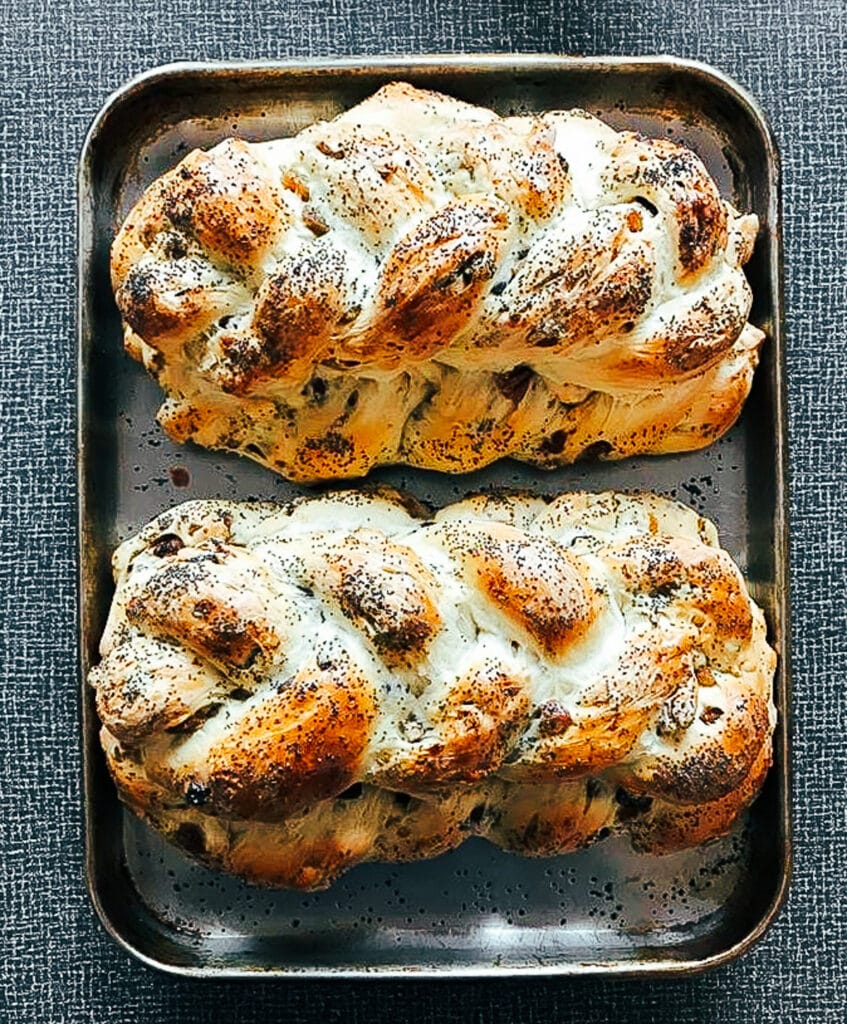 Tips for Perfect Hoska Bread
This bread is a yeasted dough, and the mixing process is pretty straightforward. However, here are a few key tips to ensure success!
Scald the milk before using it in this recipe. Scalding is essentially warming the milk almost to a boil to denature the proteins. This helps improve the rise of the bread. Read more about scalding milk here.
Once scalded, let the milk cool down before using in the recipe so it does not kill the yeast.
Activate yeast with water between 105-110° F. Water too cold will not activate the yeast or allow your bread to rise. Water that is too hot will kill the yeast. I recommend using a thermometer to test the exact temperature, but I have another method you may use. You can test the water temperature using your inner wrist. If the water temperature feels hot, but you can tolerate it, the temperature is probably acceptable. If it feels cool or is uncomfortably hot, you need to adjust.
Soak the raisins in very hot water to soften them. Drain well before adding to the mixed dough.
Sometimes the raisins have stems or small pieces of leaves. Be sure to pick those out before using.
The amount of flour is a rough estimate and you should use the amount needed to make a firm, but elastic dough. Your recipe may need more or less depending on many factors, including the brand of flour used, humidity, and moisture left on the raisins.
To achieve the classic braided shape, see the photos below. The base layer should include a four-strand braid. On top, you will place a classic three-strand braid. Do not worry too much about making them perfect. Rustic loaves are still beautiful.
If you wish to bake the bread in traditional loaves, you may do that instead. We sometimes use this as a shortcut and it tastes just as good!
Bake times will vary depending on the size of the loaves.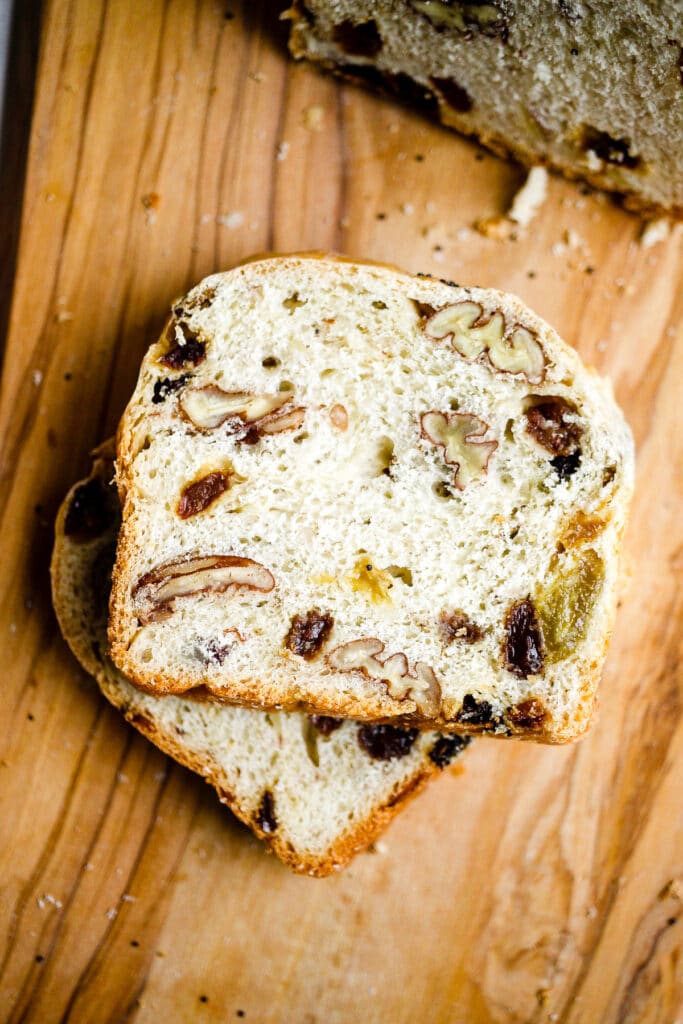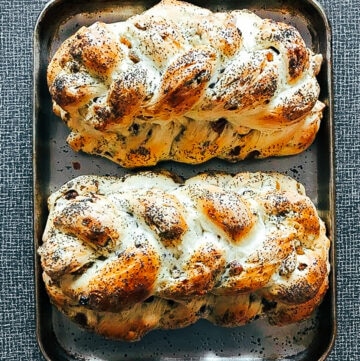 Hoska Bread (Raisin Nut Bread)
This raisin nut bread is a treasured family recipe that has been passed down for at least 4 generations. Hoska bread is a Bohemian recipe that comes from my Great Grandmother Barbara Lennon who was born on Christmas Day (12/25/1900). How different life would have been back then, but it is an honor to share this special recipe for others to enjoy. From my family to yours. I hope this bread becomes a new favorite!
Ingredients
3

cups

milk

4

Tablespoons

(½ stick) unsalted butter

1

Tablespoon

salt

¼

cup

sugar

2

eggs

beaten

1½

packages yeast

(1 Tablespoon plus ½ teaspoon)

¼

cup

lukewarm water

Flour to make a firm dough

(about 10-12 cups)

1 ½

cups

raisins

1 ½

cups

golden raisins

2

cups

sliced almonds

1 ½

cups

pecans

1

egg white, slightly beaten

Poppy seeds
Instructions
Dough Instructions
On the stove, heat the milk over medium heat until almost boiling (180 degrees F). Do NOT boil. Remove from heat and add the butter. Stir to melt the butter. Allow milk and butter mixture to cool for 30 minutes.

While the milk is cooling, place raisins in a large bowl of hot water to soak. If there are loose stems present, remove them.

In a measuring cup, put yeast in ¼ cup warm water (105-110° F). This is very important because the water must be hot enough to activate the yeast but not too hot. Let sit for 5 minutes or until foamy.

In a large bowl, stir together the milk and butter mixture, eggs, and yeast mixture. Then mix in salt, sugar, and start mixing in flour, 1 cup at a time.

When dough is mixed together and forms a cohesive ball, knead the dough for about 5 minutes. Drain the raisins thoroughly and pat dry with paper towels.

Add raisins and nuts to dough. Knead the dough until the raisins and nuts are uniform throughout, adding additional flour if dough becomes too sticky. Lightly grease the bowl with cooking spray or vegetable shortening and cover dough with a tea towel. Place in a warm place.

Let dough rise for approximately one hour, or until doubled in size. Punch down and begin shaping the loaves.
To Form Braided Loaves
To form braided loaves, first divide dough into 4 equal sections. From each section of dough, roll out 7 equal pieces into 1" tubes about 12" long.

Braid 4 tubes of dough and place on a greased or parchment-lined baking sheet. Then braid 3 tubes together and place on top of other section. The bread may also be baked in a regular loaf pan without being braided.

Some or all of the dough may be baked in a regular loaf pan without being braided if you prefer (see below).
To Form Simple Loaves
To form simple loaves, first divide dough into 4 equal sections. Shape and pat each section into an even rectangle. Place into well-greased loaf pans.
Baking Instructions
After shaping the loaves, let rise for about 30 minutes in a warm spot.

Once risen, use a pastry brush to gently brush the loaves with the egg white. Sprinkle generously with poppy seeds.

Bake at 350°F for approximately 45-50 minutes or until the bread is nicely golden brown. The bread should feel hollow when tapped. The bake times will vary depending on the position in the oven.

Bread is best served warm or toasted with butter.
More Pics are Below
Risen dough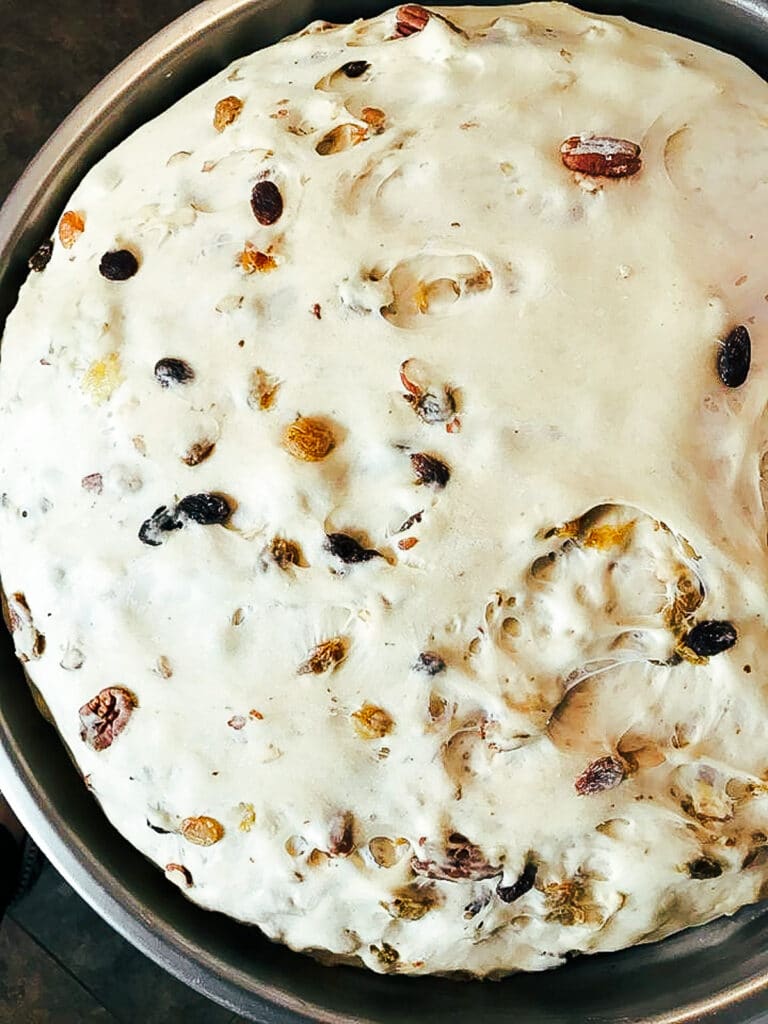 For each loaf, divide dough into 7 balls and roll into long pieces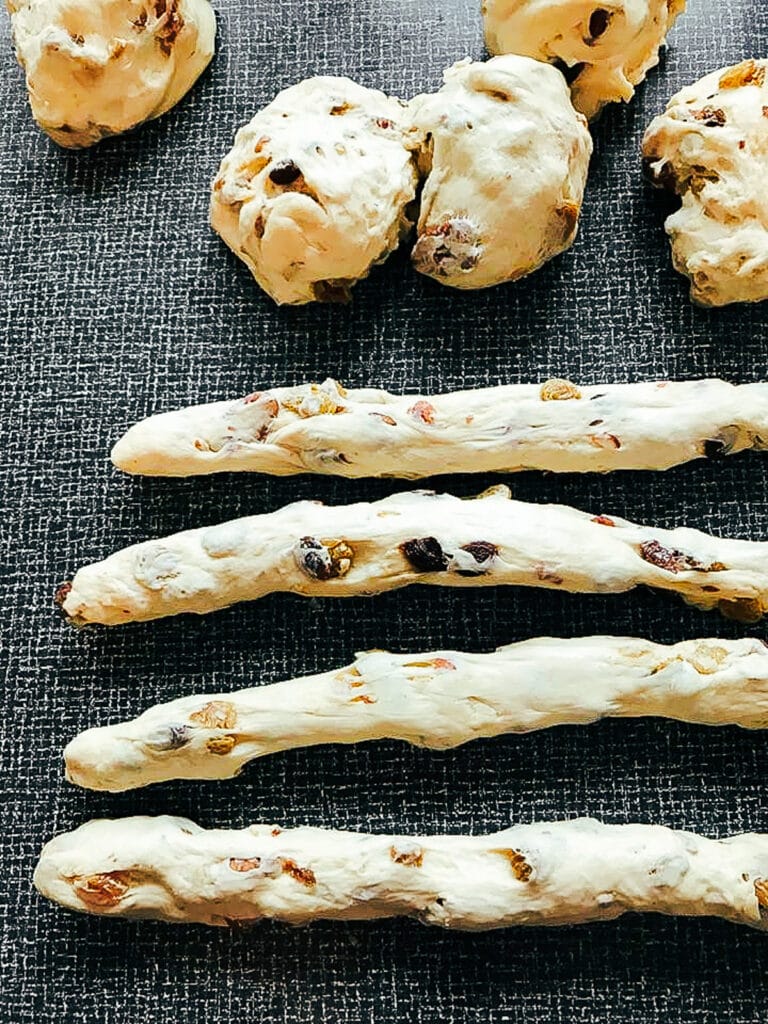 Braid 4 strands to make the base layer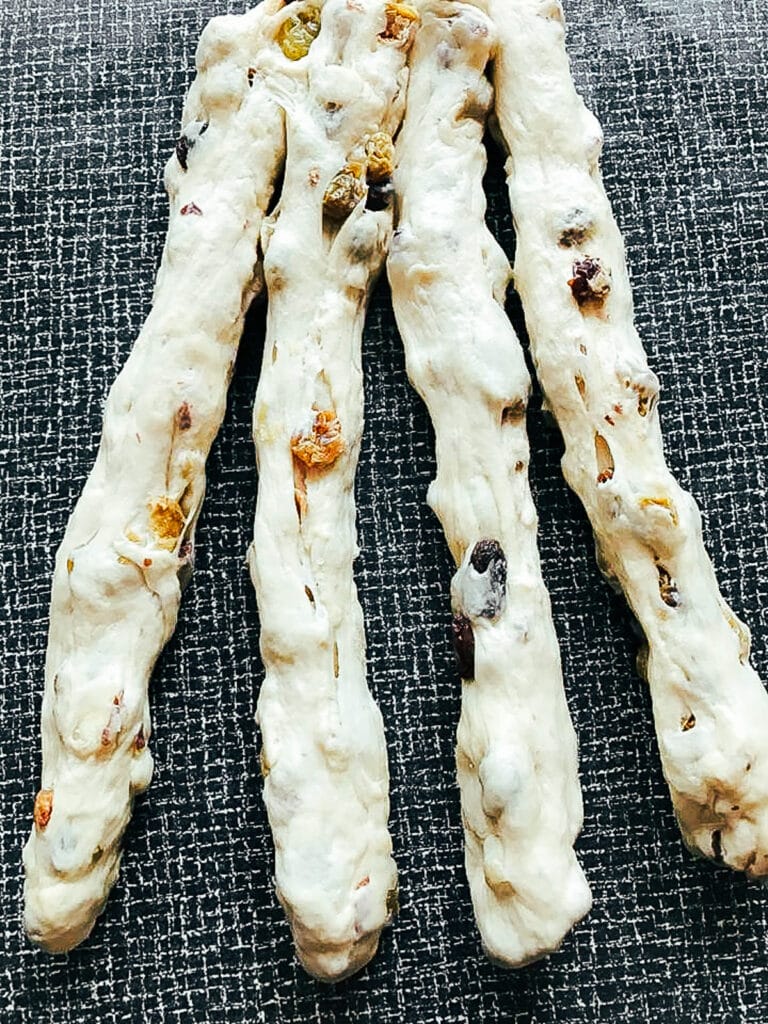 Add a 3-strand braid on top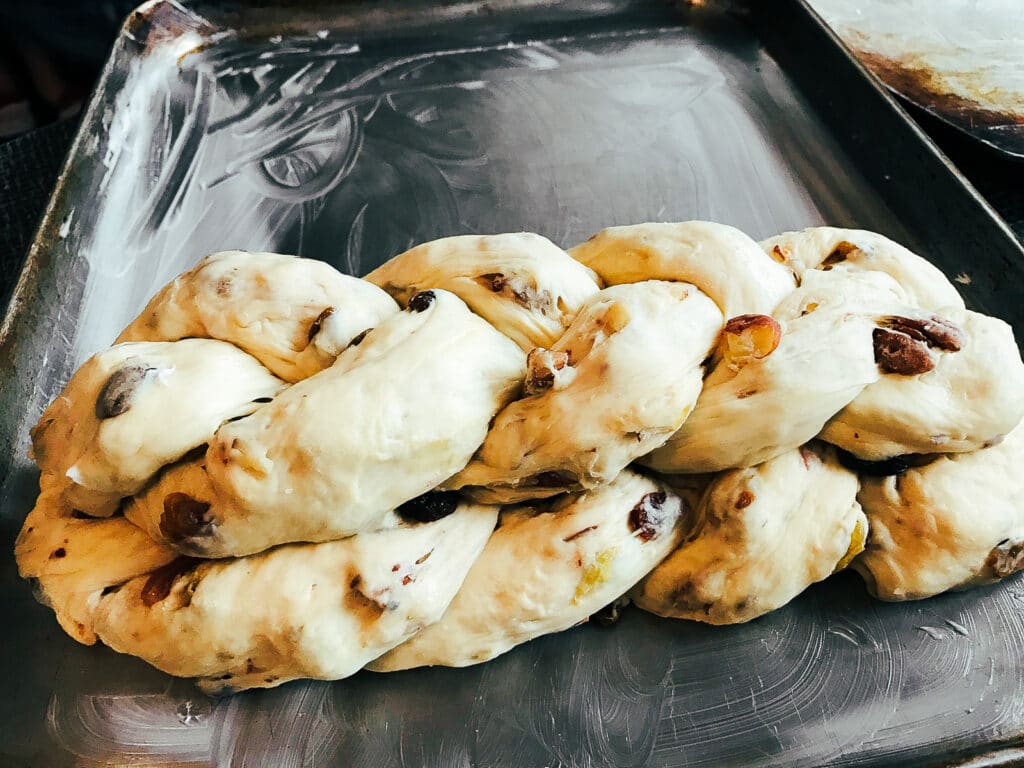 Let rise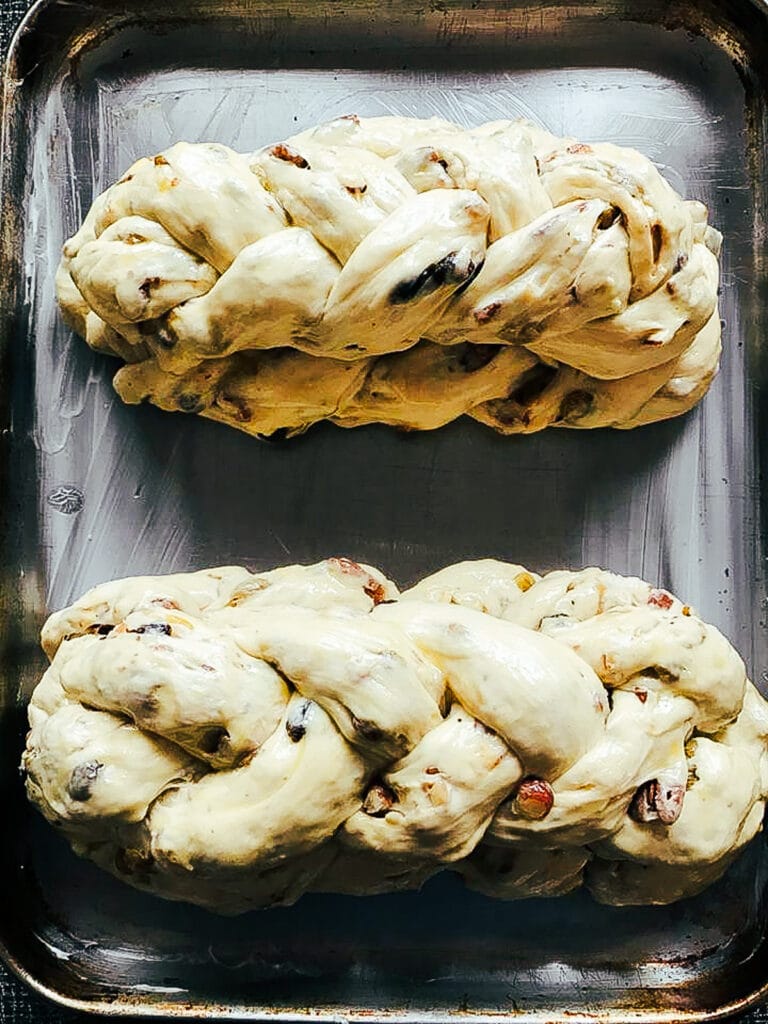 Brush with egg white and sprinkle with poppy seeds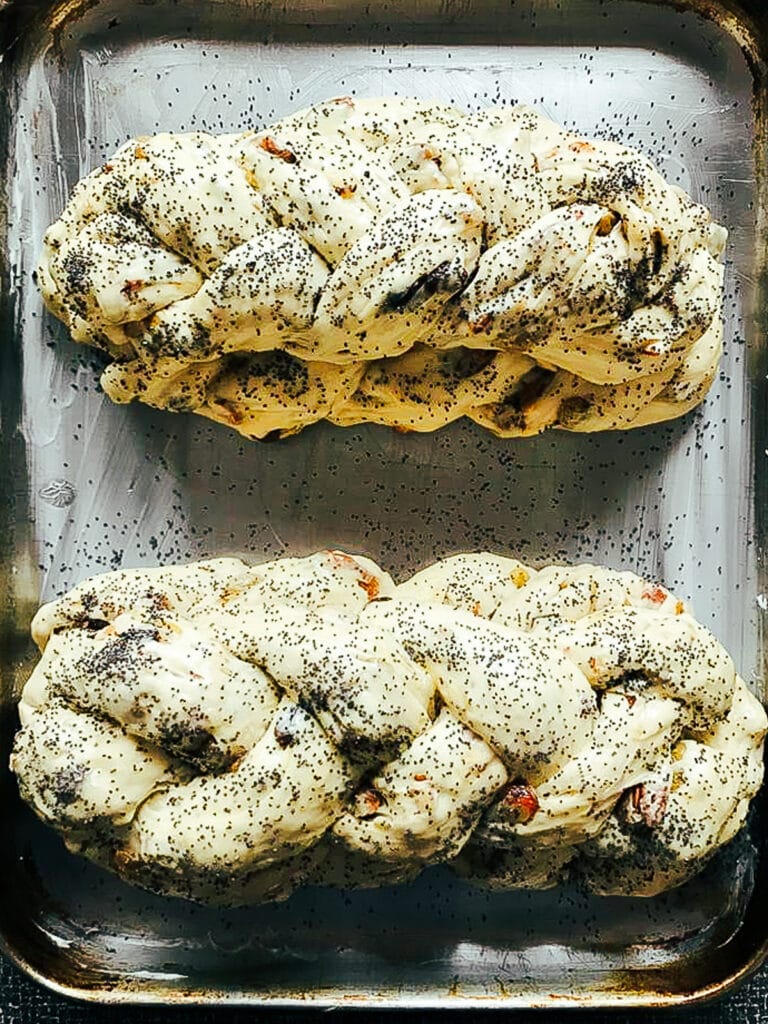 Here is a sliced loaf that baked in a regular loaf pan