Monster cookies are a favorite amongst my family and friends. What's not to love about large, hearty cookies filled with peanut butter, oats, chocolate chips, and M&Ms. Though I adore classic cookies, I sometimes look for time-saving tricks when it comes to baking without sacrificing on taste. One of my favorite ways to do this is by baking these classic cookies as monster bars! They are honestly just as good as the cookies but bake up in way less time.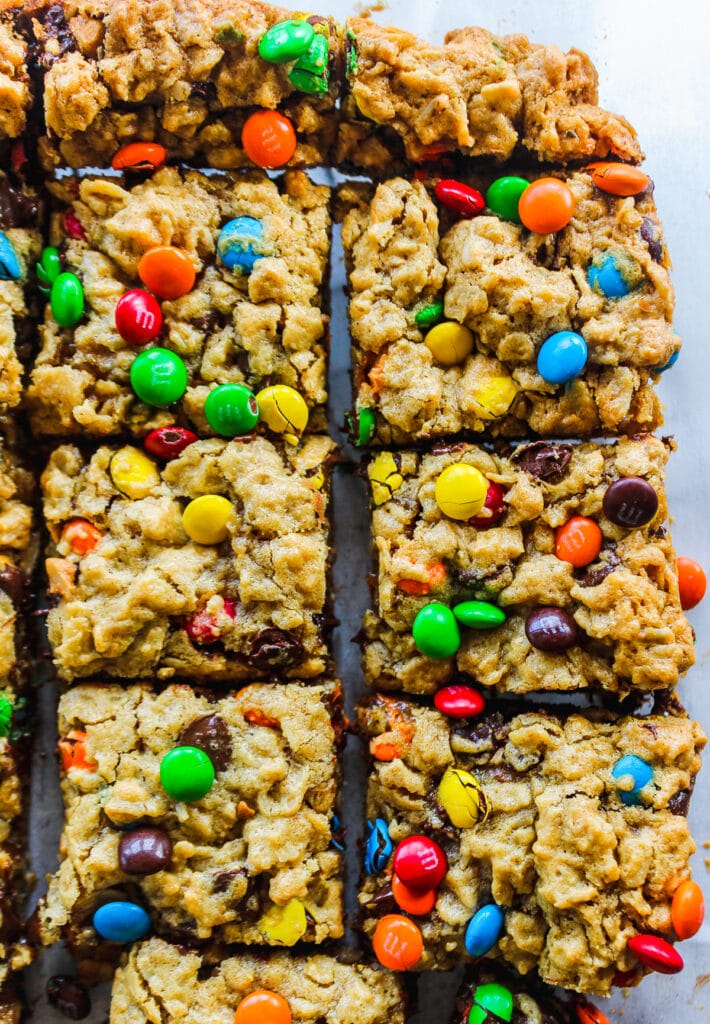 Why I Love Monster Bars!
In this case, the monster bars still achieve their perfectly chewy interior but in way less time!! This recipe makes enough cookie dough for two 9x13 inch pans or one large half sheet pan (16 ¼ x 11 ¼ inch). I personally recommend the two 9x13 inch pans for more-even baking, but it's totally up to you if you are more of a risk taker. The other advantage of using two pans is that one pan can be eaten right away and the other pan can be frozen for a later use! Two birds with one stone, you know? Just make sure you wrap it up nice and tightly. You can also freeze the dough if that's your preference too.
Lastly, please do not be alarmed by the large amount of oats in this recipe. This recipe does not contain any flour, which I think is really great for those who have Celiac Disease or need to avoid gluten for other health reasons. If you can't have gluten, just make sure you purchase oats that are certified gluten free to ensure no cross-contamination has occurred with wheat-containing grains during processing. The oats in these bars makes for a hearty but soft texture. Just make sure you do not overbake the bars or they may dry out. To achieve the perfect texture, the bars should still soft in the centers and a light golden color when you remove them from the oven. They will firm up as they cool.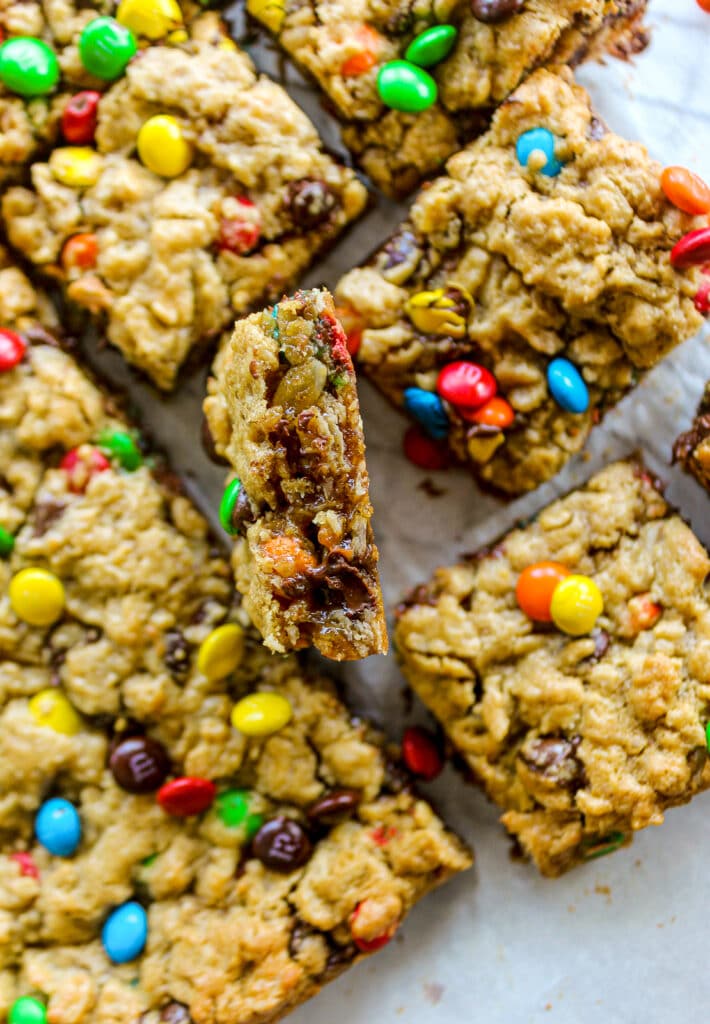 That's all for now! These cookie bars are truly spectacular and fun!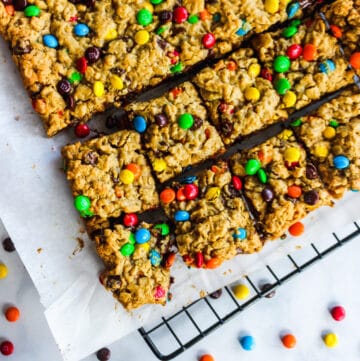 Monster Bars
These monster bars feature all of the classic flavors of a beloved monster cookie but baked in bar form. Peanut butter with chocolate is a dessert combo that is always a hit!
Ingredients
½

cup

(1 stick) butter

1 ¼

cups

peanut butter

1

cup

sugar

1

cup

brown sugar

3

eggs

2

teaspoons

corn syrup

2

teaspoons

vanilla

½

teaspoon

salt

2

teaspoons

baking soda

4 ½

cups

old-fashioned oats

1 ½

cups

semi-sweet chocolate chips

1 10-

oz

bag

or closest size mini M&Ms, reserving about ¼ cup
Instructions
Cream the butter, peanut butter, and sugars together with a mixer for 2-3 minutes or until fluffy. Add eggs, corn syrup, vanilla—mix until well combined. Then mix in salt and baking soda.

By hand, stir in the oats, chocolate chips, and mini M&Ms until completely combined. Save ¼ cup of the mini M&Ms to top the bars. Cover the dough and refrigerate at least 2 hours (this is not required but your dough will be less sticky).

When ready to bake, preheat oven to 350°. Grease or line two 9x13 inch pans with parchment paper. Spread half the cookie dough into each pan. Press down slightly and sprinkle the remaining M&Ms on the top of each pan. Bake approximately 22-25 minutes or until lightly golden and still fairly soft. The time varies depending on the placement in the oven and type of pan used, so watch carefully. Generally, baking with glass pans takes a little longer.

Let cool slightly on a wire rack before cutting. These are especially delicious while the chocolate is still melty!
Notes
The dough or baked bars freeze wonderfully. It works well save half the dough or one baked pan in the freezer for later use. Be sure to wrap tightly before freezing.
Process Photos
Ingredients! You can substitute regular m&ms if you do not have minis: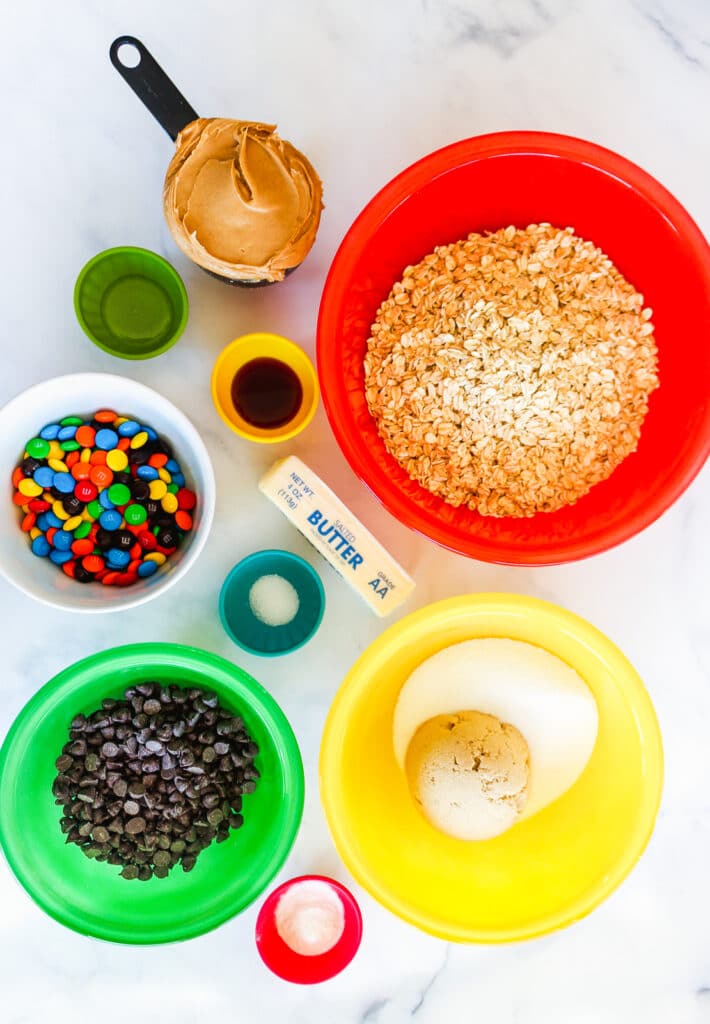 Personally, I think the mini M&Ms are just so cute!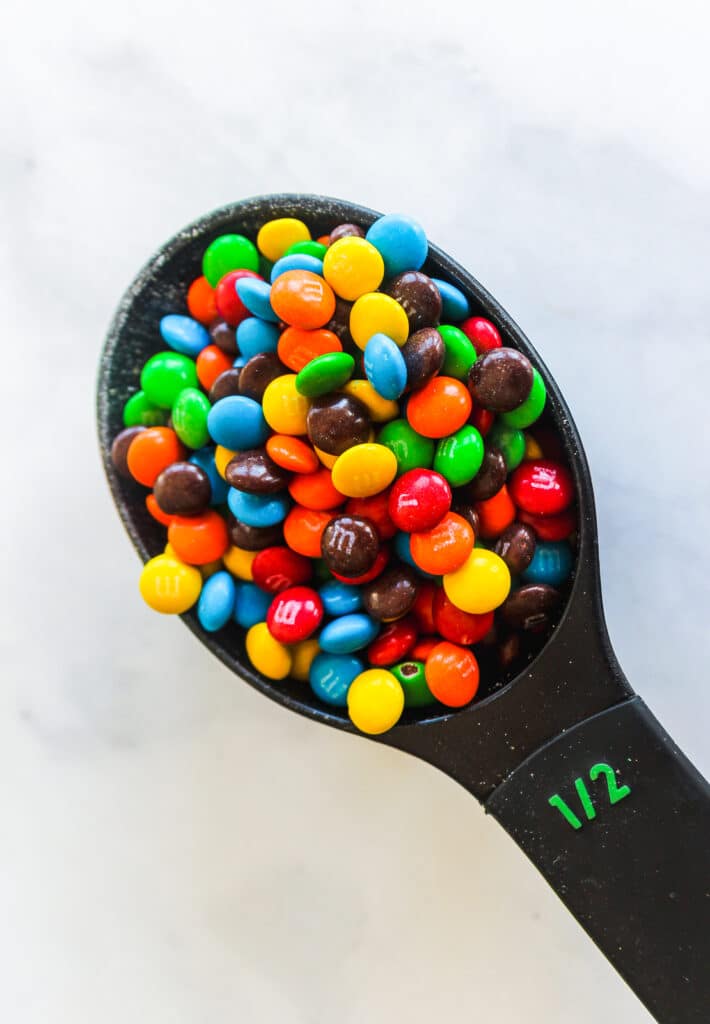 Mix up the dough: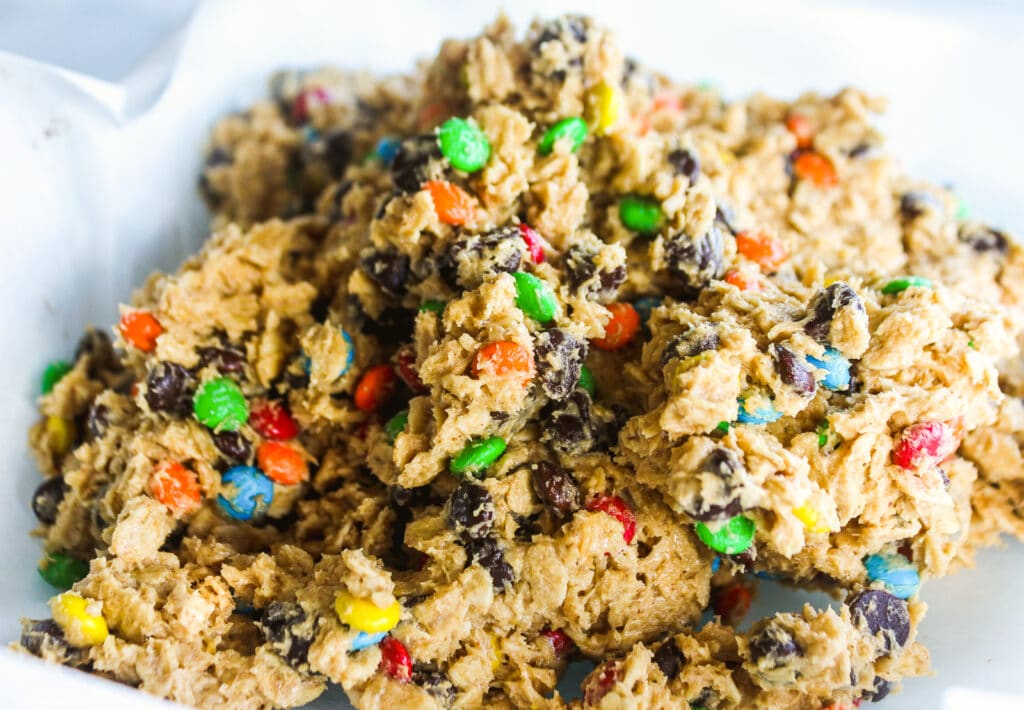 Spread into pans: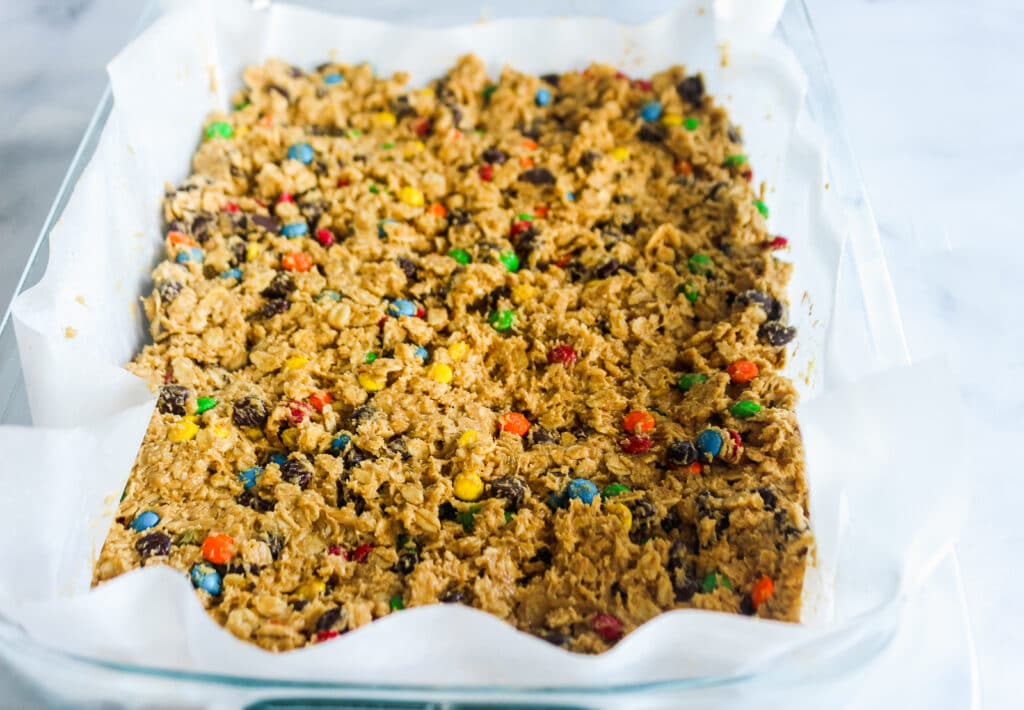 Bake until the bars look like this: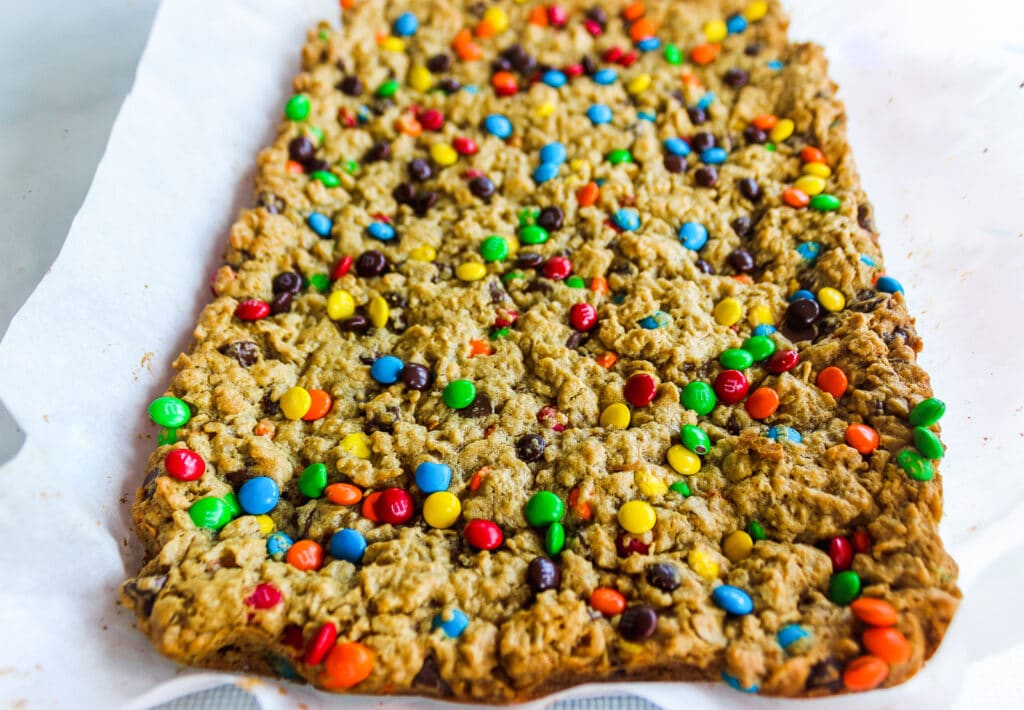 Cut em' up: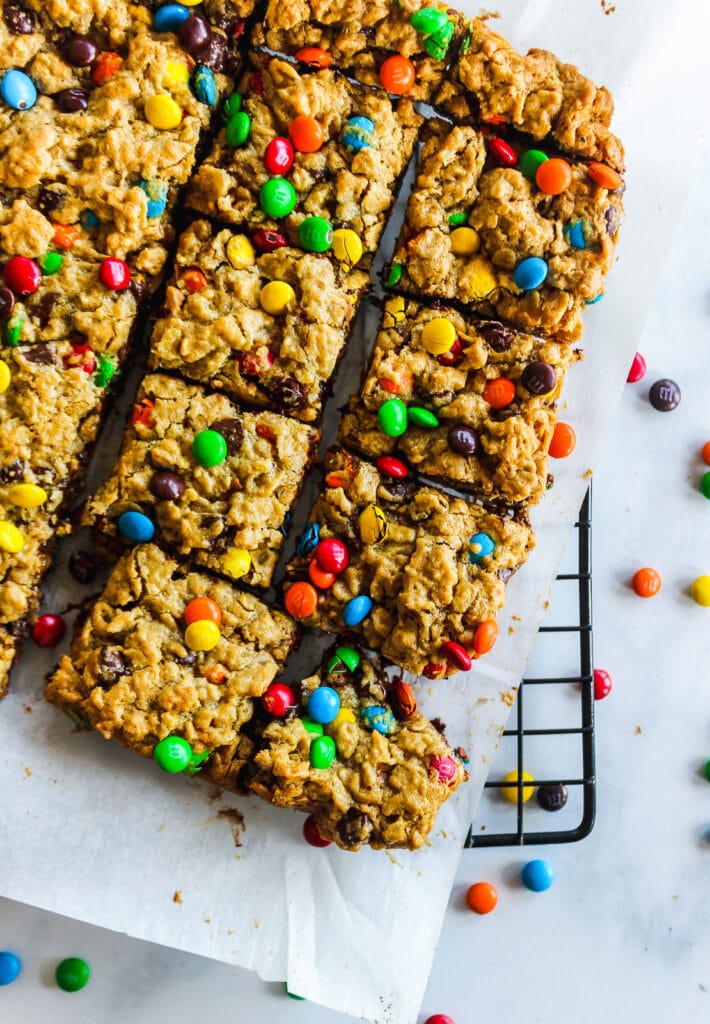 Close-up! The melted m&ms are the best!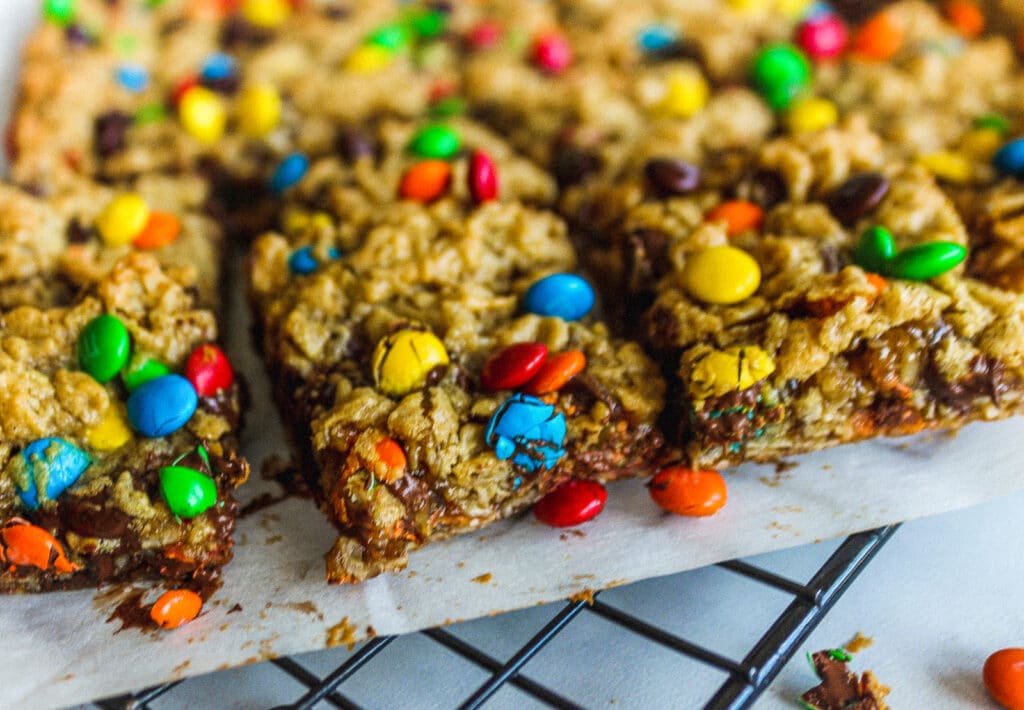 Be sure to check out these other great posts!