This swirled chocolate bark with almonds is a stunning dessert idea that looks difficult to make but is actually quite easy! With just three simple ingredients, it really is a great treat to make if you want a sweet treat with minimal effort! You will never need to buy overpriced chocolate bark again after making your own.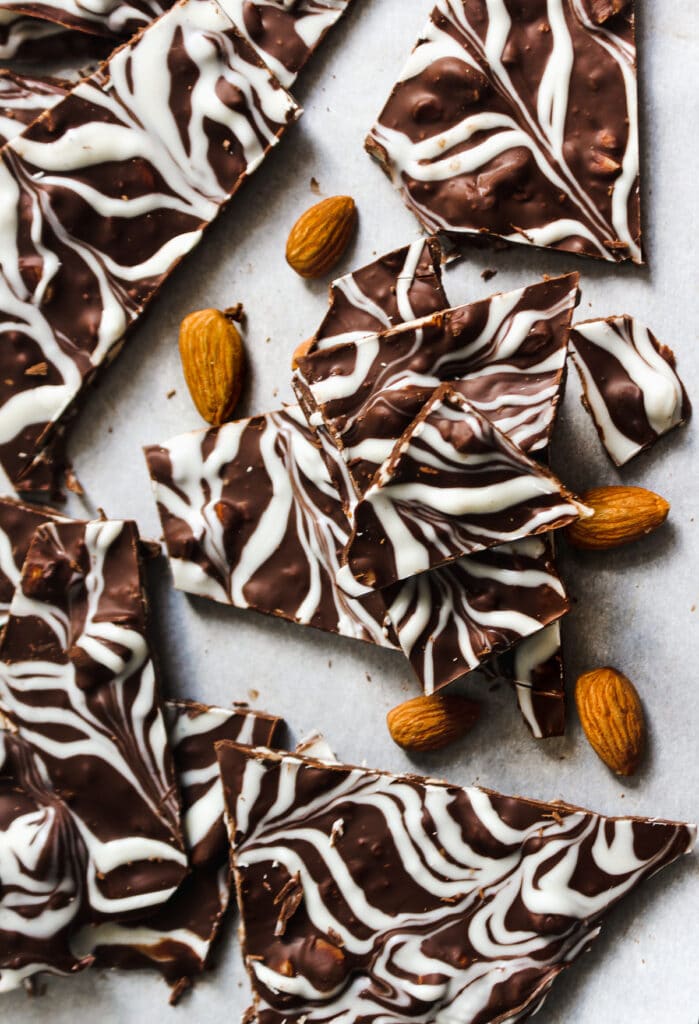 About this Swirled Chocolate Bark with Almonds
The best part of this recipe is that you really only need two ingredients – chocolate and white chocolate! However, I'm all about improving texture and flavor. I added chopped almonds to add some extra crunch! Other great ideas for add-ins include the following (or multiple):
Chopped macadamia nuts, peanuts, or walnuts
Crushed potato chips
Dried cranberries or cherries
Orange zest
Toasted coconut flakes
Sprinkle of coarse sea salt
Instead of white chocolate, you may also substitute white baking chips or white almond bark. If you want to really change the flavor or color, you may also use peanut butter chips, butterscotch chips, or other colored candy melts. Chocolate bark is an excellent vessel to really showcase your creativity.
Tips for Success
For this recipe, I only added the chopped almonds to the chocolate to showcase the tiger striped appearance on top. You may also add a sprinkling of almonds them to the top if you'd like. I often do if making a non-swirled chocolate bark, like in this birthday chocolate bark recipe here.
Despite the short ingredient list, there are some important techniques you must follow. Do NOT use too much white chocolate or over-swirl the pattern. There are some photos below the recipe that show exactly what you need to do.
Common FAQs
Can I swap out ingredients?
Yes! In place of semi-sweet chocolate, you may use dark chocolate or milk chocolate. You may also use white baking chips or vanilla almond bark in place of the white chocolate. The almonds can also be swapped with whatever nut is your preference.
How do I achieve a perfect swirl?
See the photos below. The main trick is to drizzle the white chocolate over the base chocolate and then swirl just until you have the desired look. If you swirl too much, the chocolates will blend.
How should the chocolate bark be stored?
It is best kept at room temperature in an airtight container for up to 2 weeks. Beyond that, I recommend freezing just to ensure its freshness. It may discolor but the chocolate is fine to eat.
With that, I hope you enjoy this easy and tasty recipe. If you haven't subscribed to my blog already, be sure to do so! All you need to do is enter your name and email at the bottom of the page (on mobile) or top right of the page (on desktop)!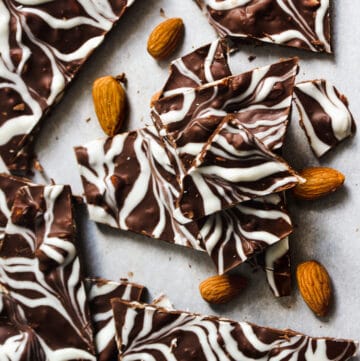 Swirled Chocolate Bark with Almonds
This chocolate bark is almost too pretty to eat! Making your own chocolate bark is easy and just as tasty as store-bought varieties. This also makes a great gift!
Ingredients
1

12-ounce

package semi-sweet chocolate chips

2

ounces

white chocolate baking bar, chopped

see note below for substitute ingredients

½

cup

chopped or sliced almonds
Instructions
Line a rimmed baking sheet with parchment paper.

In a microwavable bowl or glass measuring cup, melt the semi-sweet chocolate in 20-second heating intervals. Stir after each heating period. You may also use a double boiler if you prefer. The most important thing is to only heat until melted. Overheating the chocolate will cause it to seize, resulting in dry crumbles. Once the chocolate melted and smooth, stir in the chopped almonds. Set aside.

In a separate bowl or glass measuring cup, melt the chopped white chocolate using the same process outlined above.

Once the semi-sweet and white chocolate is melted, work quickly with the remaining steps to prevent the chocolate from setting up. Pour the semi-sweet chocolate mixture onto the parchment lined tray and spread so it is about ¼ inch thick.

Add the white chocolate to a piping bag and cut off a small tip. Carefully pipe smooth, horizontal lines of white chocolate across the semi-sweet chocolate. Use a chop stick or small spatula to carefully drag vertical lines in opposite directions to achieve a "tiger" stripe appearance. Do not over-swirl or the chocolate will blend and you will lose the striped effect.

Allow to cool at room temperature or place in the freezer for 10 minutes to harden. Once completely set, break or cut into pieces! Enjoy and share with friends!
Notes
I used ½ of a 4 oz Baker's White Chocolate Baking Bar. You may also substitute the white chocolate with ¼ cup white baking chips or 1 2-oz white almond bark square.
Start with Semi-Sweet Chocolate, White Chocolate (chop it), and Almonds (chop them):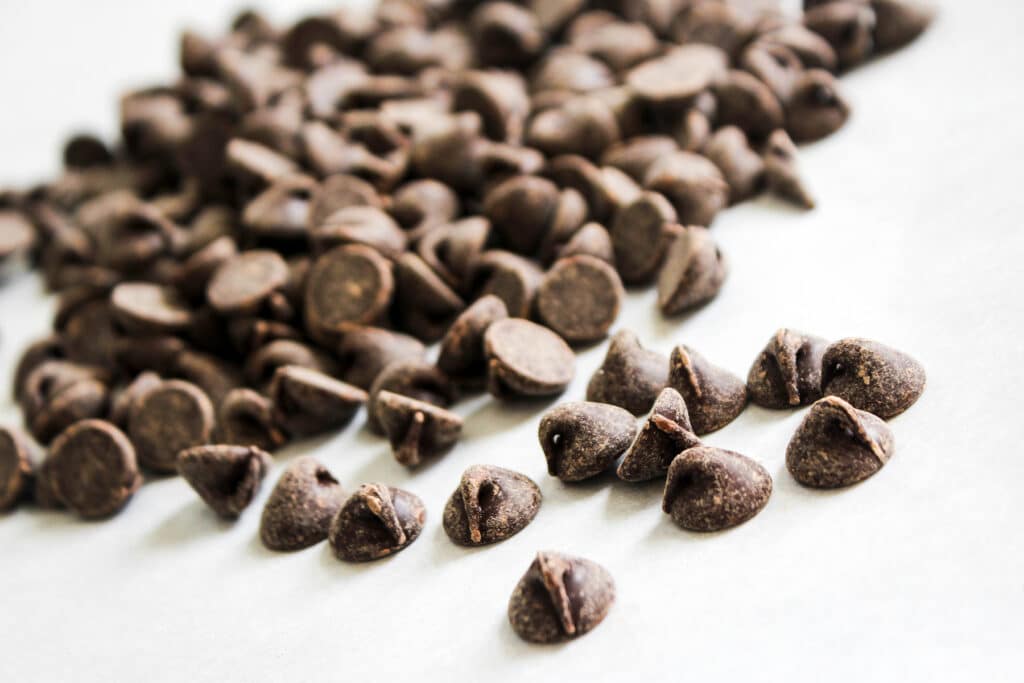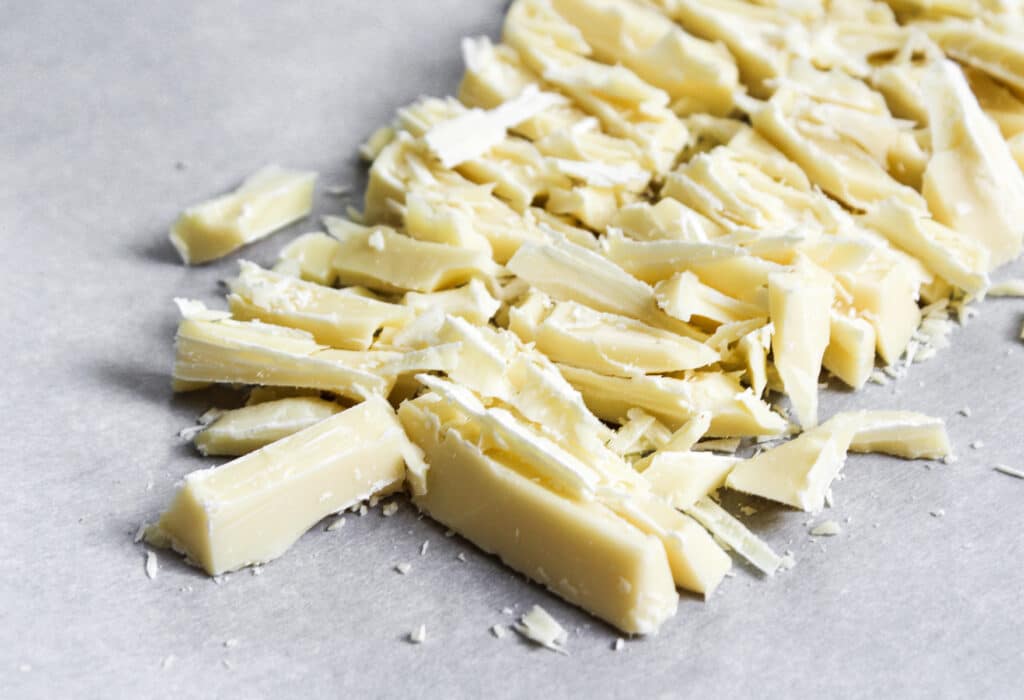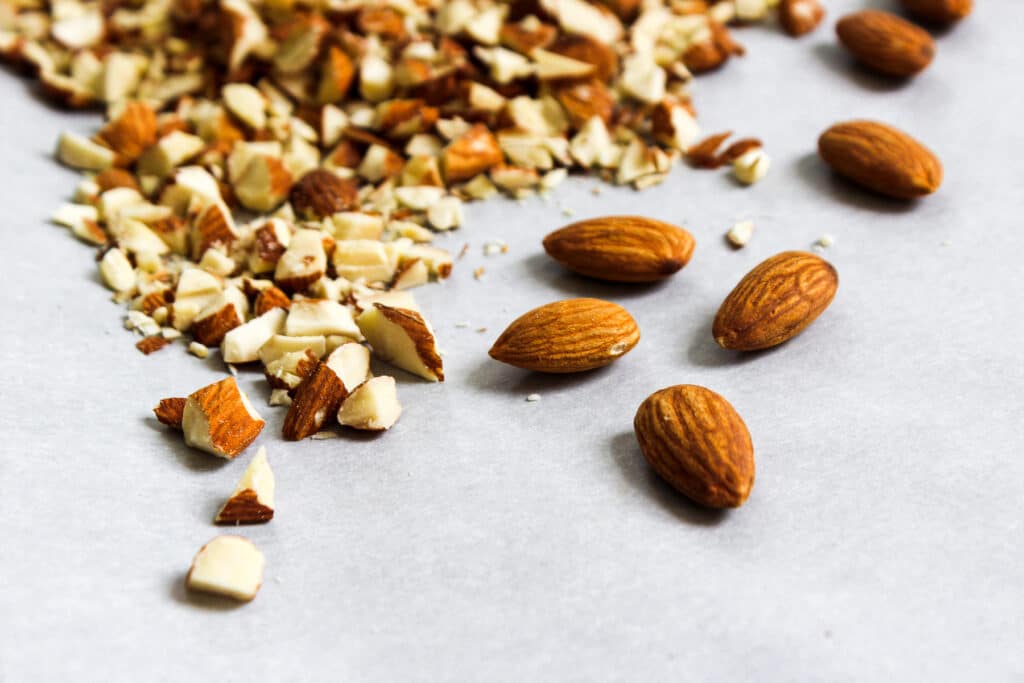 Melt the chocolate: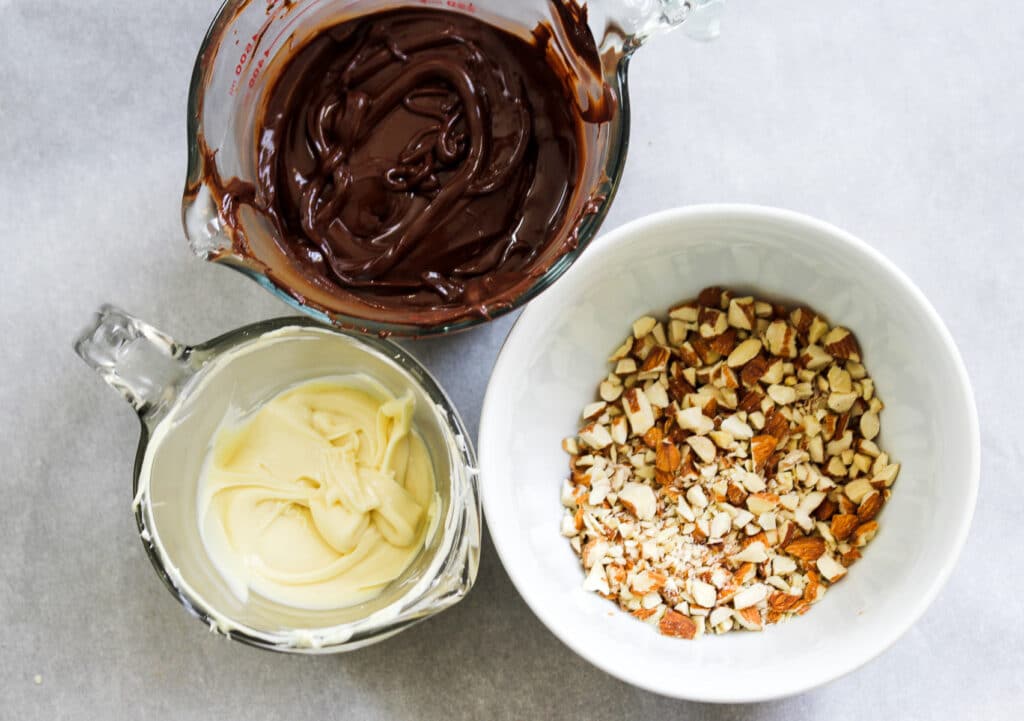 Stir the chopped almonds in the semi-sweet chocolate and spread to ¼ inch thickness approx: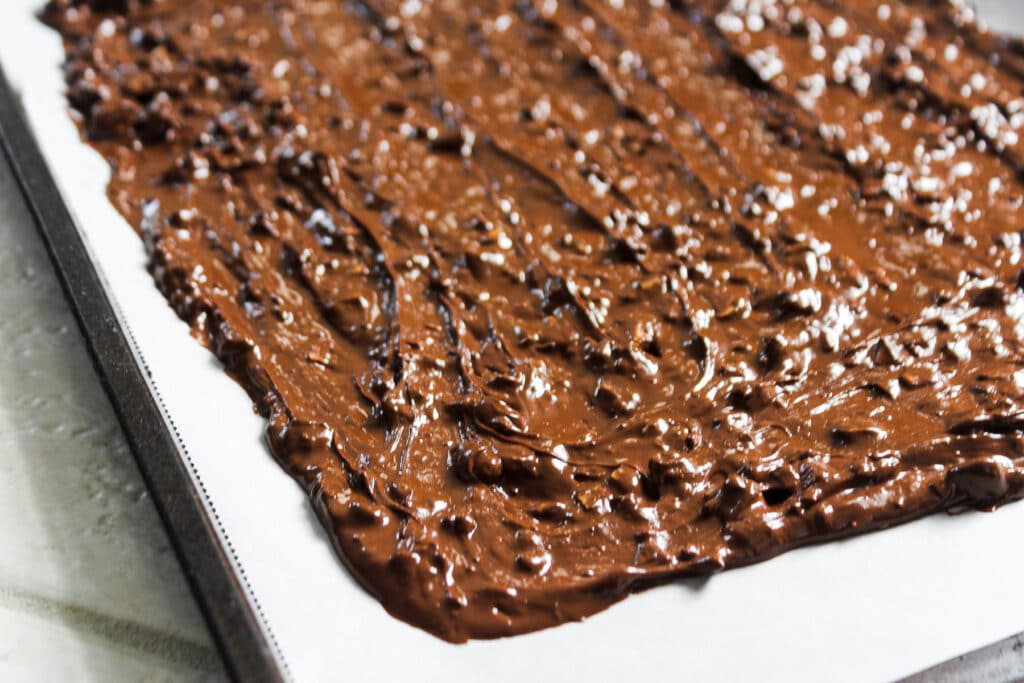 Drizzle with white chocolate as shown: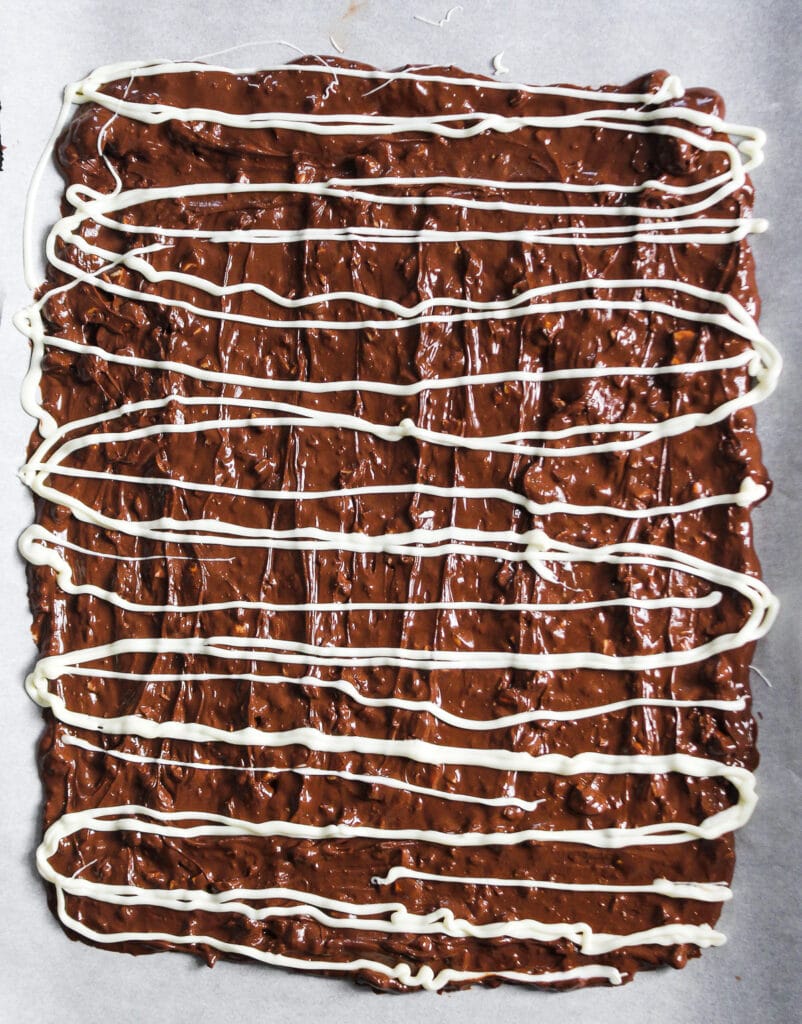 Use a chopstick or knife to drag in an alternating pattern: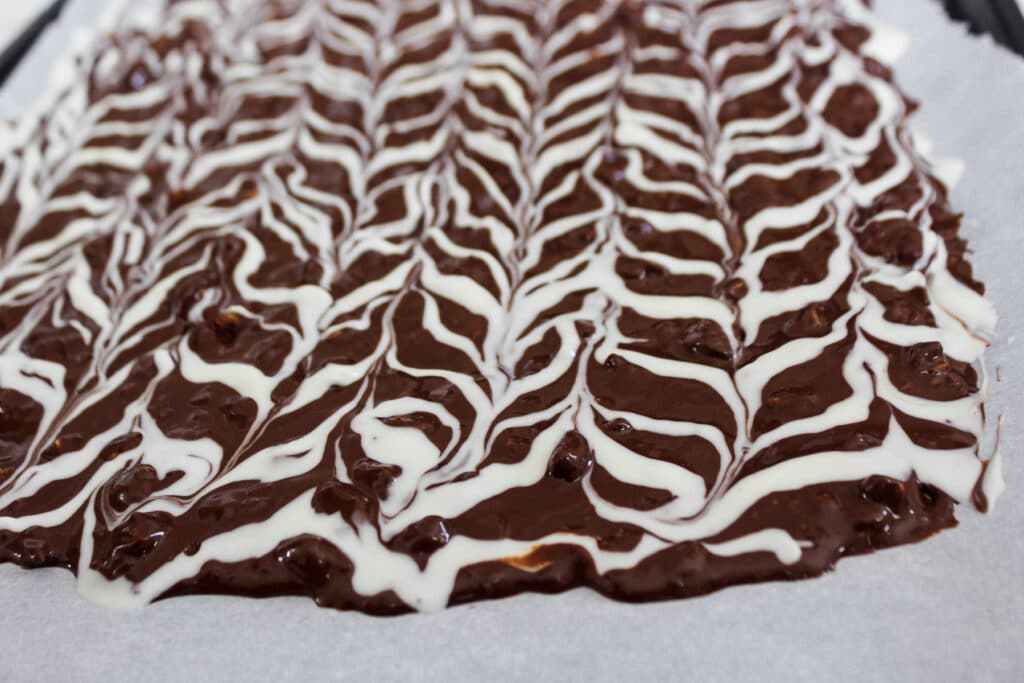 Let harden before cutting or breaking.
Be sure to check out these other great posts!