If you are hosting a large gathering or just want to make a nice treat to share with friends, look no further! Caramel sweet chex is an addictive, buttery snack that will please everyone. It consists of rice chex cereal coated in a luscious caramel made from butter, brown sugar, and corn syrup. It has a chewy yet crisp texture when set. You will find yourself going back for more and more and more! Plus, it is easy to make and requires no baking!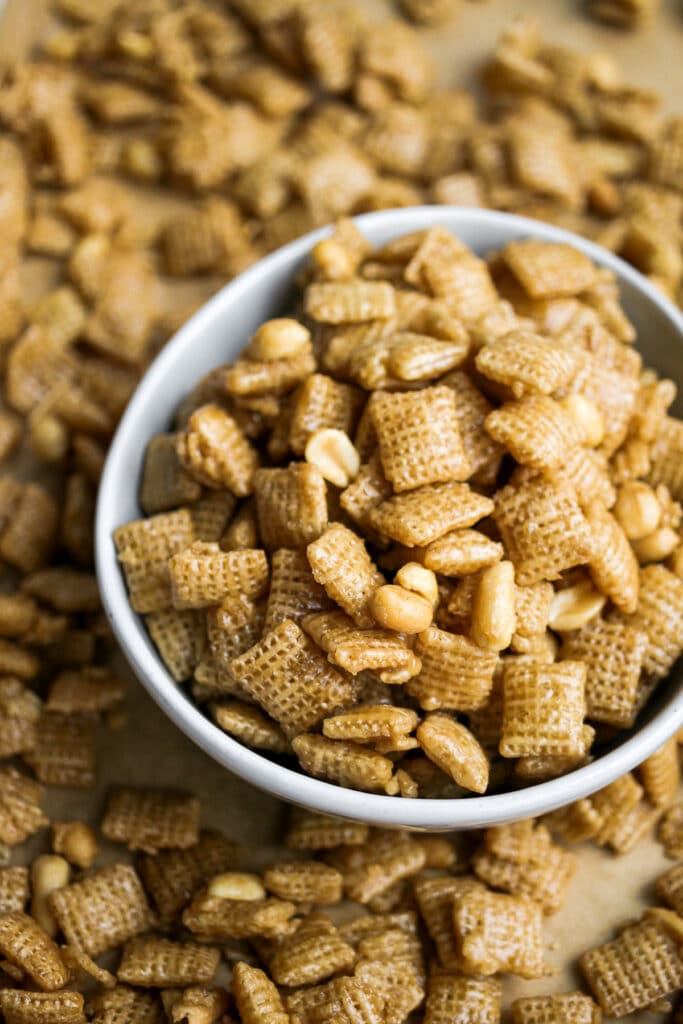 If you have followed my blog for a while, you know that I love cereal treats. I seem to have too many hobbies, so I love time-saving recipes that are fast but still taste delicious. As a stay-at-home mom of two, my personal free time is insanely limited. It doesn't help that my two-year old rarely naps. He hasn't napped in the past 5 days! If you have suggestions, drop them in the comments below. Sometimes even going for a drive doesn't work.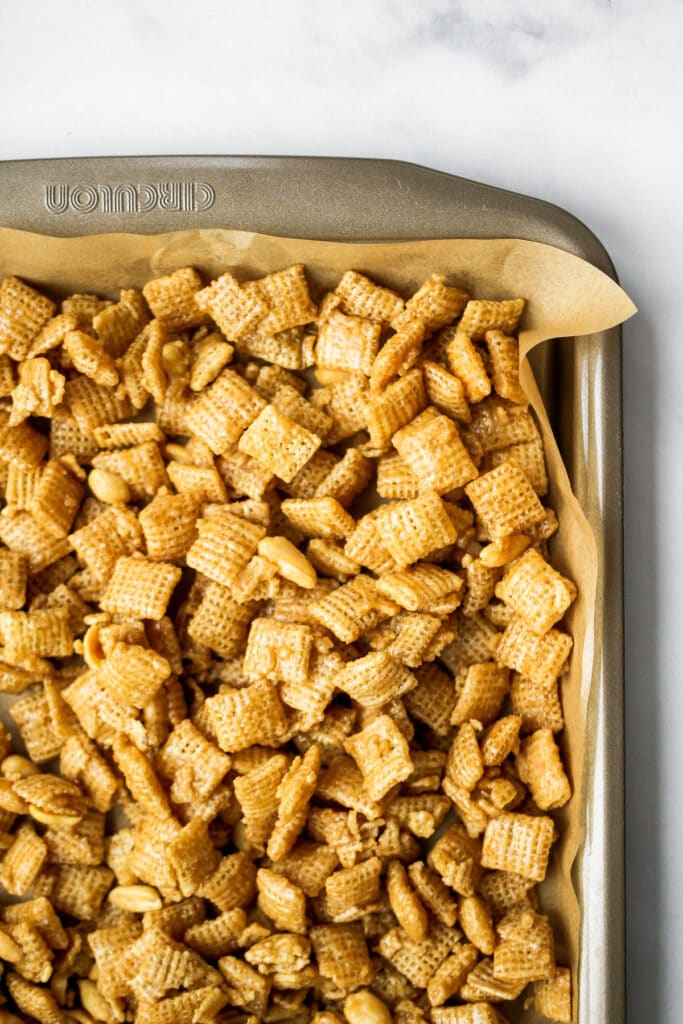 Here are some other great cereal treat recipes that you will want to check out on the blog!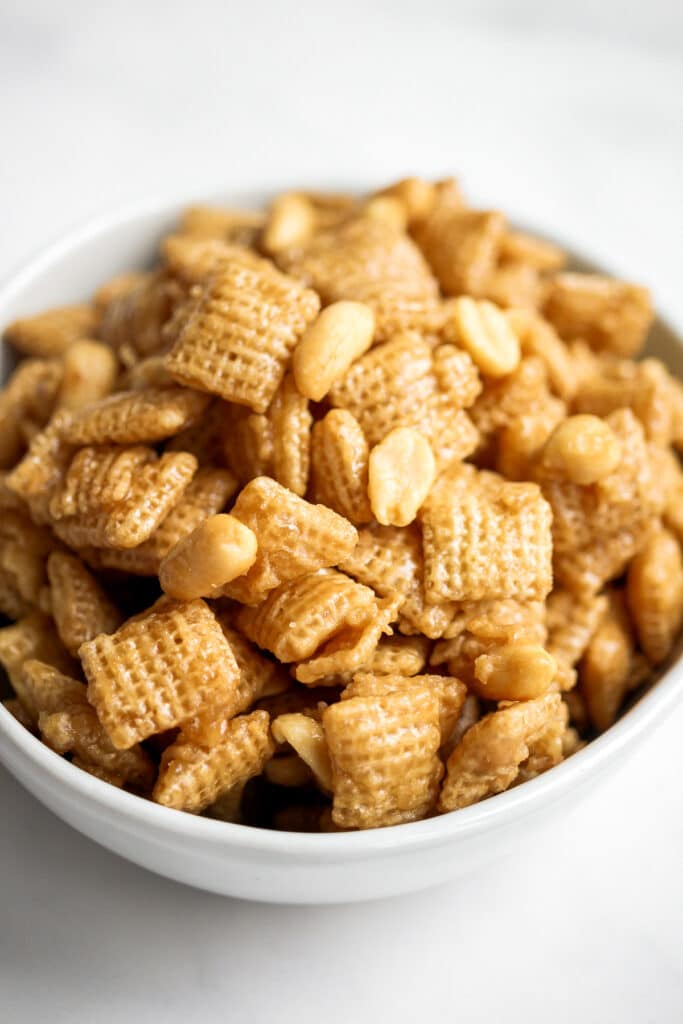 About Caramel Sweet Chex
This caramel sweet chex is also known as simply sweet chex in my family. I figured "caramel" is a better descriptor of what this treat actually tastes like since "sweet" is pretty arbitrary. The instructions may seem a little odd since you cook the caramel mixture over the stove and then continue to "cook" it in the microwave. Trust me though, it works and it tastes absolutely amazing. The coating has some crunch but is still easy to eat and doesn't get stuck in your teeth.
Common FAQs
How long should I cook the "caramel" mixture on the stove?
This is one step that is critical for success. Over medium heat, you will need to melt the butter with the brown sugar and corn syrup. Once it comes to a full, steady boil, only then should you start timing 90 seconds. You should be stirring constantly and the mixture will be quite bubbly. After about 1 minute, you may need to decrease the stove slightly. The mixture should be like a pourable caramel when adding it to the chex.
How long do I need to microwave the coated cereal?
For most microwaves, a total of four 1-minute increments should be adequate. It is important to stir after each minute to prevent scorching. This will help the caramel mixture firm up.
Can I use margarine or vegan butter?
The margarine is an absolute no. I have not personally tested vegan butter but it should work as long as it is 80% fat (which is the same as butter).
How do I store the caramel sweet chex?
Once it has completely cooled, you will want to store it in an airtight container at room temperature. Chances are, you won't have many leftovers for long. You could also try freezing it to be enjoyed at a later date, if desired.
Are the peanuts required?
The nuts are completely optional but I highly recommend them since they add a nice texture and flavor. After the mixture has completely cooled, you can also add pretzels or M&Ms for some added color and crunch!
If you really want to make this recipe festive for fall, you could stir in some candy corn or candy corn pumpkins after the caramel chex has cooled completely. I personally do not care for candy corn, but I think it is cute and know that some people really enjoy it. Just a thought!
With that, I hope you can make some caramel chex soon!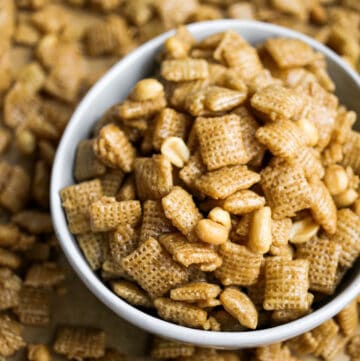 Caramel Sweet Chex
This sweet snack features rice chex coated in a buttery, caramel coating! To make it extra special, be sure to add the peanuts or cashews. One bite and you will be hooked!
Ingredients
1

cup

(2 sticks) salted butter

2

cups

brown sugar

½

cup

corn syrup

1

12.8-ounce

rice chex cereal, see note below

1

cup

salted cashews or peanuts, optional
Instructions
Combine the cereal and nuts (if using) in a large, microwaveable bowl. Set aside.

In a saucepan, combine the butter, brown sugar, and corn syrup. Heat over medium heat until the mixture comes to a rolling boil. Boil for 1½ minutes, stirring constantly. See FAQ section above.

Immediately remove from heat and pour the caramel mixture over the cereal and nuts. Stir until the cereal is evenly coated.

Microwave the caramel cereal mixture for 1 minute on full power. Stir well after heating and repeat this process 3 more times, stirring after each minute of heating. The mixture should be heated for a total of 4 minutes.

Spread in an even layer on two large, rimmed trays lined with parchment paper. The caramel chex will harden as it cools. Store at room temperature in an airtight container.
Notes
Chex brand cereal has downsized from a 12.8-ounce to 12-ounce box, so you will want to purchase two boxes if using this brand. Add 1-2 cups extra rice chex cereal if using a 12-ounce box and use the remainder for cereal or a different recipe. I used the 12.8-ounce Aldi brand version of rice Chex, and it worked perfectly. Plus, the Aldi brand is much cheaper! 🙂 
Be sure to check out these other great posts!