Ask and you shall receive! Ok, this may not be true all the time, but I received great feedback from some followers recently to start sharing healthy recipes and the types of foods I eat on a regular basis. Maybe it is just because it is the start of a new year, but sharing healthy foods is a always a good thing. Actually, it's a great thing! One of my personal favorite healthy, winter meals is this three bean beef chili!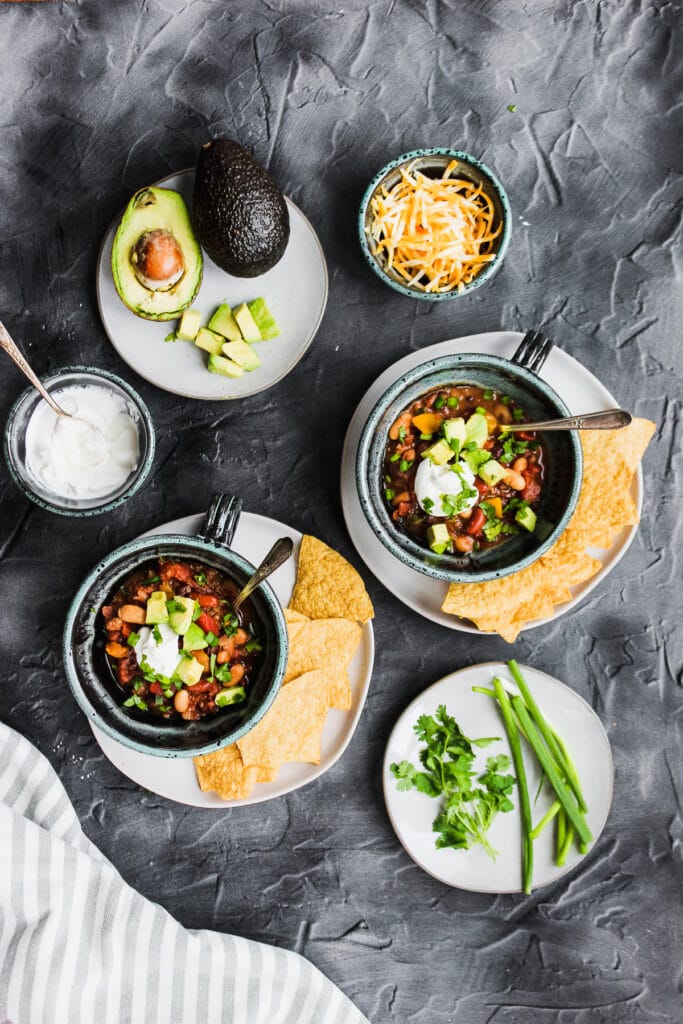 My Nutrition Philosophy as a Registered Dietitian
I generally leave my professional dietetics viewpoint out of my blog, but that's where some of my greatest talents lie. It is hard to settle in on a niche when you want to share so much! As a stay at home mom, I still want to put my nutrition degree and registered dietitian credentials to good use and FINALLY help people.
There is so much misinformation about nutrition out there from health influencers, self-proclaimed "nutritionists," and even some doctors. It is troubling to see people paying lots of money into fad diets, memberships, and unnecessary supplements. Yo-yo dieting perhaps causes the greatest damage of all, both physically and psychologically. This requires more elaboration at a later time, but for the sake of this post I will keep it brief.
Rather than focusing on restriction, shift your mindset to what you can add to enhance your lifestyle and improve your health. Begin making small, sustainable changes that will benefit you over time. Even if you aren't perfect, you'll see progress!
Why this Mindset Works for Me
For me, this means placing my emphasis on vegetables, fruits, whole grains, lean proteins, healthy fats, nuts, legumes, and water. This three bean chili checks several of those boxes. It also means running, walking, and working outside. Lately, the outside work is mostly just shoveling some snow but it still counts. There isn't one set path to achieve good health, but you need to find what works best for you! I love fueling my body with a wide variety of nutrient-dense foods. Not only do I have the energy to run fast miles and watch 2 kids all day, I just feel good and never deprived.
This also allows me to enjoy a dessert or something sweet because I have a healthy relationship with food. You really should not go on a diet that severely restricts calories or food groups, unless medically necessary. It is true that you may need to cut back on portions and move more, but you should also not spend your day feeling starved, fatigued, and miserable.
Putting It Into Practice
We eat a lot of veggies in our household and usually have salads for dinner twice a week. In the winter though, soup is a perfect fit. This hearty chili features traditional kidney beans but also cannellini beans and black beans. It is thick and stew-like, but full of fiber, protein, and vegetables. We like to use lean ground beef in our chili, but you could also substitute an equivalent amount of ground turkey or chicken. For a vegetarian or vegan option, you can omit the meat altogether, but I would recommend adding an extra can of beans and a little more of the seasonings.
We often make minor adjustments based on what we have on hand, but we eat this chili often in the fall and winter months. It also freezes nicely. As you can see from the pics, we love toppings, especially fresh toppings. Our favorites include shredded cheese, avocado, tortilla chips, sour cream, green onion, and cilantro. Feel free to mix it up based on your preferences.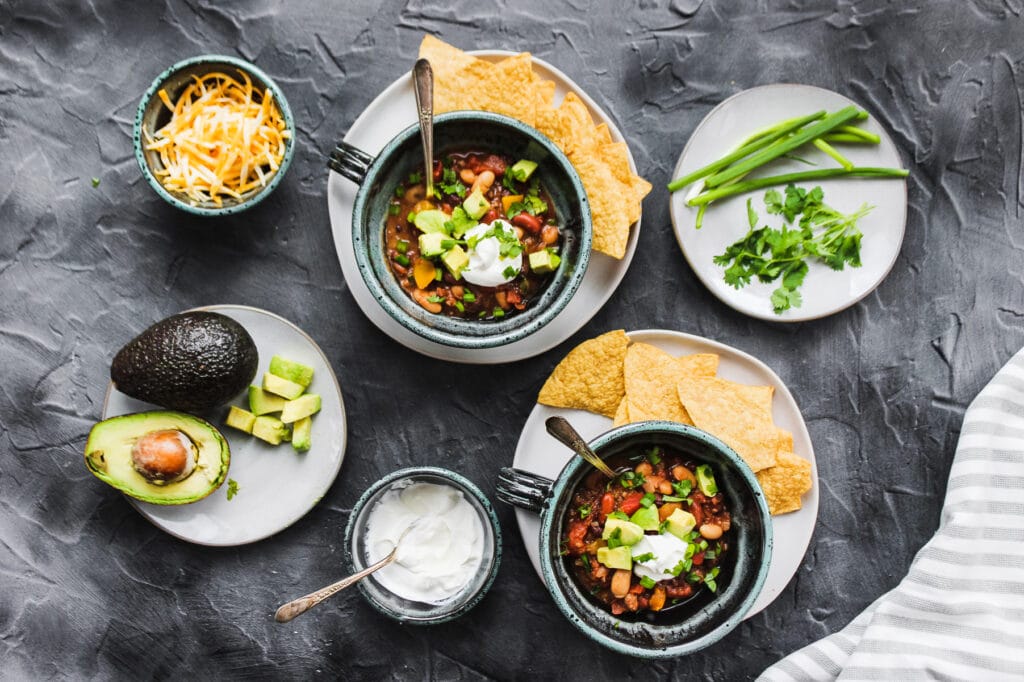 If you have nutrition questions or suggestions for a future blog post topics or recipes, feel free to reach out to me via email at run2thetable@gmail.com. You can also send me a DM on Facebook or Instagram if you prefer. Also, don't forget to subscribe to my blog!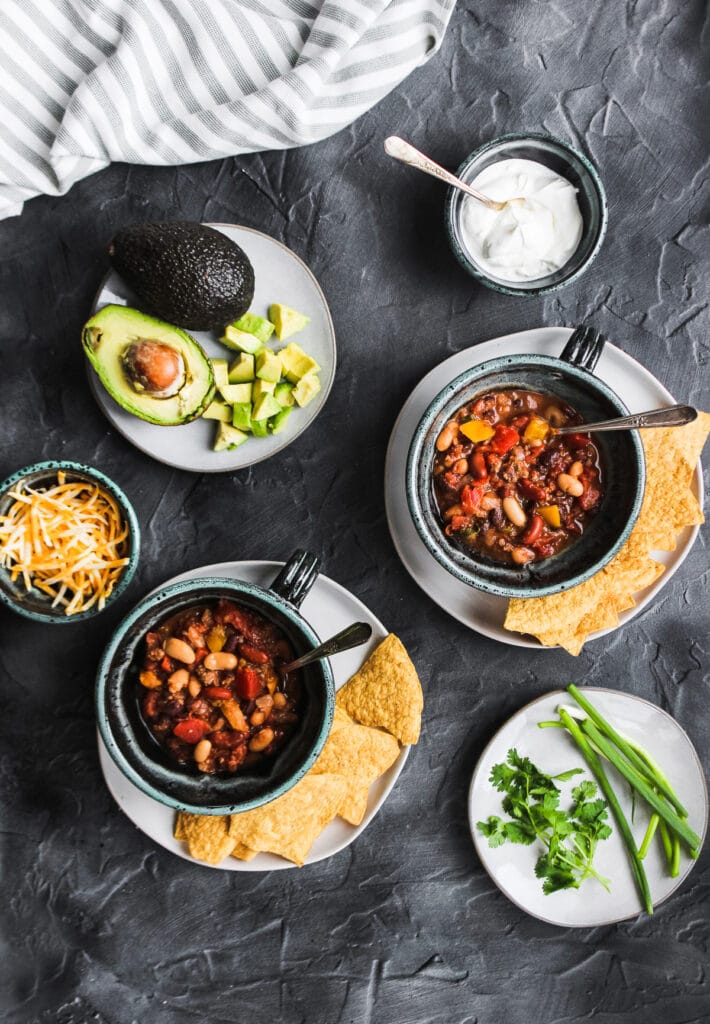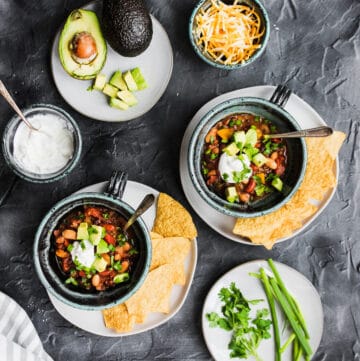 Healthy Three Bean Beef Chili
This healthy three bean beef chili is delicious all on its own or dressed up with chips, cheese, sour cream, avocados, green onion, or cilantro! Added bonus - this chili is full of nutritious beans and veggies!
Ingredients
Chili Ingredients
1

large onion

finely diced

1

bell pepper

color of choice, chopped

3

cloves

garlic

minced

2

Tablespoons

olive oil

1

pound

lean ground beef

1

15.5-ounce

can black beans

drained and rinsed

1

15.5-ounce

can kidney beans

drained and rinsed

1

15.5-ounce

can cannellini beans

drained and rinsed

1

10-ounce

can original Ro-Tel tomatoes

1

14.5-ounce

can diced tomatoes

1

28-ounce

can petite diced tomatoes

1

Tablespoon

chili powder

½

teaspoon

cumin

1

teaspoon

paprika

salt and pepper

to taste
Topping Suggestions
sliced or cubed avocado

shredded cheese

sour cream

tortilla chips

saltine crackers

green onion

cilantro
Instructions
In a skillet, heat the olive oil and add the diced onion and chopped bell pepper. Season with salt and pepper. Cook for about 4 minutes over medium high heat. Add the minced garlic and cook for an additional 5 minutes over medium low. Set aside.

In a large soup pot, season the ground beef with salt and pepper. Cook until browned. Drain grease, if necessary. Add the pepper and onion mixture, beans, tomatoes, and spices. Stir well and bring to a boil over medium heat.

Reduce heat to low and let simmer for at least one hour before serving.

Serve with your favorite toppings.
Be sure to follow my socials
You will also love my butternut squash soup recipe and the posts below: