Potbelly's is my favorite sandwich shop. For those who have never eaten at Potbelly's, I would strongly encourage you to do so! As much as I love their toasted sandwiches, their oatmeal chocolate chip cookies (and all of their desserts) are seriously amazing I love them so much I had to create my own Potbelly's copycat oatmeal chocolate chip cookies!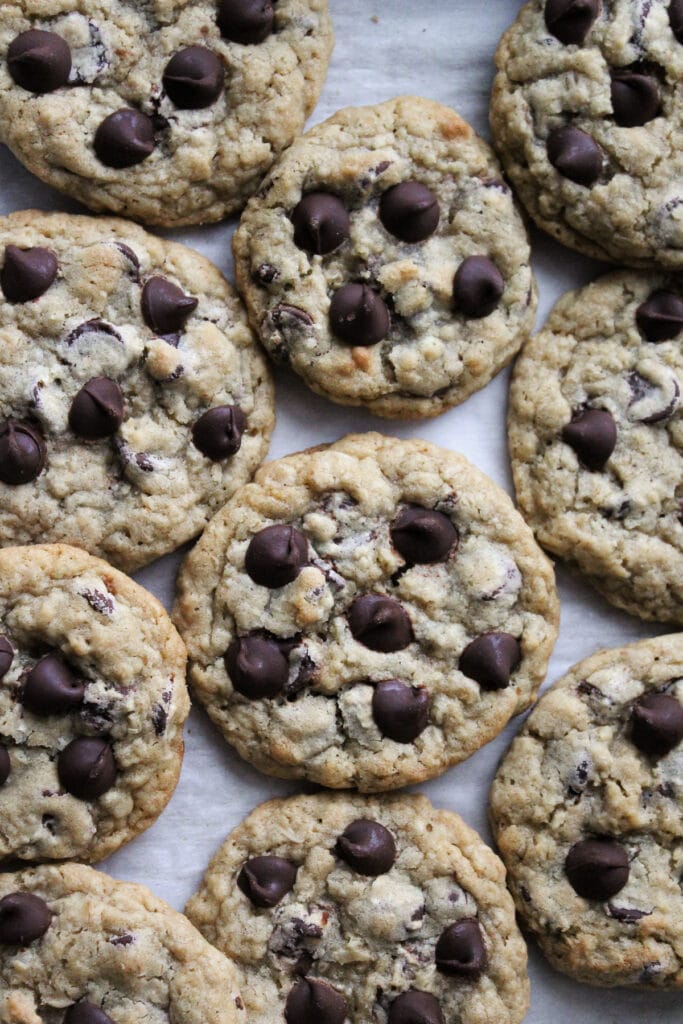 About these Potbelly's copycat oatmeal chocolate chip cookies
These Potbelly's copycat oatmeal chocolate chip cookies are not your typical oatmeal cookie. Rather, they are a hybrid between a traditional chocolate chip cookie and an oatmeal cookie. There are just enough oats to elevate the texture of the chewy cookie without overpowering the flavor of the sweet, buttery cookie! They are also full of chocolate chips!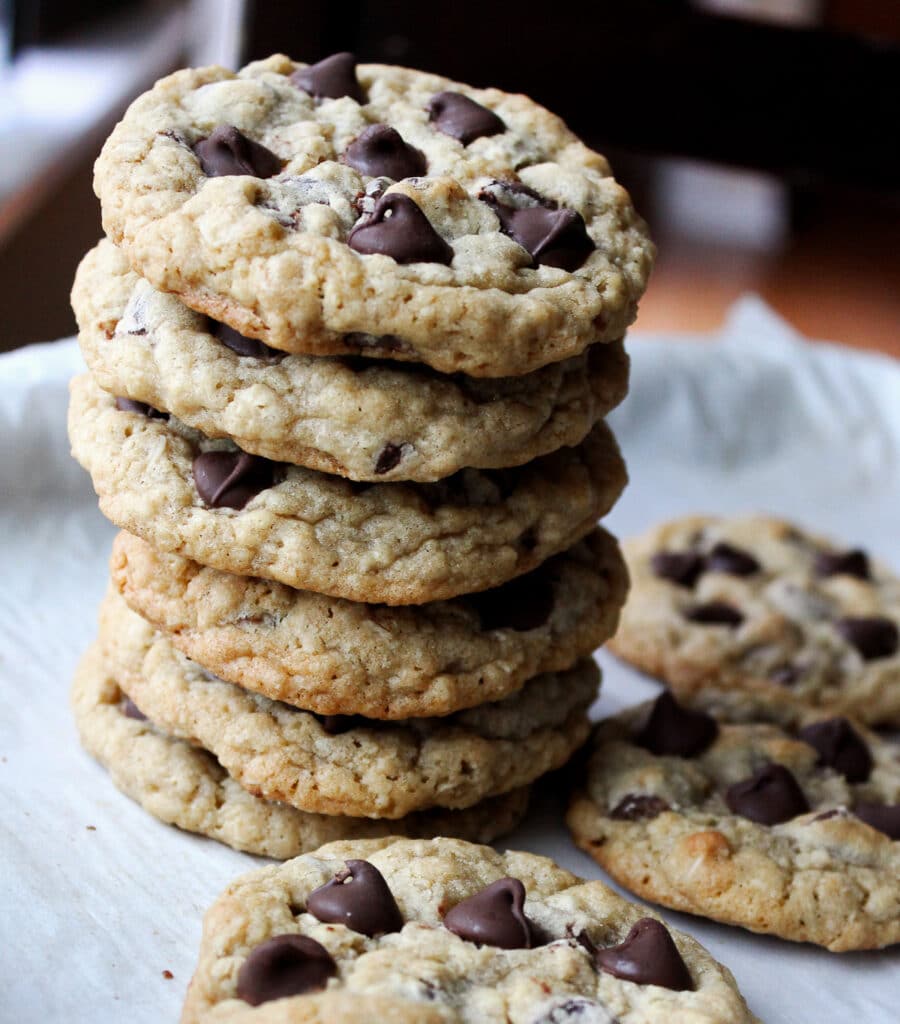 I was curious if I could mimic the recipe at home but was skeptical since recipes are often difficult to replicate. However, with an extra step and some help from my food processor, I think I have found a pretty close match at home! You see, the real kicker here are the oats. The cookies seem to be made with more of an oat flour rather than large amounts of rolled oats.
My Cookies vs. Potbelly's
My cookies - clearly the winner on looks and super tasty too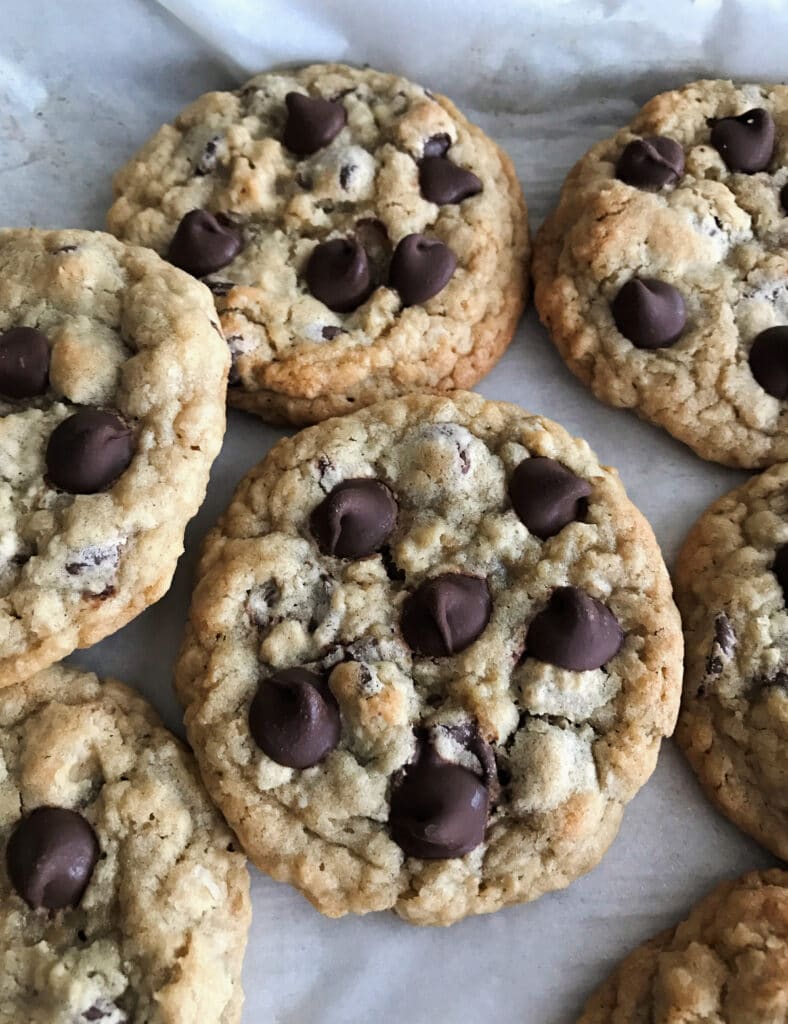 Potbelly's cookies - not so pretty but they are also delicious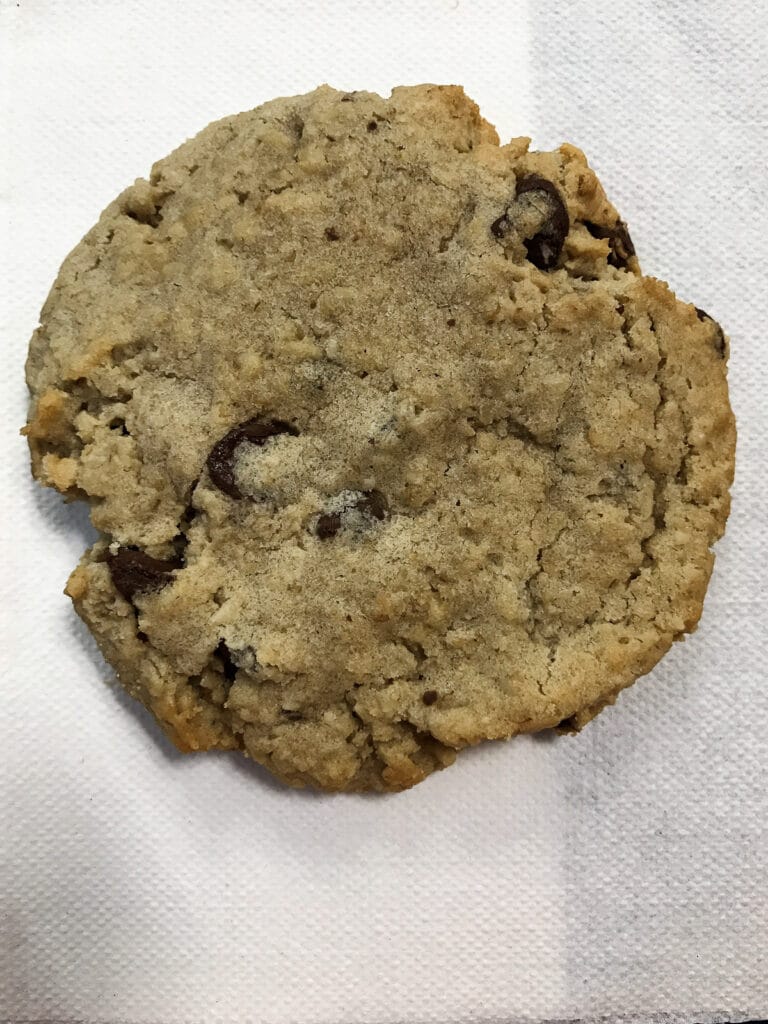 Recipe FAQs
What is the recipe yield?
This is a fairly small recipe, yielding about 12-14 large cookies. If making small cookies, you can get about 18-20 cookies. If you need more, I would encourage you to double the recipe.
How do I make the cookies look so pretty with the chocolate chips on top?
This is also outlined in detail in the recipe, but you will add the chocolate chips on top when there is still a few minutes left of baking.
Are these cookies better than Potbelly's?
This comes down to personal preference, but this recipe is very close! I will let you decide for yourself.
How do I make my own oat flour?
This recipe uses homemade oat "flour" which can be made by simply grinding old-fashioned oats in a food processors until coarsely ground.
You will also want to give these other cookies a try!
Chocolate coconut pecan cookies
We absolutely love these cookies, and I hope you will too. If you give them a try, please leave a comment and rating below.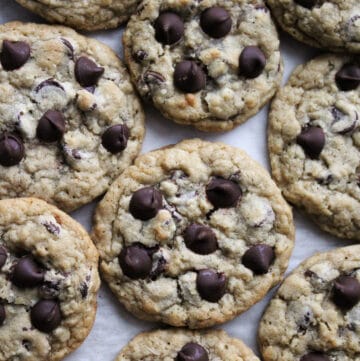 Potbelly's Copycat Oatmeal Chocolate Chip Cookies
These Potbelly's copycat oatmeal chocolate chip cookies are as good (if not better) than the ones you can buy at Potbelly's! They are super tasty and quite beautiful too!
Ingredients
½

cup

(1 stick) salted butter, softened

½

cup

brown sugar

⅓

cup

sugar

1

egg

1

teaspoon

vanilla

½

teaspoon

baking soda

¼

teaspoon

salt

1

cup

plus 1 Tbsp flour

1

cup

old-fashioned oats

divided

1 ⅓

cups

semi-sweet chocolate chips

divided, see note below
Instructions
Preheat oven to 375° F. In a large mixing bowl, cream together the butter, brown sugar, and sugar until light and fluffy with a mixer.

Add the egg and vanilla and mix well.

Combine the baking soda, salt, and flour in a bowl. Add the flour mixture to wet ingredients and mix just until combined.

With a food processor or mini food chopper, pulse ¾ cup oats until the oats have been broken up and begin to appear as a coarse flour. The other ¼ cup oats should be left as-is. Add all of the oats and 1 cup chocolate chips to the dough mix until combined. The dough will be thick.

Scoop cookie dough onto a cookie sheet lined with parchment paper. Bake for approximately 8-10 minutes for small cookies or 12-14 minutes for large cookies. The cookies should still be very soft. Err on the side of underbaking these cookies rather than overbaking.
Notes
For extra visual appeal, carefully pull the cookies out of the oven when they still have a couple minutes of bake time remaining. Using the remaining ⅓ cup chocolate chips, carefully place them individually over the tops of the cookies and press lightly. Work carefully but quickly and return to the oven to finish baking. The chocolate chips on top of the cookies look really nice and is worth the effort! 
Be sure to check out these other great posts!