When people say they don't like pie, they clearly have never had no bake peanut butter snickers pie! This silky cream pie is a peanut butter, chocolate, and candy lover's dream. The best part is that it is easy to make too and is made with an Oreo crust!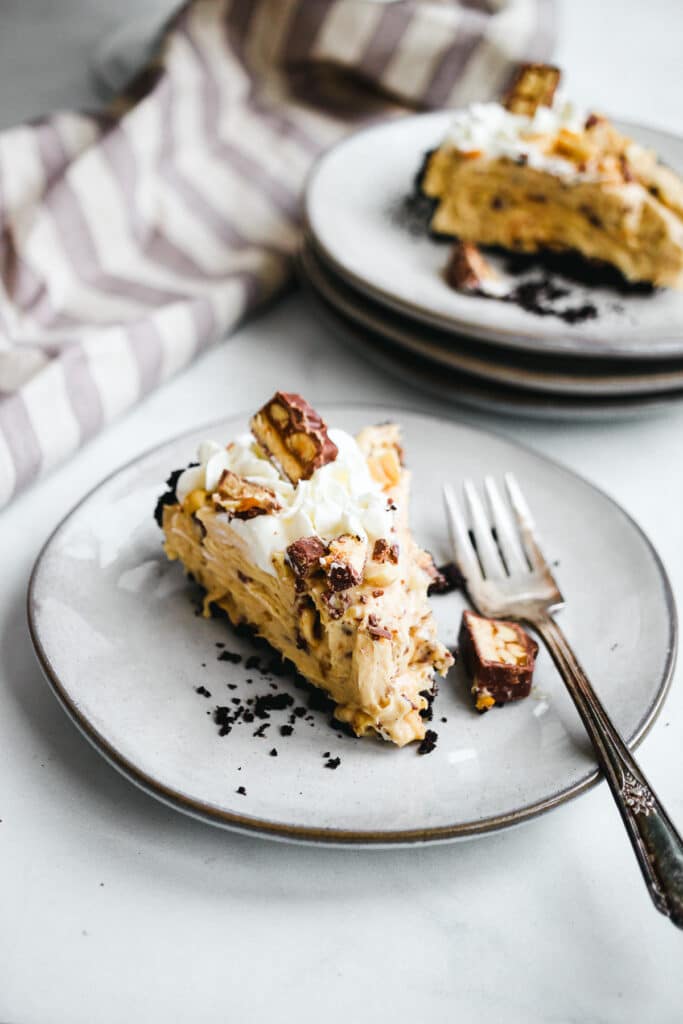 About this No Bake Peanut Butter Snickers Pie
Here's the run-down of this pie. It's got so much chocolatey, peanut buttery goodness! The silky, no bake filling consists of real whipping cream, peanut butter, and cream cheese. It also features chopped peanuts and cut-up Snickers pieces to add some texture.
The crust is a premade Oreo crust. This is such a time-saver without compromising on taste. The chocolate flavor and stark color contrasts with the light filling beautifully. Not that making an Oreo crust is overly difficult, but it is nice to have a pie crust that literally requires zero effort.
On top, the no bake snickers pie is adorned with extra whipped cream, chopped peanuts, and even more snickers pieces. It is fun to decorate, but is even more fun to eat. If you really wanted to make it extra sweet (and messy), you could also drizzle with caramel sauce. Personally, I think it's perfect without but I wouldn't want to limit anyone's creativity!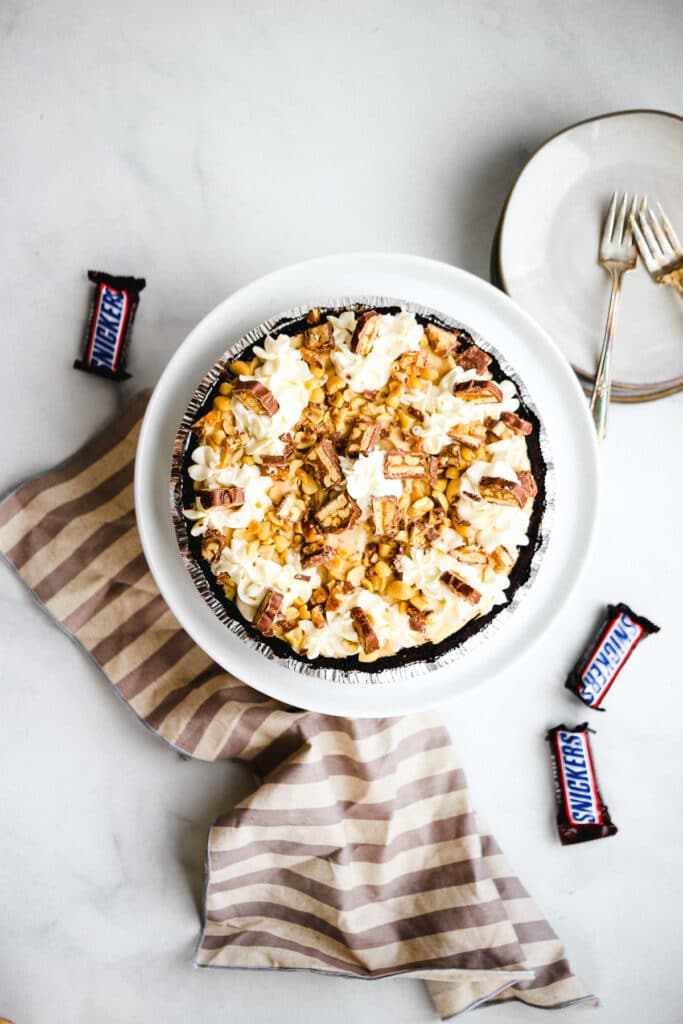 Recipe FAQs
This pie is very simple to make as long as you have a mixer. You can use a hand held mixer or stand mixer for this recipe. Here are a few common questions.
Can I make my own Oreo crust?
You sure can! I just prefer to use a premade Oreo pie crust for convenience. The quantity of pie filling is a lot for the size of the crust, but this pie is meant to be lofty and decadent!
Does it matter if I use Cool-Whip instead of real whipping cream?
Heavy whipping cream is recommended in this recipe over cool-whip. Cool-whip may be used but the amount of sugar in the filling will need to be decreased.
How do I ensure the filling is smooth?
Use room temperature cream cheese to make mixing easier and to avoid lumps. To speed up the process, you may place the cream cheese in a microwaveable bowl and heat on the defrost setting for about 10-15 seconds. Do not let it melt though.
Can this pie be made in advance?
Yes, the pie needs to set up at least 6 hours or overnight. It should be made no more than one day in advance. Please note that you should not decorate the top until you are about ready to serve the pie. Otherwise, the snickers and peanuts will begin to absorb moisture from the pie. The whipped cream will also deflate.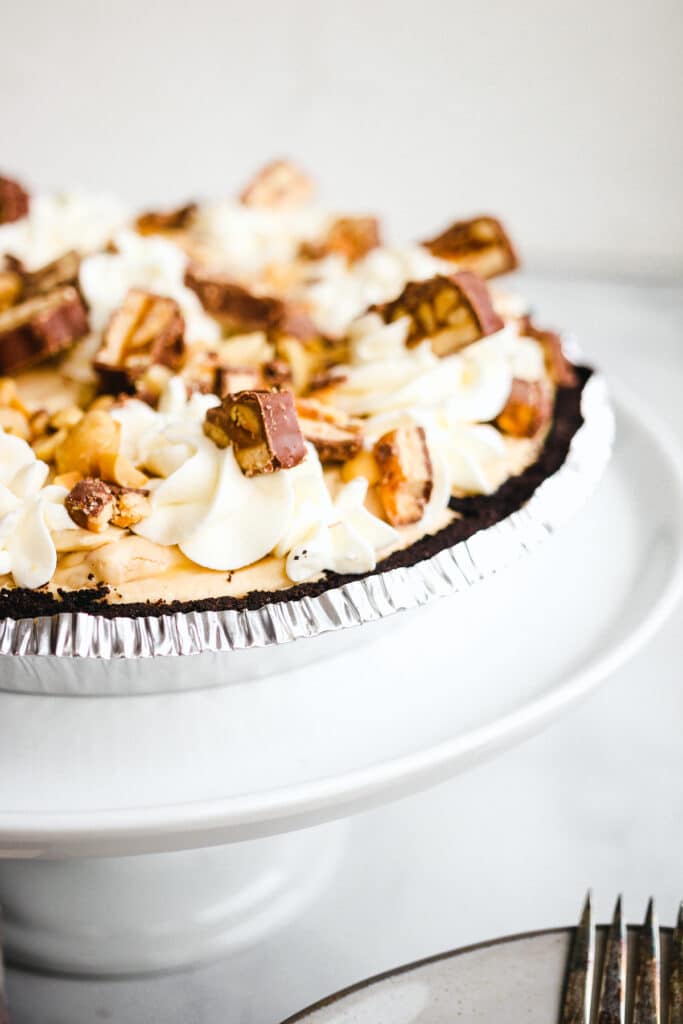 With that, I hope you love this rich, beautiful pie! If you happen to have leftovers, they can be frozen to enjoy at a later time. If you make this recipe, please let me know by leaving a rating and comment! Also, don't forget to subscribe so you never miss my latest recipes!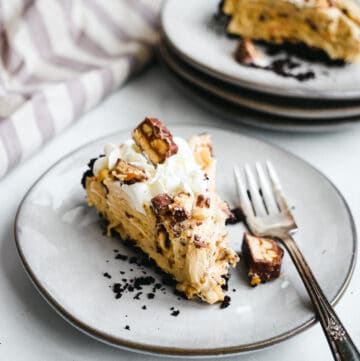 No Bake Peanut Butter Snickers Pie
This no bake peanut butter snickers pie is creamy, dreamy, and insanely rich! It is the perfect celebratory pie. After all, who doesn't love peanut butter, chocolate, and a whole lot of goodness!?
Ingredients
1

6-ounce

Oreo pie crust

1

cup

heavy whipping cream

1

8-ounce

package of cream cheese

softened

¾

cup

sugar

¾

cup

creamy peanut butter

½

teaspoon

vanilla

⅓

cup

salted cocktail peanuts

1

10.59-ounce

bag fun size Snickers

or closest size

2

Tablespoons

salted cocktail peanuts, for garnish

Extra whipped cream, for garnish

See note below
Instructions
In a medium sized mixing bowl, begin by whipping the heavy cream with an electric mixer. Mix over medium-high speed until whipped. Set aside.

In a large mixing bowl, beat the softened cream cheese and sugar for several minutes with an electric mixer until completely smooth and fluffy. Add peanut butter and vanilla and mix until combined.

The mixture may appear somewhat grainy but it will become silky smooth later.

Add the whipped cream to the peanut butter cream cheese mixture, and mix on low speed until just combined. Scrape the bottom and sides of the mixing bowl to ensure it is completely smooth.

Unwrap 7 fun size Snickers and coarsely chop. Then coarsely chop ⅓ cup cocktail peanuts. By hand, stir in the chopped peanuts and chopped Snickers into the pie filling mixture.

Pour filling into the crust and spread the surface so it is smooth. Cover and refrigerate for at least 6 hours or overnight.

Just before serving, chop or slice 5-6 additional fun size Snickers and remaining cocktail peanuts. Decorate the top of the pie with chopped peanuts, and chopped/sliced Snickers. Pipe or dollop extra sweetened whipped cream on top.
Notes
If using Cool-Whip instead of heavy whipping cream in this pie, decrease the amount of sugar from ¾ cup to ¼ cup. 
To make the whipped cream for the topping, add ⅓ cup heavy cream, 2 teaspoons sugar and ⅛ teaspoon vanilla to a medium mixing bowl or stand mixer bowl. Beat with an electric mixer over medium-high speed until the mixture forms peaks.
There will be extra Snickers remaining to enjoy later, but that shouldn't be a problem...am I right?!
Let's Connect on My Socials!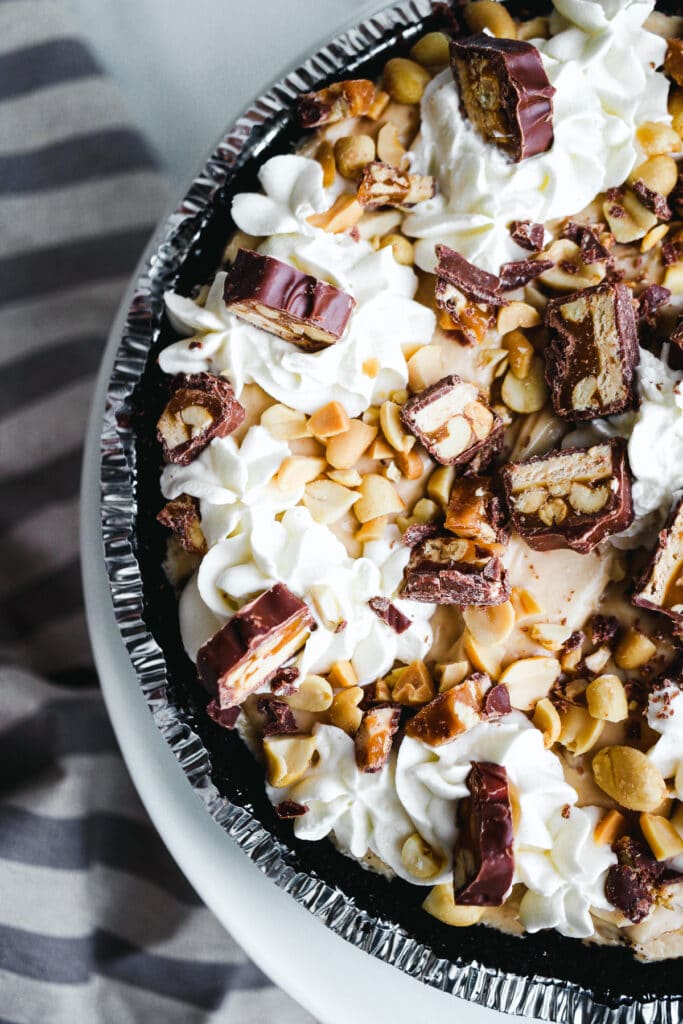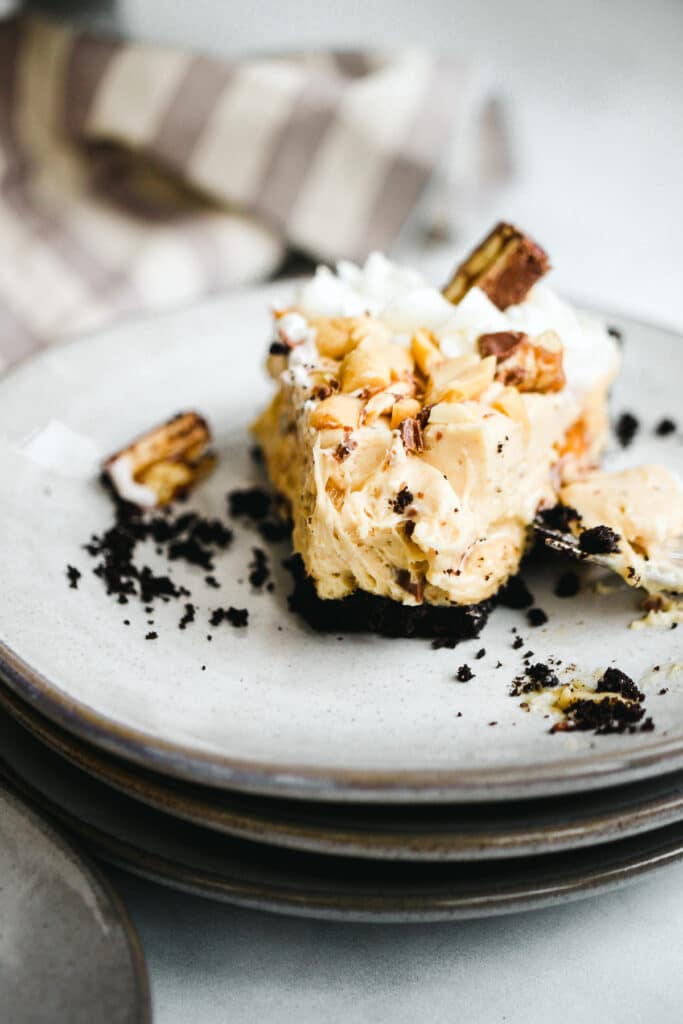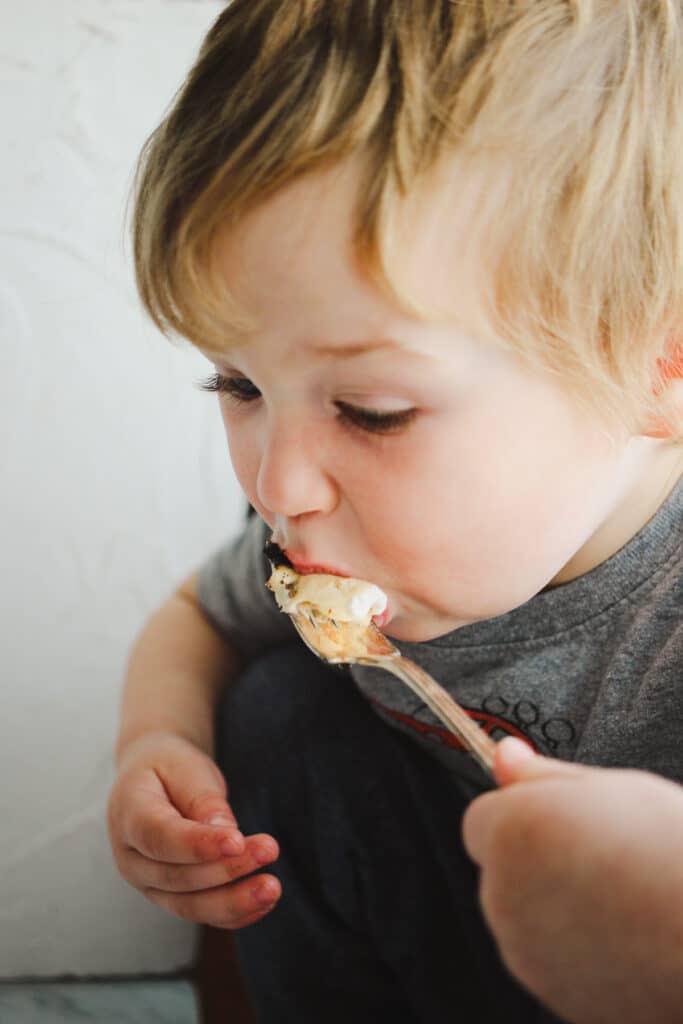 Be sure to check out these other great posts!