Peanut butter is one of my favorite foods. I love it creamy or crunchy, plain by the spoonful, smeared thickly on toast, melted into oatmeal, baked in cookies, paired with chocolate, as a dipper for apples, and more. It also pairs wonderfully with bananas. This peanut butter banana parfait combines it with a few of my favorite ingredients.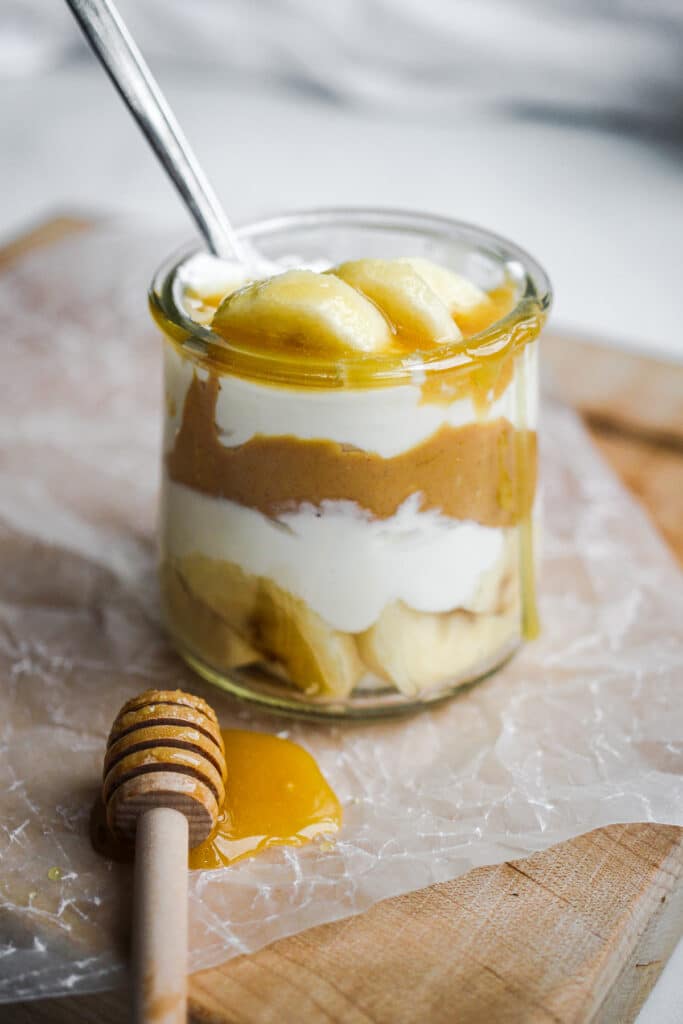 Food is Fuel
This recipe has been a go-to of mine since having my baby Natalie just over 6 weeks ago. I am really focusing on healthy foods, especially since I am breastfeeding. Not only are my caloric needs increased from breastfeeding, I am also back running. I really want to make sure I am helping fuel my body with smart choices to help me make the best food for my sweet baby girl and ensure I am taking care of myself, too.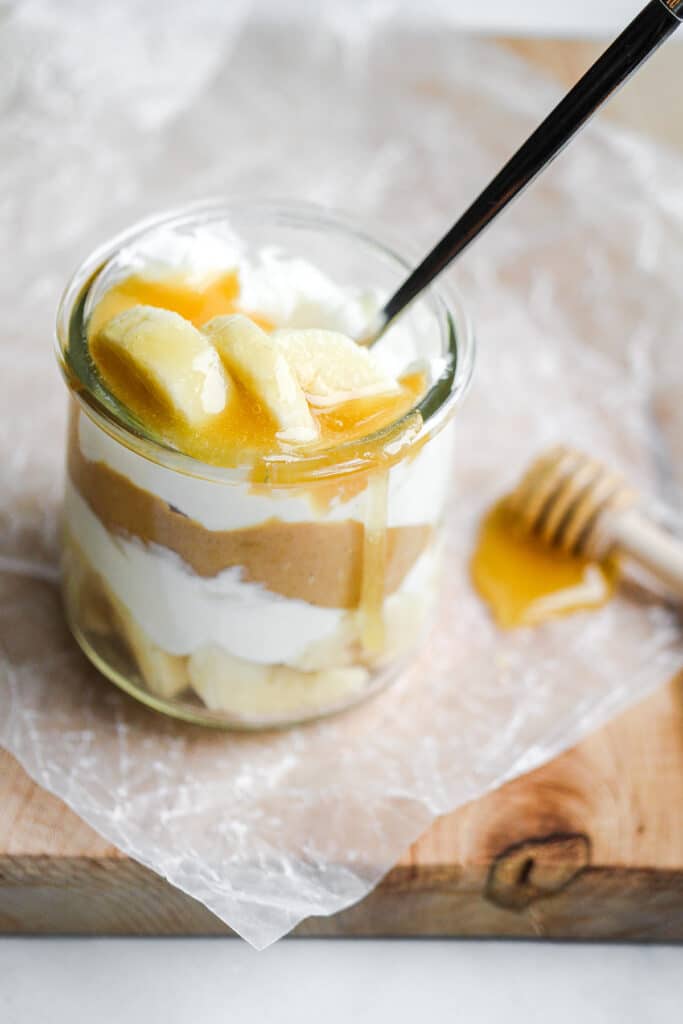 This recipe delivers fat, protein, and carbohydrates, so it is a perfect food to achieve satiety. With the yogurt, there is also the added benefit of probiotics which help contribute to a healthy gut! It is also made with simple ingredients and comes together quickly. These are all super helpful these days with two little ones to take care of.
About this Peanut Butter Banana Parfait
We can all agree that peanut butter + honey + bananas are a tasty trio. I generally prefer Skippy peanut butter, but these days we are almost exclusively shopping with Aldi drive up. The Aldi creamy peanut butter is quite tasty and much cheaper too. You could also use natural peanut butter if you prefer.
I really like using plain whole fat Greek yogurt because it has a creamier texture than fat free and leaves me feeling more satisfied. Some of the flavored yogurts have lots of added sugars, so I like always starting with the plain varieties. However, a vanilla Greek yogurt would work well here too. You could also substitute a non-dairy yogurt if you avoid dairy. The nice thing about this "recipe" is you can really make it your own.
To add a little extra sweetness to this recipe, I added a bit of a honey drizzle. It adds a nice finish as the top layer! You can adjust the quantity based on your preferences.
I had this recipe on my former blog and I just wanted to show a little glow-up in my photography skills. Here is my original photo from April 2020: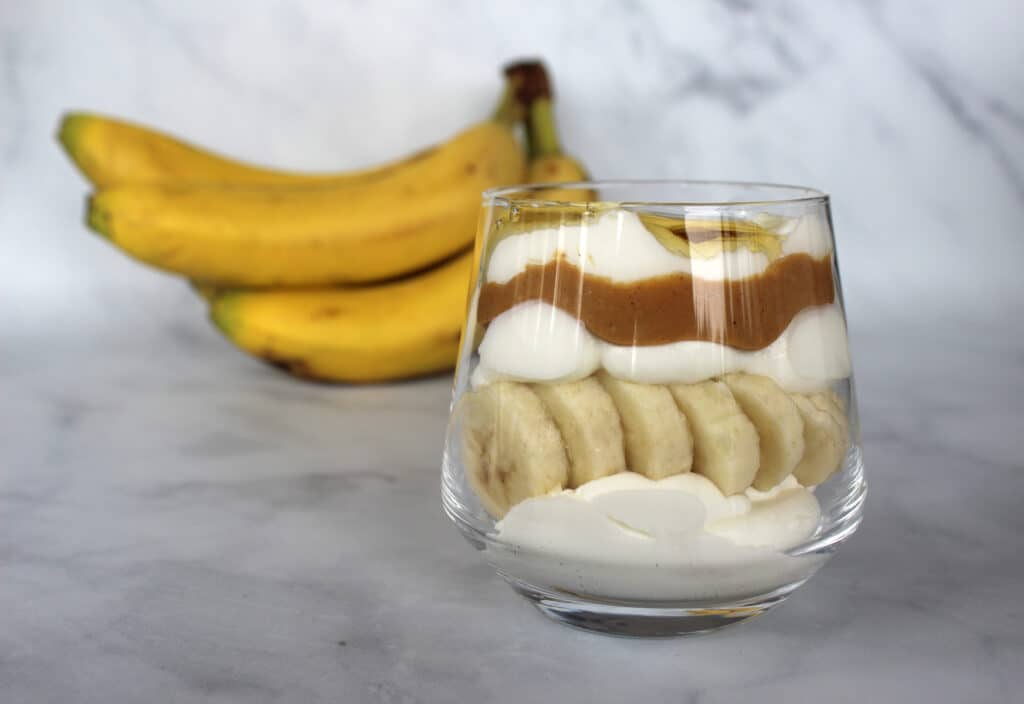 To now: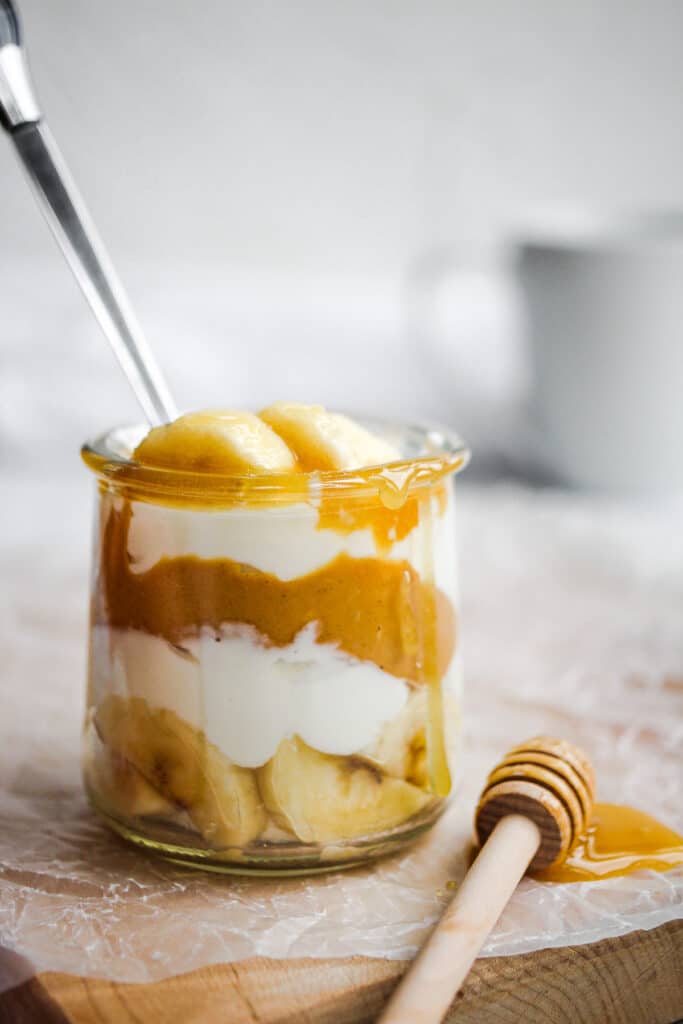 As you can see, there has been some significant growth! If you make this recipe, please share it and comment below! I appreciate all of the love.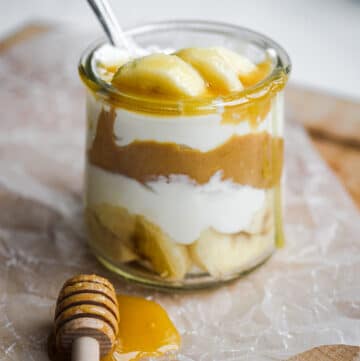 Peanut Butter Banana Parfait
This easy breakfast will leave you feeling satisfied all morning long. It's the perfect combination of peanut butter, honey, bananas, and plain Greek yogurt. It also makes a great snack!
Ingredients
1

medium banana

sliced

¾

cup

plain whole fat Greek yogurt

1-2

Tbsp

peanut butter

slightly melted

2

tsp

honey
Instructions
In a small stemless wineglass or bowl, layer the bananas, Greek yogurt, and melted peanut butter.

Top with a honey drizzle.
Notes
Feel free to adjust the ratios for you liking and nutrition needs. You could also add some cinnamon for extra flavor or chia seeds for texture.
Be sure to check out these other great posts: