Christmastime truly is the most wonderful time of the year. It is a time of faith, reflection, and joy. Some of my favorite memories of Christmas are the times spent over at my uncle Jim and aunt Cindy's house for the Mitchell Christmas. We usually start around noon and sometimes stay until midnight or after. The day would be spent telling stories, playing the Daytona 500 board game, euchre, old Nintendo, and pool, plus eating tons of delicious food. We always enjoyed various appetizers, soups, and desserts, of course (including these Norwegian krumkake cookies)!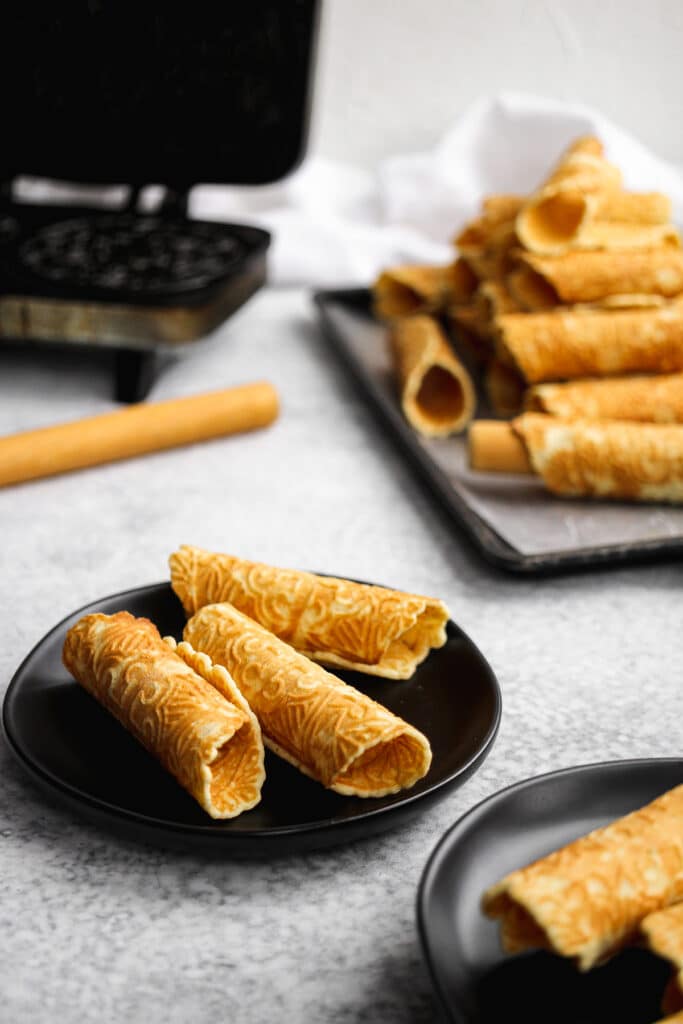 Christmas and Food Favorites
Some food highlights of the Mitchell Christmas are:
Jolene's feta and roasted tomato crostini
Robin's pickle wraps
Kelsie's Texas caviar
Angie's giant spread of veggies
Nolan's bacon wrapped water chestnut bites
Jim's chili
My mom's chicken noodle soup and homemade rolls
Morgan's almond bars
Merle's krumkake
Plus about 10 other dessert options
Sadly, Merle passed away on June 6, 2018, and we so miss his company. Merle was my aunt Cindy's father but was like a grandpa to all of us Mitchell kids. He always had sweet stories to tell and treated us with cookie tins and handmade wooden gifts. Pictured below are a few photos of Merle. The first is Merle and my aunt Cindy.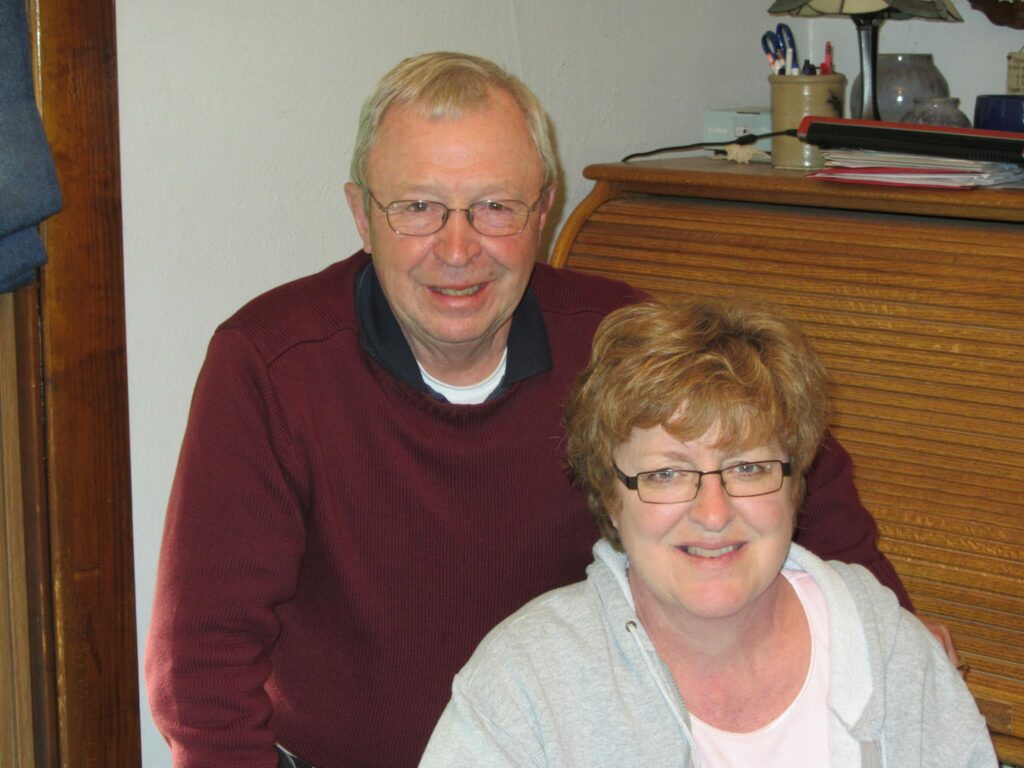 Here is Merle's friend Jerry, my sister Olivia, and Merle on the right.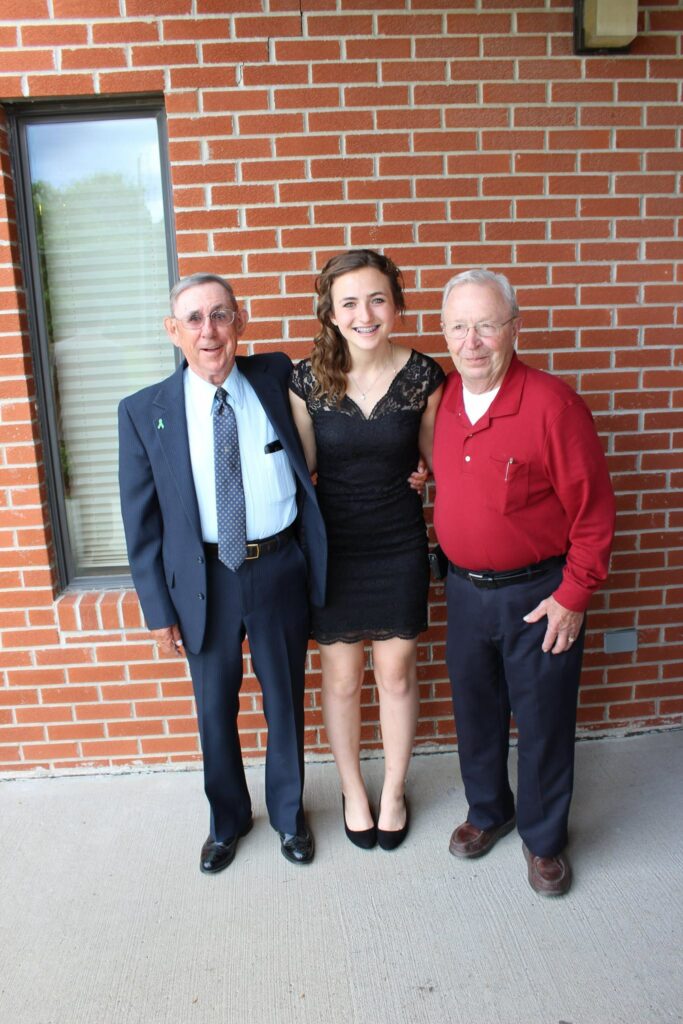 Lastly, here is Merle with Checker cheering us on during our family 5K!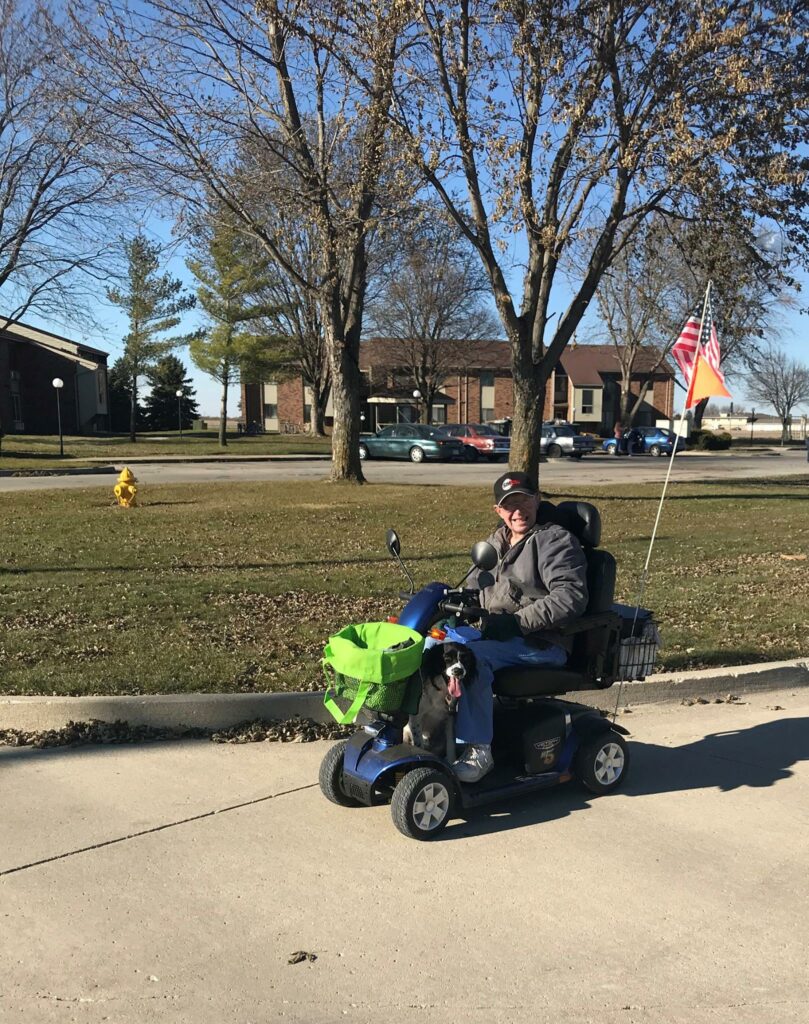 Merle's Norwegian Krumkake Cookies
Merle made krumkake each year, which is a rolled or cone-shaped Scandinavian cookie. They are crisp, delicate, and pleasantly sweet with vanilla undertones. I would best describe them as a cross between a waffle cone and sugar cookie. They are such a beautiful and light Christmas cookie.
We usually enjoy them plain with coffee, but they can also be filled with whipped cream, pastry cream, dusted with powdered sugar, or even dipped in chocolate on the ends. They are really quite versatile. The detailing from the iron makes them even more special.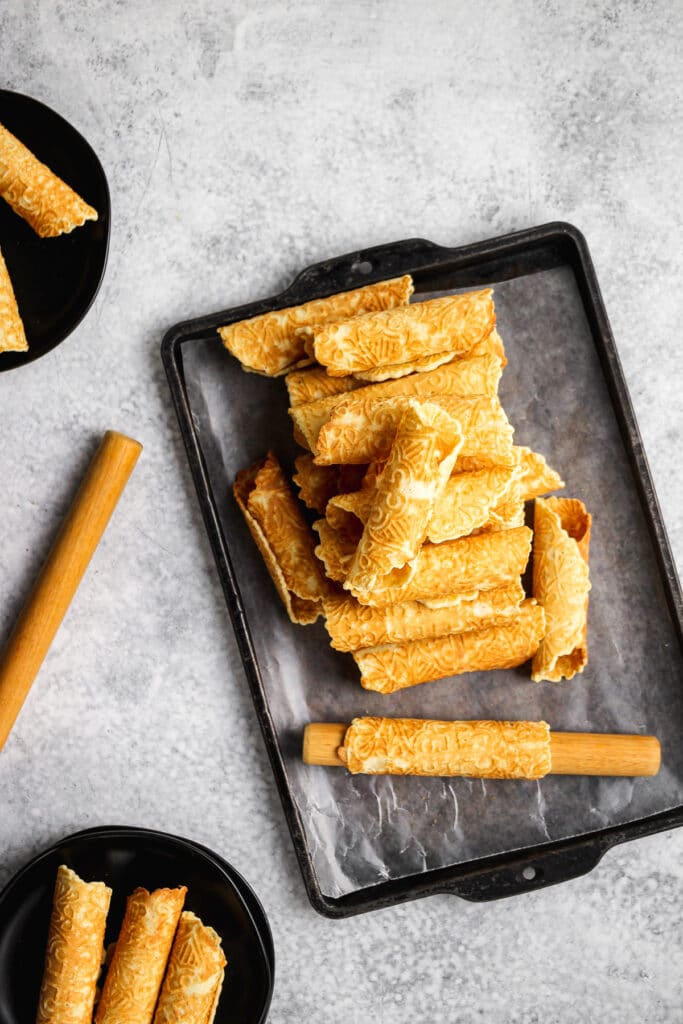 I was so fortunate to receive Merle's krumkake iron, which is similar to a waffle iron. The key differences are that the krumkake irons are much thinner and have lacy, detailed heating plates. I used the original recipe with handwritten notes, and the krumkake came out beautifully. I do not know all of the history behind krumkake, as this is only my second year making them. However, it has already become a special tradition that I am excited to learn more about in the years to come!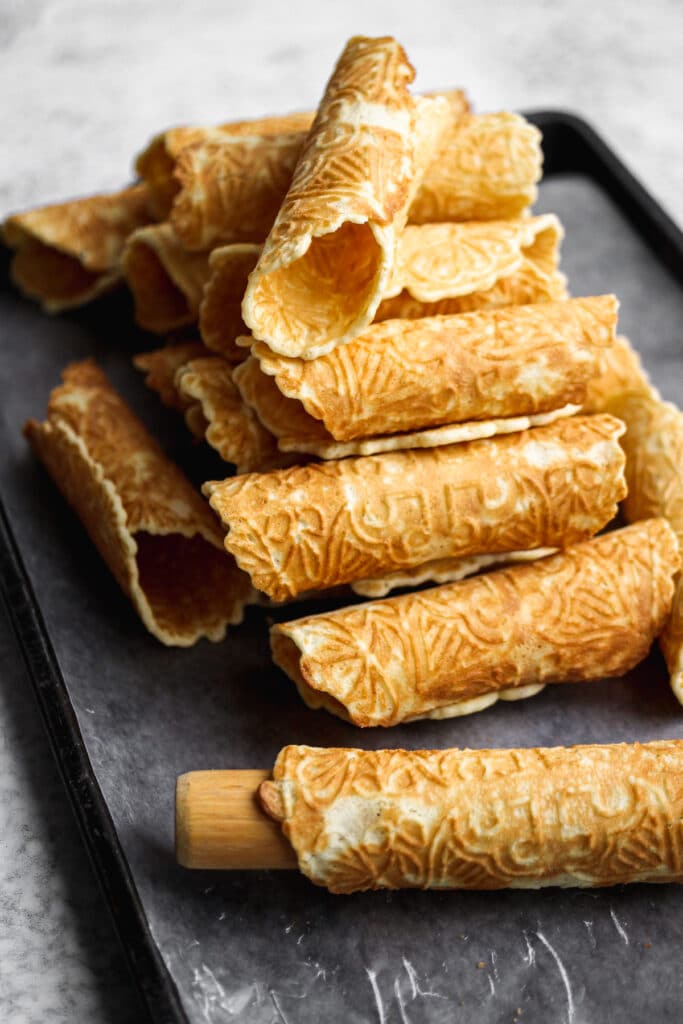 Norwegian Krumkake Cookie Iron
If you are interested in making krumkake, you have to use a special krumkake iron. Unfortunately, purchasing a iron seems to be more challenging that I anticipated. They appear to be sold out on Amazon and not a common item elsewhere. I suppose your best bet might be to inquire among friends to see if they have one and would be willing to loan it out for an afternoon. In addition to the iron, you will also need either a cone or rods to roll the krumkake immediately after they come off the press.
I think my krumkake would make Merle proud! He was such a kind man with a twinkle in his eyes. Merle was always willing to lend a helping hand and did so with a smile. He was also a talented with woodworking projects and was an expert at fixing just about anything. We sadly won't be able to celebrate our Mitchell Christmas this year due to Covid-19, but it won't be like this forever.
All I can say is that I can't wait to play euchre with my uncles, dad, and Olivia at Christmas next year. I believe my uncle Jim and sister Olivia were the champions last year...
I also can't wait to make more krumkake!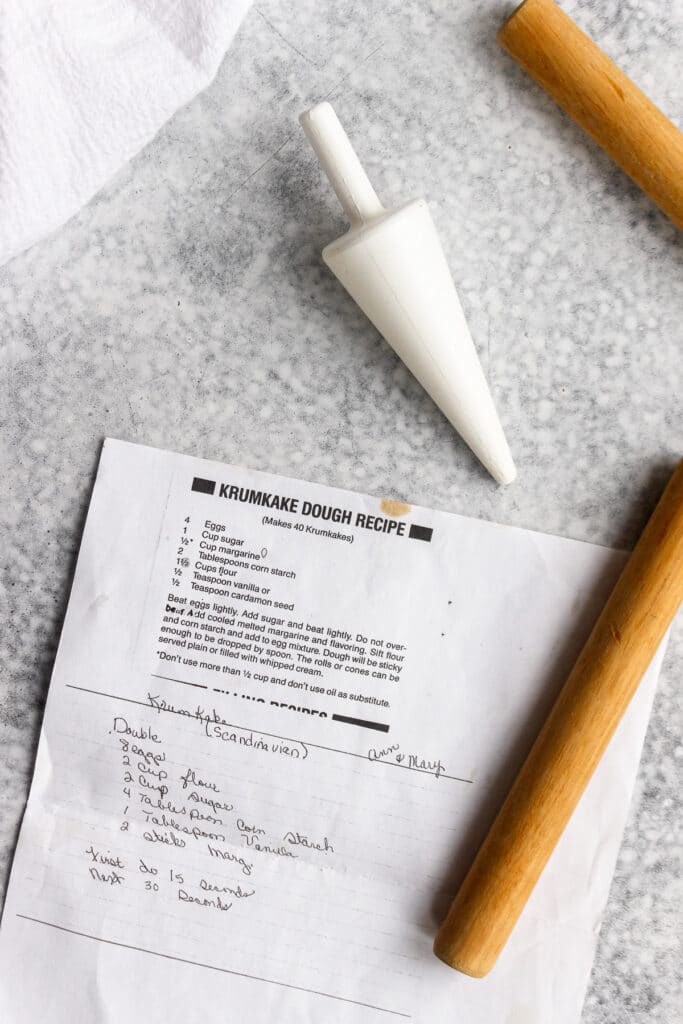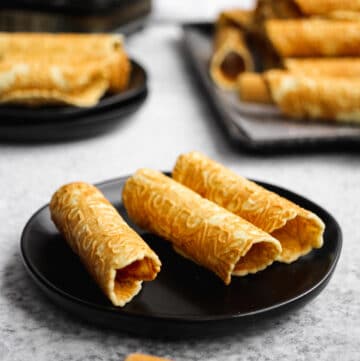 Norwegian Krumkake Cookies
Krumkake is a delicate Scandinavian cookie that is cooked on an iron and rolled. They are thin, crisp, and perfectly sweet. They are delicious on their own, dusted with powdered sugar, or filled with cream. Krumkake irons may be purchased online or in some specialty kitchen stores.
Ingredients
4

eggs

1

cup

sugar

½

cup

(1 stick) butter, melted

1

tsp

vanilla or vanilla bean paste

1 ½

cups

flour

2

Tablespoons

cornstarch
Instructions
In a medium bowl, whisk the eggs lightly. Add the sugar and mix until combined. Stir in the melted butter and vanilla.

In a separate bowl, combine the flour and cornstarch. Mix the flour mixture into the egg mixture and stir until smooth. The batter will be fairly thick.

Heat the krumkake iron. The iron I use makes two krumkake at a time. Once hot, use a spoon to place about a tablespoon of batter onto the center of each plate. Do not overfill because the krumkake is best thin. Close the lid, press gently, and cook for about 30 seconds or until light brown. Remove the krumkake from the iron and quickly wrap each one around a rod or cone.

Repeat this process for the remaining batter. Let cool completely before storing in an airtight container. Krumkake may be filled or enjoyed plain.
Follow Along on My Socials
More Pics of Krumkake