Is there a such thing as too much chocolate? Haha—that was a joke. Of course not! These Dove chocolate turtle cookies are so satisfying to make and especially eat! Though I consider them to be more of a holiday cookie, you really could bake them any time of year. Fortunately, the Dove Dark Chocolate & Sea Salt Caramel Squares are sold year round.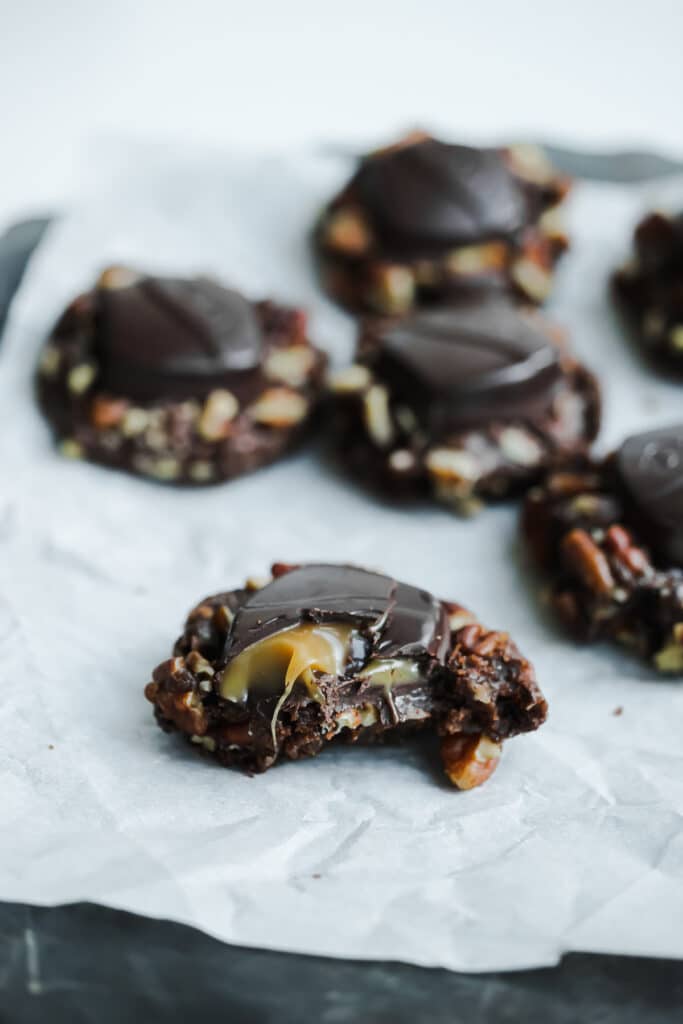 About These Dove Chocolate Turtle Cookies
These cookies will satisfy anyone who loves turtle desserts, simply meaning the combination of chocolate, caramel, and pecans. I mean, just look at that oozing caramel! Fortunately for you, these cookies are quite simple to prepare and do not require making homemade caramel. The cookie itself is reminiscent of a soft brownie and the pecans around the outside of the cookie add the perfect amount of texture. Though turtle desserts are normally really sweet, these are nicely balanced thanks to the dark chocolate and sea salt. These really are the perfect bite!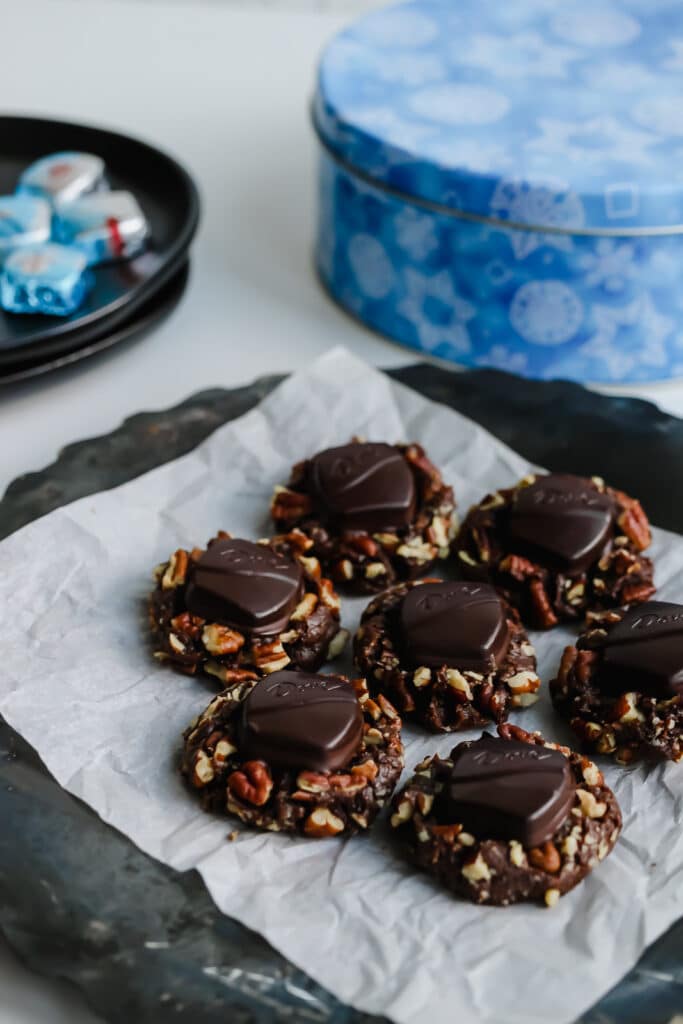 These Dove chocolate turtle cookies feature a soft chocolate cookie base covered in chopped pecans. After baking, top each cookie with Dove Dark Chocolate & Sea Salt Caramel Squares while they are still warm. I have always been a fan of turtle anything because I love chocolate, pecans, and caramel. These cookies are especially nice for the holidays but would honestly be great any time of year.
As 2020 comes to a close, I am feeling so grateful for my good health and strong support system of family and friends. Even though our holiday celebrations were limited this year, and I did not make it home to Iowa for Christmas, I am so thankful for the blessings I do have. I wish you and yours all the best as we start a new year in 2021. With that:
Spread cheer and chocolate!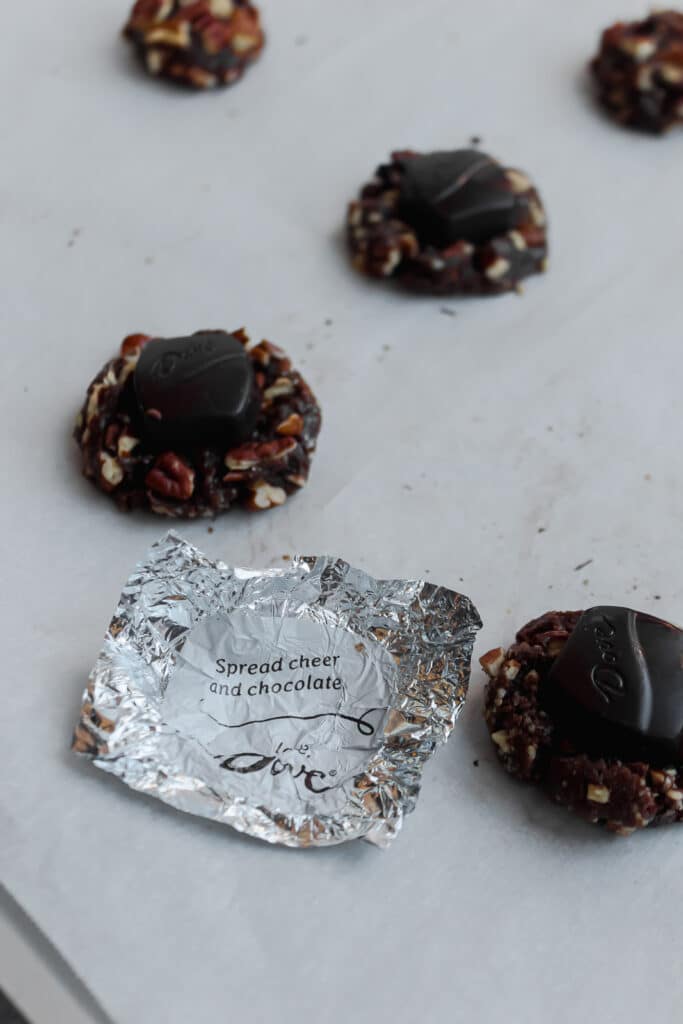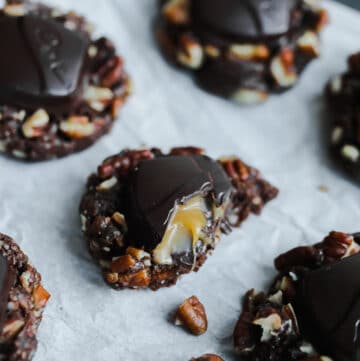 Dove Chocolate Turtle Cookies
These soft chocolate cookies are rolled in pecans and topped with a dark chocolate caramel Dove chocolate to make the perfect turtle trifecta! One bite and you will be hooked!
Ingredients
½

cup

(1 stick) butter, softened

¾

cup

sugar

1

egg

1

teaspoon

vanilla

1

cup

all-purpose flour

⅓

cup

unsweetened cocoa powder

¼

teaspoon

baking powder

⅛

teaspoon

salt

2

cups

pecans, finely chopped

1

7.94-ounce

bag Dove Dark Chocolate & Sea Salt Caramel Squares
Instructions
Preheat the oven to 375°F. Line cookie sheets with parchment paper and set aside.

In a large mixing bowl, cream the butter and sugar with an electric mixer until light and fluffy. Beat in egg and vanilla, and mix until combined. In a separate bowl, combine the flour, cocoa powder, baking powder, and salt. Stir the flour mixture into the butter mixture, and mix until combined. The cookie dough will be fairly thick.

Scoop dough and roll into 1 inch balls. Coat each ball in chopped pecans. You may need to press them in slightly so they do not fall off during baking. Place on parchment lined baking trays and bake for about 8 minutes. The cookies should still feel fairly soft and be slightly puffed.

Once removed from the oven, gently place one Dove chocolate square into the center of each cookie. The cookies will crackle slightly. Let cool on the pan for about 5 minutes and carefully transfer to a cooling rack to finish cooling or enjoy warm.
Follow Along on my Socials
More Pics of the Chocolate Turtle Cookies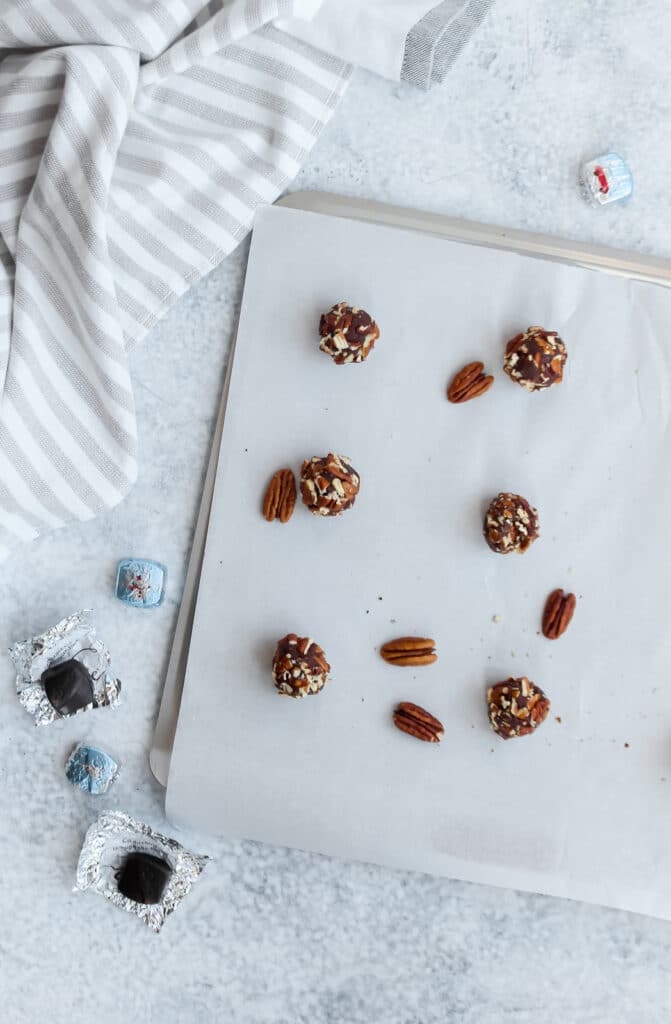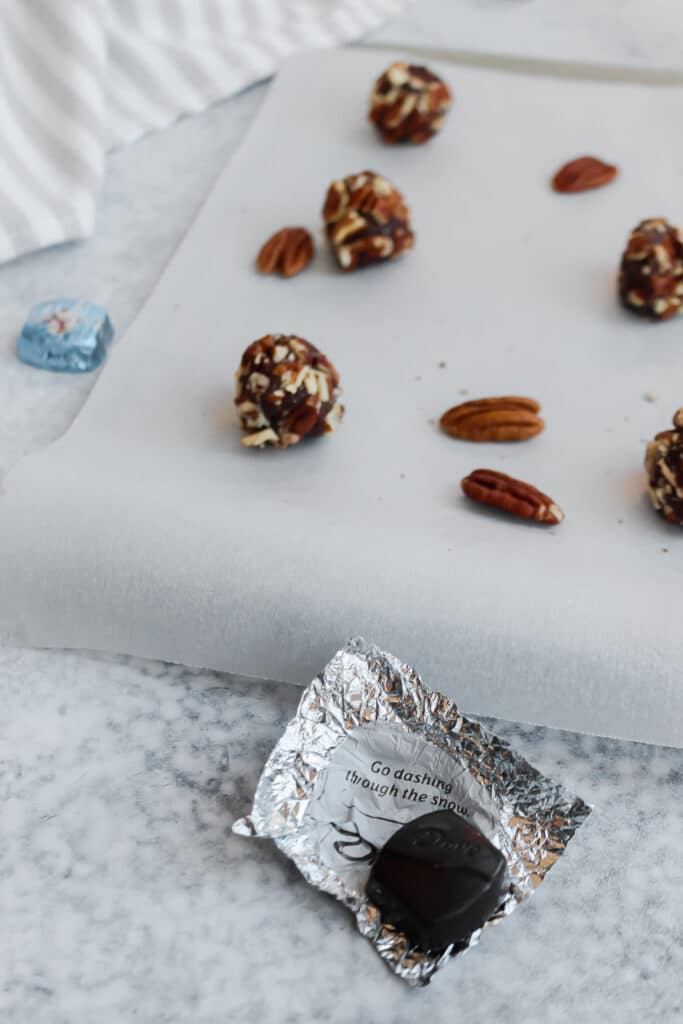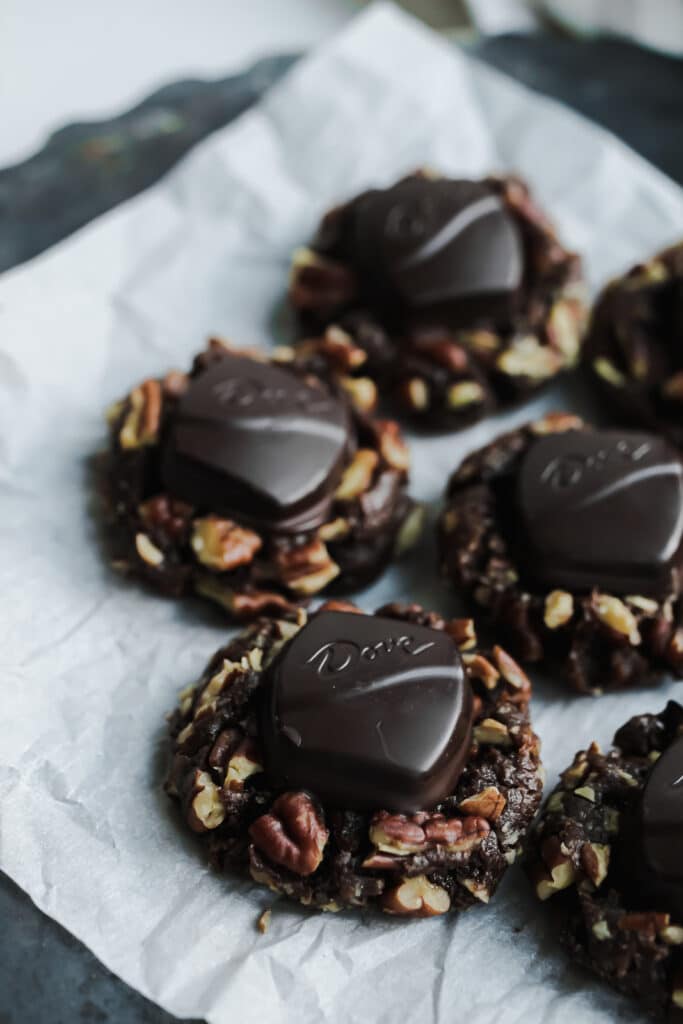 Be sure to check out these other great posts!