When it comes to brownies, I like mine super fudgy, studded with nuts, or oozing with caramel. These cake mix chocolate caramel brownies check all of these boxes! Though I love making most baked goods from scratch, I am certainly not opposed to a using mixes if it is elevated. You may be surprised by these chocolate caramel brownies, but they are actually made with a chocolate cake mix. Don't worry though, no one will ever know!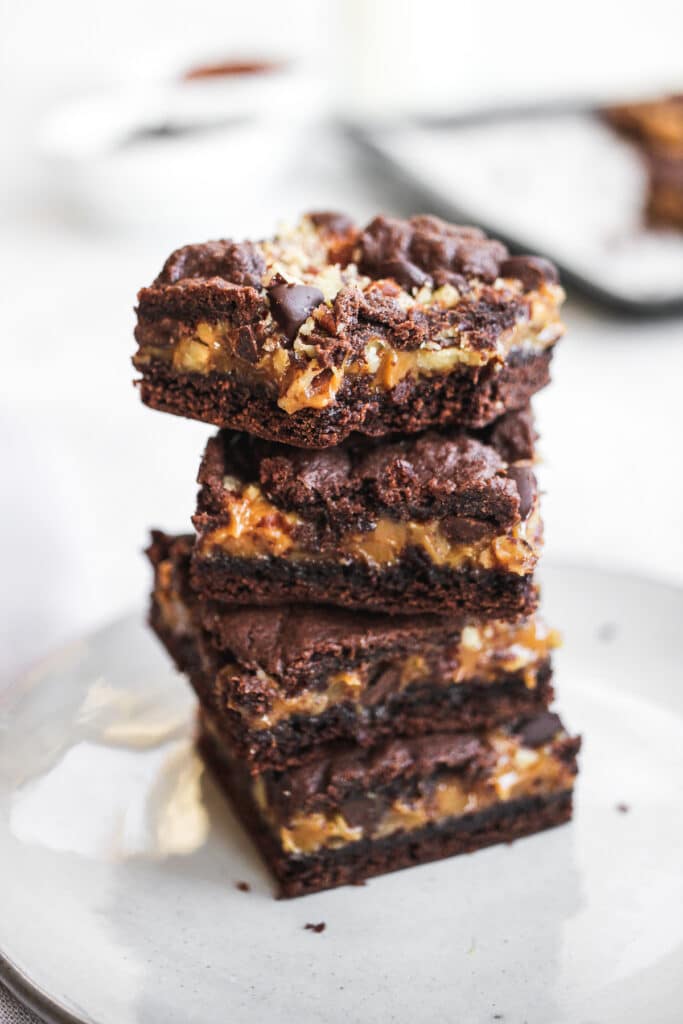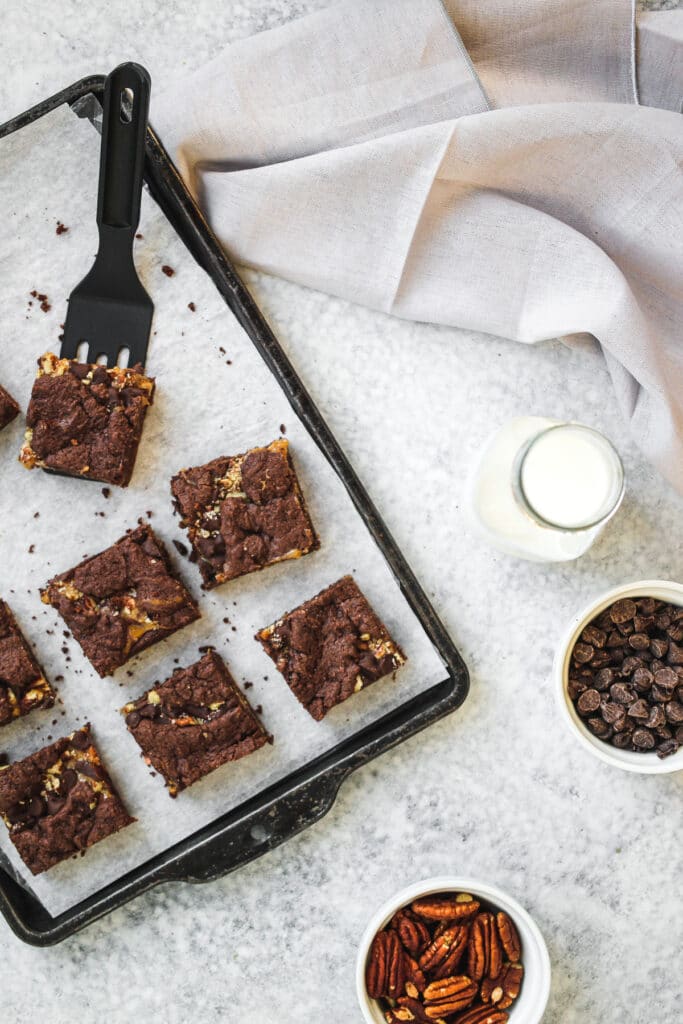 Mitchy really keeps me on my toes these days. He just turned 18 months and has taken a liking to climbing on everything, including the baby gate, reading nook cushion, couches, etc. He always liked climbing, but he can now climb up onto higher [and more dangerous] places than ever before. As you can imagine, I do not have much free time. I think other moms and dads can agree, chasing after toddlers is non-stop! We have fun though. Every day is filled with adventures as I see the world through his eyes. His face lights up with constant smiles, especially when he sees TRACTORS! They are by far his favorite thing. Well, tractors and doggos are perhaps tied! I just adore our sweet boy. He's pictured with auntie Olivia and Piper in the second photo.
Cake Mix Chocolate Caramel Brownie Tips
These chocolate caramel brownies feature a brownie base that is partially baked before adding the caramel, nuts, chocolate chips, and remaining brownie batter. This is crucial to help keep the layers defined. Please note that you will use evaporated milk in both the brownie layer and the caramel layer but you will not use the full 12 ounce can. The small amount that remains can be used in a different recipe. I like to use it in mashed potatoes or macaroni and cheese.
The texture of the brownie batter is very thick, so be patient while spreading. I promise it is worth the little bit of extra effort. I recommend eating these while still warm and gooey, but they are also good once cooled. They also freeze well, so you can save the leftovers for a later time.
If you make them, be sure to tag me on Instagram @runtothetable.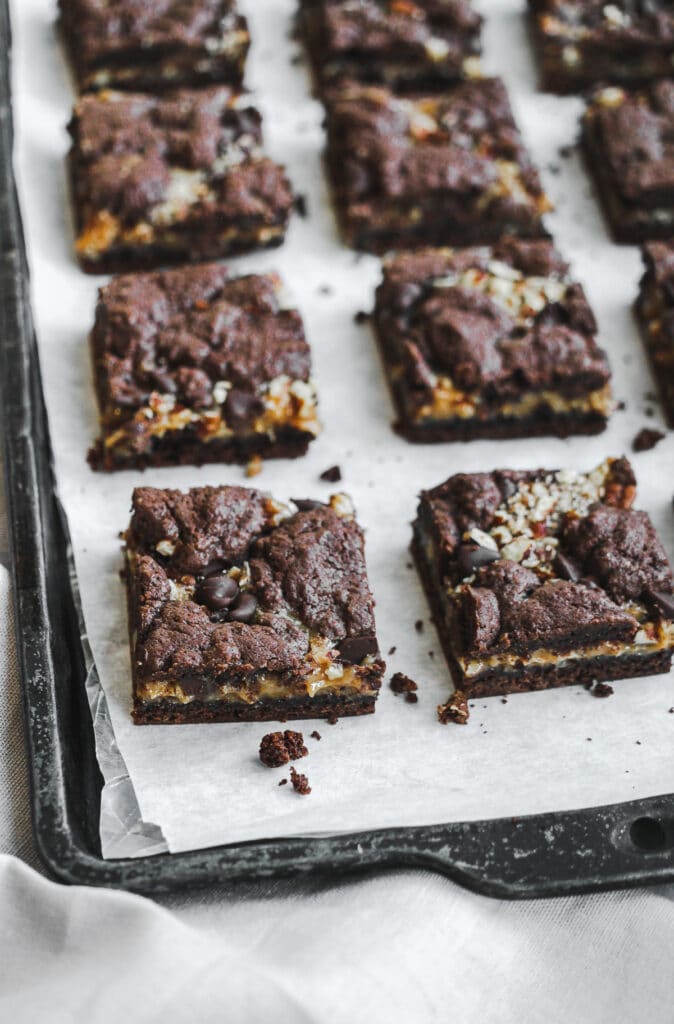 This post was first published on January 18, 2021 on Mitch8 Blog, but transferred to the new blog on June 25, 2021.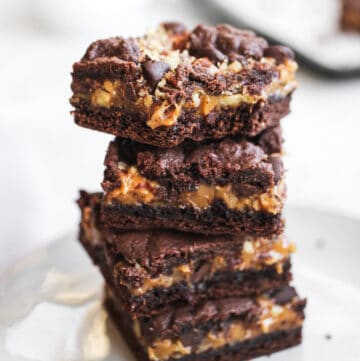 Cake Mix Chocolate Caramel Brownies
These chocolate caramel brownies feature a thick caramel layer that are sure to be a hit among your family and friends. They start with shortcut ingredients making them perfect for busy families!
Ingredients
Brownie Ingredients
1

15.25-oz

devil's food or chocolate cake mix

½

cup

1 stick butter, melted

½

cup

evaporated milk
Filling Ingredients
⅓

cup

evaporated milk

1

11-oz

package caramel squares

unwrapped

1

cup

semisweet chocolate chips

1

cup

chopped pecans
Instructions
Preheat oven to 350° F. Grease a 9x13 inch pan with cooking spray or line with parchment paper. I personally recommend parchment paper for the easiest clean up.

In a mixing bowl, add the chocolate cake mix, melted butter, and ½ cup evaporated milk and stir until combined. The batter will be very thick. Spread half of the batter into the prepared pan. This layer will be thin. Bake for about 13 minutes or until slightly puffed.

While the base is baking, heat the caramels and ⅓ cup evaporated milk in the microwave using 30 second intervals until melted and smooth. Stir well after each heating cycle.

Once the brownie base has baked for the time noted above, carefully pour the caramel mixture evenly over the baked base. Sprinkle the chopped pecans and chocolate chips over the caramel layer. Use the remaining batter and gently place thin clumps over the caramel layer.

Bake for an additional 18-22 minutes. The top should still be soft. Let cool slightly before cutting.
More Pics!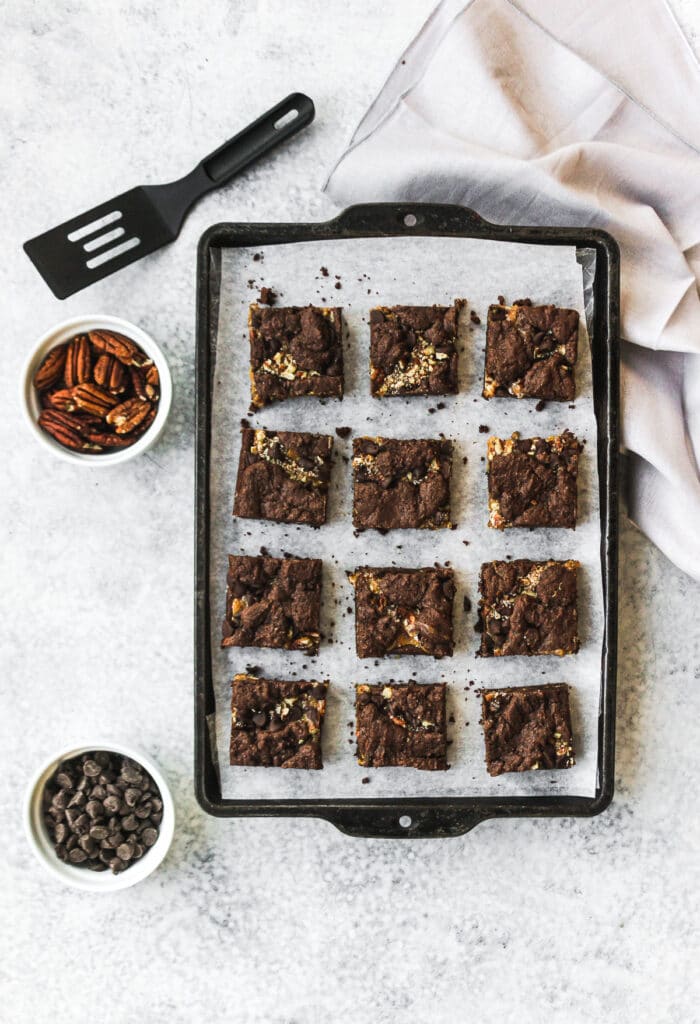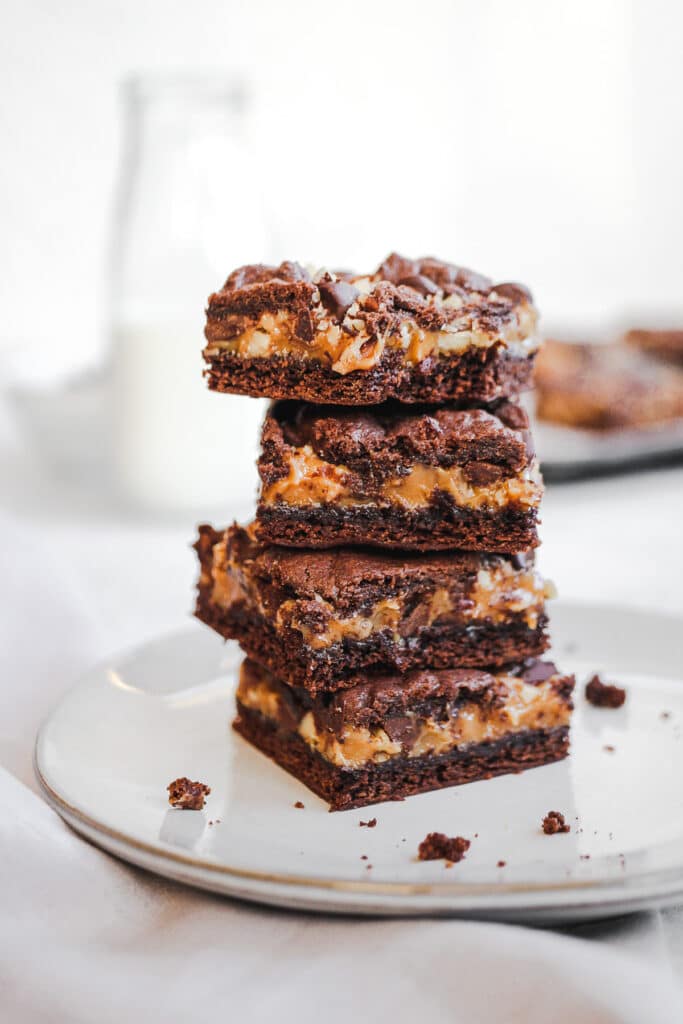 Be sure to check out these other great posts!