I recently purchased some donut pans, and I had to put them to good use as soon as possible! I wanted to make a recipe that was very simple and Mitchy could help with. It seemed only fitting that we make some Halloween donuts using a shortcut ingredient - a cake mix!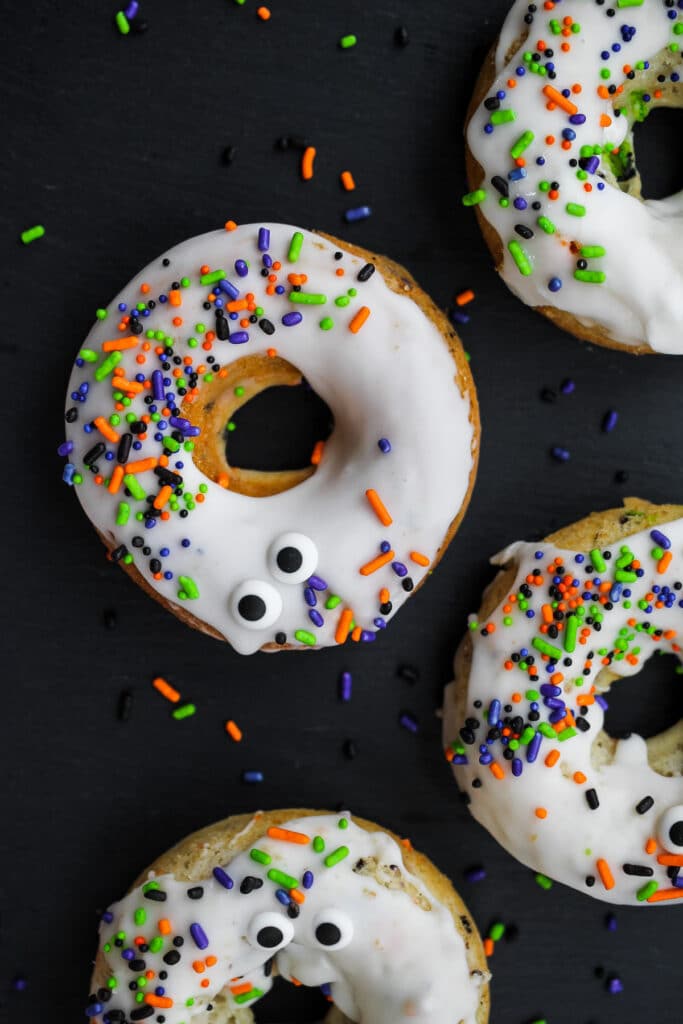 After having our second child about two weeks ago, we knew there would be some adjusting for Mitchell. He is just over two years old and has been handling the transition extremely well. He calls his baby sister Natalie "bah bah" for baby or "NaNa." It won't be too long until he starts calling her Natalie (or his version of it)! We have been extra conscientious of making sure he gets special time too. Some examples include one on one time at the park, playing in the yard, and even baking together.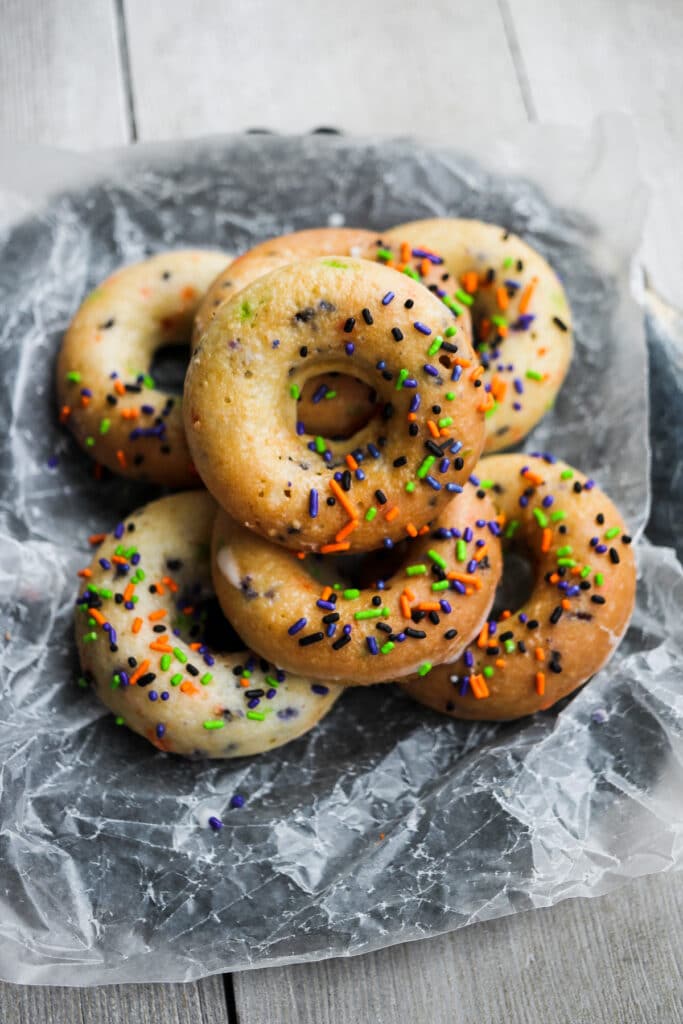 About these Halloween Donuts
These Halloween donuts start with a Halloween funfetti cake mix. They truly are cake donuts in the simplest form, but are obviously baked instead of fried. Mitchell got to help pour in all the ingredients and whisk the batter. I don't trust him with an electric mixer quite yet. We also added some extra Halloween sprinkles to the batter and added some on top of the glaze too.
I included two options for the glaze below. One is truly a thin glaze, and the other is a thicker white frosting. You can choose which ever you like based on your preference. Obviously the thicker the glaze, the sweeter the donuts are going to be because there's a lot more powdered sugar.
Thin Glaze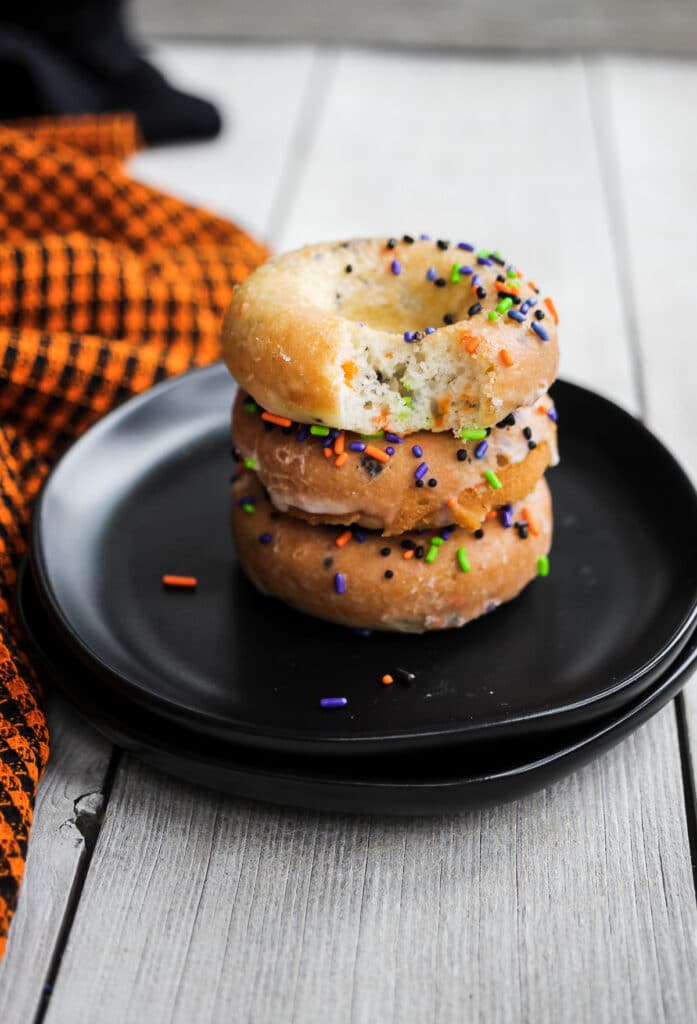 Thick Glaze
I highly recommend this recipe for kids, but it is certainly still fun to make as an adult. Just be extra cautious with kitchen tools and hot pans. As mentioned above, I recommend using a whisk instead of an electric mixer if working with young children or toddlers.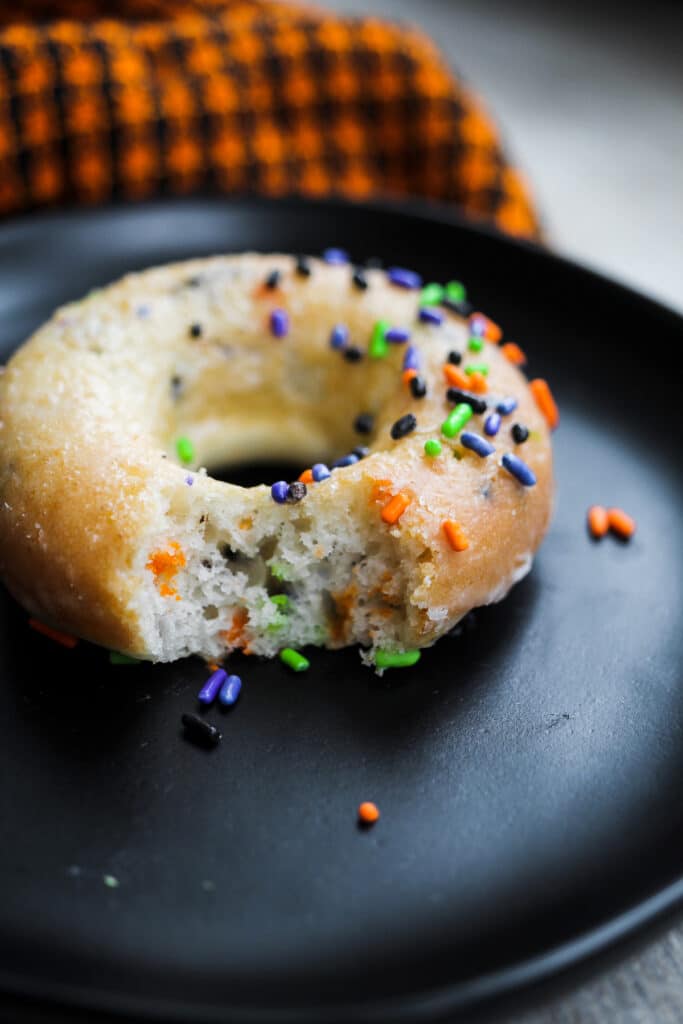 Whatever you do, don't forget the eye sprinkles! They are so fun!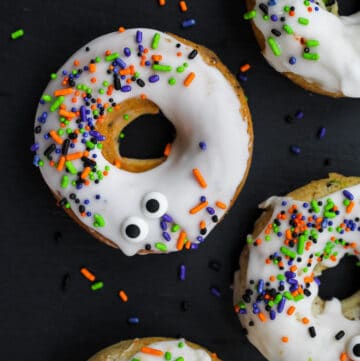 Baked Halloween Donuts
These tasty baked Halloween donuts start with a funfetti cake mix. They bake up perfectly soft and will appeal to kids and grown-ups alike! Make these for Halloween or swap out for rainbow funfetti for any time of year!
Ingredients
Donut Ingredients
1 15.25-

ounce

Halloween funfetti cake mix

1

cup

water

½

cup

vegetable oil

4

egg whites

1

Tbsp

Halloween jimmies sprinkles
Donut Glaze and Topping Ingredients
¼

cup

milk

2-3

cups

powdered sugar

Halloween sprinkles and eyes
Instructions
Donut Instructions
Preheat oven to 350 degrees F and grease donut pans.

Prepare cake mix according to package directions. Listed above are the ingredients needed for the Pillsbury mix but the amount of water, vegetable oil, and egg whites may vary by brand. Add extra Halloween jimmies sprinkles and mix until combined.

Carefully add the cake batter to the prepared donut pans and fill about two-thirds of the way full. Do not overfill.

Bake for about 15 minutes or until donuts are lightly browned and baked through. Let cool for about 10 minutes before removing from pan.

Repeat the baking process until the batter is gone. You may also bake the extra batter as a cake or cupcakes to save time.
Glaze Instructions
In a small mixing bowl, add 3 tablespoons of milk and 2 cups of powdered sugar. Depending on preference, add remaining 1 tablespoon of milk and or one cup of powdered sugar to reach desired dipping consistency.

For thin glaze, use ¼ cup milk and 2 cups powdered sugar. For a thick glaze, use 3 Tablespoons milk and 3 cups powdered sugar.

Dip the cooled donuts halfway into the glaze, twist, and lift up. Place on a cooling rack to let excess glaze drip off.

Decorate with extra Halloween sprinkles before the glaze sets.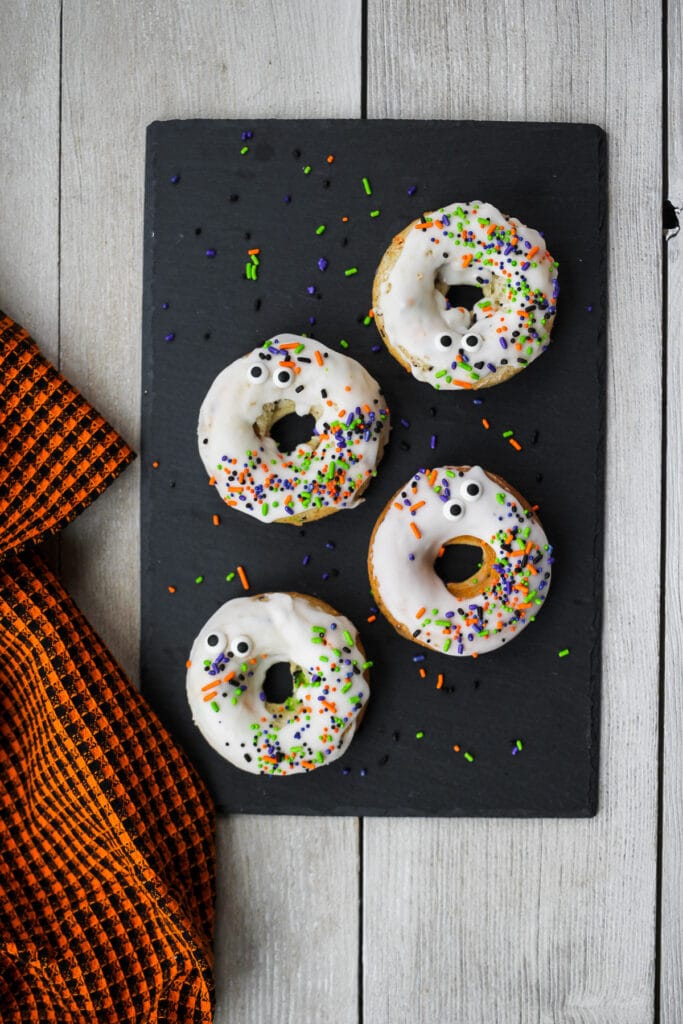 Be sure to check out these other great posts!