These Texas brownies with fudge frosting are actually closer to cake than the typical expectation for brownies, but this is an old family favorite that I had to share. We originally found this recipe on an old recipe card that my great aunt Meme had passed along. I bet if we searched for it, we could probably find the original in my mom's old box of recipe cards. I am a sucker for nostalgic recipes, especially those on recipe cards!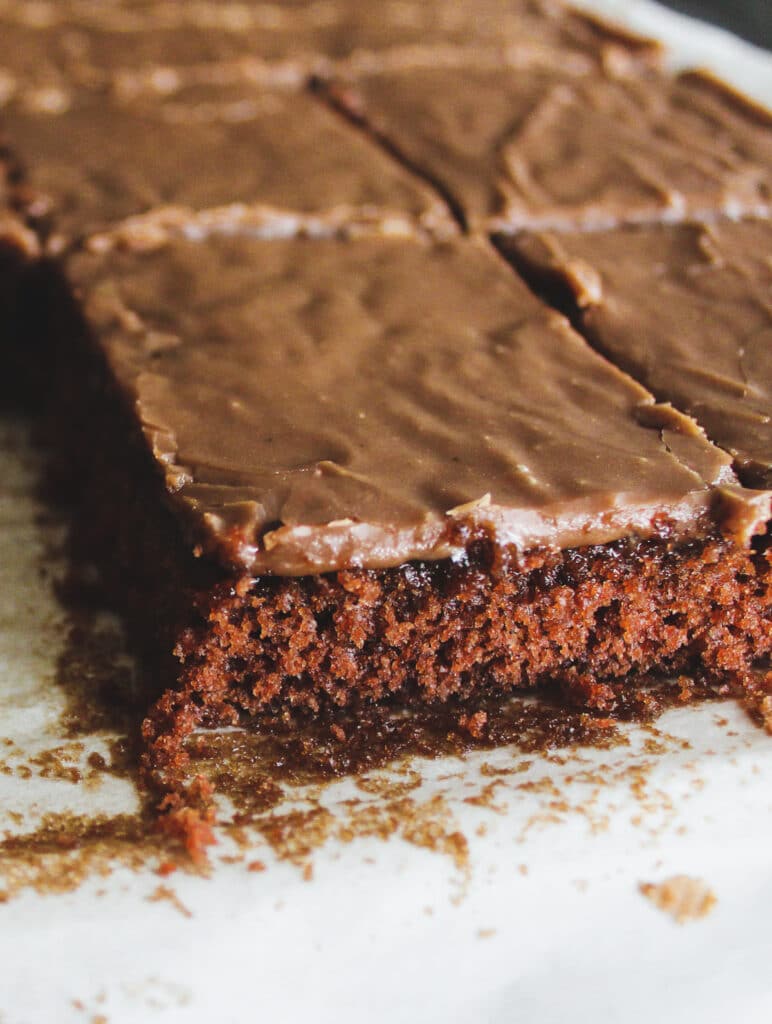 About these Texas Brownies with Fudge Frosting
These brownies differ from your traditional brownie because they are cakey, light, and perfectly moist! We often made these brownies for large gatherings because this recipe makes a really large batch (hence the name "Texas brownies")!
These are perfect too if you are just in the mood for baking and want to eat something chocolatey. The leftover brownies also freeze well. One key note is to make the frosting while the brownies are baking. By adding the frosting while the brownies are still warm, the top is extra smooth and the brownies become even more moist.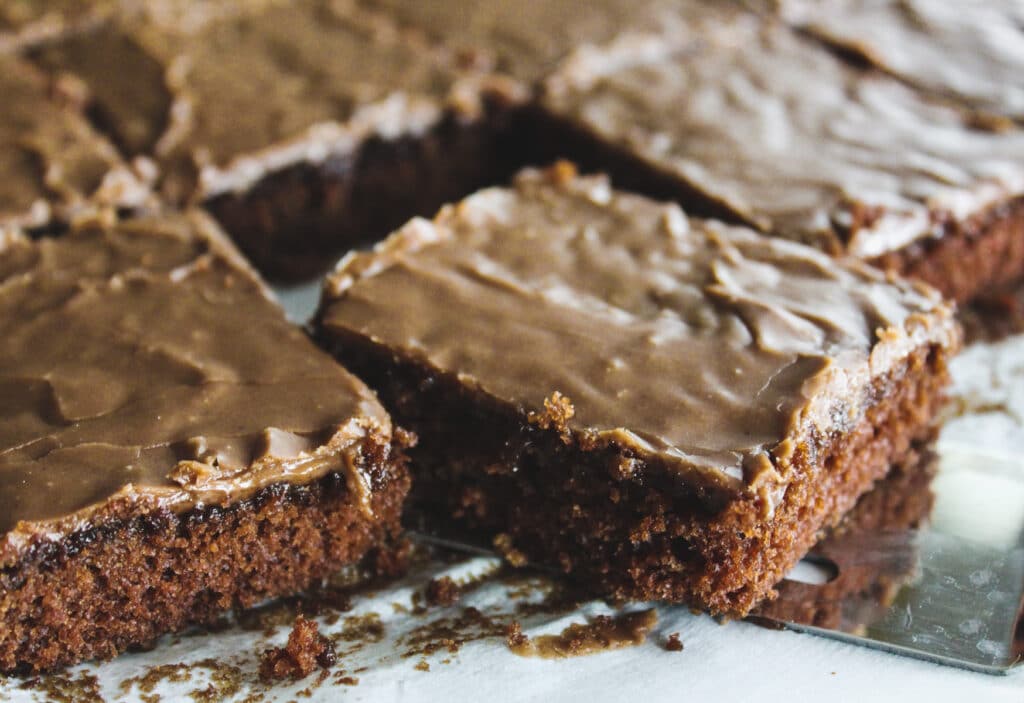 Recipe FAQs
Since this makes a large pan of brownies, can I make a half batch of the recipe?
Yes, this brownie and frosting recipe can easily be halved. If making a half batch, use a 9x13 inch pan and be aware that the bake times may need to be adjusted.
Can I make my own buttermilk?
Actual buttermilk is recommended for this recipe. However, you may easily make your own for this recipe. All you need to do is mix ½ cup milk with 2 teaspoons of vinegar.
Why do I need to frost the brownies while they are still warm?
The fudge frosting should be poured over the warm brownies so it covers evenly before setting. This also allows the frosting to soak into the top layer a little bit, which really makes these brownies extra moist. You can see this effect in the above photo.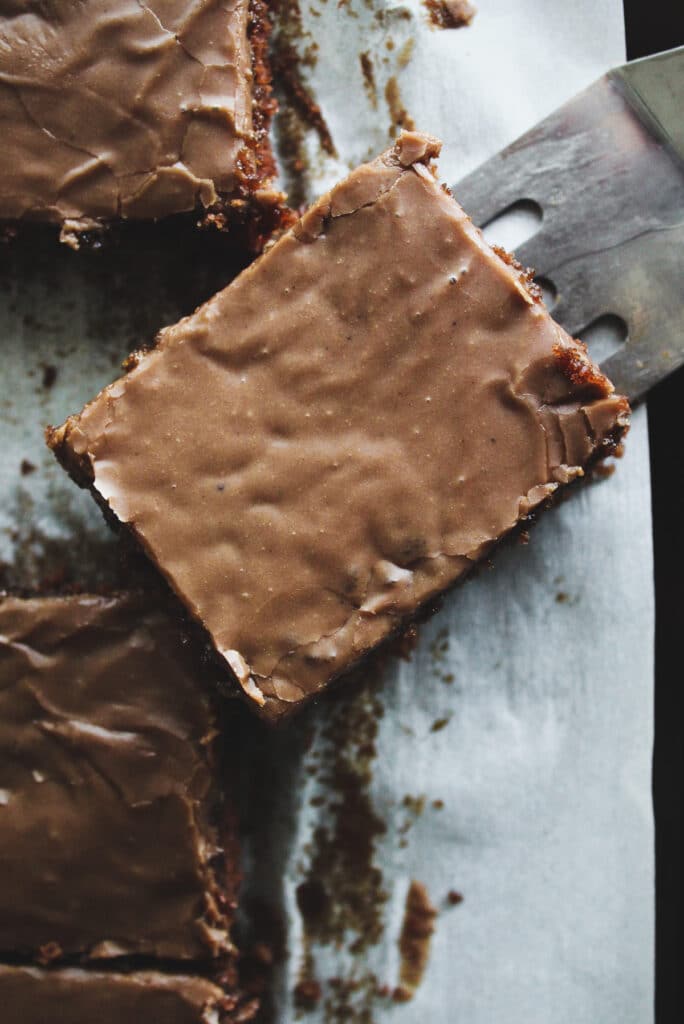 These brownies have stood the test of time in our family and really hit the spot when you're looking for something with chocolate. They are easy to make and even easier to eat!I hope you enjoy!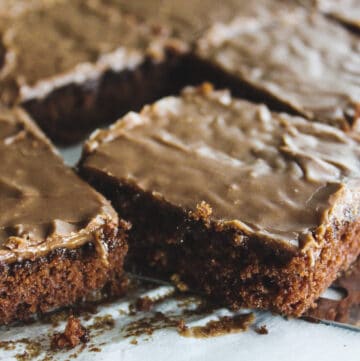 Texas Brownies
These soft and moist Texas brownies with fudge frosting are perfect for a crowd! You may have even heard of these brownies called Lunch Lady Brownies. Whatever you call them, you are sure to love them. They are especially great for large gatherings!
Ingredients
Brownie Ingredients
2

cups

all-purpose flour

2

cups

sugar

½

cup

(1 stick) salted butter

½

cup

shortening

1

cup

strong brewed coffee

¼

cup

unsweetened cocoa powder

½

cup

buttermilk*

2

eggs

whisked

1

teaspoon

baking soda

1

teaspoon

vanilla
Frosting Ingredients
½

cup

(1 stick) salted butter

2

Tablespoons

unsweetened cocoa powder

¼

cup

milk

3 ½

cups

powdered sugar

1

teaspoon

vanilla
Instructions
Brownie Instructions
Preheat oven to 400° F. In a large mixing bowl, combine the flour and sugar.

In a heavy saucepan, combine the butter, shortening, coffee, and cocoa. Stir and heat to boiling.

Pour the boiling mixture over the flour and sugar in the bowl. Add the buttermilk, eggs, baking soda, and vanilla. Mix well using a whisk or on medium speed with a mixer.

Pour the batter into a greased or parchment lined 17 ½ x 11 inch jellyroll pan. Bake for approximately 20 minutes or until toothpick tester comes out clean in the center of the pan.
Frosting Instructions
While the brownies bake, prepare frosting. In a saucepan, combine butter, cocoa, and milk. Heat to boiling, while stirring constantly.

Remove from heat and stir in powdered sugar and vanilla until frosting is smooth. Pour the warm frosting over brownies while they are still warm.

Cool, cut into bars, and enjoy.
Notes
If you do not have buttermilk, you may substitute ½ cup milk mixed with 2 tsp of vinegar.