I eagerly jumped on the sourdough bandwagon back in May, and I am so glad for it. For over the past 7 months, I have learned so much about sourdough. The most important learning of mine is that I still have so much I need to learn. In addition to bread, I have created many recipes with sourdough discard, including this little sourdough discard chocolate cake. Don't worry; you can still make this cake even if you do not have a sourdough starter.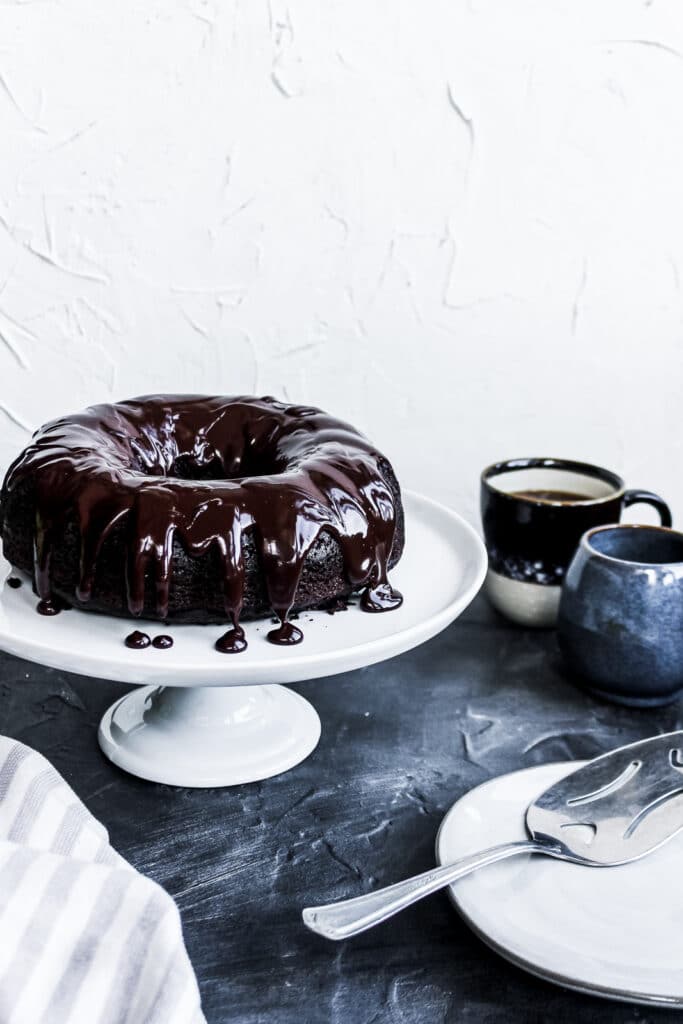 My Sourdough Experience So Far
In terms of bread, I have produced dozens of successful loaves, including a matcha turtle, ghost and "boo" loaf, and more. However, I have failed to consistently achieve an open crumb. Fortunately, the bread always turns out delicious even if it isn't as airy as I would like. It's been a fun project, and I will keep at it though. Here are a few of my favorite creations:
With any sourdough starter comes lots of discard. For those who are unfamiliar, sourdough discard is a portion of your sourdough starter that is removed during feedings. Many people just toss it, but I just don't want to throw away an ingredient that can still be used. I know, I know. It's just a mix of flour and water which is about as cheap as it gets when it comes to baking ingredients. However, I was raised in a household where you don't waste food, and I am grateful for it. You can make so many tasty foods with sourdough discard, including this cake!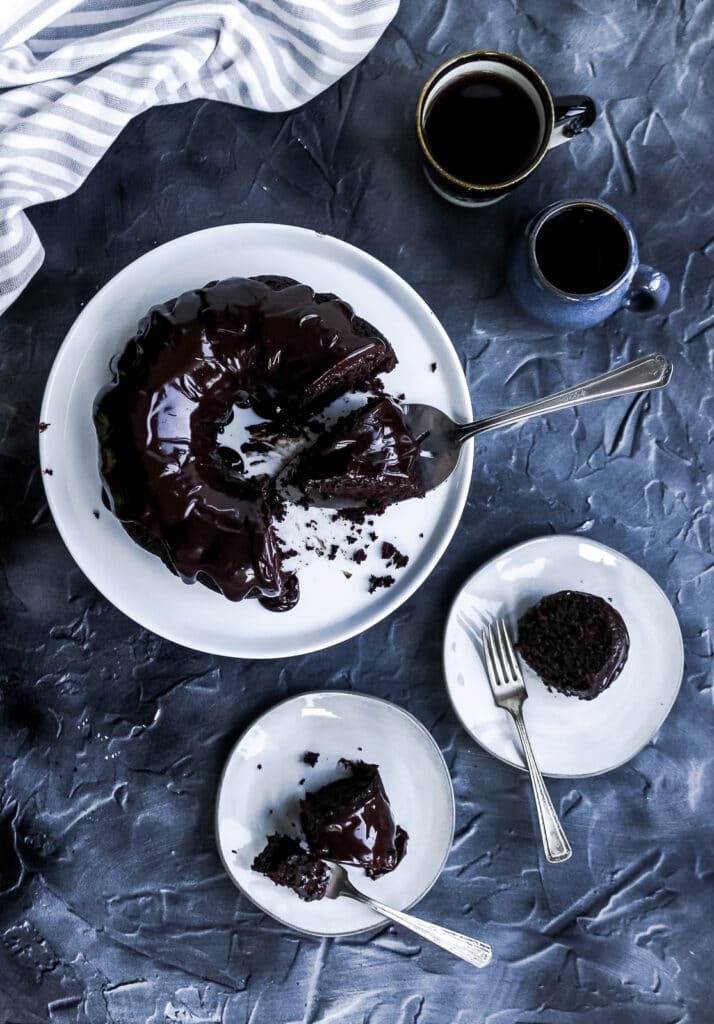 Sourdough Discard Chocolate Cake
As a result, I have gotten super creative in my uses of sourdough discard. Usually, I go the pancake or cracker route, but I wanted to try something sweet! In this case, I did some experimentation with one of my favorite cake recipes and made a few modifications.
It turned out really great and the chocolate definitely masked the sourdough "sourness" that I was worried might still be present. This cake can be mixed quickly since it is made with oil, and there's no need to soften butter. I also like this recipe because it is a fairly small cake, so you are not dealing with a large cake to sit around.
I am personally all about the frosting, so I chose a dark chocolate ganache that drips beautifully around the cake. It has a gorgeous sheen and delivers rich, chocolate flavor. This cake is best served on the day it is made, but leftovers may be stored in the refrigerator for a few days wrapped tightly. Beyond that, cakes tend to dry out too much.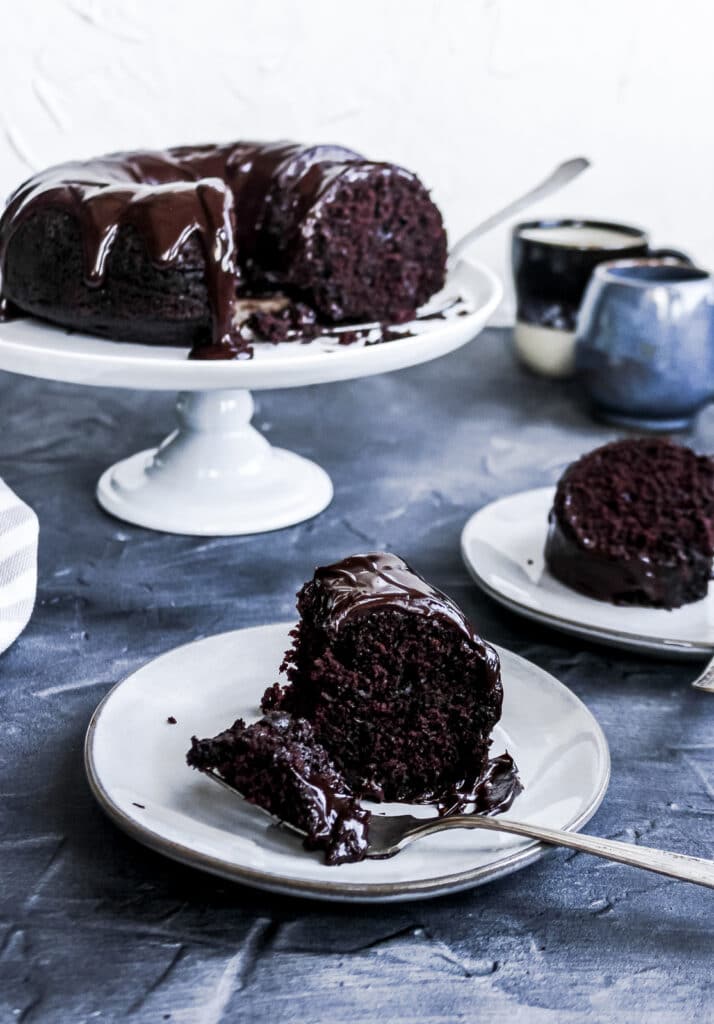 Recipe FAQs
Does the cake taste like sourdough?
This cake is fun little recipe to whip up if you are into sourdough and chocolate! The cake is baked in a bundt pan and has a super dark crumb. Personally, I found it similar to a devil's food cake without tasting the sour flavor from the discard.
Can I still make this recipe if I don't have sourdough starter?
If you do not have a sourdough starter, you are in luck! You can still make this cake by simply omitting the sourdough discard. That's it! No other changes to the recipe are needed. This cake really is pretty amazing!
Do you have other sourdough discard recipes?
I sure do! The crackers are my favorite! They are a little spicy and really cheesy!
Spicy Cheddar Sourdough Crackers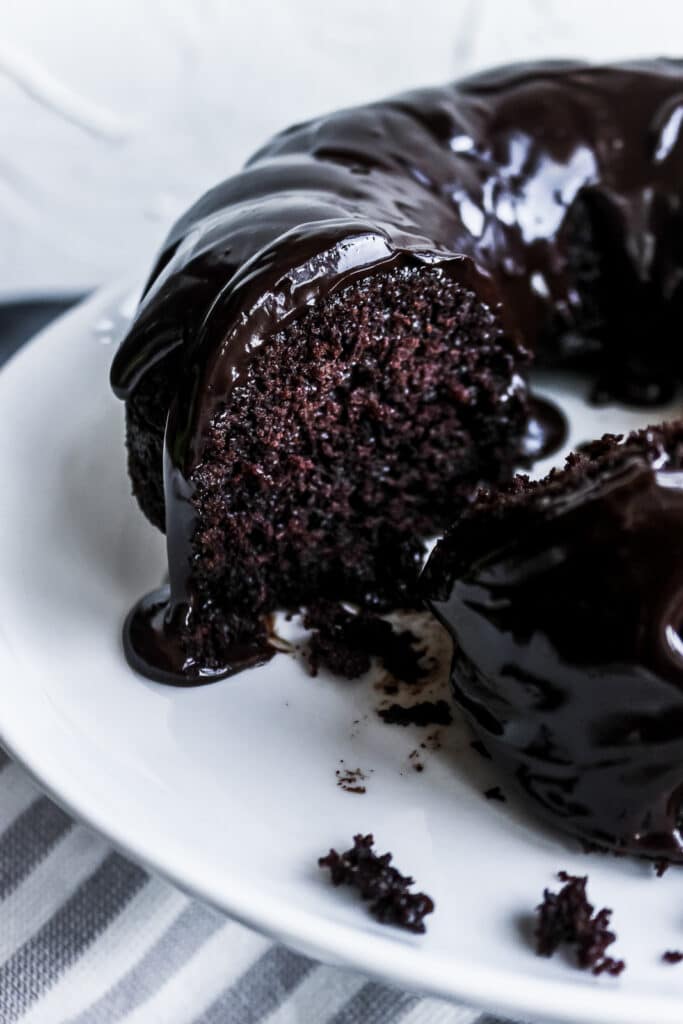 I hope you enjoy my little sourdough discard chocolate cake!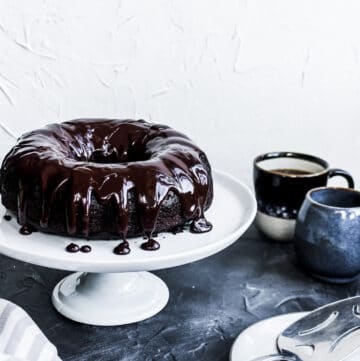 Little Sourdough Discard Chocolate Cake
This rich chocolate cake is small but decadent! With a dark chocolate ganache, it is a chocolate lover's dream. Feel free to prepare with or without sourdough discard.
Ingredients
Cake Ingredients
1

egg, lightly beaten

½

cup

milk

⅓

cup

vegetable oil

⅓

cup

sourdough discard (optional)

1

cup

all-purpose flour

1 

cup

sugar

⅓

cup

unsweetened cocoa powder

1 ½

teaspoons

baking soda

½

teaspoon

salt

½

cup

freshly brewed hot coffee
Ganache Ingredients
½

cup

heavy cream

¾

cup

dark chocolate chips
Instructions
Cake Instructions
Preheat oven to 350° F. Generously grease or spray a 10-cup bundt pan and set pan aside.

In a medium bowl, whisk together egg, milk, oil, and sourdough discard (if using). In a large bowl, sift together the flour, sugar, cocoa powder, baking soda and salt. Gradually add the flour mixture into the liquid mixture, beating with an electric mixer until combined. Do not overmix. Pour in the hot coffee and mix just until combined. The batter will be thin. Pour batter into the prepared pan.

Bake for approximately 32-35 minutes or until a wooden toothpick inserted in the center comes out clean. Cool the cake for about 20 minutes. Carefully invert and remove the cake from the pan. You may need to gently loosen the sides of the cake with a thin rubber spatula. Once removed from the pan, let cool before icing with the dark chocolate ganache.
Ganache Instructions
Heat the heavy cream just until it begins to simmer. Immediately pour the hot cream over the dark chocolate chips.

Let sit for about 2 minutes and whisk until smooth and shiny. Let cool for about 15 minutes before pouring over the cake.
Notes
This makes a fairly small cake. 
Follow on my socials!
More Pics!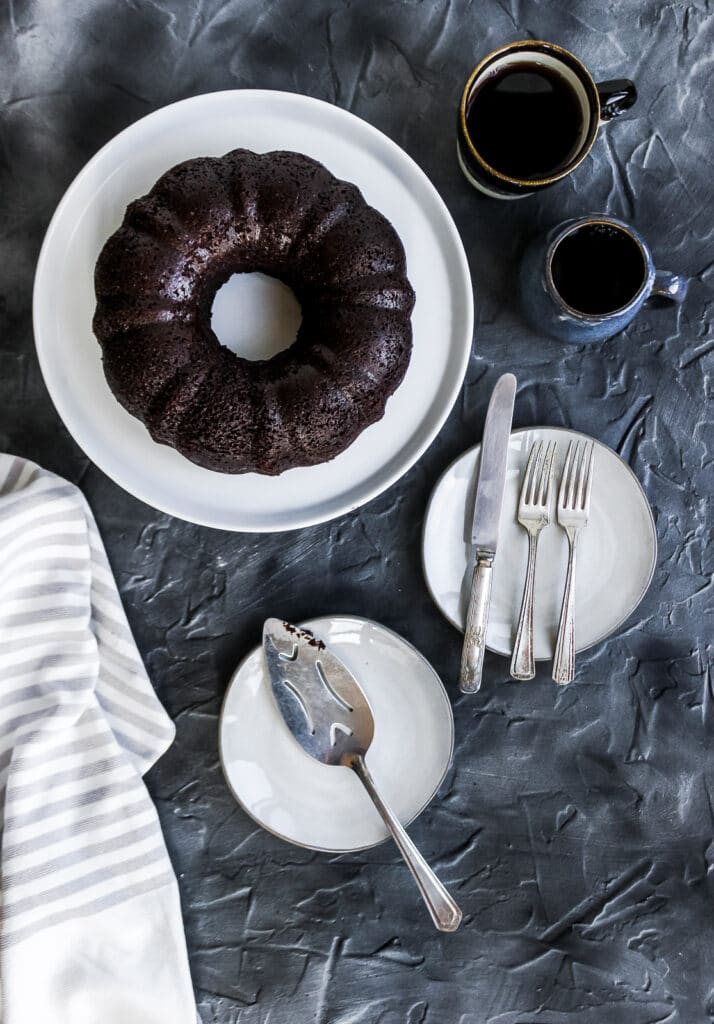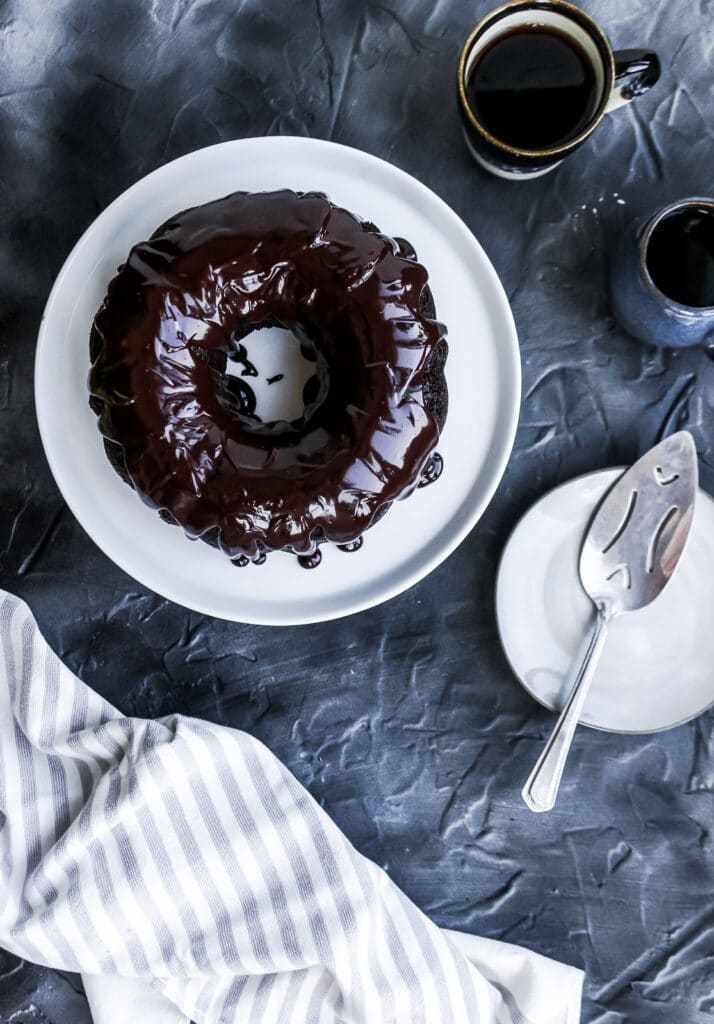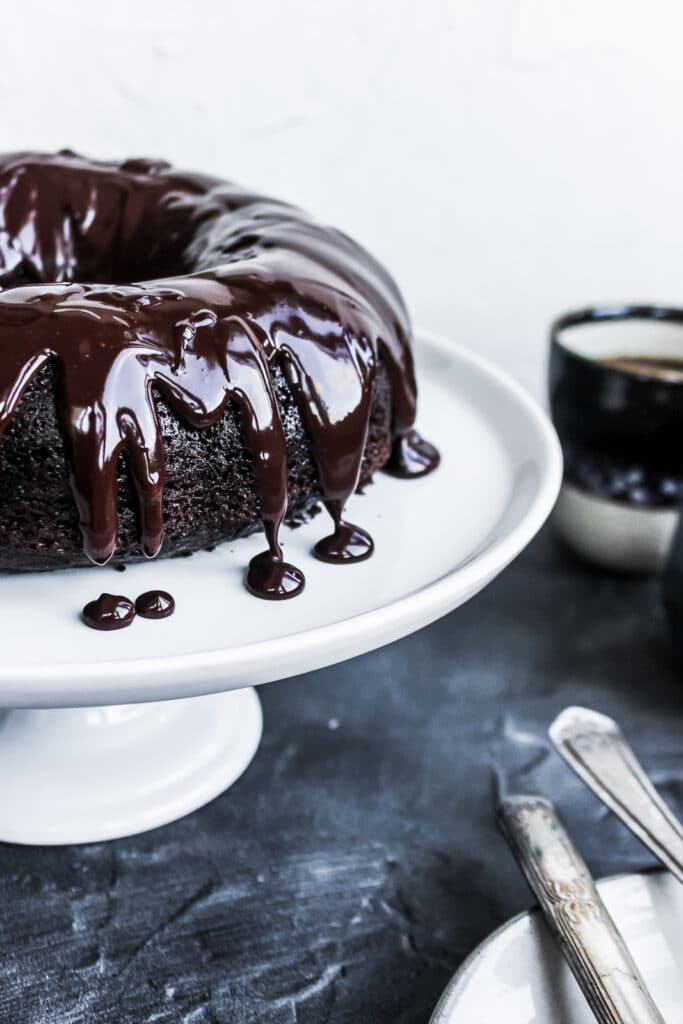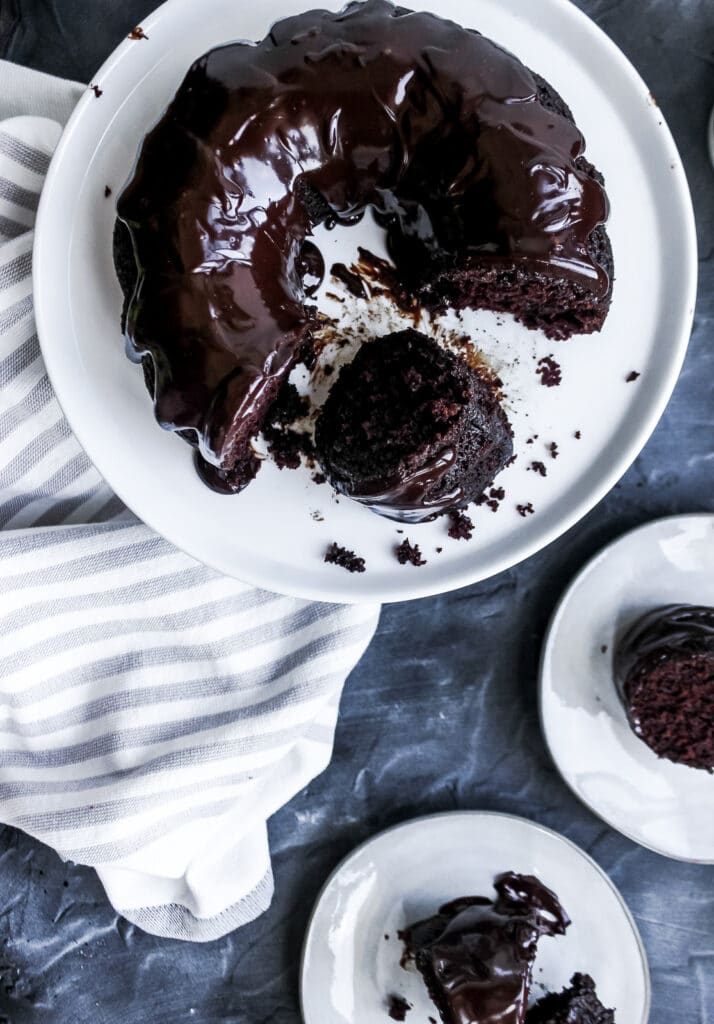 You may also enjoy: