It doesn't matter what time of year it is, blueberry muffins are my all-time favorite type of muffin. I love them to be bursting with blueberries and topped with a crunchy, buttery streusel. I actually have a funny little story about how these doctored blueberry muffins came to be.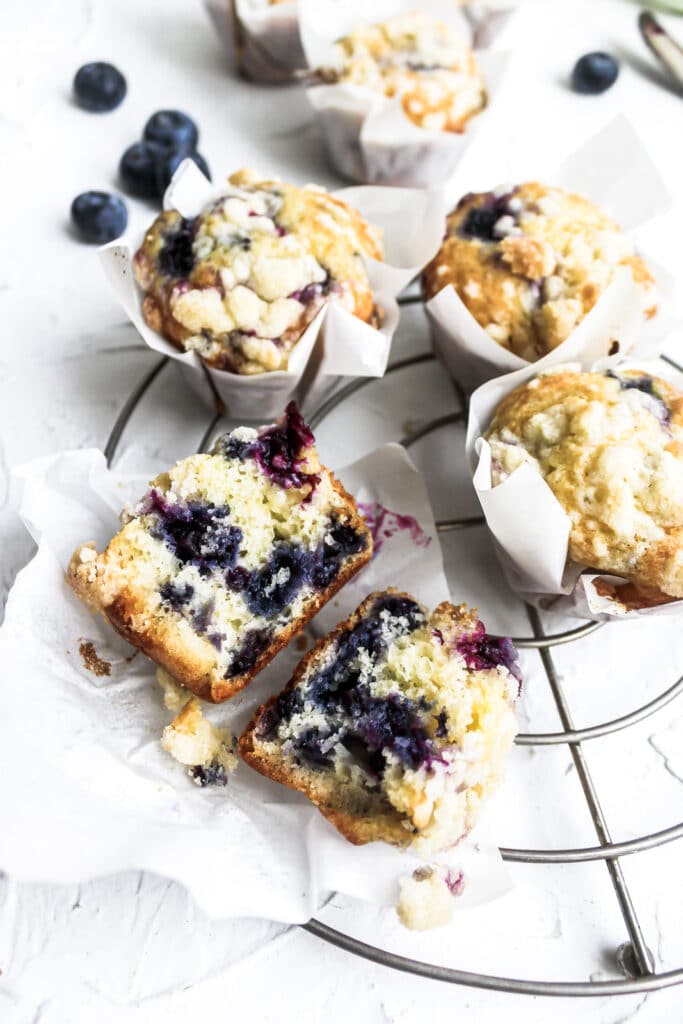 You see, this "recipe" is simply a doctored-up blueberry muffin mix, specifically Betty Crocker muffin mix with the can of real blueberries shown here.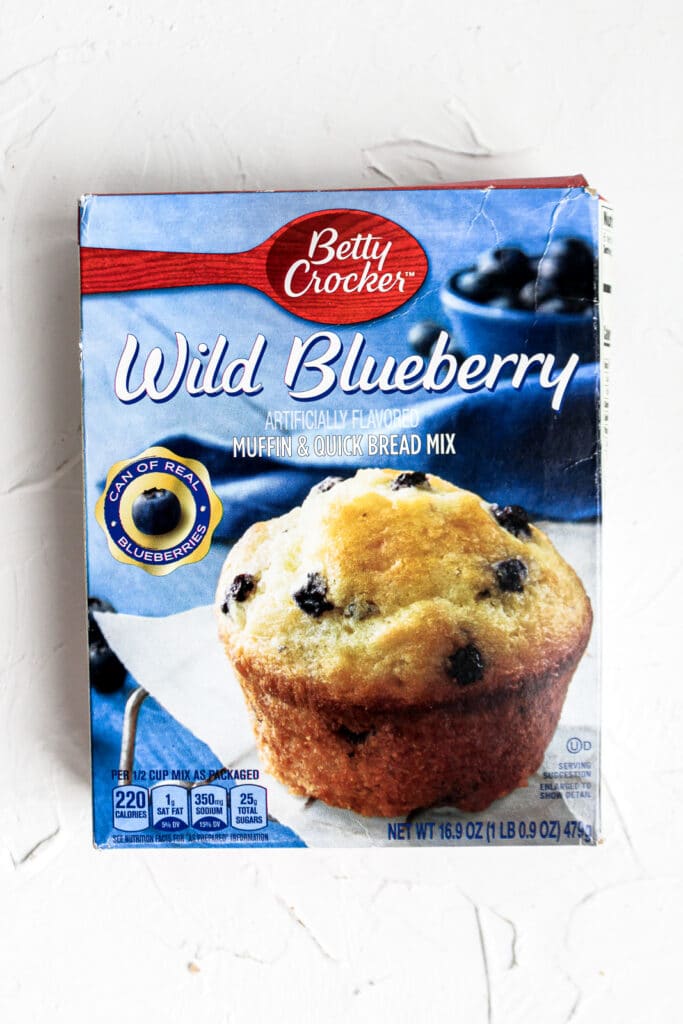 I've tried various homemade recipes for blueberry muffins over the years, and I always wind up a bit disappointed. The flavor is lacking, the texture is dry, the muffins didn't rise properly, the recipe yields too many or too few muffins, etc. Maybe it's because I grew up eating them, but the Betty Crocker blueberry muffin mix makes the absolute best blueberry muffins. You can buy this muffin mix at most grocery store retailers, including Target. I try to keep a box on hand at all times just in case!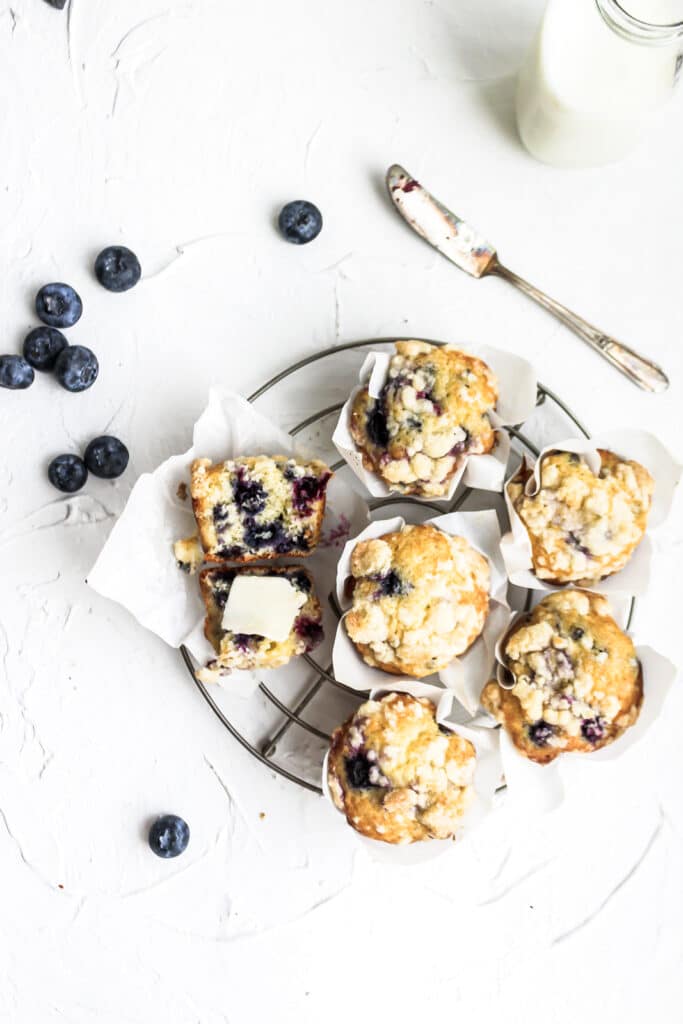 Baking Hacks for the Doctored Blueberry Muffins
With three simple hacks, you can make bakery style blueberry muffins right from you own home with a short-cut mix! Here's all you need to do:
1. Use homemade parchment paper liners
2. Add extra blueberries (fresh or frozen)
3. Top with a homemade streusel

The parchment paper liners is a handy little trick I learned from my sister Jolene. The parchment paper square liners makes the muffins look so inviting. They are rustic but still elegant. Another added bonus is that the muffins never stick to them either. You can certainly purchase parchment baking cups or use regular liners too.
The Betty Crocker mix comes with real wild blueberries in a small can within the mix. Definitely use them, but drain and rinse them well before adding. I like to dry them slightly on paper towels too. In addition, I like to add extra fresh or frozen blueberries to the muffins. After you have scooped the batter into the muffin tin, I like to press 5-6 extra blueberries into the muffins. This ensures you have the perfect amount in each muffin. See all of those blueberries!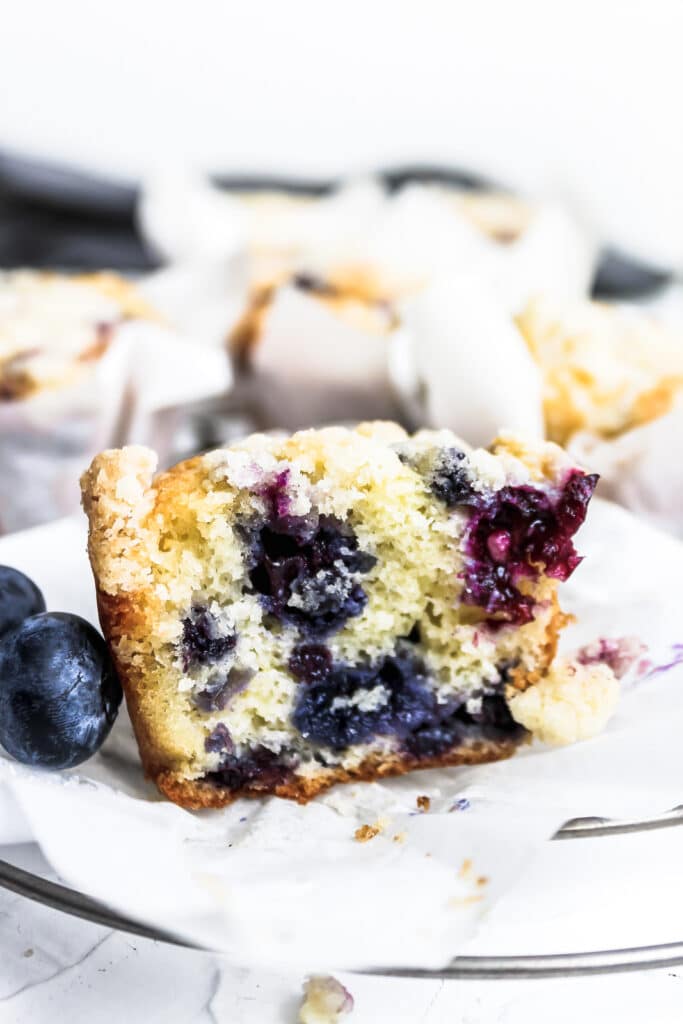 Lastly, top the muffins with a homemade streusel. What's not to love about a crunchy, buttery topping? It really adds a special touch and a perfect amount of crunch to the muffin tops.
Now, if you are thinking of using a blueberry muffin mix from a pouch with the imitation blueberry bits, don't. The flavor is just not there and who wants to eat an imitation blueberry? Not me. I know I normally love baking from scratch but I have no shame in using a mix, especially when the end result is this good. I hope you'll give these doctored blueberry muffins a try!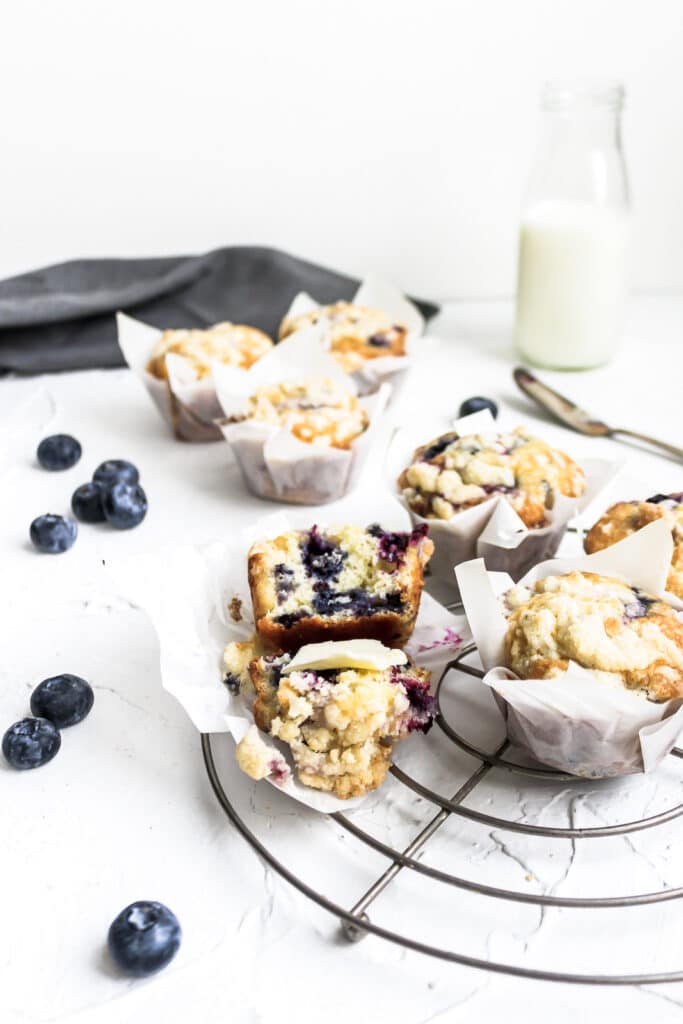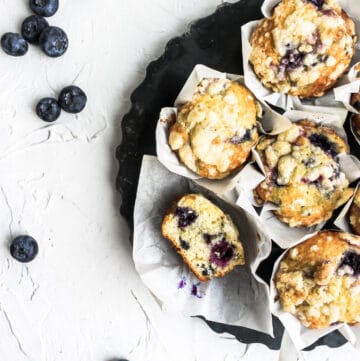 Doctored Blueberry Muffins
Say goodbye to dense or dry blueberry muffins! Sometimes shortcut recipes are the best! In this case, these doctored blueberry muffins start with a Betty Crocker blueberry muffin mix with a few additions. The end result is the most delicious and light blueberry muffins.
Ingredients
Streusel Ingredients
⅓

cup

all-purpose flour

¼

cup

sugar

3

Tbsp

butter

cut into thin slices
Muffin Ingredients
1

Betty Crocker Wild Blueberry Muffin Mix

no substitutions

Ingredients listed on mix

Additional blueberries

fresh or frozen
Instructions
Prepare parchment cup liners by cutting parchment paper into 12 5x5 inch squares. Set aside. Otherwise, use regular cupcake liners.

Preheat oven as listed on muffin packaging. Prepare the mix according to package directions.

To fill the muffin batter in the parchment liners, press the parchment cup into the muffin pan with a small glass. Remove the glass. While still holding the liner in place, scoop muffin batter into the cup about ⅔ of the way full. Repeat until all muffin liners are filled.

Press 5-6 additional blueberries into the muffin batter. Lastly, sprinkle streusel topping evenly over each.

Bake according to package directions or until the tops are lightly golden and cooked through. Let cool slightly before serving.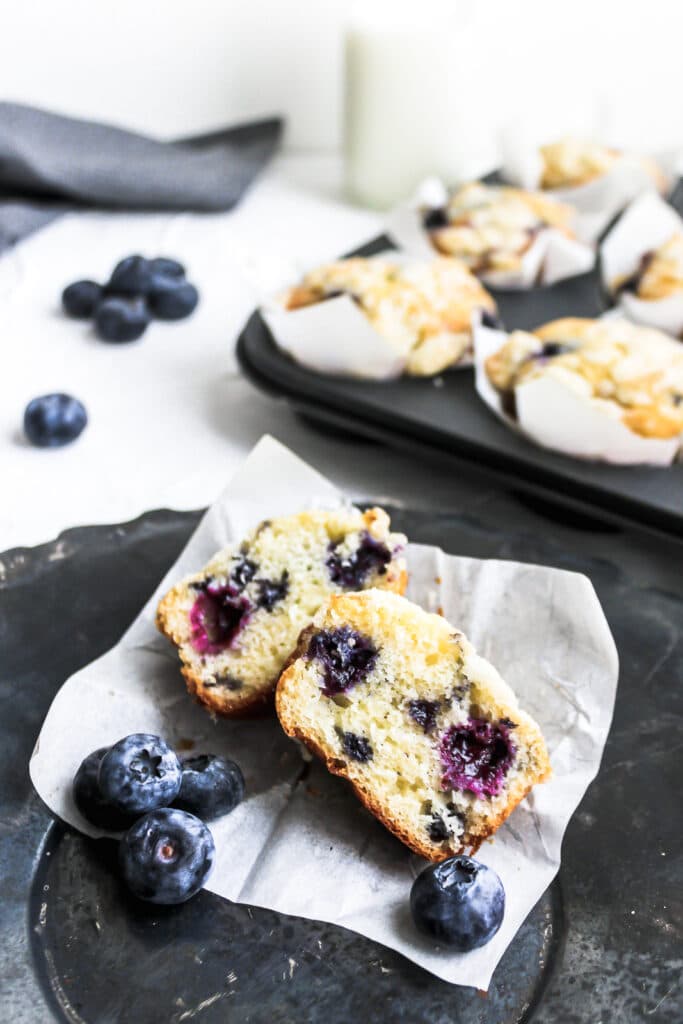 You will also want to check out these great posts!