Candied walnuts are a perfect snack for those looking for something a little sweet and a little healthy! They are glazed to perfection in a brown sugar and buttery coating. They would make a lovely gift for a friend, though you may be tempted to keep them all for yourself!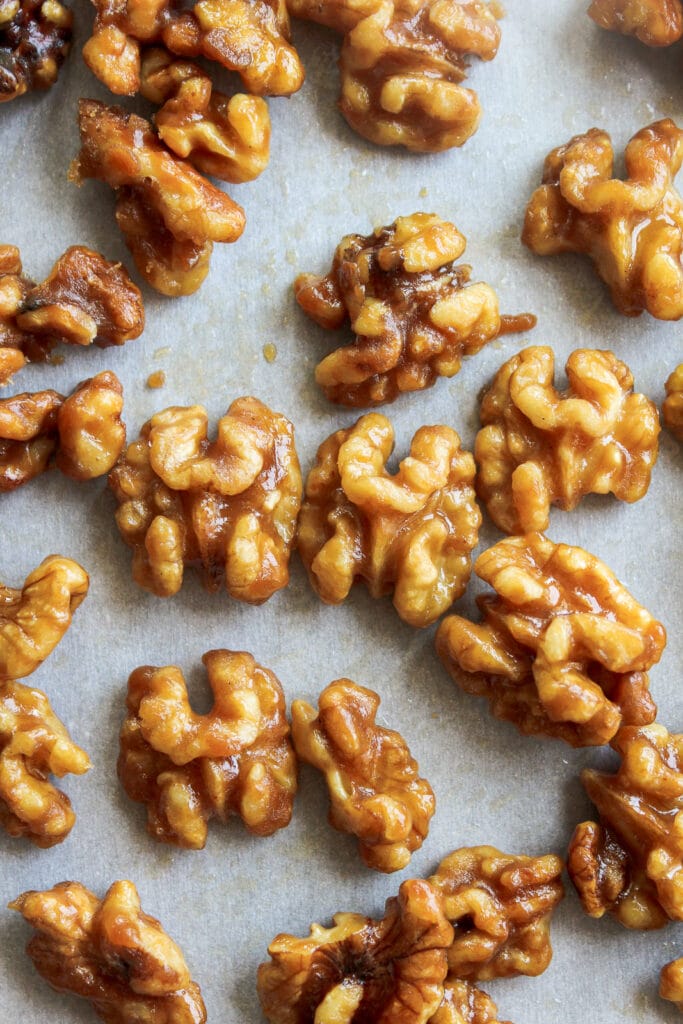 Candied Walnut Highlights
Candied nuts can be hit or miss for me. Sometimes, the sugary coating is just too much to the point that it feels as though you are eating just "candy." However, these candied walnuts have just the right balance of sweet and salty! This particular recipe is fairly simple and yields a caramelized effect rather than a thick, sugary coating like some candied nuts. The addition of butter with the brown sugar results in a shiny finish and tastes like caramel! YUM! Truthfully, these nuts are perfect for snacking, too. Even non-walnut fans are known to keep going back for more!
Other Ways to Enjoy the Walnuts
During my pregnancy, I have been eating so many more salads than usual. I really love veggies, but I think the main reason is because salads are nice and light during the hot summer months. Salads are a simple and healthy meal to throw together which are perfect for anyone busy with a busy schedule. I think it's safe to say this is pretty much everyone these days! Plus, salads are versatile and the options for toppings are literally endless. Though my choice of salad depends on my mood, one of my all-time favorite salad combinations is: leafy greens, fresh berries, feta cheese, chicken, avocado, and candied walnuts finished off with a bright vinaigrette.
The walnuts are also a lovely topping for oatmeal, Greek yogurt, or even an ice cream sundae. I have found that these walnuts seem to disappear within a few days, but you will just have to see for yourself! However you use them, I think you will agree that this recipe is a keeper! If you are on Instagram, please check out my account @runtothetable and follow me if you don't already!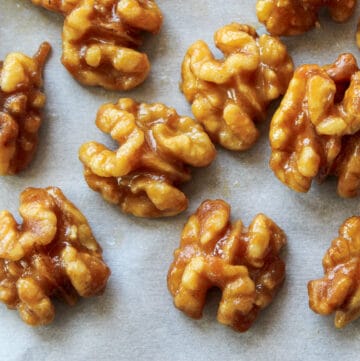 Candied Walnuts
These candied walnuts are super addictive with their sweet and buttery coating! They are delicious own their own or can be used as a beautiful topping for a greens salad, oatmeal, or Greek yogurt! Special thanks to my mom Sharon for this recipe.
Ingredients
⅓

cup

brown sugar

¼

cup

water

2

Tbsp

butter

⅛

tsp

salt

1 ½

cups

walnut halves
Instructions
Combine first four ingredients in a large, non-stick skillet. Bring the ingredients to a boil over medium heat, stirring constantly. Boil for 1 minute.

Add walnut halves and stir. Toss until syrup forms a glaze on nuts, about 3 minutes. Watch carefully to avoid scotching.

Transfer nuts to a sheet pan lined with parchment paper and quickly separate nuts with a fork. Let cool completely.
Notes
Cook times may need to be adjusted slightly depending on your cooktop and pan. Just make sure to watch carefully to avoid burning the syrup or nuts.
More Pics of the Candied Walnuts
Walnuts before: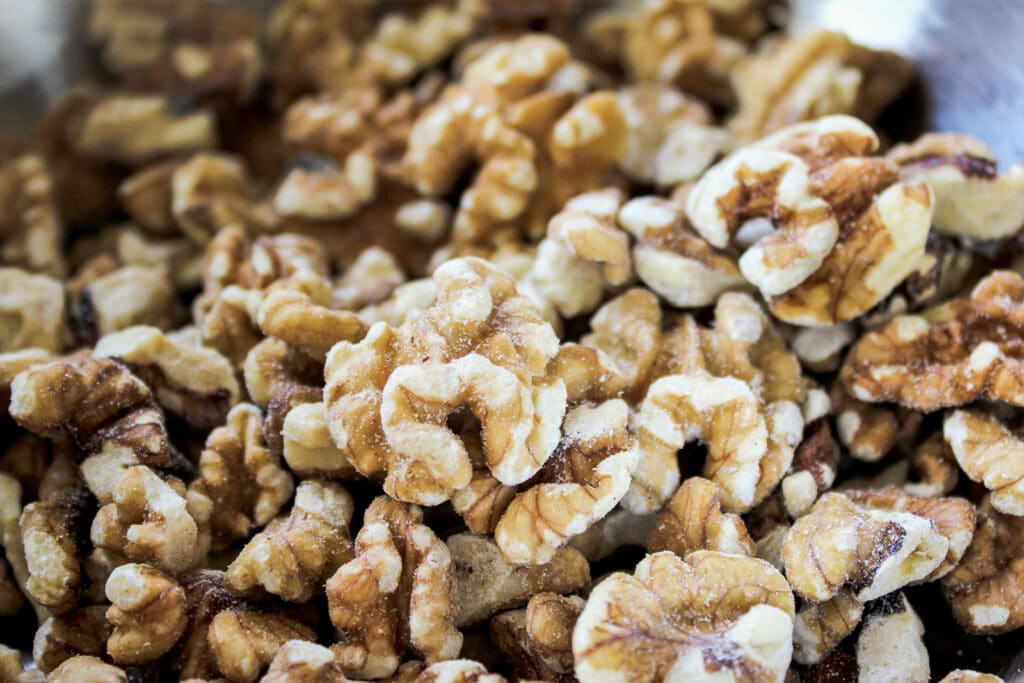 And after: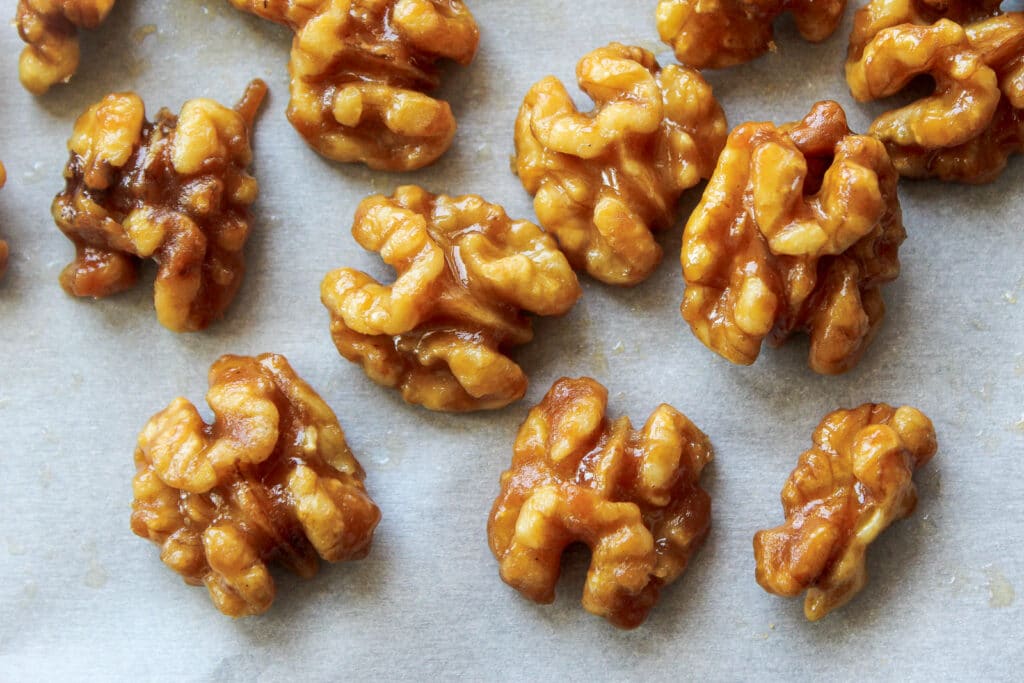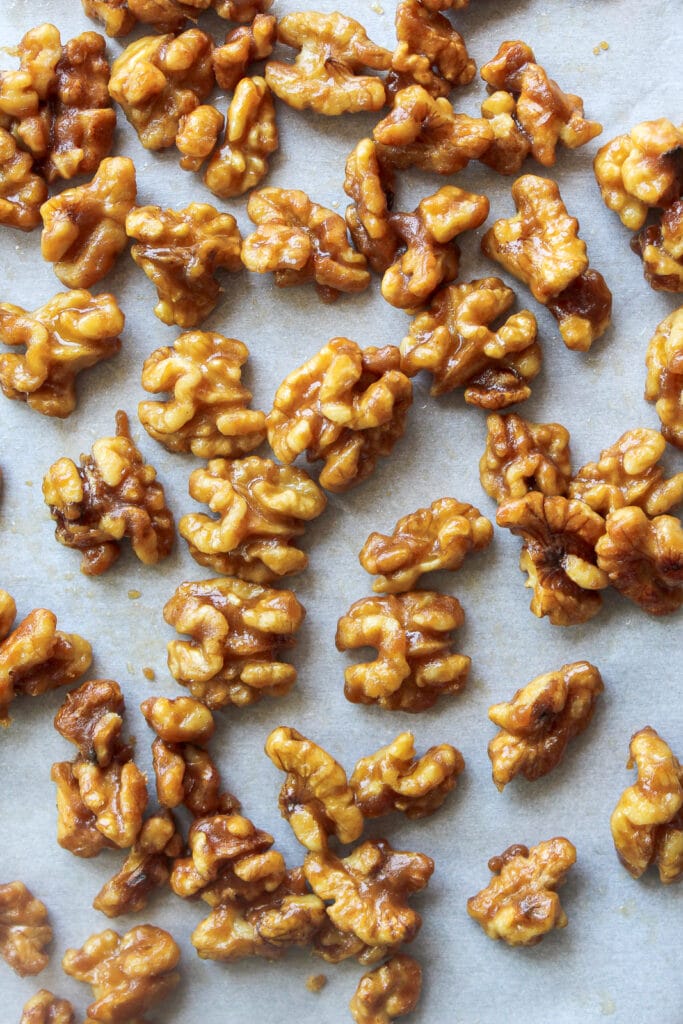 Be sure to check out these other great posts: