I am still in disbelief that December is already here. It is even more deceptive considering it was in the 50s here today. I am feeling very behind in anticipation of Christmas, but I suppose I have a valid excuse considering I have a busy 2 year old and a newborn. One essential recipe each year for the holidays is Christmas crack. This stuff is wicked delicious and dangerously addictive; hence the name! This treat also goes by the name heath bars or saltine toffee, but neither are as fun as Christmas crack. Let's be honest here.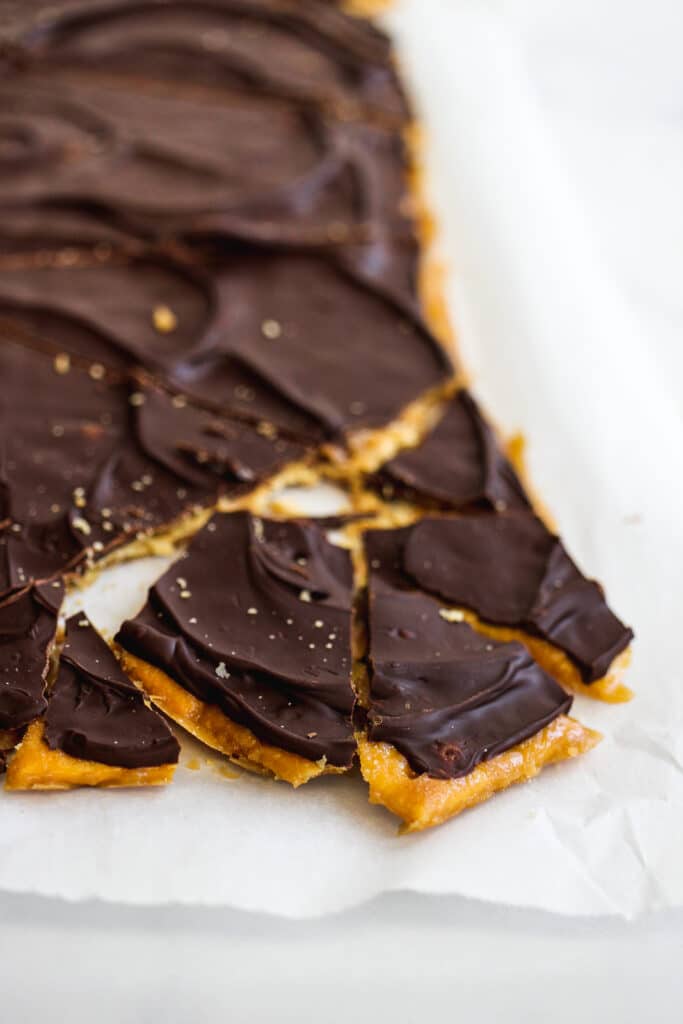 Christmas Crack Ingredients
Here's all you need to make Christmas crack:
Saltine Crackers
Salted Butter
Brown Sugar
Semi-Sweet Chocolate Chips
Parchment Paper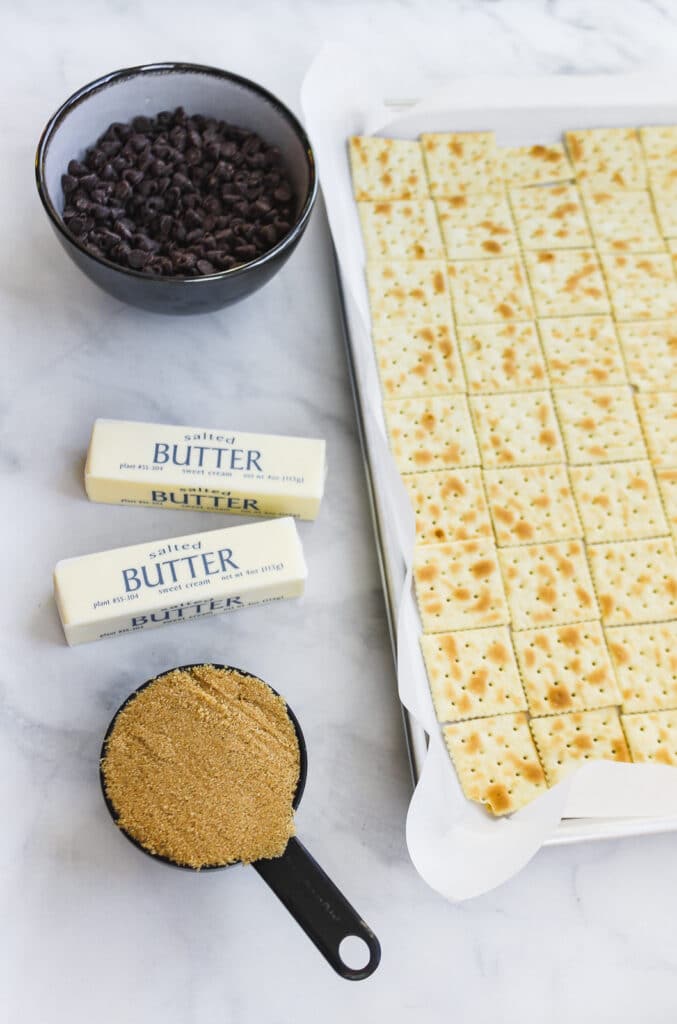 Christmas Crack Finished Product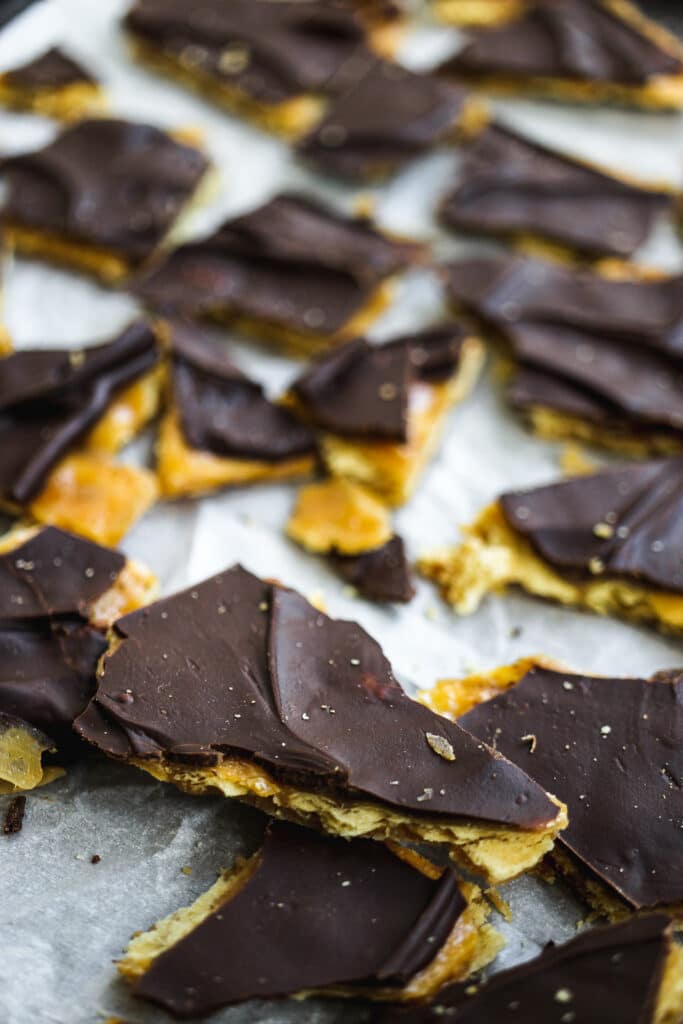 The saltine crackers are the base of these treats and get coated in a buttery, caramel that crisps up after baking. Since these are quite sweet, you need the salted saltine crackers and salted butter. To finish them off, you spread melted chocolate chips all of the top, and break it up into small and large random pieces. If given a choice, always go for the big pieces.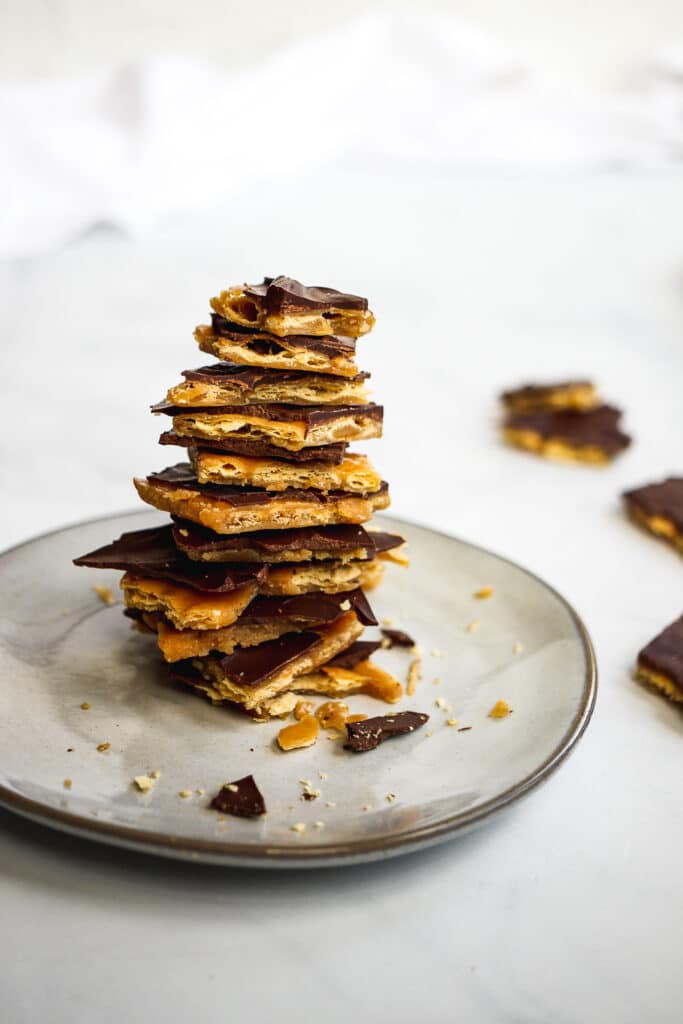 I also noted parchment paper above because you need it to line you baking tray. Simply greasing the pan or lining with aluminum foil will not work and you will end up with a stuck on mess or little pieces of aluminum foil stuck to the bottom. Parchment paper is one of my baking essentials for anything from cookies to oven roasted veggies. It is the best because nothing sticks to it!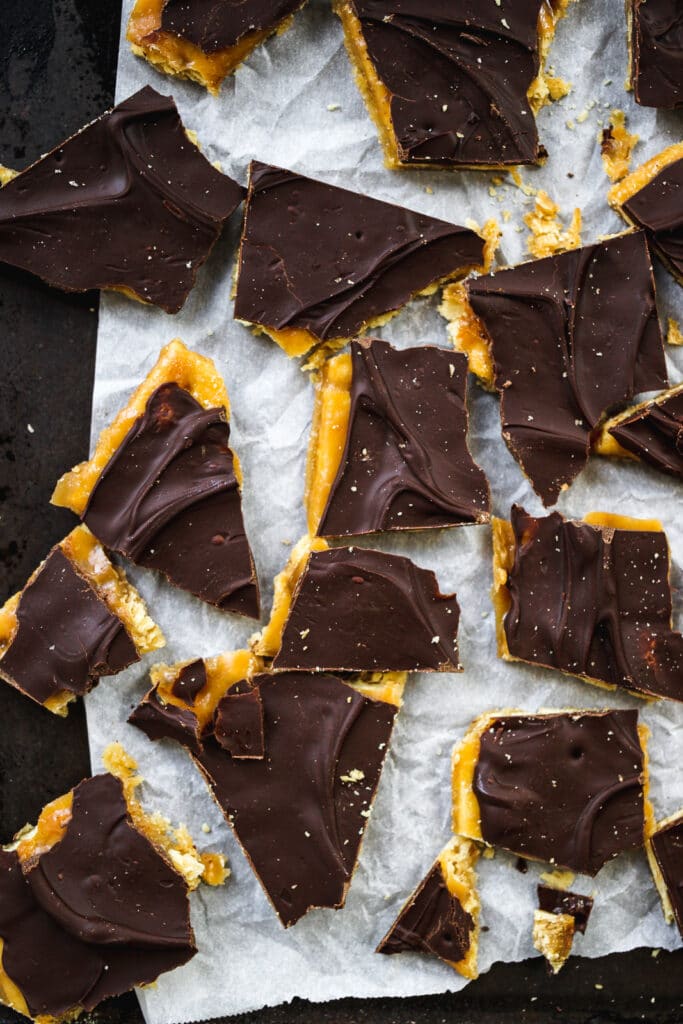 With that I will wrap up because these treats speak for themselves! Happy baking (and eating)!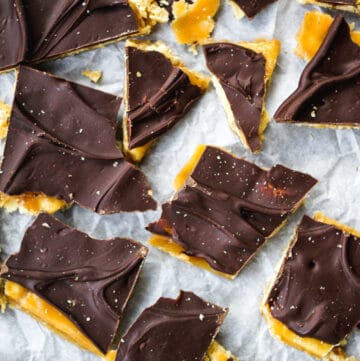 Christmas Crack (Saltine Toffee)
Christmas Crack is recipe from my mom, and it is an essential during the holidays! This sweet and salty treat is toffee-like but is made with saltine crackers. It is seriously addictive, hence the name! Other names for this tasty treat are heath bars or saltine toffee.
Ingredients
About 54 saltine crackers

1

cup

(2 sticks) salted butter

1

cup

brown sugar

1

12 ounce

package semi-sweet chocolate chips
Instructions
Preheat oven to 375° F. Line a 16.25 x 11.25 inch rimmed baking pan with parchment paper.

Arrange the saltine crackers in a single layer over the parchment paper on the baking pan. You may need to break some crackers in half to fit them snugly.

In a medium saucepan, melt the butter and brown sugar together over medium heat and bring to a boil. Boil for 3 minutes over medium low heat, stirring constantly. Immediately pour this mixture over the crackers and spread evenly to edges.

Bake in the preheated oven for ~5-7 minutes or until mixture is bubbly throughout the pan. If the caramel is not bubbling, the texture will be off once cooled. Watch carefully. See photos below for what this should look like.

Remove from oven and rearrange the crackers if they shifted during baking. Be very careful since it will be very hot.

Melt the chocolate chips and evenly spread the chocolate over the crackers. Swirl the chocolate for added visual appeal.

Let cool completely and break or cut into uneven pieces. Enjoy!
Notes
Do not use unsalted top saltines. The salt is necessary to offset the sweetness of the caramel and chocolate layers.
Before starting recipe, review the photos below to see what the caramel mixture should look like at each step.
More Pics
This is the set-up: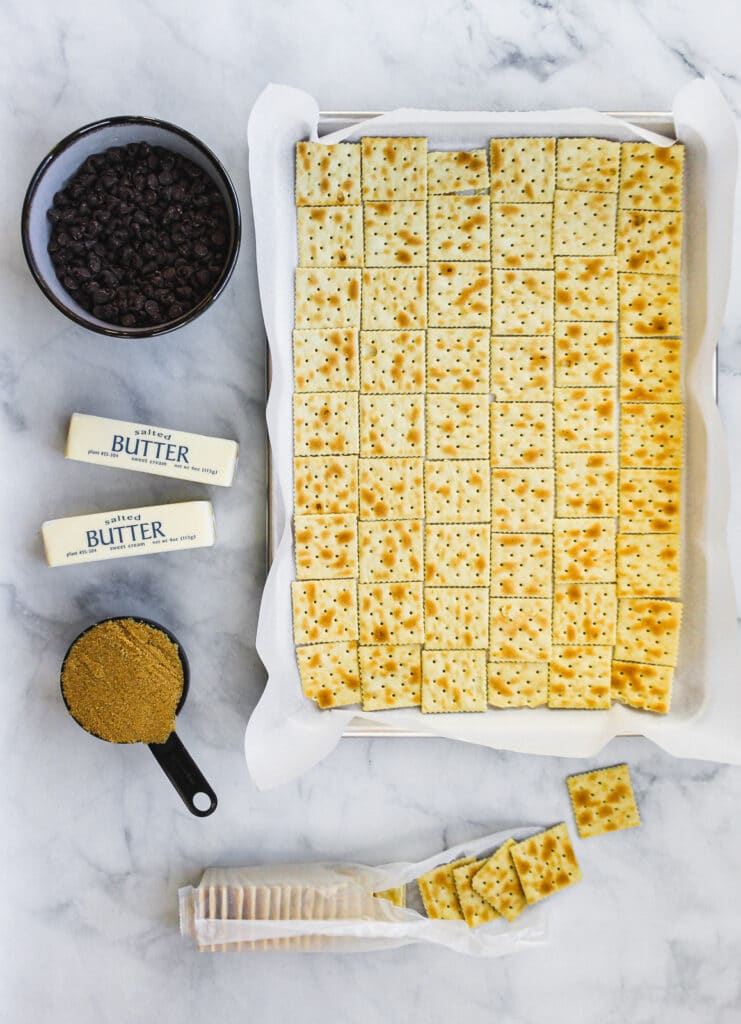 This is what your caramel mixture should look like after boiling: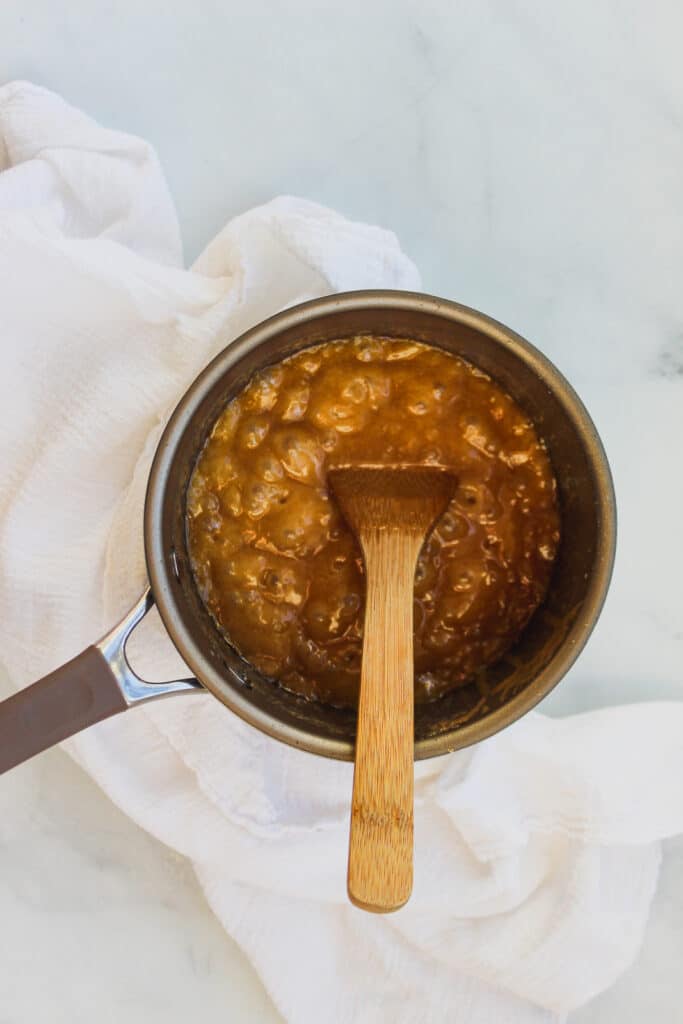 Spread it all over the crackers evenly: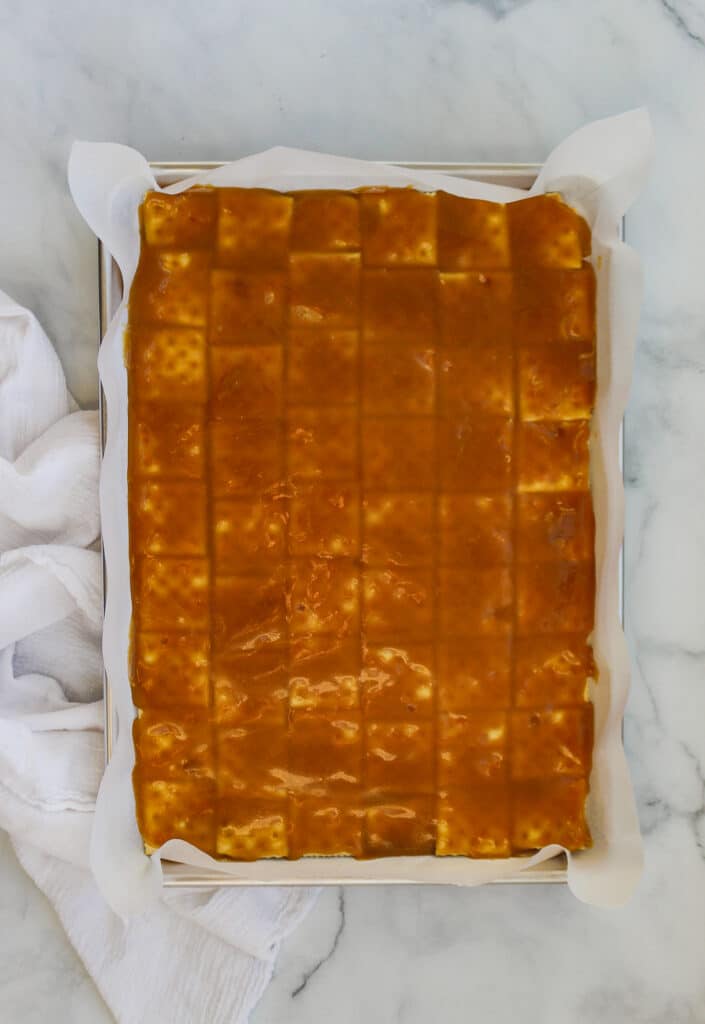 After baking, this is what you should expect to see. It stopped bubbling by the time I was able to take a picture: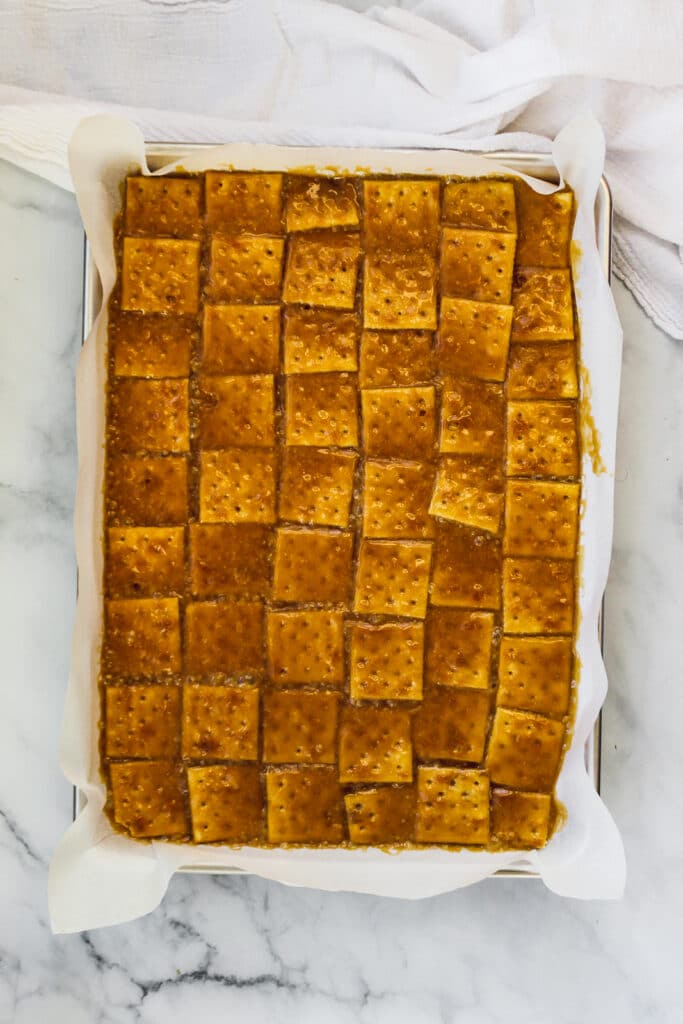 Straighten the crackers with a spatula (very carefully since it is HOT):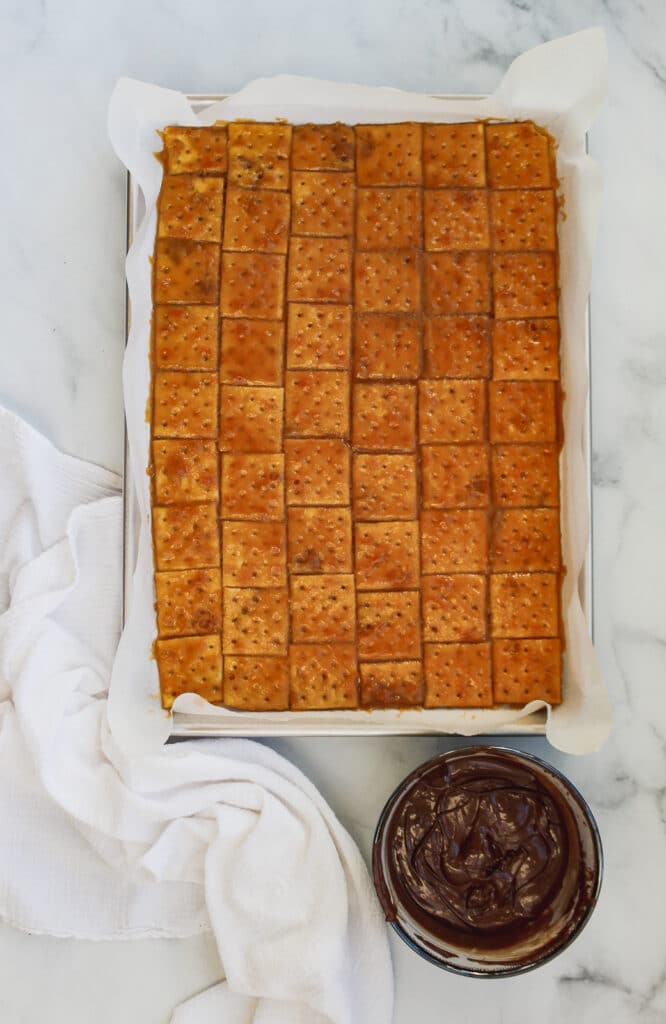 Pour on the chocolate: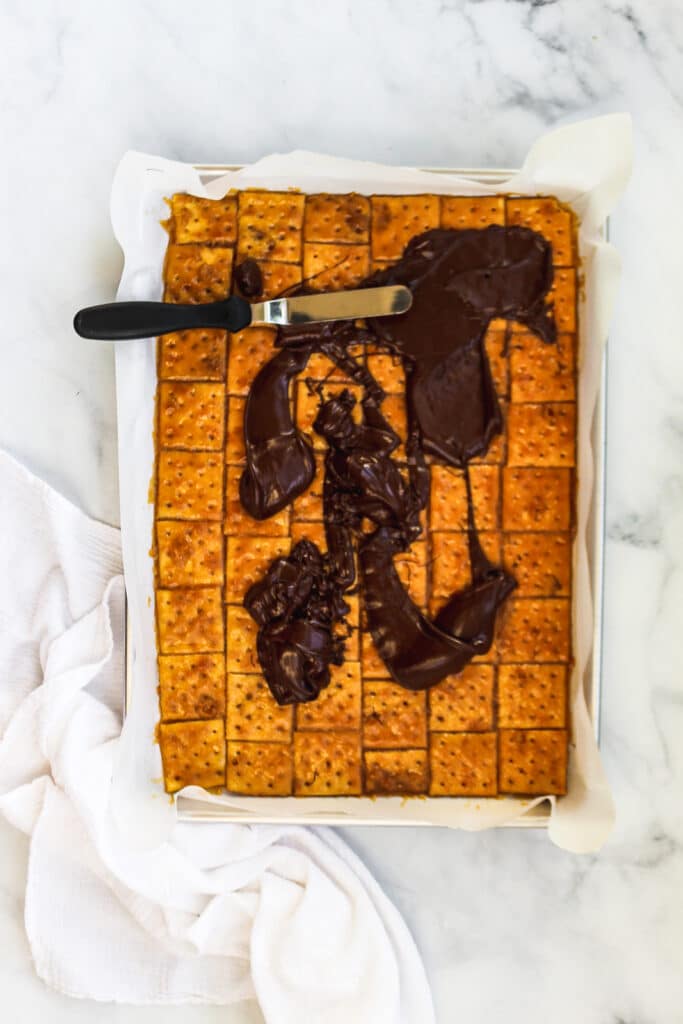 Swirl it into an even layer with an offset spatula: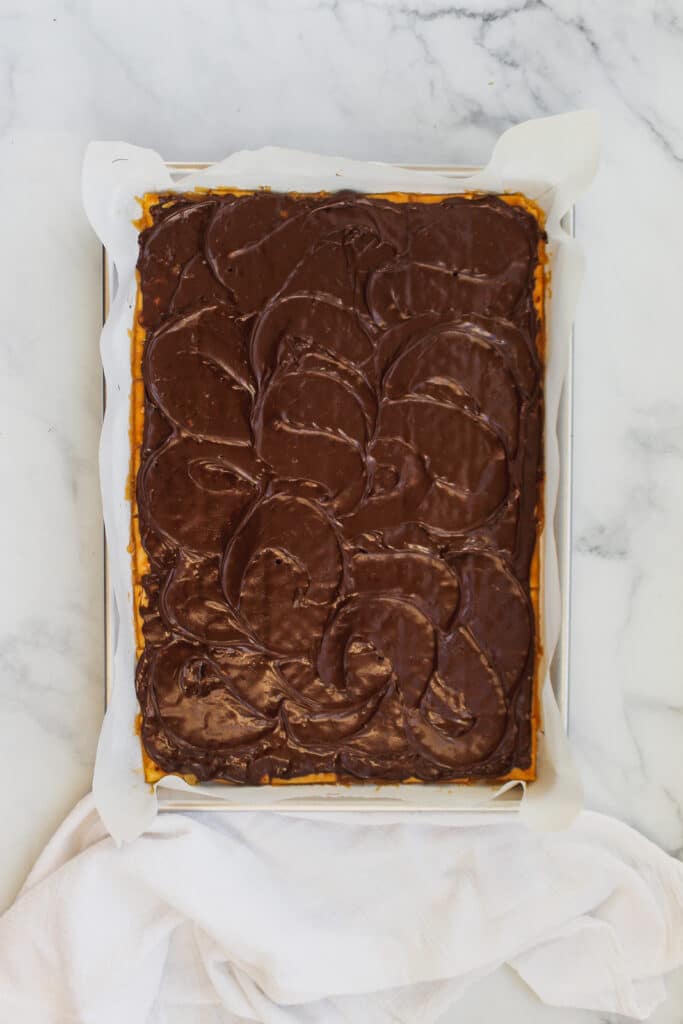 Let cool completely (this is the hard part):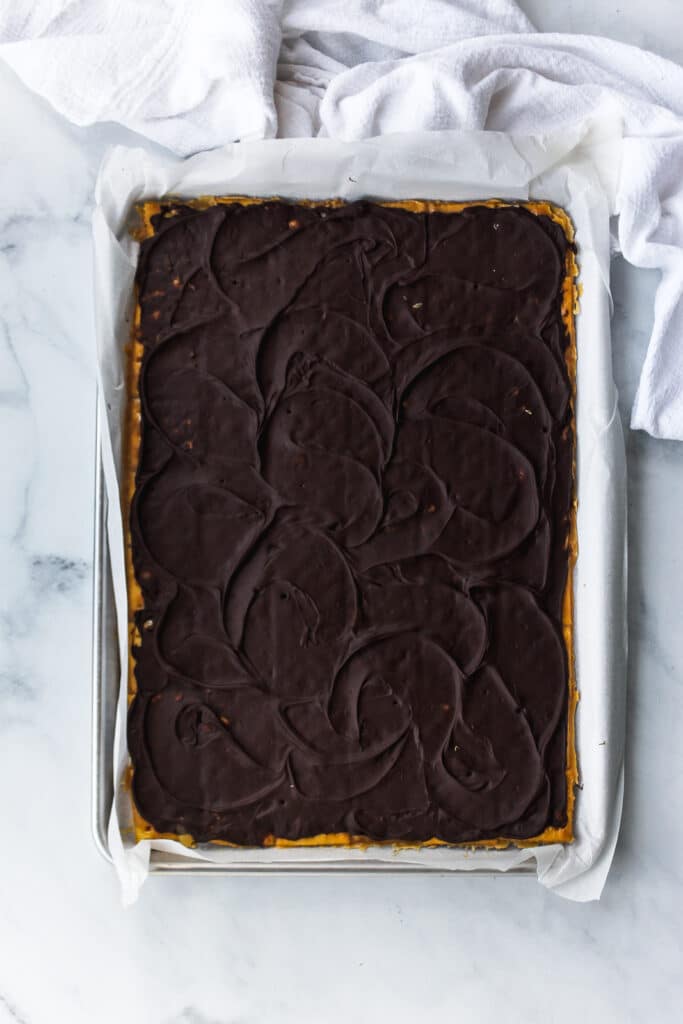 Isn't swirled chocolate so beautiful?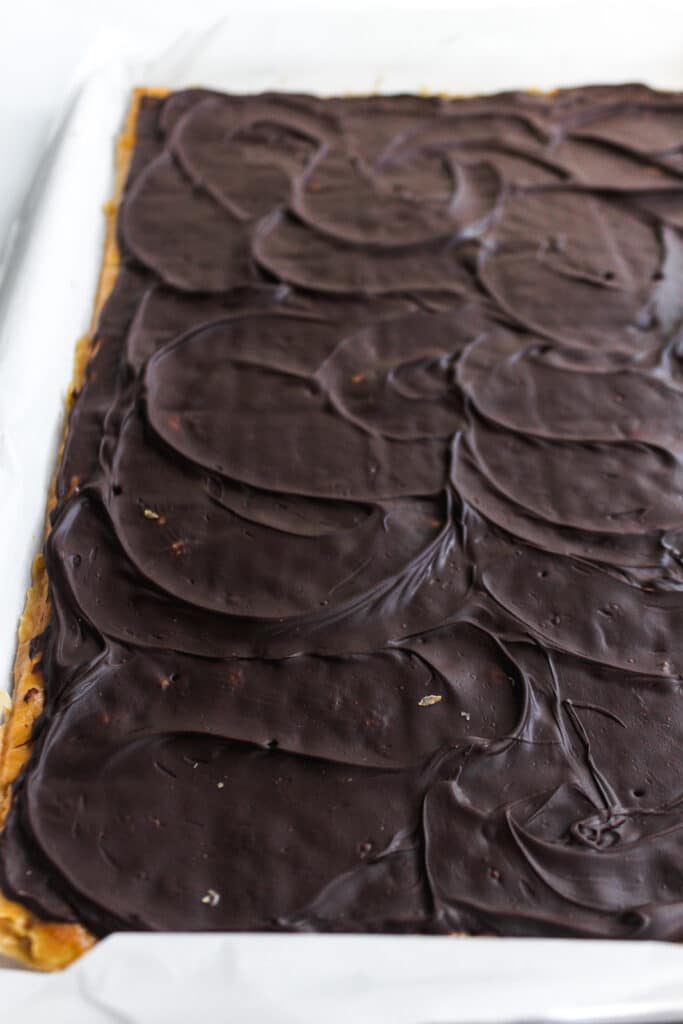 Start breaking or cutting (I like to do both):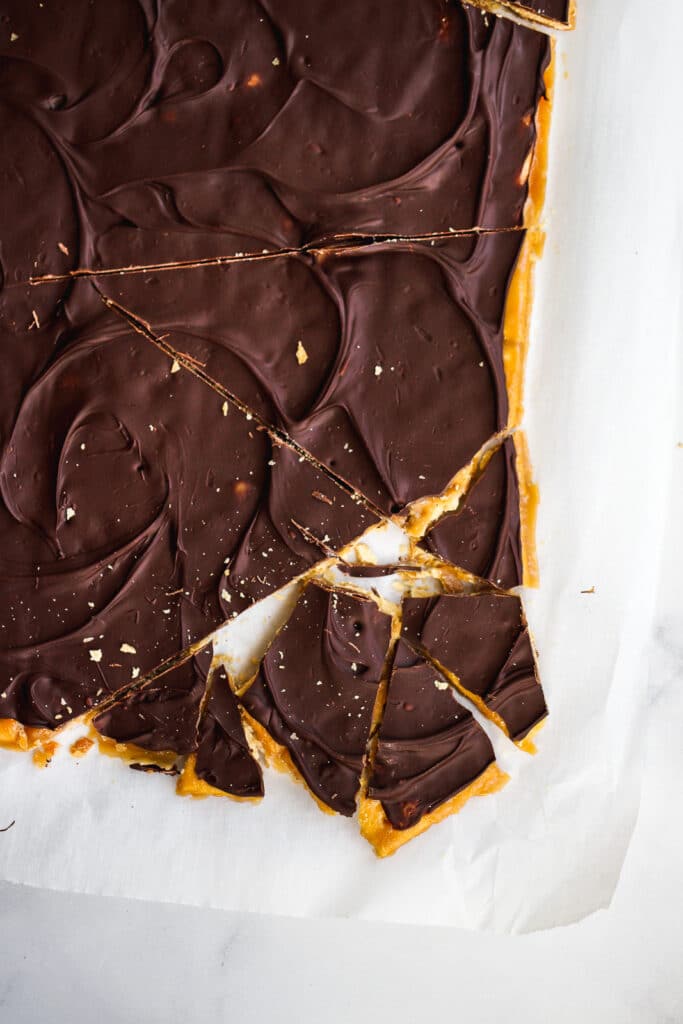 Look at it!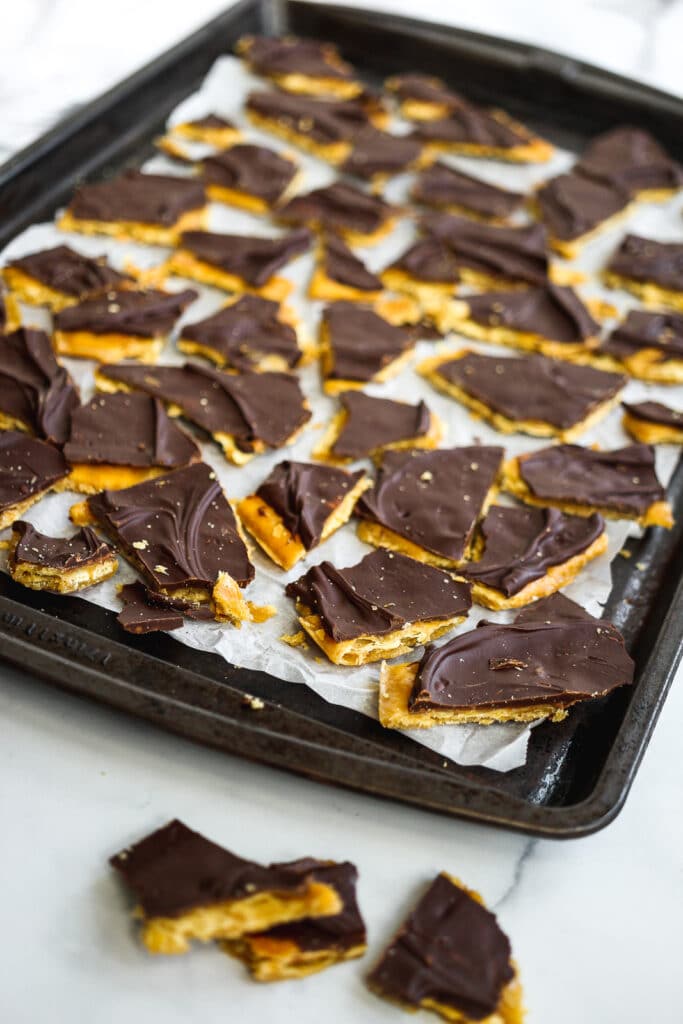 It's so good!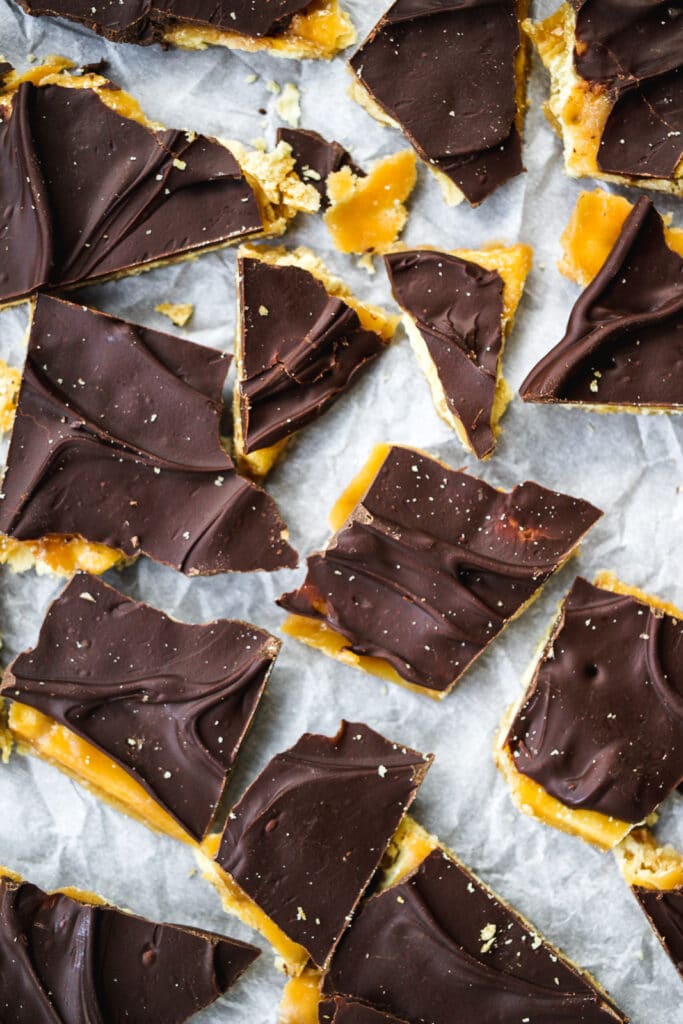 Almost done...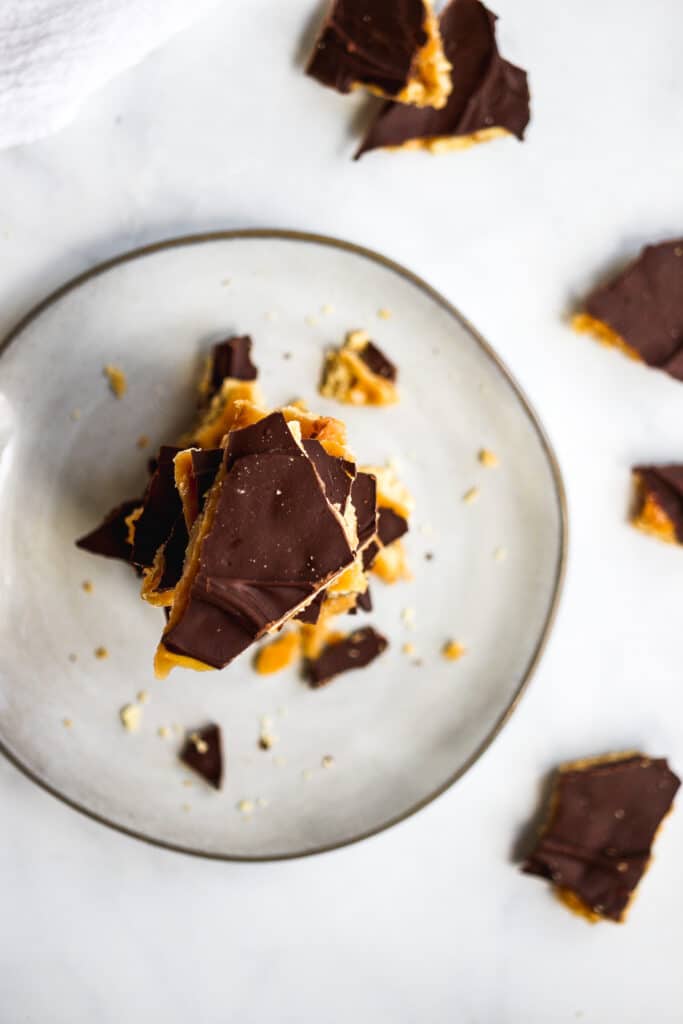 Last one to show off the layers!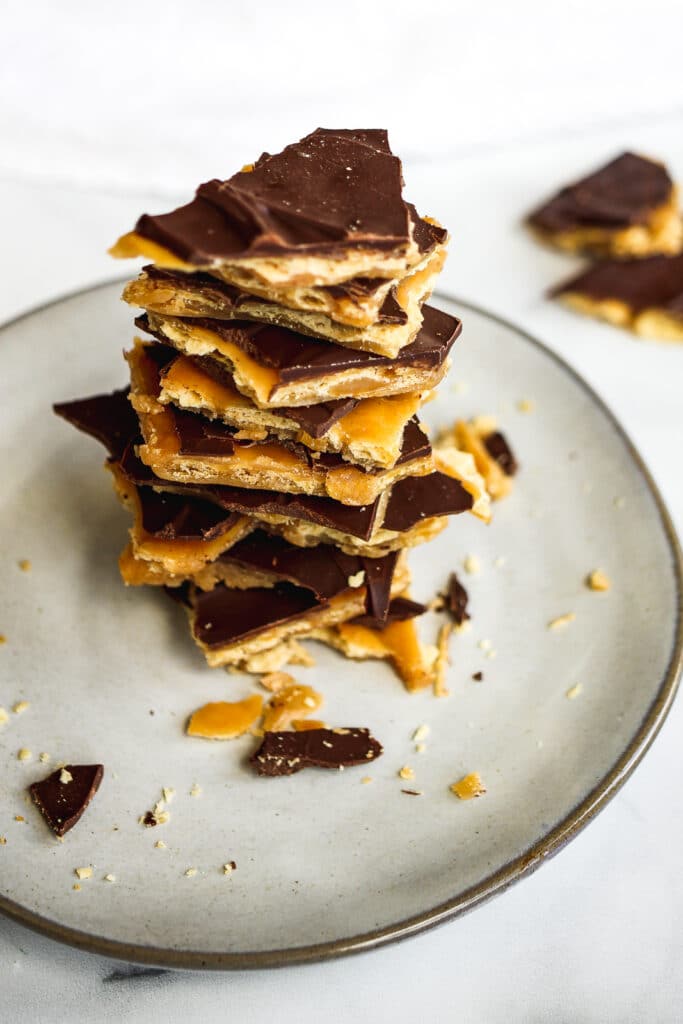 Be sure to check out these other great posts!