Mint in desserts is usually a no-go for me. Peppermint is meant for gum or toothpaste, not desserts. I especially don't like peppermint paired with chocolate. Why would you ruin something delicious by throwing in mint? It's a combo that never worked for me...until now. These chocolate peppermint kiss cookies are a game changer!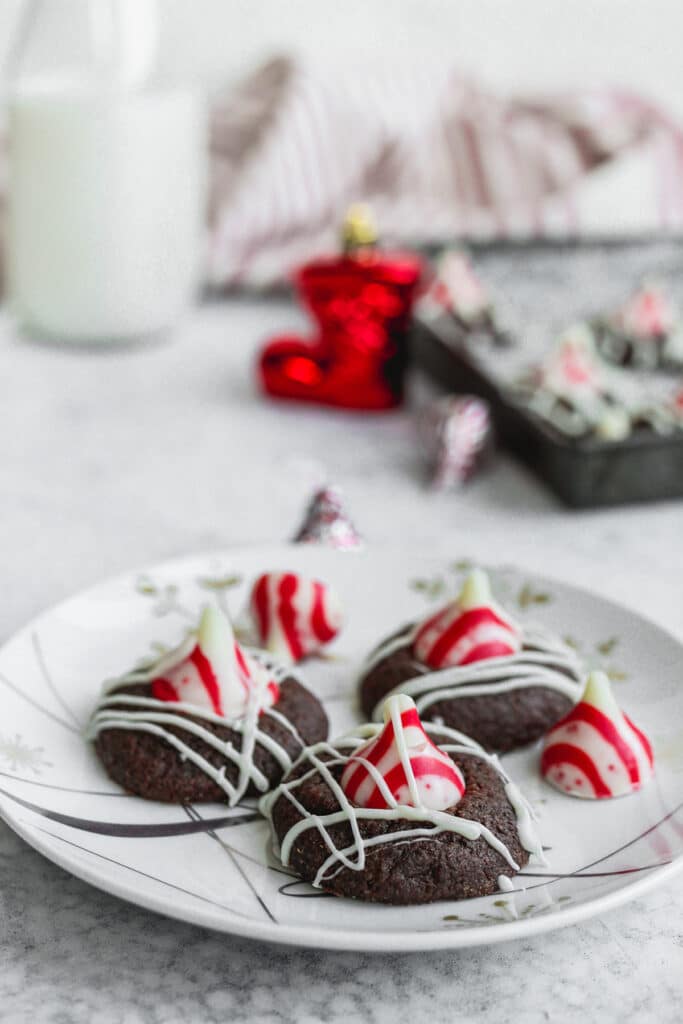 I don't if it is the cuteness of these Hershey's Holiday Candy Cane Kisses, but I really enjoy them. They are not overly sweet, nor are they overpowering in the peppermint flavor. I now even like the peppermint with chocolate thanks to these cookies. I can still hardly believe it, but these cookies are fantastic. They are super easy to make, and are similar to the beloved peanut butter kiss cookies, but with a festive upgrade.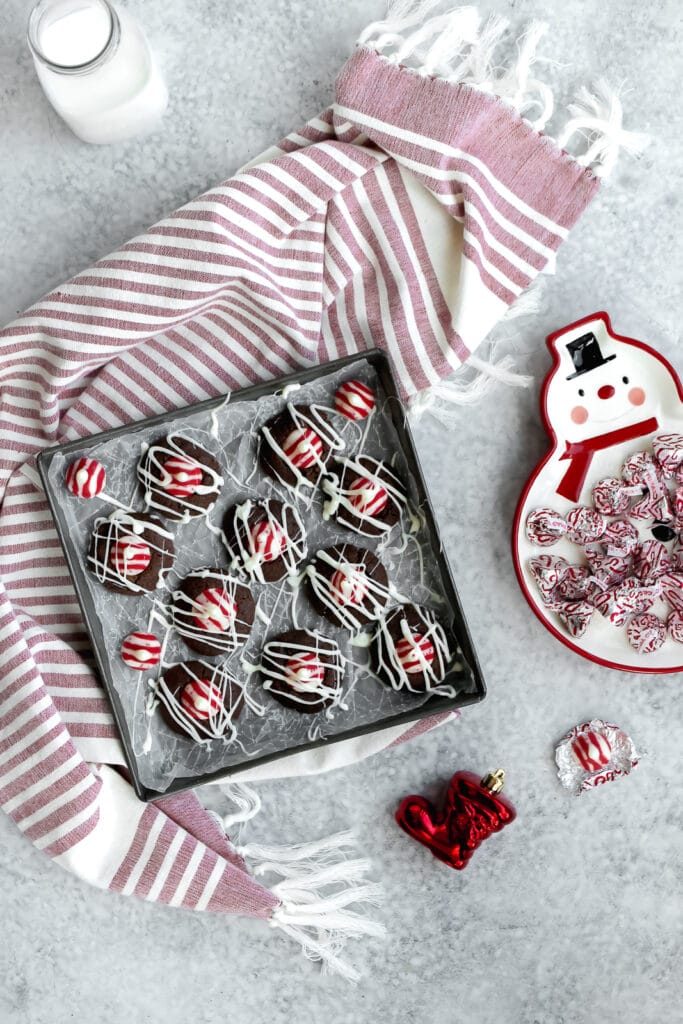 The cookie itself is like a bite-size fudgy brownie. The little candy cane flavored Kisses are not only adorable, but are so so good. It is lovely little pairing for the holidays, and it's hard to eat just one. They are especially good warm out of the oven while everything is all melty. However, they are also great cooled with the white drizzle.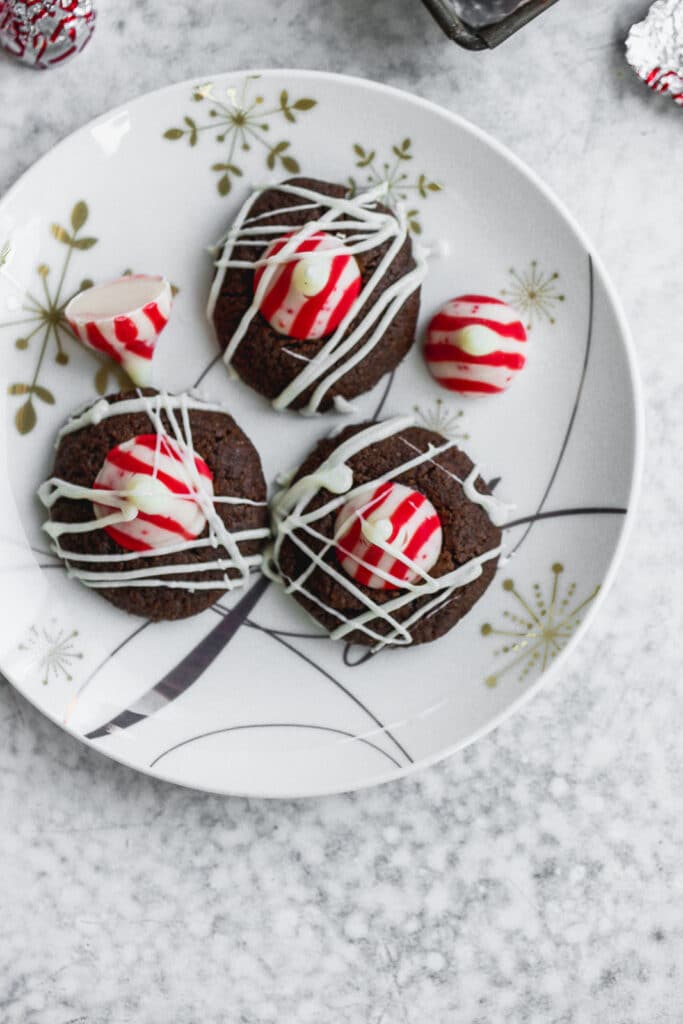 The white drizzle on top is optional, but I think it elevates the chocolate peppermint kiss cookies. This little step does wonders for the visual appeal, which is so so important in food photography but also in standing out amongst all of the holiday treats available. Maybe it's just us, but we usually have at least 10 cookie options to choose from! I am from a family of very talented bakers. It's pretty nice.
If you haven't started your holiday baking yet, be sure to give these a try. I also have 2 variations of these coming to the blog soon! I am saving my personal favorite for last!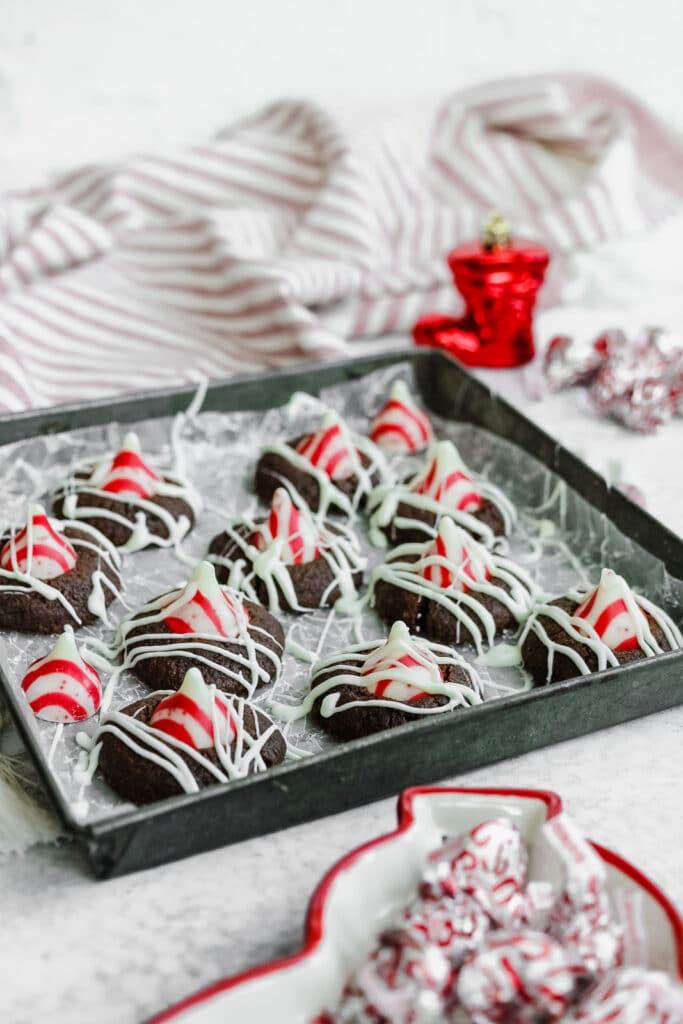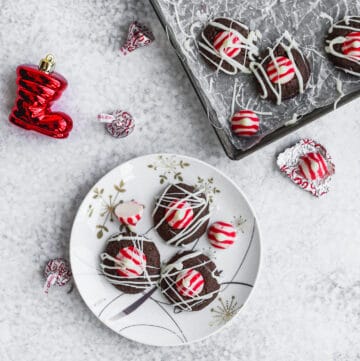 Chocolate Peppermint Kiss Cookies
These festive peppermint kiss cookies are chocolately with just the right amount of peppermint. They are the perfect treat to leave out for Santa!
Ingredients
½

cup

(1 stick) butter, softened

¾

cup

sugar

1

egg

1

tsp

vanilla

1

cup

all-purpose flour

⅓

cup

unsweetened cocoa powder

¼

tsp

baking powder

⅛

tsp

salt

1 10-

ounce

bag Hershey's Holiday Candy Cane Kisses

2

squares vanilla-flavored candy coating or white almond bark
Instructions
Preheat the oven to 375°F. Line cookie sheets with parchment paper and set aside.

In a large mixing bowl, cream the butter and sugar with an electric mixer until light and fluffy. Beat in egg and vanilla, and mix until combined. In a separate bowl, combine the flour, cocoa powder, baking powder, and salt. Stir the flour mixture into the butter mixture, and mix until combined. The cookie dough will be fairly thick.

Scoop dough and roll into 1 inch balls. Place on parchment lined baking trays and bake for about 8 minutes. The cookies should still feel fairly soft and be slightly puffed.

Remove from the oven. Let the cookies cool for about 5 minutes before adding the candy cane kiss into the center of each cookie. The cookies will crackle slightly. Place the pan of cookies in the freezer for about 5 minutes before transferring to a cooling rack. Otherwise, the kisses may melt and lose their classic shape.

After the cookies have cooled, melt the white candy coating. Pour in a piping bag and lightly drizzle over the cookies.
Notes
If you press the candy cane kisses into the cookies once immediately removed from the oven, the kiss will melt and lose its shape. They differ from traditional chocolate kisses. 
More Pics of the Chocolate Peppermint Kiss Cookies!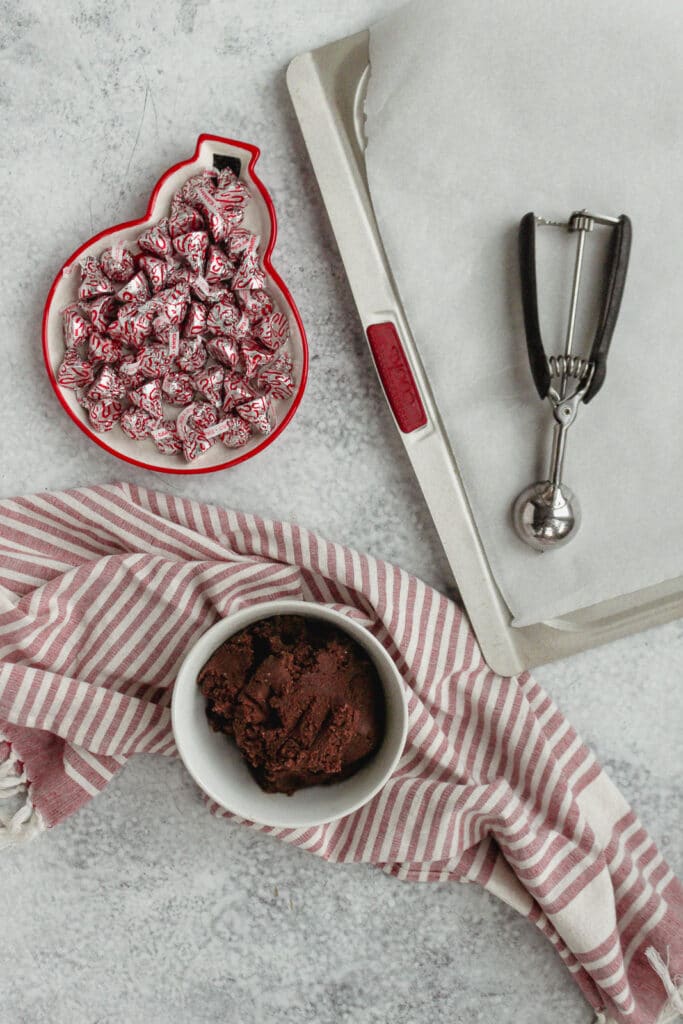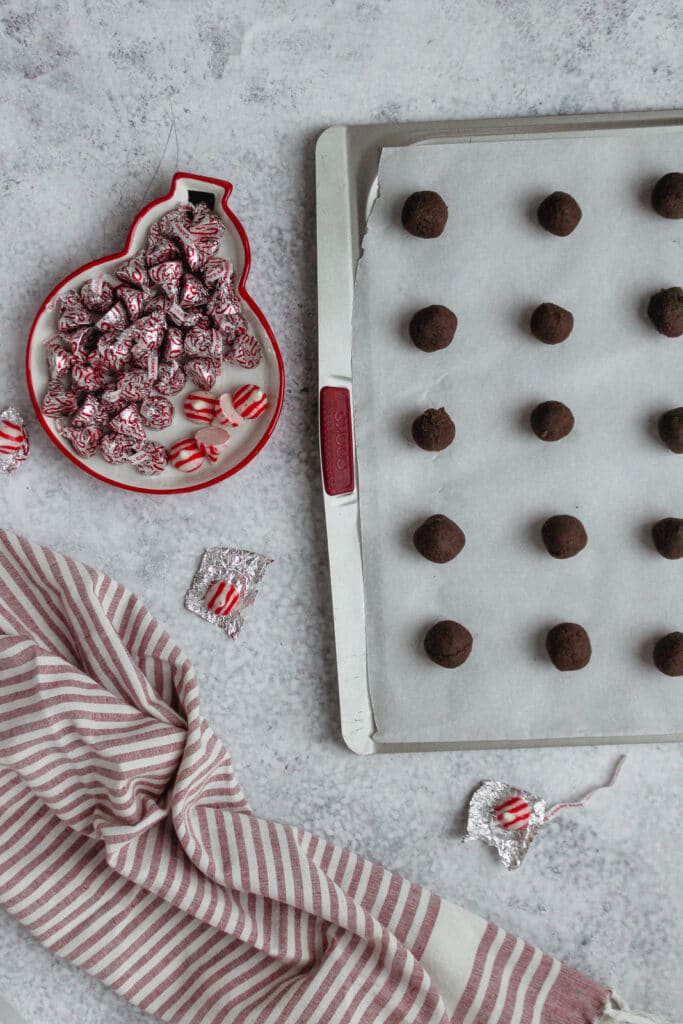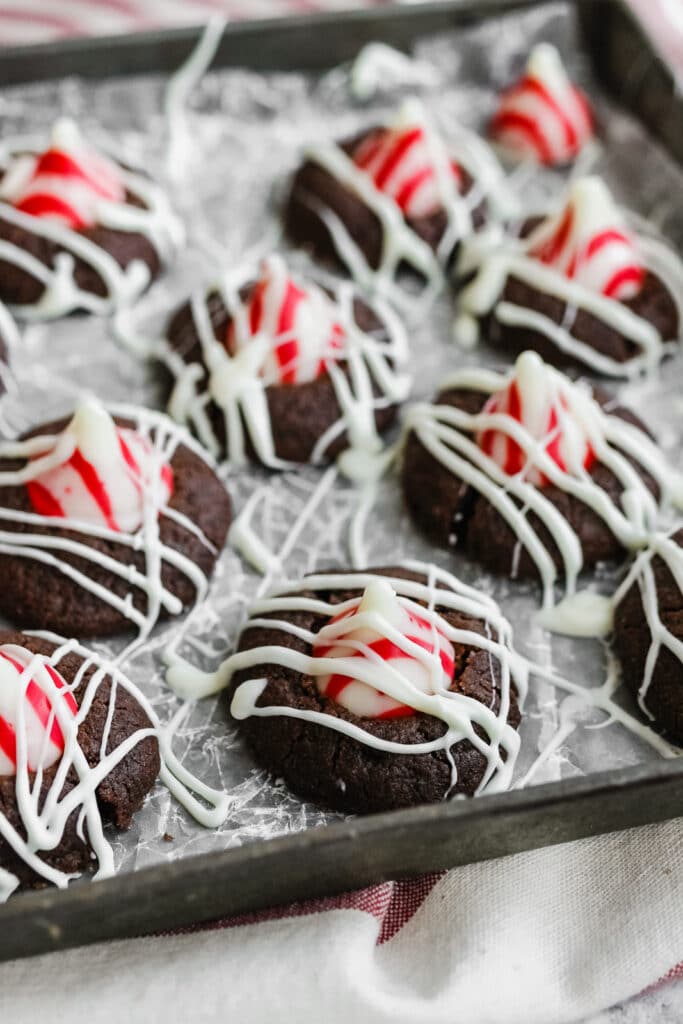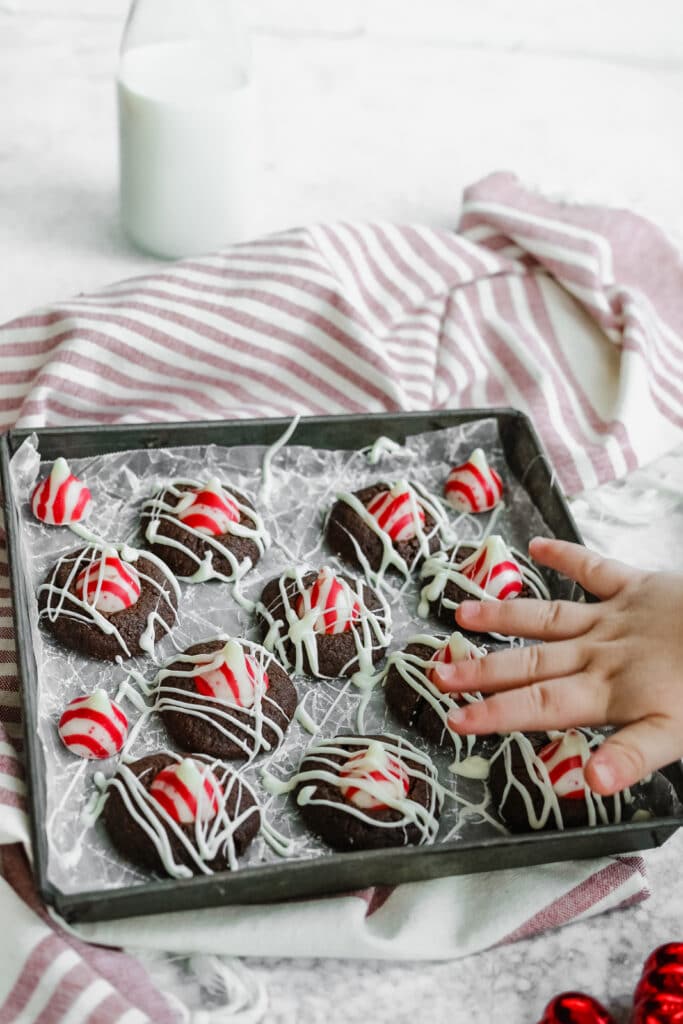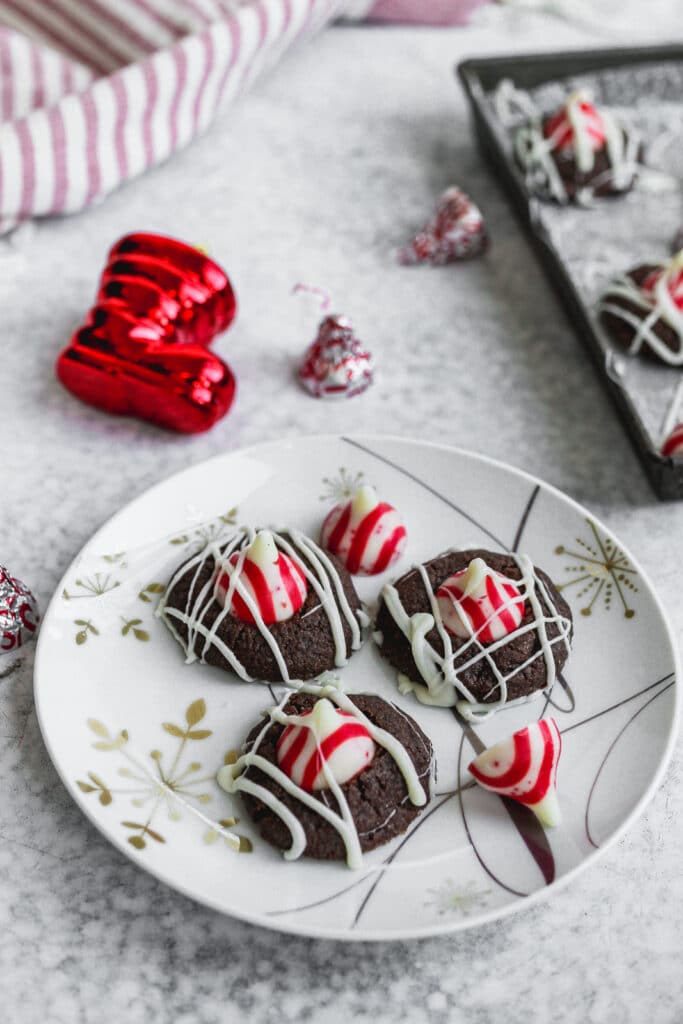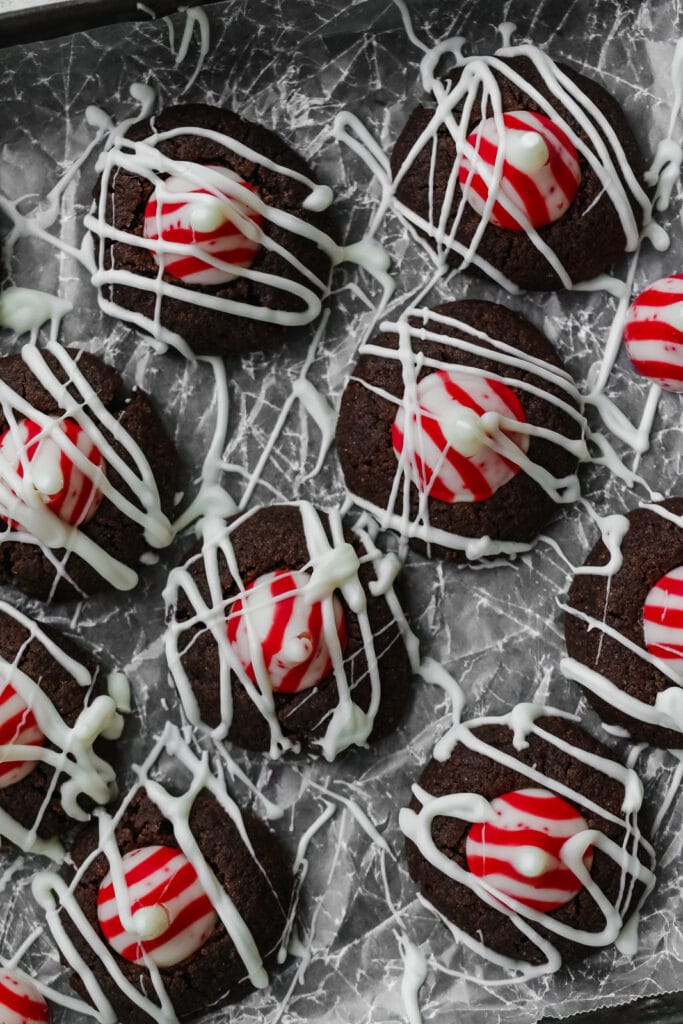 Be sure to check out these other great posts!