I am simply overjoyed that the cooler temperatures are settling in. The air is crisp and refreshing and always boosts my mood. I love cozy nights with friends or family with some time outdoors with sweatshirts, bonfires, and of course good food. My best tip to make any fall celebration more special is a fall charcuterie board.
This is a fairly simple board that still has some wow factor! All you need to do is arrange some of your favorite cheeses, crackers, nuts, fruits, and more on a serving board. It will instantly boost your mood and make your event feel extra special.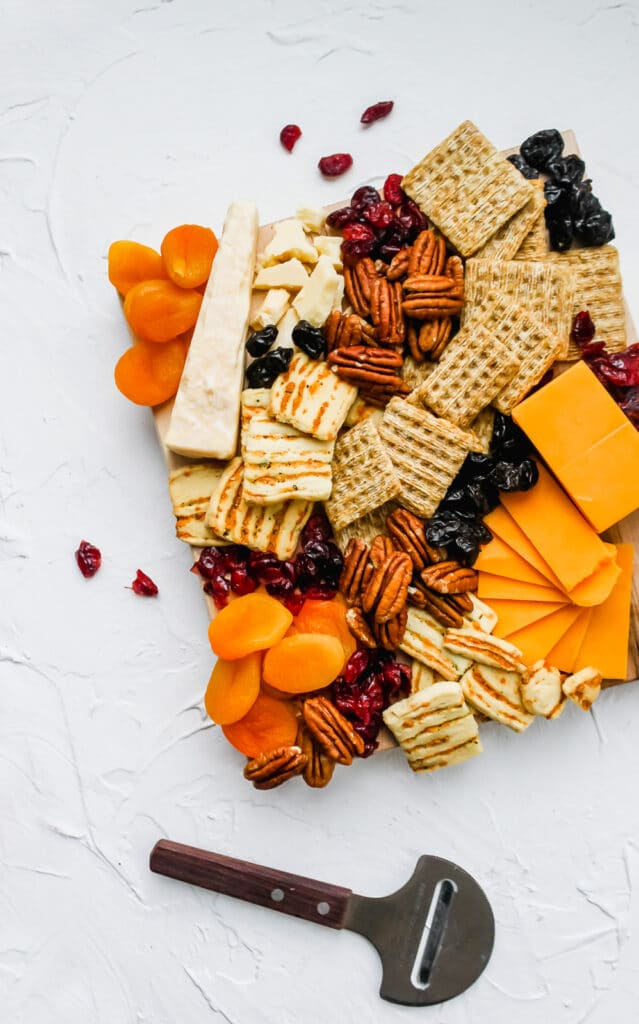 Fall Charcuterie Board Suggestions
Seeing that this isn't really a "recipe," I wanted to share details on all the ingredients on this board. Dried fruits are a natural fit for a charcuterie board because they are sweet, easy to eat, and are healthy. The dried cherries, cranberries, and apricots add beautiful color to a board that are similar to fall leaves. My best tip for crackers is choose at least two varieties with differing textures and look, like I did with this board. Lastly, add some nuts and of course cheese! You could also add meats, mustards, pretzels, and spreads depending on the size of your board. It really is up to you!
Believe it or not, all of the ingredients here were purchased from Aldi. Aldi (and Target) are hands-down my two favorite places to shop. We have done the vast majority of our shopping at these two stores during Covid. Aldi is where we prefer grocery shopping because it is so economical and the quality is exceptional! Plus, we live super close to an Aldi store, so geography is also a clear advantage. However, having worked in the private label industry for nearly 7 years, I know what the good stuff is. I'll let you in on a little secret – Aldi has it! I will also point out that this post is not sponsored; I just love Aldi that much!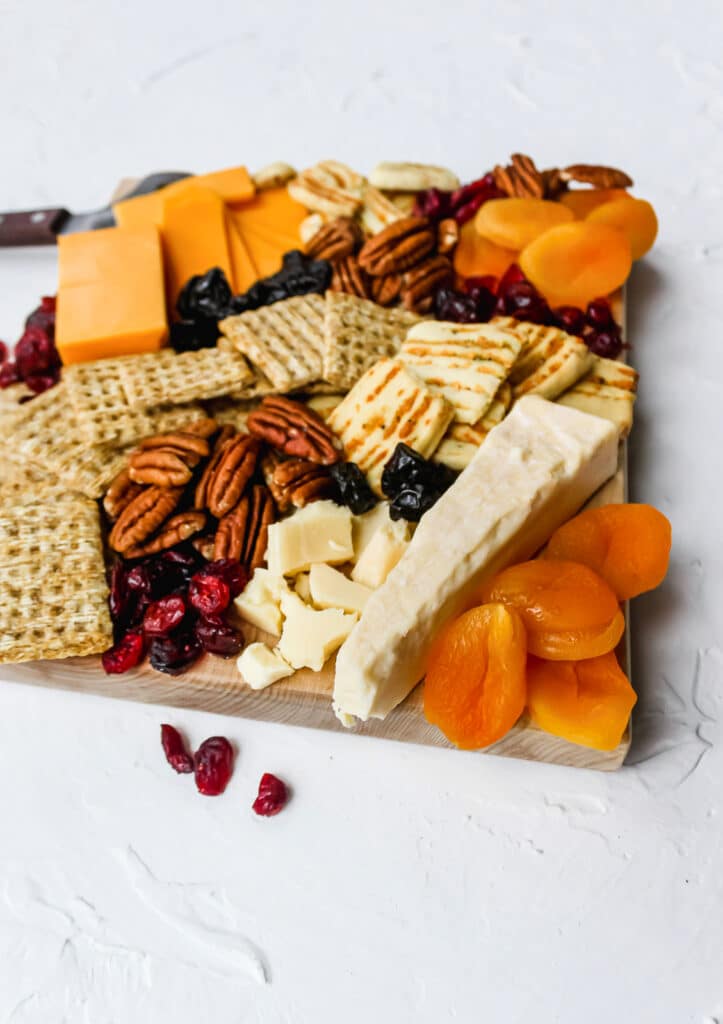 So, here are the board details! Use whatever amounts based on the quantities needed. Feel free to make swaps or additions based on preferences.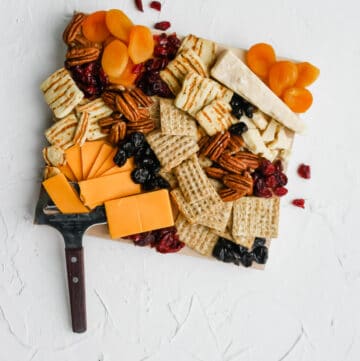 Fall Charcuterie
This vibrant, fall-themed board features sweet and salty options to satisfy everyone! Between the nuts, dried fruits, crackers, and artisan cheese, you will want some of everything!
Ingredients
Dried Apricots

Dried Cranberries

Dried Cherries

Sharp Cheddar Cheese

Artisan White Cheddar Cheese

Woven Whole Wheat Crackers

Romano Cheese Crisps

Pecans
Instructions
Arrange the above ingredients closely in desired quantities on a wooden board and enjoy with loved ones!